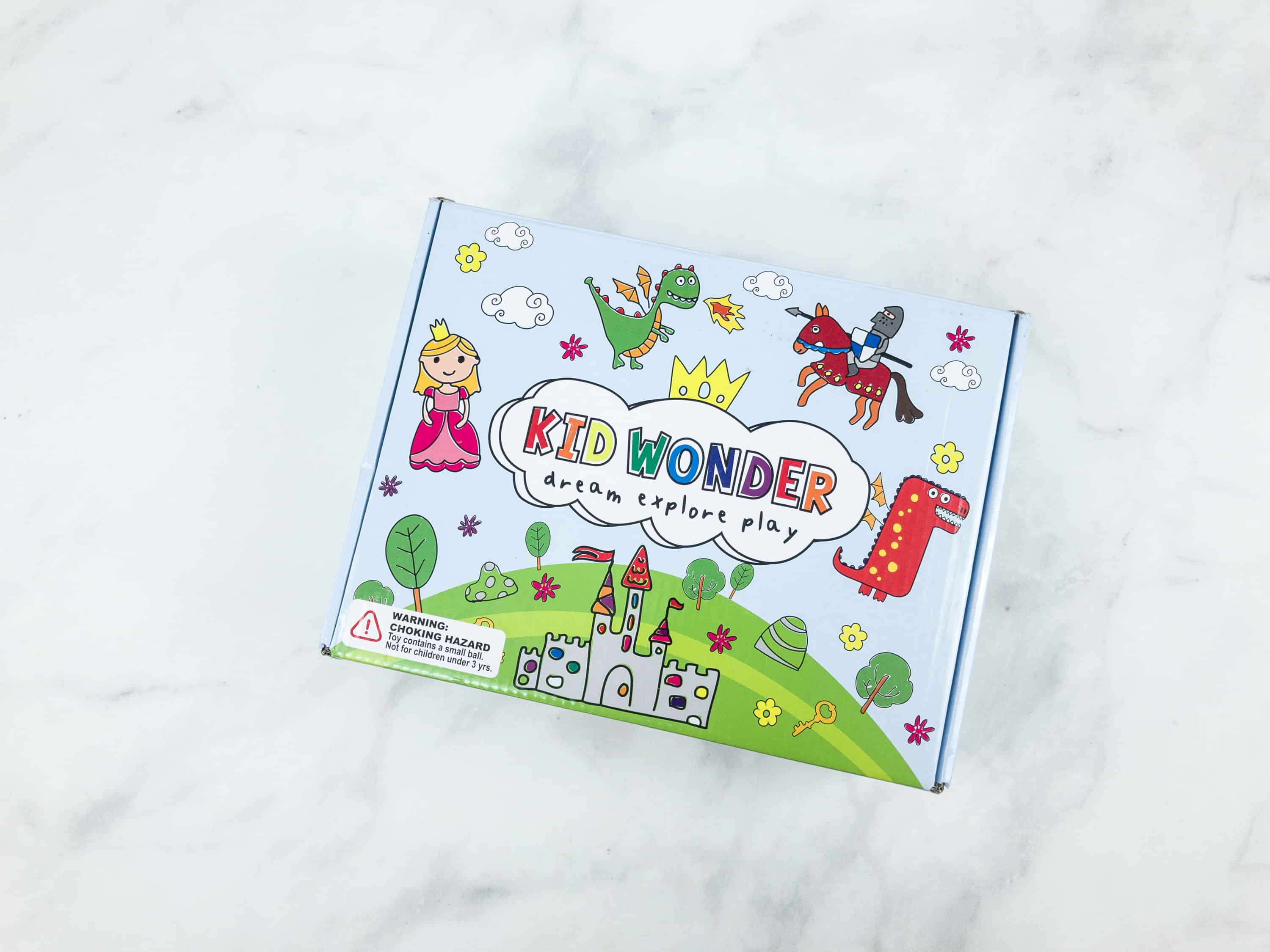 Kid Wonder is a monthly kids subscription box by Little Dreamers. Each month, this Activity Kit will contain various crafts and projects designed according to that month's theme and usually includes supplies such as glue, scissors, paint and paint brushes and even smocks for the messier crafts. This box is intended for kids 3-6 years of age who love to create, play and explore through dramatic play. The box starts at $24.95 per month. The subscription renews automatically and you may cancel anytime.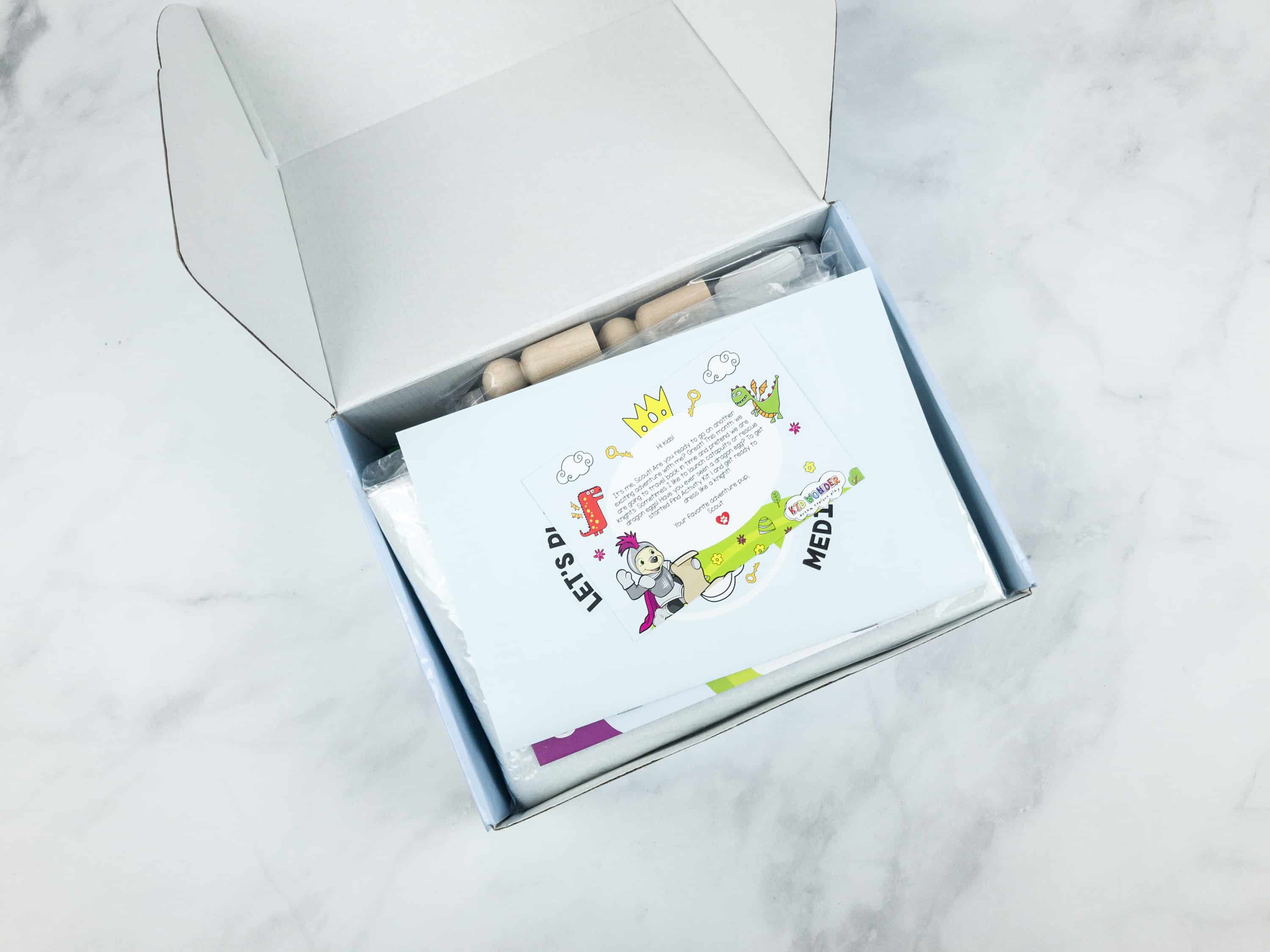 The box is full of interesting items!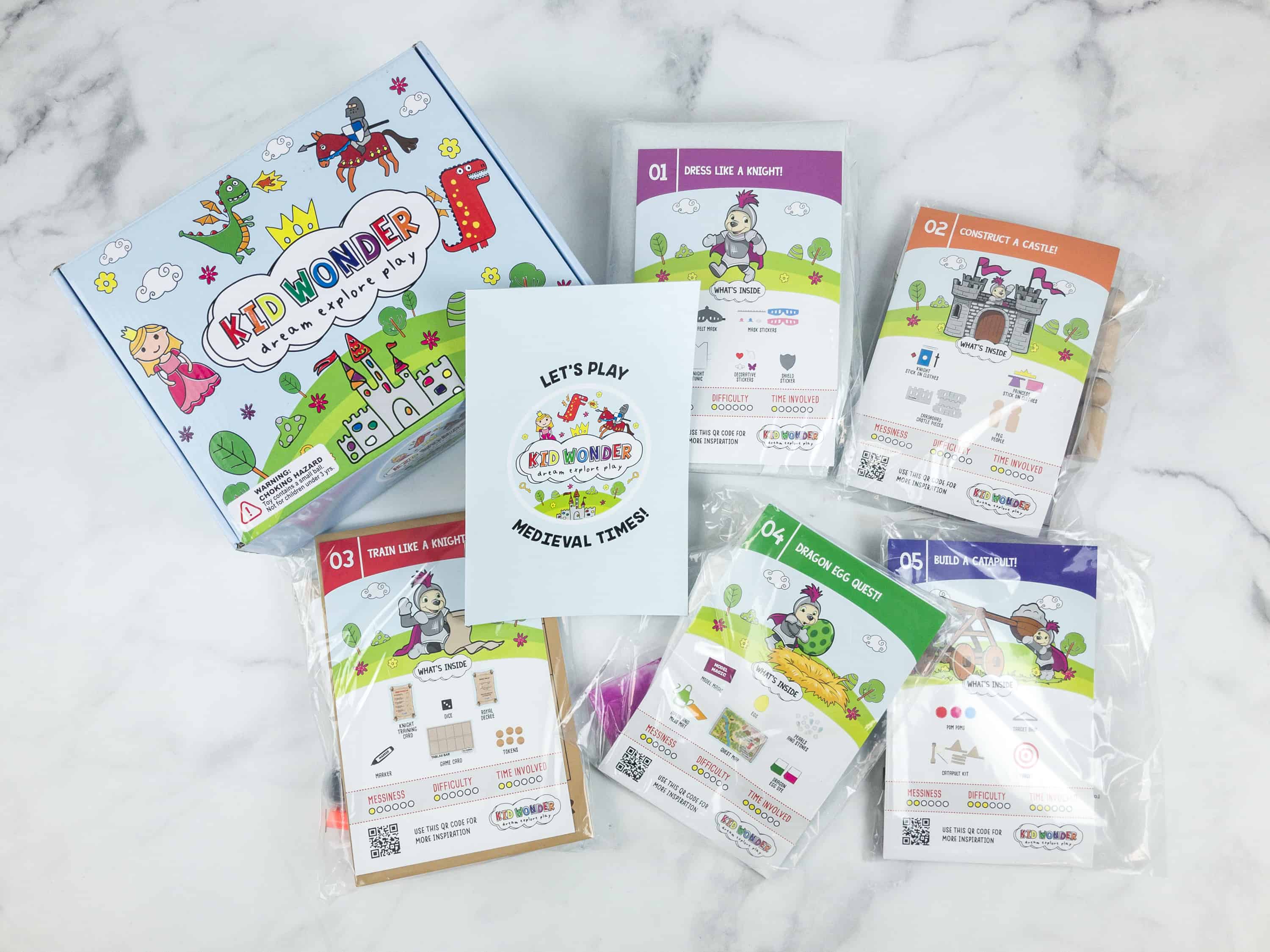 There are 5 activity packs in this box. Every activity kit comes with a guide stating the messiness level, difficulty level, and the time needed so you'll know what to expect. There's also a QR code that you can scan to get more inspiration for your projects!
There's a note from the box's mascot, Scout. He's an adventure pup!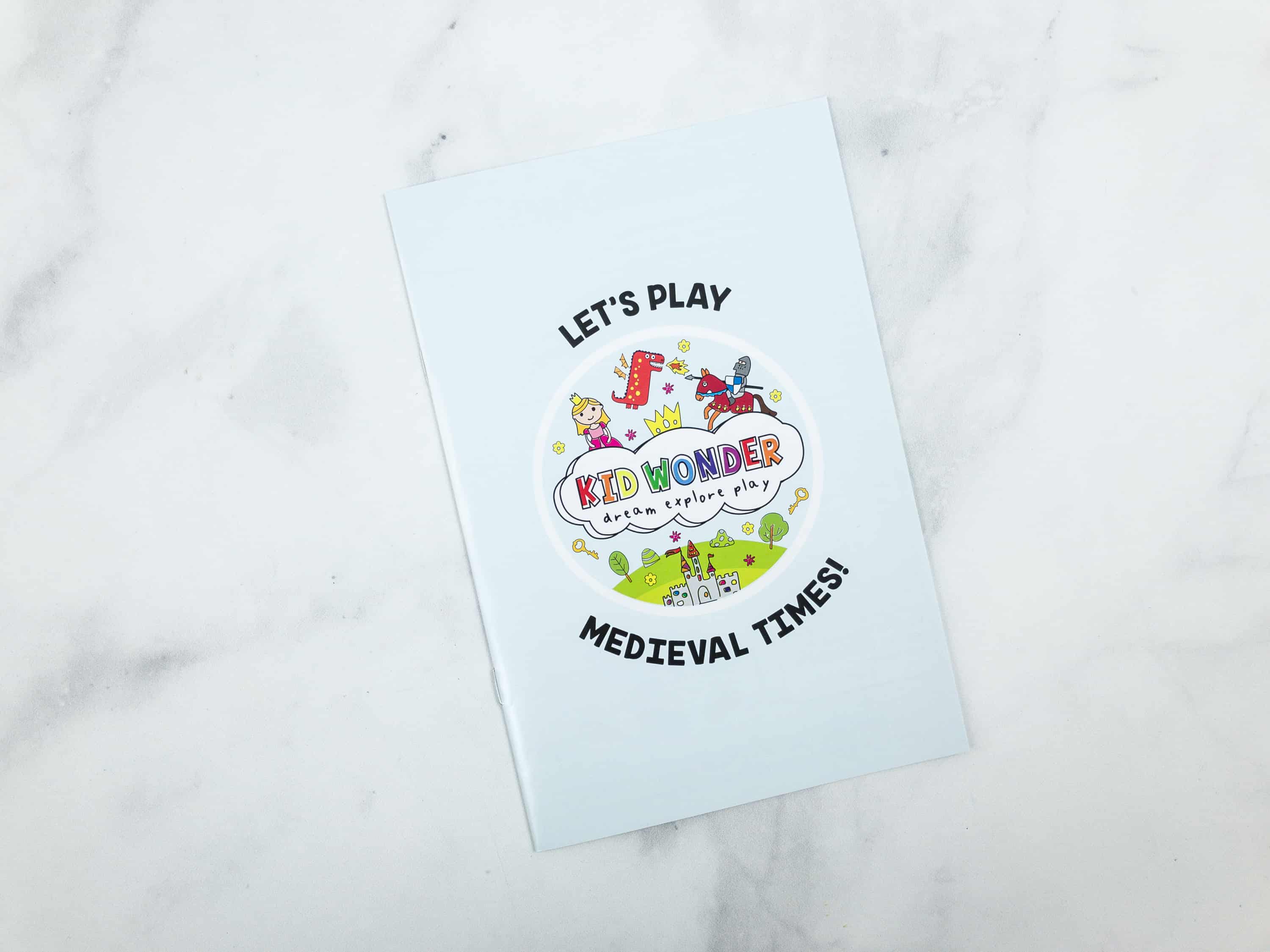 This month, they encourage the kids to play and explore Medieval Times! A booklet, which looks like a mini mag, was also included in the box.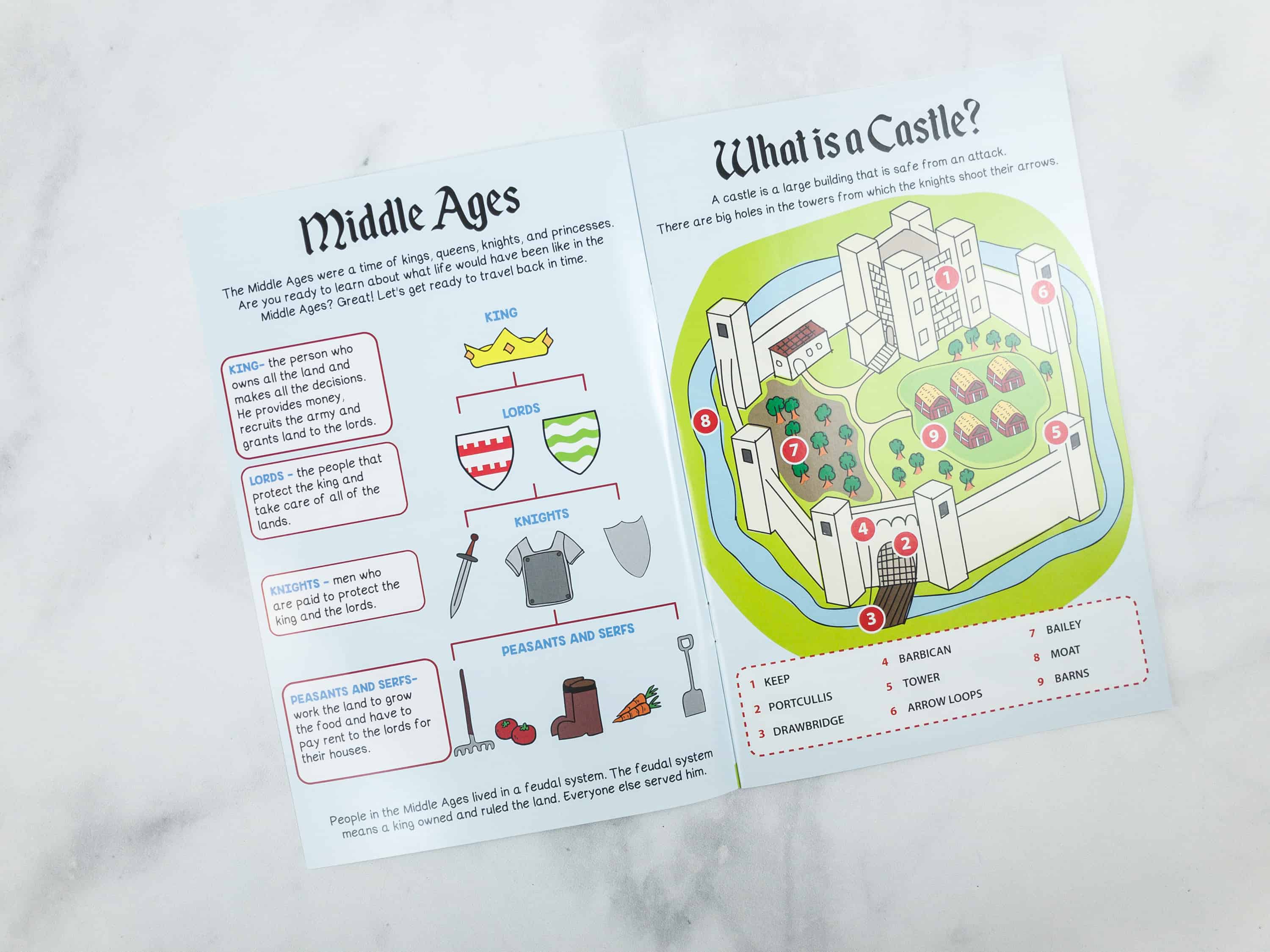 It contains facts and trivia about the Middle Ages. They even provided the hierarchy of classes during that period, and more info about castles!
Here's a brief explanation regarding Royal Banquets. My kids wish to attend one! There's always some sort of physical activity in this box – this one included a dance!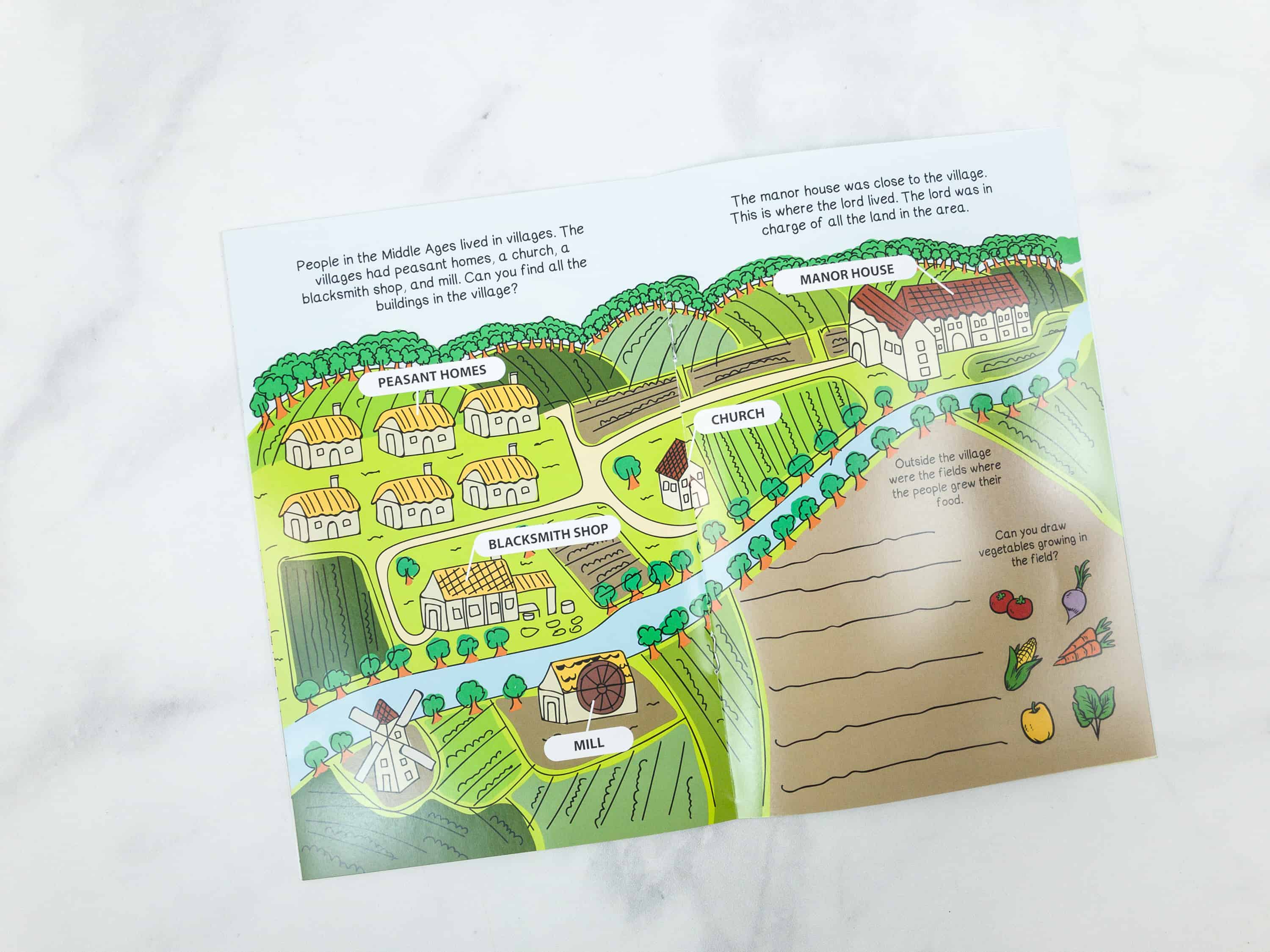 The mag also provided this map that contains the different parts of the Villages of the Middle Ages. There's an activity where the kids draw vegetables that are being grown in the field.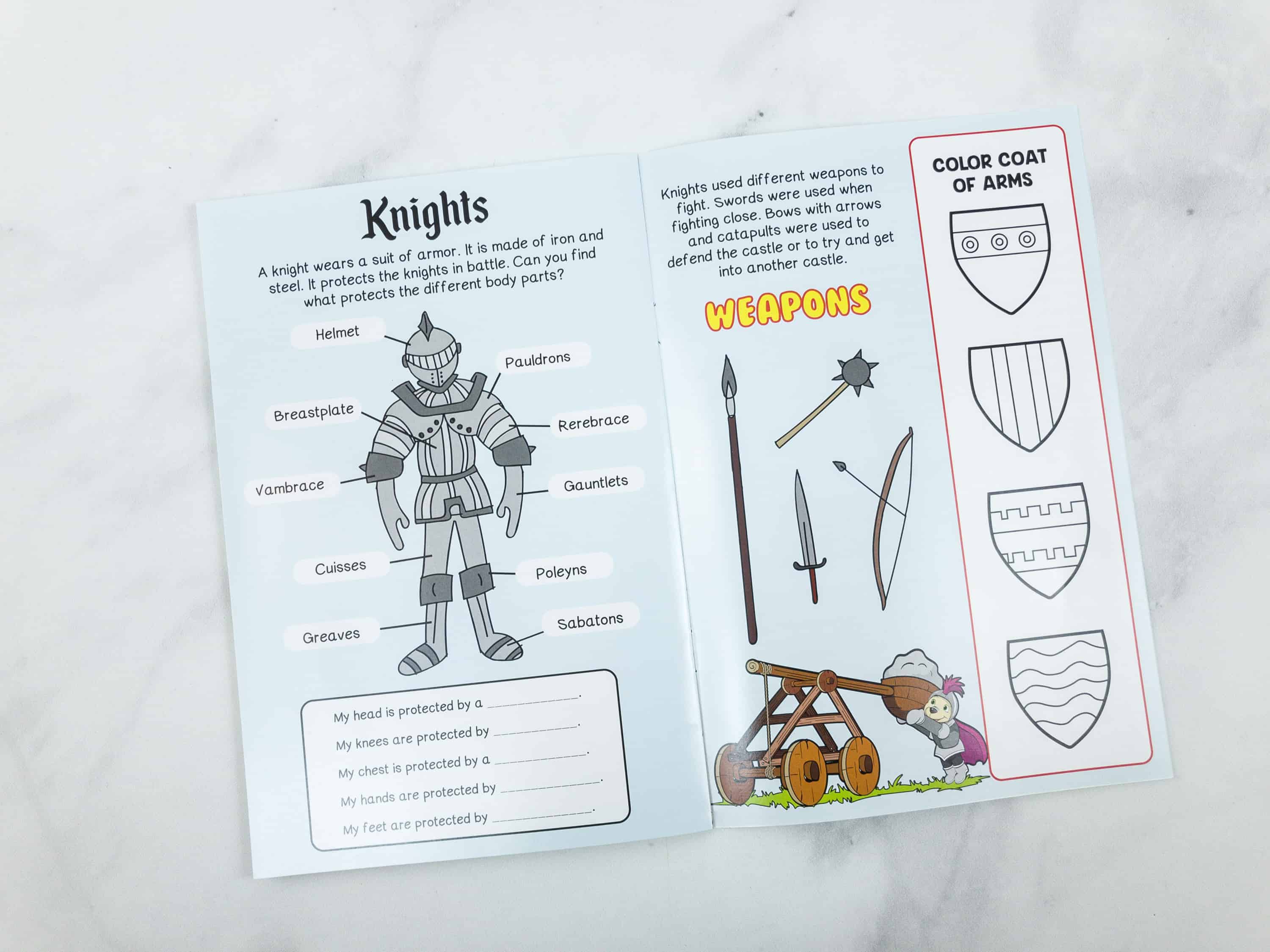 Knights were heavily armored soldiers and only the wealthiest nobles could afford to become knights. Their armor was made of iron and steel, and this page depicts the different parts of their heavy and expensive armor.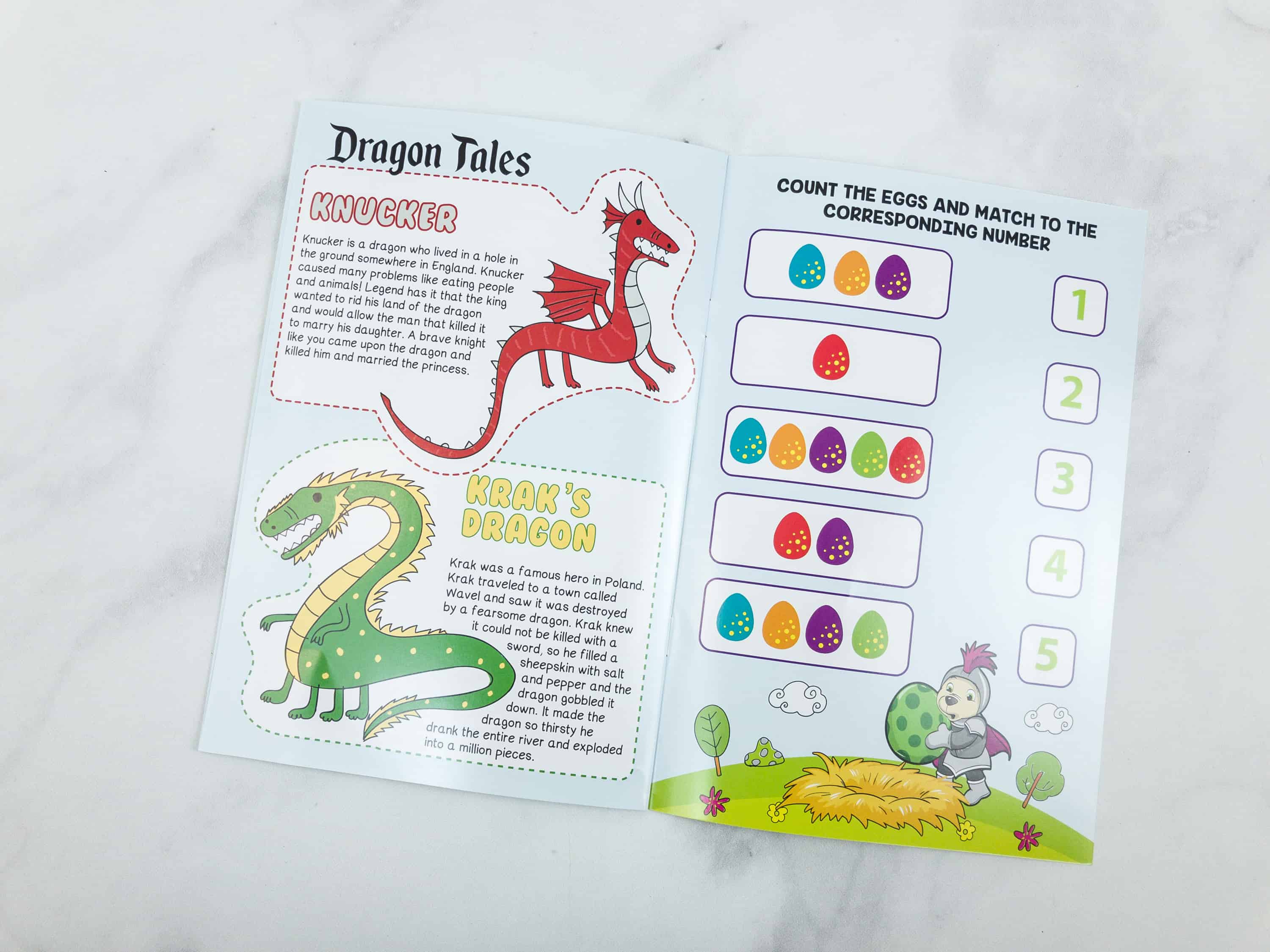 Dragons are interesting mythical creatures and we're really happy that they included an article about them in this cool mag.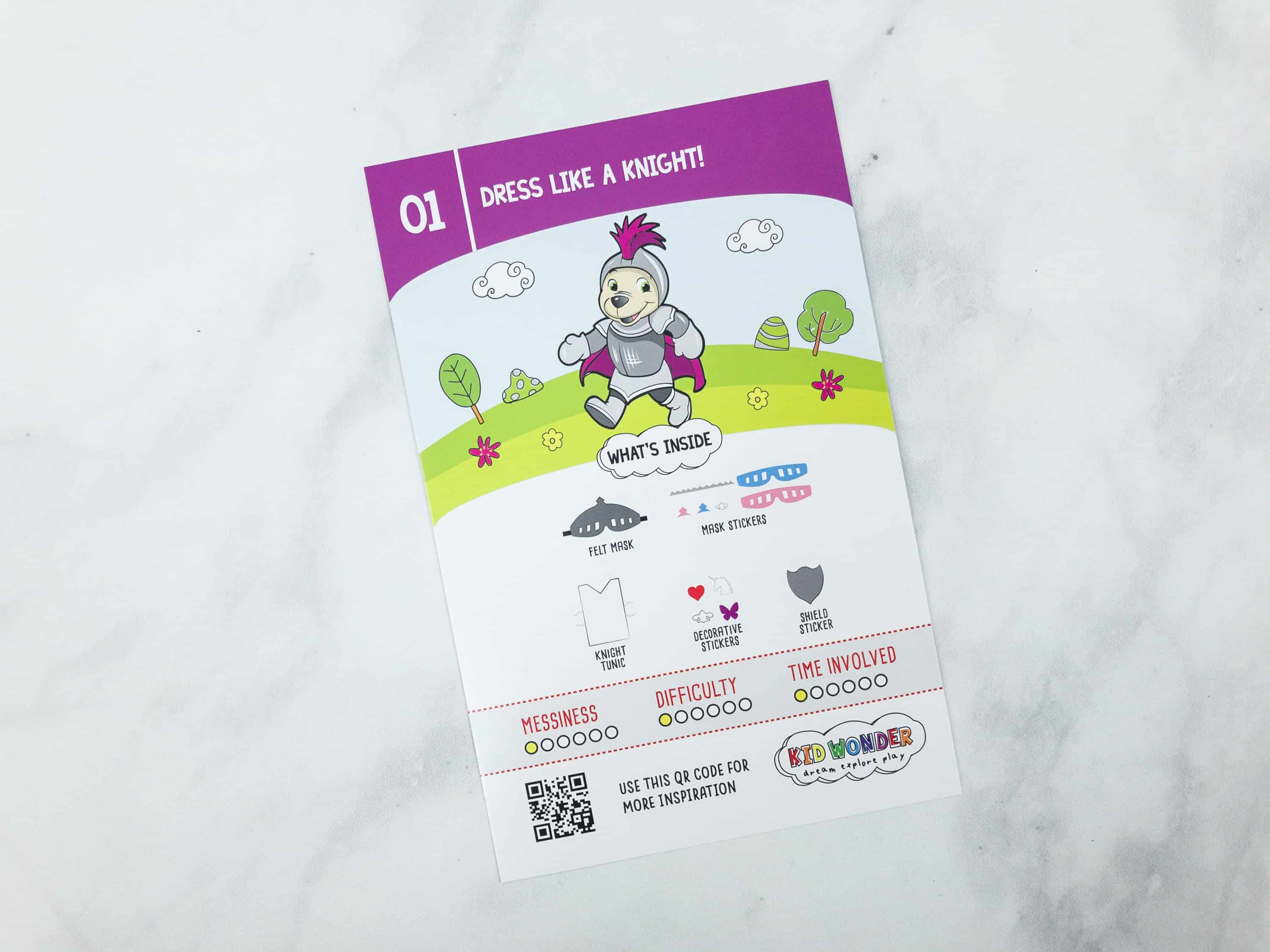 Activity No. 1: Dress Like A Knight. The first kit includes a felt mask, mask stickers, decorative stickers, knight tunic, and a shield sticker.
They also included easy to follow instructions to make the knight tunic and the knight helmet!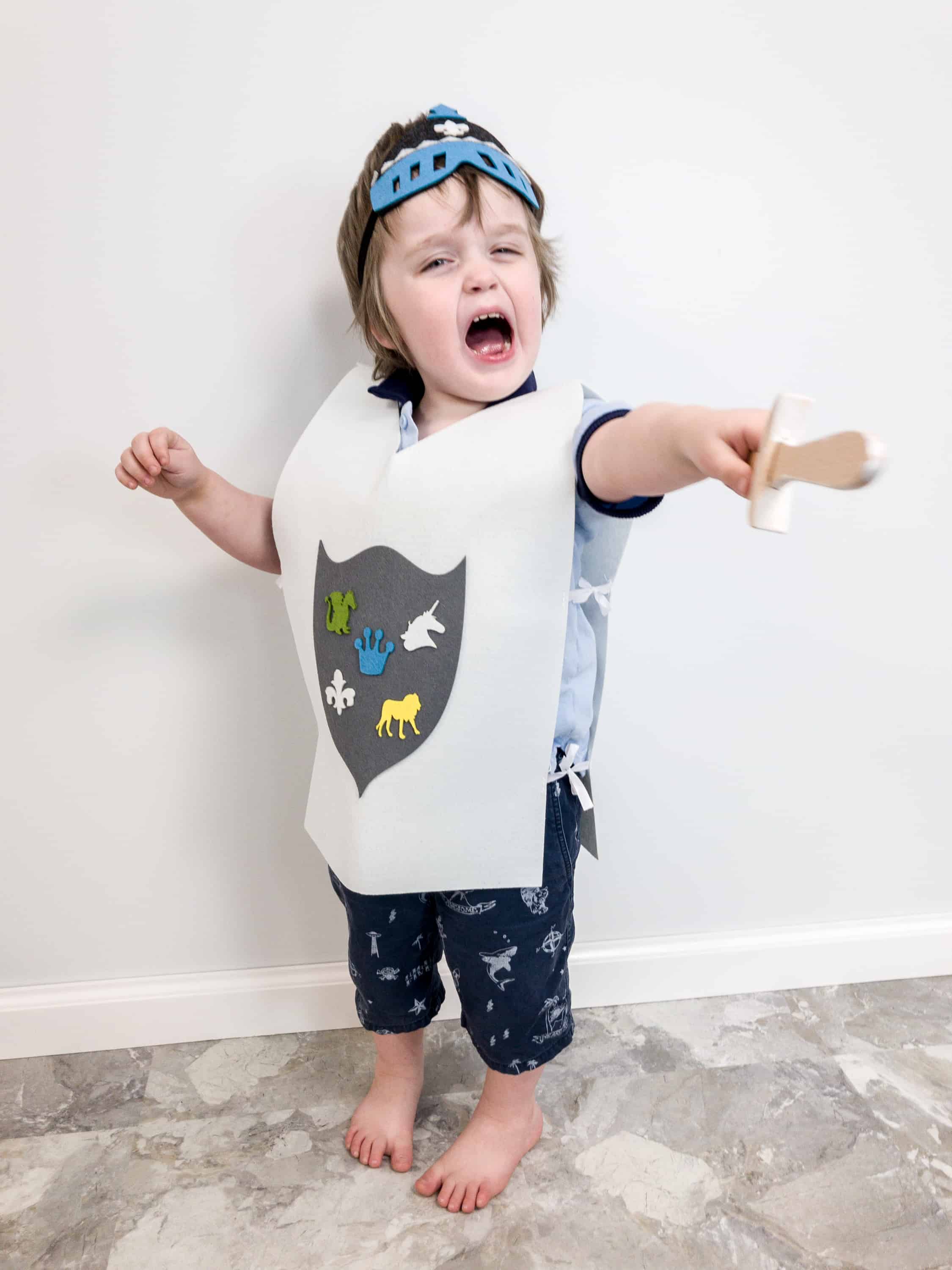 My son looks ready for battle! He even has a wooden sword to bravely face his enemies! This was so exciting for him. He wears it all the time (as well as the gear from our first Kid Wonder box!).
Activity No. 2: Construct A Castle. We also wish to see a castle, and this activity somewhat makes that dream come true as we're assembling our own. This kit contains knight and princess stick on clothes, peg people, and cardboard castle pieces.
We laid everything out of the package, and we're all set!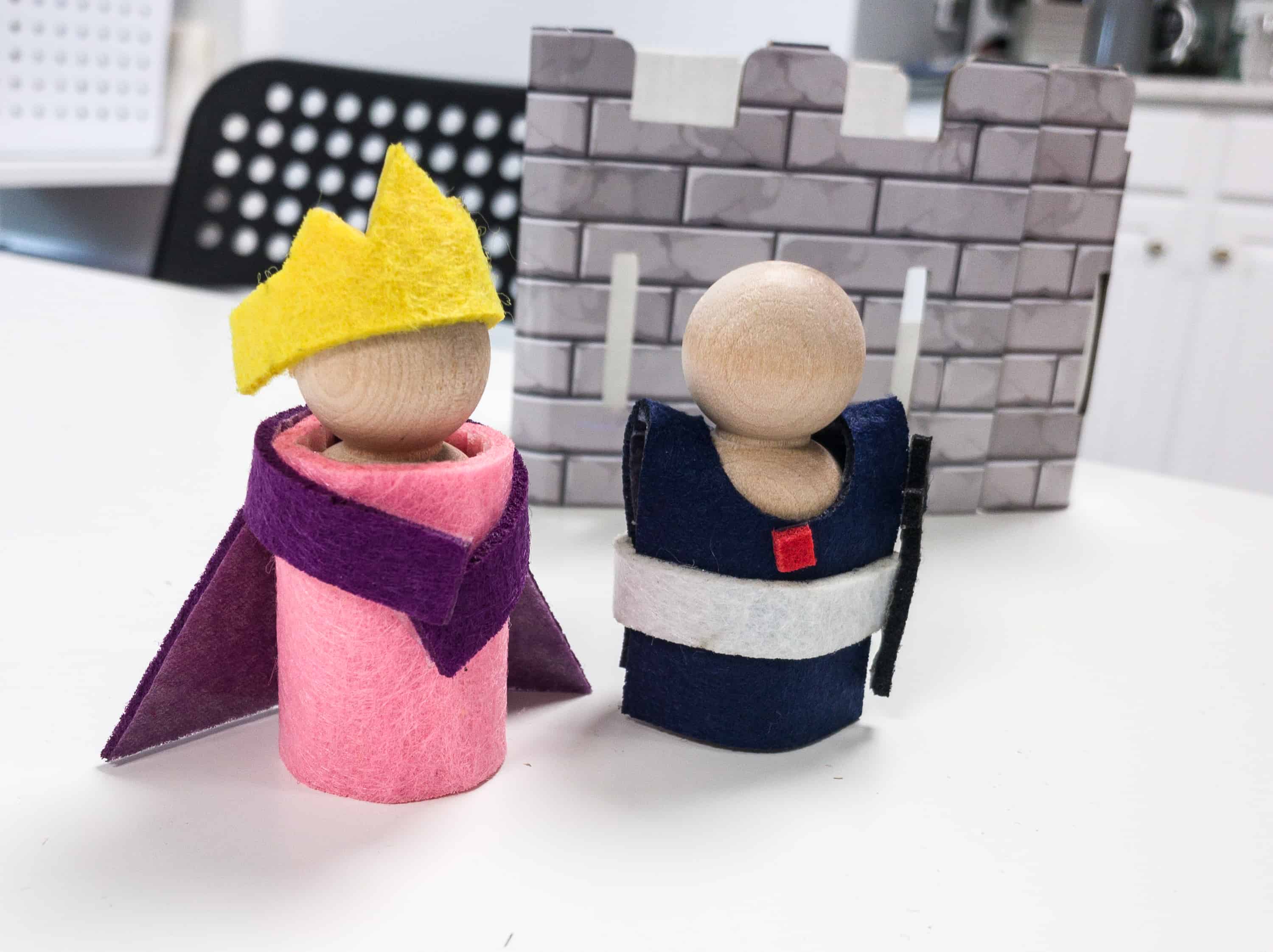 After building the castle by bending the cardboard and inserting the walls into the towers, we dressed up the pegs as the princess and knight of the castle!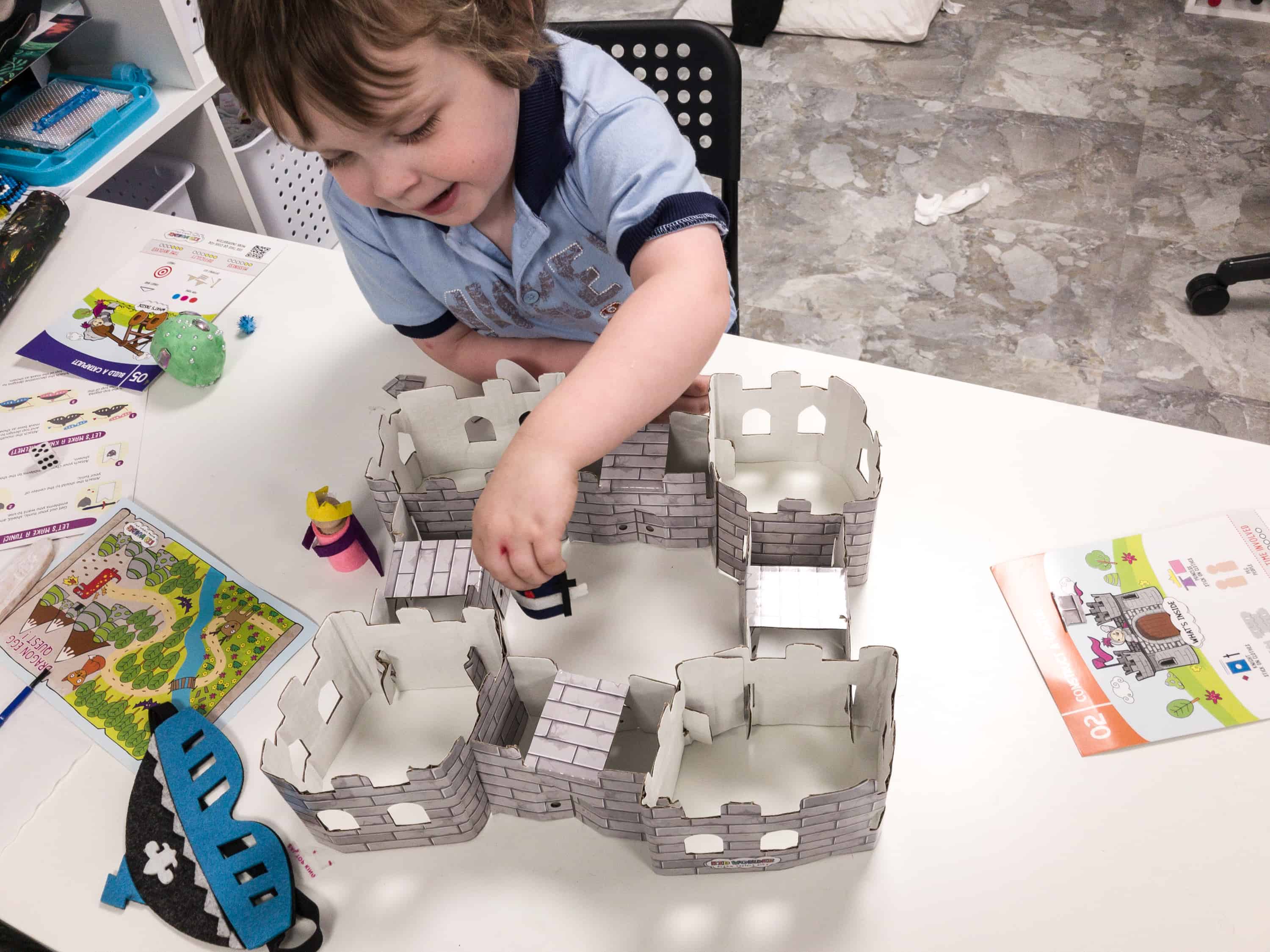 That's an enormous castle for two people! Still, my son enjoyed building and playing with them afterward!
After playing, the cardboard castle can easily be disassembled and stored for the next playtime. It's quite sturdy and has held up to multiple play sessions.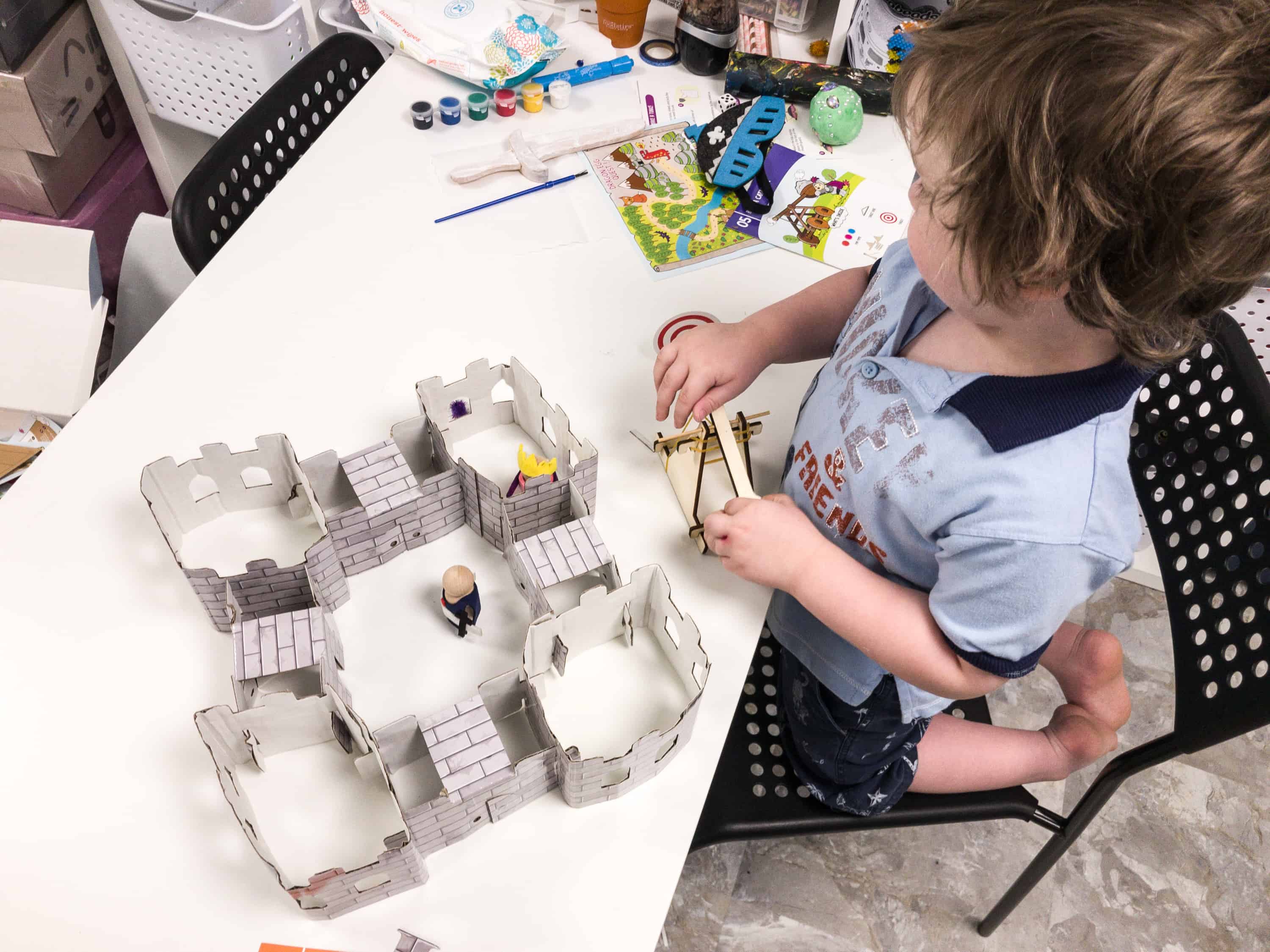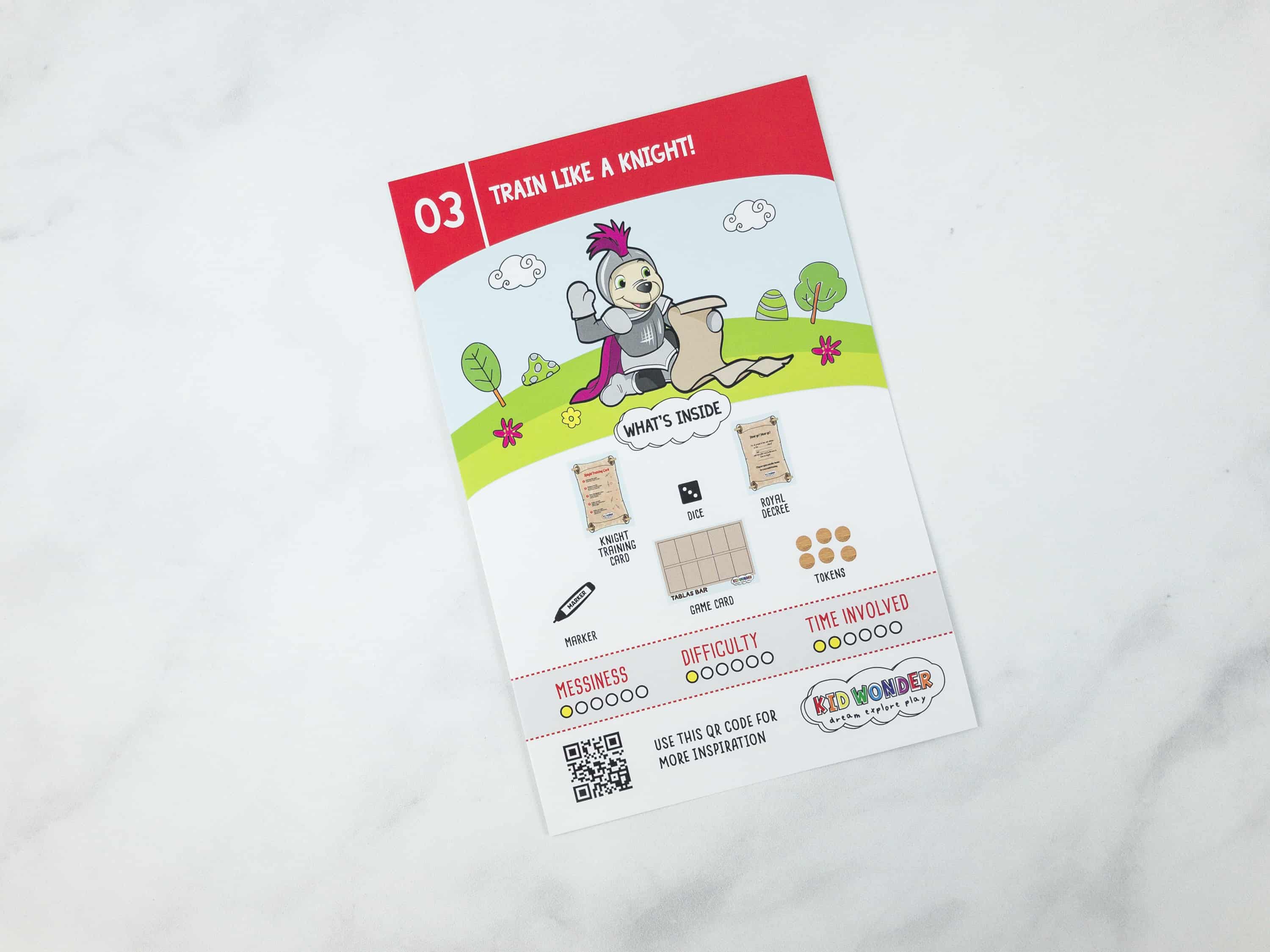 Activity No.3: Train Like A Knight. This Knight kit includes a knight training card, a dice, the Royal Decree, marker, game card and some tokens.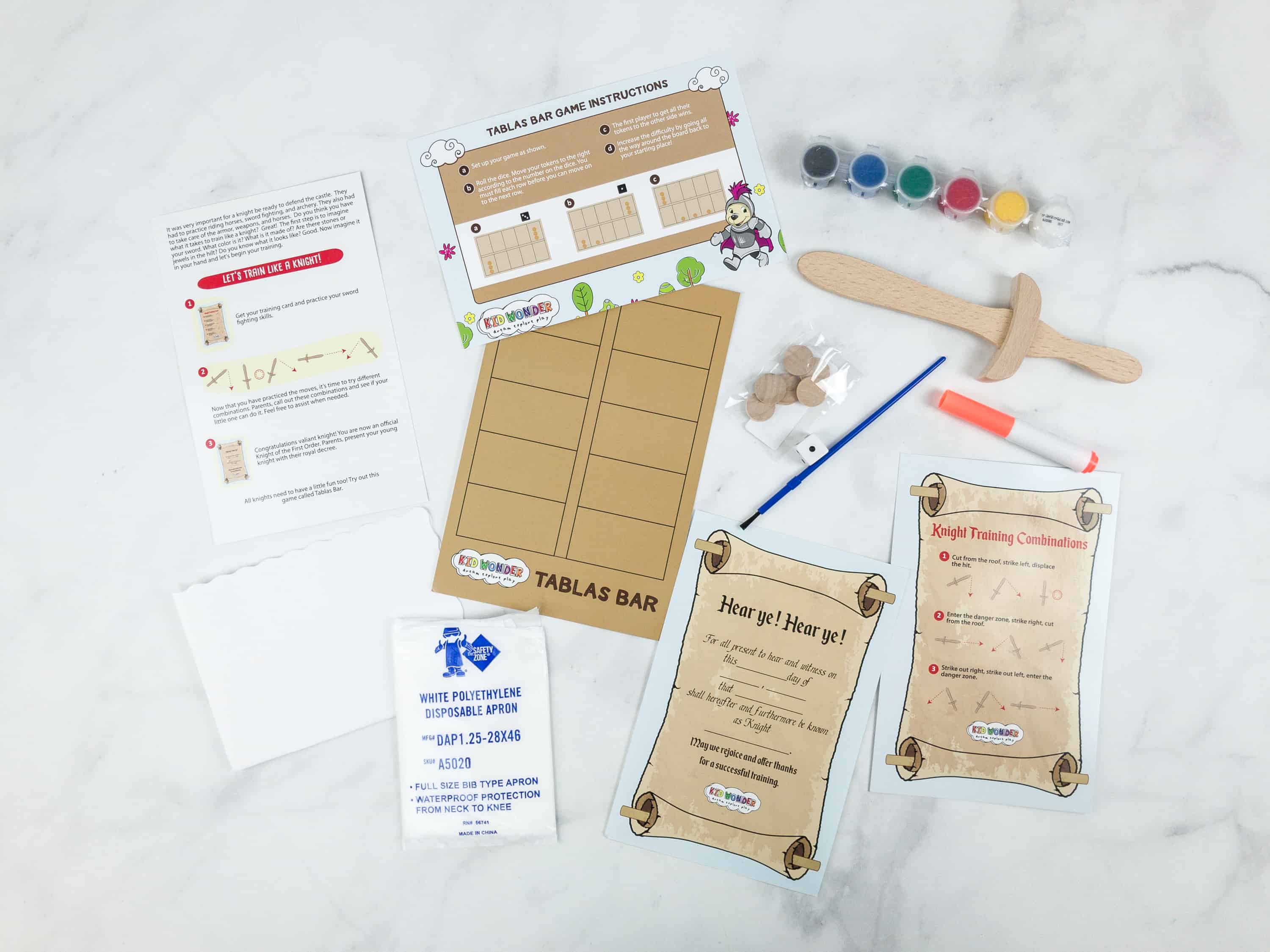 The kit also included a white polyethylene disposable apron, so I know this is kind of messier than the first two activities! They also included some paint and a small wooden sword that we can work with!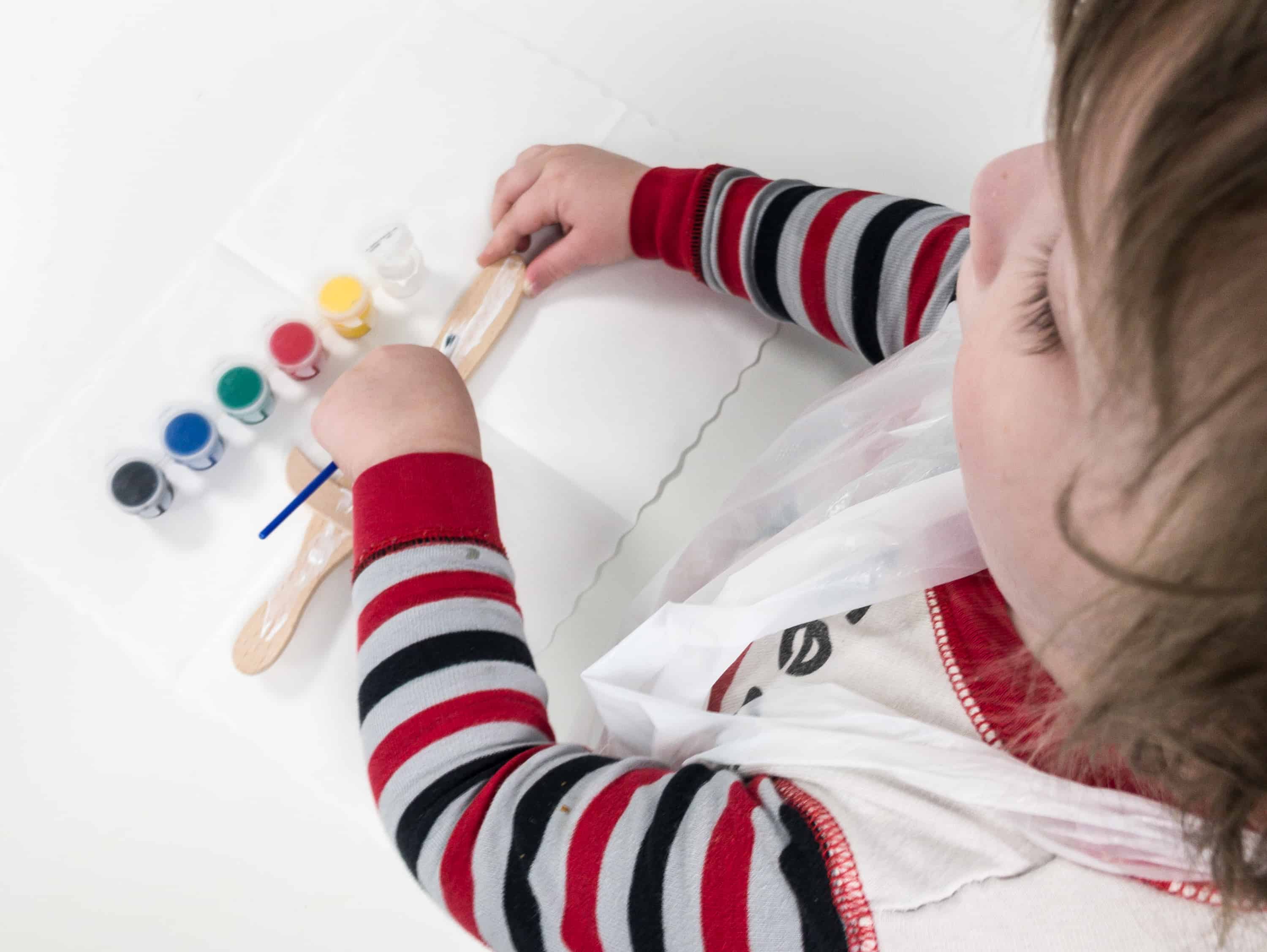 My son prepared to paint the sword first.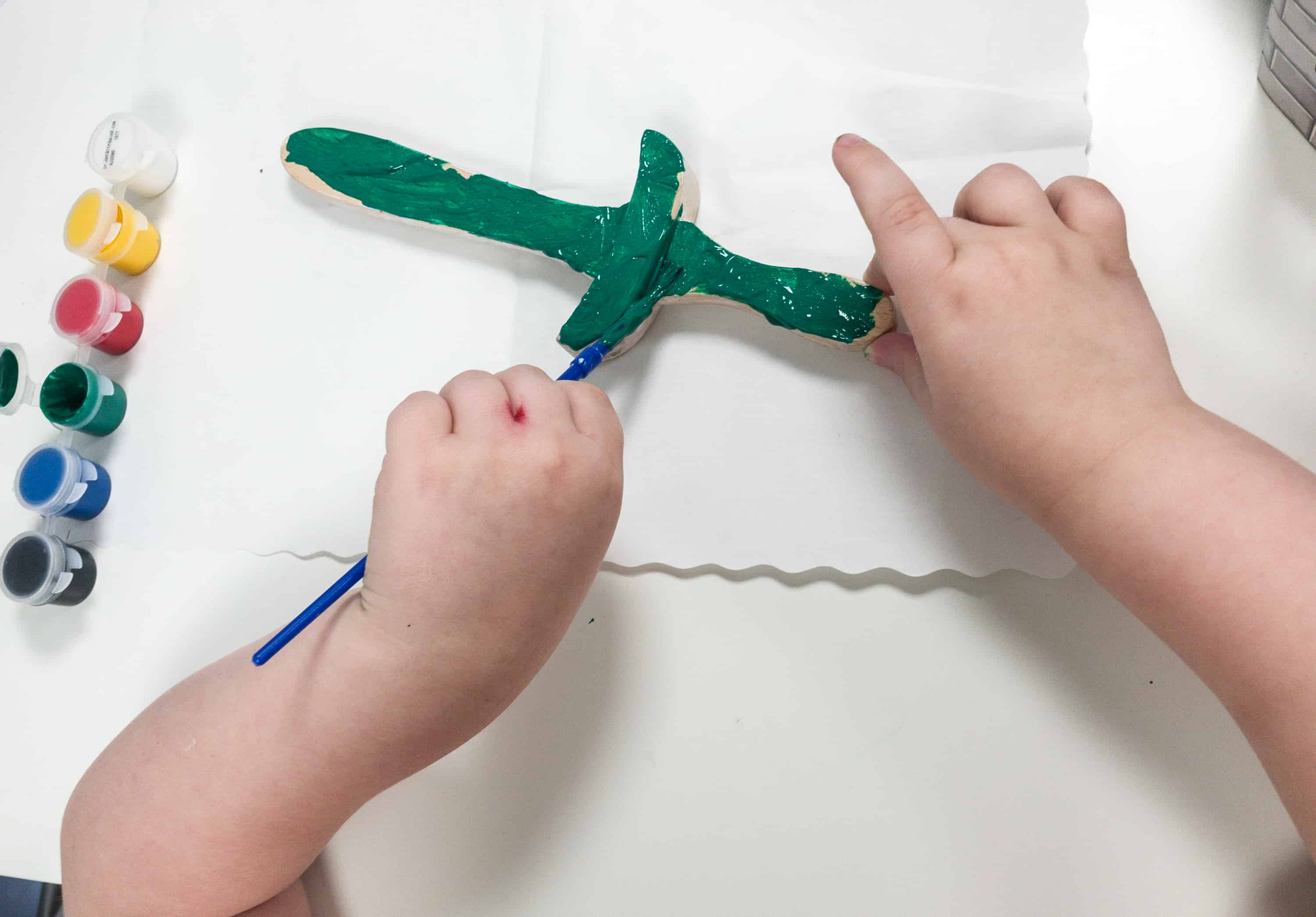 Cool choice of color, he wants the sword to be green! This was a multi-day activity for us, and he's still playing with his painted sword. He's so proud of it!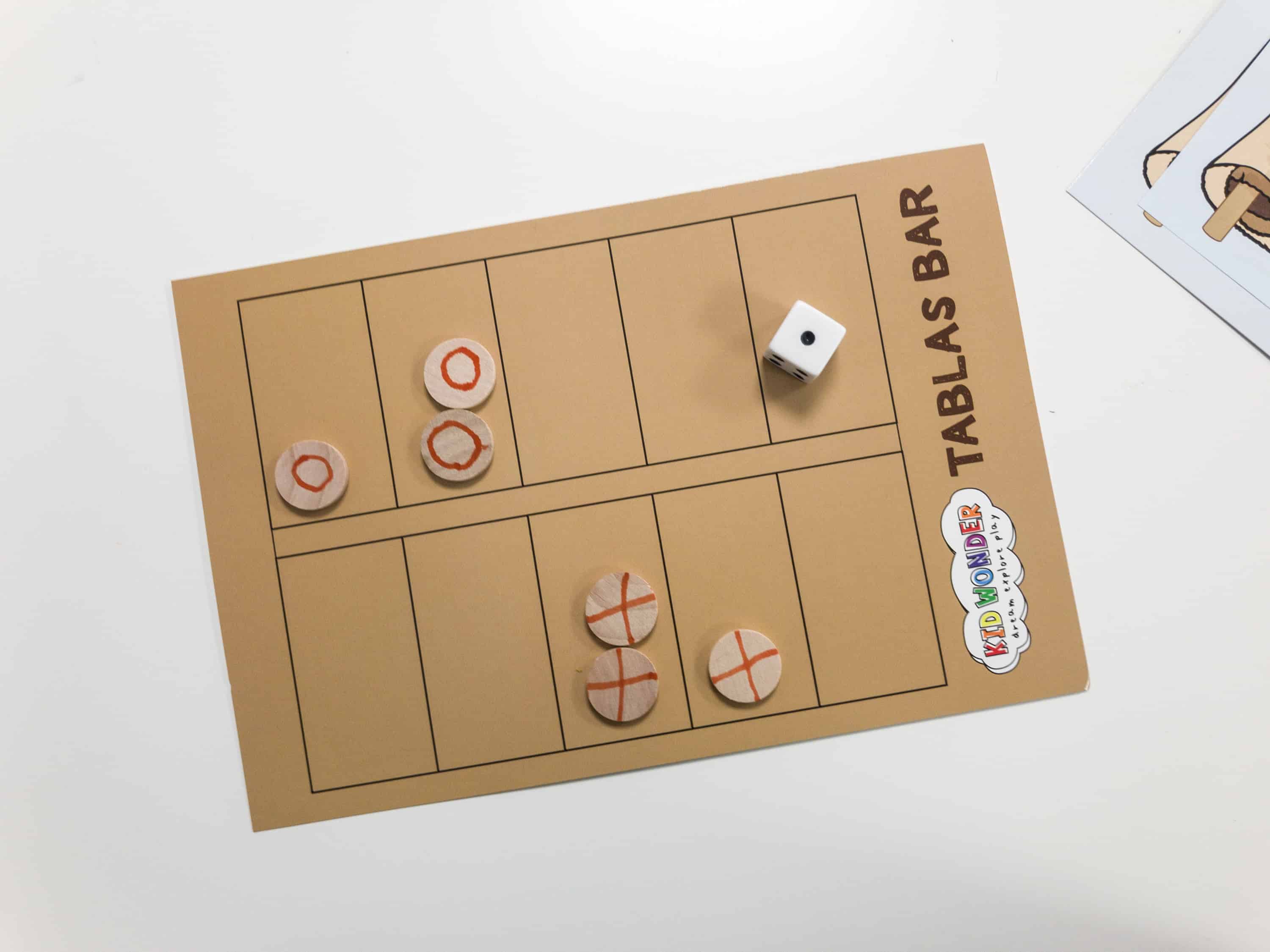 A tablas bar game card was included along with the tokens and the dice. Boxes include easy and simple games to practice counting and game-play skills.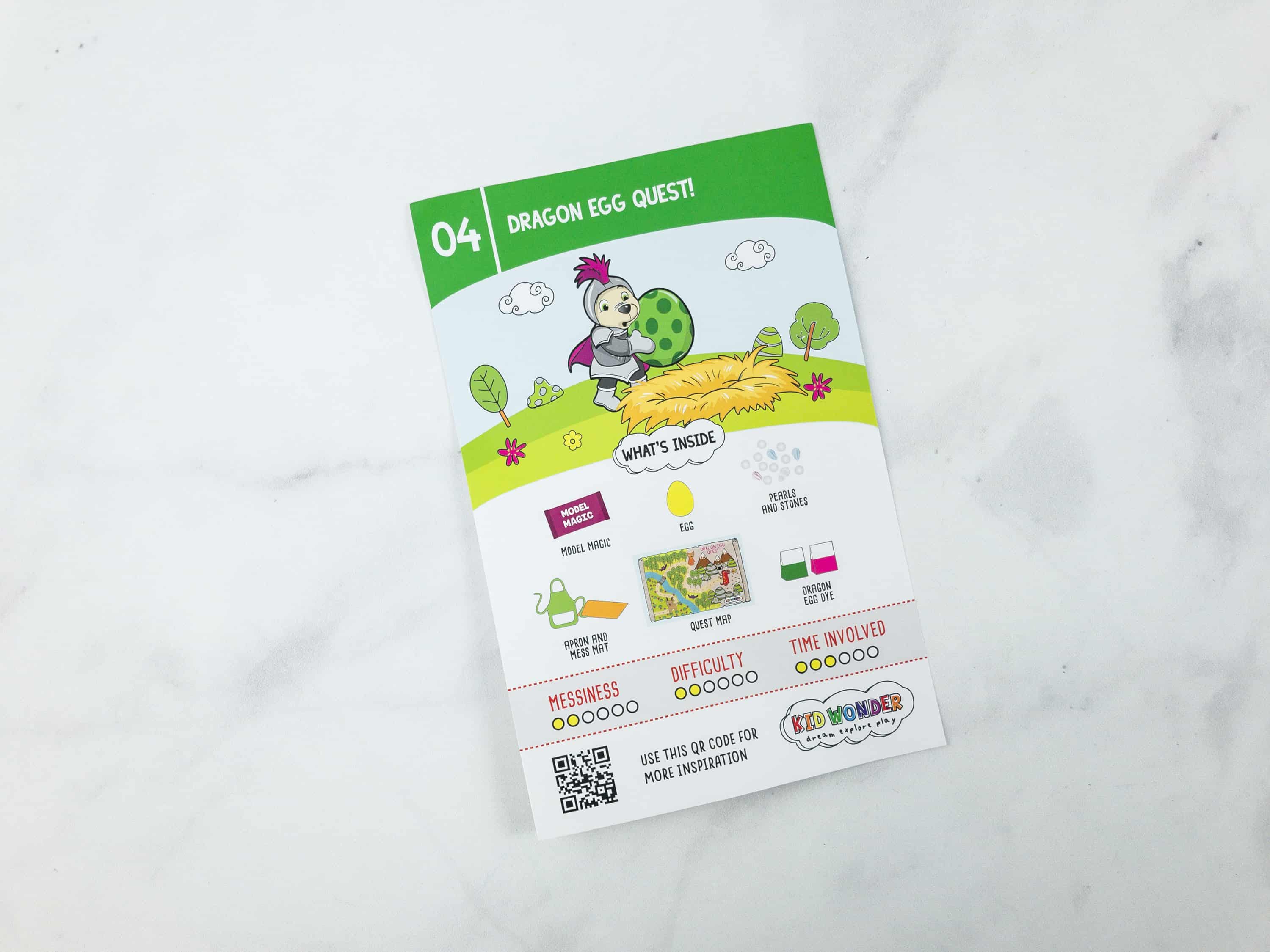 Activity No. 4: Dragon Egg Quest. The next activity involves DRAGONS! And the kit includes model magic, an egg, pearls and stones, apron and mess mat, a quest map, and some dragon egg dye.
Here's everything inside the kit! After doing the dragon egg, it's time to go on a quest! The kids are really excited!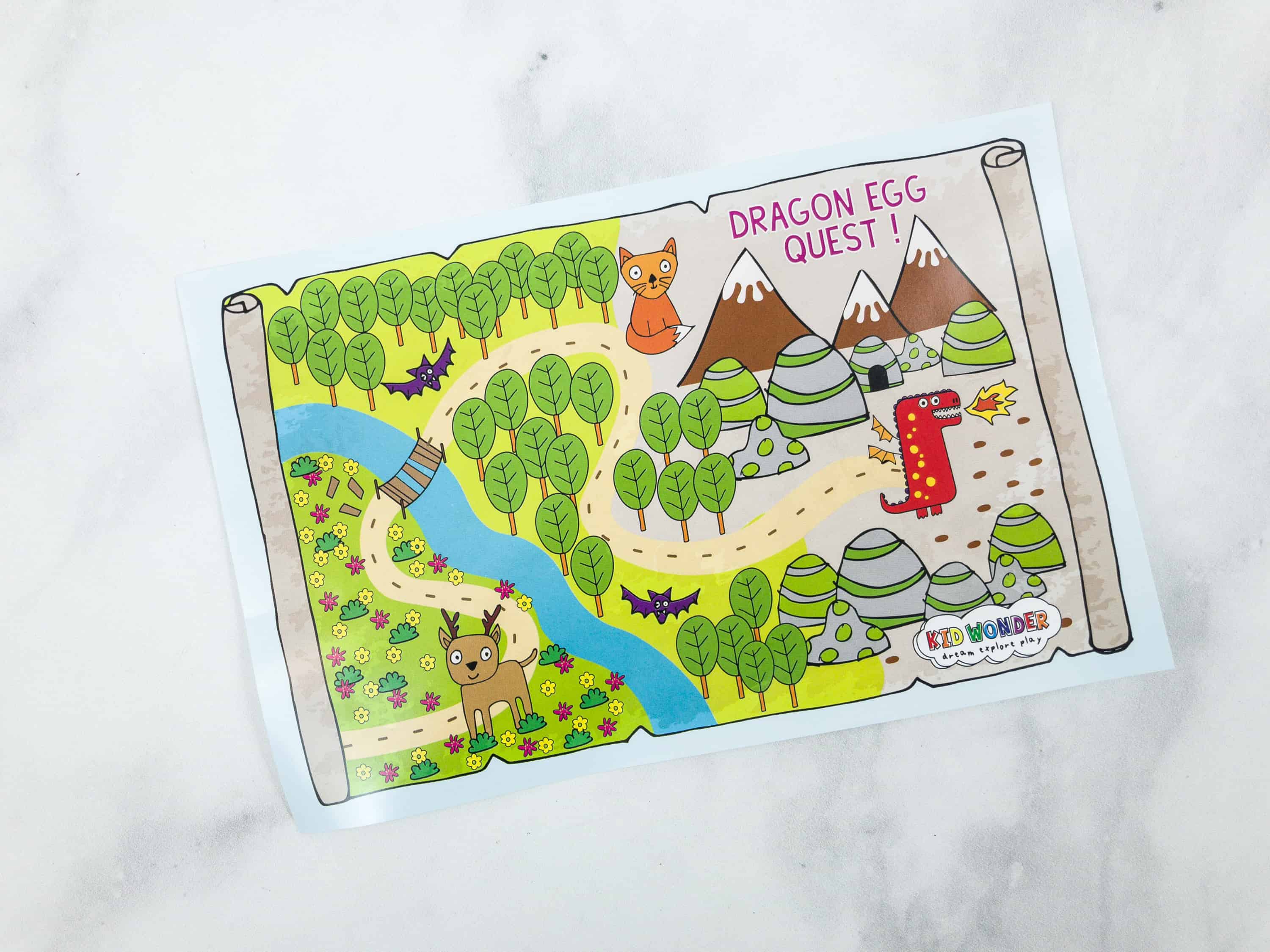 The simple dragon egg quest map is really cute! My son has returned to this over and over to tell me a story about it. I love how this simple but engaging illustration captured his imagination.
My son started molding the egg with the model magic -first we mixed in the included tempera to make it green. I had no idea you could do that.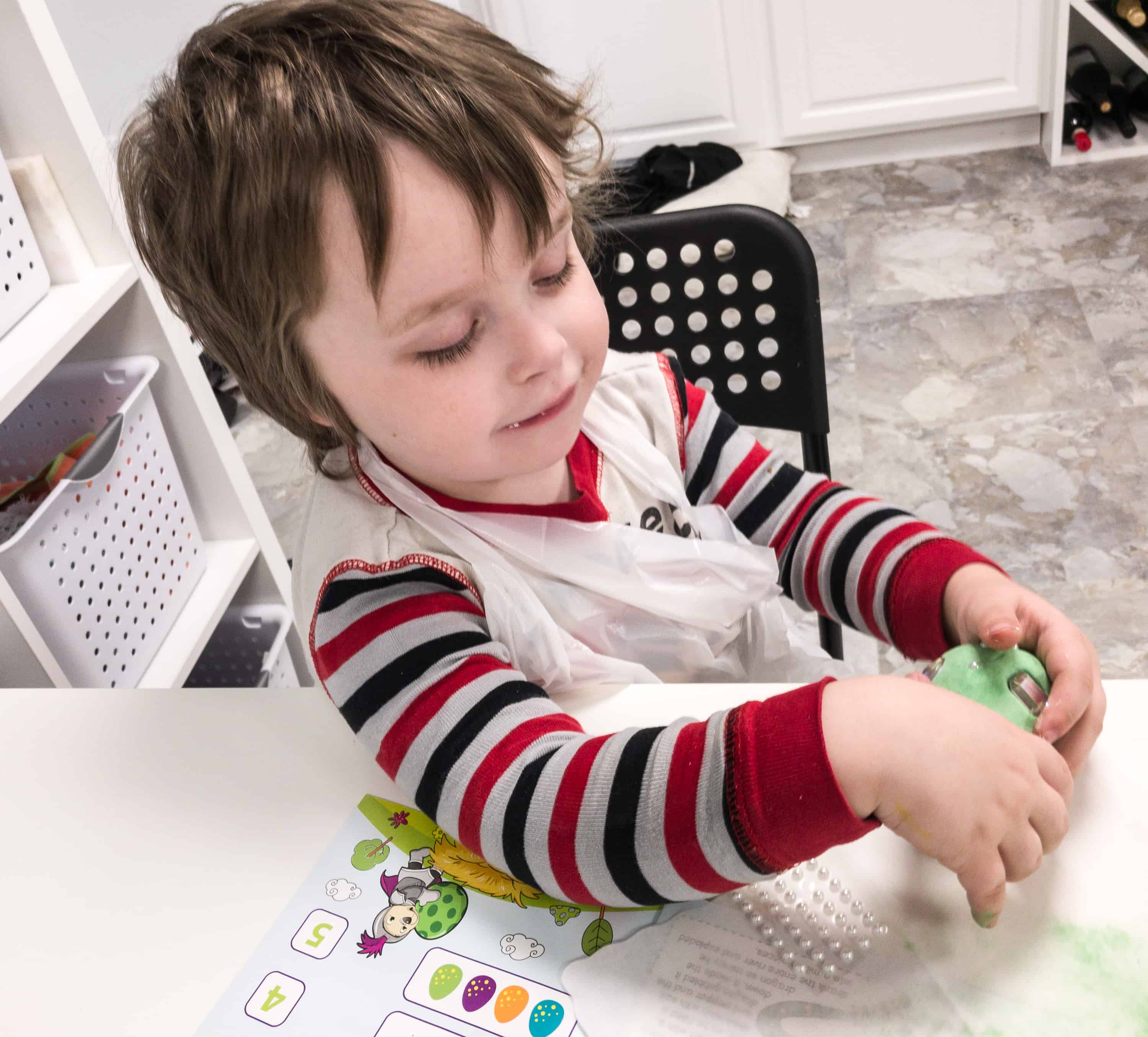 …and he stuck some stones and pearls on it too.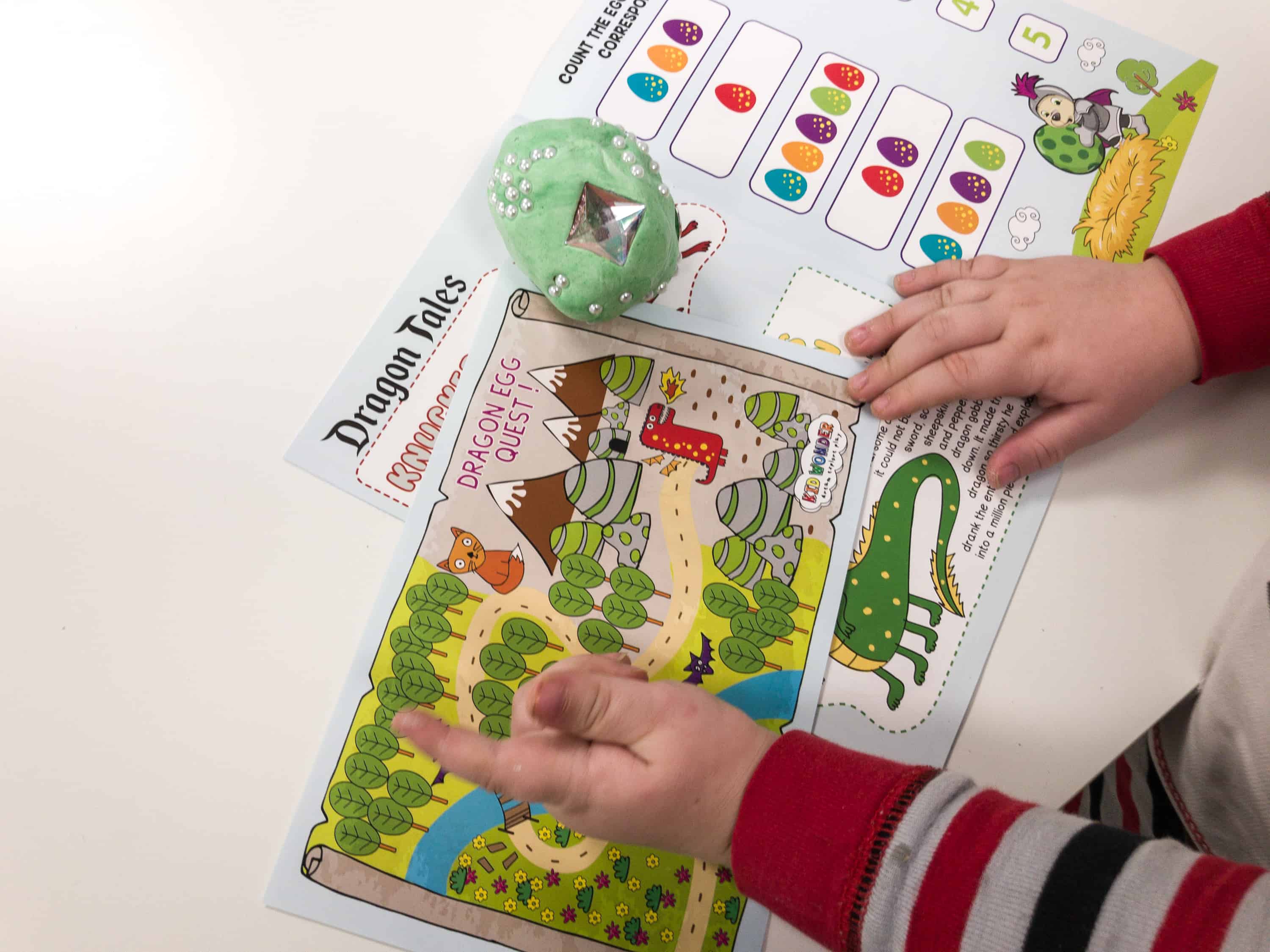 That's one elegant looking egg. Now, time to hide it! It's like Easter all over again! This egg is now one of his prized possessions.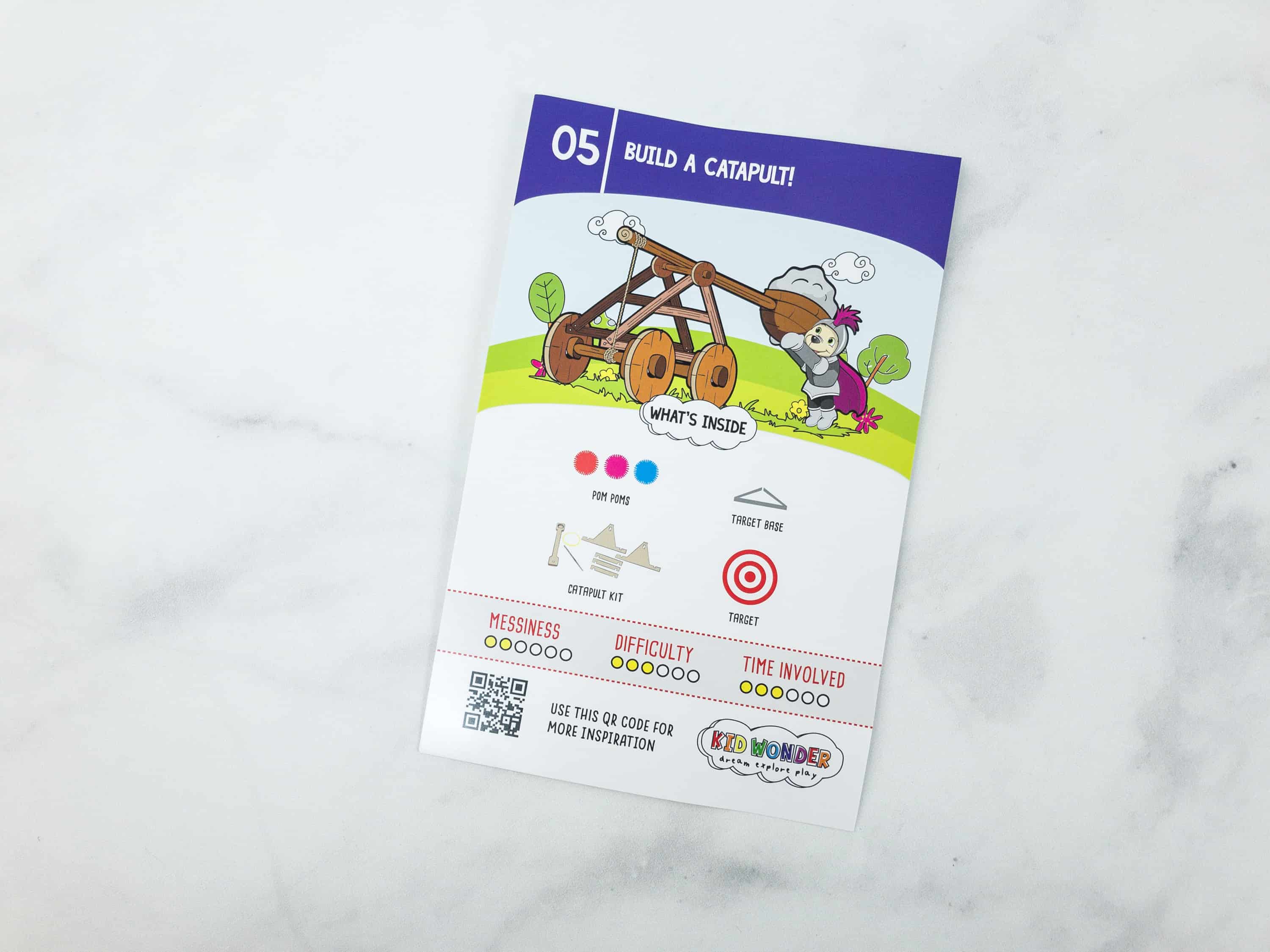 Activity No. 5: Build A Catapult. The last activity for this box is building one of the most known weapons of the Medieval times, the catapult! This kit has colored pom poms, a target and target base, and the whole catapult kit.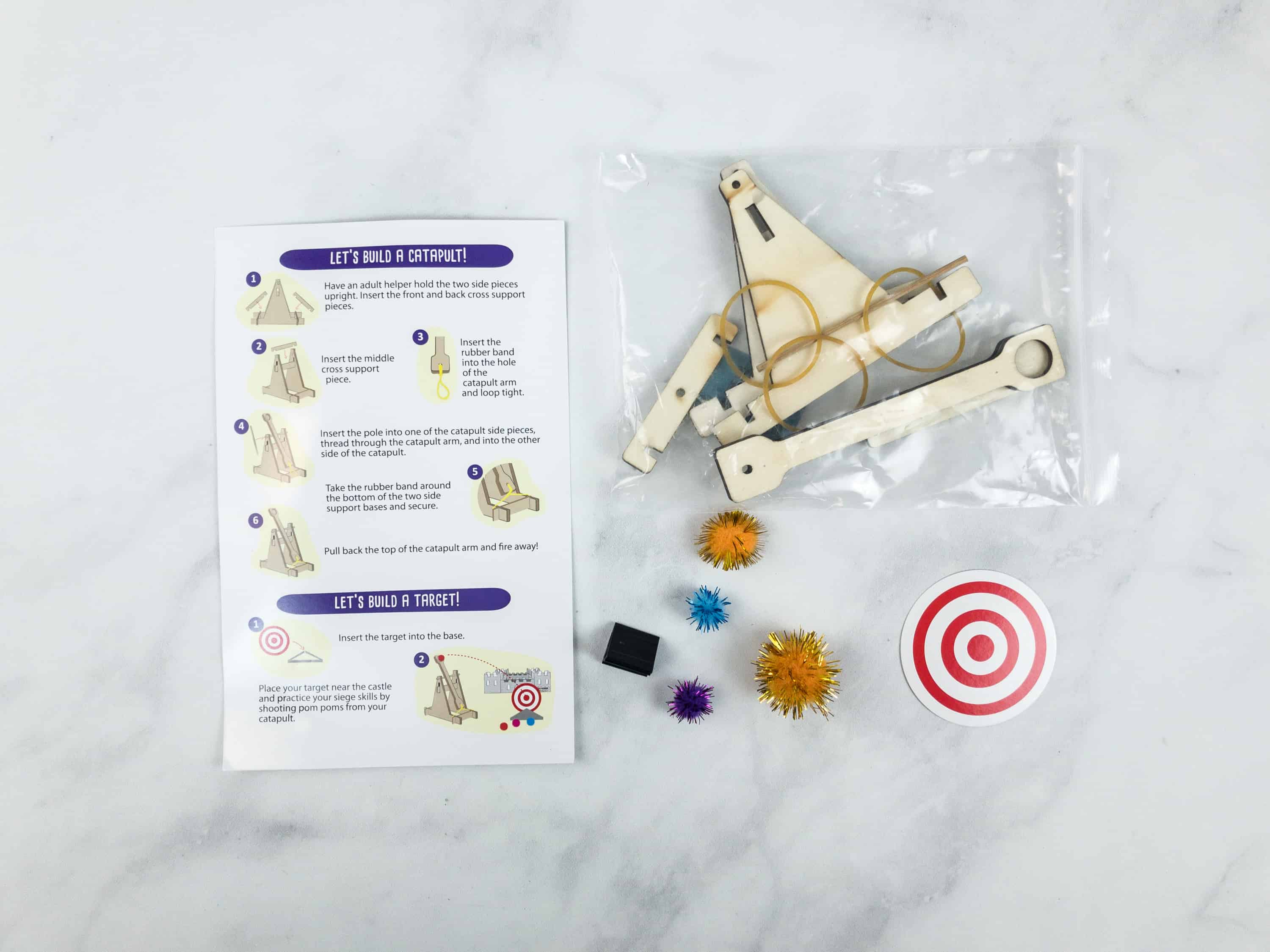 This activity has a fair difficulty and time requirement level. They provided simple and easy to follow instructions so this would be a lot easier for the kids to build.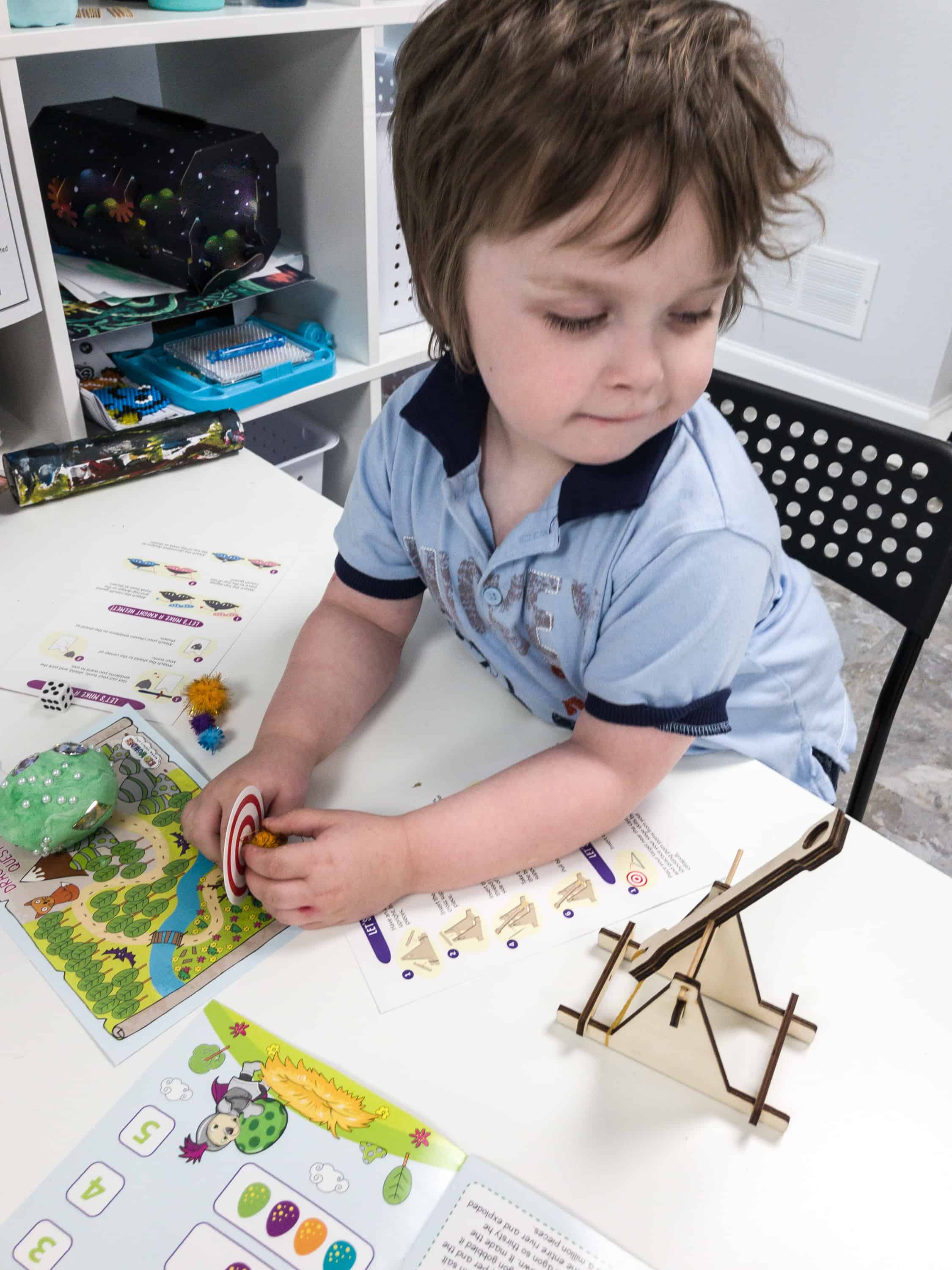 The projectile poms are soft so it's really safe to use.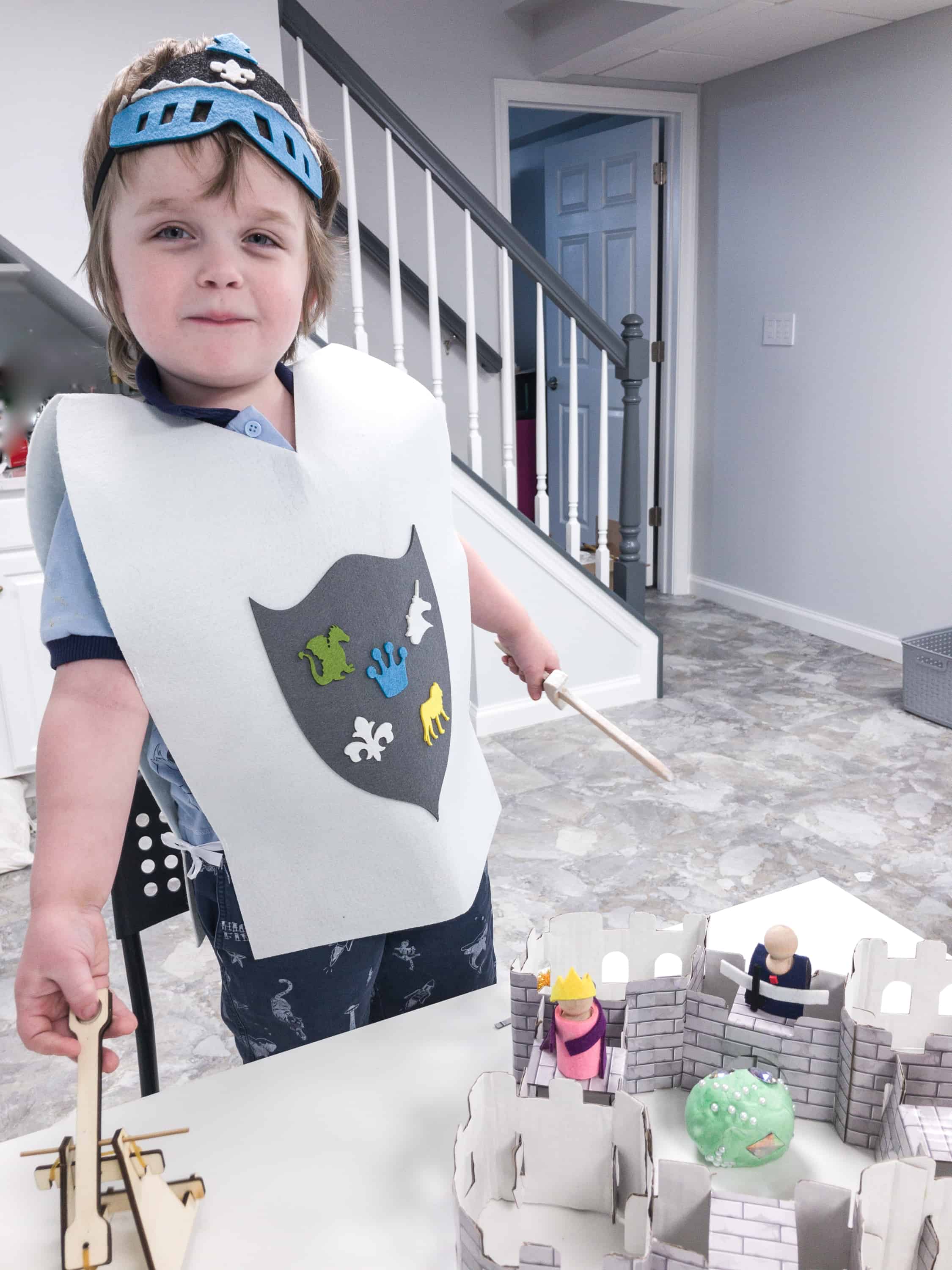 Here's everything that the kids accomplished in this educational and fun box!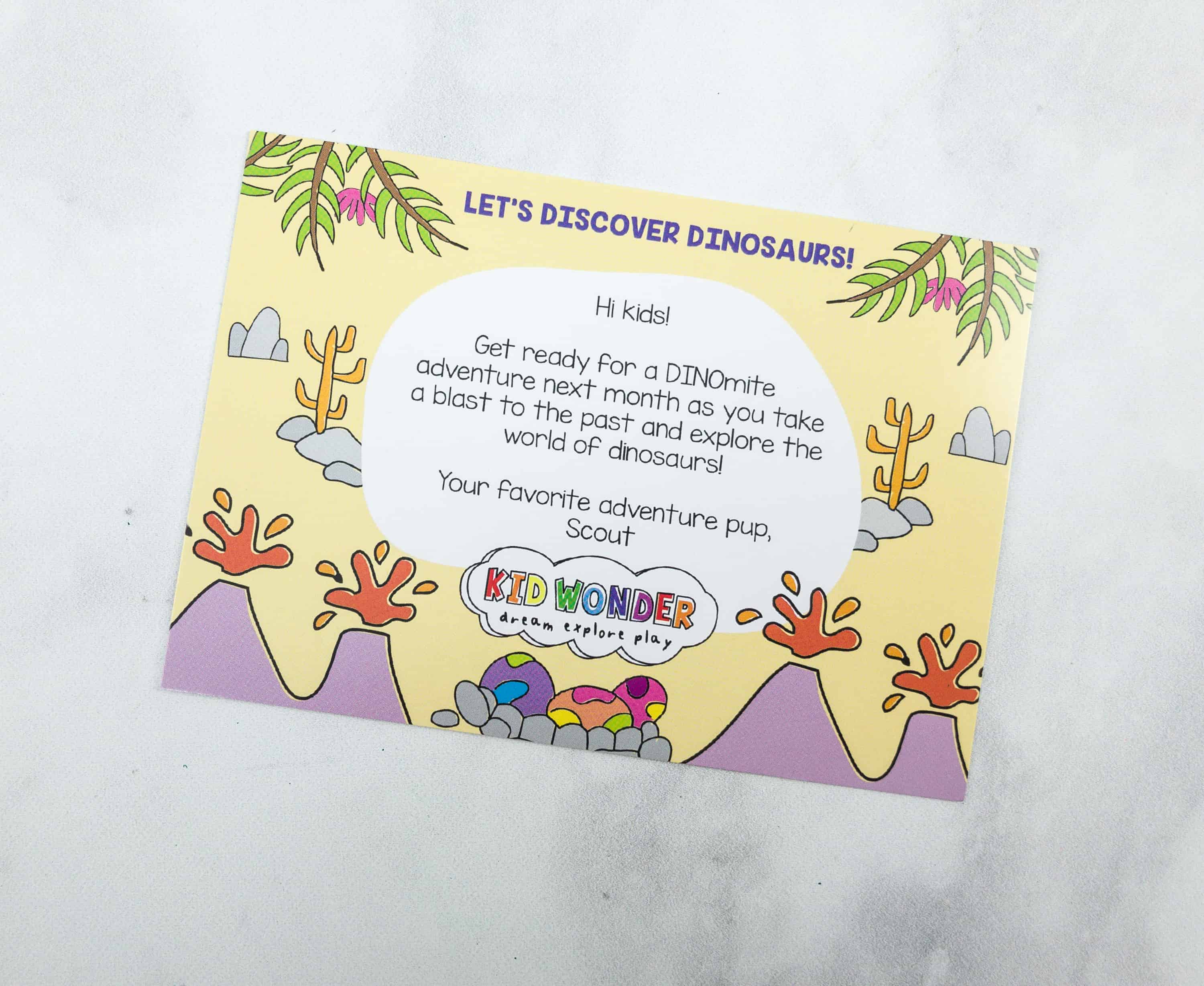 The next one will take us back further in the past … We're really thrilled to play DINOS!
This month, the kids were able to learn more about life in the Middle Ages, and pretend to be a knight and live in a castle! This is definitely a great box to keep the kids busy and to let them explore and play with various themes. The number of activities in Kid Wonder is really substantial and will allow kids to play and explore all month long. Now that we've done two boxes I can also say very affirmatively that the kids will absolutely continue playing with the items they've made from previous boxes – and they hold up! I'm super impressed with this box and it's well crafted to generate tons of imaginative play – exactly what all kids need.
What do you think of the Kid Wonder Box?
Visit Kid Wonder Little Dreamers Box to subscribe or find out more!