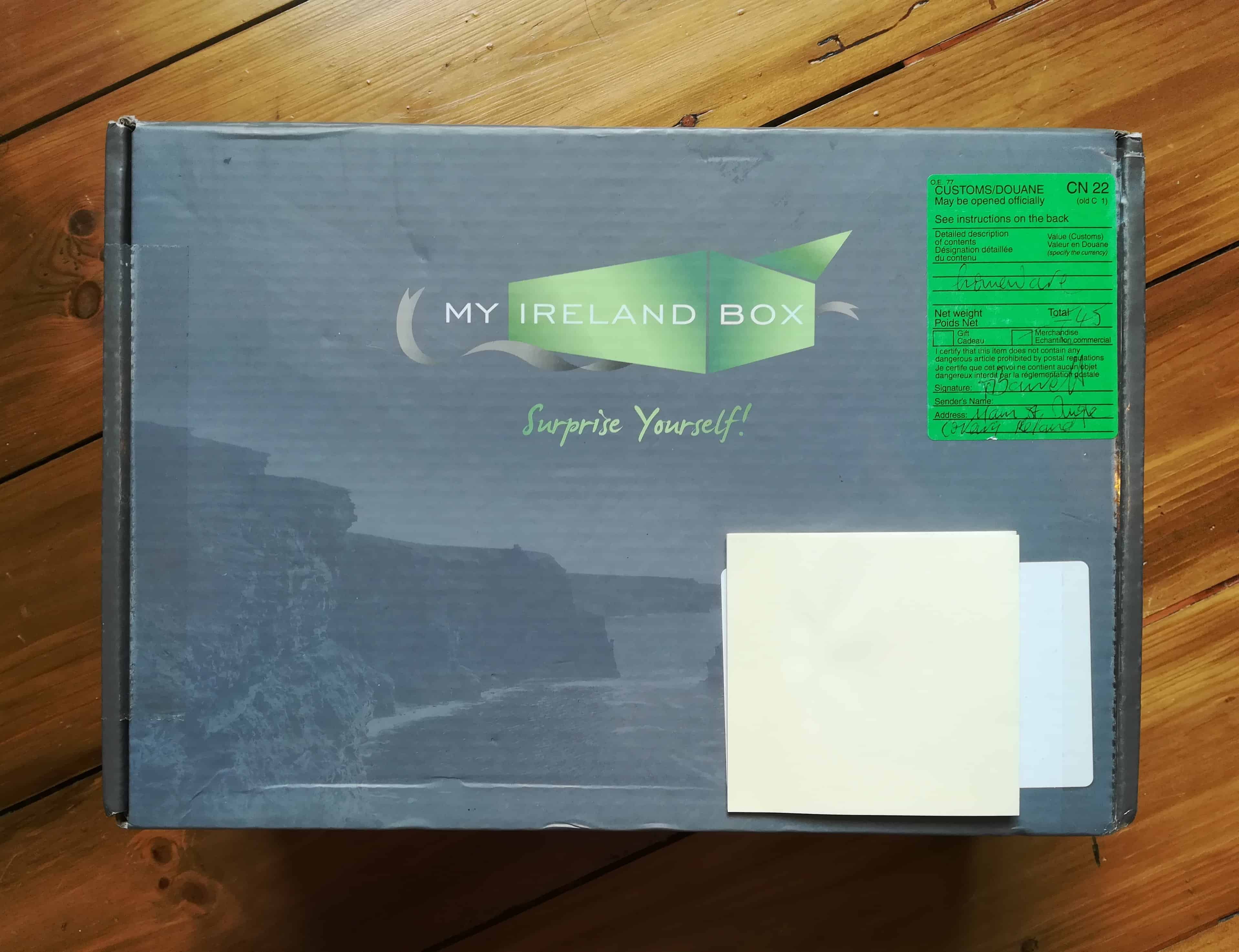 My Ireland Box delivers monthly curated gift boxes featuring unique items from Ireland's favourite artisans. Boxes can be shipped anywhere in the world, so a subscription can be a great gift for yourself or someone special abroad.
The box is sturdy and padded out with lots of green tissue paper to keep the contents secure.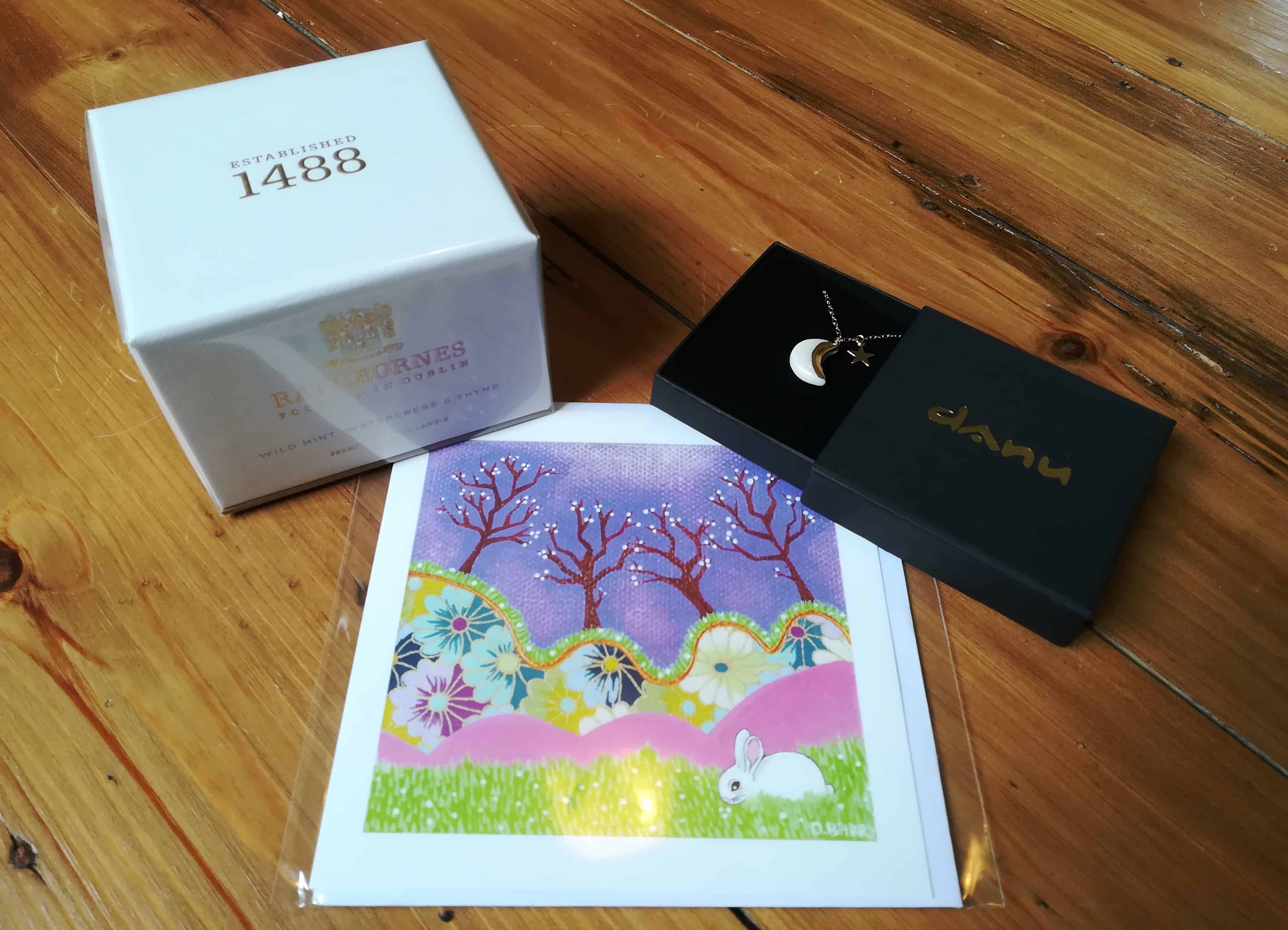 May's MyIrelandBox is inspired by the Irish countryside at dusk and night. It features three beautiful items which evoke a sense of the night sky and the courtryside beneath.
As always, the box includes a note to subscribers which tells about each of the products in the box, as well as a bit of history about the makers and their inspiration. The notes are always poetic and heartfelt, adding a nice personal touch to the box. I really appreciate that the My Ireland Box includes lots of information about its contents – it shows the care that goes into selecting the products and it shows respect to the artists and producers who create them.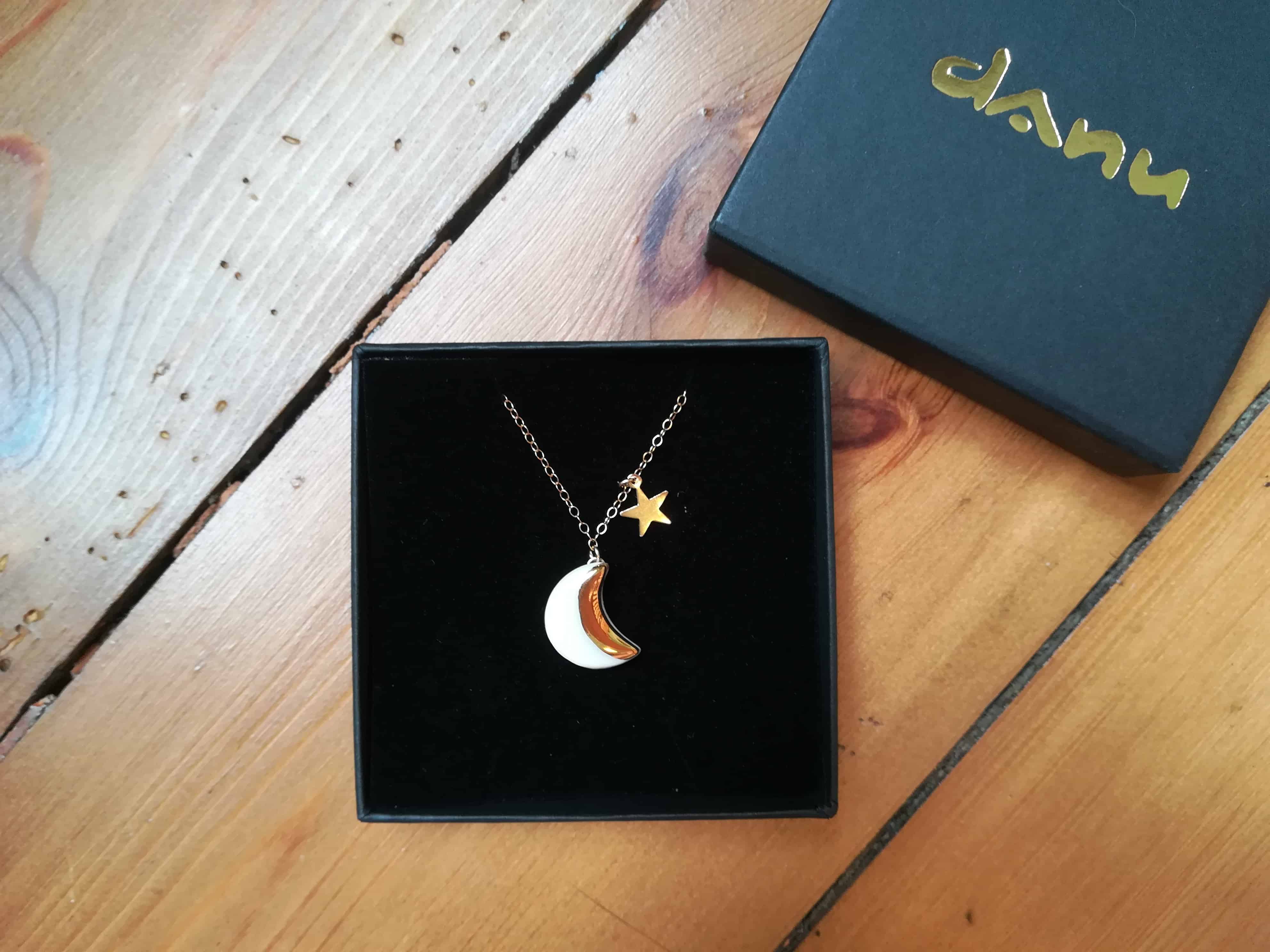 The box includes a gorgeous ceramic crescent moon necklace by DANU. Founded by artist and designer Ruth Power, Dublin-based DANU Ceramics creates handcrafted homewares, wall art and jewellery inspired by diverse cultures from Ireland to Asia. The company is named for the Celtic Goddess of earth and creativity and the Hindu Goddess of water, three elements necessary for the creation of ceramics. Male subscribers received a dark teal and gold trim bowl from DANU, while female subscribers received the necklace. I just love the glossy white and gold ceramic necklace- it is such an elegant design and the little gold star is a nice touch.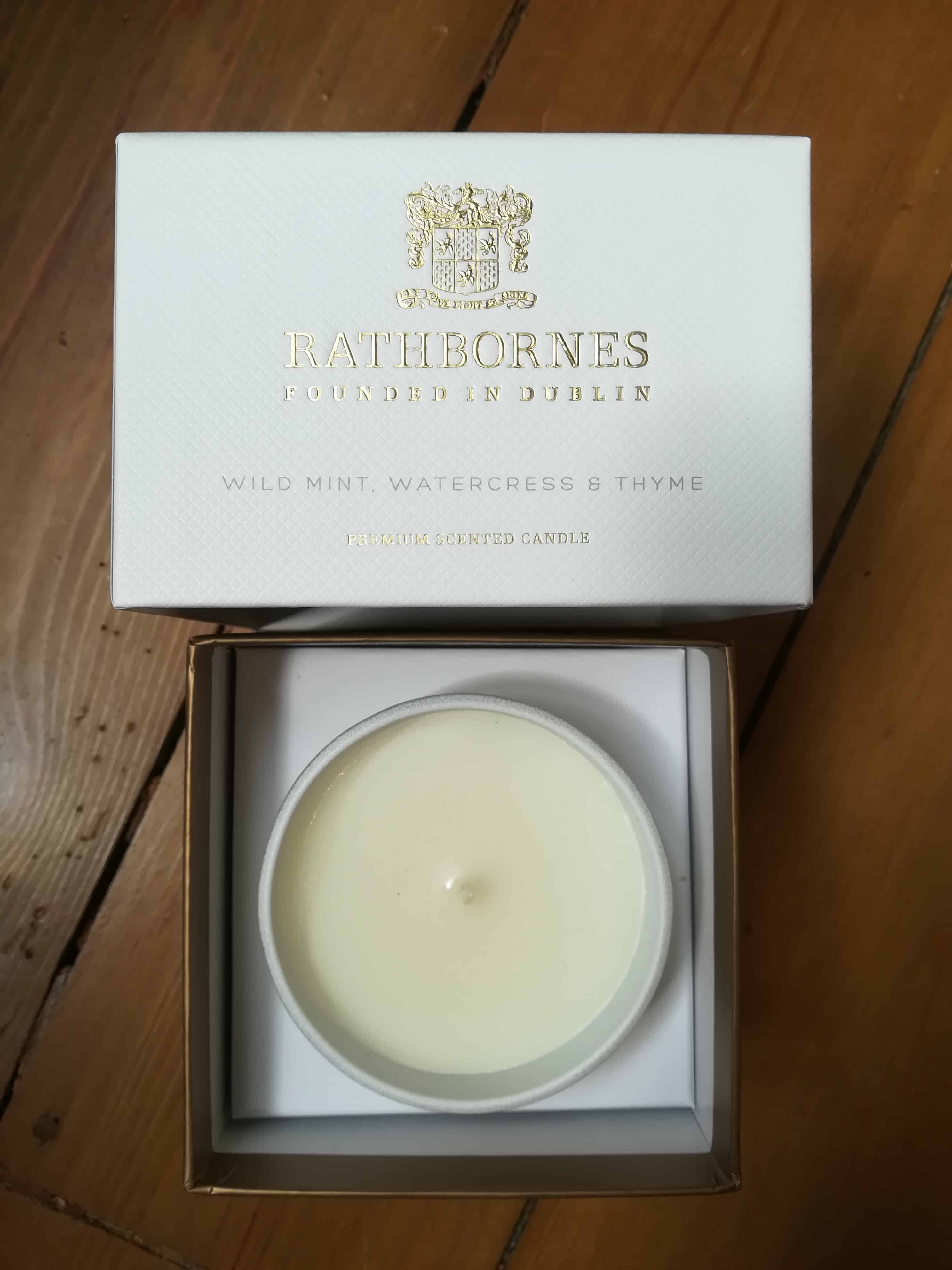 To evoke the romance of the Irish countryside in the evening, the box includes a Wild Mint, Watercress & Thyme premium scented candle by Rathborne Candles.  Established in Dublin in 1488, Rathbornes Candles is the oldest candle makers in the world! This hand poured candle is part of the 'Beyond the Pale Collection', and features a blend of essential oils producing a truly lovely scent. This is honestly one of the best smelling candles I've ever encountered, it has a strong fragrance but it's perfectly balanced, fresh yet comforting. I wish this scent was available as a perfume!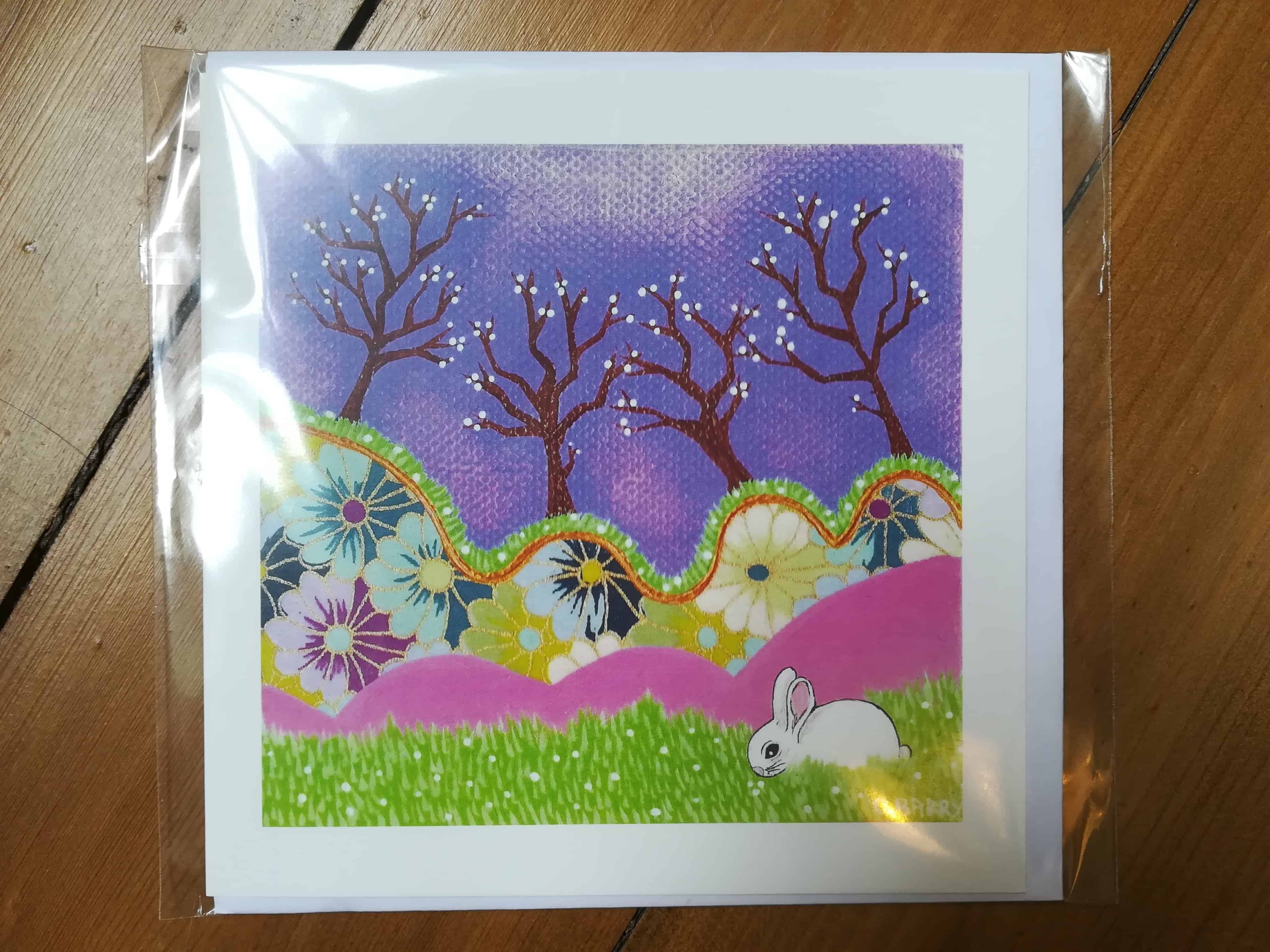 Bringing to mind the hares and bunnies of Ireland running around fields at dusk, the box includes a sweet card by Dundalk artist Orla Barry. Working mostly with acrylics on canvas, her work is inspired by spiritual symbolism, mysticism, surrealism, fairytales, animals, patterns and colour, influences which can be seen in this charming card.
Although this month's box included fewer items than previous, I loved the three items. It really is quality over quantity in this instance. The DANU necklace and Rathborne candle are actually two of my favourite items I've ever received in a MyIrelandBox.
Another nice touch from May's box is that one lucky subscriber won a set of Tracy Gilbert sterling silver Children of Lir handmade earrings worth over $250. Next month, someone will will a Tracy Gilbert 'Growing Home' brooch. Fingers crossed!
What do you think of this month's My Ireland Box?