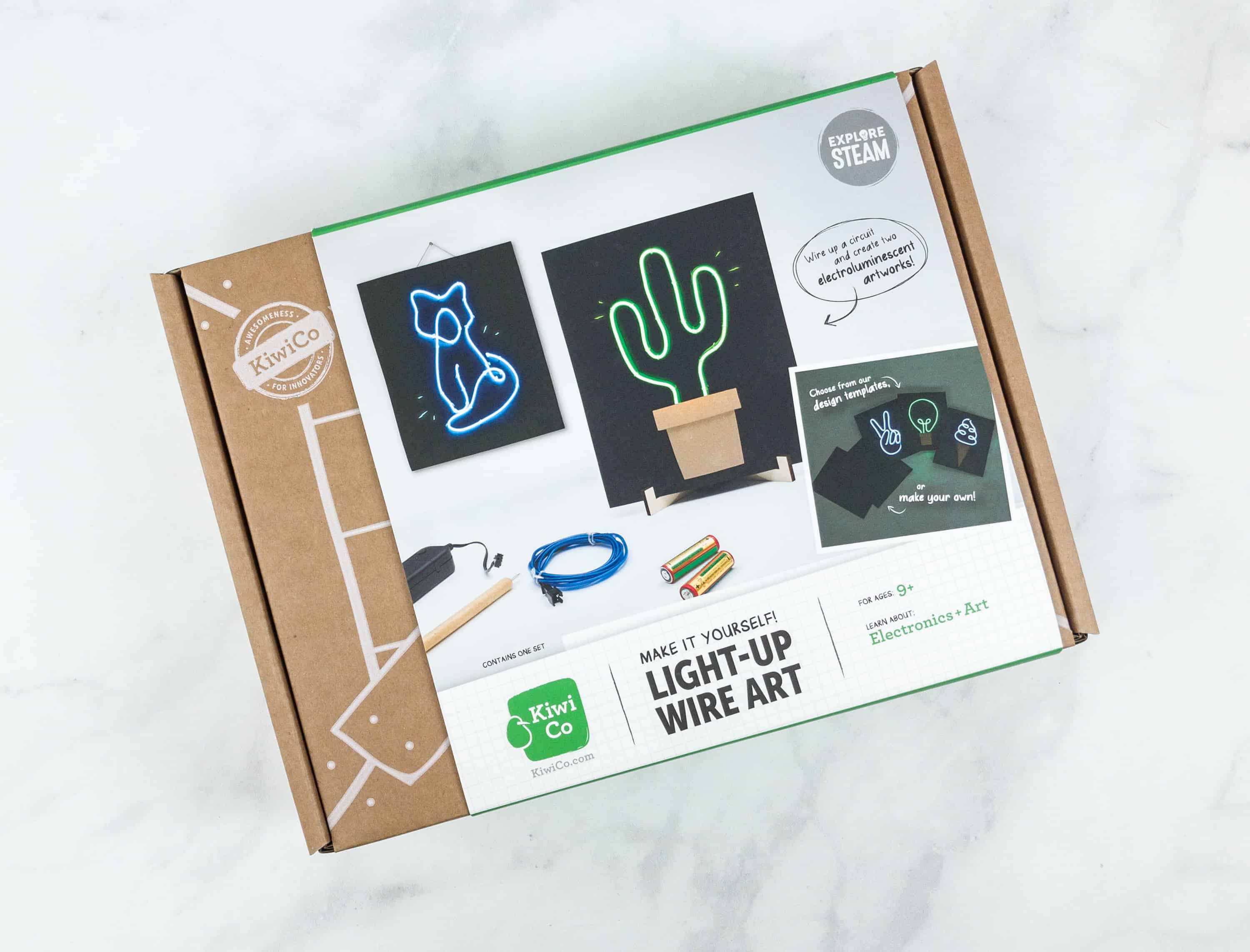 KiwiCo Family is currently offering single STEAM crates, featuring creative projects that fuse science and art! These KiwiCo STEAM Projects are ideal for kids ages 9 and above, the same age range as Doodle Crate and Tinker Crate subscriptions. All the materials are included, as well as easy-to-follow, step-by-step instructions plus clear illustrations. They even provide a series of explanations to illuminate how everything works.
This is the review of Light Up Wire, one of the new KiwiCo STEAM Projects available. It costs $34.95. The other projects are Constellation Messenger Bag and Chalkboard & Glow Slime. You can get all three projects at once for $74.95 + free shipping.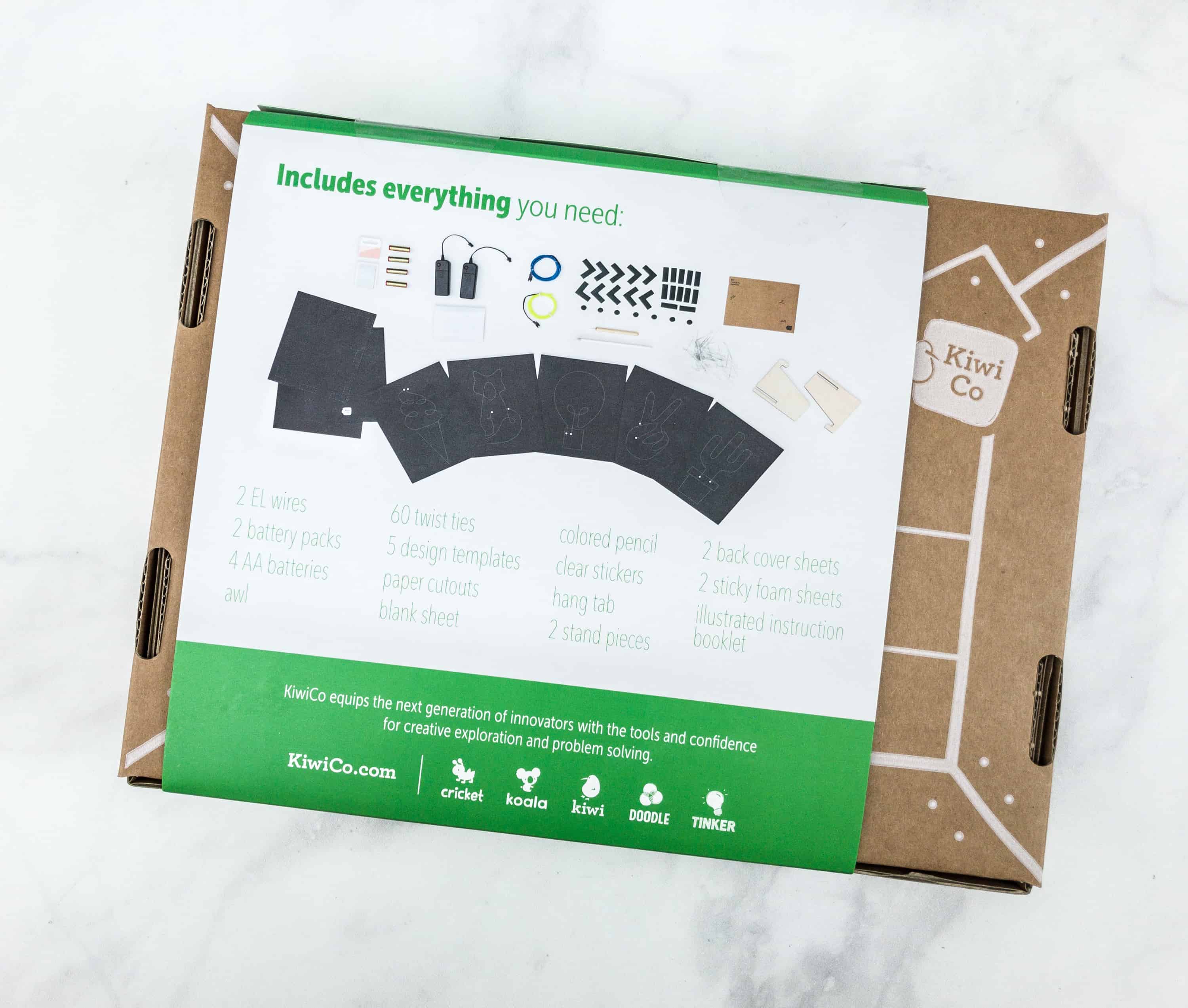 Create two custom electronic art pieces with EL wire. Choose from five existing templates, or create your own from scratch. Hang your creations or display one with the included wooden stand. Turn them on for an awesome glowing final effect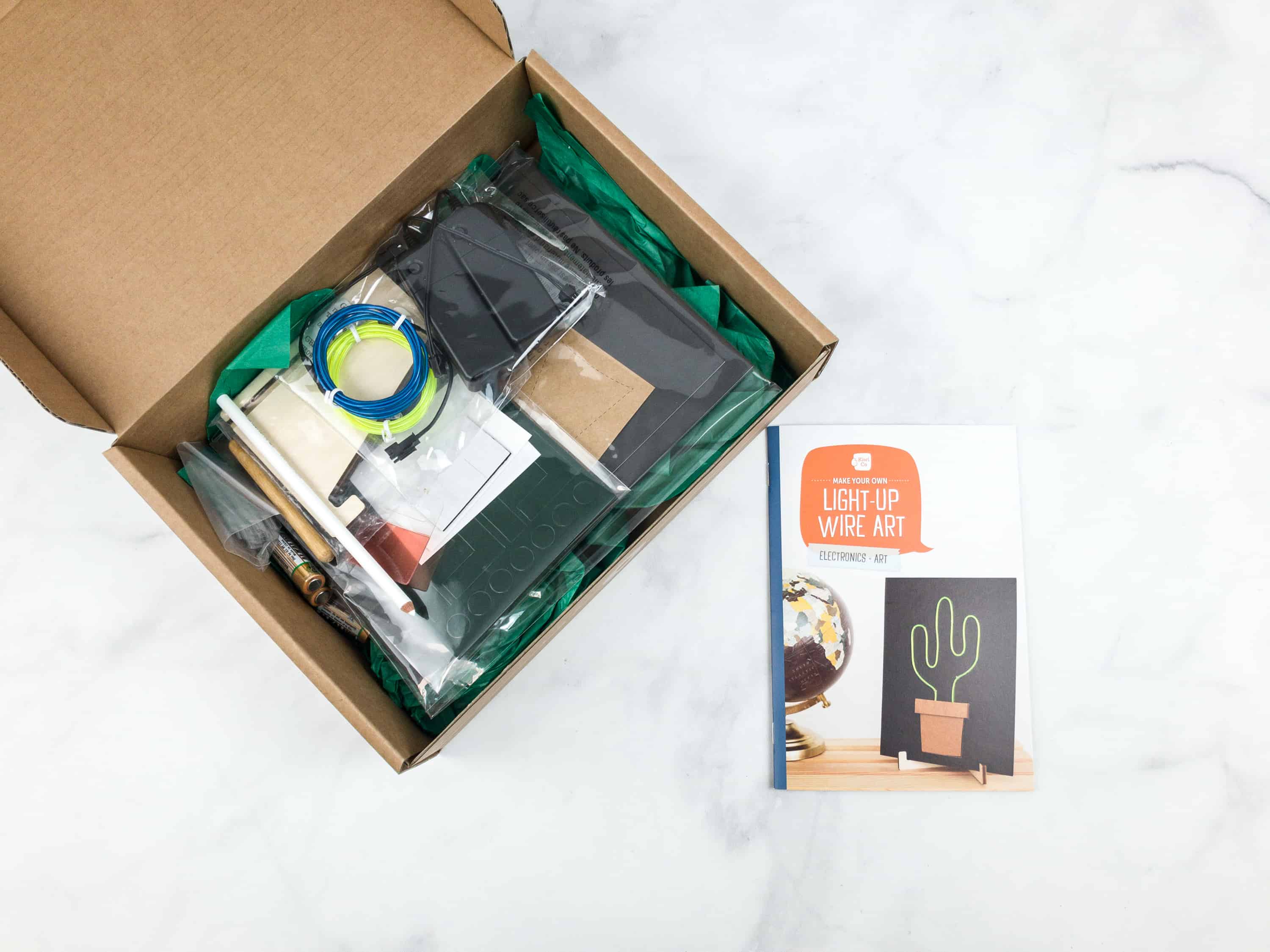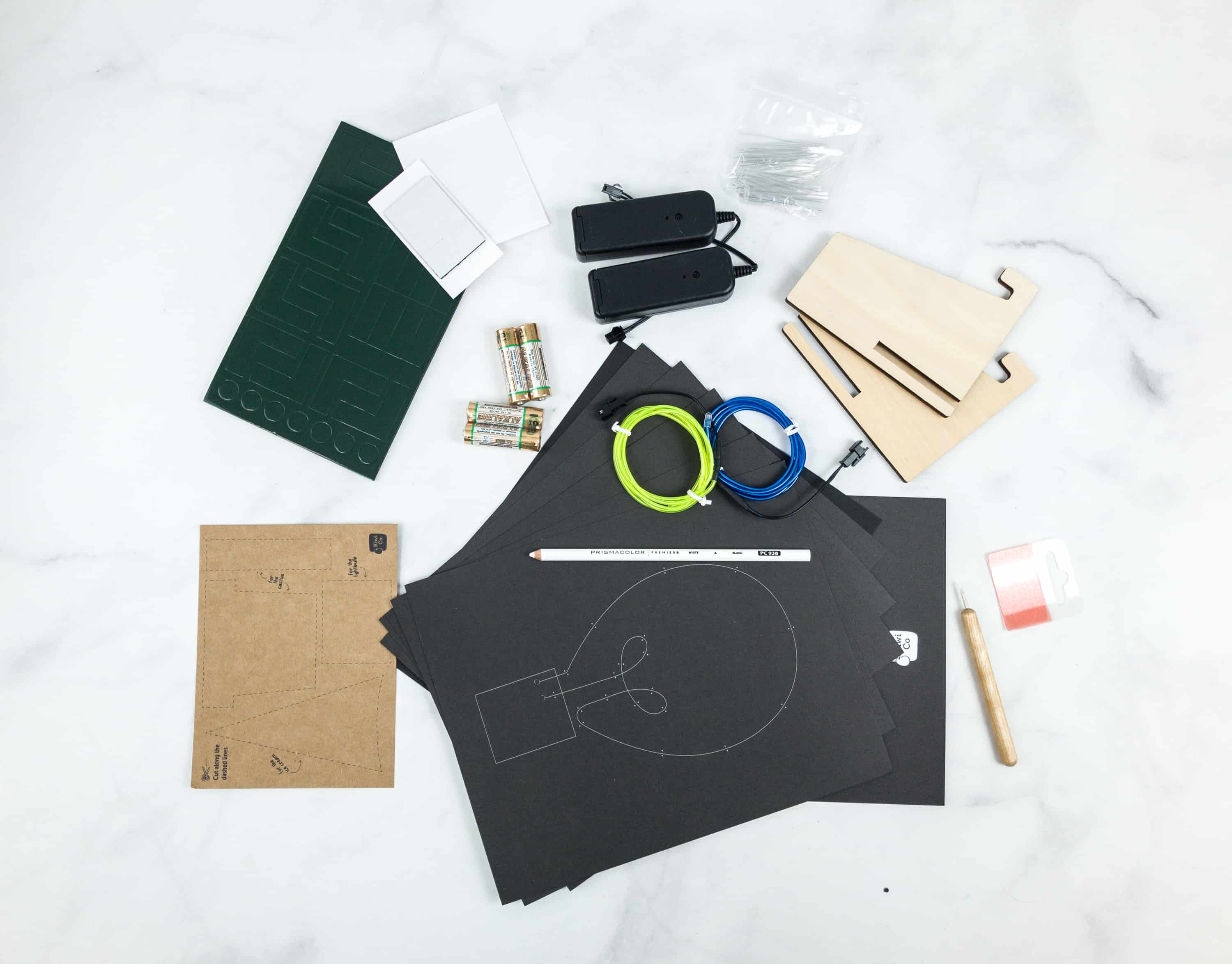 All of the craft supplies from the crate. You really need very little from home to do the crafts.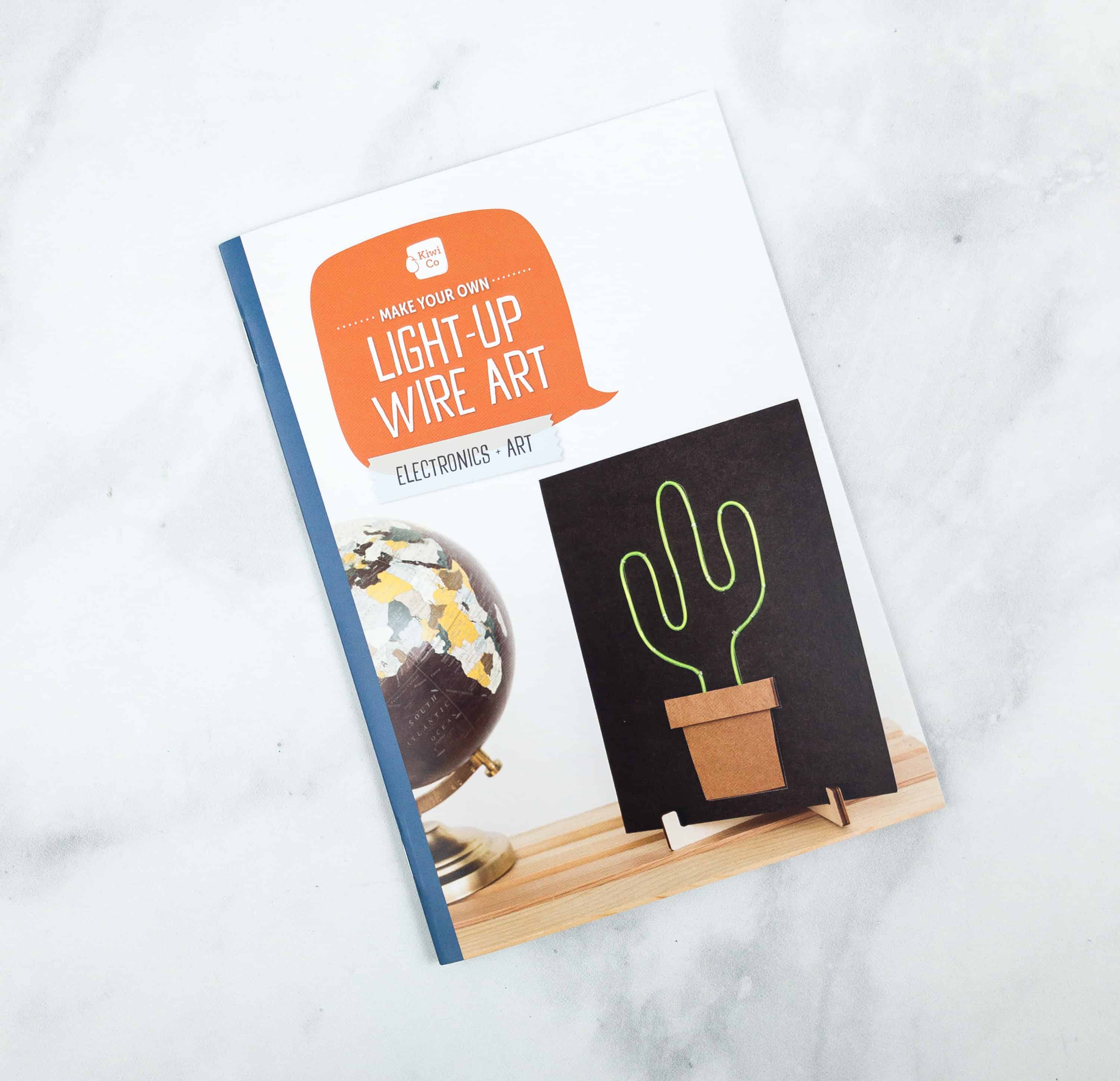 The booklet that comes in every crate is the actual instruction booklet for the crafts.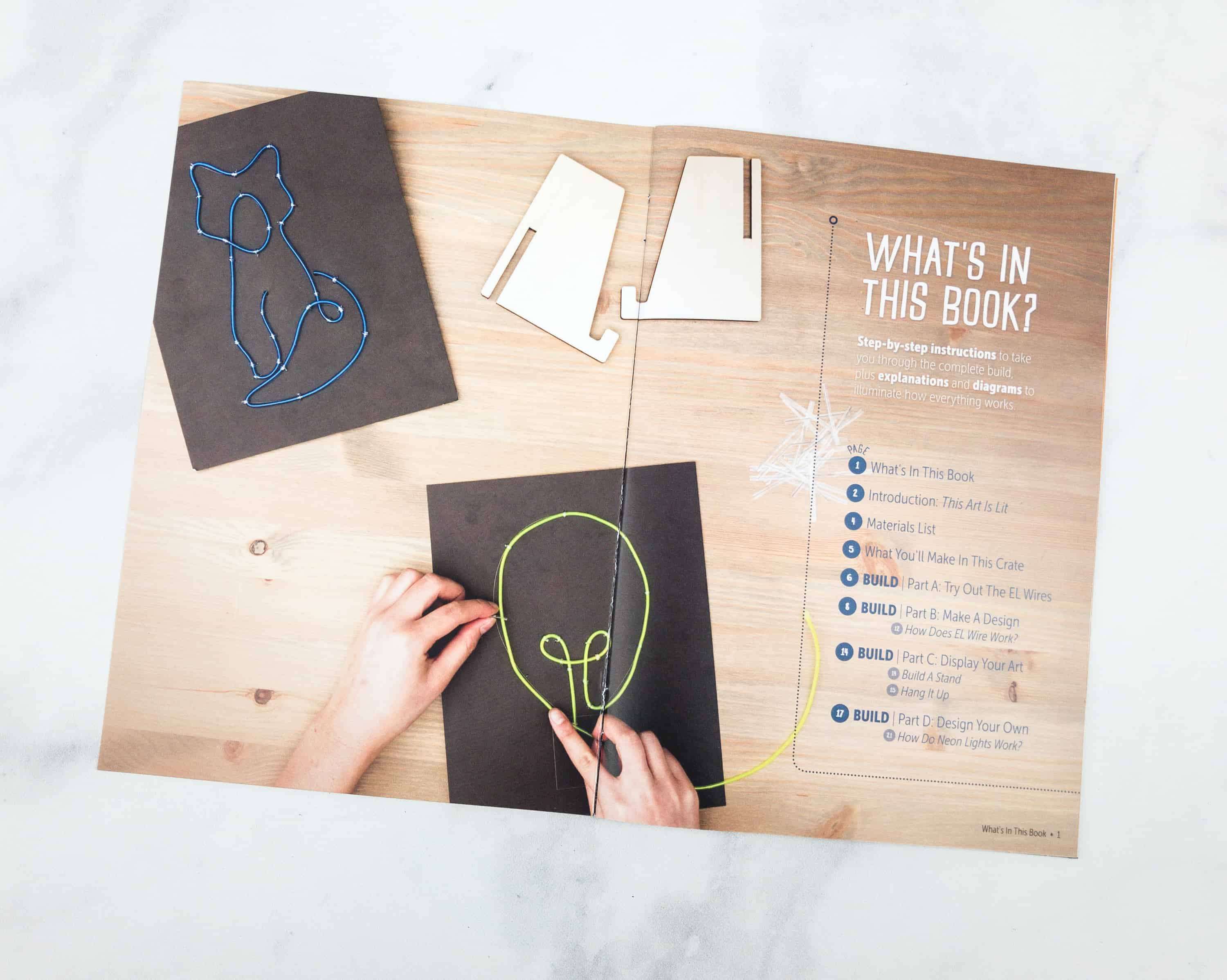 This book contains step by step instructions to assemble and decorate your own light-up wire art. There are also explanations and diagrams on how everything in this project work!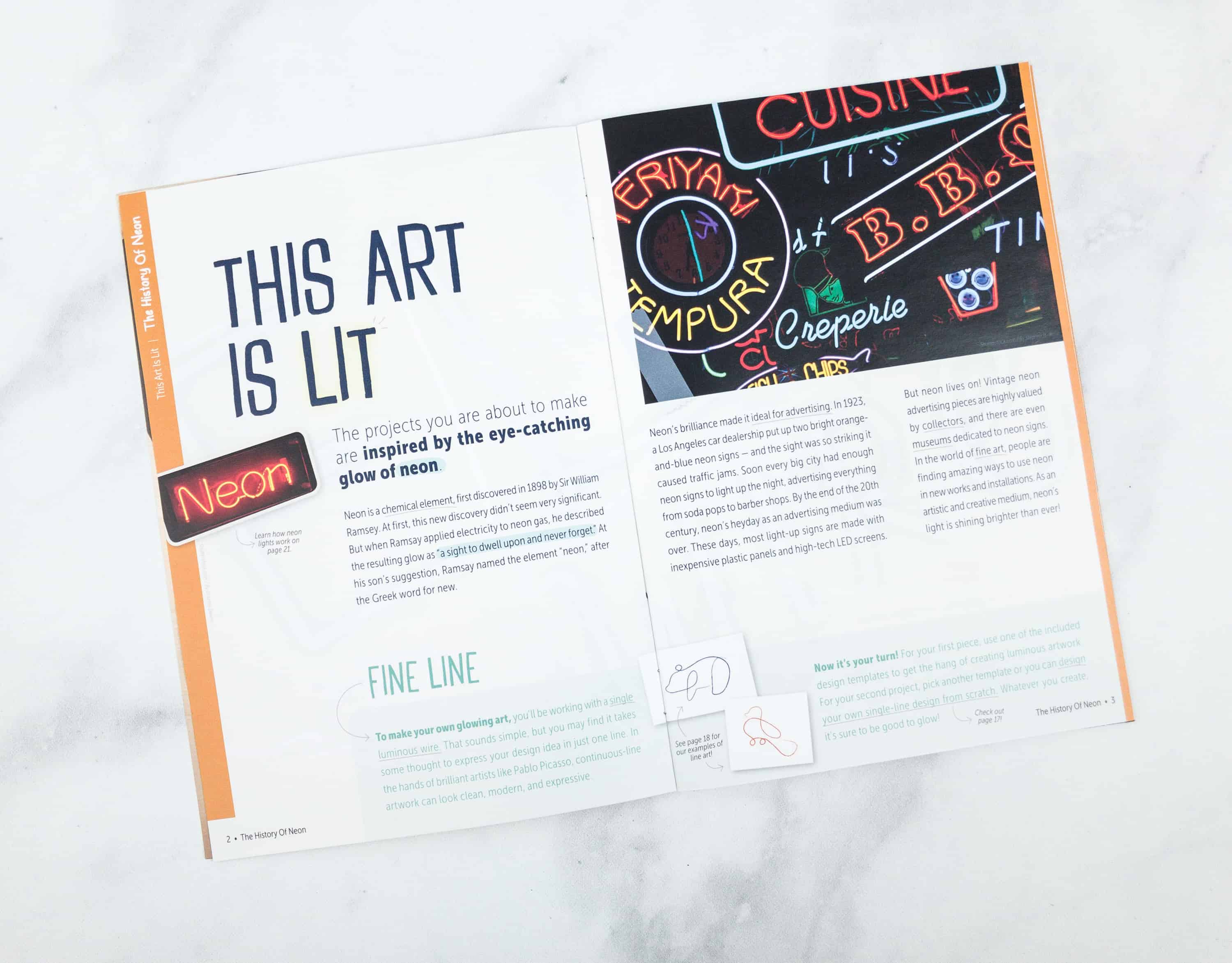 This page discusses about neon — how it started, who discovered it, and its connection to this month's activity.
They also included a list of all the materials needed for the project.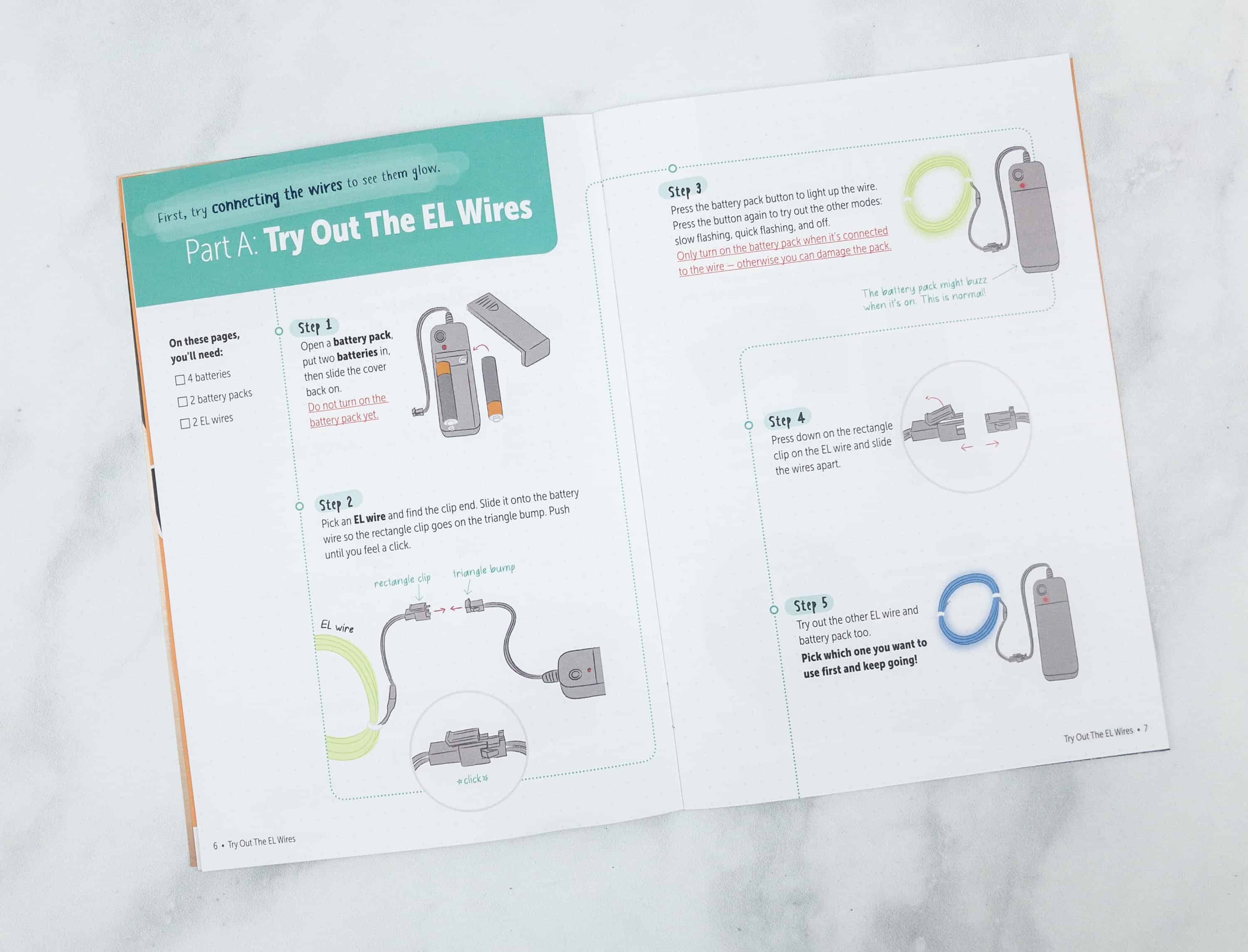 Here's Part A! After confirming that all items are complete, we started checking out the wires and batteries. Included in the booklet is a step-by-step procedure to check the EL wires and batteries.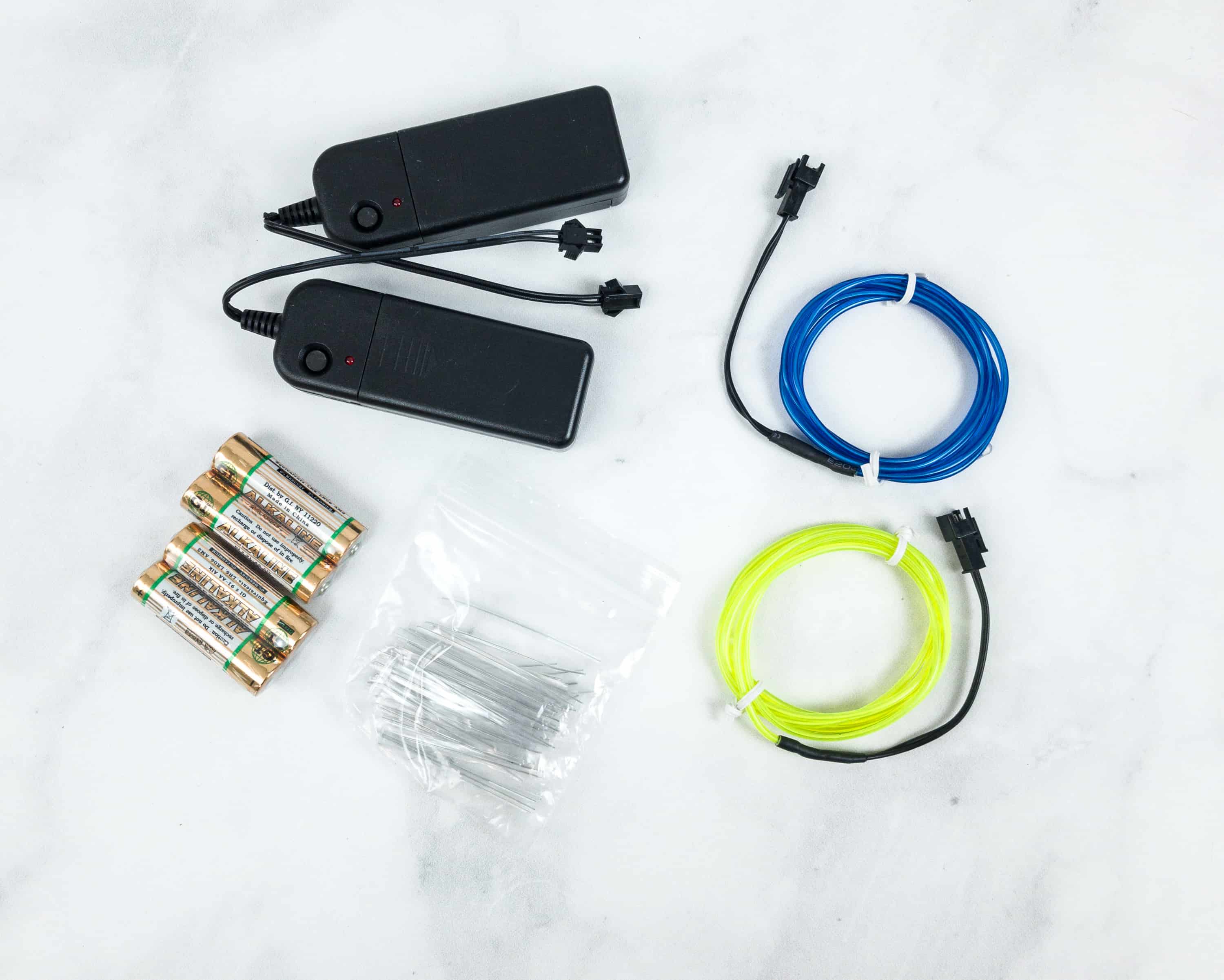 There are 4 batteries, 2 battery packs, 2 EL wires, and twist ties.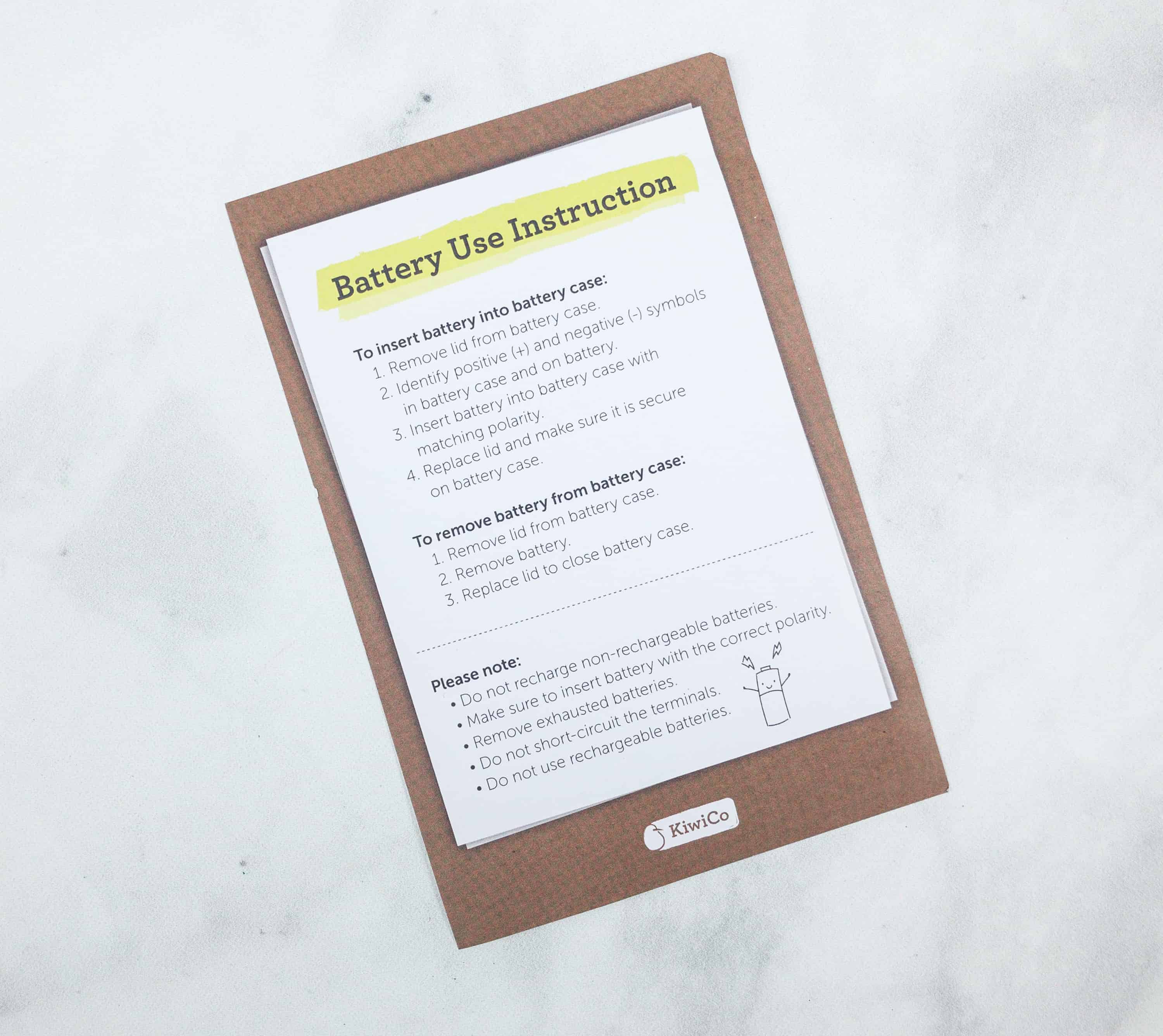 Safety first! Make sure to follow the proper way of using the battery. It's indicated on a separate information sheet.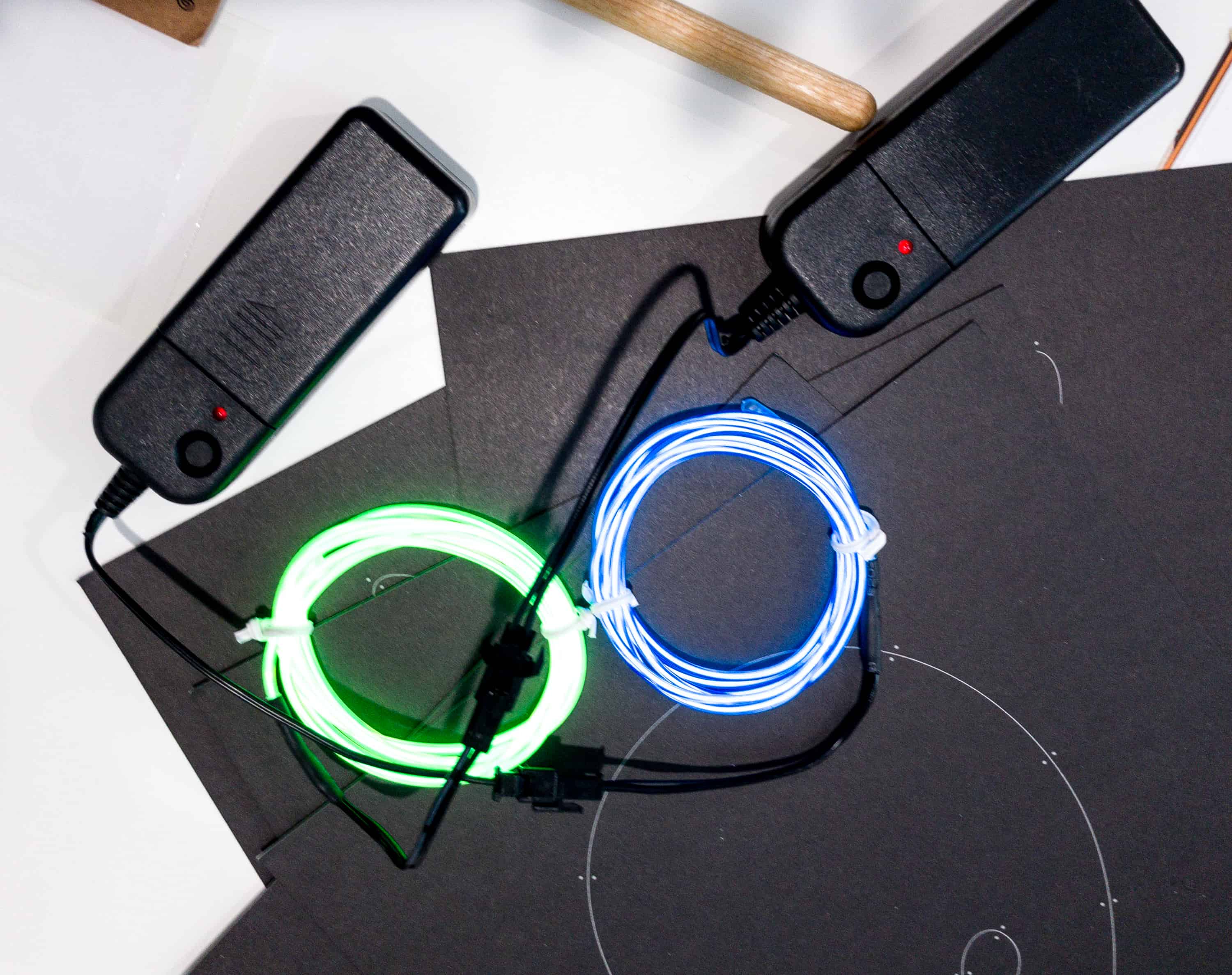 After following the steps thoroughly, we were able to light it up!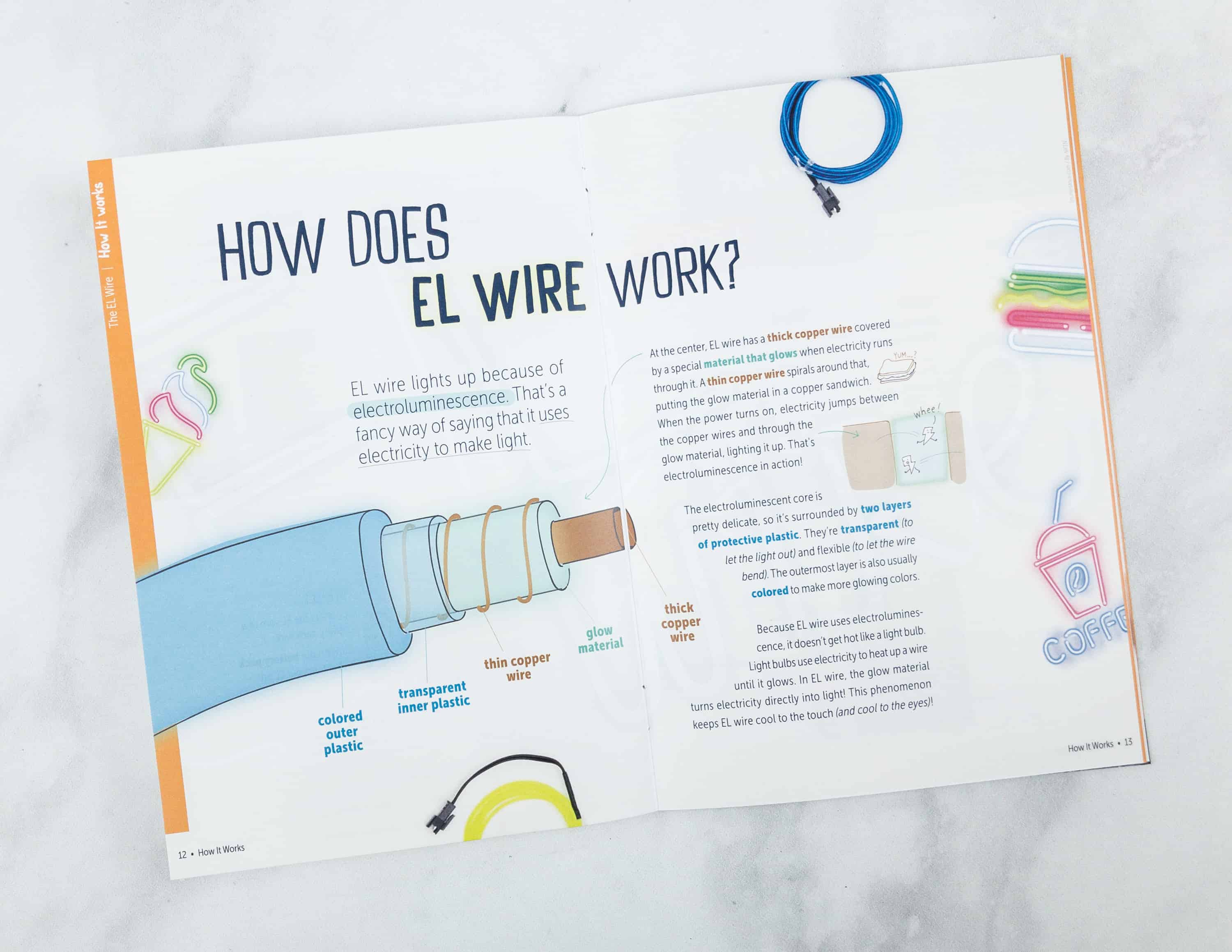 What I love about this activity booklet is that it does not just teach my kids how to make the project but they also explain the science behind how it works. They even included a colorful illustration for an easier understanding.
This page thoroughly discusses the procedure of laying out the wire on the designed card board.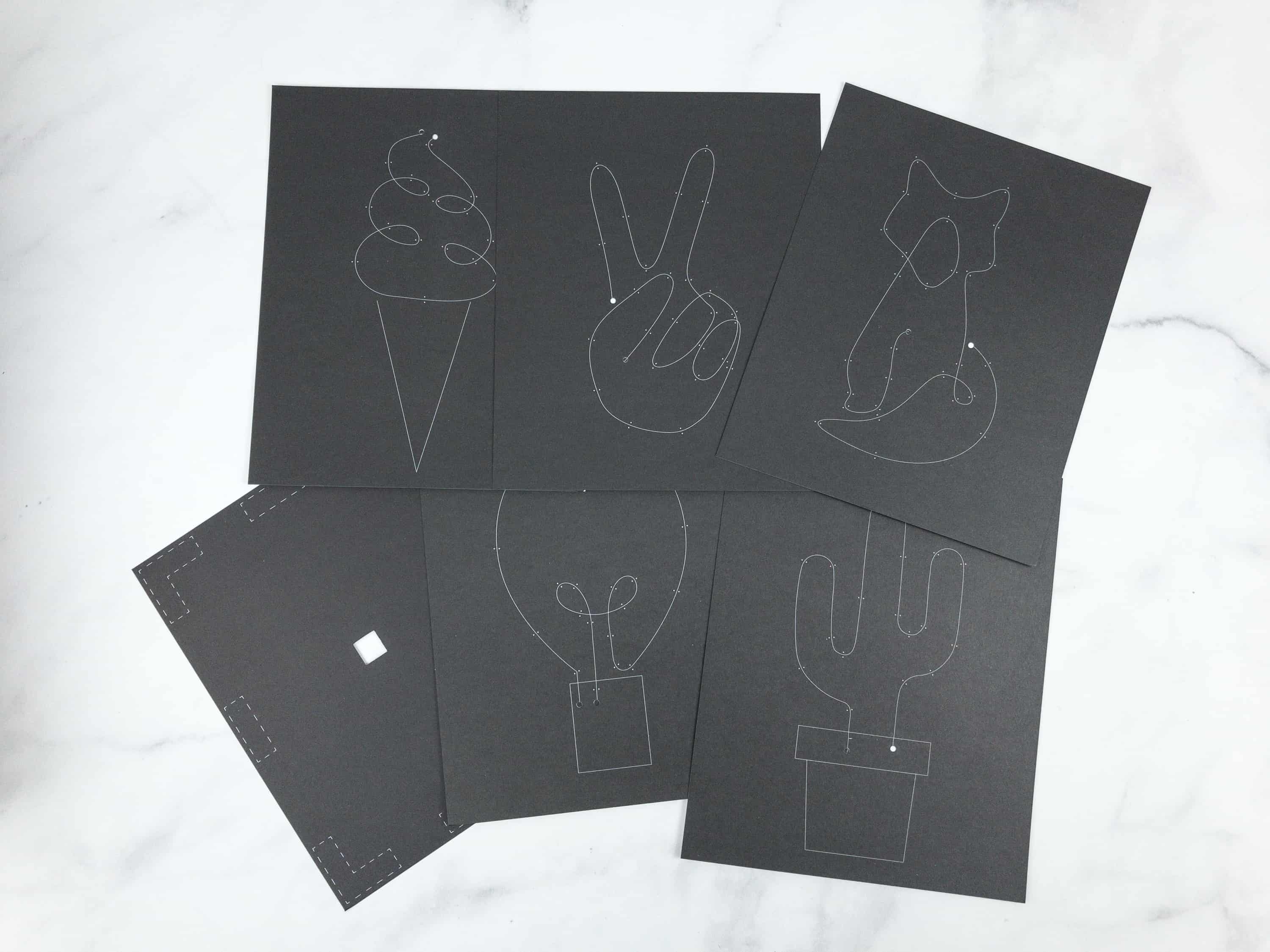 We got 5 design sheets!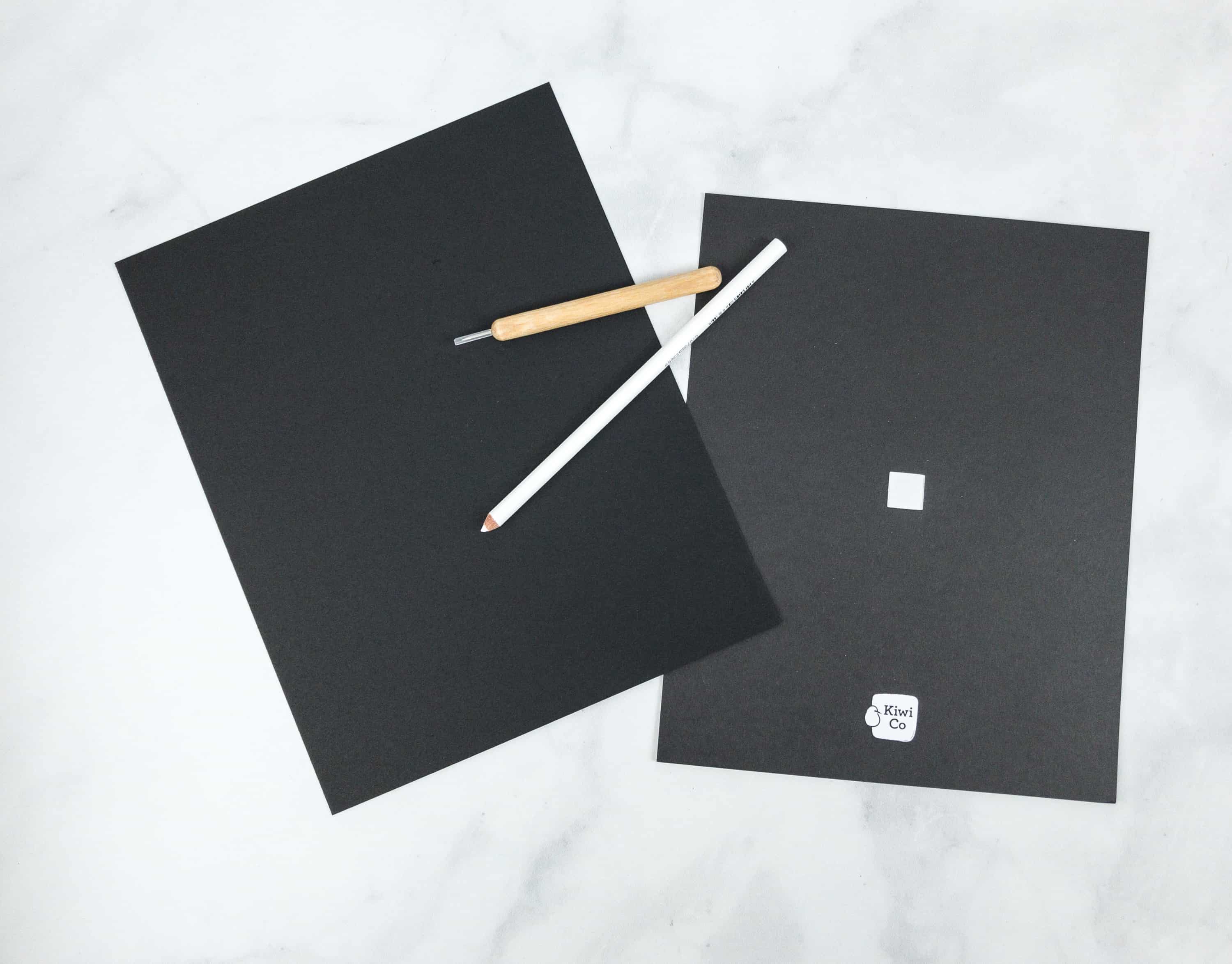 On this part of the activity, you'll be needing a blank sheet, colored pencil, back cover, and awl.
My daughter put a small hole parallel to each other on the side of the designated trace line. The small holes is where you will be putting the twist ties.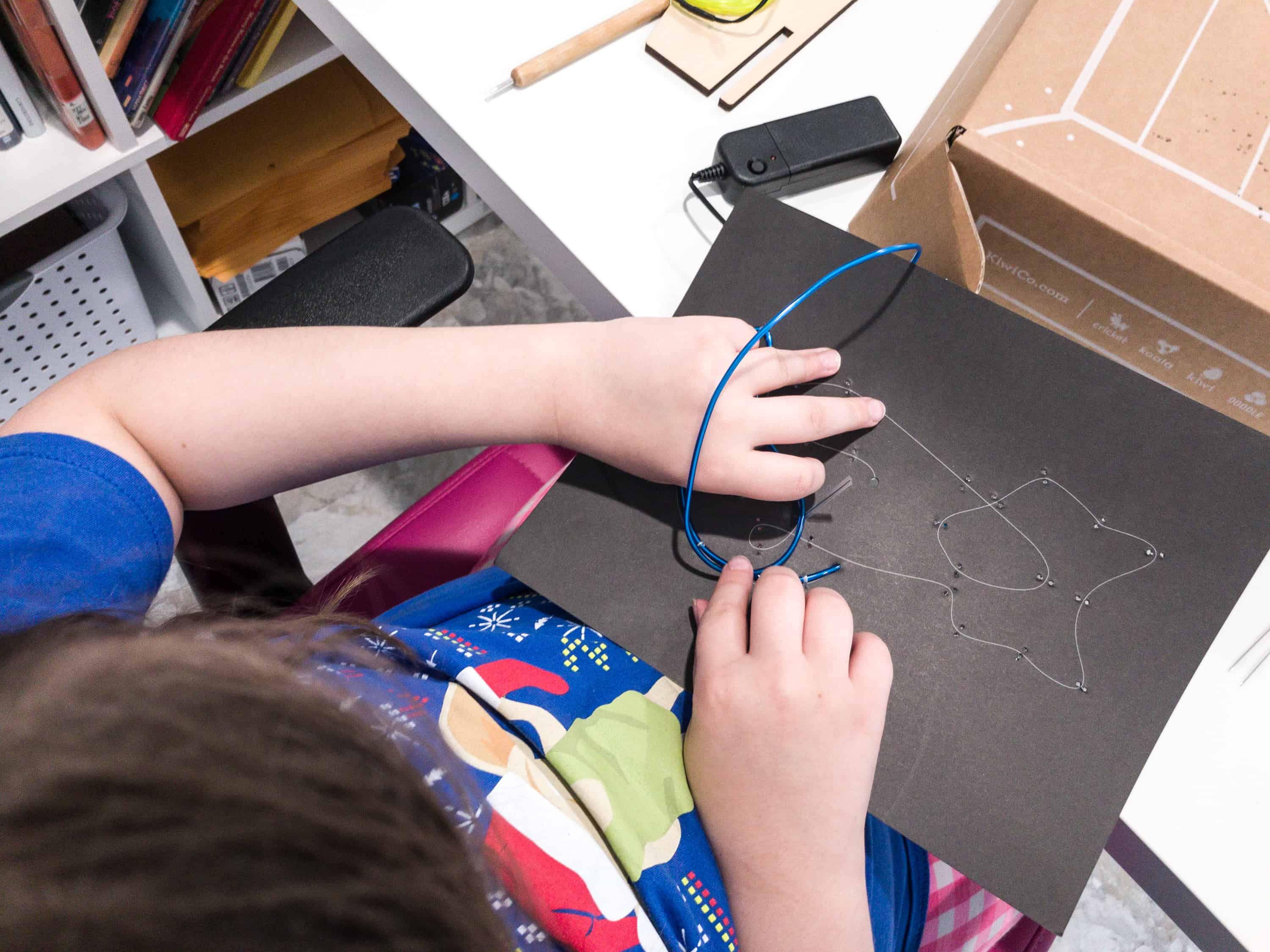 The two large holes will be the starting and end point of the EL wire.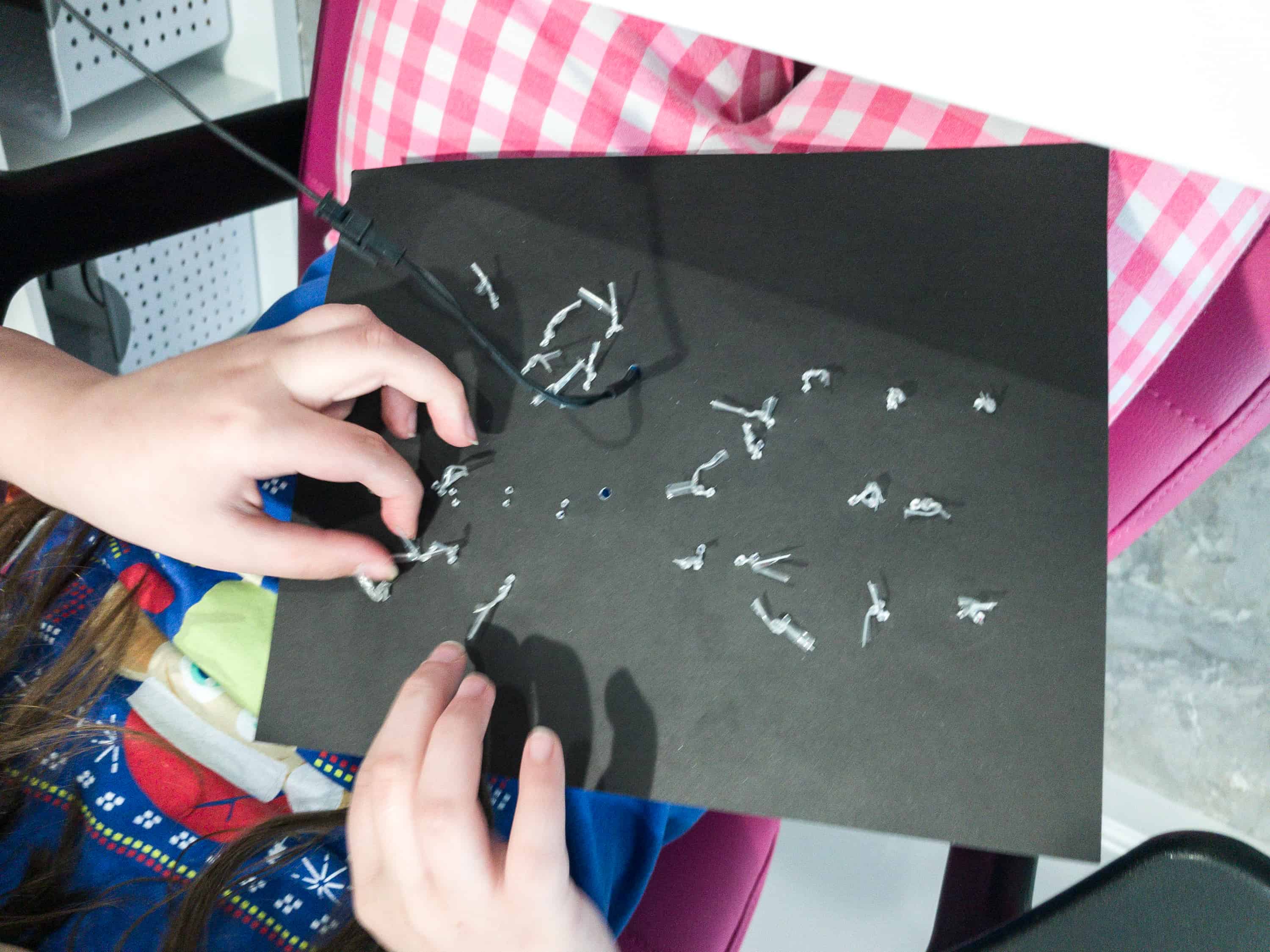 One by one, she locked the wire using the twist ties to form the shape to be traced.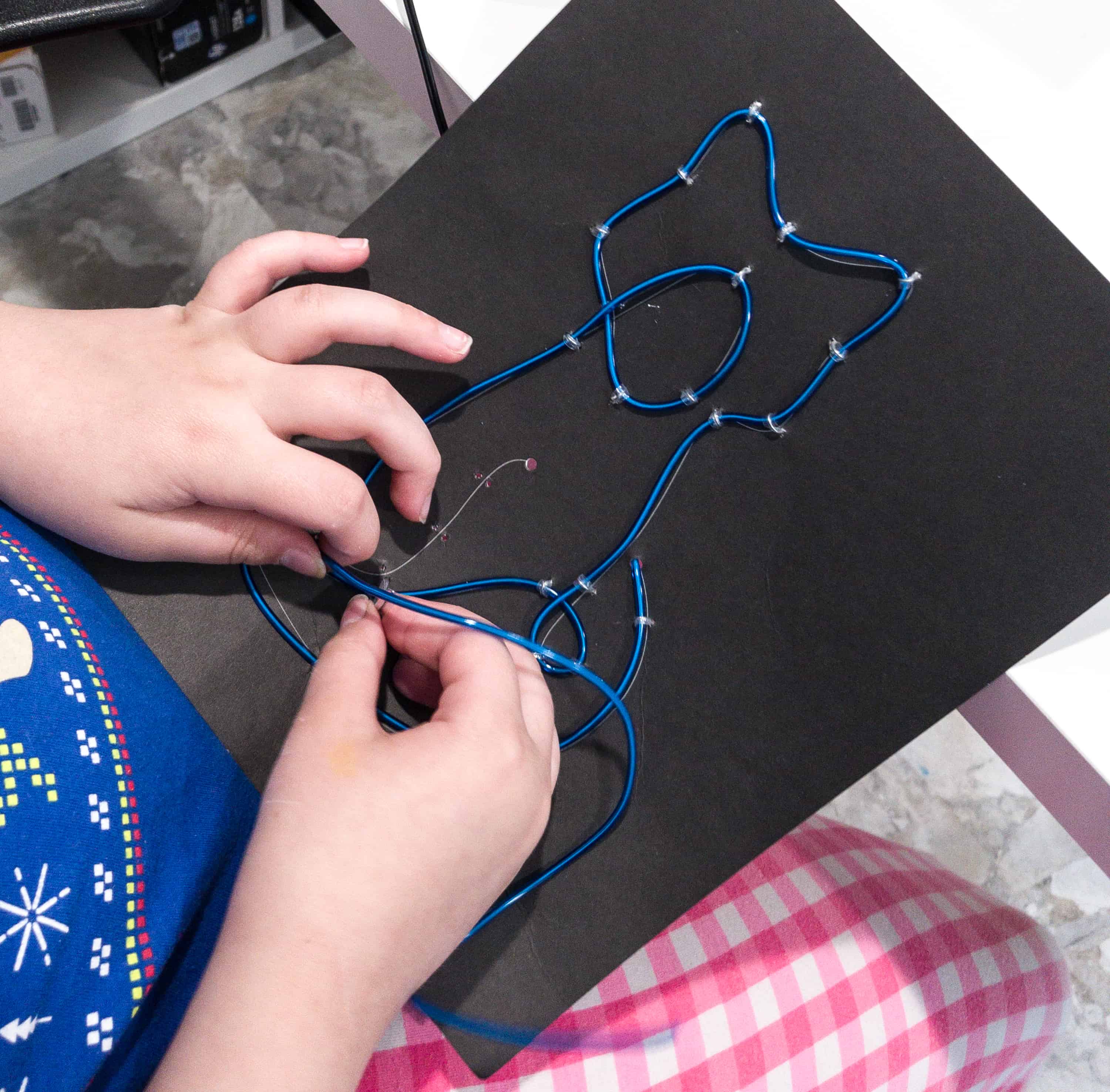 It's almost done! From here, we can already see the design taking a cute cat shape.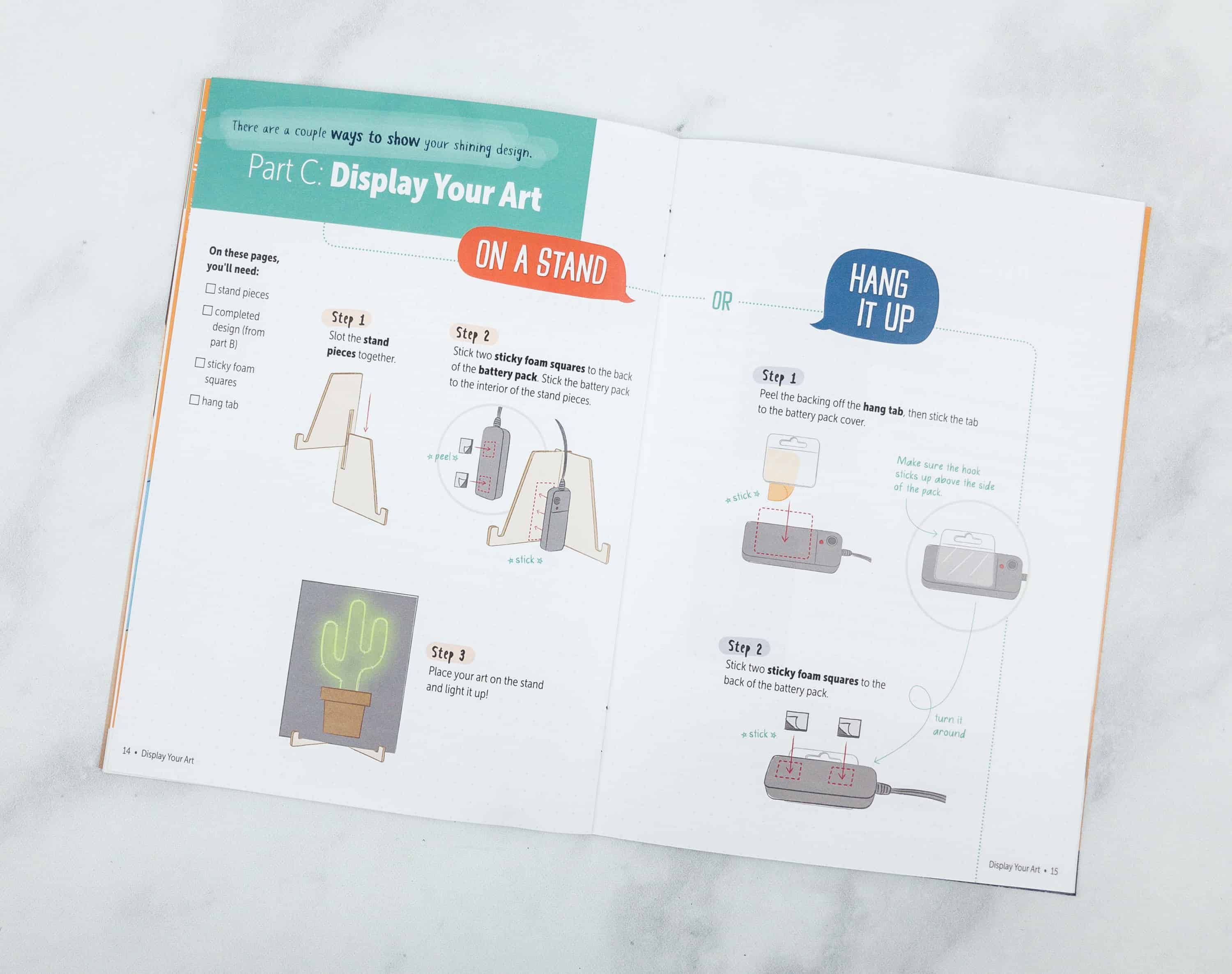 Next part is about displaying your art on a stand!
They provided us with stand pieces, sticky foam squares, and a hang tab.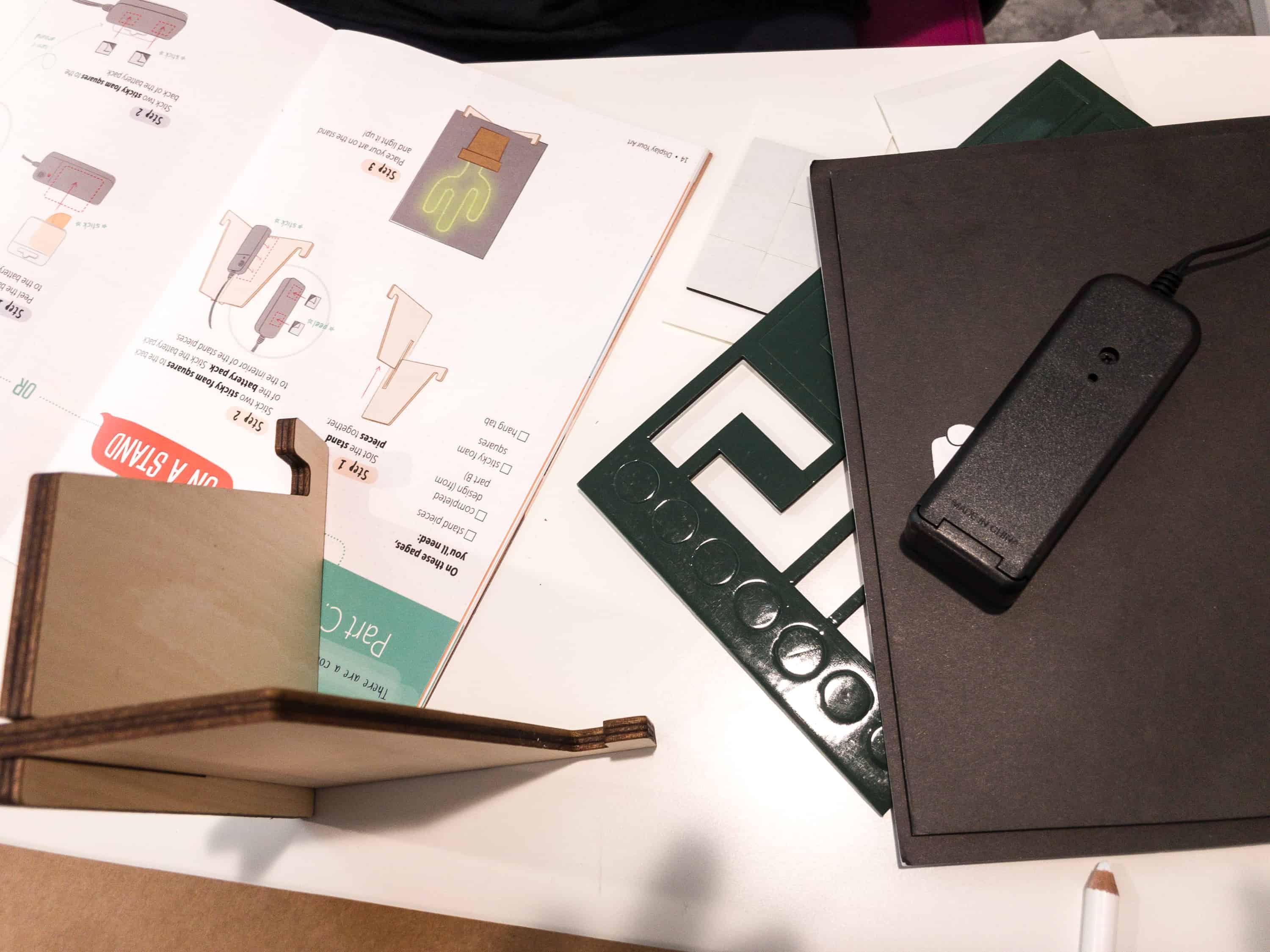 We slotted the stand pieces together and stuck the sticky squares on the back of the battery pack.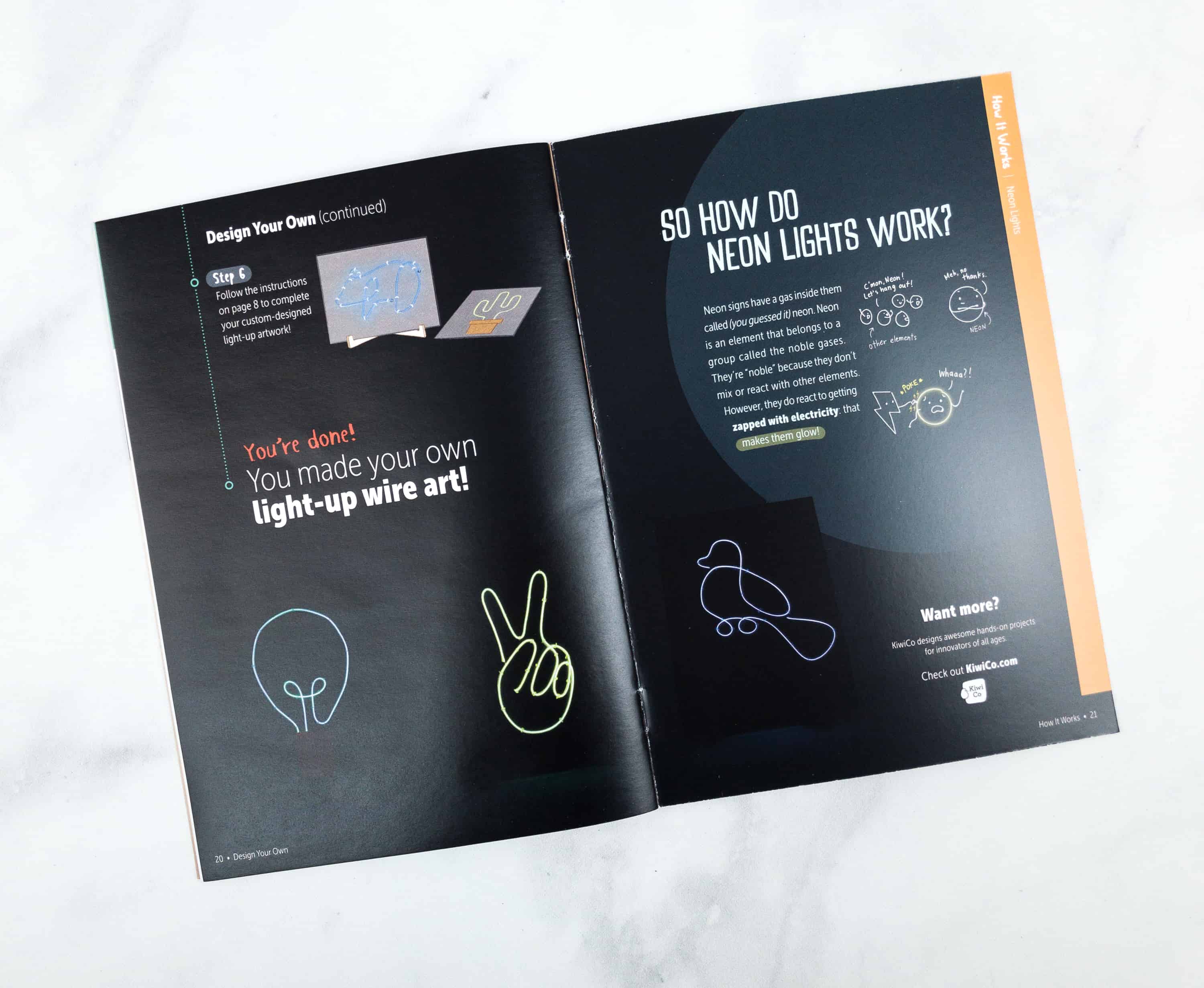 The learning doesn't end in assembling. The booklet even explained how neon lights actually work.
Neon signs have a gas inside them called (you guessed it) neon. Neon is an element that belongs to a group called the noble gases. They're "noble" because they don't mix or react with other elements. However, they do react to getting zapped with electricity: that makes them glow!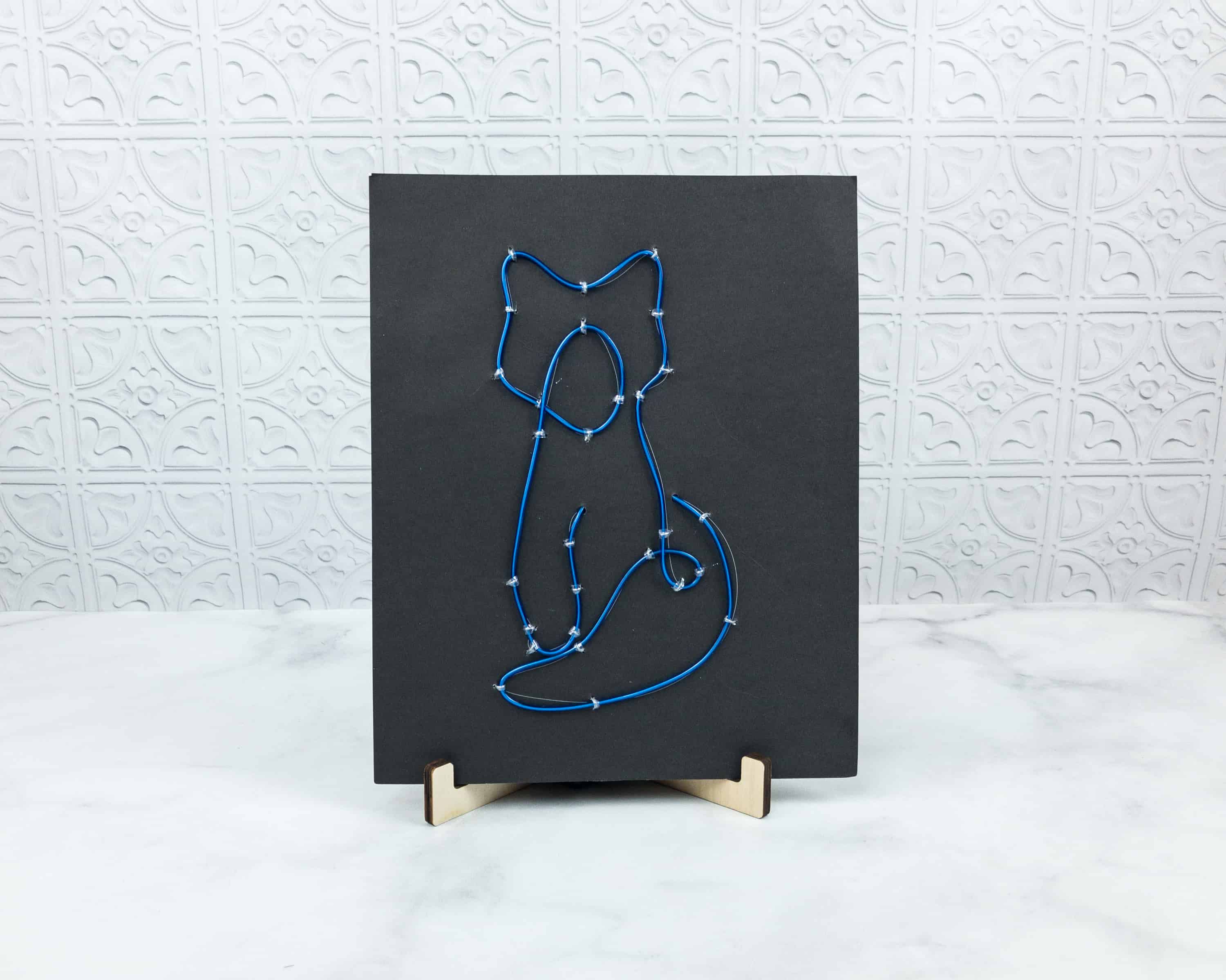 The project really is pretty detailed and needs a lot of focus. I'm really proud of how my daughter worked hard to finish it.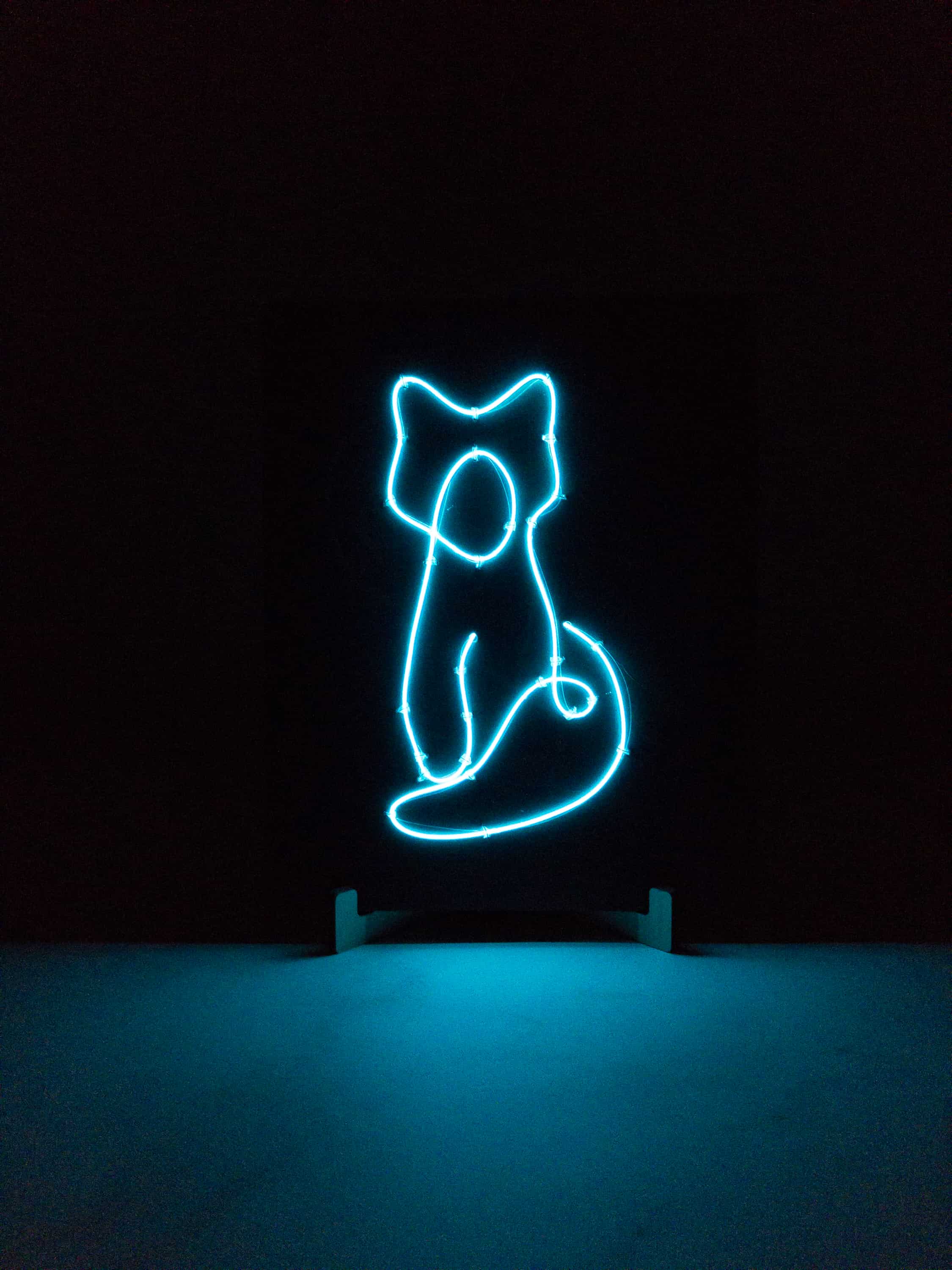 And it works! So bright and cute!

There is a slow & fast blink, too. This is the slow blink.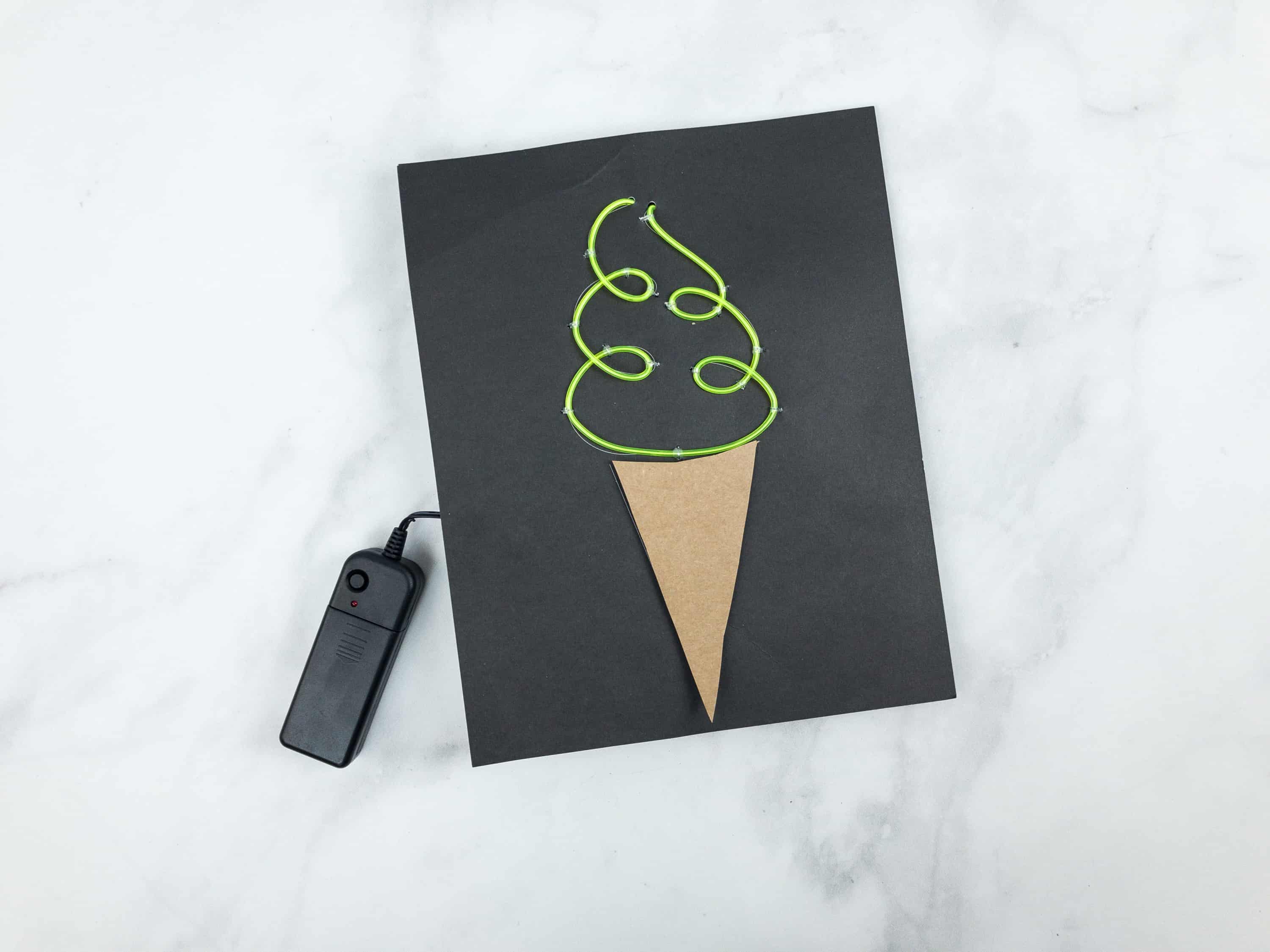 We tried doing it with the ice cream cone design too. KiwiCo included a blank sheet to DIY your own design, but she was excited by the pre-drawn designs, so that's what she used!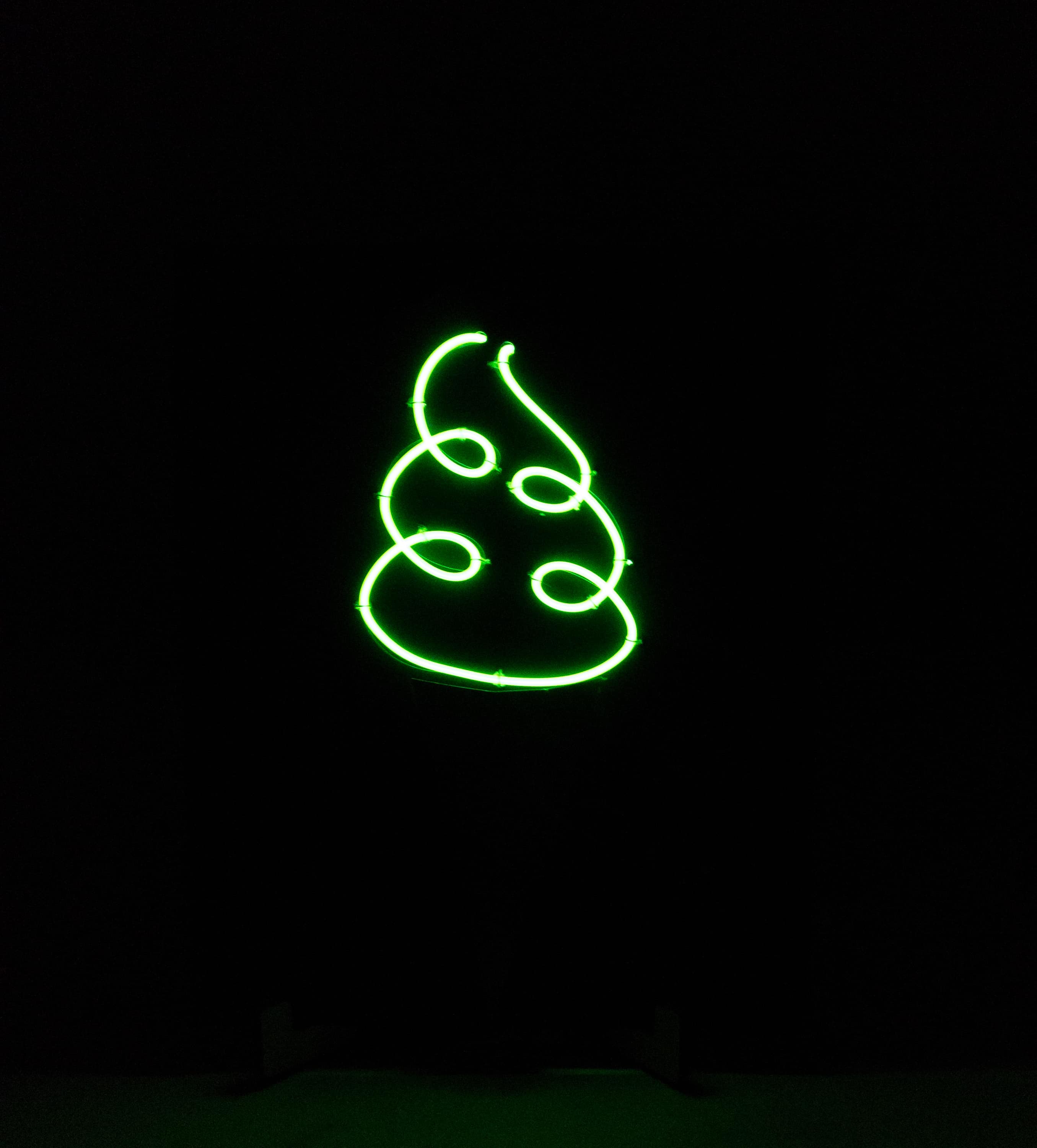 The green is brilliant in the dark!
Fast blink!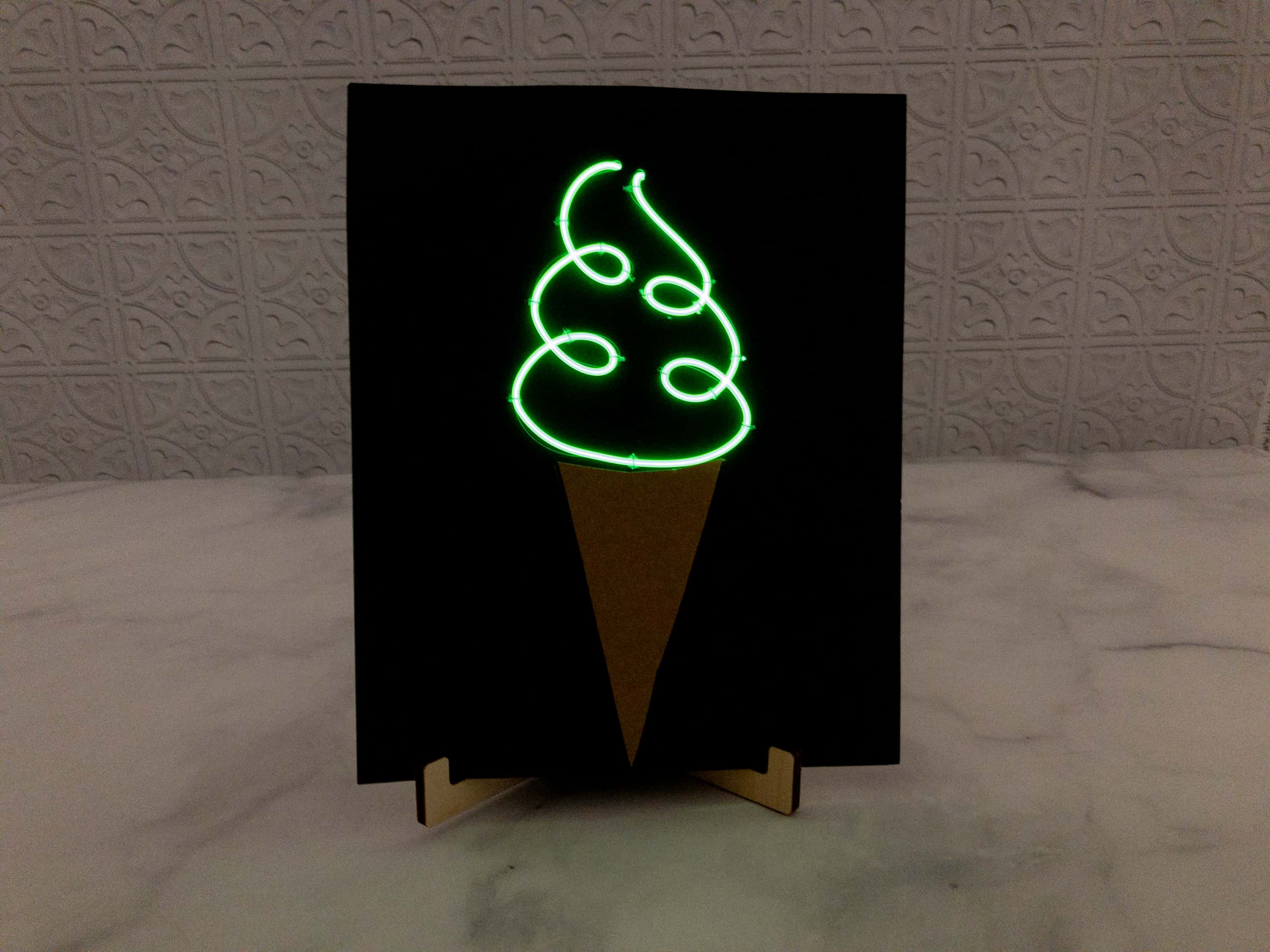 A little light will make it much better. It's so cute and my daughter really had fun!
Before starting with the activity, my daughter was really curious about how neon lights work. It's so nice seeing her learn about it through the process of making the wire art and through the helpful information in the booklet. I love that everything is provided and that the instruction manuals are easy to follow. Who says science and art don't go well together? This KiwiCo STEAM project proves that kids can develop both skills at the same time!
What do you think of the KiwiCo STEAM Light Up Wire Art project? You can pick up this project here. If you want more, use this link to save 30% on your first box of Tinker Crate or Doodle Crate!