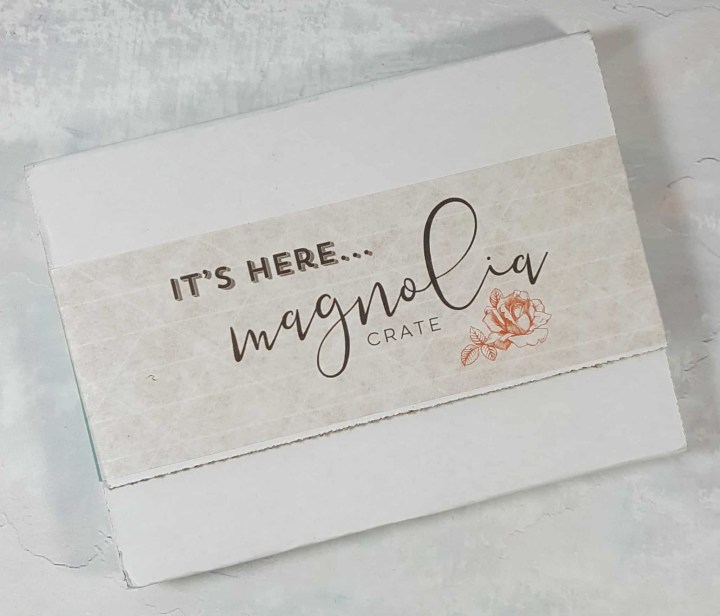 Magnolia Crate is all about the feeling you get when you send and receive mail. There's something about a hand addressed letter, a beautifully colored envelope, or a unique card that you've never seen before. Not only are you provided with gorgeous stationery and cards to send to others, but you also get to be giddy with excitement each month when your new box arrives! Each signature box comes with of 4-6 paper goods, including greeting cards. Additional items may include stickers, gift tags, magnets, and more.
DEAL: Get 1 month free off a 3, 6, or 12 month subscription with coupon code HELLOSUBS OR Get free shipping on the first subscription and not pay for shipping again until your subscription renews (if you get a monthly sub you'll get one month free shipping, but free shipping on all 6 boxes in your first 6 month subscription, etc.). Use coupon code HELLOSUBSFREESHIP.
Magnolia Crate always makes me smile when I open the box. Everything is packed so prettily and themed for the major holidays or seasons each month.
The information card not only lists the cards in the box, but it also provides insight on the inspiration behind the items. This month, we're in the mood for love. Whether you've got a Valentine or not, I think you'll find good uses for these cards.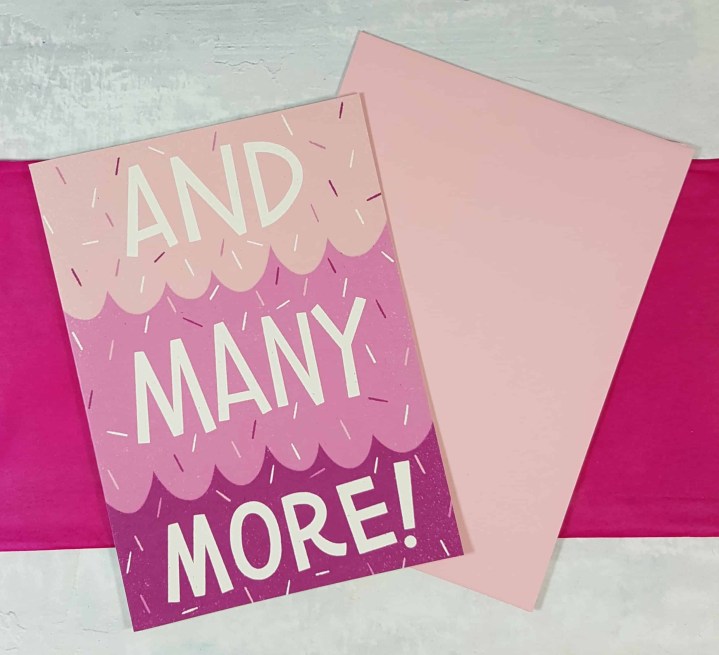 This Paper Ship | And Many More! ($4.50): This is a giclee printed A7 card (5″ x 7″) that features a matching pale pink envelope. When you're happy about a loved one's birthday, you want to celebrate by wishing them many more. With this card you can (and with ice cream and sprinkles on top)!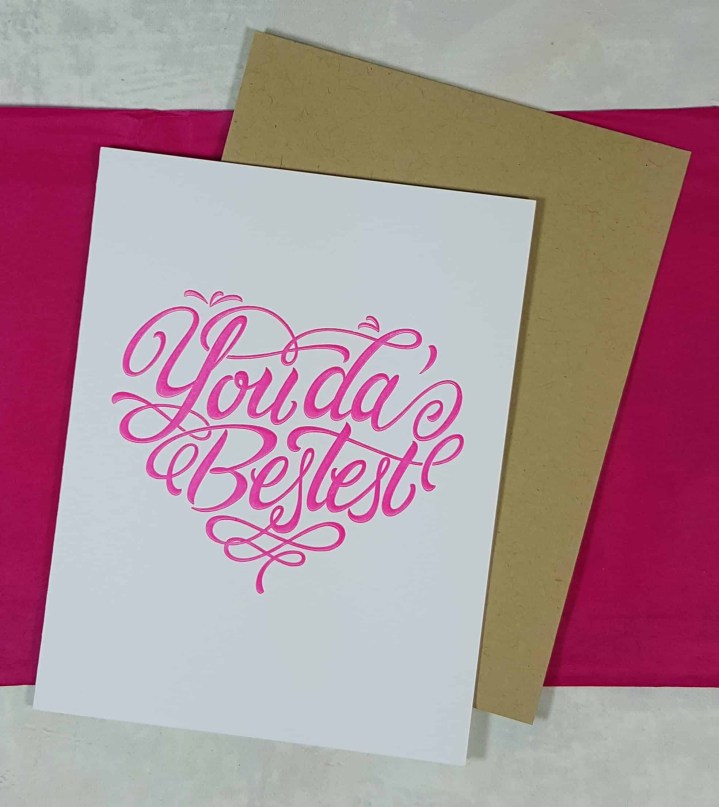 Formidably Impressed | You Da Bestest ($5.00): Made on recycled cotton paper, this A2 card (4.25″ x 5.5″) lets your loved one know that they are at the top of your list. Although the script is in the shape of a heart, I feel that this card can be used for a variety of occasions, not just as an expression of love. This comes with a matching kraft envelope.
Harken Press | Kiss (Mwah) ($5.00): In movies, you always see letters that are sealed with a kiss. In reality, that kiss gets smeared before the letter is delivered. ? This A2 card, with matching bright pink envelope, lets you send your love a perfect kiss. You can include your own personalized love note on the blank inside of the card. Time to get romantic!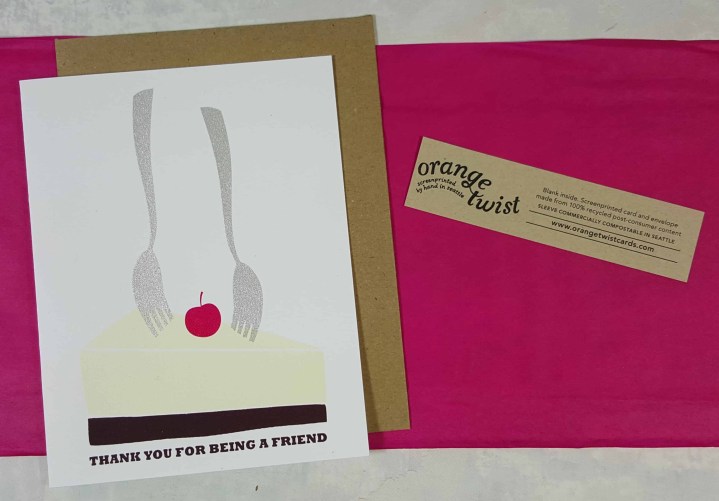 Orange Twist | Thank You For Being A Friend ($5.00): Is anyone else singing the Golden Girls theme song right now? No, just me? This A2 card, with matching kraft envelope, features a hand screen-printed design and blank inside. I have 2 groups of friends (work and personal), and we each have our own Golden Girl name – I bounce between Sophia and Dorothy depending on the group. This card would be a hit with any of them whether it's a birthday or just because. NOTE – I wasn't able to find this exact card on the Orange Twist website, but be sure to check out the rest of their fun greeting card assortment.
Aqua Birch | Will You Be My Valentine? ($4.99): This magenta A2 card makes your intentions very clear. All that's missing are the yes or no check boxes. I guess you could write them inside the card (blank inside has white background). The card comes with a matching kraft envelope.
If you loved your order, tag @MagnoliaCrate on instagram (or use #magnoliacrate) for a chance to win a free box. Entries must be made before the 20th of each month for a chance to win.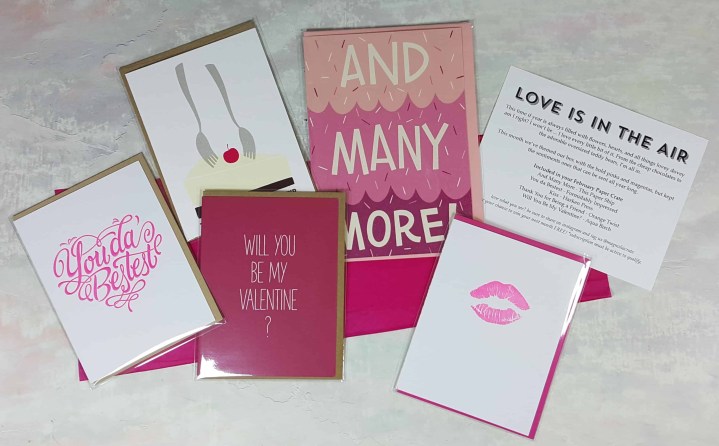 I still love seeing a card come through in the mail or end up on my desk. I think it has to do with knowing that someone took time out of their busy schedule to remember you. With Magnolia Crate, I get to give that same feeling to my friends and family. Plus, Magnolia Crate sources some really pretty cards. Save yourself a trip to the store and let Magnolia Crate help you deliver a little joy to someone's door!
What do you think of this month's cards?