You Matter Box is a new box full of encouraging items for ages 10-22 that is curated by a school counselor.  Expect to receive uplifting items that show that "they are loved, they are important, and they matter."
We are on a mission of change to rewire young brains for positivity.
Two subscription sizes are available. The You Matter Pack contains one to three items and a therapeutic activity. The You Matter Box has four to six items and a therapeutic activity.

I was curious about this box because my sons are 9 and 19. I wanted to see what was in the box and what I could do as a mother to help my children through stressful situations.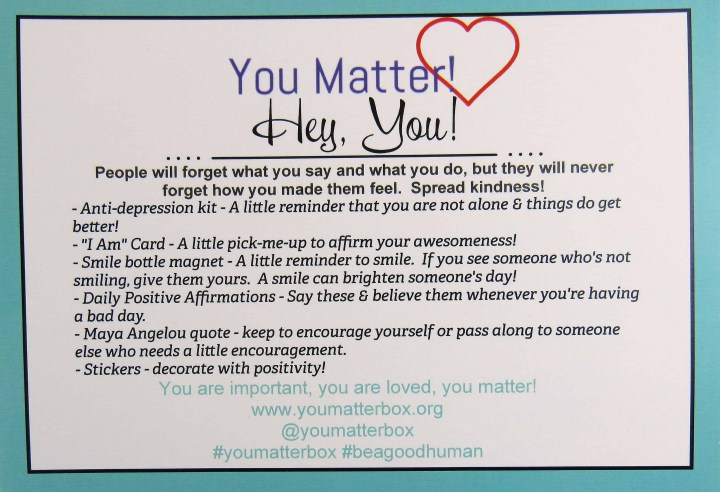 The March theme is 'Positive Self Talk' which I did not know until I went to the You Matter Box Facebook page. I suggest listing the theme on the information card to assist the parent in understanding the box better. The information card lists the items and a description.
Here are the items in the March You Matter Box. This review is for the You Matter Box. I was disappointed to see that there was no curator letter describing how to use the items with my children or how it would rewire their brains.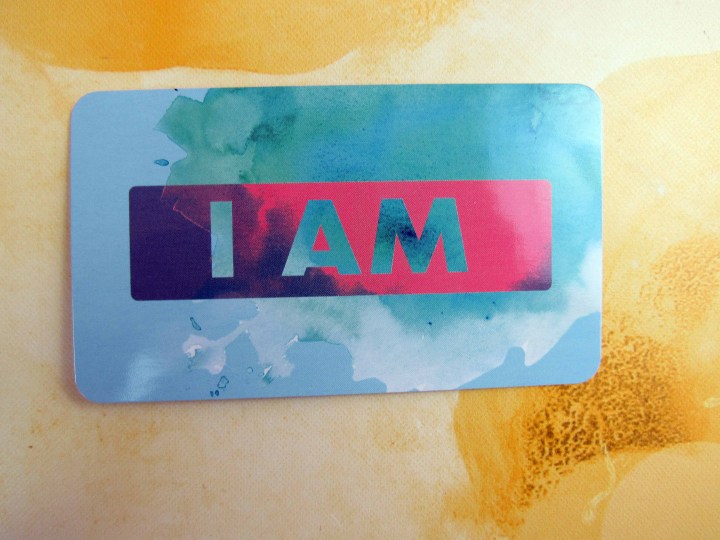 The "I Am" card is a laminated card that is affirming. It did throw me off in the beginning because I associated "I Am" with God.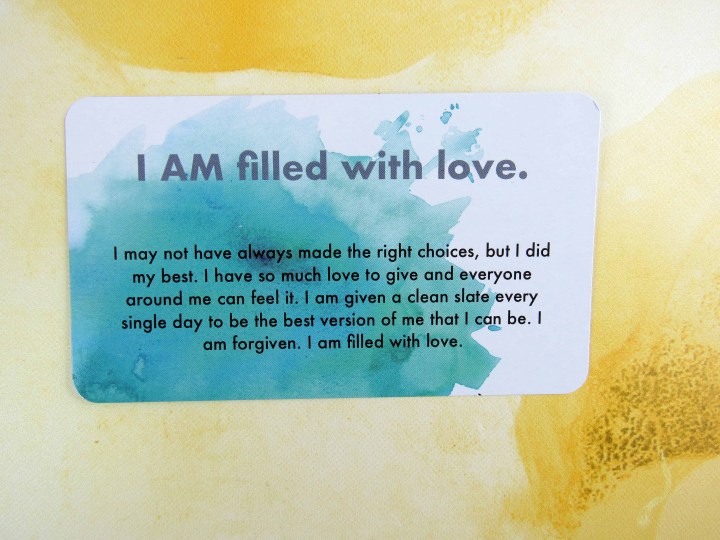 I gave this card to our 19-year-old son who has made great choices and a few not so great choices during his first year of college. He loved it. He felt it speaks to everyone on some level.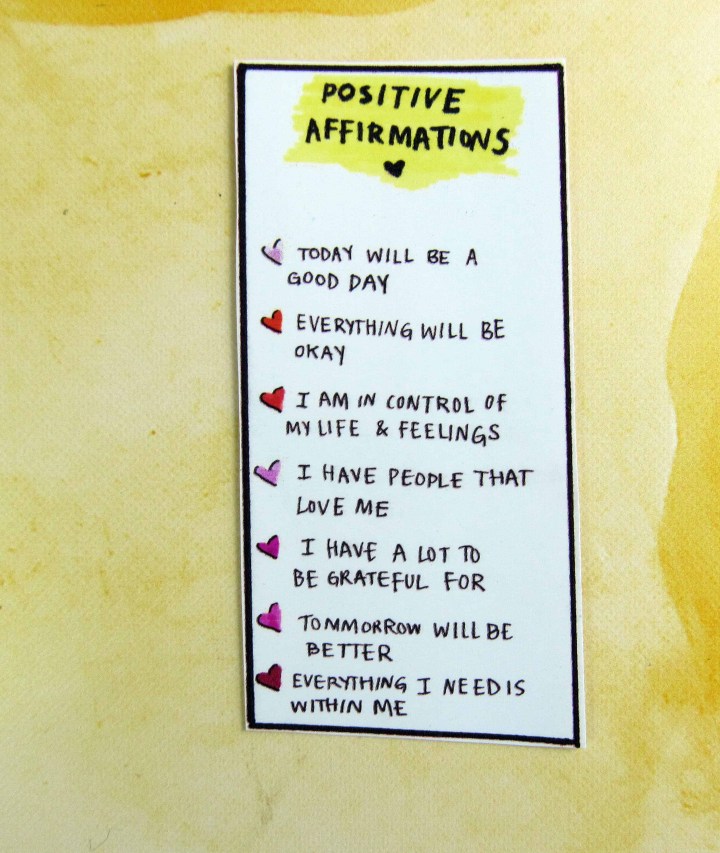 J, our nine-year-old son, loved the Daily Positive Affirmations. His favorite affirmation is 'Today will be a good day." It feels like it was printed on paper similar to label or sticker paper although I was not able to peel it.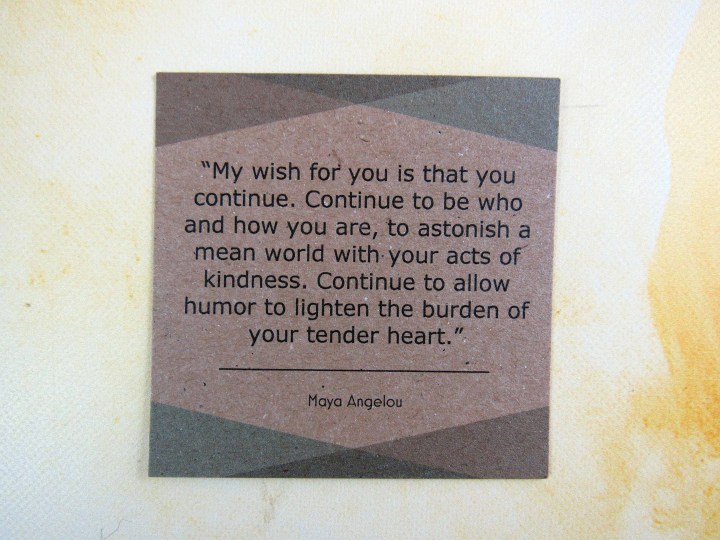 The Maya Angelou quote is from the poem Continue. It is printed on heavy cardstock and can be kept or given to someone else. T claimed it and planned to give it to someone.
Neither of the boys were interested in the stickers. They were printed on label paper and easy to peel.
Once again, I wish there was a letter describing how each item assists the brain in being rewired. For example, is it better to give the stickers to them and letting them use it as they see fit? Or should I find a way to surprise them with a sticker? J gave me the above sticker because I love hearts and butterflies.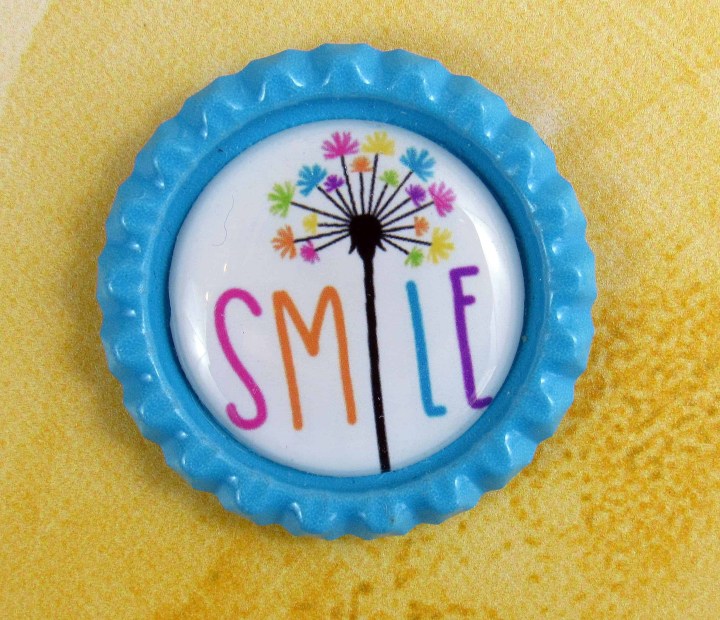 The adorable Smile Bottle Magnet can be kept or given to someone who needs a smile.
Its cuteness adorns our fridge. It did not appeal to either one of our boys.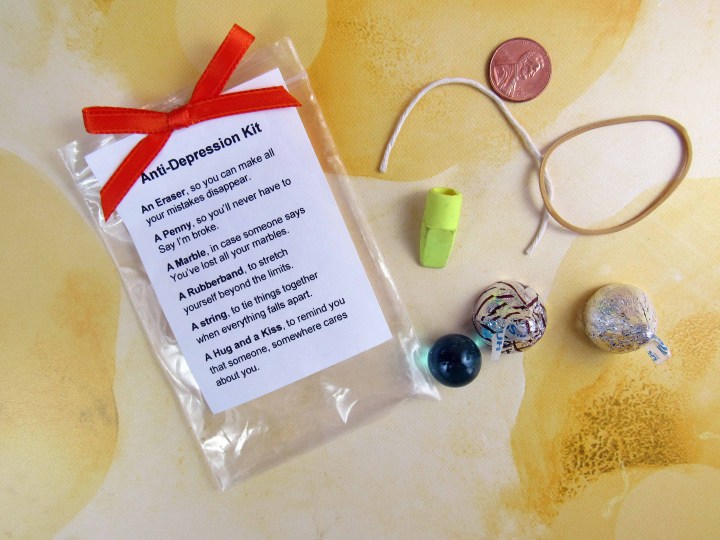 The fun Anti-Depression Kit contains items that remind you that you are not alone. I tried to explain it to our younger son who will be ten at the end of the summer. It went over his head. However, our 19-year-old son wanted to eat the candy.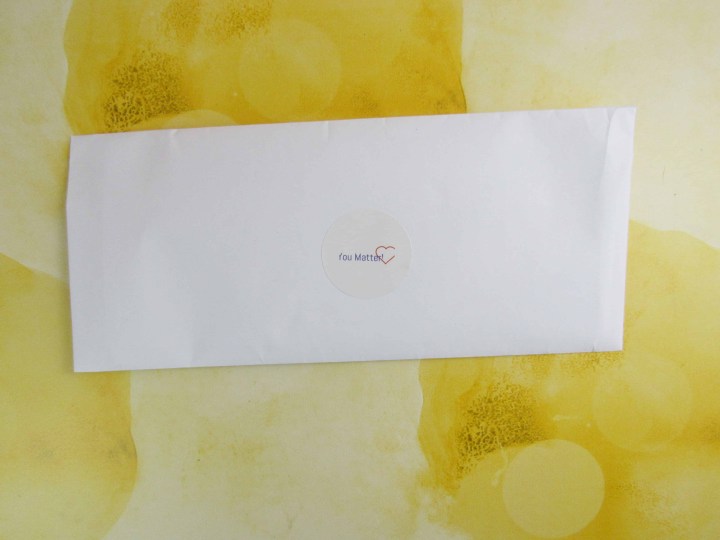 The therapeutic activity came in an envelope which I initially thought would be a curator's letter explaining how to use the box and list additional resources.  I wasn't sure what to expect and thought the Anti-Depression Kit was the activity.
The first page explained the activity which was writing about a negative event in your life on a postcard without sending it.  The letter also encouraged the writer to use the blank side to draw on the postcard.
My older son expressed interest in this activity.
As a parent, I was expecting more from this box. I wanted that guidance to assist my children through the difficult years. A mother and I spoke about the effects of bullying and a recent suicide in the local middle school. It's scary. My kids face pressures from social media etc. that I did not have to face at their ages. It interested me to check out a box designed for their age group that addresses their self-esteem and encourages them, although this box may be better suited to those with children who are feeling alone, depressed, suicidal, and threatening or engage in self-harm.
Our older son showed more interest in the box than our younger son. He liked the items and felt it helped him and will help his friends. It shows that the curator is on the right track. However, I do feel that subscribers will expect more in value whether it is through one or two more substantial items and/or a letter describing why the items were included and how it fits into the mission of the box which is to "to rewire young brains for positivity." It is a unique box for parents and children that are looking to address the stressful situations that are facing our children today by using encouraging items.
What do you think of this new subscription?