Yogi Surprise is a yoga-inspired monthly subscription box designed to complement your way of living. Each monthly box contains 6-8 products picked by experienced yogis to complement your yoga practice and your life! It's like getting a care package every month!
DEAL: Get 25% off your first box! Use coupon code HELLO25.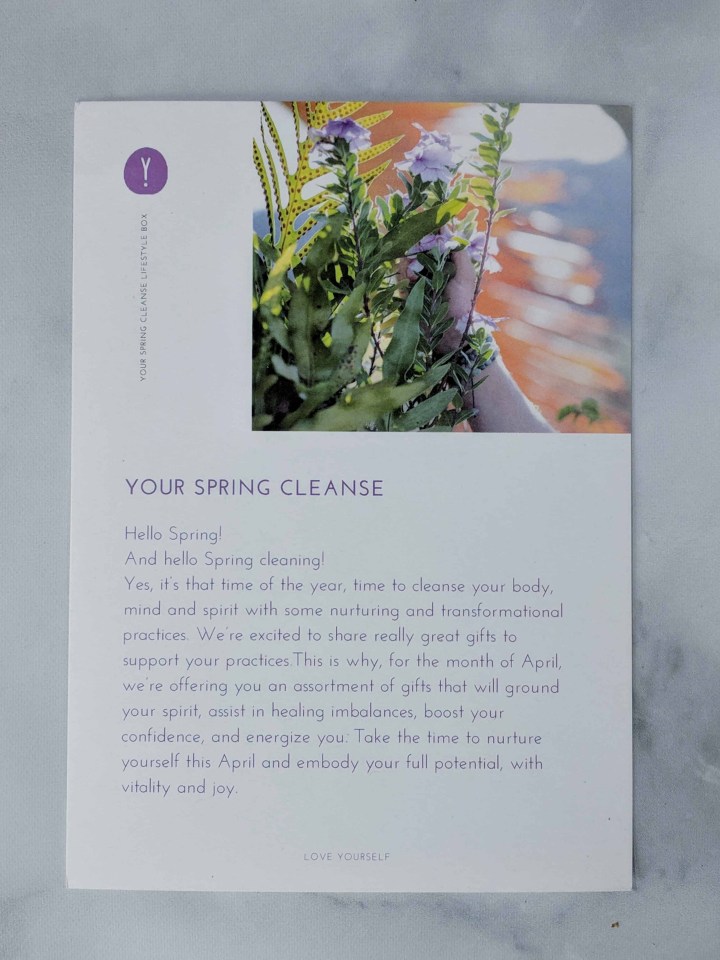 April's theme is Spring Cleanse. It's time to cleanse our body, mind and spirit! This month brings us gifts to energize and boost our confidence!
This month's packing list tells us that we are getting 6 lovely items and a free trial to an online yoga platform!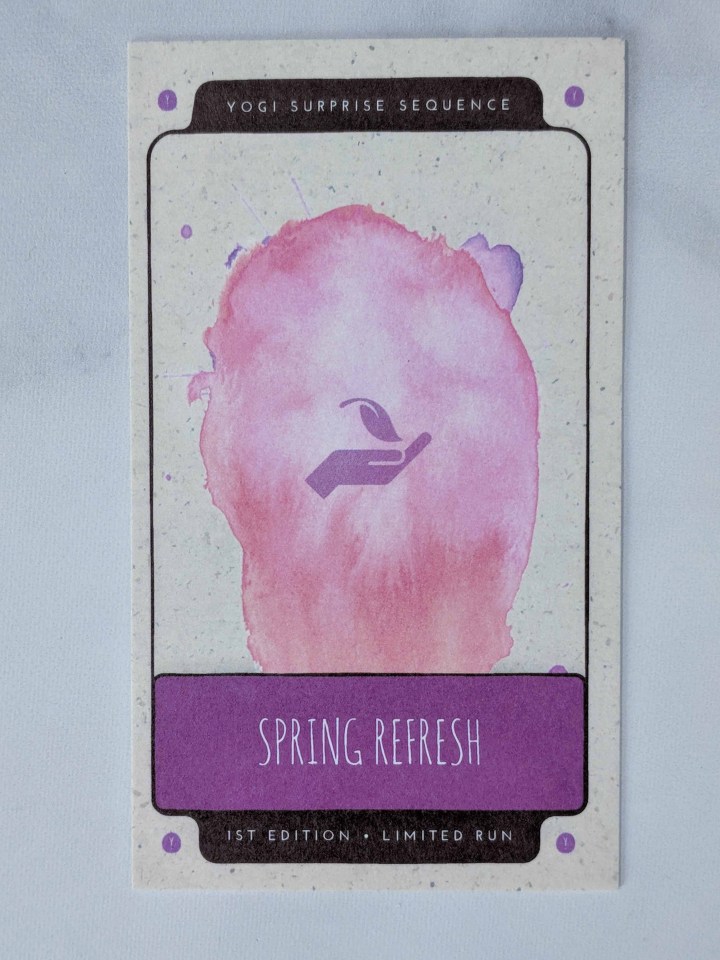 Yogi Surprise Yoga Sequence Series Card. Every month, you receive a little card with a sequence of poses to celebrate the month's theme.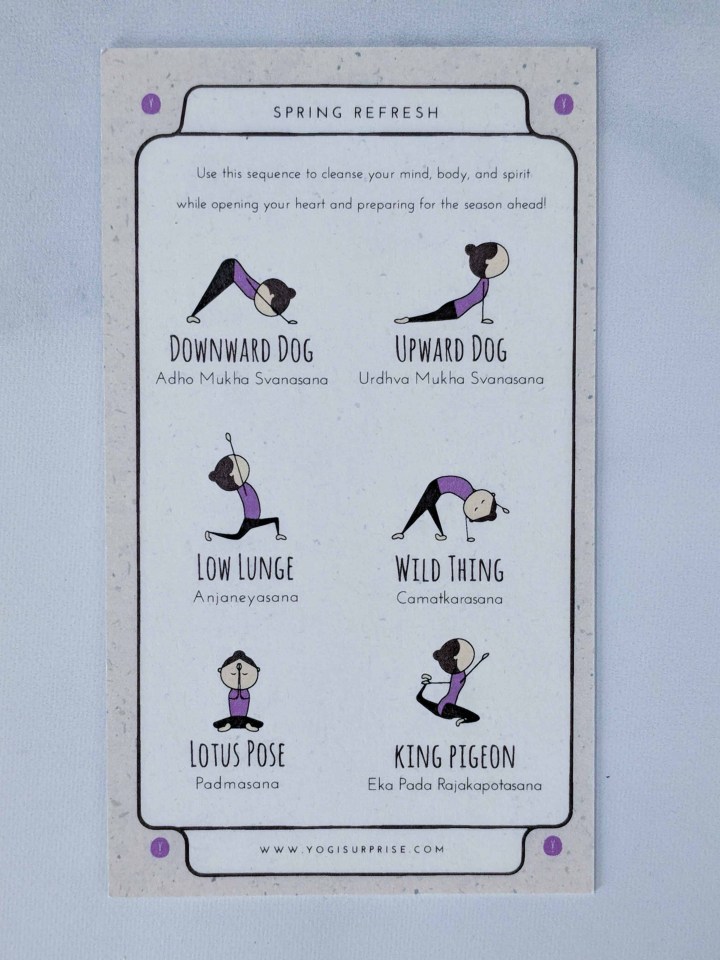 This month's asanas are all about cleaning our mind, body and spirit while opening our heart. That King Pigeon is not yet in my practice, so I replaced it with a twisted pigeon.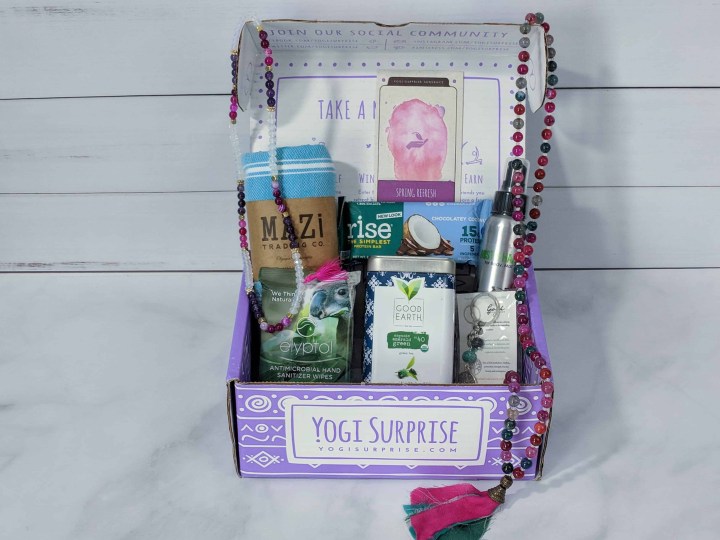 Everything in the box!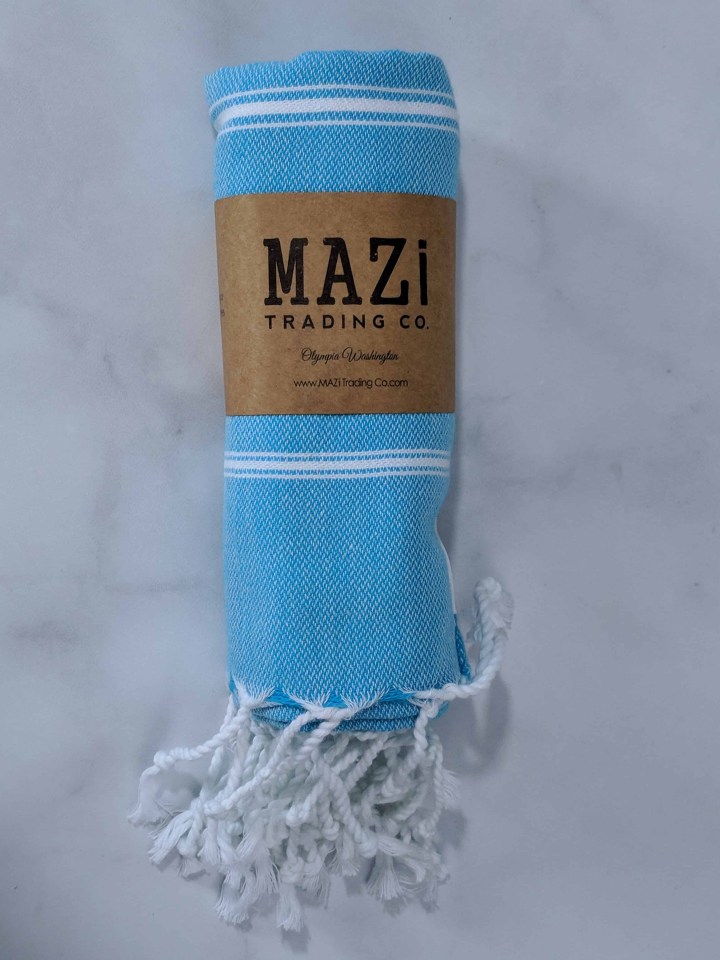 MaZi Classic Mini Turkish Towel ($24). It's made with 100% Turkish cotton and can be used as a towel, a yoga mat strap, a scarf or headband (although I find it too big and heavy to stay on my head). For each towel sold, a tree is planted.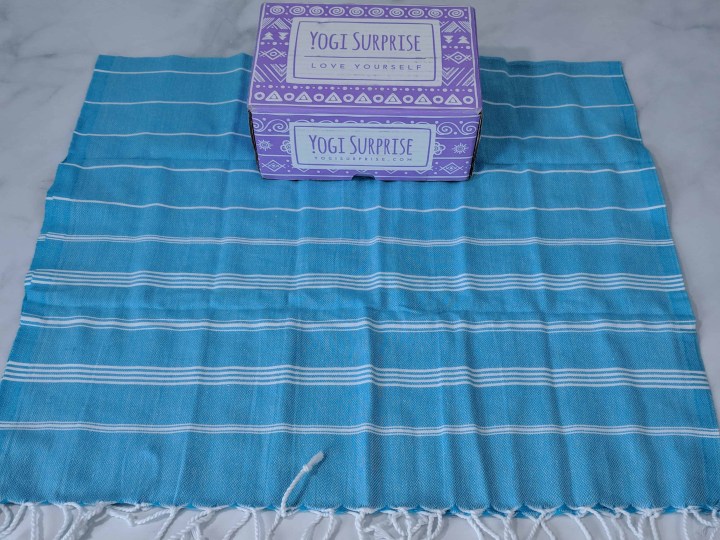 I love the blue and white color, and the cotton is soft while still feeling like it can wipe your sweat or your water bottle spill.
It's 24″ x 43″, so it's quite roomy! It can be useful for yoga, for the gym, or even to go on a picnic!
OlioBeauty Harmony Wellness Mist ($12). A body, mat and air mist, it smells soooo good! It's fresh, but grounding at the same time. I could definitely smell the notes of lemon and grapefruit, a bit less the floral from the ylang-ylang and geranium. The rosewood and cedarwood help to ground all these scent and turn it into something very spring-like. I will spray my curtains as soon as I can open the window so to have a nice scented breeze.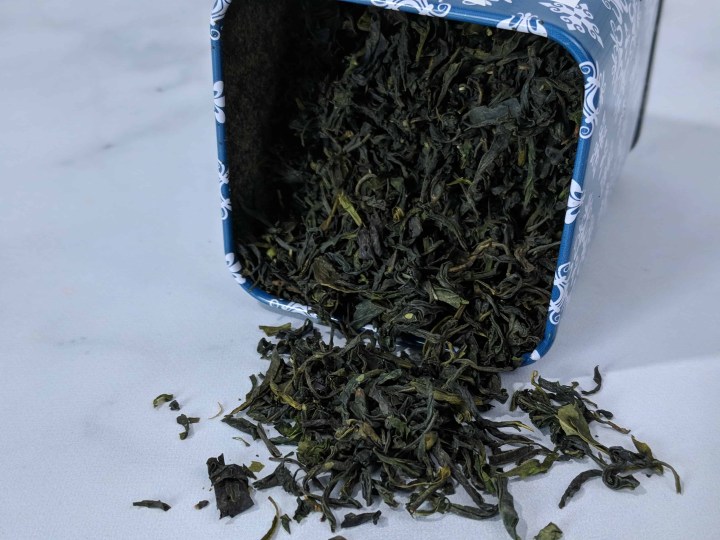 Good Earth Organic Emerald Green Tea($9). This is a lovely light loose green tea. It's quite tasty and smooth. Perfect for an afternoon pick-me up tea break!
Elyptol Antimicrobial Hand Sanitizer Wipes ($4). Made with biodegradable bamboo fabric and natural essential oils, these are the perfect size to throw in the purse for on the go sanitizer. I like to keep some in my car where I eat way too often!
Rise bar – Chocolatey Coconut. Made with organic cashews, pea protein isolate, organic coconut nectar, organic shredded coconut and carob powder. It doesn't contain any chocolate!
Tree of Life Keychain by Gogh Jewelry Design ($29). A cute little keychain adorned with a tree of life pendant and lava and turquoise beads to keep us grounded. I love keychains, not only to keep my keys in one place, but also to add fund details to the zipper of a gym bag or a purse. I also have one attached to my planner.
Bonus items!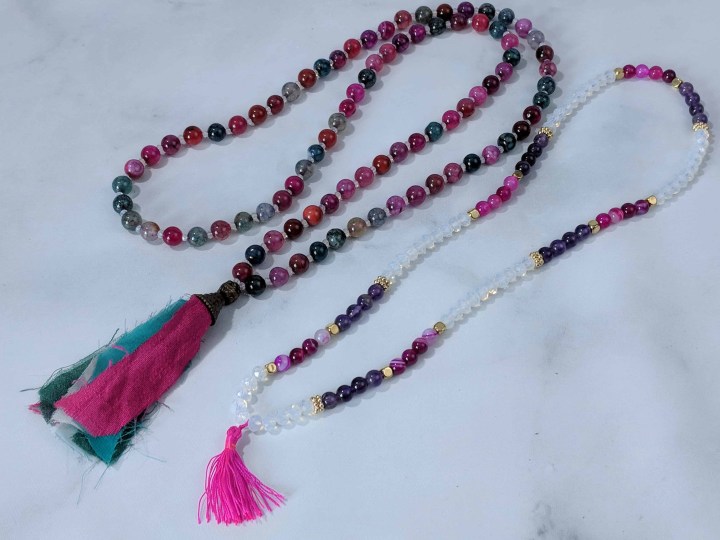 Every subscriber received a set from previous Yogi Surprise Jewelry Box! Talk about spring cleaning! I received the Creative Boho Mala (dyed glass beads) and the Creative Wrap Bracelet (with dyed agate and amethyst) from the May 2017 box (I wish they would also have included the treats, I'm so greedy!)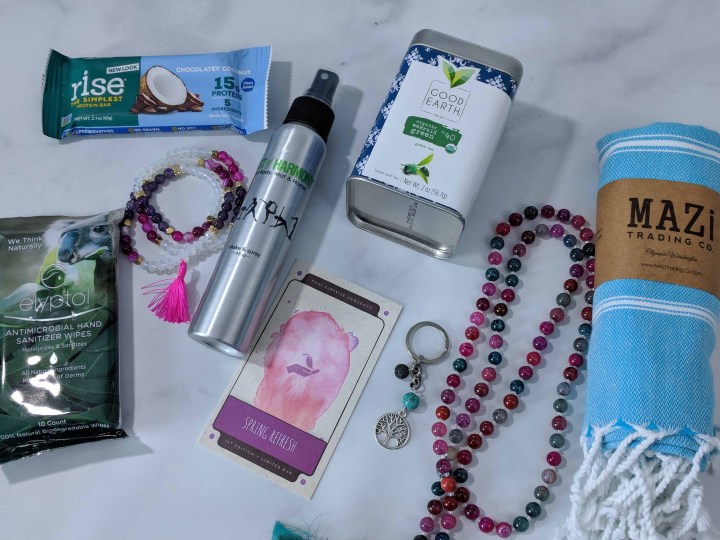 Overall, I really enjoyed my April's Yogi Surprise box. I love my new towel/scarf/small blanket, and the keychain is adorable! The bonus items were a nice addition to a Spring Cleaning themed box as they are from previous jewelry boxes! This was a lovely care package that would be enjoyed by yoga practitioners, both beginner and advanced, and other fitness enthusiasts! I sure will enjoy it through my daily workout, yoga or meditation!
Are you a Yogi Surprise subscriber? What did you think of the box?