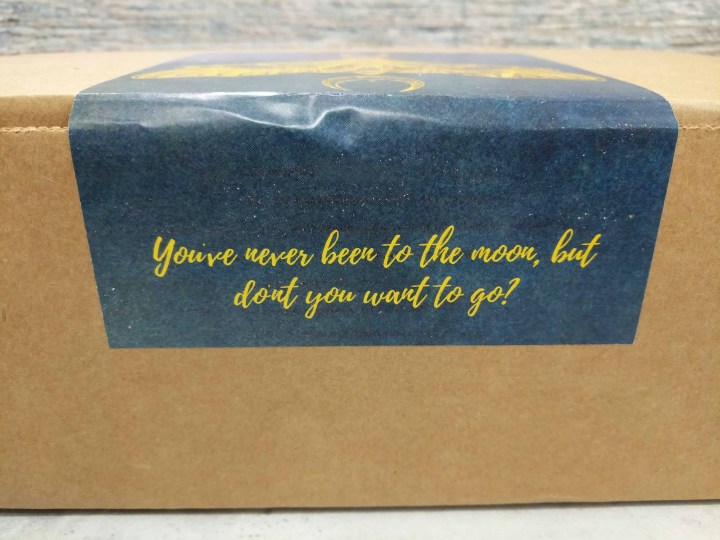 The Witches Box is a monthly subscription box for people who want to dive deep into a new aspect of Witchcraft each month. Spells, rituals, potions, and transformative magic are the focus of each box, through beautifully crafted tools and gorgeous Book of Shadow pages. The box is $65 a month, with free shipping.
When you open the box, you are welcomed to a lovely packaging. You also get a greeting card with the theme and a list of the content of the box. For November, we are giving the tools to learn about Moon Water.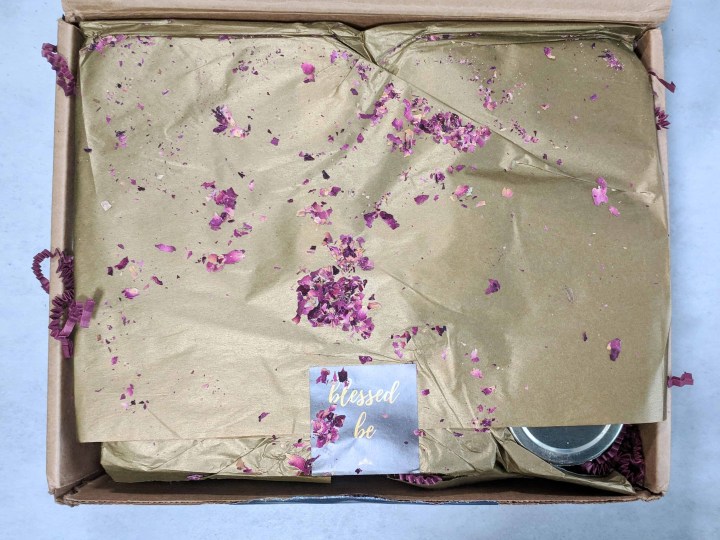 Be aware that all these dried petals can get messy if you are not careful! I've managed to gather most of them and I keep them in a small glass tub, because they are so pretty!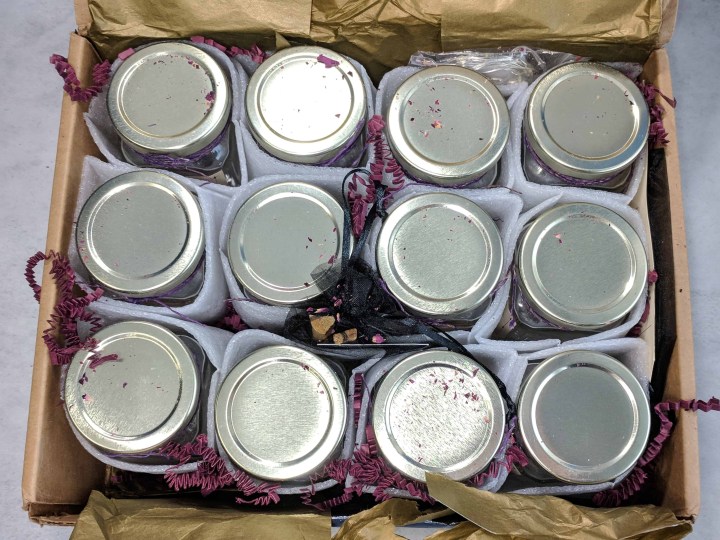 I will admit, I was confused when I saw a box full of glass jars.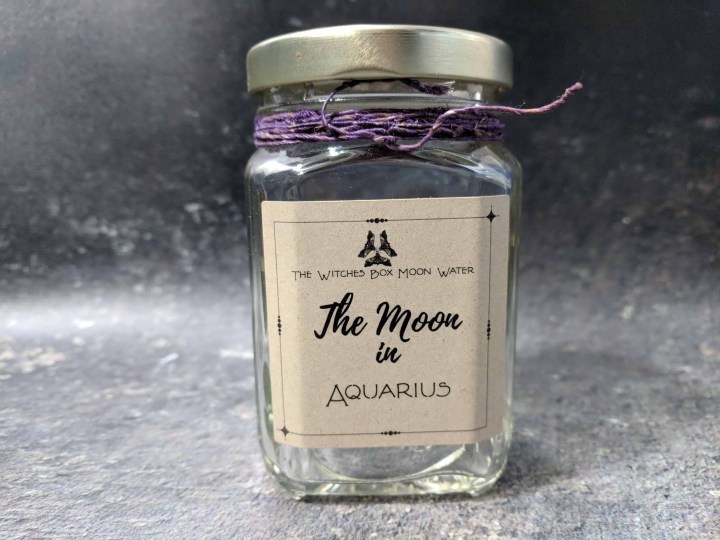 Twelve to be exact. There's one jar for each sign the moon travels through.
Let's go back to the greeting cards to see what this box is all about. This is a Moon Water Box and we have everything to help us make water every moon cycle to charge the water with what each cycle represents. Then, you can use your moon water for any type of magickal working. Sounds interesting! I love anything that has to do with the Moon, and I have an affinity for water.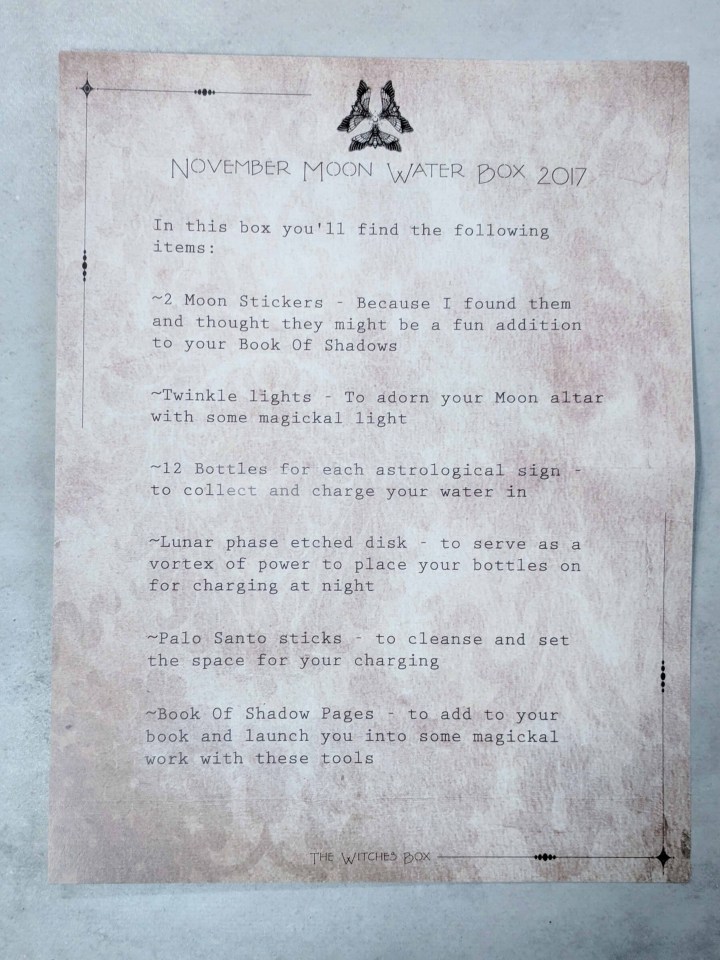 The list of items also includes an idea of how to use it.
This month, we received a lot of lovely pages for our Book of Shadows. They are all one sided on a glossy thick paper. The first two pages are about the Moon Water itself and ideas of how to use it.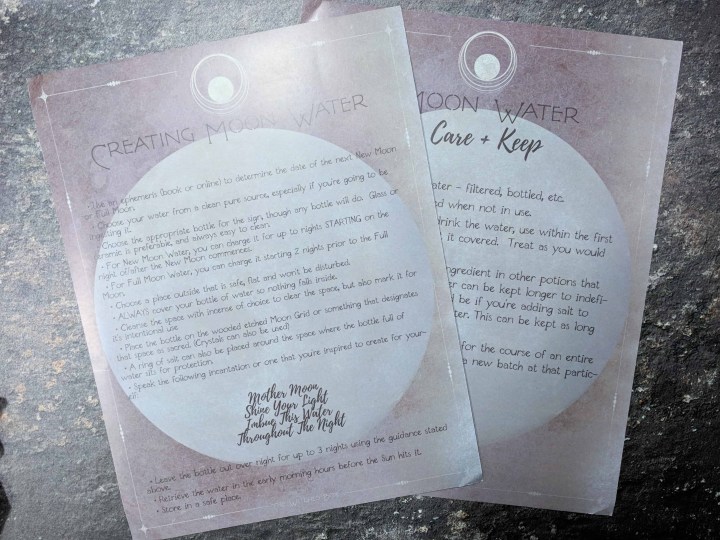 The next two pages give us ideas of how to create our own Moon Water using the tools given to us in the box and how to incorporate our own items.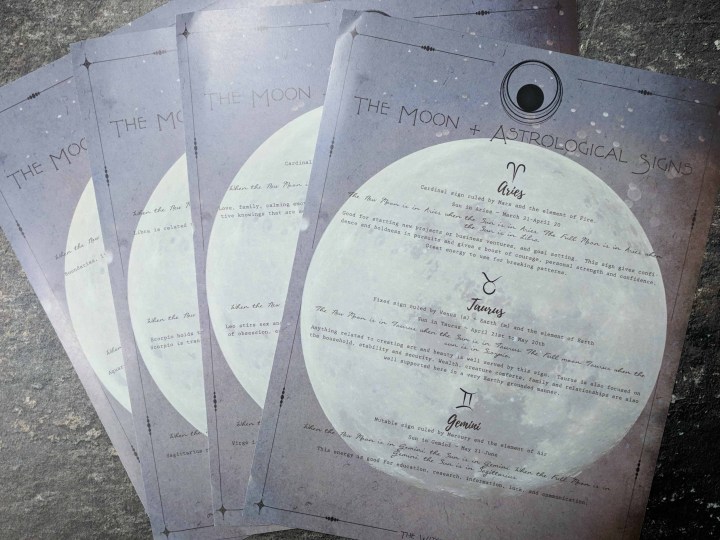 The last four pages are all about the Moon and the Astrological signs. We get information on the dates when the sun and the moon are in the signs, a bit about which planet and element rule the sign as well as what the Moon Water from this sign would be good for. This is so neat! It's straight to the point, and there's enough room on the paper (or on the reverse side) to add your own observation or information.
We received two small Moon Stickers, quite fitting for this box!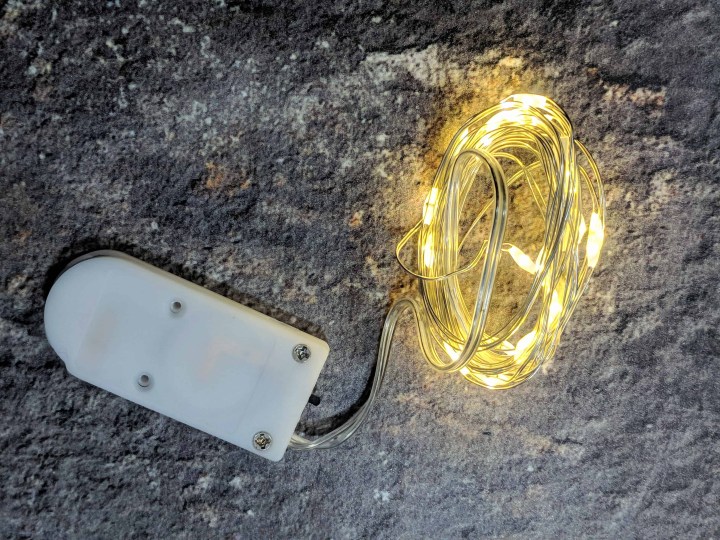 Twinkle lights to adorn our Moon altar, or to take pretty pictures! I like Twinkle lights, especially since I can't use a lot of candle, but I like lighting up my altar.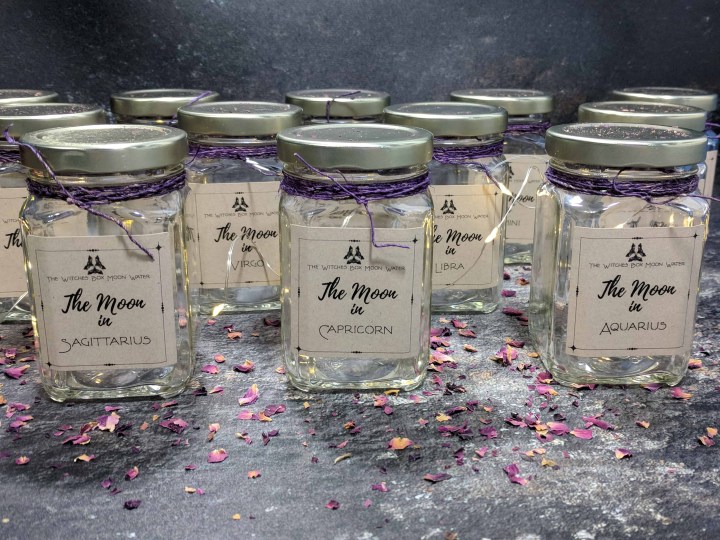 Twelve Bottles, one for each astrological sign. They are labelled with their sign and adorn with a purple twine, perfect for spiritual work. My only concern is that they are not easy to clean if you don't want to loose the label or the twine. So I will not be drinking my Moon Water for any ritual.
Lunar phase etched disk by Siren's Song. A lovely wooden disk with the full moon cycle etched all around the circle, the 8 major phases in the middle, and an 8 point star that gives protection during a spell or any spiritual work. This is a lovely item that can also decorate an altar, and a moon crystal could be moved on it along with the moon cycle. A moonstone, a clear quartz, selenite, opal (for the water moon specifically) or a labradorite would all work well.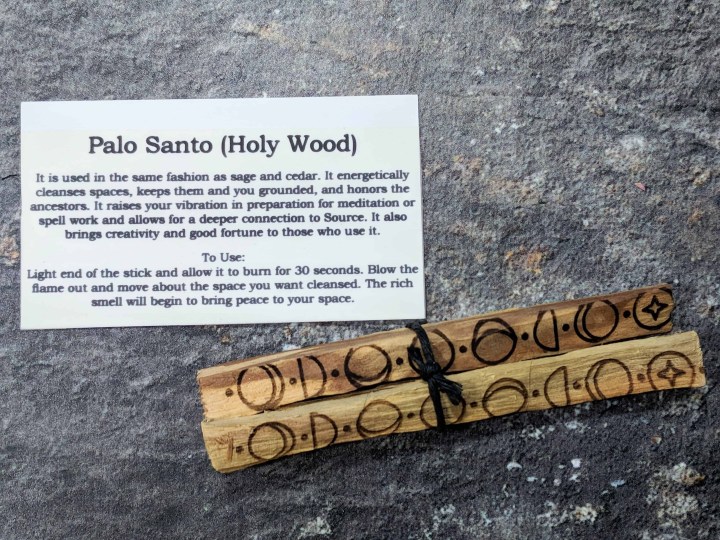 Palo Santo Sticks, laser etched by Siren's Song. I love Palo Santo, it smells so good! I love the moon phase etched on them. Palo Santo is used to clean spaces from bad energy, making your rituals more focused.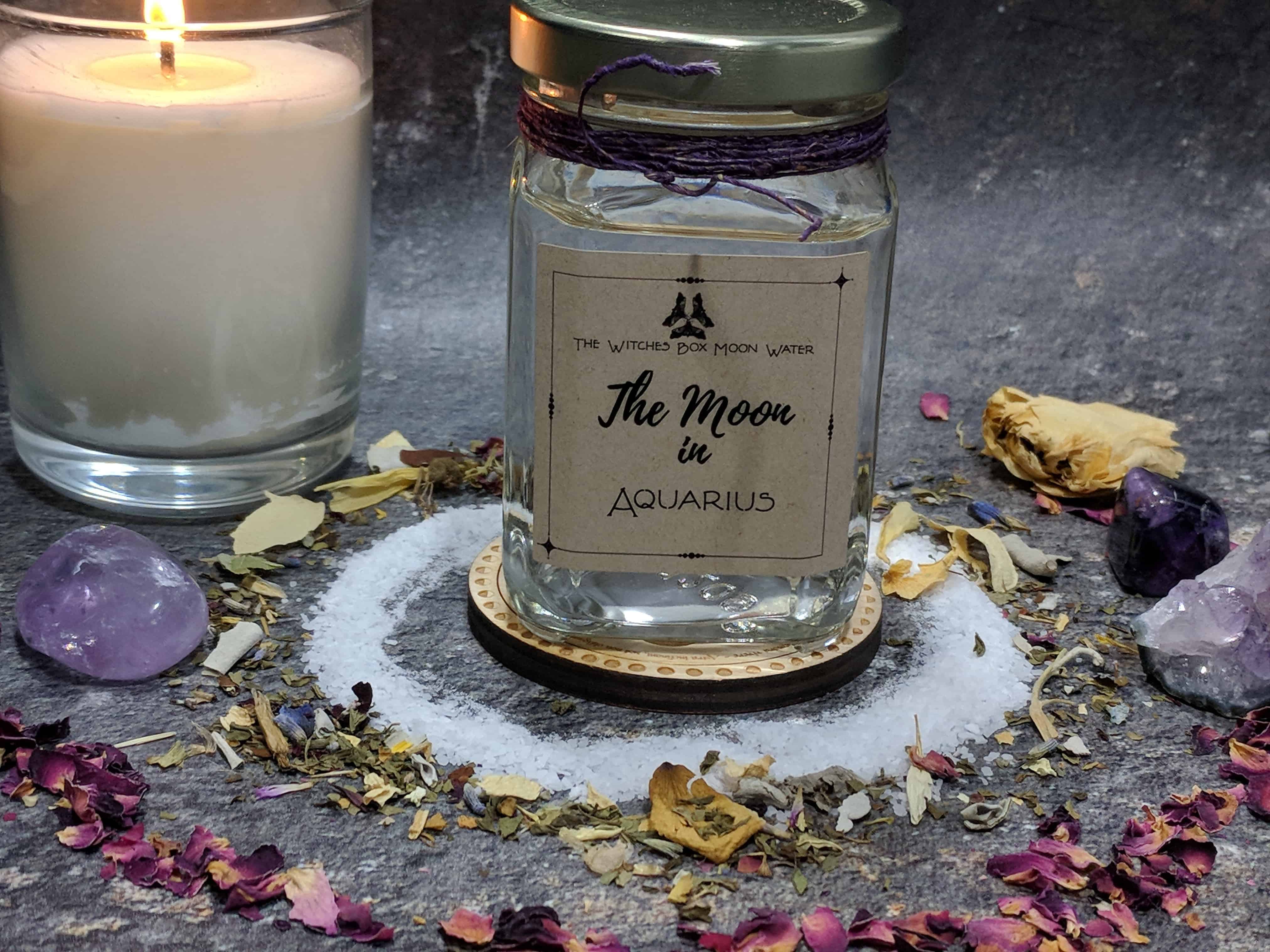 I used the Lunar Grid to create Moon water in Aquarius. Sadly, it's so cold over here that I couldn't leave the bottle outside (it was below freezing), so I've put it in front of the window with the longest exposition to the Full Moon.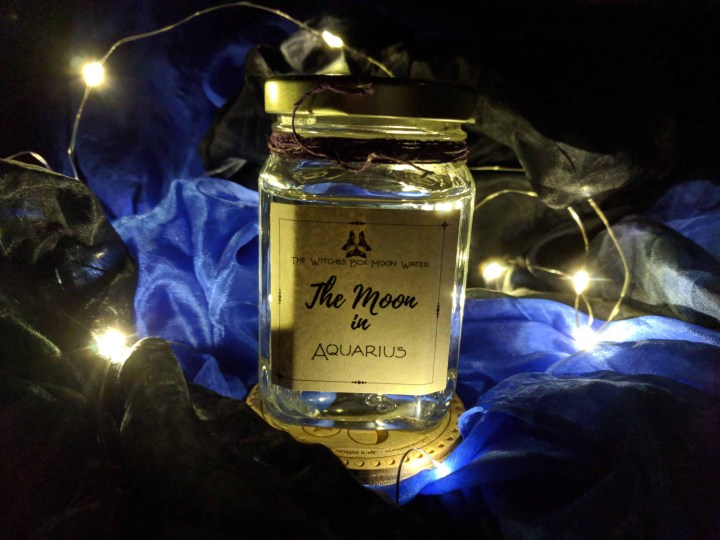 Once it was ready, it became part of my altar until I'll make a new batch next cycle. I really enjoy the little twinkle lights!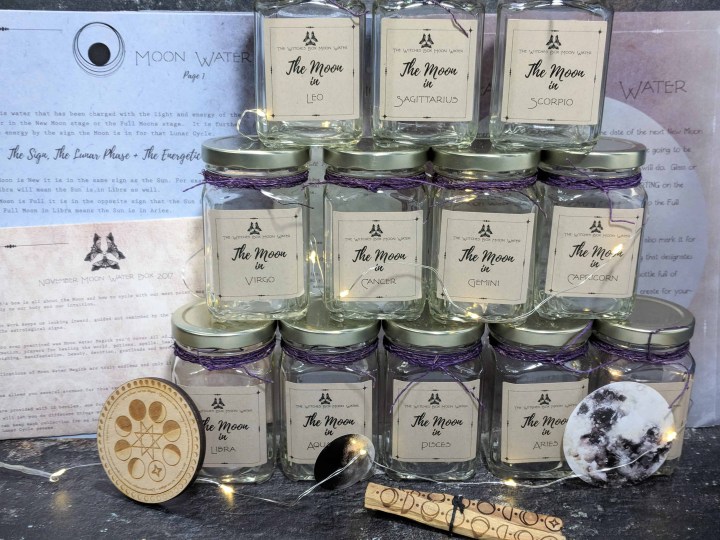 At first, I was surprise to receive twelve empty glass jar in this box, but the ritual makes so much sense and it's something that will be used throughout the year. It was a nice introduction to the Moon Water element, something I wasn't really familiar with. It's also fun to be able to adjust this ritual to our needs, as I can use the disk to charge crystal every moon cycle. Even though "Moon Water" is written on each jar and you are not into moon water, you can still use it to store crystals that have been charge during that Moon cycle, or other tools you need for your Moon celebration. The possibilities are endless and this was a fun box to build upon.
What did you think of this month's The Witches Box?