UrthBox is a healthy food subscription box. In this monthly box you get snacks, beverages, and other goodies with a focus on Non-GMO, Organic and All Natural items. Choose between classic, diet, vegan, and gluten-free, as well as between four sizes of box.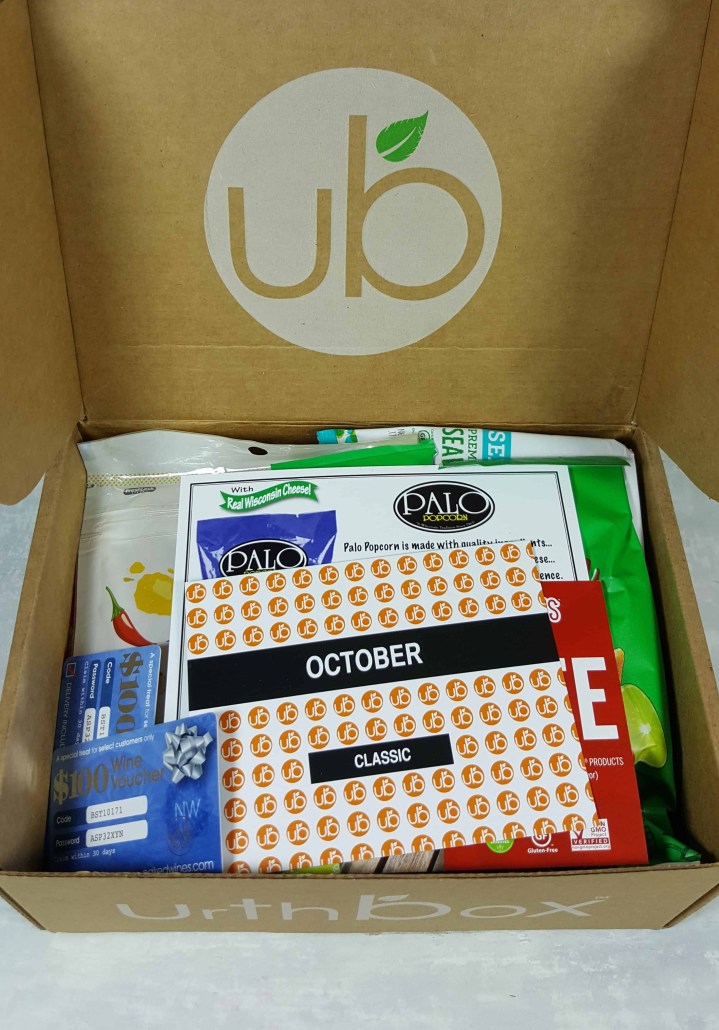 This is a review of the Small Classic UrthBox (12+ snacks).
DEAL: Use coupon code  #PROMO10 to save $10 off of your first UrthBox and get a FREE bonus UrthBox with any subscription!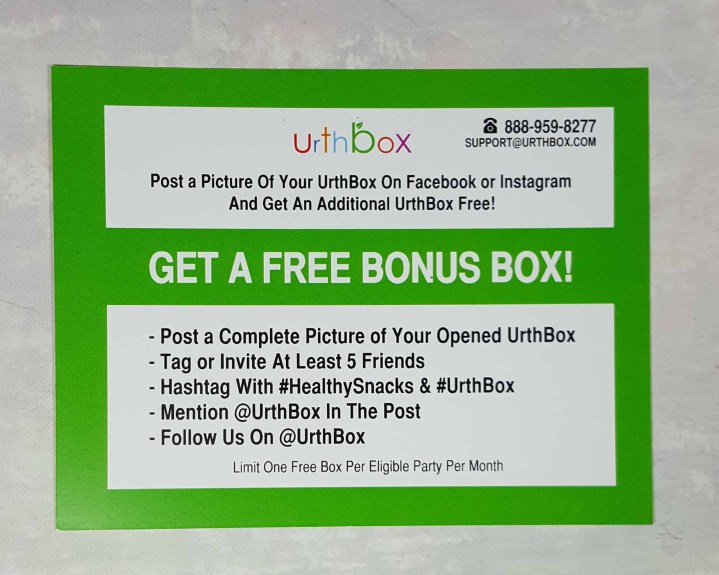 Instead of a product information summary, the card insert provides details on how to earn a free bonus box. Use your social media accounts to earn big discounts.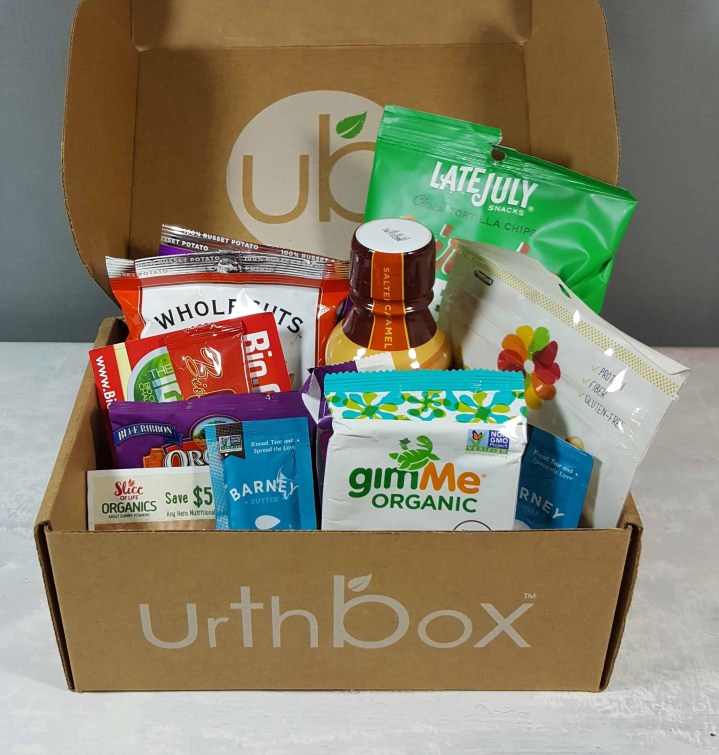 Everything in the October UrthBox!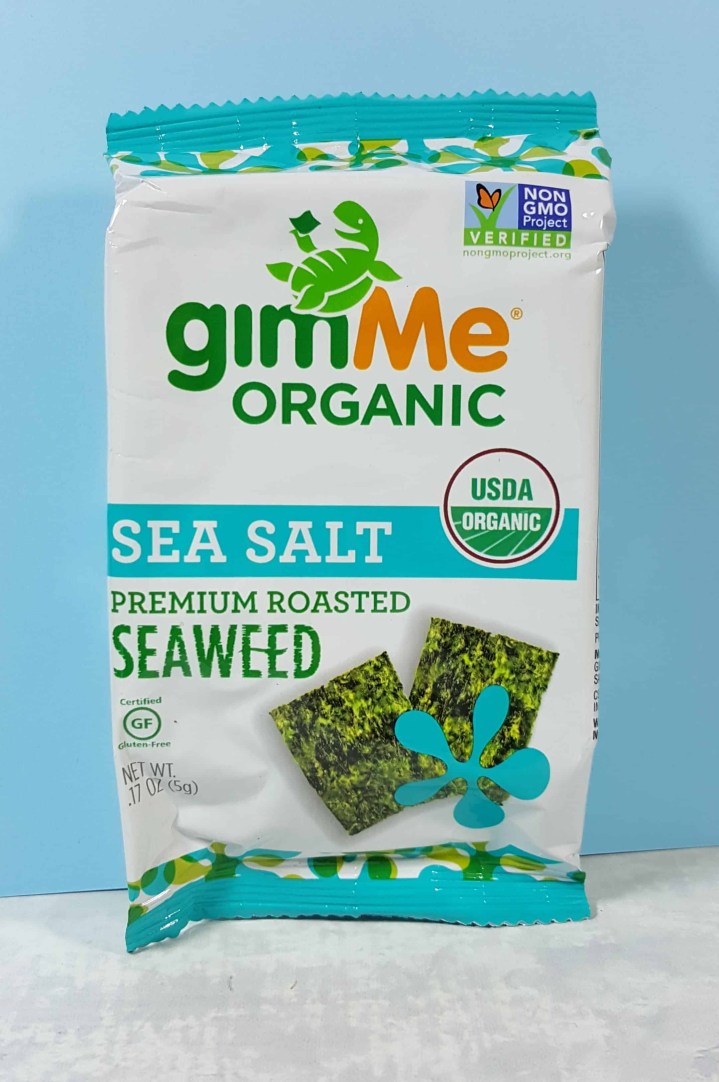 gimMe | Organic Roasted Seaweed – Sea Salt ($1.42): The word gim is Korean for seaweed; hence, the play on words with this brand name. Cute and clever! This little pack contains sheets of organic seaweed that are roasted and seasoned with sea salt. Eat as a snack or enjoy with a bowl of rice for a simple meal.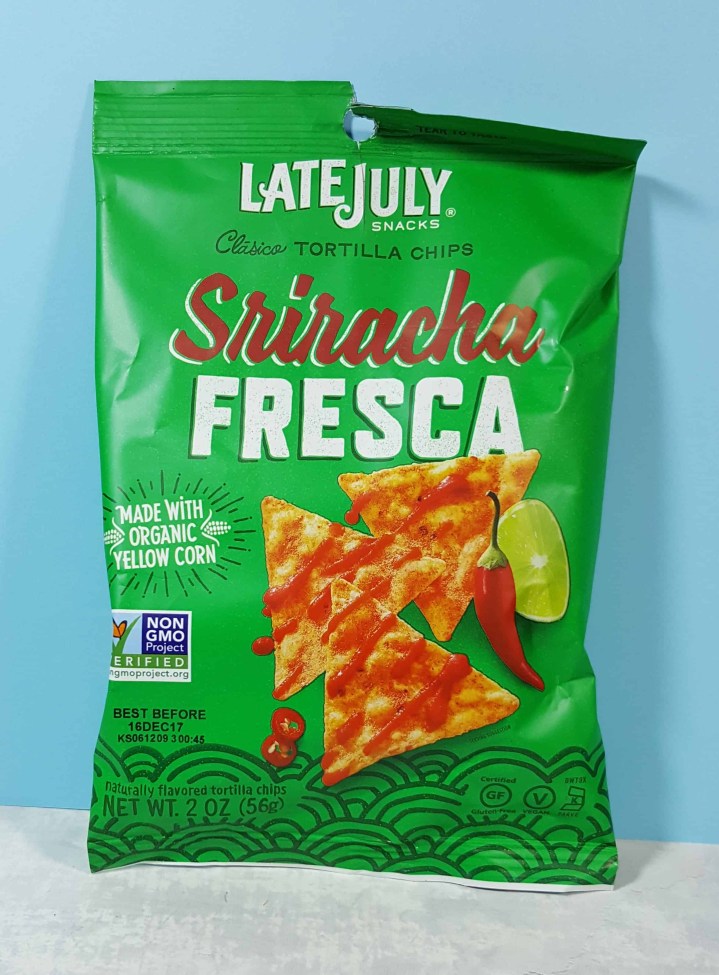 Late July Snacks | Clásico Tortilla Chips – Sriracha Fresco ($1.30): Late July's chips are made with ingredients that are free of toxic persistent pesticides, artificial flavors, colors, and preservatives. Flavors for their Clásico line of chips are inspired by dishes served at your favorite taco trucks. The sriracha fresco flavor has a mild heat with a hint of lime and lots of crunch.
KALA Beautiful Beans | Roasted Fava Beans – Tropical Curry ($3.78): I saw that these were fava beans, and I instantly was taken back to The Silence of the Lambs. LOL! KALA is a part of the Bush Bros. Bean Co. You know, Bush's Baked Beans?!? Naturally packed with fiber and protein, the fava beans are roasted with curry spices and lime juice for a mild flavor. These had an interesting texture, and I think they would be better in a savory snack mix than they are on their own.
Calbee | Whole Cuts – Bacon & Cheddar and Sea Salt & Vinegar ($2.67 each): I like Whole Cuts – they're chips that are cut like fries. I've had the sea salt & vinegar before. I like the sharpness of the vinegar, and the sea salt is not heavy; making these a nice snack overall. I was anxious to try the bacon & cheddar. Sometimes bacon flavor comes across as really artificial or really smoky. This was somewhere in the middle, but I didn't get much of the cheddar. This flavor was just OK to me.
Bio Coffee ($1.63): Self-described as "The Healthiest Coffee in the World", Bio Coffee provides all of the flavor of coffee with several key benefits. It is caffeine free, but provides sustained energy with nutrients such as chlorophyll and amino acids. It is alkaline and won't increase acidity in the stomach. A key ingredient is wheat grass, a natural source for Vitamins A, E, C, K, and B6 and several minerals (calcium, selenium, magnesium, and iron). Mix the packet with hot water and drink as is or over ice.
Bio Coffee has a 12-day challenge that aims to provide noticeable health benefits with regular use over 12 days. I haven't tried Bio Coffee yet – one of the positive effects was improved regularity. I drink coffee in the mornings and would hate to see my regularity benefits come without warning while I'm at work.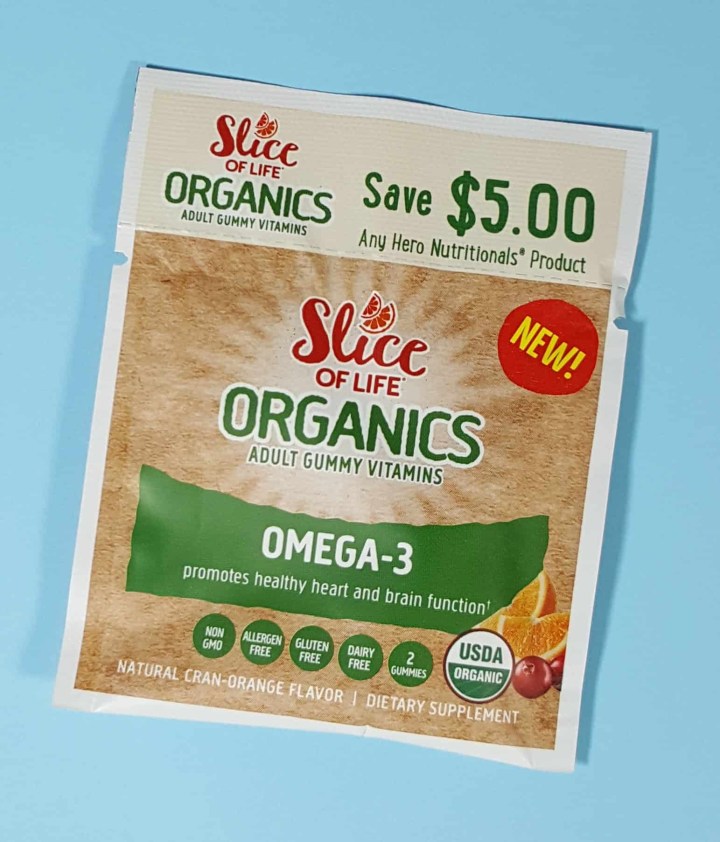 Slice of Life Organics | Gummy Omega-3 Supplement ($0.46): These gummies are a much tastier (and better smelling) option than my regular Omega-3 supplement. The gummies use a chia seed base for their Omega-3 and are free of shellfish and fish.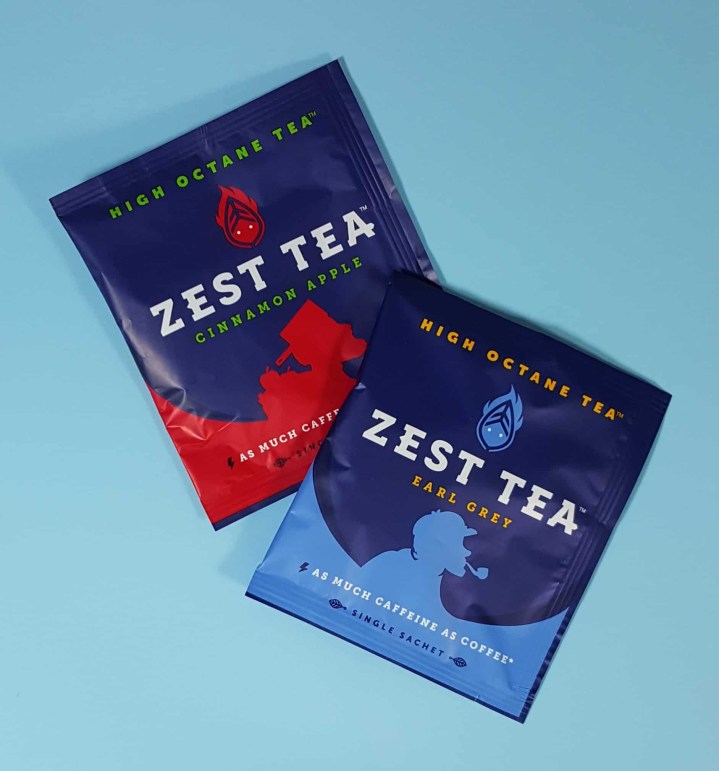 Zest Tea | High Octane Tea – Earl Grey and Cinnamon Apple ($0.75 each): Zest Tea is the brainchild of two friends who wanted to be able to have their cake and eat it too, so to speak. They wanted the energy from coffee but in their tea. So, they started this line of highly caffeinated teas. Loose tea leaves are packed in mesh pyramid sachets. I found that the teas had a nice aroma. The Earl Grey was slightly more bitter than I'm used to (don't leave the tea bag in longer than recommended). The tea did give an energy boost without the shakiness I get from energy drinks or too much coffee.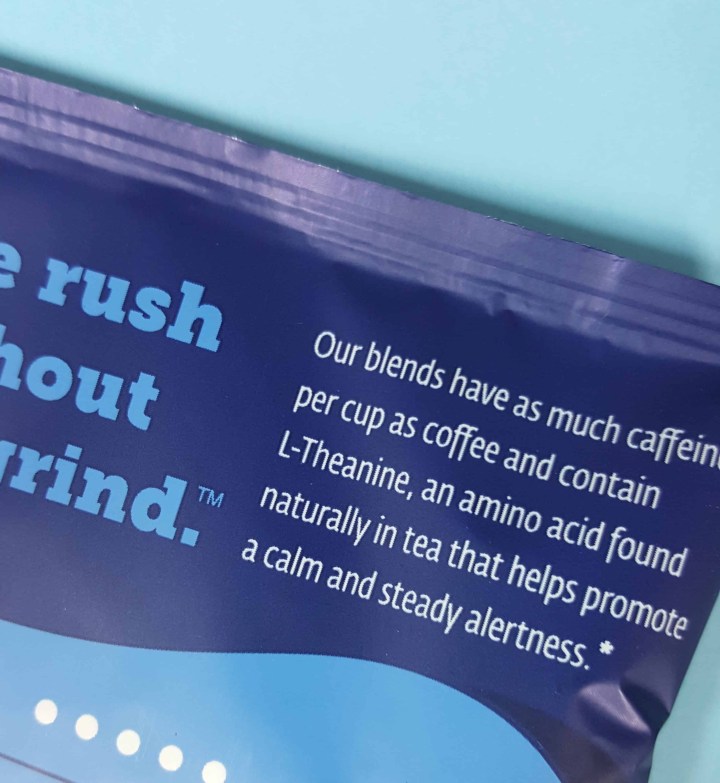 Each cup of Zest Tea has the same amount of caffeine as a cup of joe.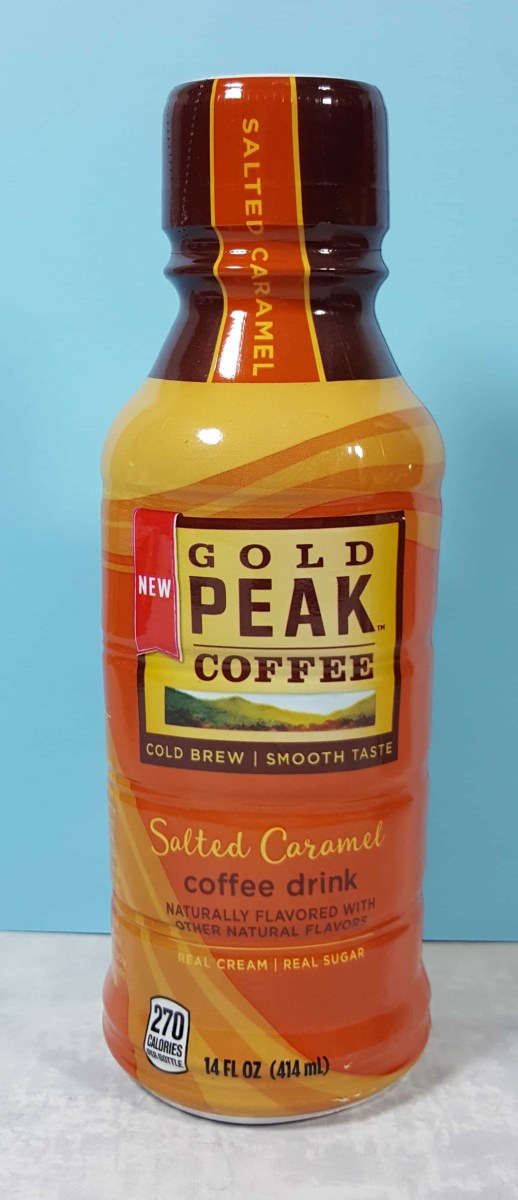 Gold Peak | Coffee Drink – Salted Caramel ($4.99): Hello bottled coffee! Served over ice, this coffee drink was the perfect replacement for my afternoon coffee break. It wasn't overly sweet and had the right amount of cream (for me – and I like a lot). I didn't think the salted caramel flavor was very pronounced, but it was there. My only real complaint was the price of a single bottle; for that amount, I could have gone to my local café and gotten a drink.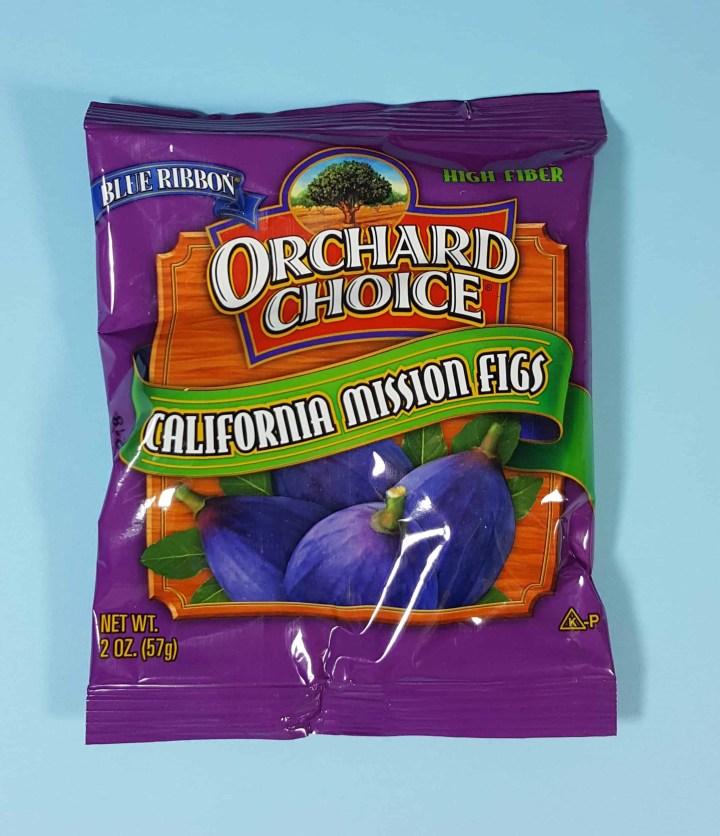 Orchard Choice | California Mission Figs ($0.62): You might find this odd… while I love a good Newton, I don't particularly like fresh or dried figs. I know, I'm a bit weird. However, the rest of my family enjoyed these and thought they had a good amount of sweetness and just the right chewy texture.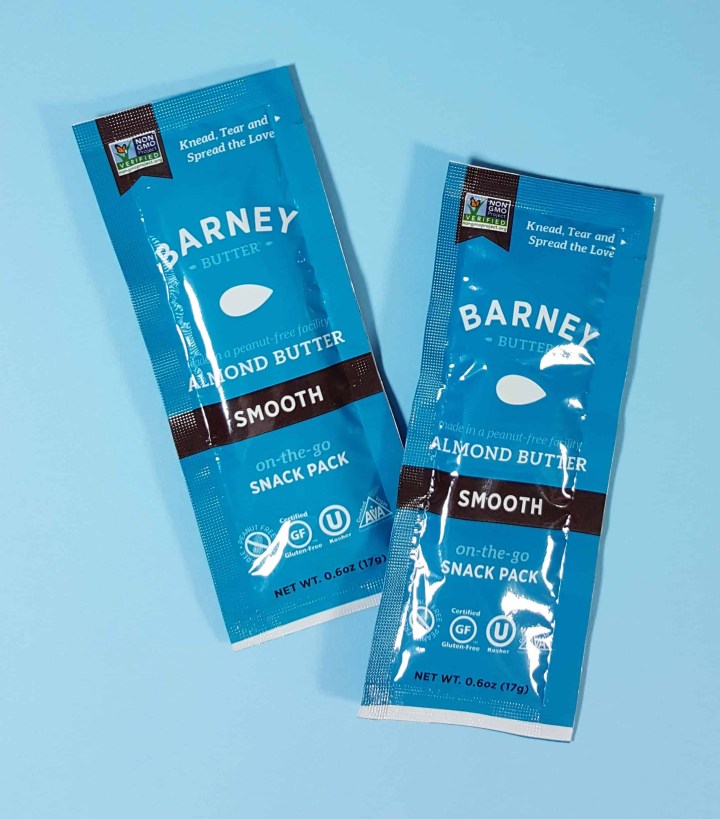 Barney Butter | Almond Butter – Smooth ($0.76 each): I took these packets to work with me so that they could be part of my afternoon snack. The almond butter isn't sweetened, but that made them a great pairing with my chocolate graham crackers. It also eased my guilt over having a sweet snack. You do have to massage the packet to mix the almond paste and oil into a homogeneous buttery mixture. However, once everything is incorporated, you get a very smooth and tasty butter.
Navitas Naturals | Superfood+ – Goji ($1.82): This is a dense, fruit and nut bar that adds a little bit of some superfoods into your diet. It contains goji berries, maca powder, chia seeds, hemp seeds, and cacao powder. It also has cashews, almonds, and sunflower seeds. The bar wasn't overly sweet and had more of a tangy flavor. I wasn't sure what to expect, but I really enjoyed this bar.
Nakedwines.com $100 Voucher: There was also a voucher for NakedWines.com that is good for $100 off a purchase of $160 or more.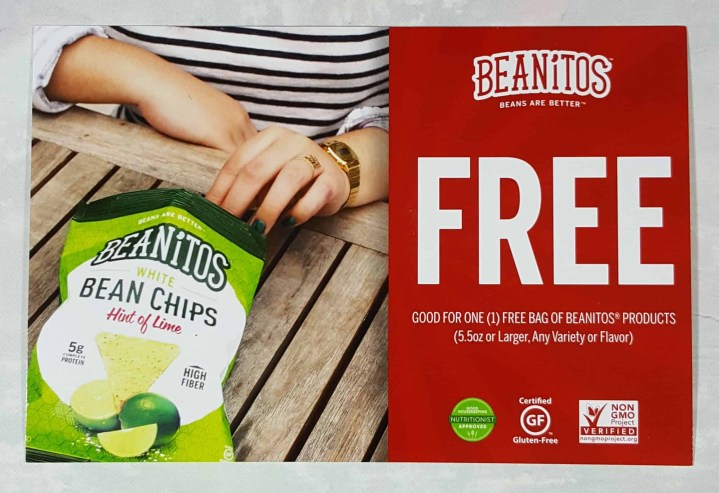 Plus coupons for a few other snacks – Palo Popcorn and Beanitos.
October's UrthBox contained over $24 of product, excluding the wine voucher. I feel the box had a good assortment of healthy snack options, but I would like to see the overall box value be a bit higher. This box is valued slightly below the cost of a single month. Sorry, I am always looking to get more bang for my buck. Regardless of my preferences, if you are looking for items that are healthier or safe for those with food-related conditions, I feel that UrthBox is a good way to get exposure to brands and products. The subscription also shows that healthy foods don't have to be boring or bland.
What did you think of this month's box? Any favorite items? Let me know with a comment below, and happy snacking.