Gifted On Paper is a complete monthly gift wrapping subscription box featuring everything you need to create beautifully wrapped presents including wrapping paper, gift bags, gift tags, tissue paper & other embellishments hand selected each month.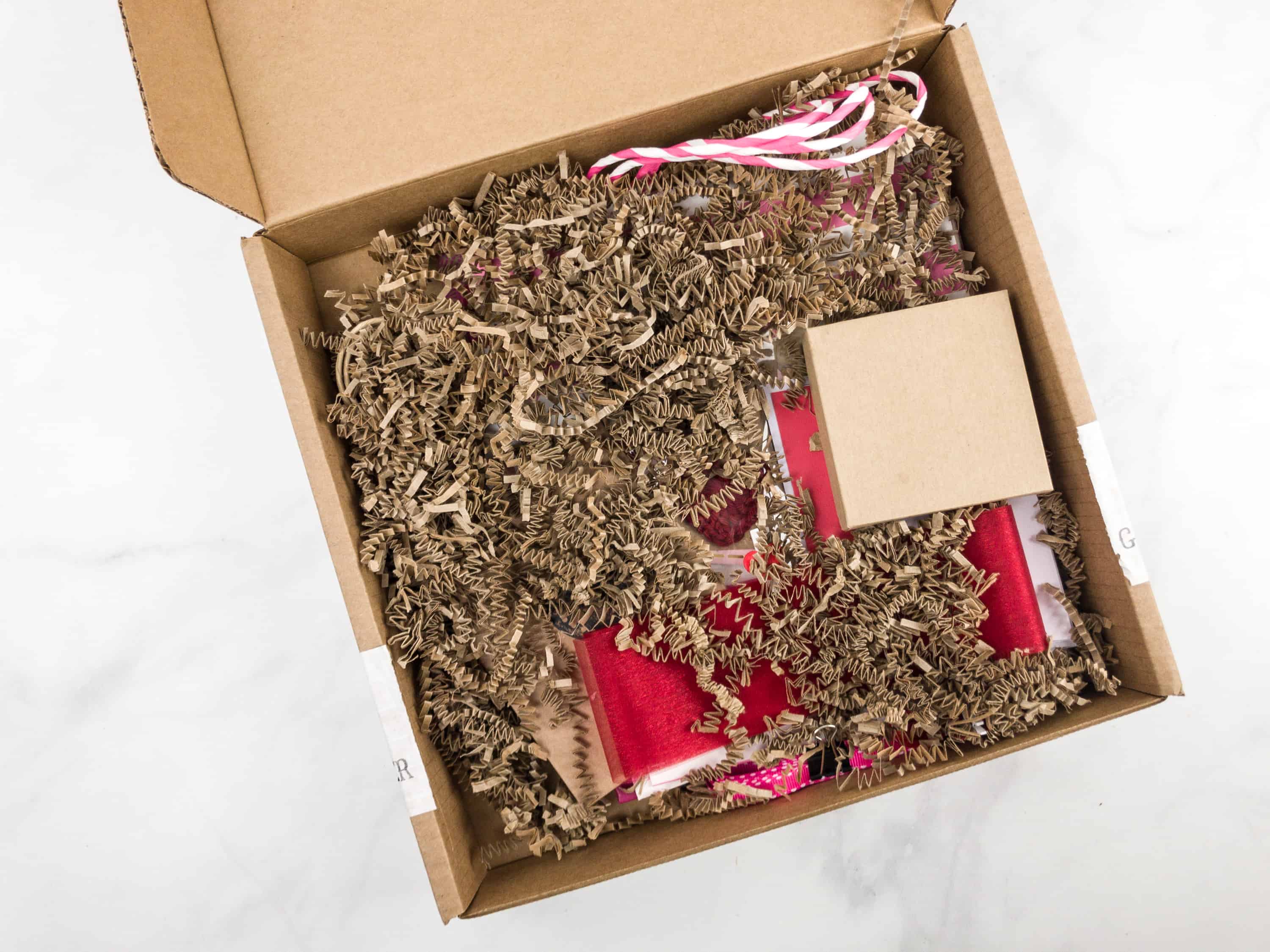 DEAL:  Get 25% off your first box! Use coupon code HELLO25.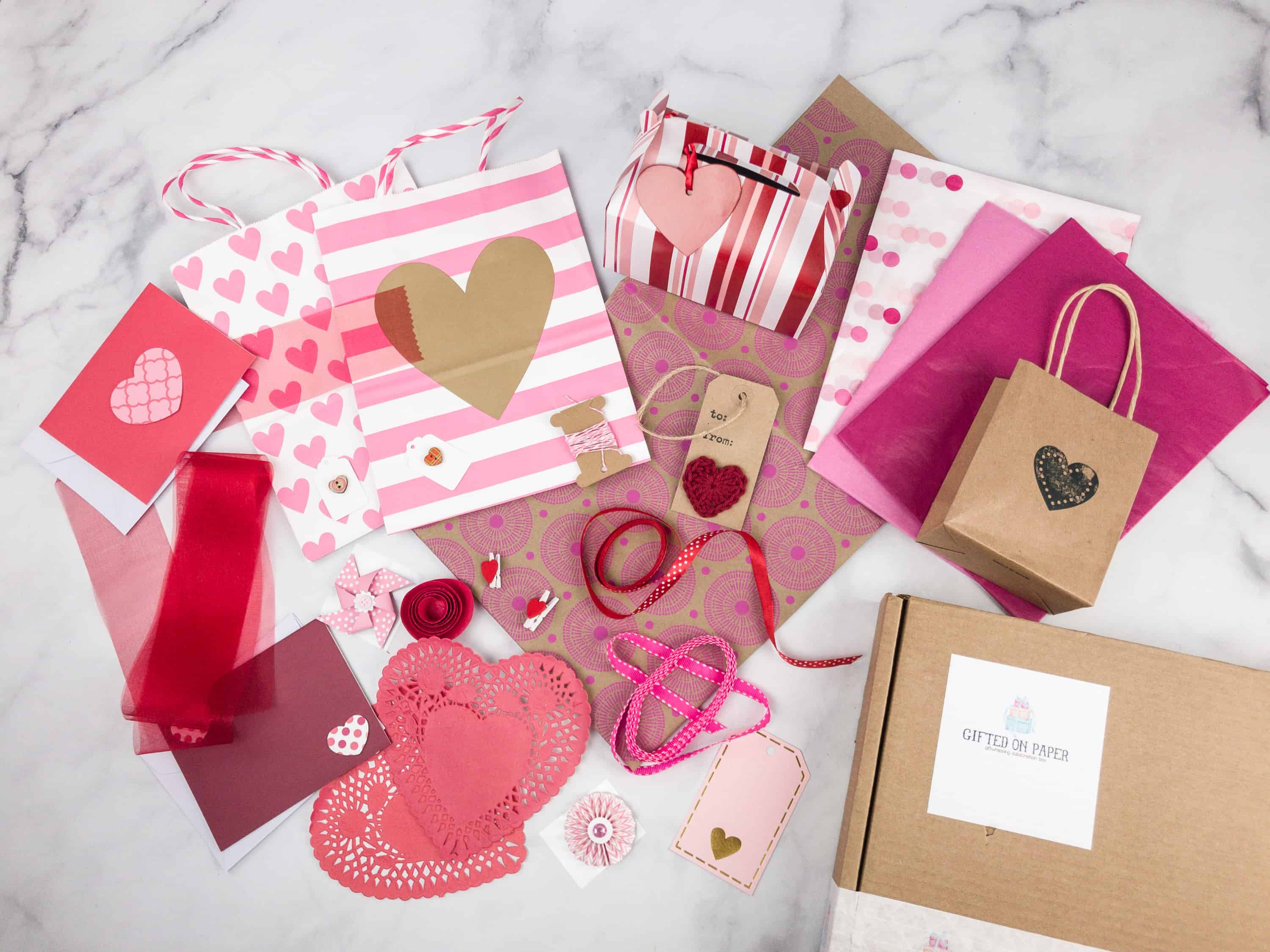 Everything in this month's box! This subscription box does not feature an information card. You know what to do with it!
FYI – This subscription ships in plenty of time for the holidays – this was the January box so you can wrap up to your heart's delight in advance of a themed holiday!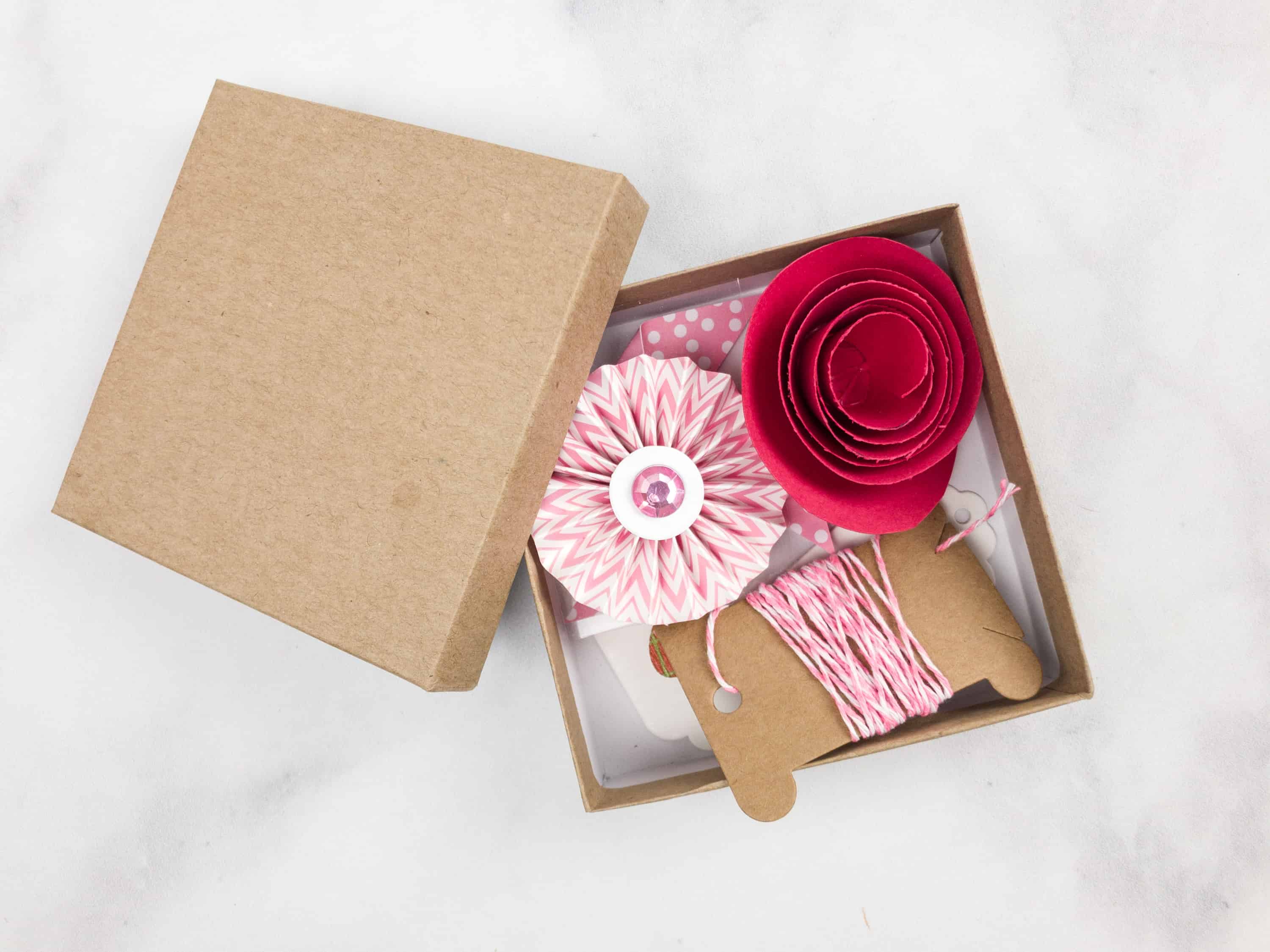 Cardboard Gift Box. There is a smaller box inside with a few small embellishments that can be used as accents. Any extreme wrapper knows this isn't a delivery box, it's a gift box that can be used for wrapping!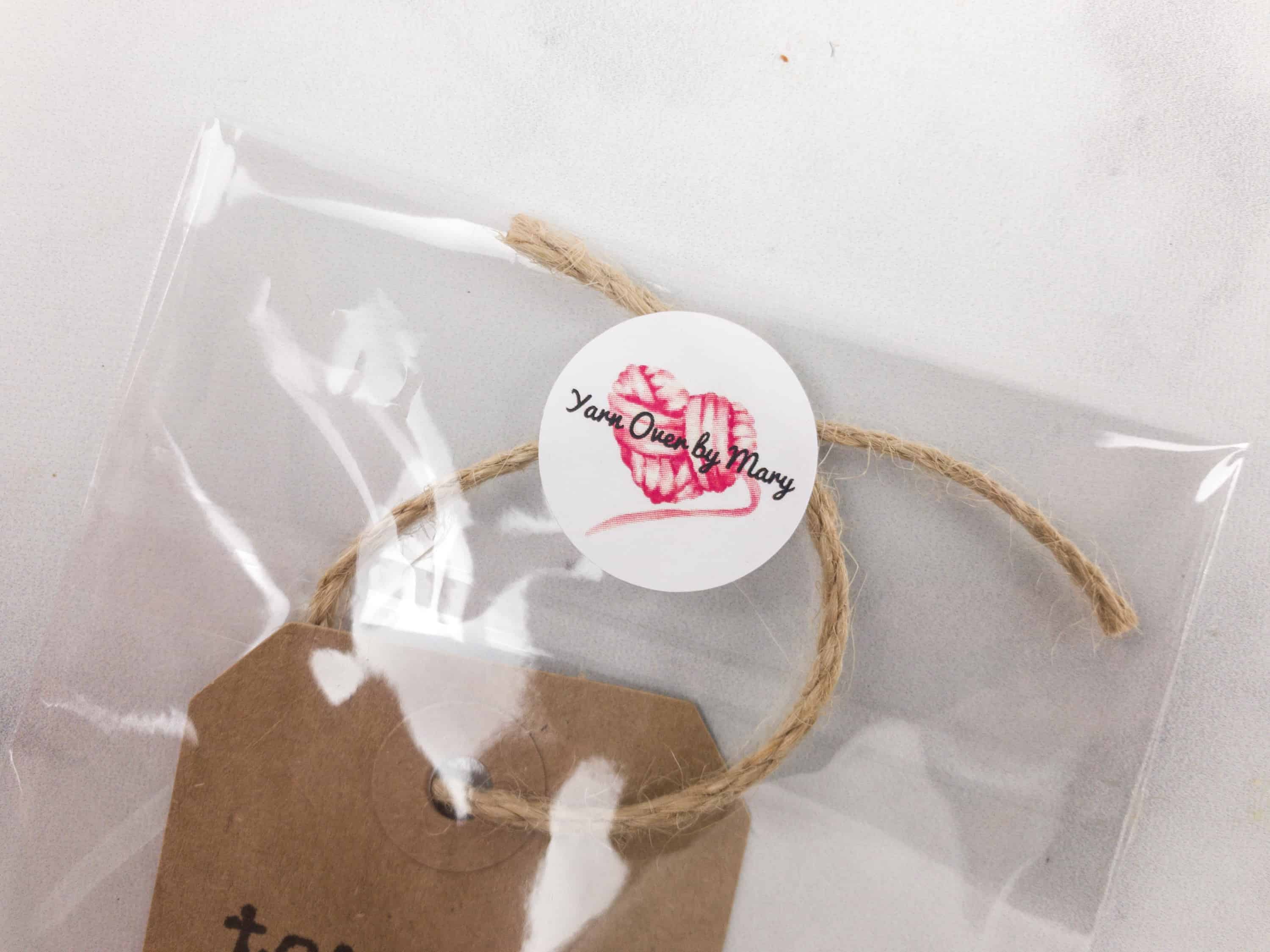 Some of the items are wrapped in clear self sealing plastic with a logo sticker.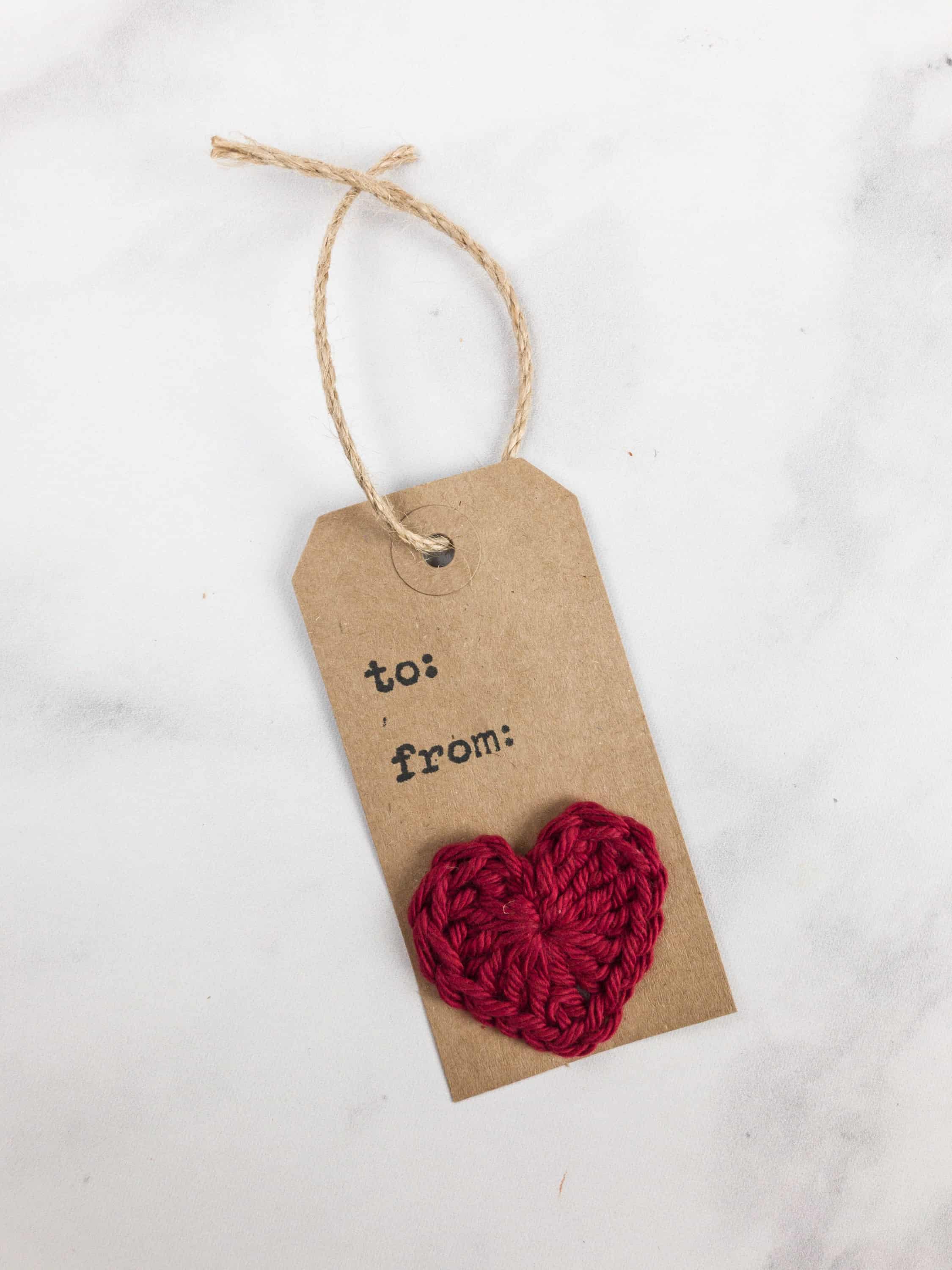 Red Heart Gift Tag. This kraft rectangular paper gift tag has a twine string already provided. The red knitted heart design adds a very lovely and homey accent to the gift tag.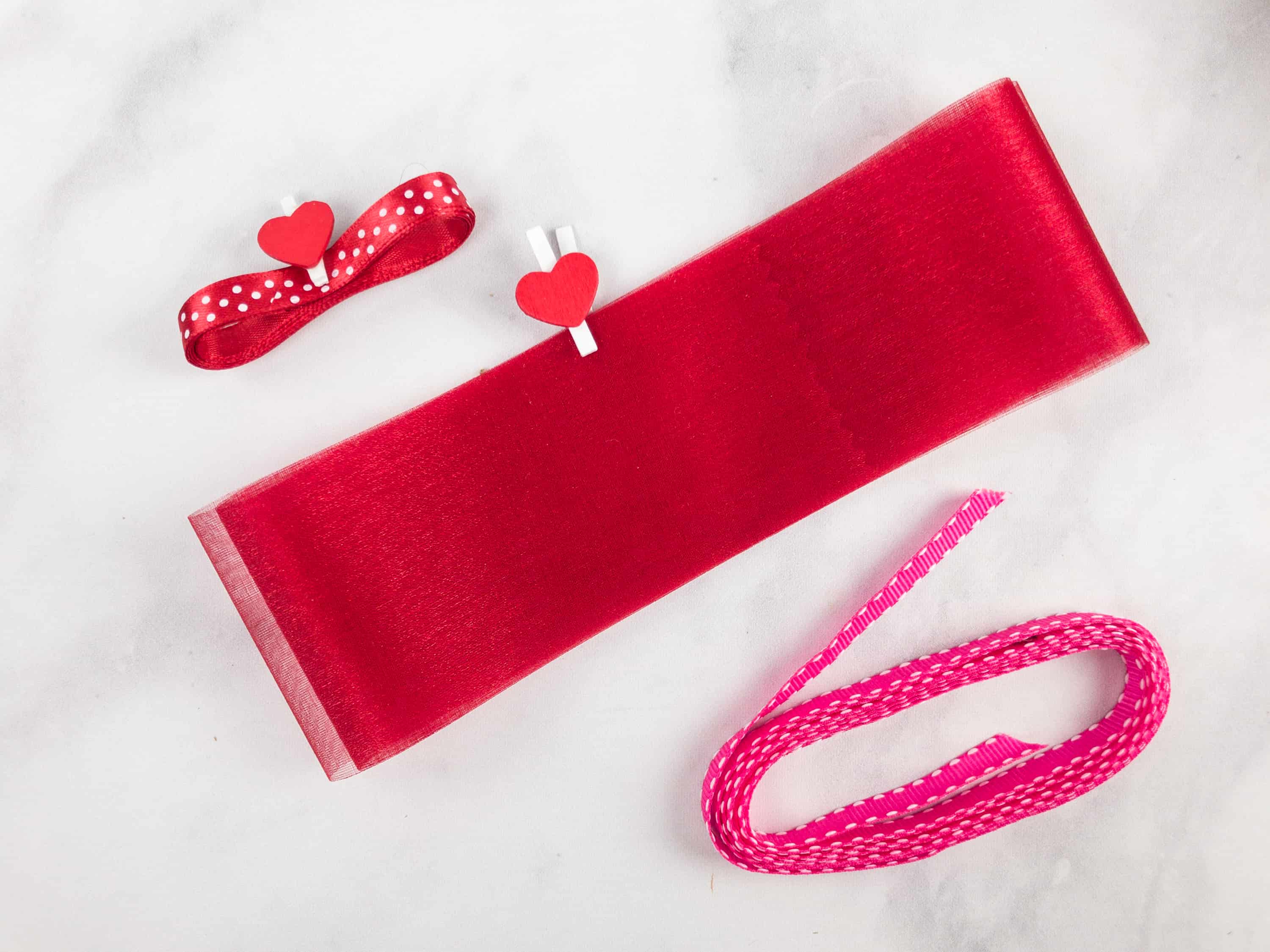 Ribbons. There are 3 ribbons with different types, colors, design, and width in the box – a plain thick red organdy, a thin red twill tape with white dots, and a pink grosgrain with a white side stitch. They have also added 2 clothespin clips with red wooden hearts, which are just too darling.
Golden Heart Gift Tag. The other gift tag from the box has a light pink color with gold printed side stitch and heart. I like this one because you can write a short note to make it more personalized.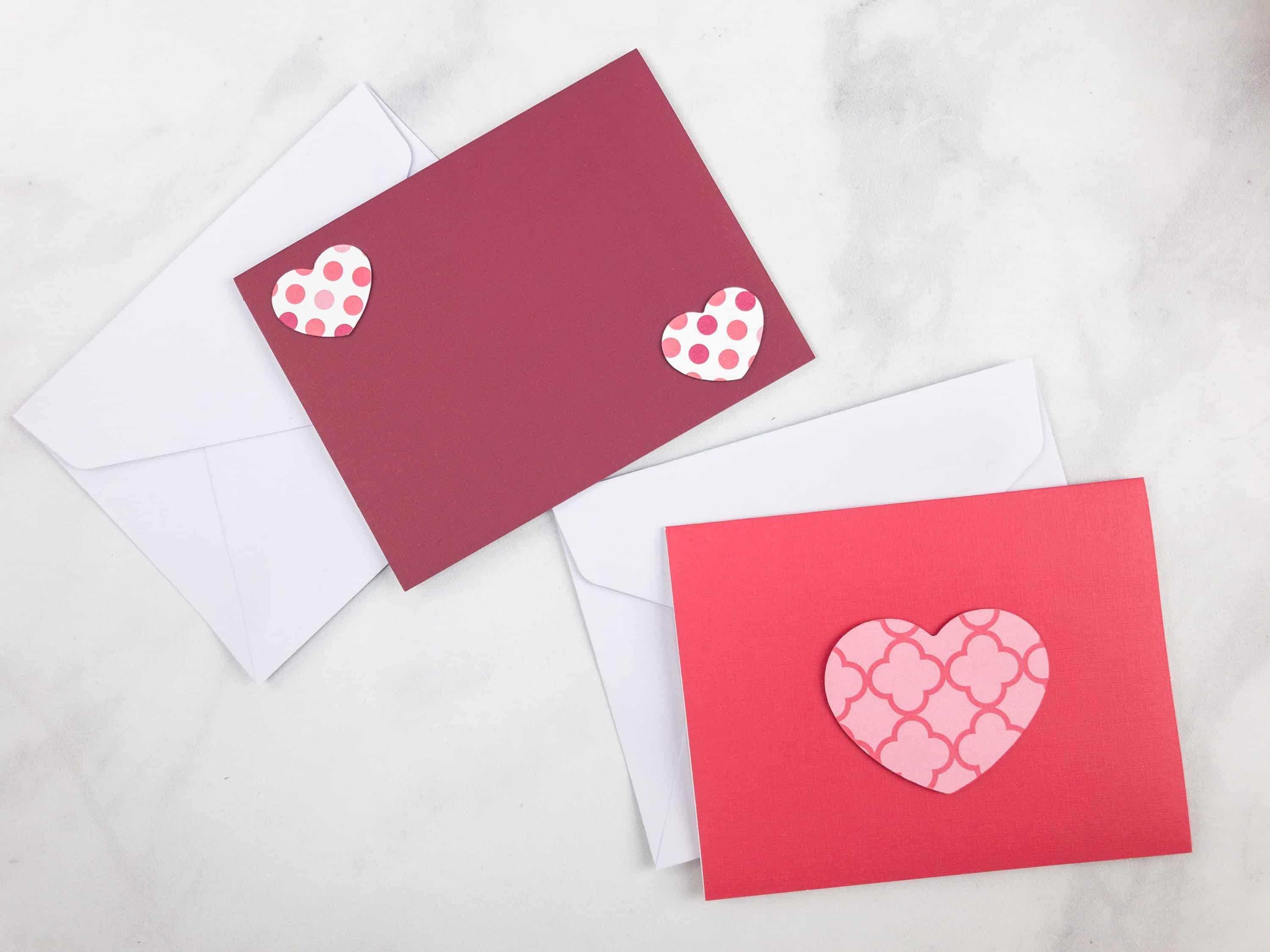 Valentine Greeting Cards. I would love to use these red mauve and hot pink cards for sending out handwritten letters to my loved ones. The card itself is plain so the printed heart designs really pop out. Each of the cards comes with a plain white envelope.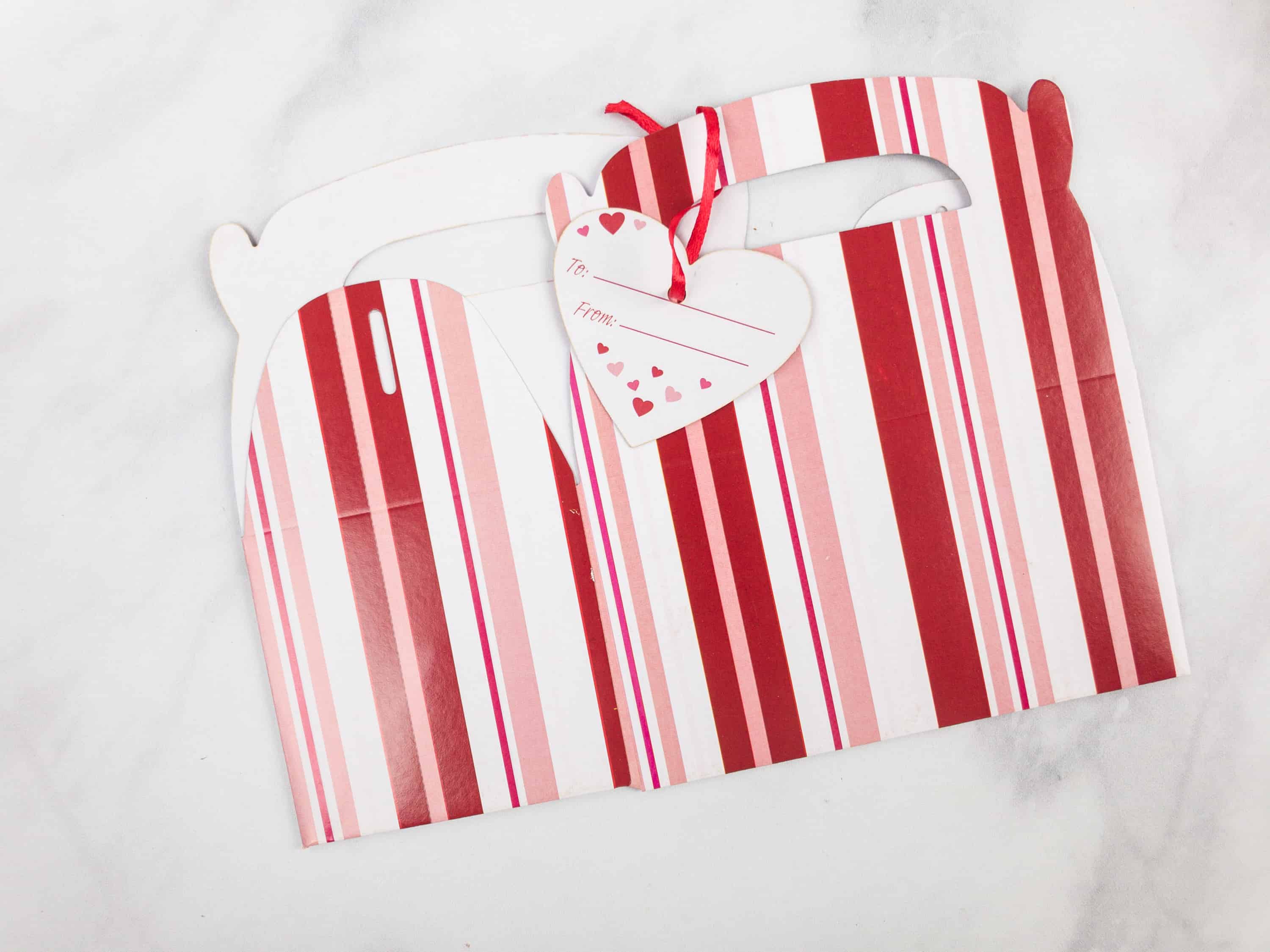 Valentine Munchkin Box. I can easily wrap gifts using this box with the red, white, and pink stripes. It even comes with its own heart gift tag. This kind of item really lets your wrapping skills shine!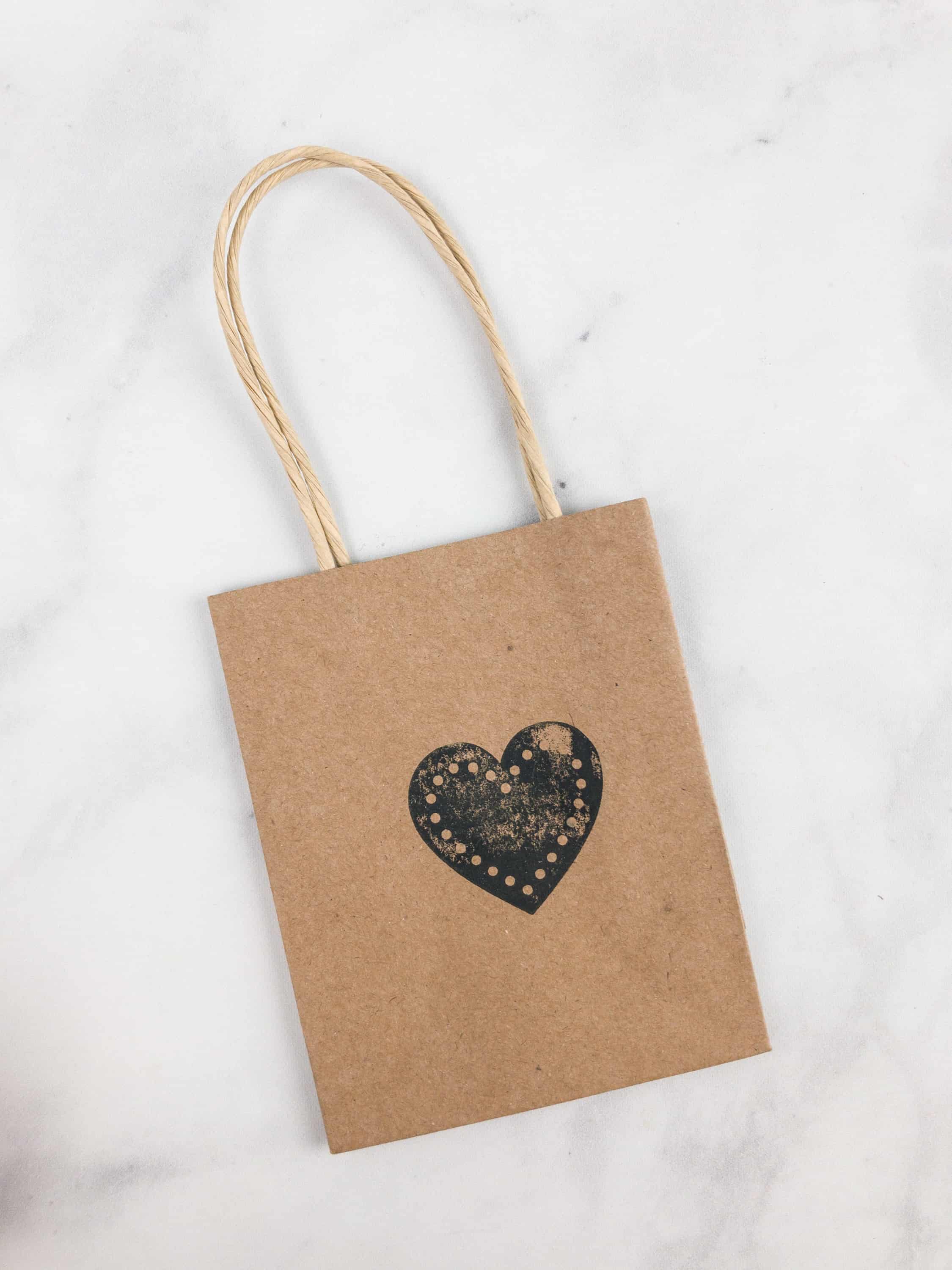 Heart Brown Bag. This brown cardboard bag with a black stamped heart is really simple but it has a great dramatic effect to it. The rustic look is a great touch to it too!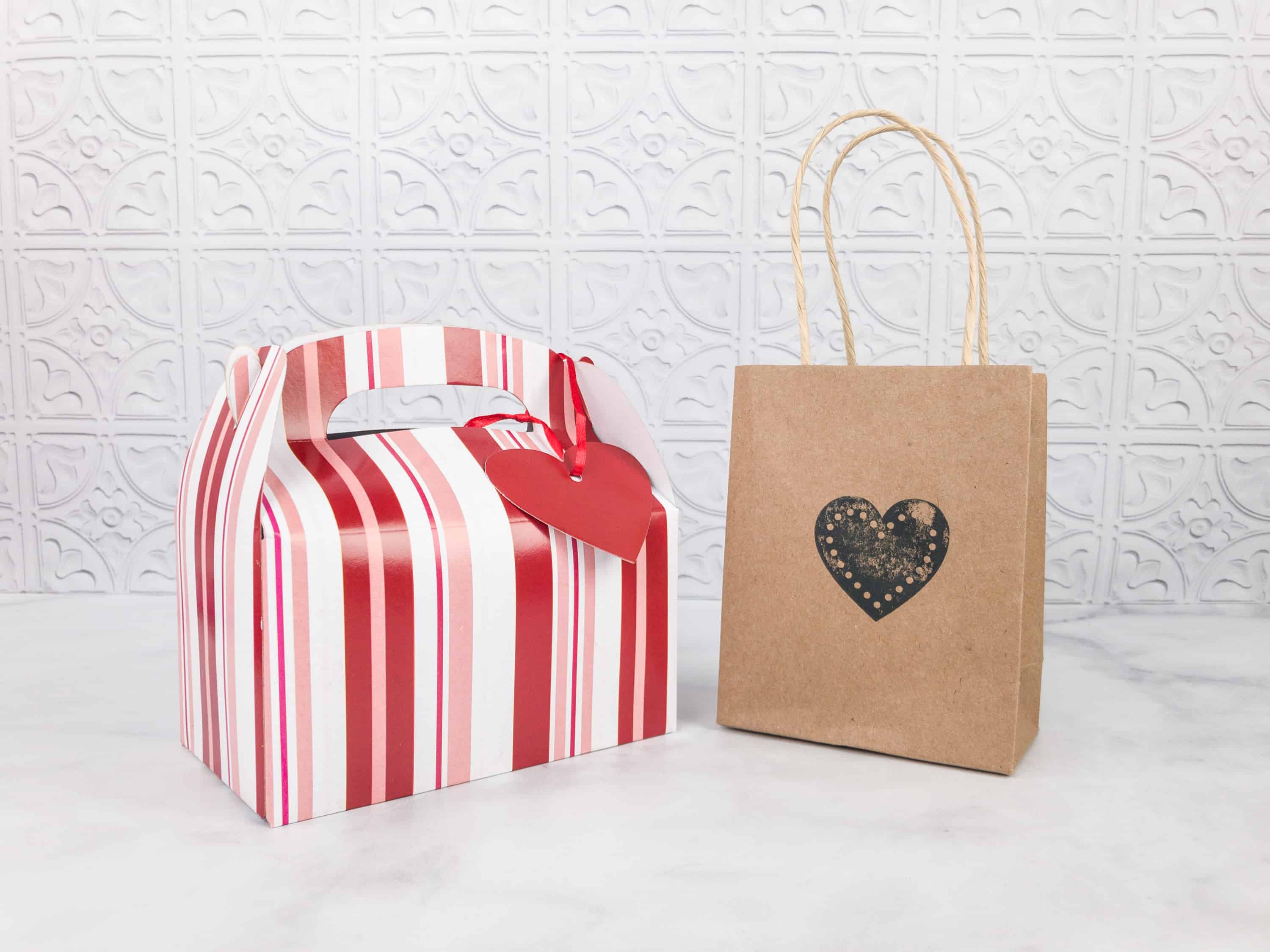 Giving gifts is now a lot easier because I have these bags!
Heart Paperbags. Unlike the other gift bags, these paper bags are more standard. There's a white paper bag with pink hearts and a white and pink striped paper bag with one big gold heart.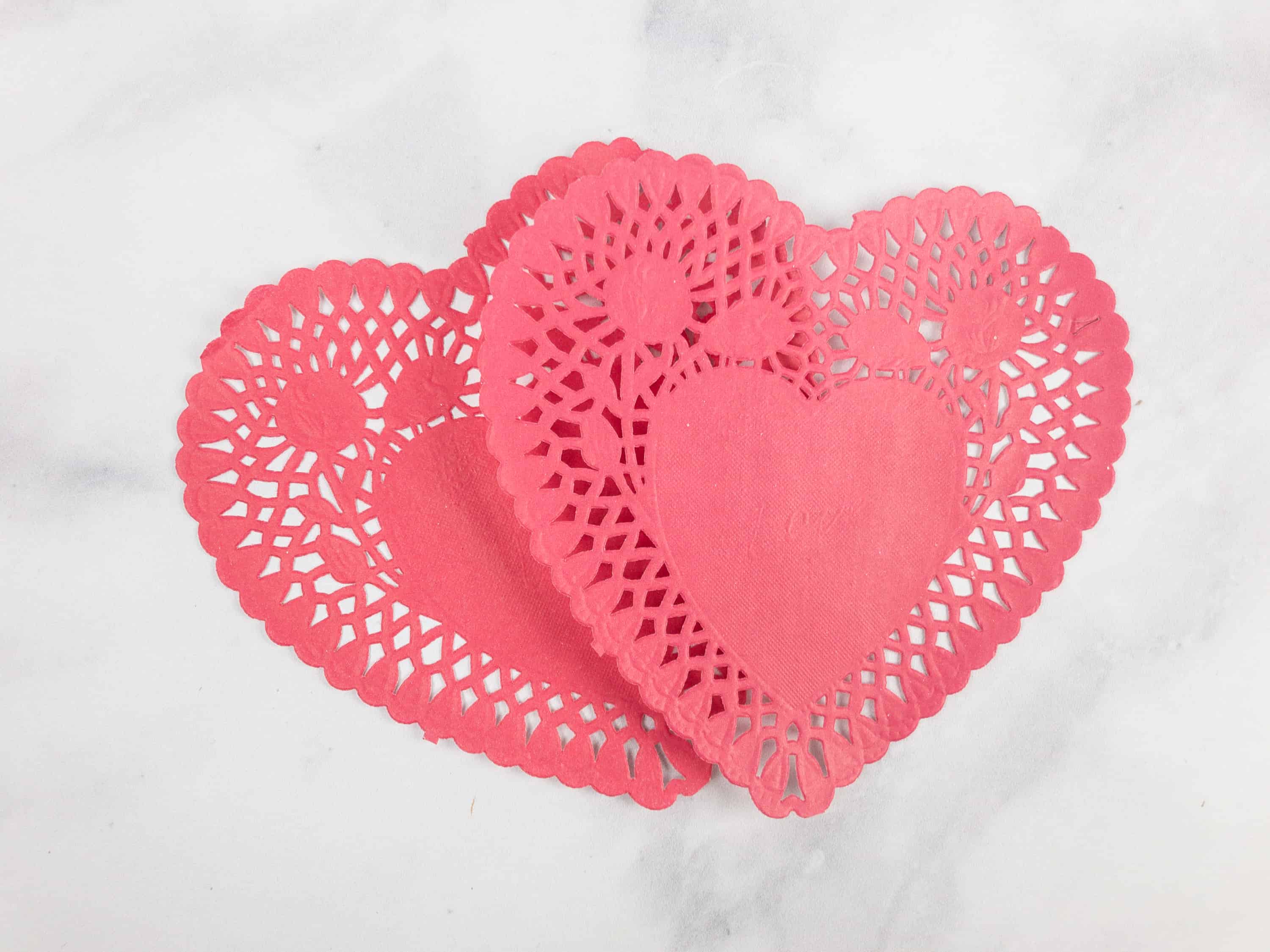 Heart Paper Lace. These red heart paper cutouts can be added to any project as an accent or use it to write a sweet little note for someone.
Tissue Papers. I also received a decorative tissue paper. Two of them are in shades of pink, while the white one has pink dots. Use these to add flair to the top of those gift bags!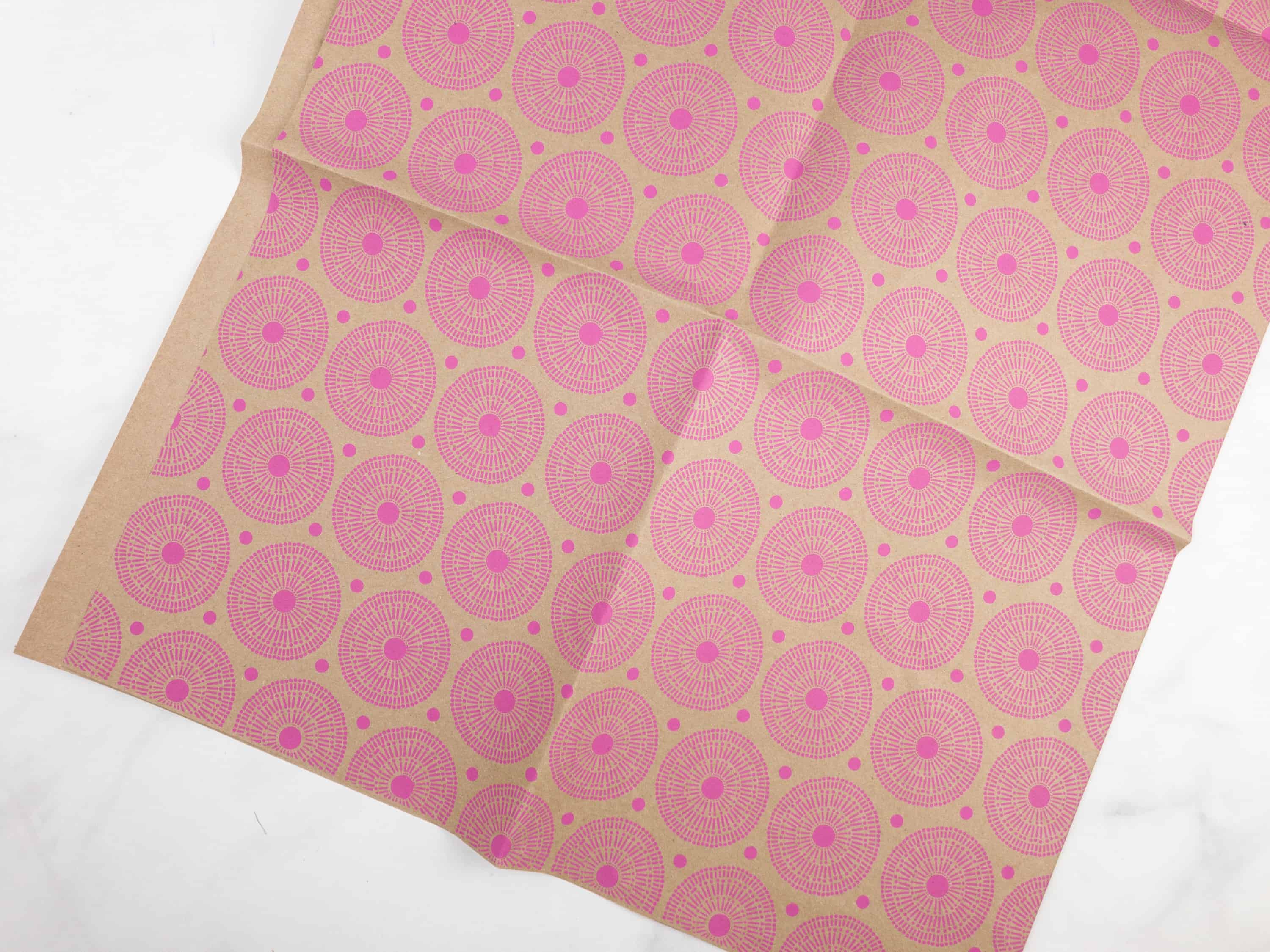 Gift Wrapper. This brown paper wrapper can be used to wrap small items. It has pink circles as the design.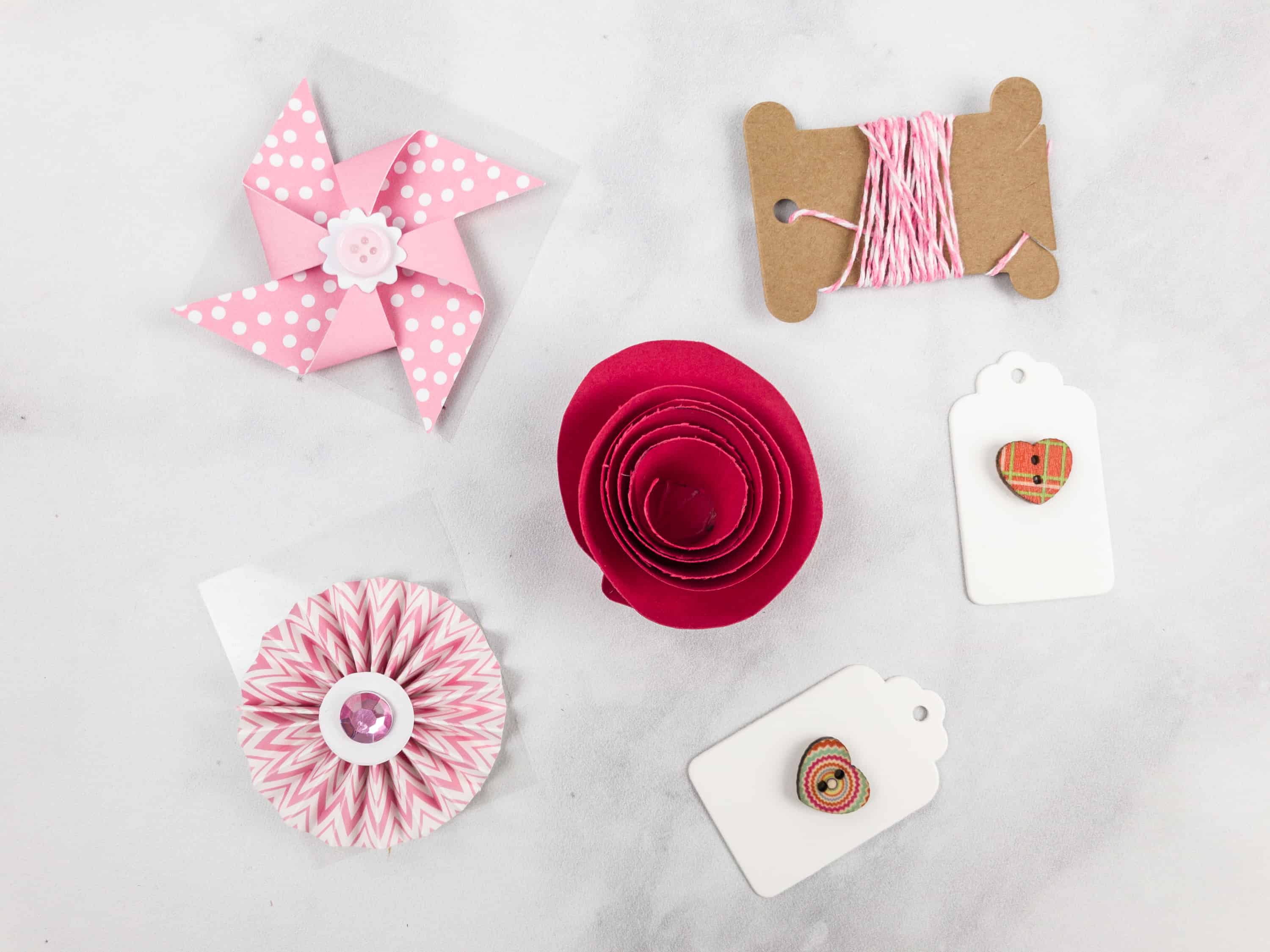 Here is a closer look at each individual embellishments that can be added to any gift to add more style to it.
Gifted on Paper offers a wide variety of wrapping items that can be used to make a gift or even a letter even more special. I really like the selection of items because some are really decorative while others are a little bit more laid back. The classic theme paired with the rustic kraft paper accents was really cute and on trend too. These are not only great for Valentine's day, but for showing your friends and family how much you love them year-round.
What do you think of Gifted On Paper? Let us know in the comments!