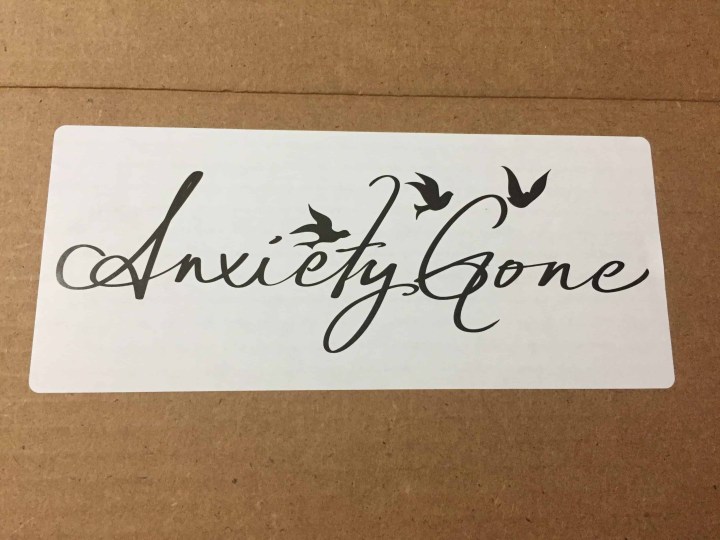 Anxiety Gone is a box focusing on dealing with feelings of anxiety and panic, offering ways to help cope and understand. I've had GAD for 20 years and am always looking for things to help, so I'm really curious to see what kind of box they have put together. The box is seasonal, shipping each quarter, and they have a kids' version as well with more age-appropriate tools. The subscription is $39.99 CAD a quarter, and shipping to me in BC was calculated at 16.50. They also ship to the US, Australia, the UK, and a few European countries as well.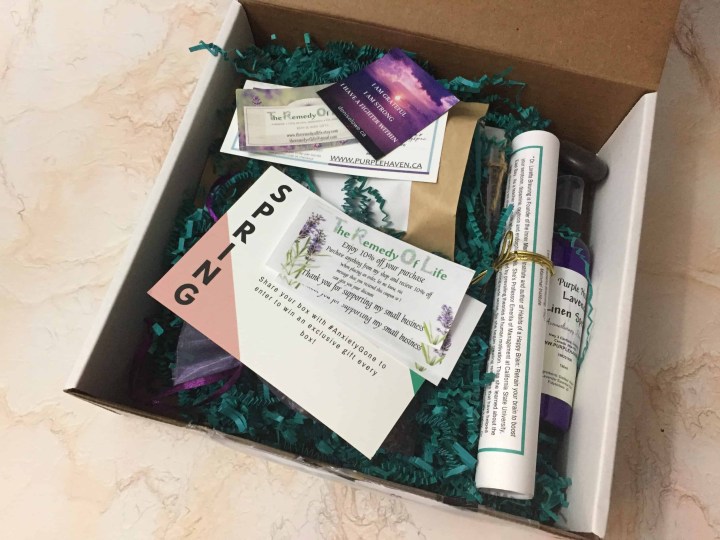 This is a review of the Spring box!
DEAL: Get 10% off your first box! Use coupon code HELLO10.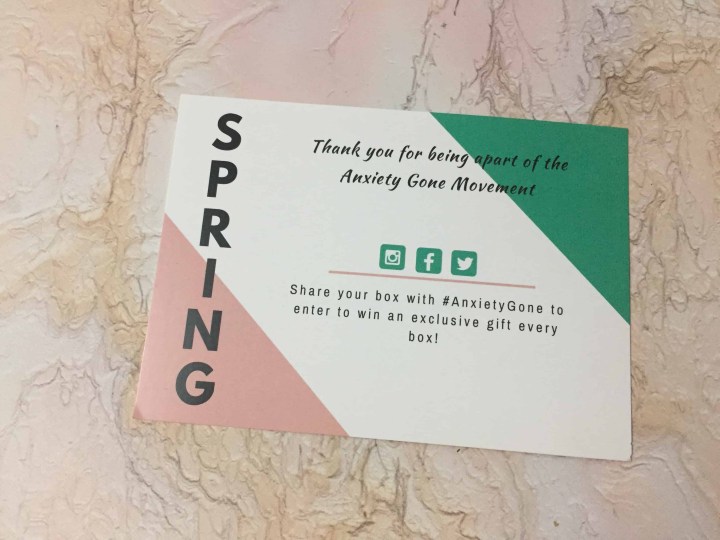 The information card is nicely made, outlining the items that are included! Prices in my review are converted to USD when applicable.
Lavender Garden in a Bag ($10) — A cool idea! Grow your own lavender right in the bag, as the kit includes seeds, growing soil, drainage material, etc. This is a neat idea – Gardening is a nice hobby to help with anxiety.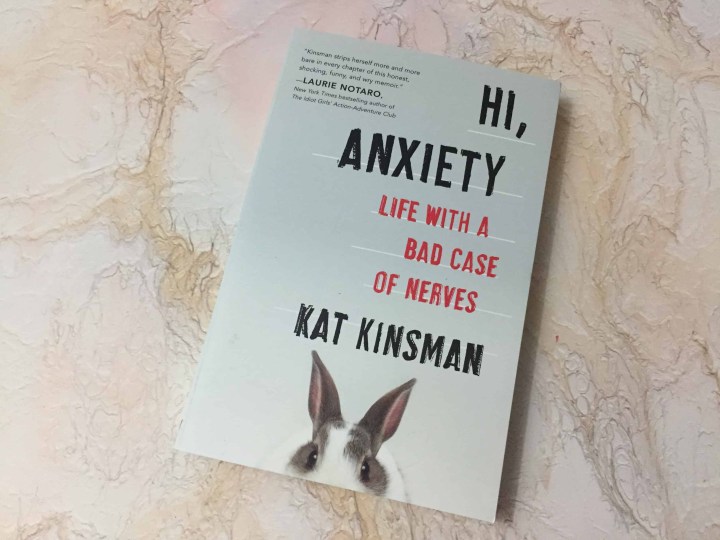 Hi, Anxiety by Kat Kinsman ($10.87) — I personally don't find it helpful reading about other people who have anxiety; it actually makes me more anxious! So I didn't really do much more than skim through this initially. It does include tips and techniques as well, which I find more helpful than examples/anecdotes. (This is just my personal opinion! Your mileage may vary on what works for you.)
In Hi, Anxiety, beloved food writer, editor, and commentator Kat Kinsman expands on the high profile pieces she wrote for CNN.com about depression, and its wicked cousin, anxiety. Taking us back to her adolescence, when she was diagnosed with depression at fourteen, Kat speaks eloquently with pathos and humor about her skin picking, hand flapping, "nervousness" that made her the recipient of many a harsh taunt. With her mother also gripped by depression and health issues throughout her life, Kat came to live in a constant state of unease—that she would fail, that she would never find love . . . that she would end up just like her mother.

Now, as a successful media personality, Kat still battles anxiety every day. That anxiety manifests in strange, and deeply personal ways. But as she found when she started to write about her struggles, Kat is not alone in feeling like the simple act of leaving the house, or getting a haircut can be crippling. And though periodic medication, counseling, a successful career and a happy marriage have brought her relief, the illness, because that is what anxiety is, remains.

Exploring how millions are affected anxiety, Hi, Anxiety is a clarion call for everyone—but especially women—struggling with this condition. Though she is a strong advocate for seeking medical intervention, Kinsman implores those suffering to come out of the shadows—to talk about their battle openly and honestly. With humor, bravery, and writing that brings bestsellers like Laurie Notaro and Jenny Lawson to mind, Hi, Anxiety tackles a difficult subject with amazing grace.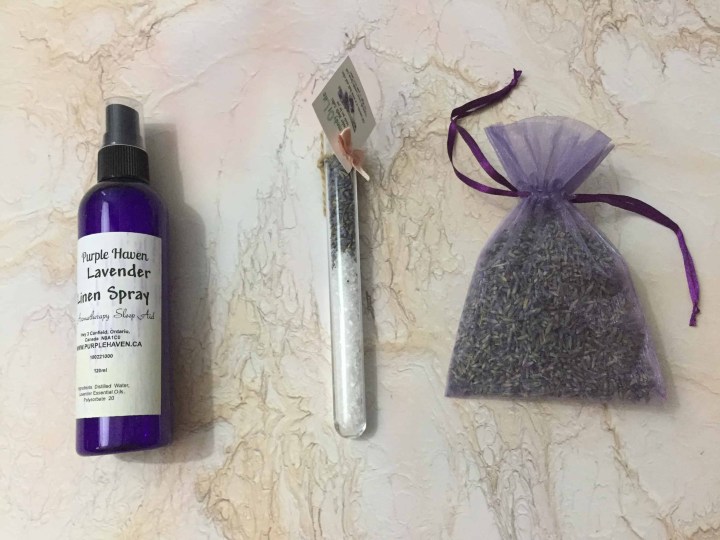 Lavender Linen Spray ($7.66 USD, $10CAD) — A linen spray with lavender. This is by a Canadian company, which is always good to see in local boxes.
Lavender Bath Salts — A small tube of bath salts. Hot baths are always relaxing!
Lavender Sachet — An organza bag full of lavender. Stash this in a cupboard or a drawer to scent everything inside.
Lavender can be soothing and relaxing, so it's a nice choice for those with anxiety.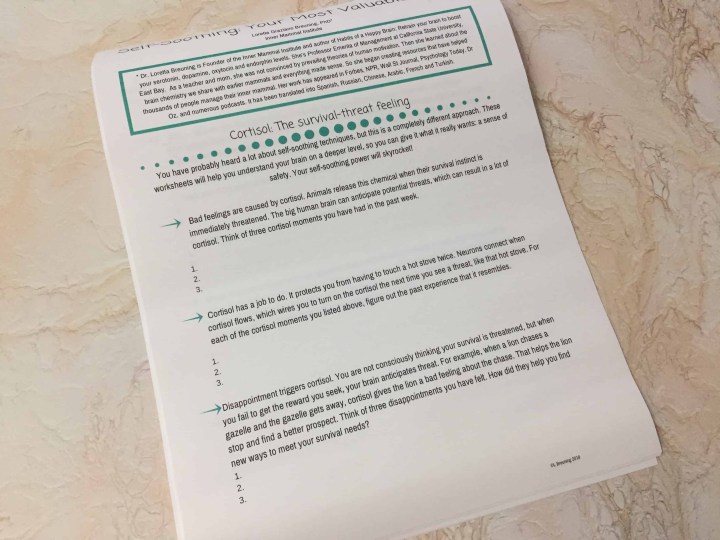 Anxiety Worksheets — A selection of informational worksheets created by the founder of a mental health institution about anxiety, with spaces to write down answers about what you've been feeling lately. I thought this was definitely the most interesting thing in the box, and I actually filled out one of the pages for myself and it got me thinking for a bit. The questions are definitely hard to answer, as it goes into more scientific explanations of some of the concepts behind what can trigger anxiety. The above snap shows the worksheet about cortisol, which triggers threat, which is definitely one of the many downsides of dealing with anxiety.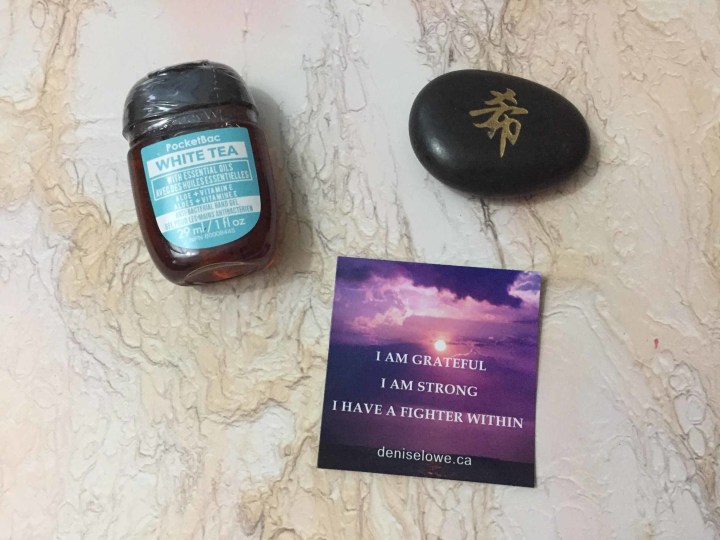 White Tea PocketBac — Gotta love PocketBacs! I have a cold right now (I've had it for a month, boo!) and I have hand sanitizer by my side constantly.
Kanji Stone — A worry stone to rub or meditate with. I'm not sure what the character on it means, and that would have been helpful to know. (Edit: Thanks to a helpful reader who pointed out it was on the reverse. Silly me! It means "hope" (希))
Magnet — A magnet with an encouraging quote on it.
I'm not a fan of lavender so the Spring Anxiety Gone box wasn't my cup of tea. But it's really, really hard to curate a box like this, because everyone deals with anxiety in different ways, so I definitely can't fault the box for being not up to my particular taste. I do think including four items with lavender was a mistake, as scent can be a very polarizing and personal preference, and leaning too heavily on one scent is limiting. I really liked the worksheets that they included, and that there is a section on the website for more support and resources. I think there was a nice mix of items — bath salts are always relaxing, and the garden in a bag was a really cute idea.
What did you think of the Spring box?