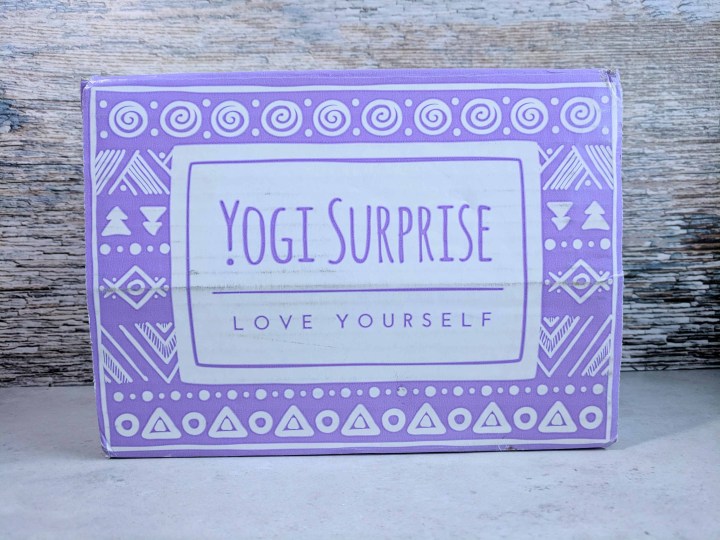 Yogi Surprise is a yoga-inspired monthly subscription box designed to complement your way of living. Each monthly box contains 6-8 products picked by experienced yogis to complement your yoga practice and your life! It's like getting a care package every month!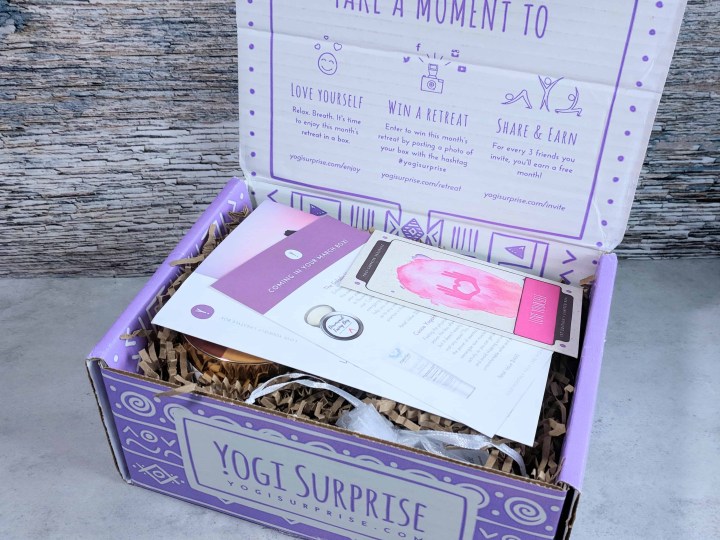 DEAL: Get 25% off your first box! Use coupon code HELLO25.
February's theme is "Love Yourself." After the New Year, and before the Spring shows up, it's the perfect time to give ourselves some much needed love.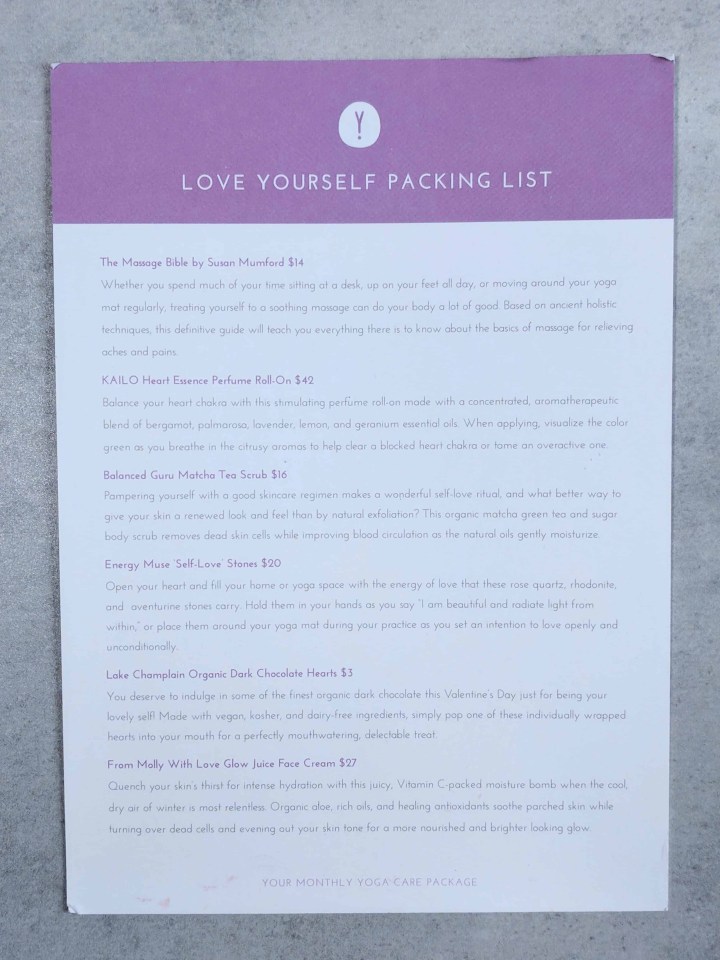 This month's packing list tells us that we are getting 6 lovely items.
Yogi Surprise Yoga Sequence Series Card. Every month, you receive a little card with a sequence of poses to celebrate the month's theme.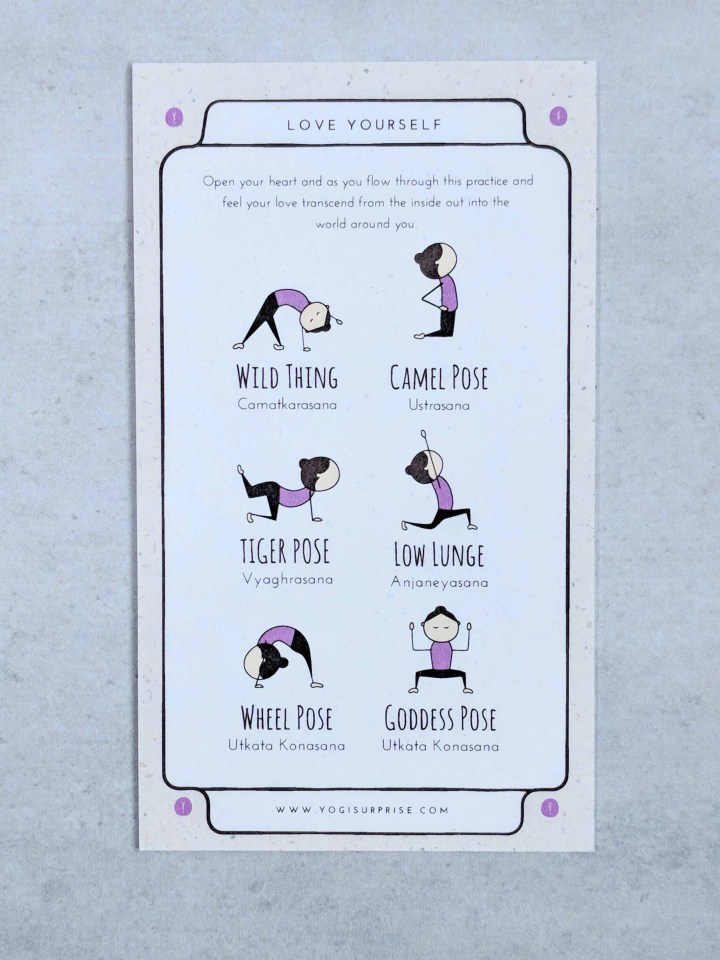 This month's asanas are all about opening the heart. Fun fact: you can download all the previous sequence cards on the yogi surprise website so you can have your own little inspiration book.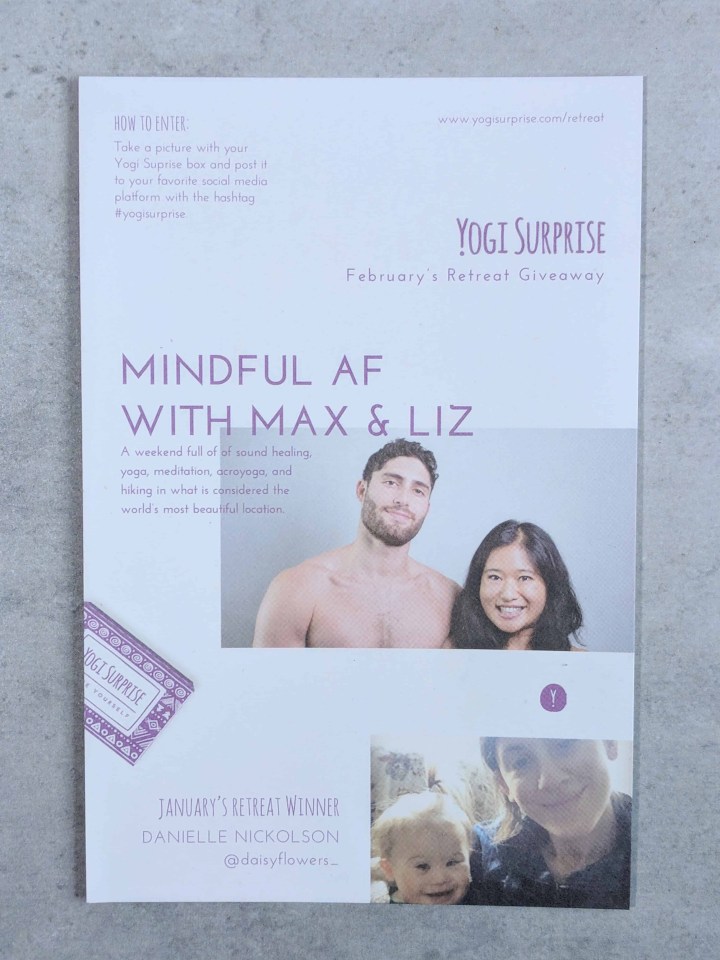 If you share your Yogi Surprise photo on social media, you are automatically entered to win a Yoga Retreat.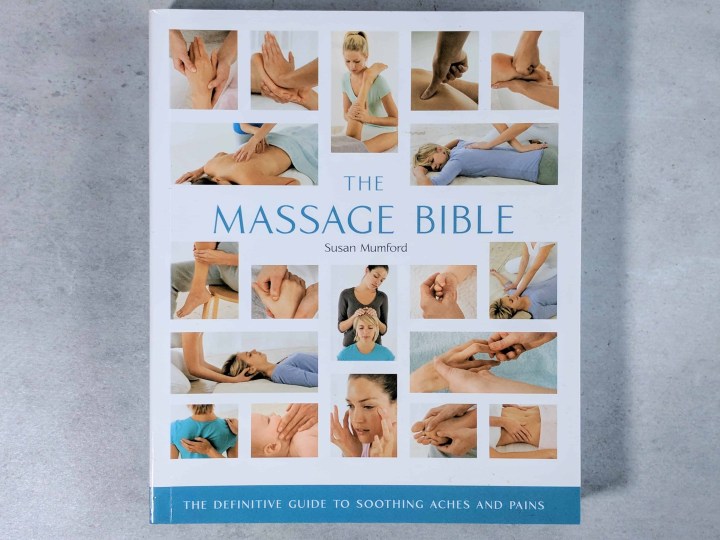 The Massage Bible by Susan Mumford. I love getting books in my boxes, even my yoga ones. Until recently, I didn't know that a massage could be so awesome, and this book comes at the right time to give myself some needed love. And also to give some ideas to my husband!
But don't worry, in the Chinese Massage section, there's some self-massage techniques!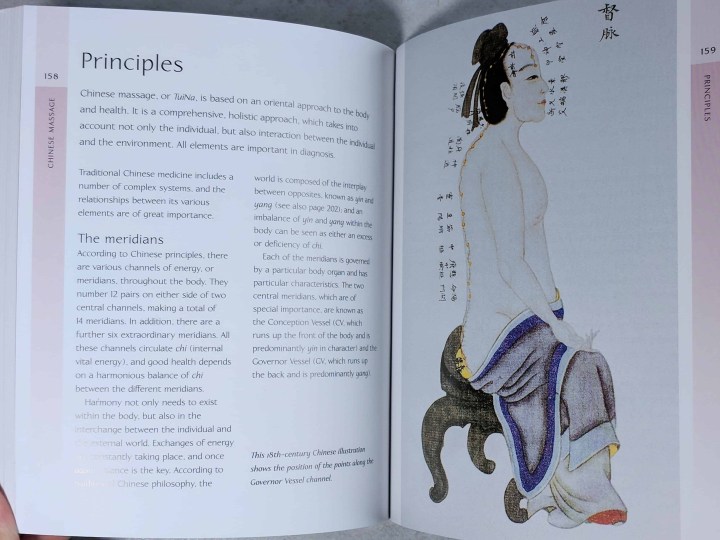 There's a lot of useful information on different types of massage: Chinese, Indian, Shiatsu, etc.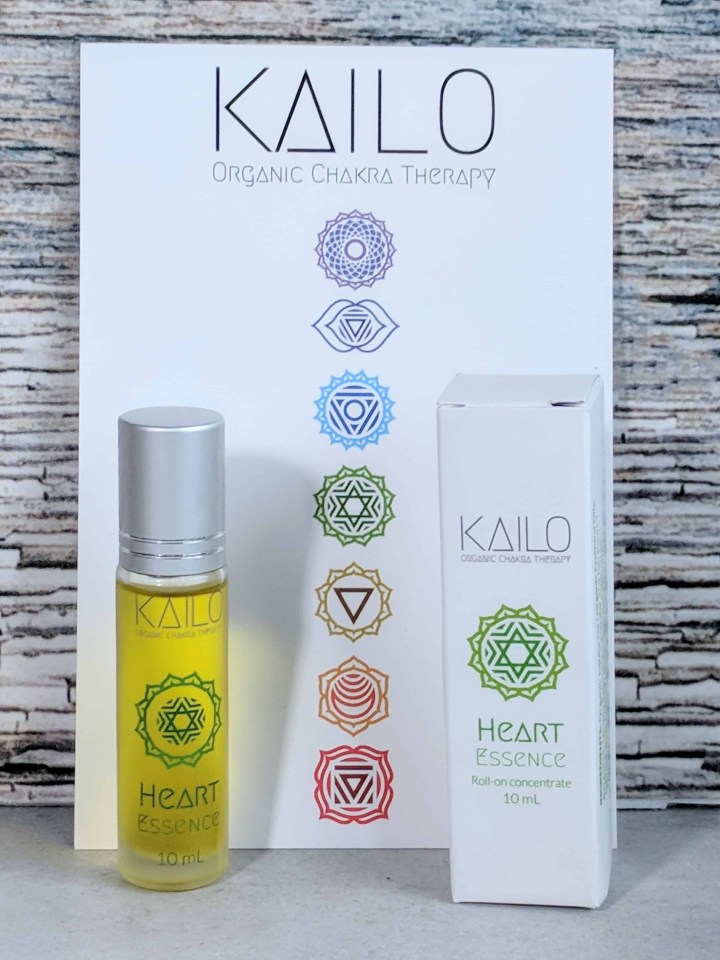 KAILO Heart Essence Perfume Roll-On. A blend of bergamot, palmarosa, lavender, lemon and geranium, it's fresh, thanks to the citrusy scent, but soothing at the same time because of the lavender. It's calming without putting you to sleep! Sadly, mine leaked a bit in the box. This roll-on will work on clearing and taming the heart chakra.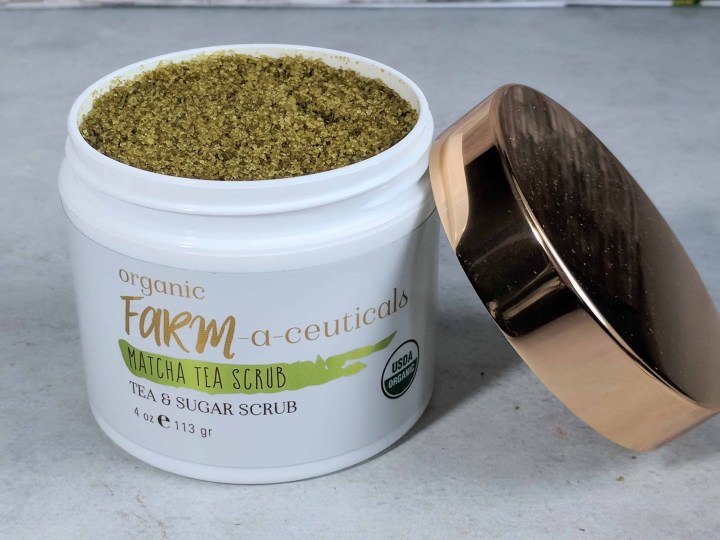 Balanced Guru Matcha Tea Scrub. I love body scrub, and this one smells quite good. It reminds me of Christmas scents, with cinnamon, nutmeg and peppermint essential oil. I used it on my lefs and the jojoba oil leaves the skin so smooth! It feels great!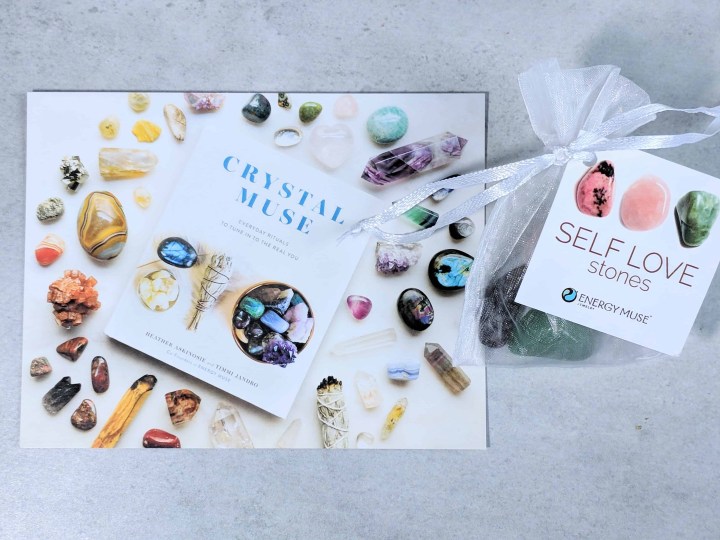 Energy Muse 'Self-Love' Stones. These stones came with information on the book Crystal Muse, a book I've heard about recently and that I'll get at some point. It's all about simple rituals with crystals and stones that can be done very quickly.
The stones that we received are all strongly related to the Heart Chakra. A quick ritual to use them was included at the back of the sticker : Hold them in your hands and say "I am beautiful and radiate light from within." They came in a little organza bag so you can carry them with you at all time. We received a green Aventurine, a Rhodonite and a Rose Quartz.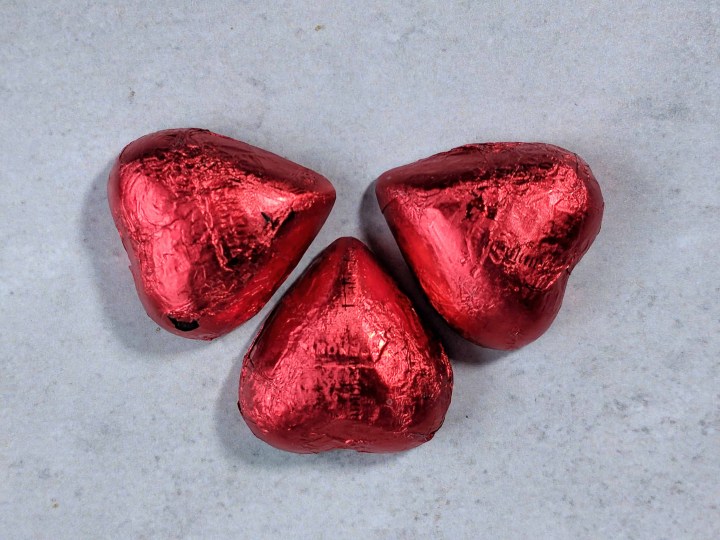 Lake Champlain Organic Dark Chocolate Hearts. Dark Chocolate + Heart = tasty treat perfect for Valentine's Day with yourself! Ok ok, I shared with my husband, but I kept two for myself!
From Molly With Love Glow Juice Face Cream. A light, more liquid than gel or cream, it smells like candy! It's a vitamin C moisture bomb, with aloe, omega 3 & 6-enriched oils, white willow bark, and antioxidant-packed raspberry, blueberry, and raspberry extracts. It should help to give your skin a healthy glow by fading brown spots, protects the skin from hyperpigmentation, brighten the skin, and reduces fine lines. Basically, what your skin needs in the middle of the winter (gimme all the hydration!). A lovely cream!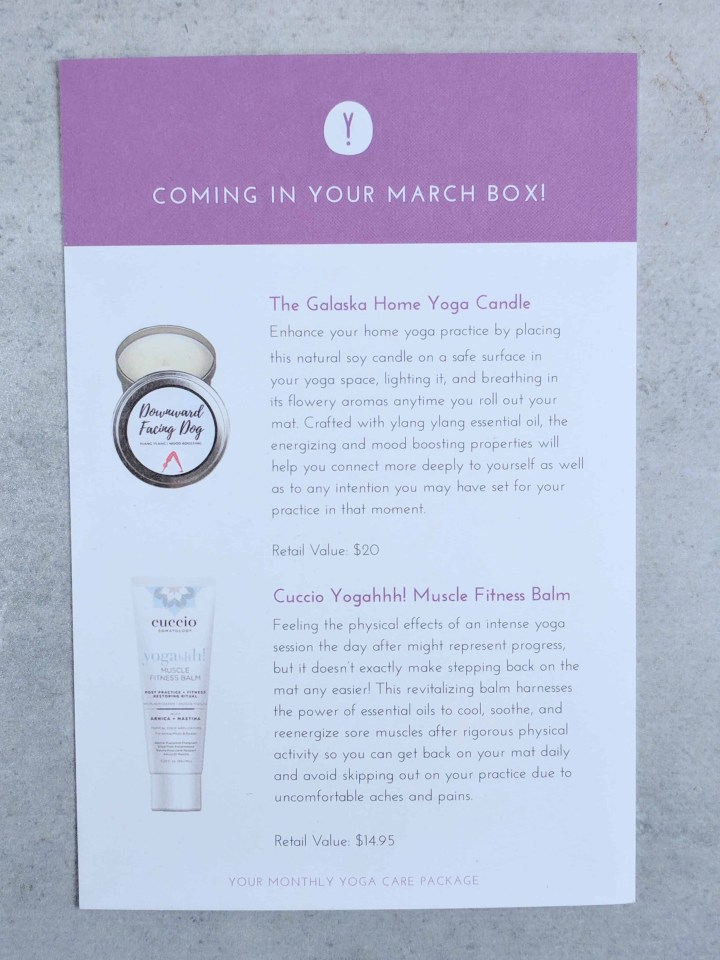 Included in the box, a spoiler for March's Yogi Surprise Lifestyle box: The Galaska Home Yoga Candle and a Cuccio Yogahhhh! Muscle Fitness Balm.
I really enjoyed this month's Yogi Surprise box. I'm happy to learn more about massages, the face cream is so lovely, and I can't say no to more stones in my life! The box really felt that it was about self-love, that even non-yogis will enjoy. This was such a nice care package!
Are you a Yogi Surprise subscriber? What did you think of the box?