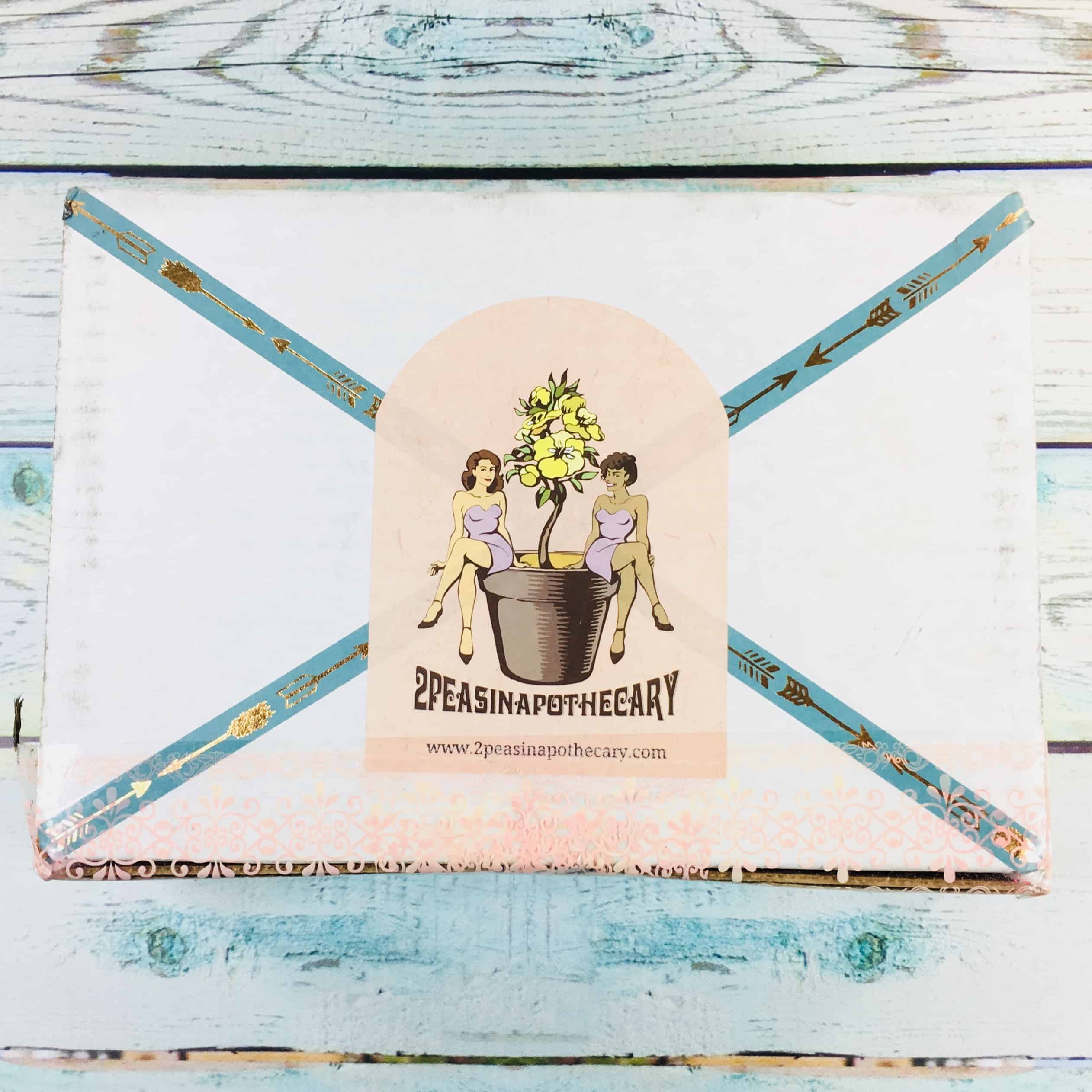 Teapsy is a monthly subscription box from 2PEASINAPOTHECARY that sends a new tea blend and a cooking spice every month, together with an accessory and/or an edible treat. I love tea and can always use a new spice to spice things up in my kitchen so I was looking forward to getting my box.
What is included each month?
One 4 oz Loose Leaf Tea
One 1 oz Spice Bottle
One Signature Themed Gift (edible or non-edible)
Brewing tips, tasting notes, remedy ideas and/or a mixology recipe
I want to mention that I think that there was a typo on the website, because 4 ounces of loose leaf tea would be a pretty large bag of tea, and the amount of tea I received was definitely not that big. Also, my spice was in a pouch, and not a bottle.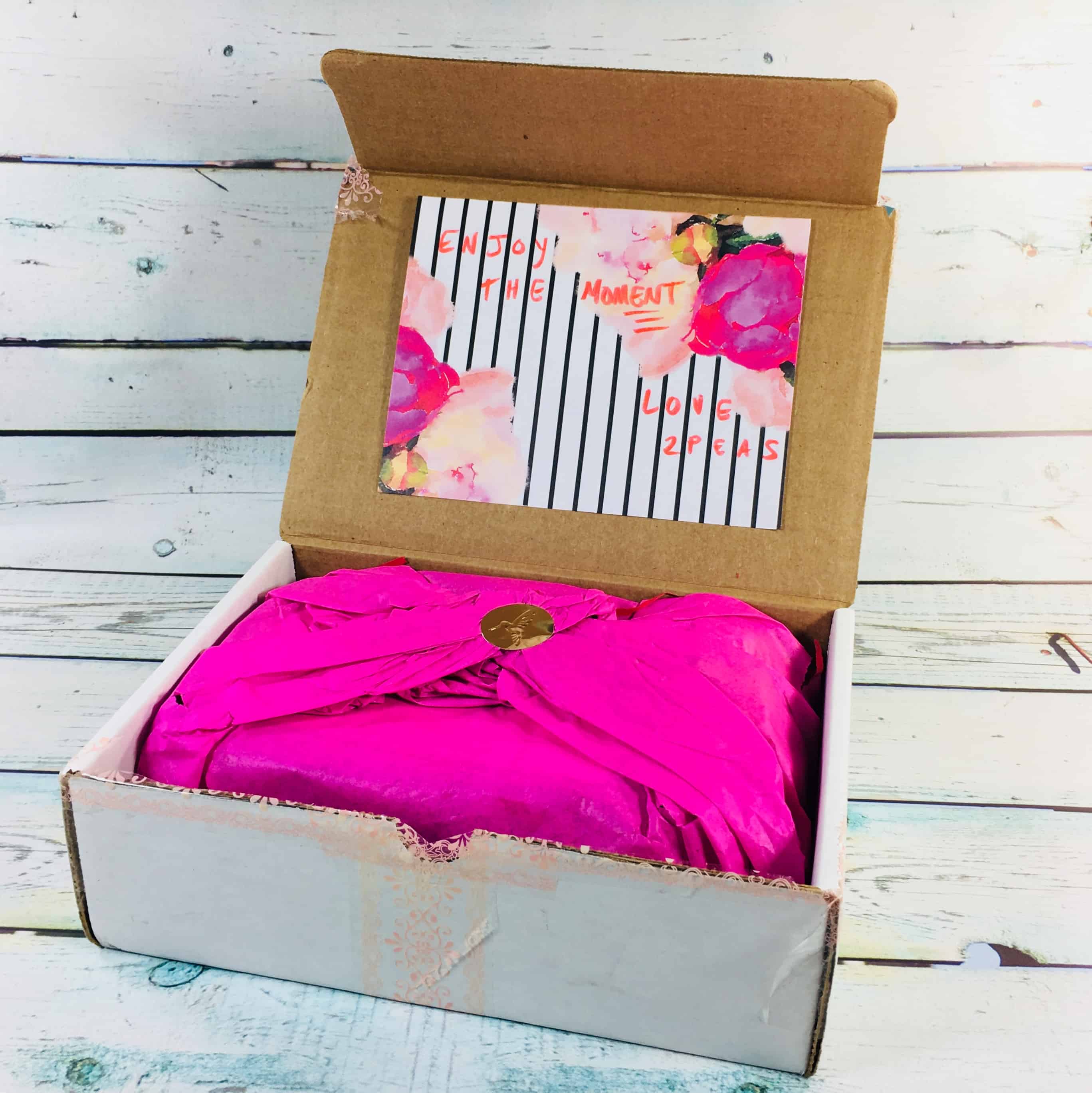 My box arrived with the products wrapped in pink tissue paper and sealed with a sticker.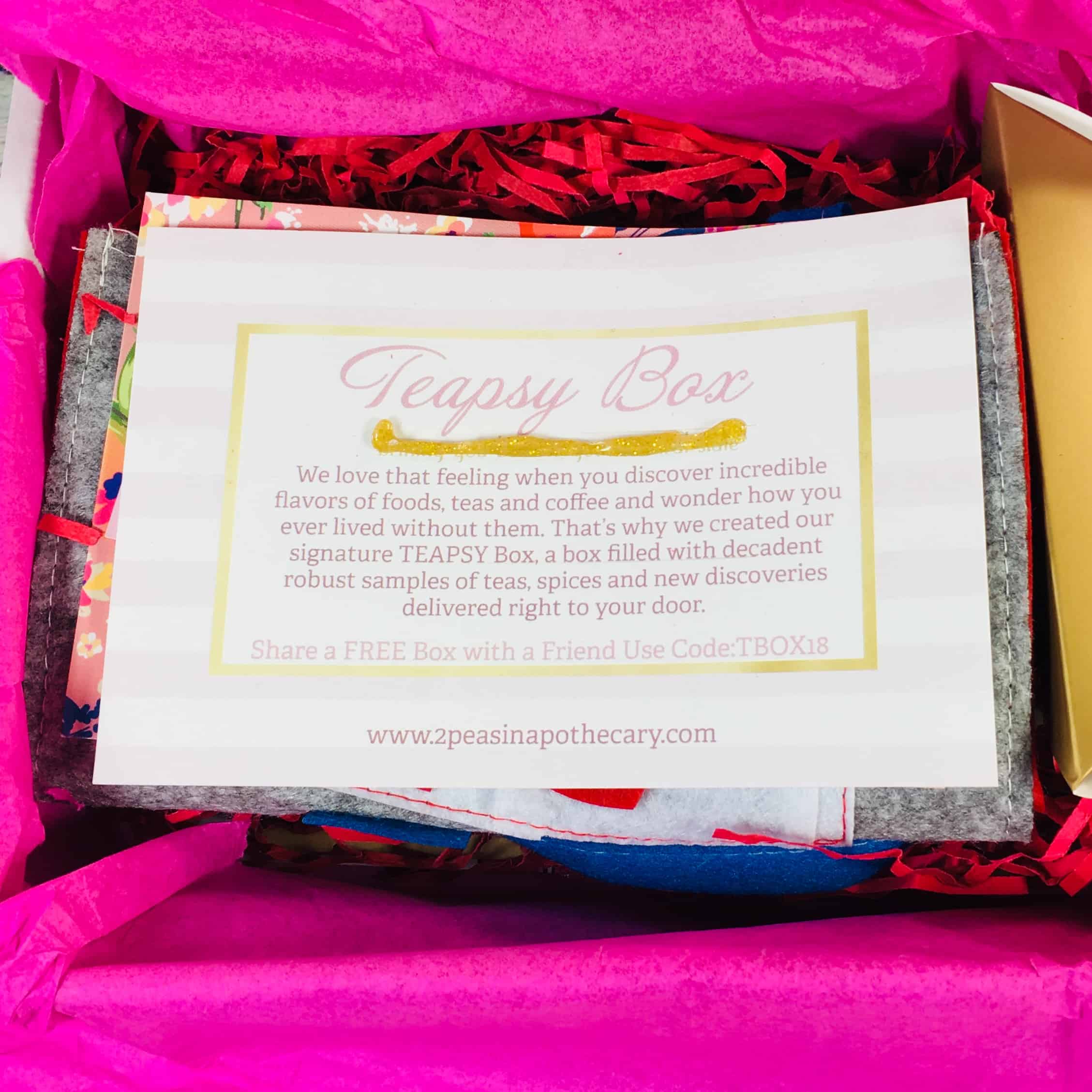 First look!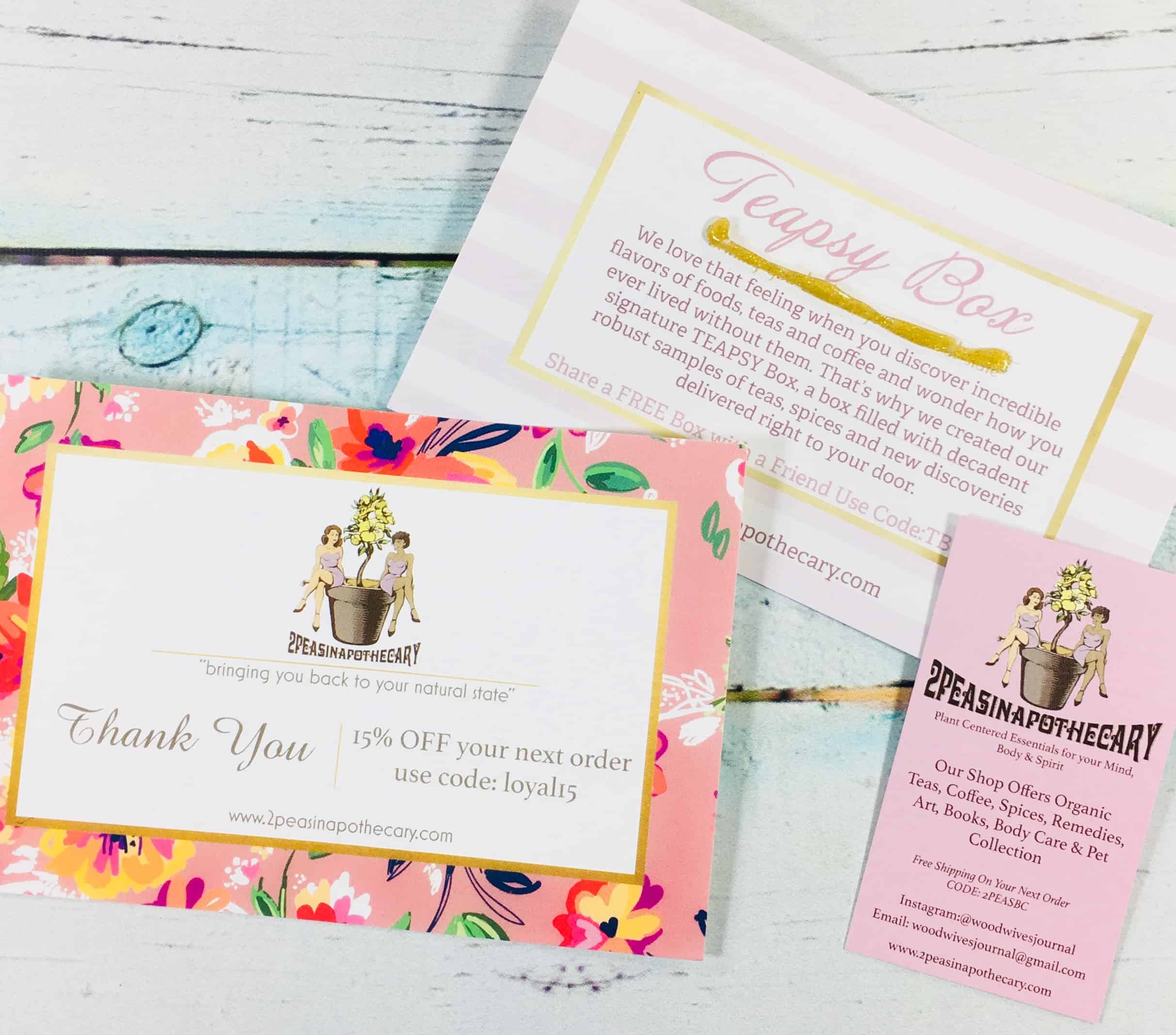 There were several handouts in this box. I received a business card, a thank you card with a discount code, and a Teapsy Box card with an offer to share a free box with a friend.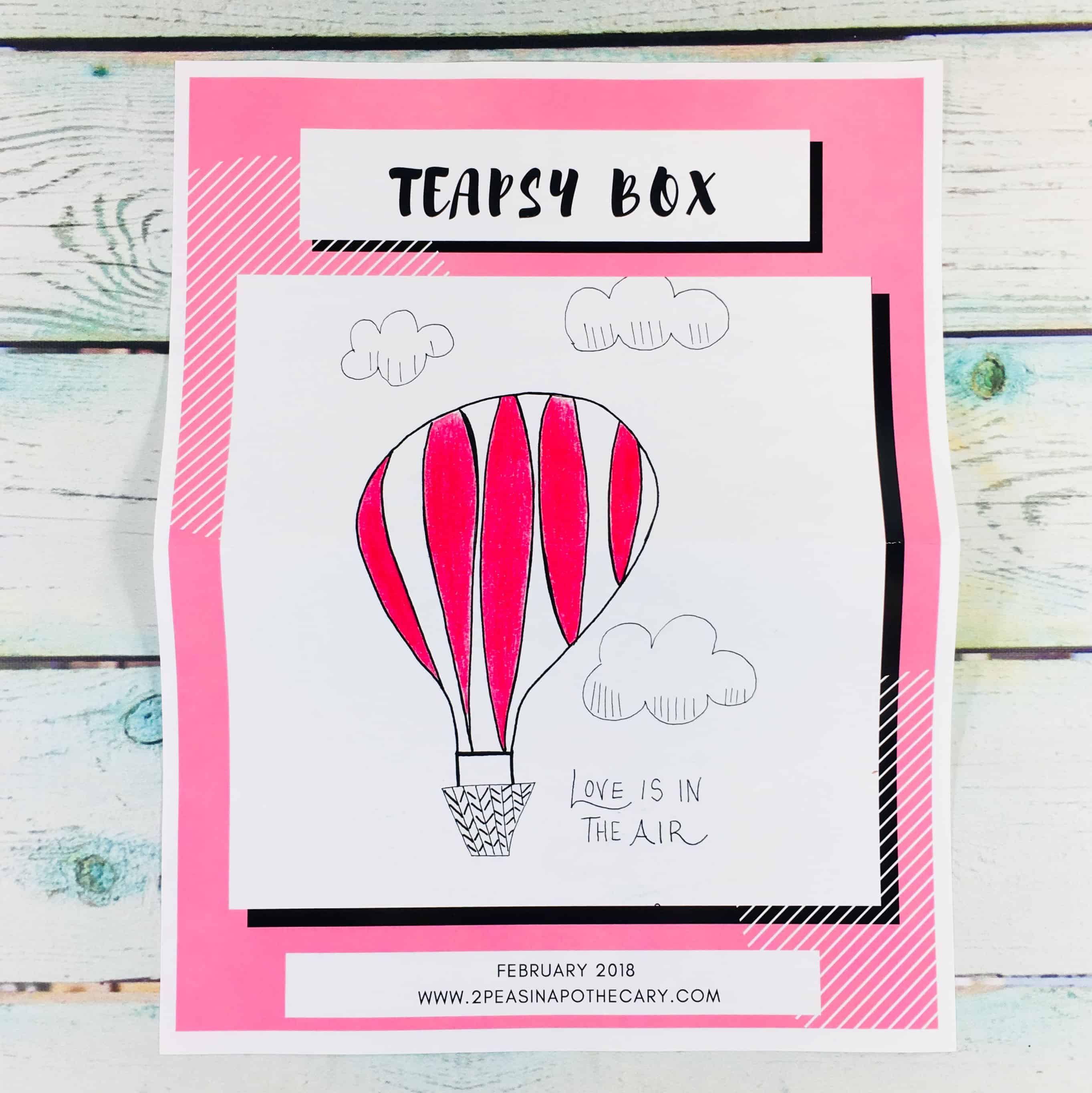 Instead of a product info card, I received a glossy letter introducing the February box.
There were a couple of tips on the back of the letter.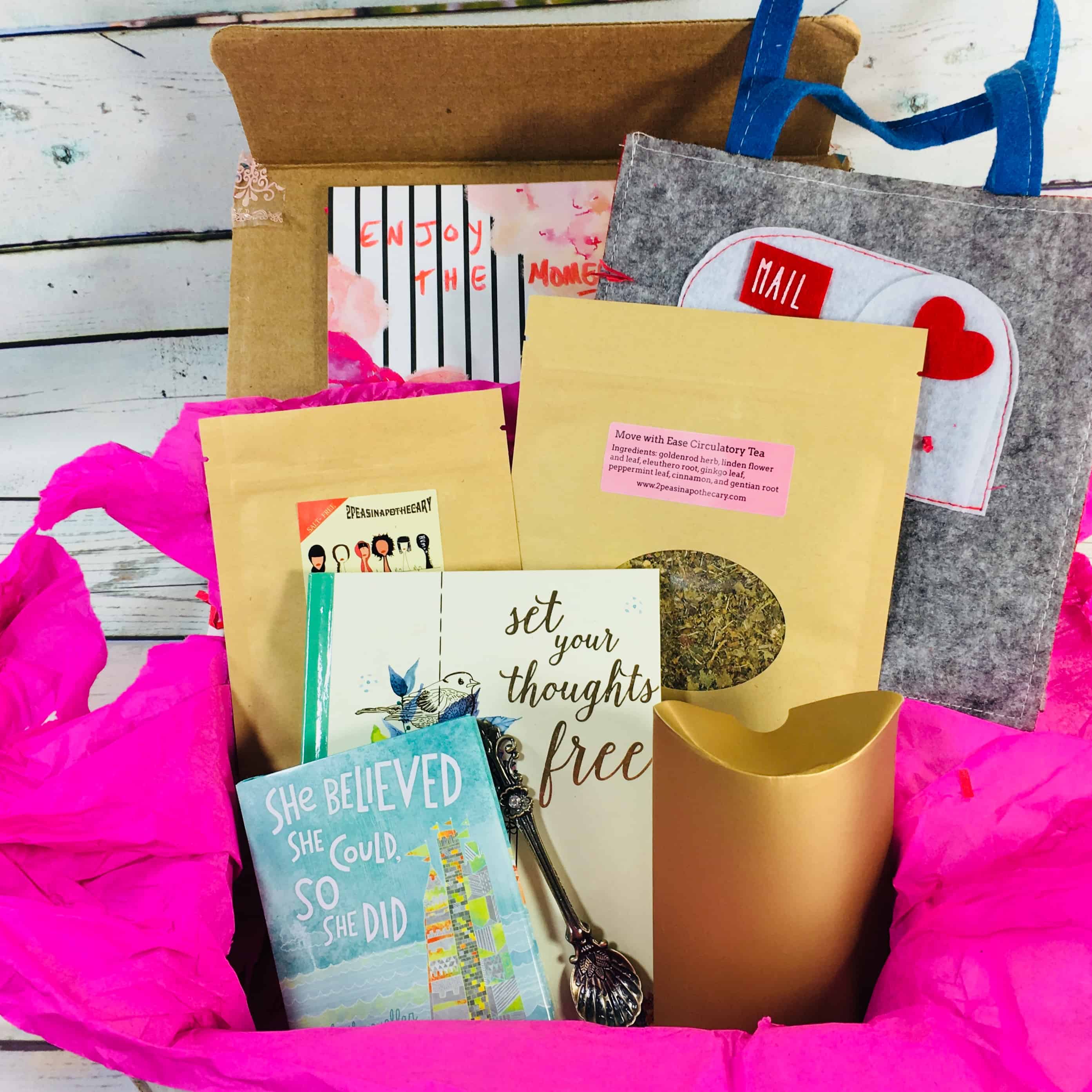 The presentation was very feminine and just adorable. I love the color coordination going on in this box!
Everything in my box!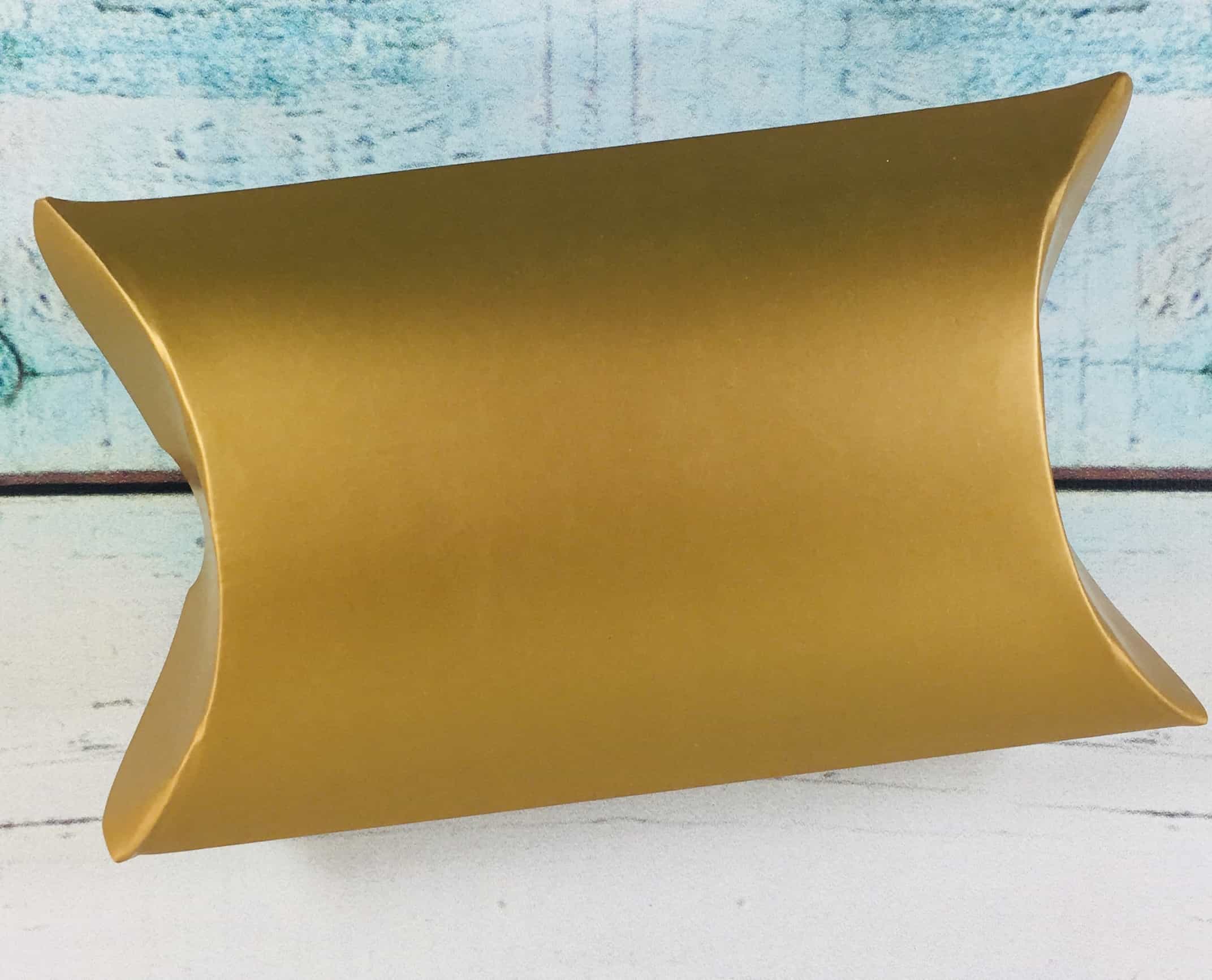 I wonder what's in this pillow pack?
I believe this is a Tea Infuser! ($1.66)
It's made of silicone and has holes in the back to let the water reach the tea leaves. This is a cute novelty item.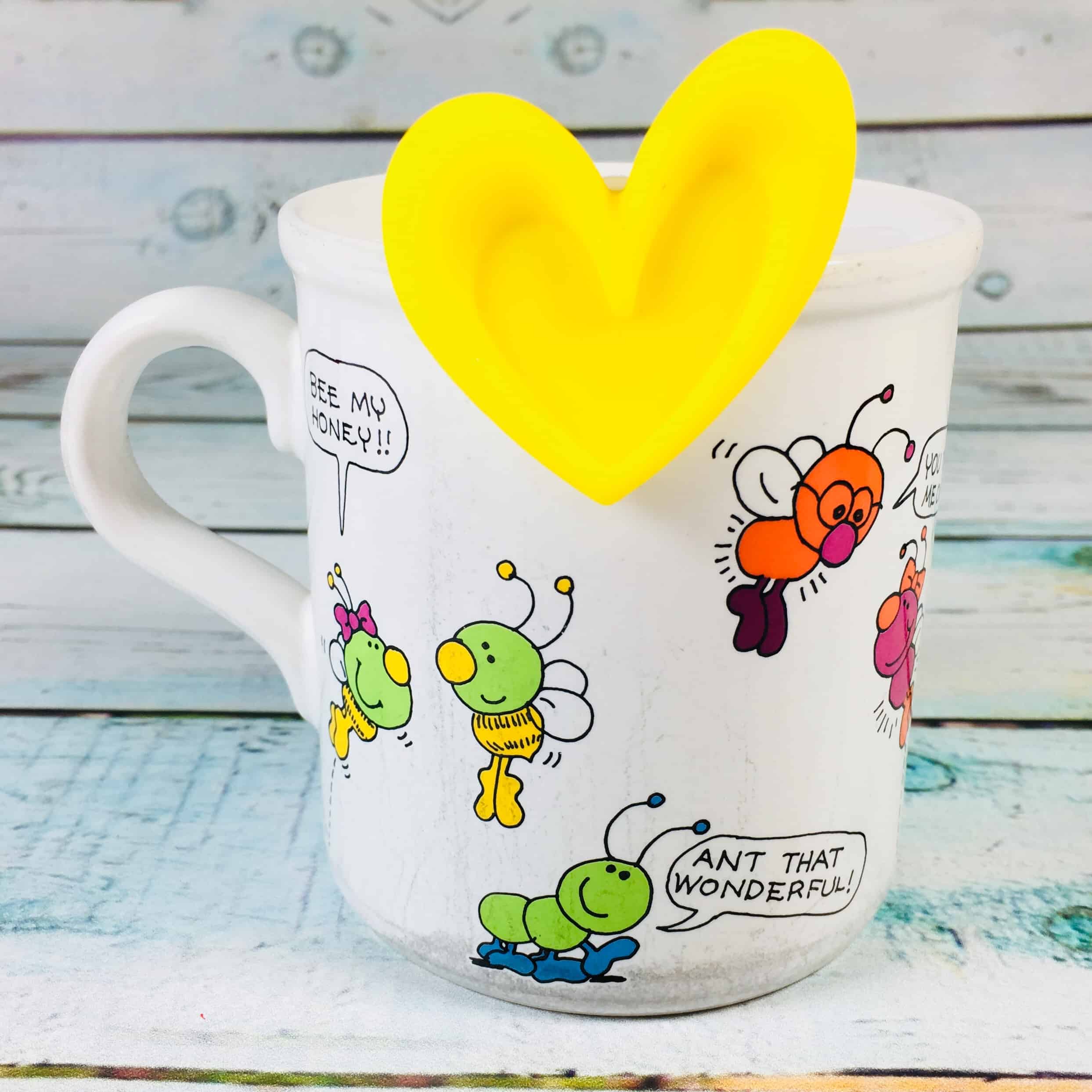 The heart hangs on the outside of the cup, while the side with the openings goes on the inside of the cup. You would either need to use a very shallow cup or a lot of water to make sure the water reaches the holes. (Don't mind the tea stains, I have been using this mug for the past 30 years!)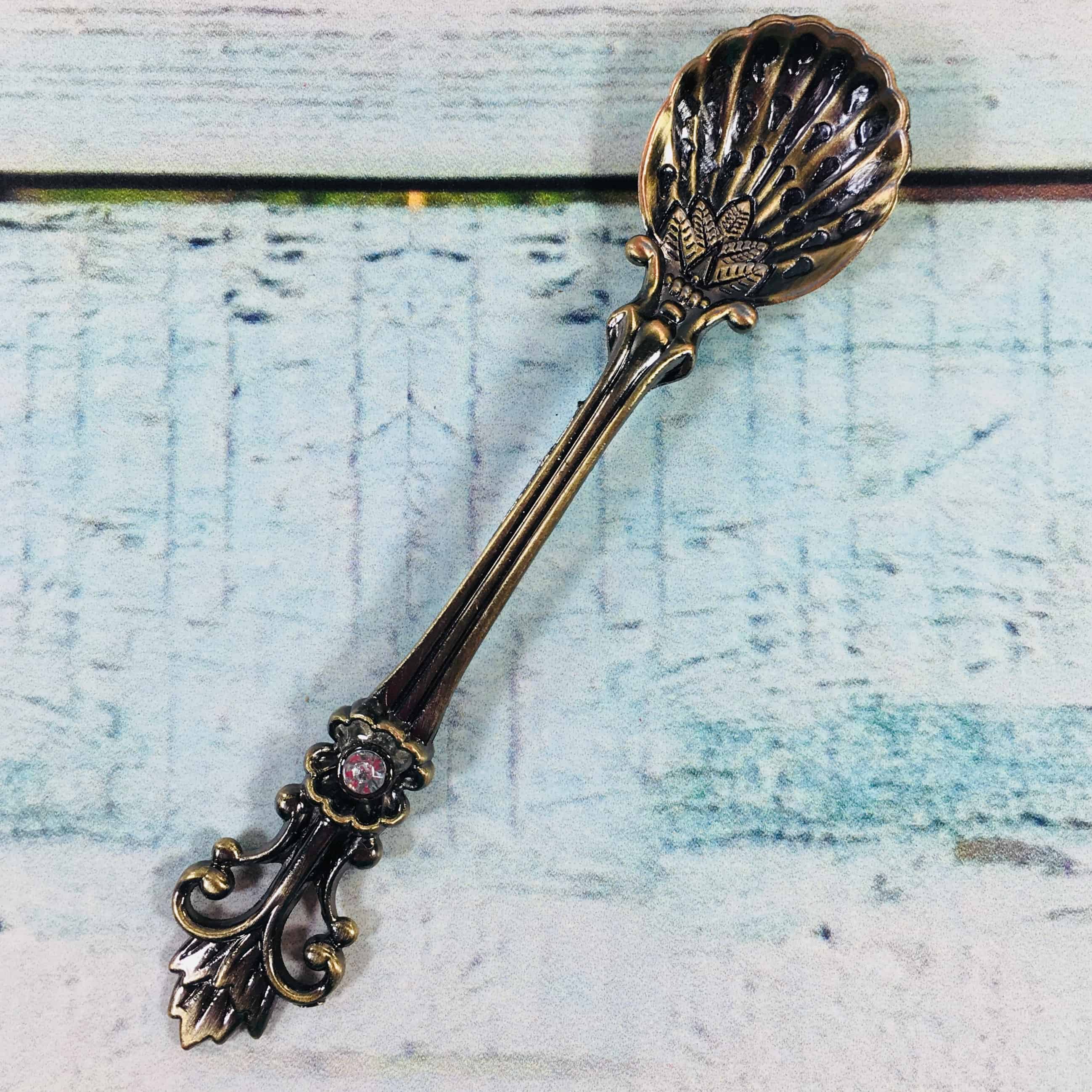 Demitasse Mini Spoon ($1.61) is a vintage-looking spoon that you can use to stir sugar into tea or coffee, or for taking dainty bites of a decadent dessert. I like the jewel accent – my tea time just got upgraded to "Tea Time." Don't you think the people living in Downtown Abbey used something like this (although I am sure they had them in real gold and diamonds!).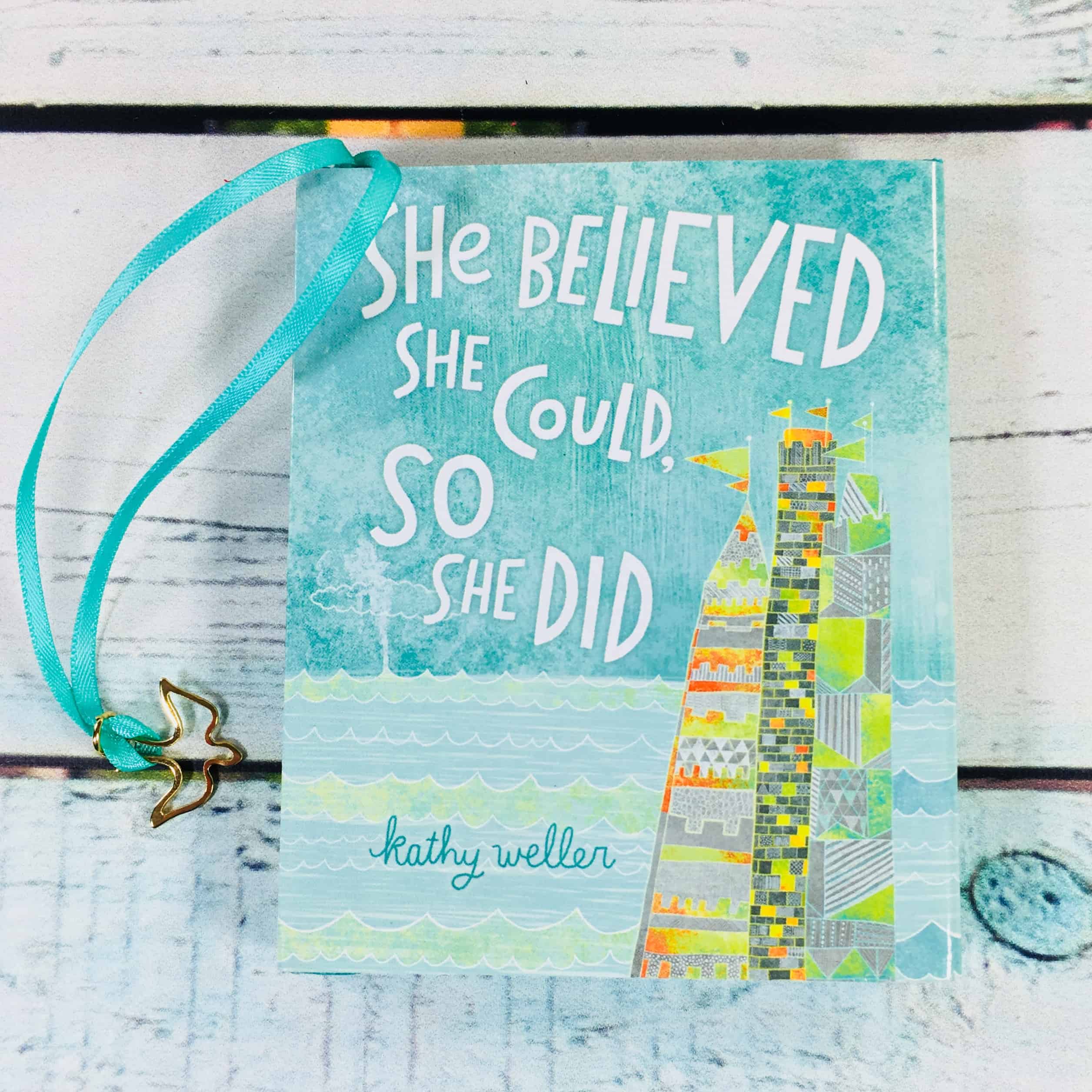 She Believed She Could So She Did By Kathy Weller ($3.62) is a cute little book that is easy to tuck into a purse or backpack for a feel-good lift when you need one.
This mini gift book is filled with quotes celebrating inner strength, belief, and the power of dreaming big!

Its illustrator, Kathy Weller, offers creative interpretations of inspirational quotes, hand-lettered with her uniquely appealing art.
Sample quotes: "Adventure is worthwhile in itself (Amelia Earhart)." "Yes, I can, and yes, I will." "I dwell in possibility (Emily Dickinson)." "Be Youtiful."
Appealing little volume comes with a cute 24K gold-plated charm, which may be kept on the ribbon bookmark or worn on a bracelet or necklace.
80-page full-color hardcover mini gift book with dust jacket.
Invitingly priced!
Book measures 3-1/4 inches wide by 4 inches high.

Creator of the appealing gift books Cats @ Work, Doggy Yoga, and Kitty Yoga, illustrator and author Kathy Weller combines humor and inspiration with whimsical artwork.
The pictures are beautifully illustrated and the colors are just lovely.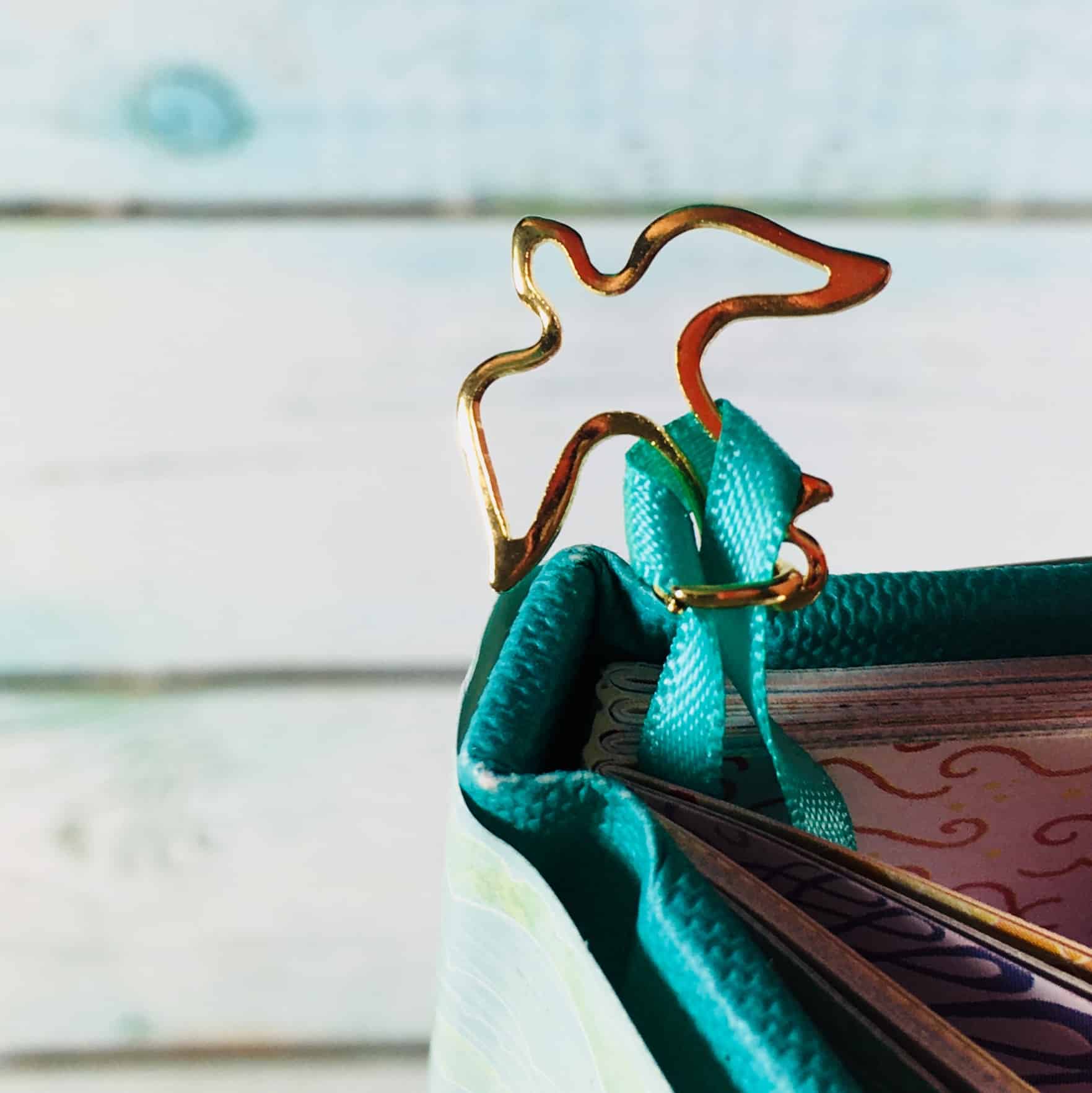 There's even a dove bookmark, which can be removed and placed on a necklace or bracelet.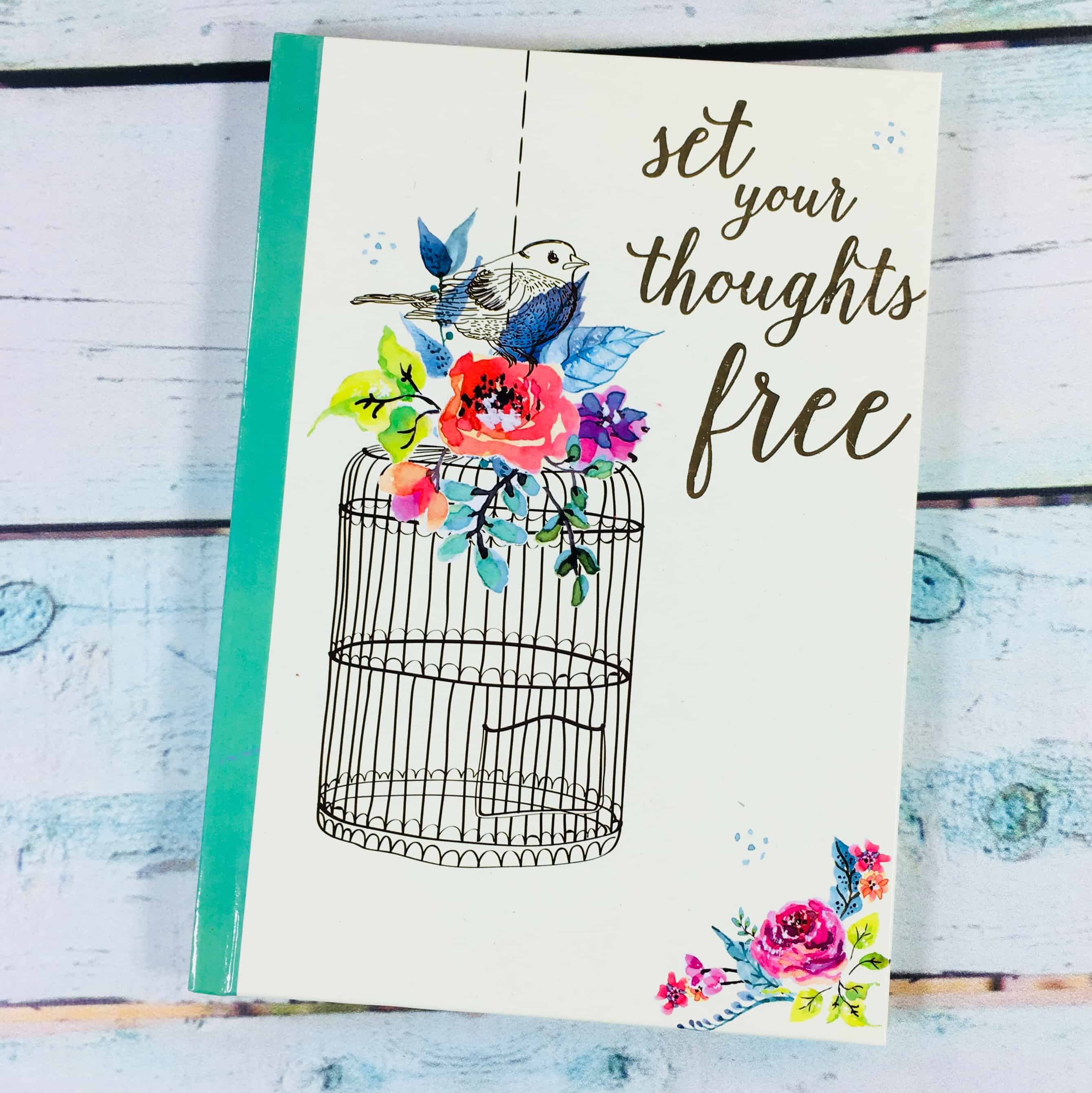 I couldn't find the Set Your Thoughts Free Jot Journal ($3?) online but it looks like something they might carry at Michael's or Target. The outside is hardbound and there are 60 sheets inside.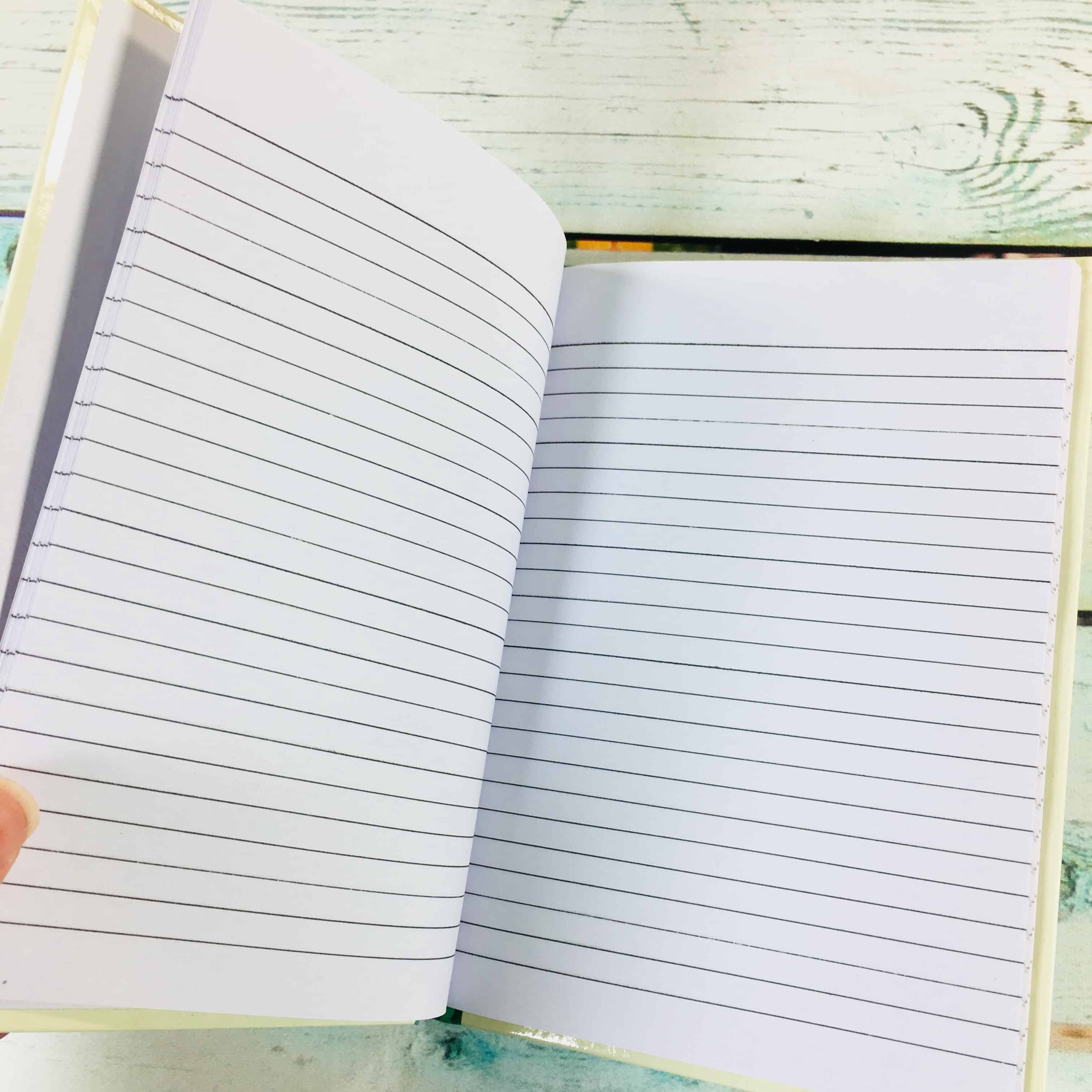 The sheets are lined and this journal is perfect for a variety of uses. Bullet journal, mini scrapbook, keeping lists, jotting thoughts, and so on.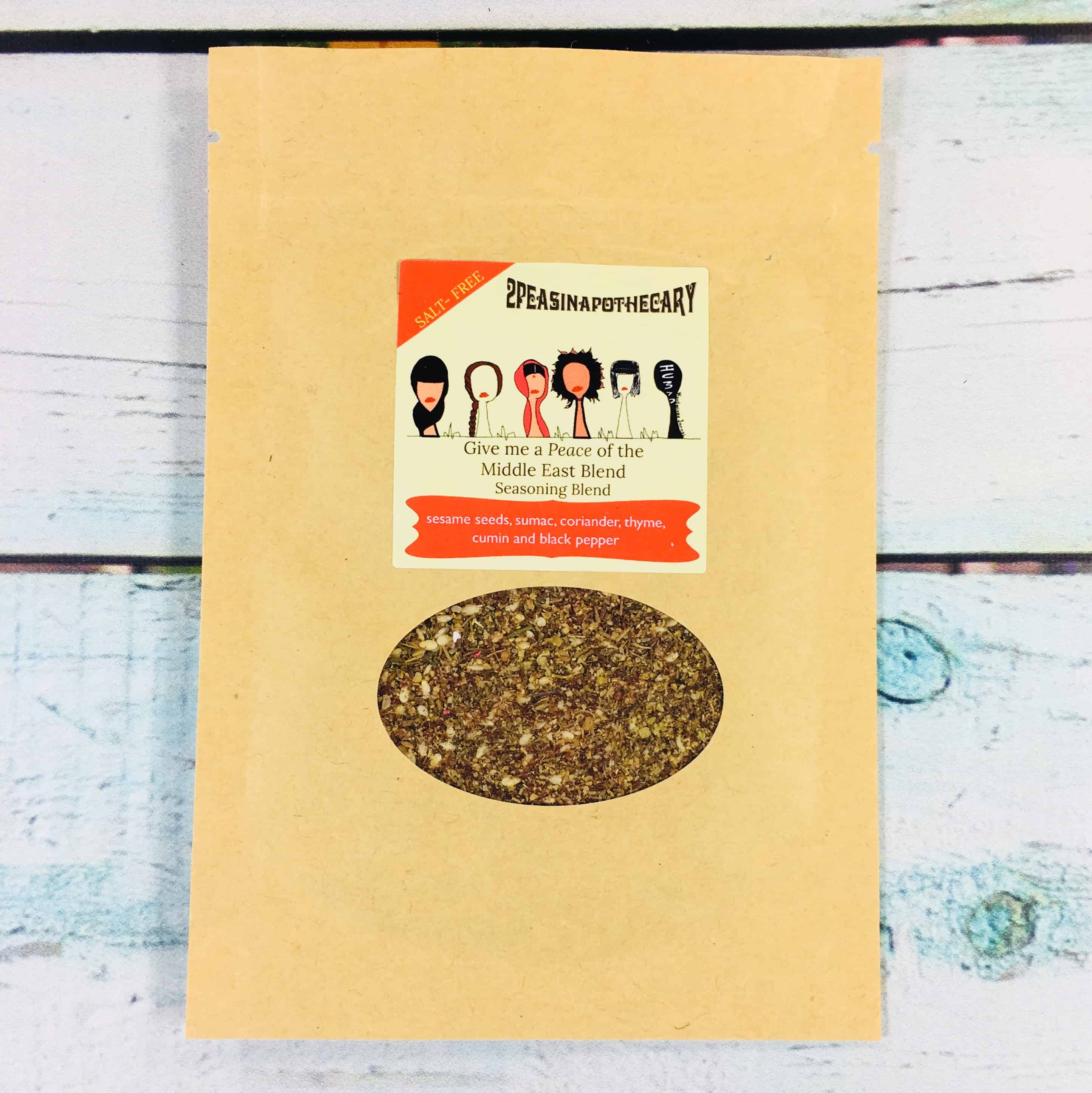 2 Peas In Apothecary Give Me A Peace Of The Middle East Blend ($6.97) No size was given so the value comes from the price listed on the website, but there is probably around two tablespoons of spice in here. This salt-free blend of herbs and spices is their take on za'atar, a spice blend commonly used in Middle Eastern cooking. I have a hard time finding salt-free blends in my bulk spice department at the grocery store so I was very happy to receive this in the box!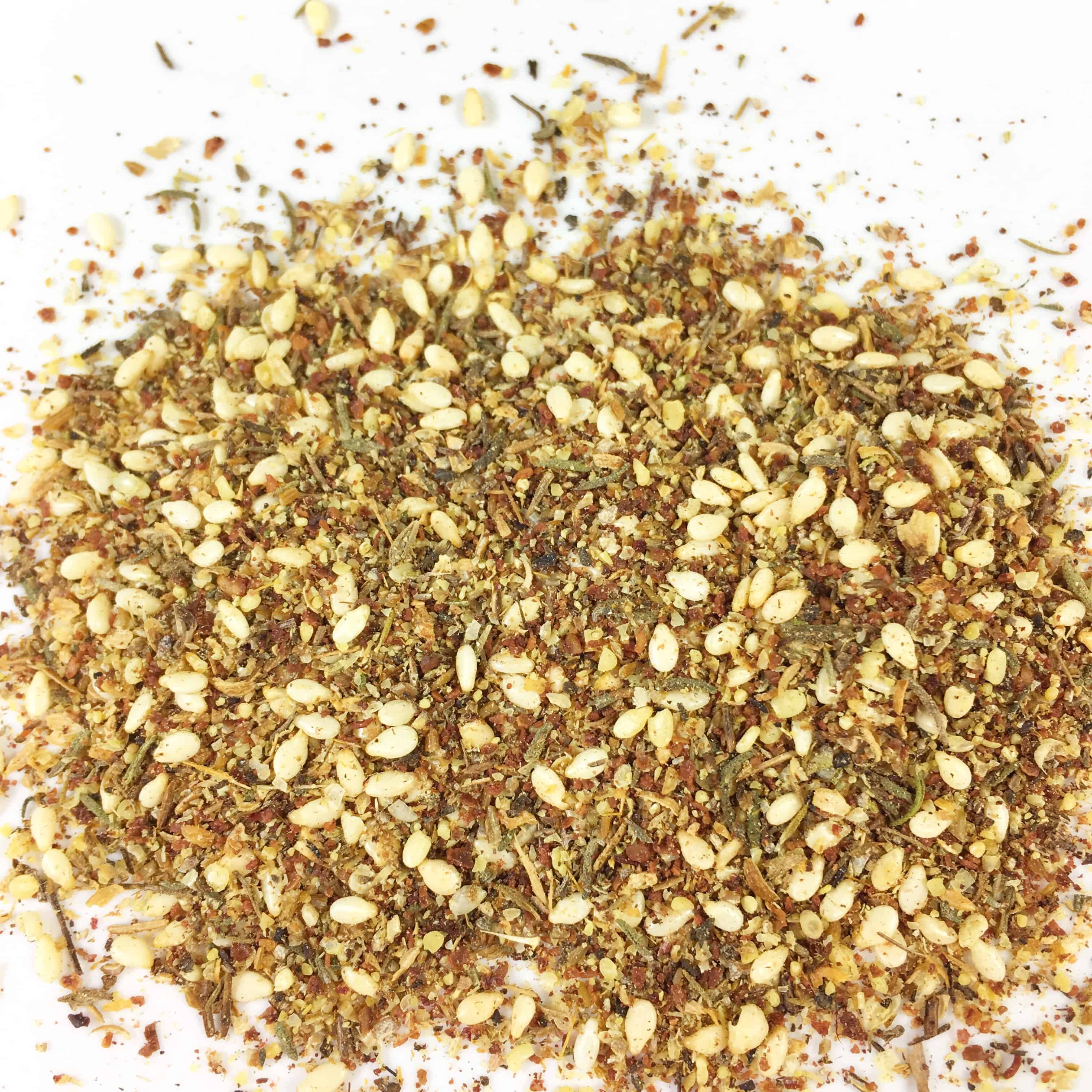 The ingredients are sesame seeds, sumac, coriander, thyme, cumin, and black pepper. The smell is warm and spicy, with cumin being the main scent that my nose picked up. It also smells strong and fresh, and I can't wait to try it in a recipe.
Look, it came with a recipe! This sounds tasty, but unfortunately, it calls for their World Spice seasoning, and not the one that was in my box. Pinterest to the rescue!
Move With Ease Circulatory Tea ($10) I didn't see anywhere on the bag or the website that mentions how much tea is in this bag. I know it said this subscription comes with 4 ounces of tea. Loose leaf tea is measured by weight, not size, and 4 ounces of one type of tea may be vastly different from another. I got to thinking that maybe they meant 1/2 dry cup of tea, so I measured it, and there was a solid 1/3 cup of loose tea in the bag.
Move with Ease is supposed to help the circulatory system and is made with goldenrod herb, linden flower and leaf, eleuthero root, ginkgo leaf, peppermint leaf, cinnamon, and gentian root and all the ingredients are organic. I had to look a few of these items up to see if they were safe and they all seem to be ok, although some are best in small doses, such as a serving of this tea. As for the tea, it was absolutely delicious! After steeping it was pale yellow and had a smooth minty flavor. I was afraid it might be bitter but it wasn't at all, and a spoonful of sugar made it even better (doesn't it always though?). A perfect cup of relaxing tea that I enjoyed in the evening without fear of caffeine. I would love to try more of 2PEASINAPOTHECARY's teas in the future to see if they are as amazing as this one.
The inside of this Felt Gift Bag ($2?) says it is from Joann Fabric but I couldn't find a link to it online. I just noticed as I was looking it over that the mailbox door opens and is fastened shut with Velcro!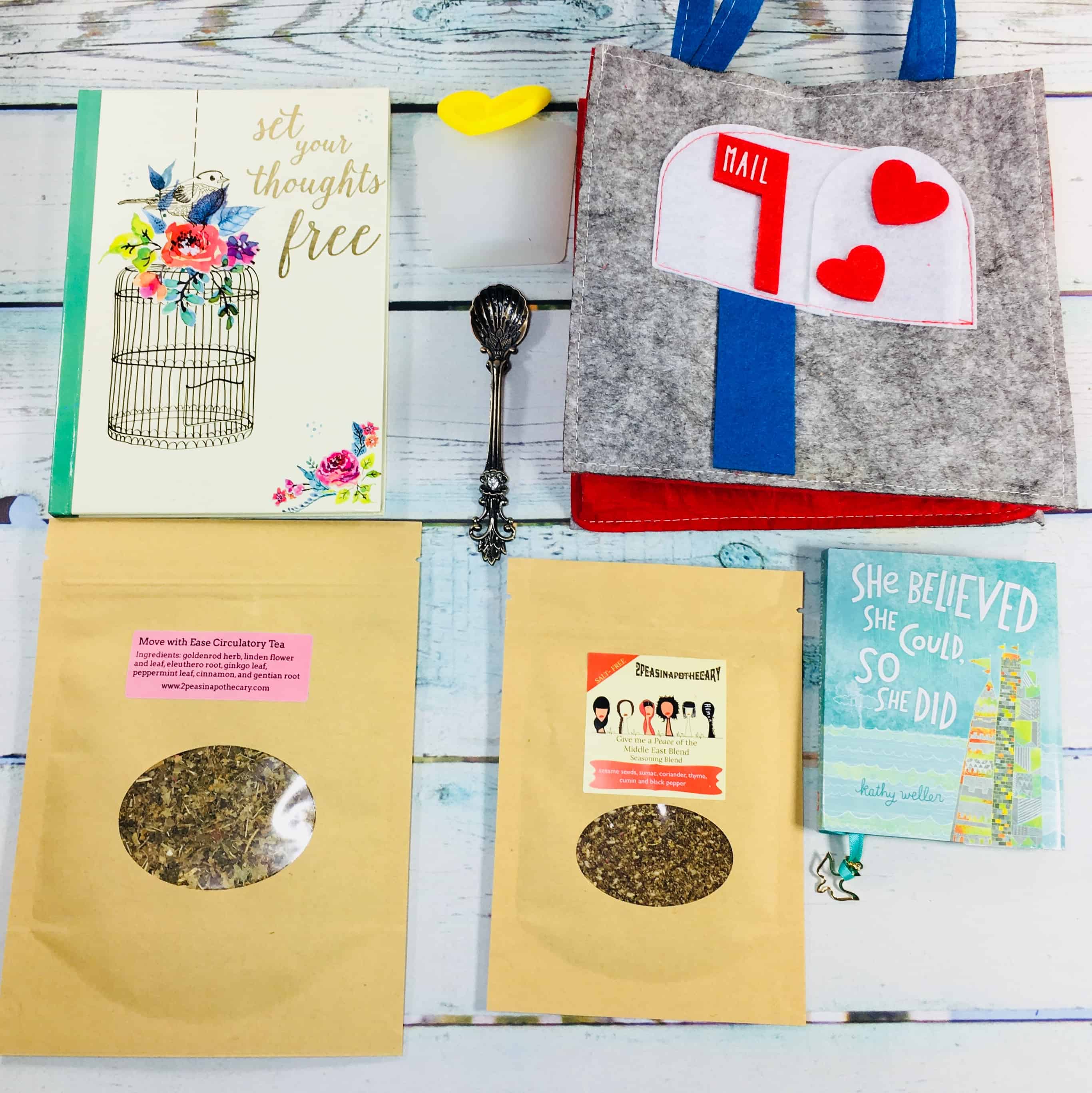 Since this was my first box from Teapsy, I wasn't sure what to expect, other than a tea and a spice. There were a variety of other cute little items to round out the box, and I especially like the spoon, but the stars here are the tea and spice. They were very high quality, organic, and exceptionally tasty. I think the owners tried hard to curate a sweet box with thoughtful touches, but I would like to see just a little more info on the tea and spices. For instance, on the bag of tea, I would like to see the amount of tea in the pouch and steeping instructions. I had to stop what I was doing to go to the internet to see how much tea and water to use, what temp to heat the water, how long to steep, etc. Just put that on the bag somewhere. Also, a recipe specific to the spice blend sent would be helpful. The other stuff was just gravy, and I would have been happy with one or two higher-quality items rather than a mix of stuff. A pretty mug and stainless steel steeper, or a lovely candle and a chocolate bar maybe. I found my box to have a value of around $28.86, using the values of the tea and spices from the 2PEAS website. I would like to see what they come up with in March!
What do you think of this month's box? Talk to me, leave a comment with your thoughts, I'd love to hear what you have to say!