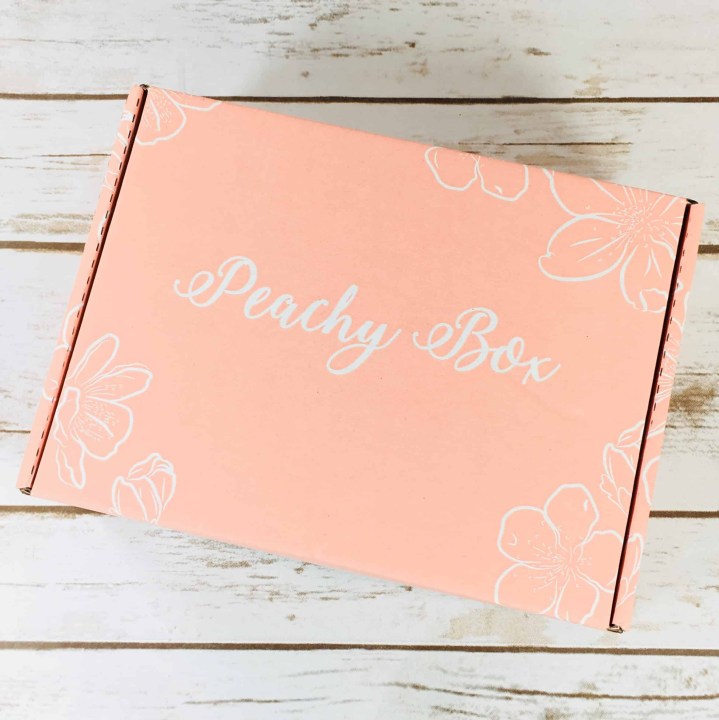 Peachy Box is a monthly themed subscription box full of cute, trendy items that you might find at Forever 21, Sephora, Paper Source, or Urban Outfitters. Peachy Box is $34.99 a month and features 6-8 beauty and lifestyle items. Shipping is free to the U.S.
Every month, you'll receive a box with deluxe to full-sized items hand-curated by our team. We have a new unique trending theme every month! Treating yourself once a month isn't that hard.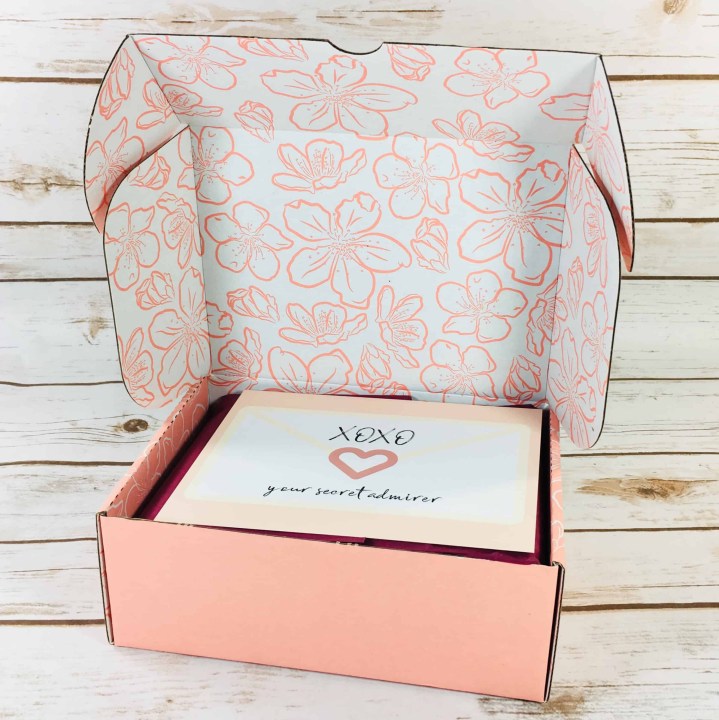 DEAL: Get 25% off your first box! Use coupon code HELLO. Cannot be combined with any other offers.
Sealed with a shiny gold sticker, just like a Valentine's Day card!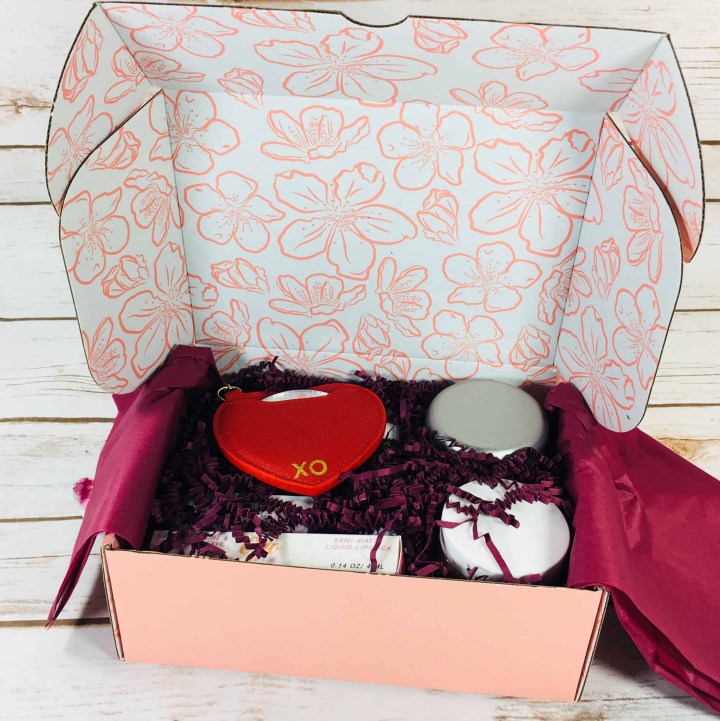 My items were nestled in burgundy paper squiggles and matching tissue paper.
The presentation is always amazing with this subscription!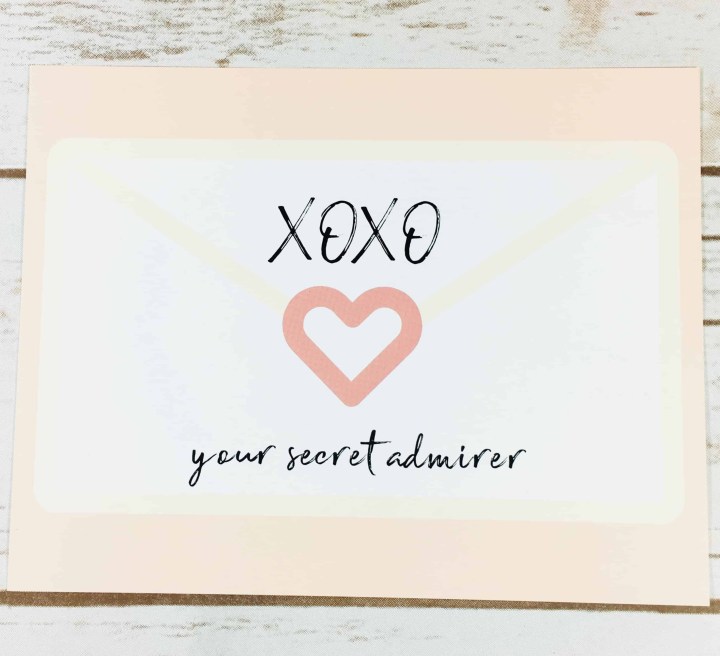 How cute, it's from my secret admirer!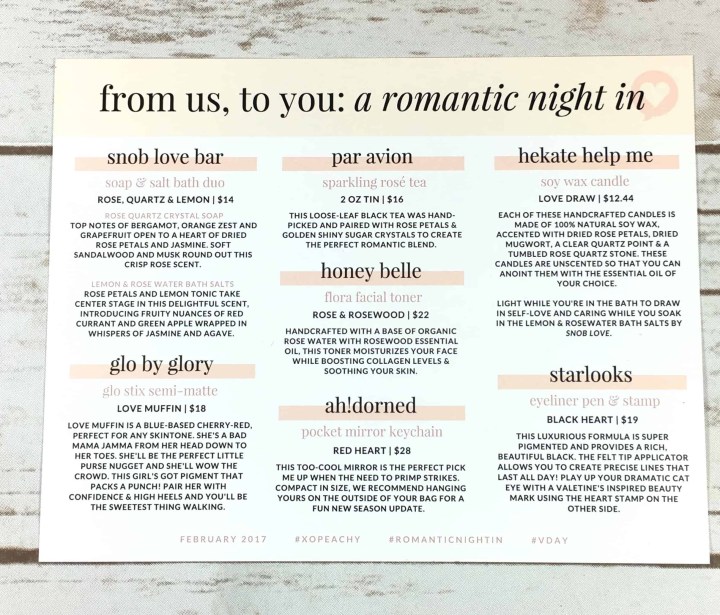 The February theme was "a romantic night in." The product information card listed each item along with info and suggested retail price. I appreciate that Peachy Box produces such a thorough info card.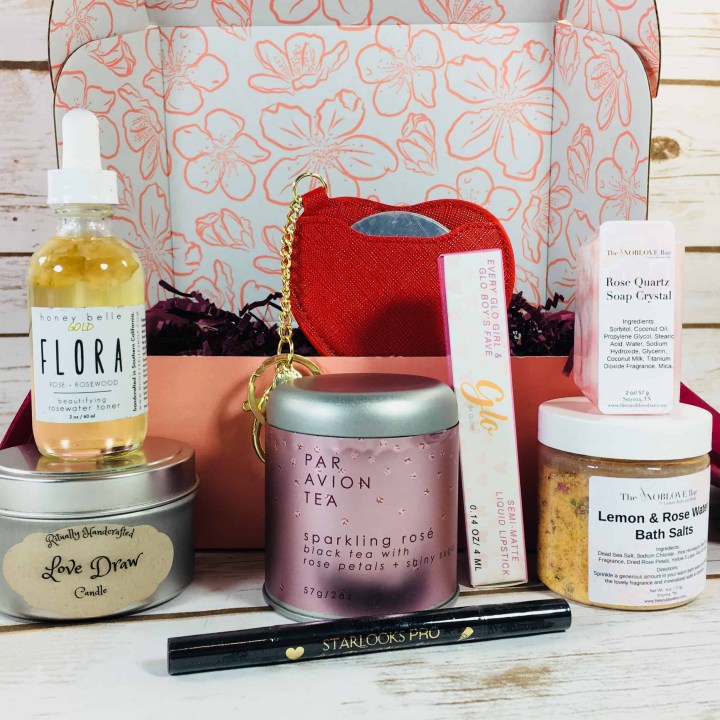 Everything in my box! The items in this box always coordinate so well with each other!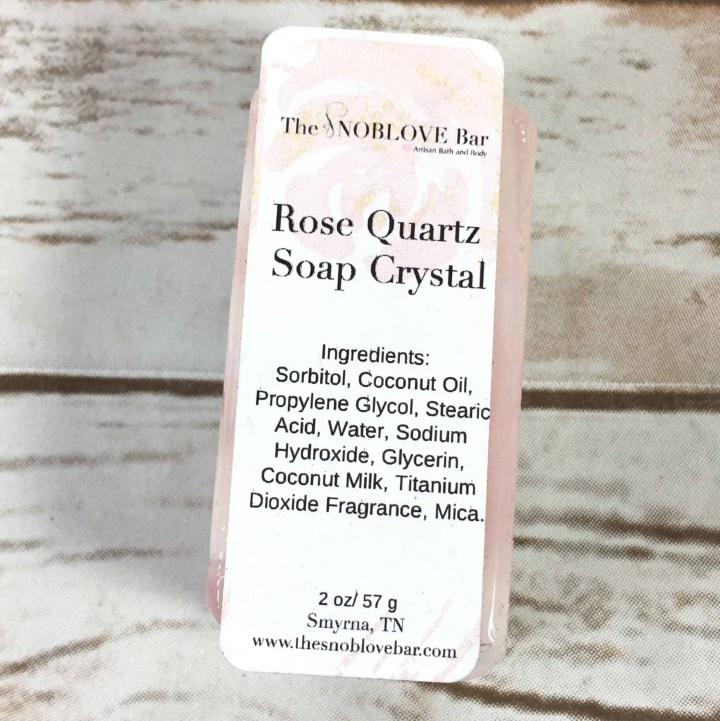 Here is the first of two items from SNOBLOVE. The Rose Quartz Soap Crystal ($3.60) smells so good, like a Victoria's Secret scent, or Kool-Aid, fruity and sweet and floral (the soap, not Kool-Aid).
It's so pretty to look at, too!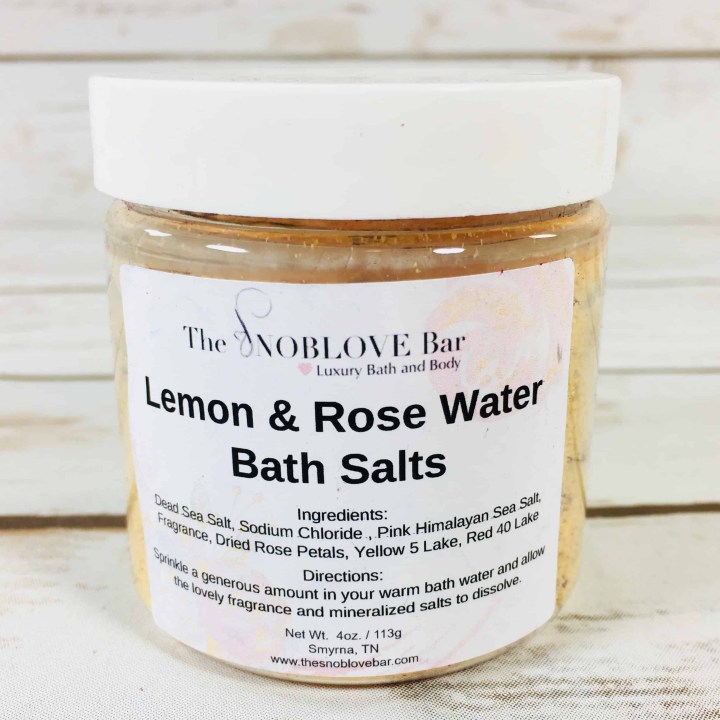 Next is their Lemon & Rose Water Bath Salts ($4).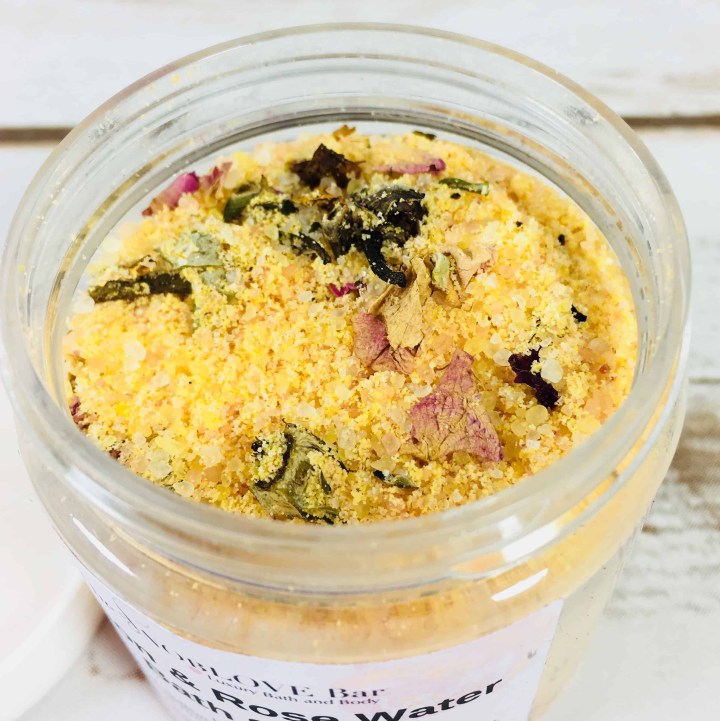 This is so pretty, and smells very much like roses. It smelled even better when I got it wet! I used it as a hand scrub and it left my hands soft and smooth. If you're worried about a mess in your tub, you can put it in a disposable tea bag and plop it in your bath.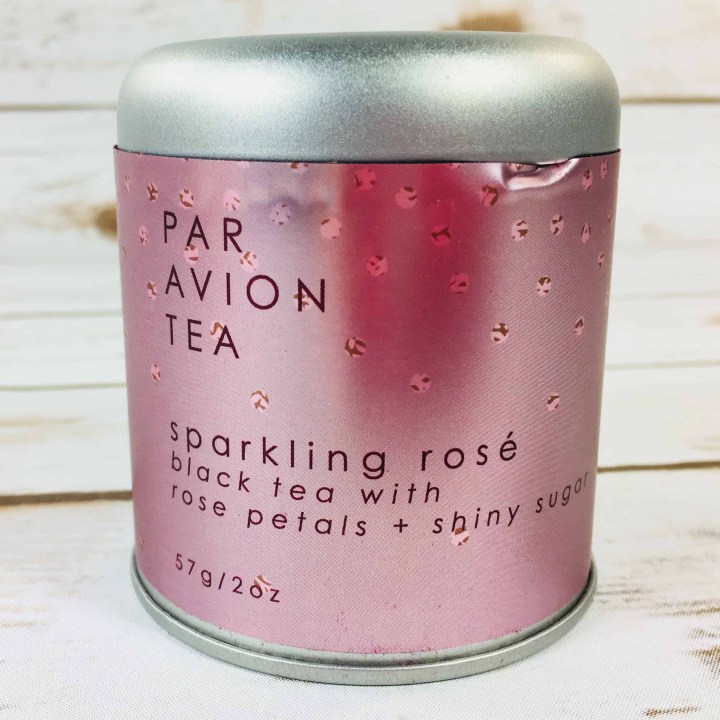 Speaking of tea, I received a container of Sparkling Rosé Par Avion Tea ($16, based on similar teas). I couldn't find this particular flavor online, but there were lots of other flavors to choose from, and you may be able to find this at your local Urban Outfitters.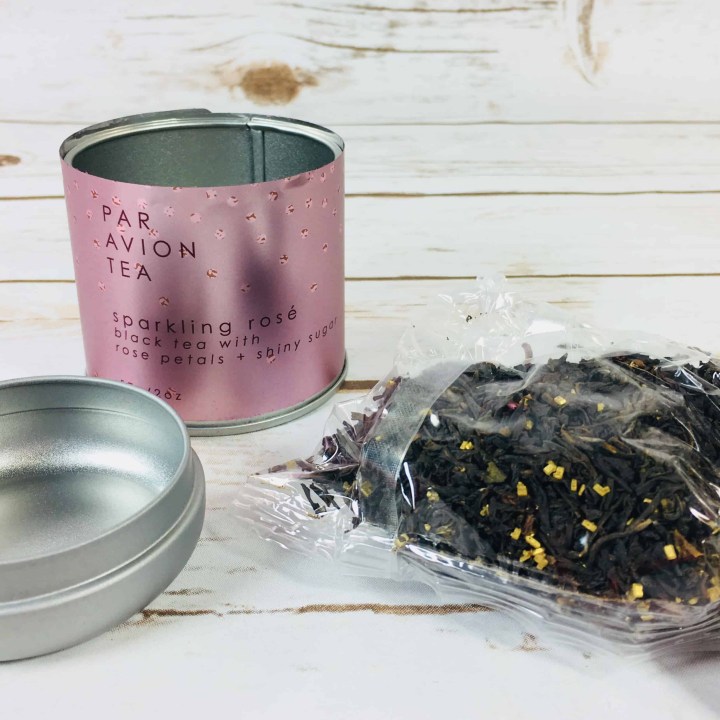 I found the tea sealed inside a bag that was placed in the canister, so the tea stayed fresh.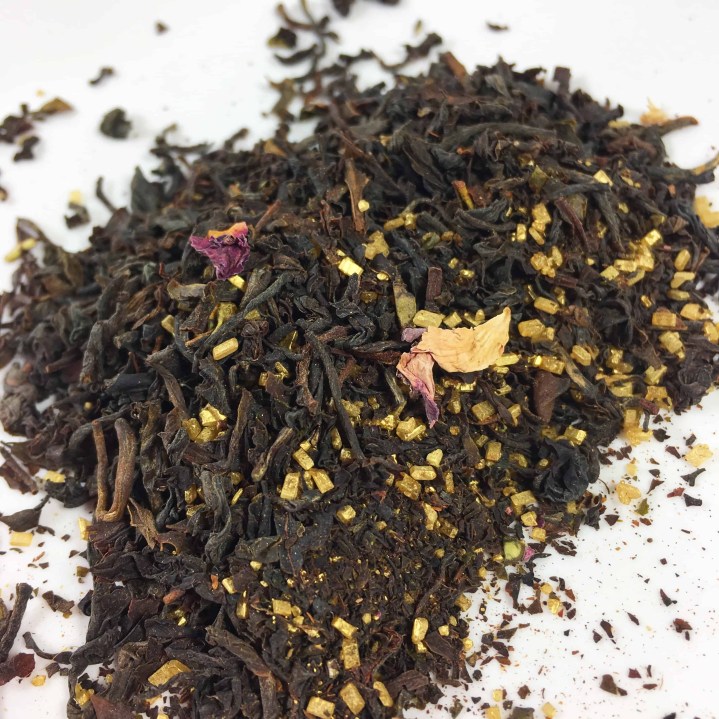 This particular blend is made with black tea and rose petals, along with shiny golden sugar "glitter". I steeped as directed (1 1/2 teaspoons using boiling water for 5 minutes). I think the sugar was more for looks than anything and the rose flavor didn't really carry through but I added sugar and milk and it was very nice.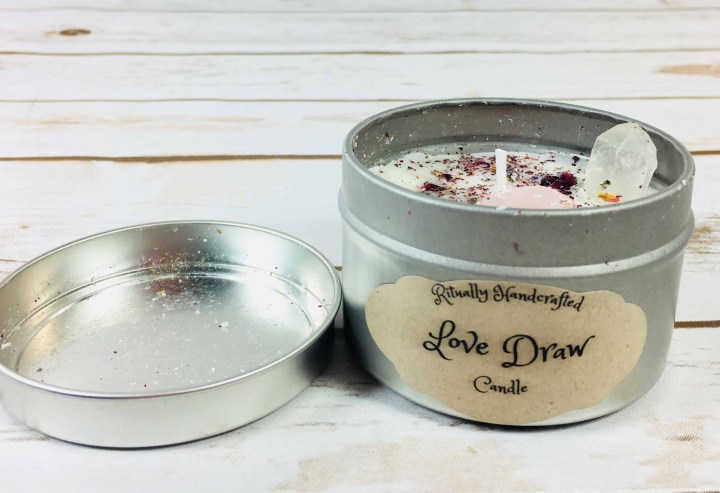 What would a romance-themed box be without a lovely candle? Love Ritual Candle by Hekate Help Me ($12.44)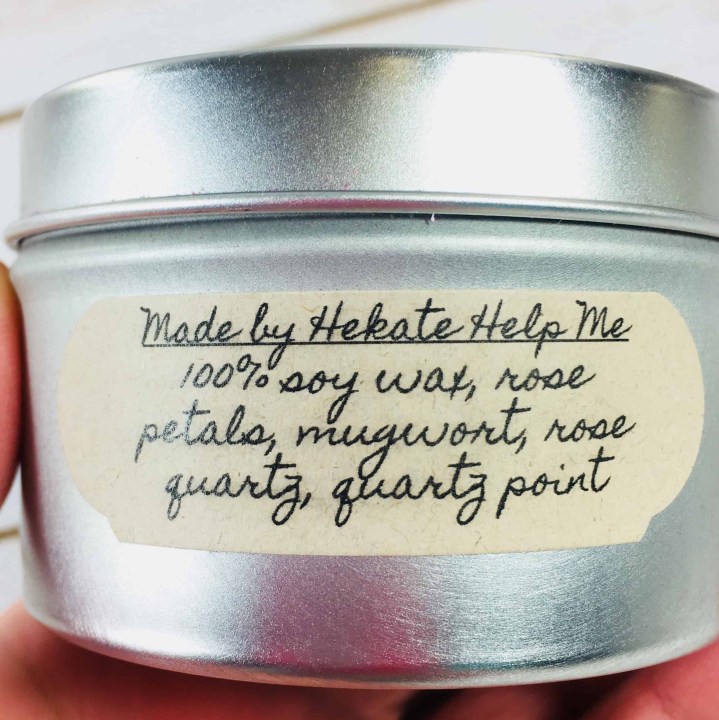 This pretty candle is made with soy wax, rose petals, and mugwort.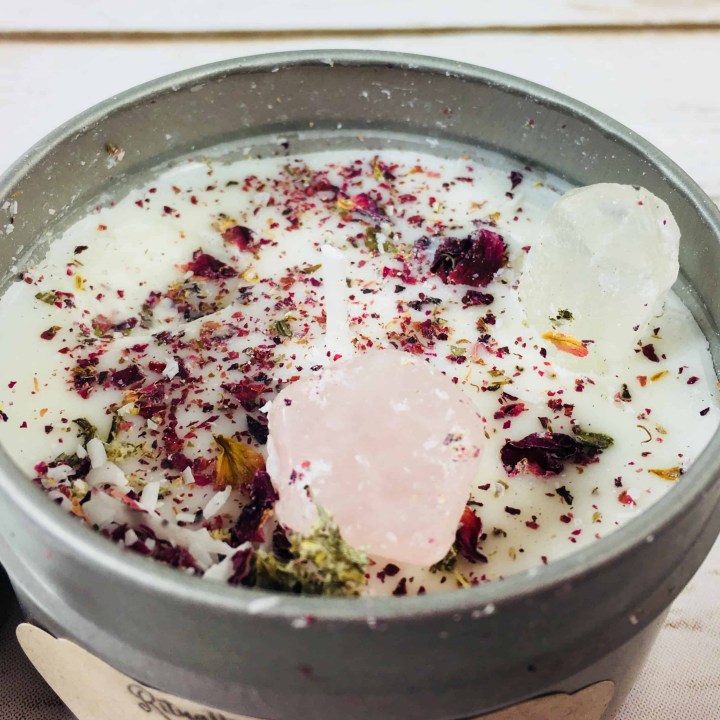 The rose petals and mugwort are strewn across the top of the unscented candle.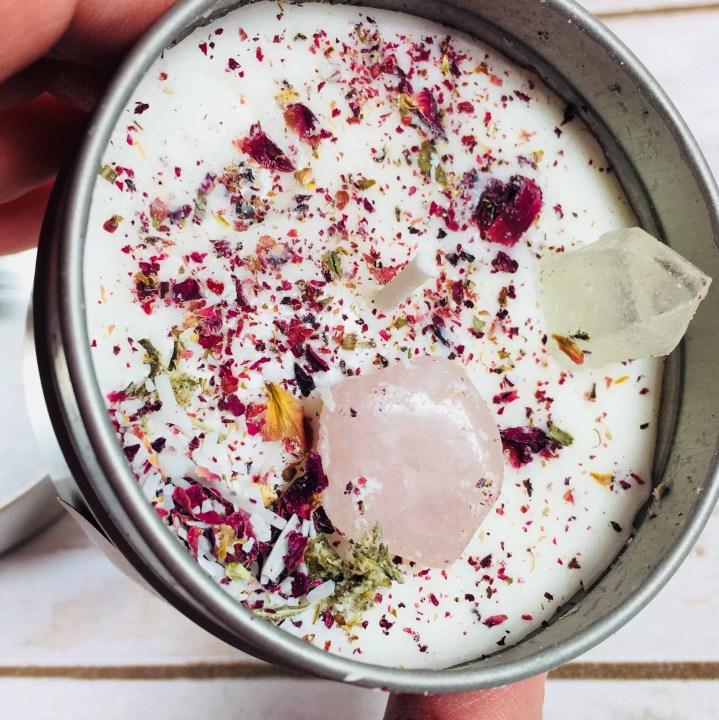 There are two beautiful pieces of quartz, one pink and one clear, set in the wax. I will add these to my stone collection, as they can be used to help enhance love and promote clear thinking.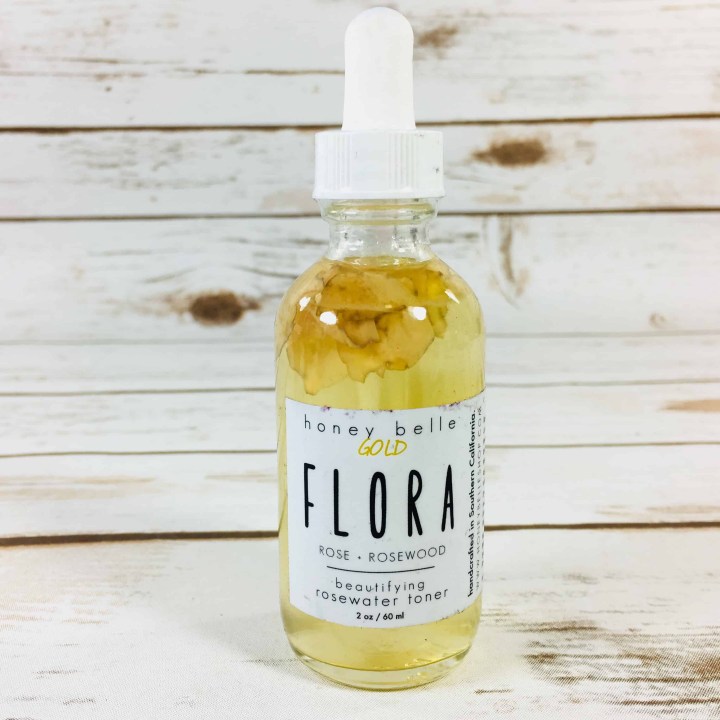 Honey Belle Gold Flora Beautifying Rosewater Toner ($22) concerned me a bit with how cloudy it looked. I first applied it to the back of my hand and was worried at how bad it smelled, kind of medicinal. This didn't match the wonderful glowing reviews I found online at the vendor's website.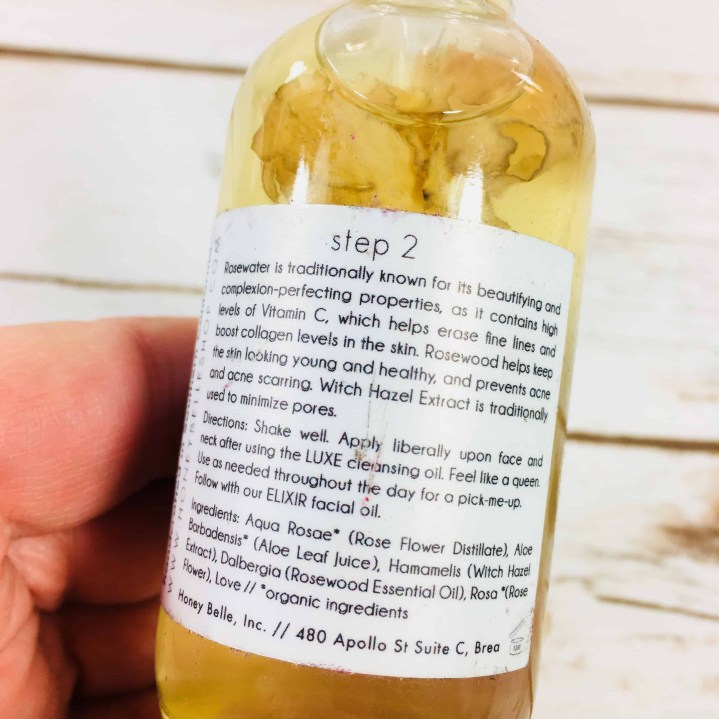 It is made with rose-water, aloe juice, witch hazel, rosewood oil, and rose petals. This is slightly different from the 3 ingredients listed online, which also says this is a spray when it is not. Again, some of the reviewers said they misted it on, so maybe there was a change to a different container at some point.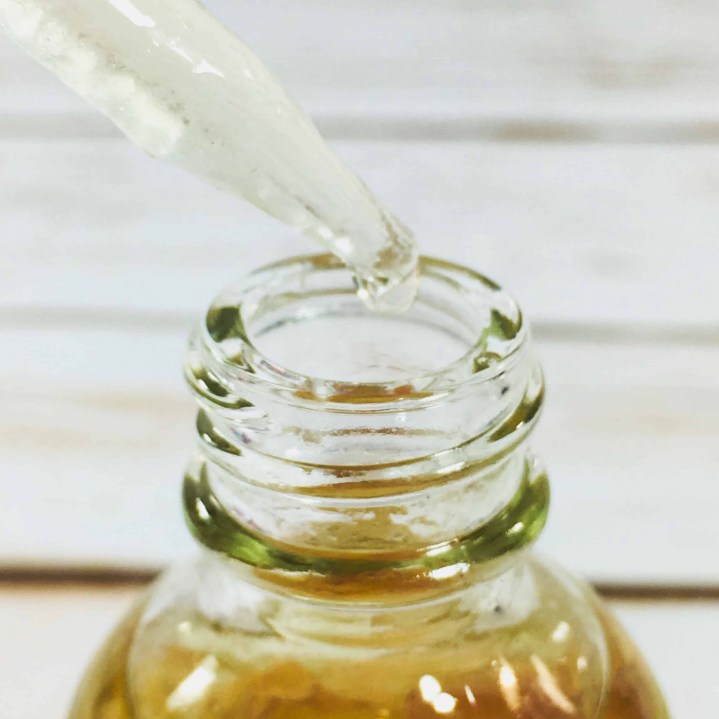 I squeezed a dropper-full on a clean cotton pad and it wasn't clear to begin with, so it was hard to tell if it was ridding my face of any residue. Then it started to BURN. I quickly rinsed it off and won't try it again. Either this product is old or it has something else in it that didn't agree with my skin. It is supposed to be for all skin types.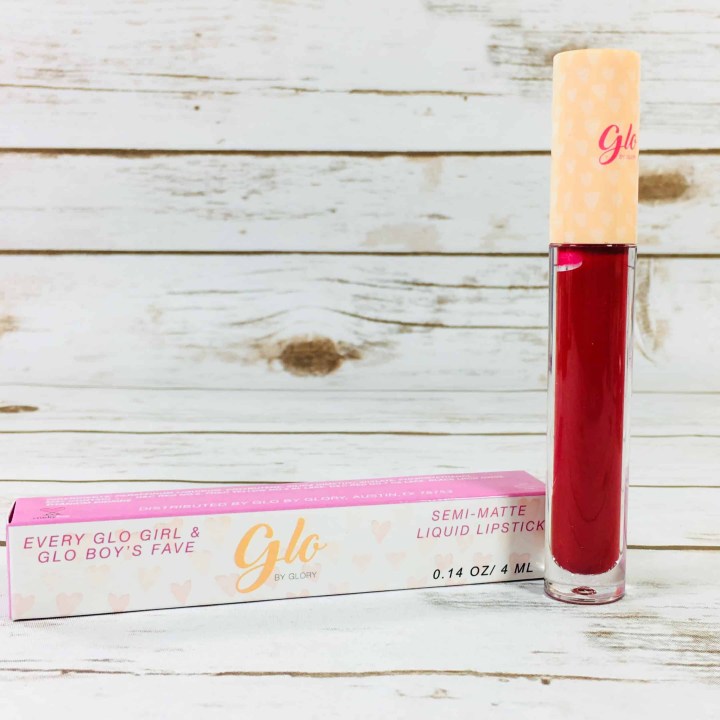 Glo by Glory Glo Stix Semi-Matte Liquid Lipstick in Love Muffin ($18) is from an Austin-based company that only offers one product! They offer four different shades and are vegan and cruelty-free.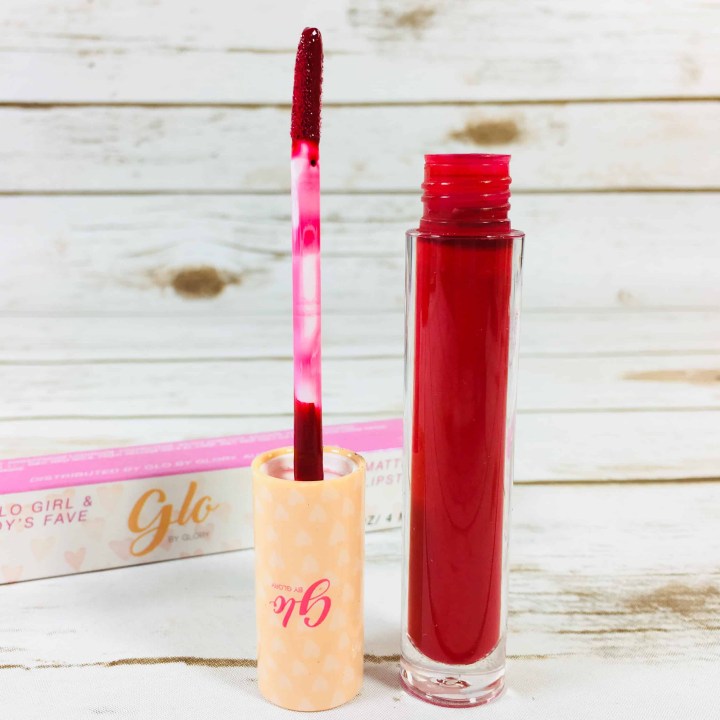 Love Muffin is described as a "blue-based cherry-red" and that is absolutely correct and perfect for a February box!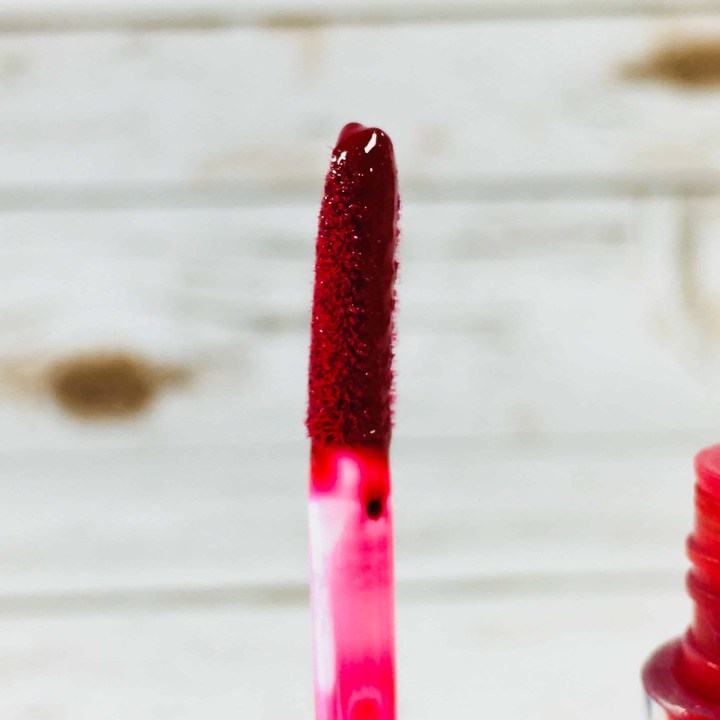 The flocked applicator was pretty good at applying color where necessary, but I usually just place a couple of dots on my bottom lip, sometimes with another color, and then get to work with my lip brush to get it just right. Work fast, this stuff dries quickly and THEN STAYS! I am happy to report that it wasn't sticky, either. Swatched below.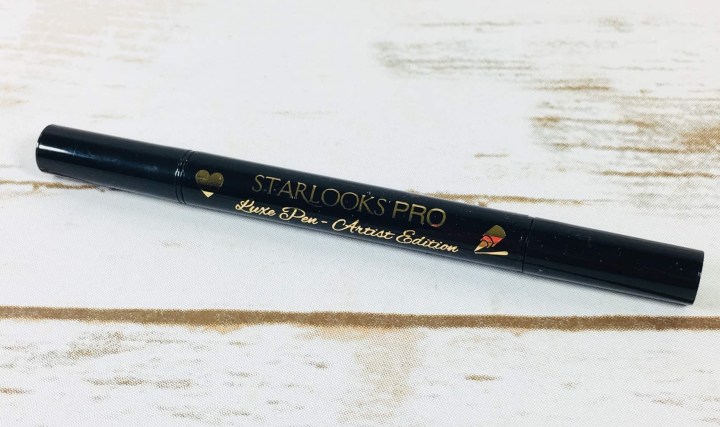 Starlooks Pro Luxe Longwear Heart Stamp and Eyeliner Pen in Black ($19) is a two-in-one product – it features a long-wearing liquid eyeliner on one side, a tiny heart stamp on the other.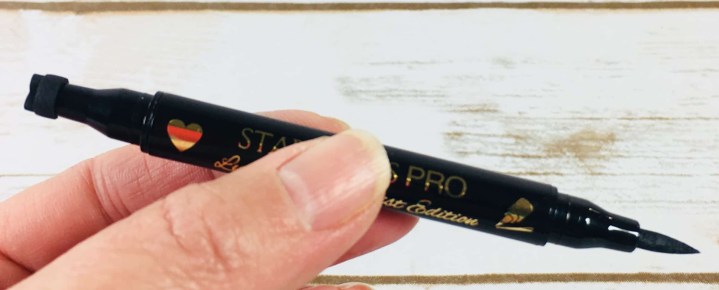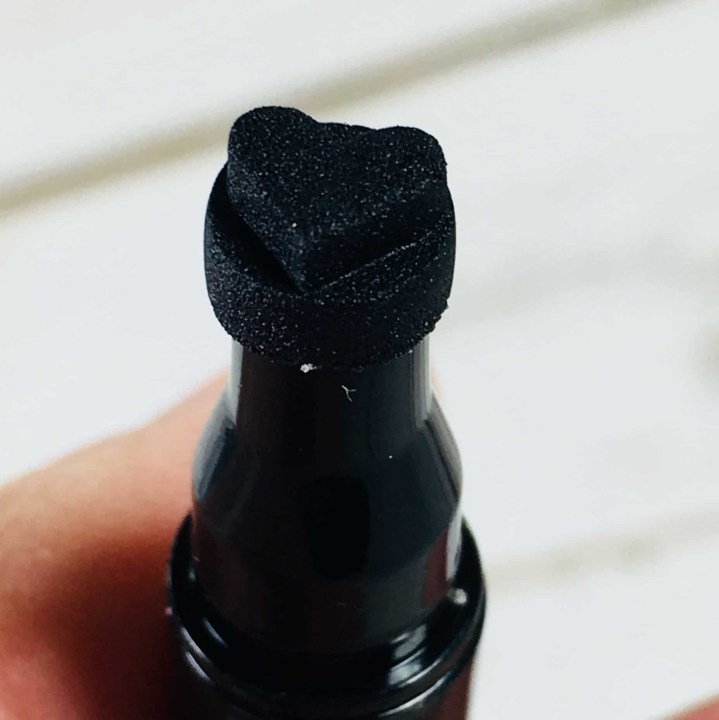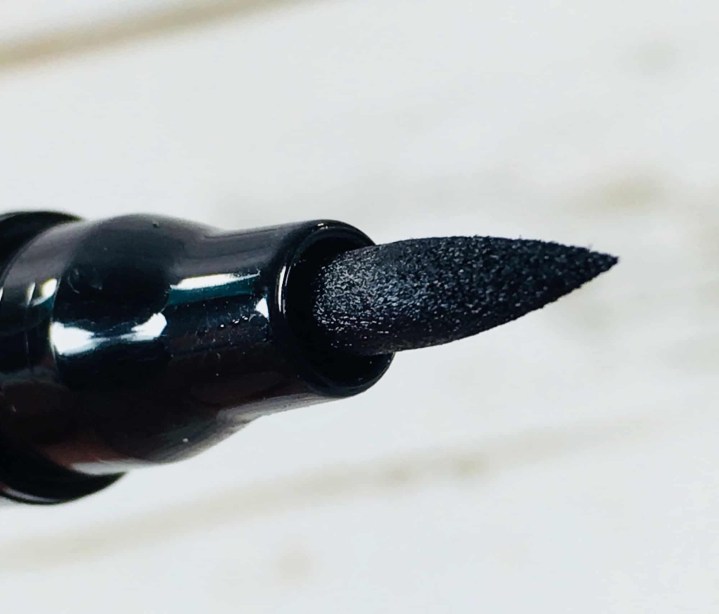 I was very happy with the eyeliner, the thin tip made it easy to apply and it stayed on all day long without smudging or smearing. I'm not really one to use the heart stamp due to my "advanced age" (HA!) but my daughter was extremely happy when I passed this on to her – she needed a liquid liner for dance team and now she has a really nice one at that.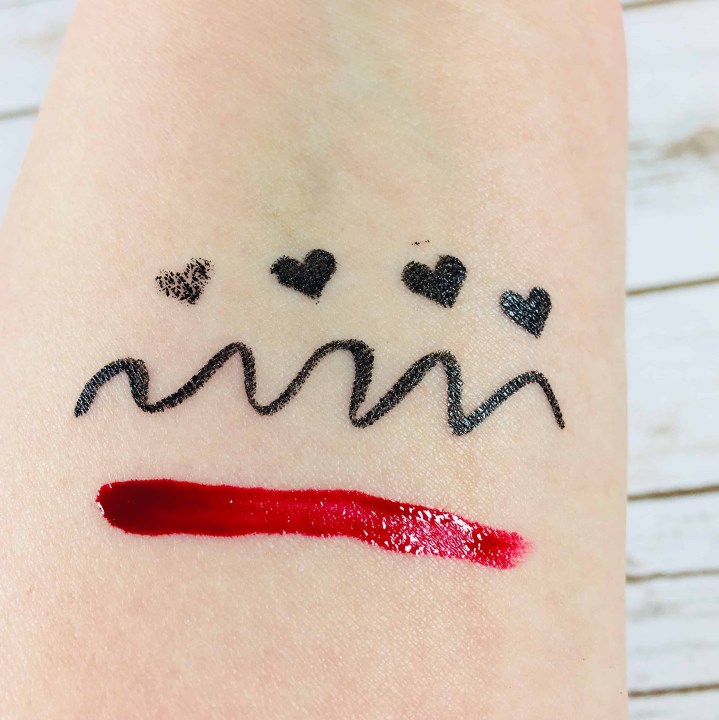 Here are my makeup products swatched for you viewing pleasure. I tried wiping the liner off after snapping the picture but nope, it lasted all day until I removed it at night with a makeup remover. I am very pleased that Peachy Box sent a liner and lip product that coordinated with each other, these are classic colors for creating a romantic look.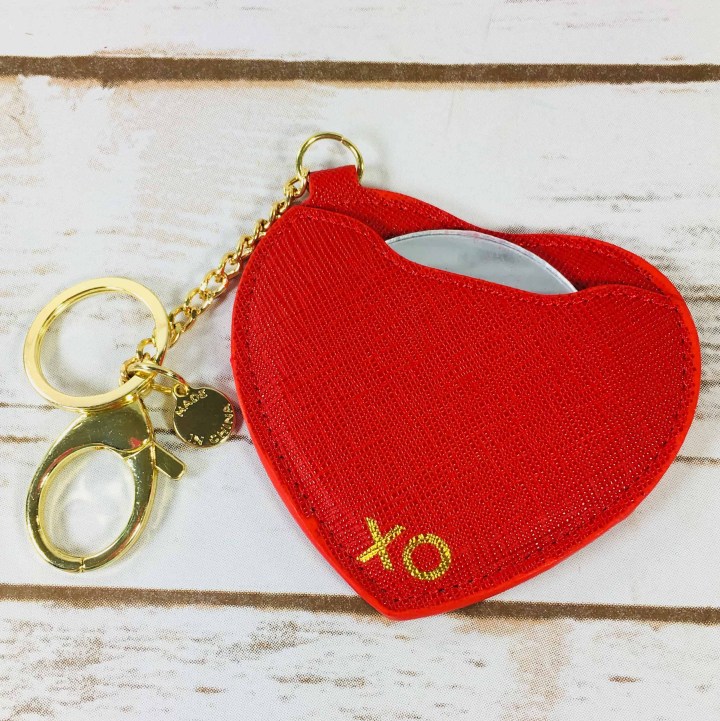 Here's another item perfect for the month of love – ah!dorned Red Heart Pocket Mirror Key Chain ($28).
The mirror is attached with a ribbon so it won't get lost or broken.
The gold-tone accents are classy and you can attach this to the outside of your purse or handbag for a seasonal touch, although it would look nice the other 11 months as well.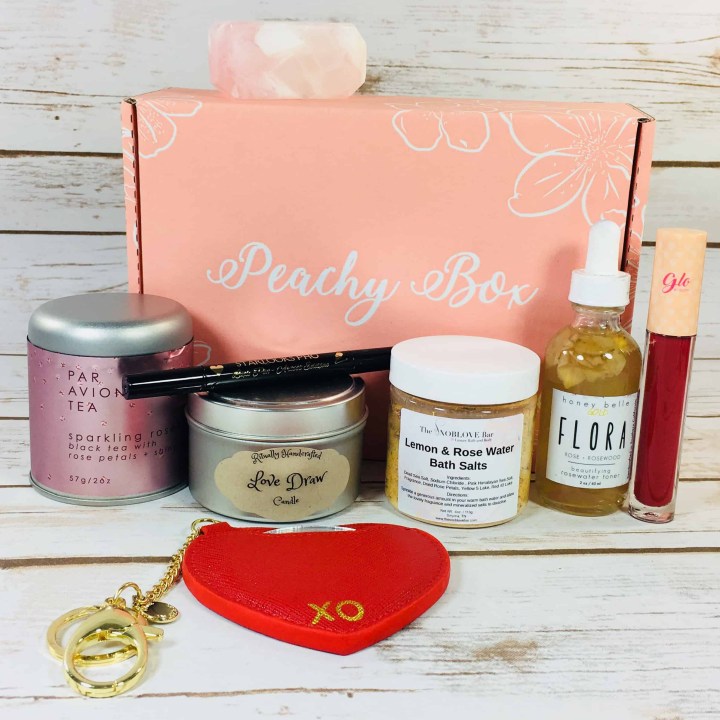 I really enjoyed the products from my not-so-secret admirer aka Peachy Box! I thought the items were sweet and they fit the theme perfectly. The only product that wasn't really for me was the toner. My February romantic night in box had a value of around $119.44, which is sky-high!
Did you heart the February Peachy Box? Let me know in the comments!