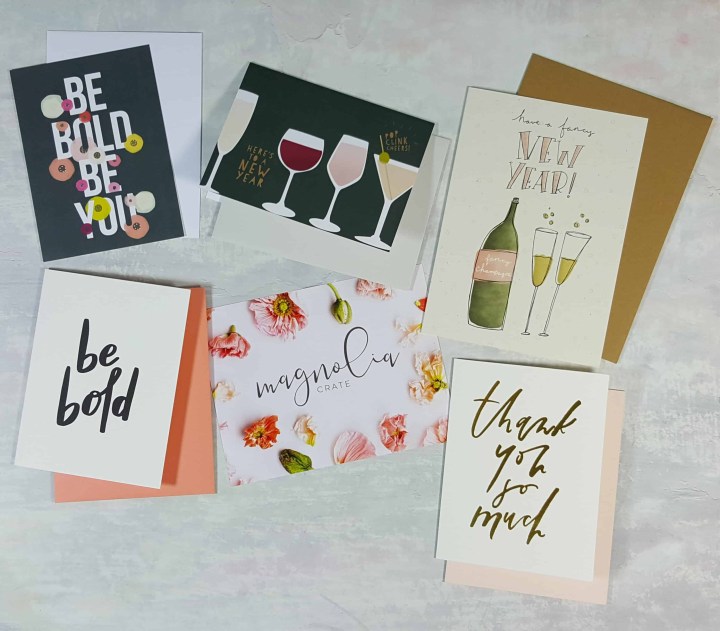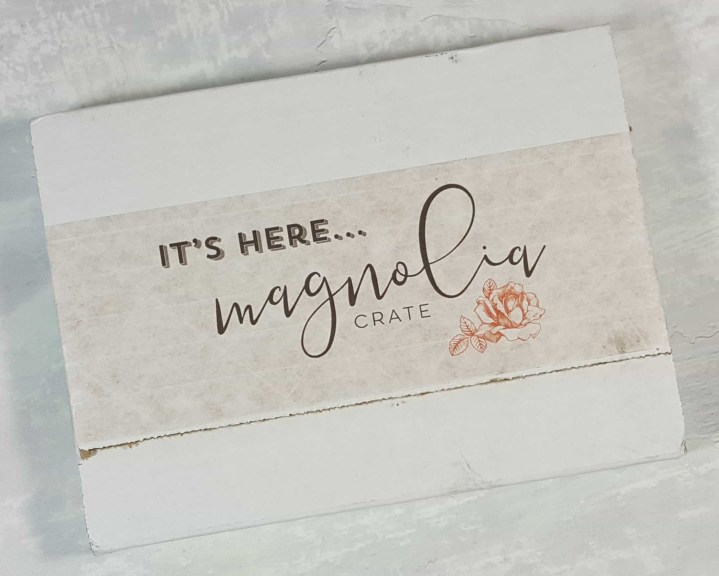 Magnolia Crate is all about the feeling you get when you send and receive mail. There's something about a hand addressed letter, a beautifully colored envelope, or a unique card that you've never seen before. Not only are you provided with gorgeous stationery and cards to send to others, but you also get to be giddy with excitement each month when your new box arrives! Each signature box comes with of 4-6 paper goods, including greeting cards. Additional items may include stickers, gift tags, magnets, and more.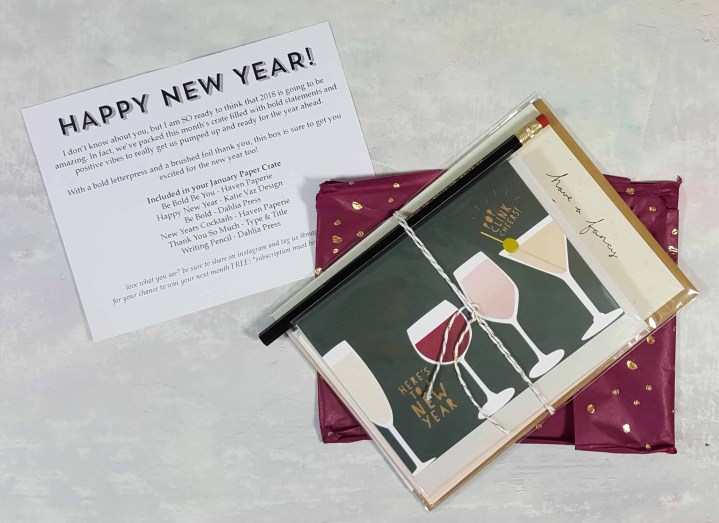 DEAL: Get 1 month free off a 3, 6, or 12 month subscription with coupon code HELLOSUBS OR Get free shipping on the first subscription and not pay for shipping again until your subscription renews (if you get a monthly sub you'll get one month free shipping, but free shipping on all 6 boxes in your first 6 month subscription, etc.). Use coupon code HELLOSUBSFREESHIP.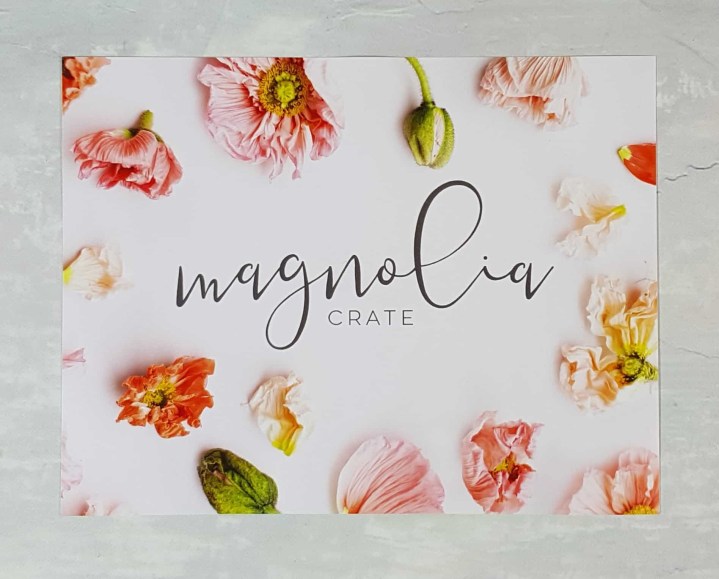 It's been a while since my last Magnolia Crate delivery, and I see that they've changed the look of the box and information card. The dried flowers look so pretty.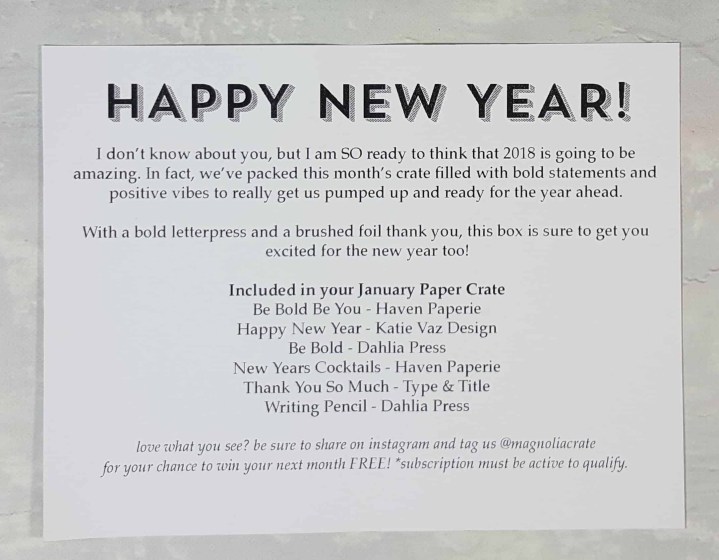 The information card not only lists the cards in the box, but it also provides insight on the inspiration behind the items. This month, we're getting some bold statements and positive vibes to kick off the new year.
Haven Paperie | Be Bold Be You ($4.00): This is a 4″x5.5″ flat card (postcard) that can be a reminder to give some encouragement. Jot a little note on the back and send a gift to brighten someone's day. I think I'll frame this for my office, though.
Katie Vaz Design | Happy New Year ($4.50): Have a fancy new year! I think starting 2018 off with a glass of champers does provide a bit of a fancy start, and excuse me while I indulge. ? Write a personalized new year's message inside this 5″x7″ card and send to loved ones who aren't near. This would also make a great birthday card (starting on a new year of life).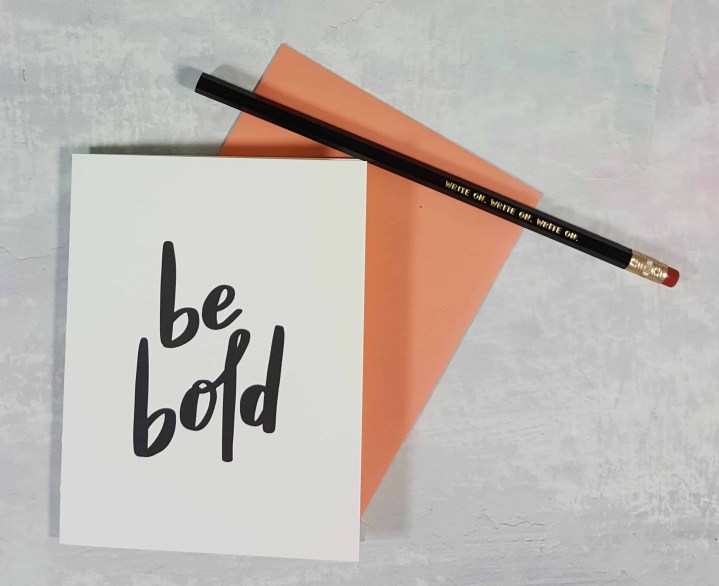 Dahlia Press | Be Bold and Writing Pencil ($5.50 / $1.67):  This A2 sized card (4.25″ x 5.5″) is printed on 100% plush cotton paper and has a coordinating coral envelope. It's a nice reminder to make a statement and own it. The pencil is from a set of 3, and I would have preferred one of the other sayings in the set. This on says, "Write On. Write On. Write On." Click on the pencil link, and you'll know which one I wanted. Regardless, I was happy to get a pencil. The ones that I've gotten from Magnolia Crate before were great – easy to sharpen, smooth writing, and dark output.

Haven Paperie | Cheers Cocktails ($4.50): Another design from Haven Paperie. This is also an A2 card. In addition to new year's, use this card to celebrate any important moments that come up through the year that require you to raise a glass. Note: The card in the link has a different orientation, but the same design.

Type & Title | Thank You So Much ($5.00): What a pretty way to show someone your appreciation! This A2 card features gold foil lettering and a coordinating blush envelope.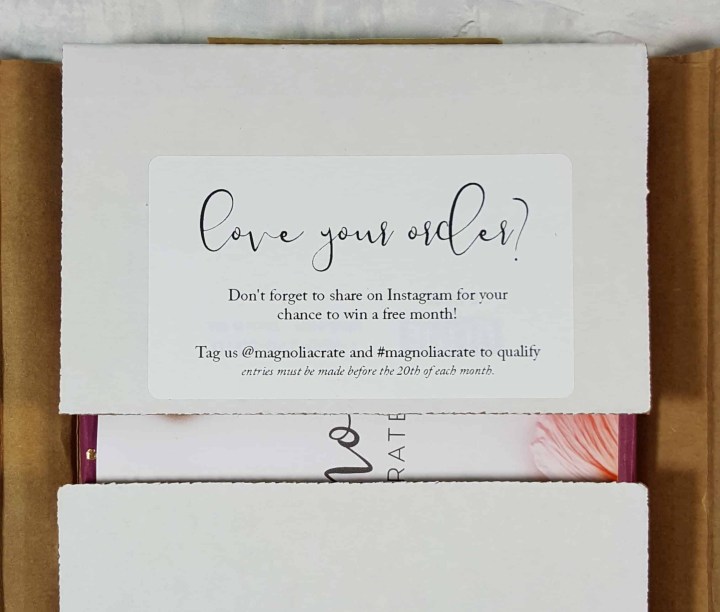 If you loved your order, tag @MagnoliaCrate on instagram (or use #magnoliacrate) for a chance to win a free box. Entries must be made before the 20th of each month for a chance to win.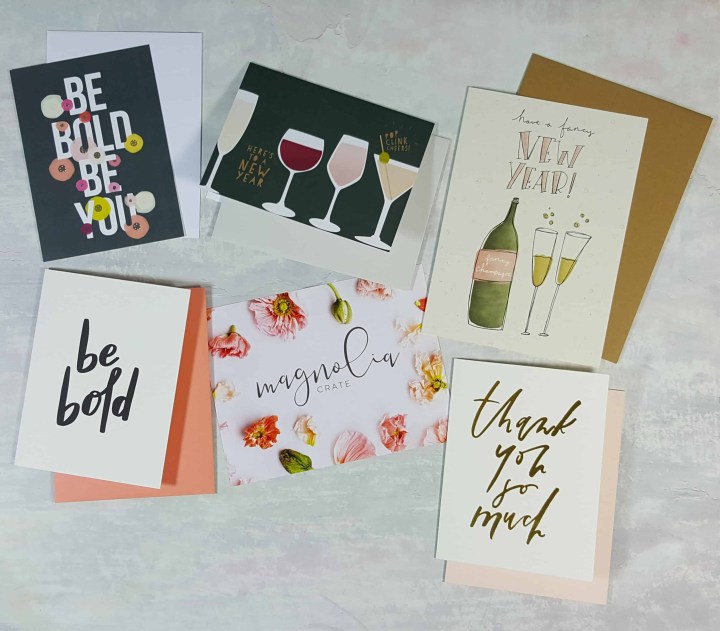 I still love seeing a card come through in the mail or end up on my desk. I think it has to do with knowing that someone took time out of their busy schedule to remember you. With Magnolia Crate, I get to give that same feeling to my friends and family. Plus, Magnolia Crate sources some really pretty cards. Save yourself a trip to the store and let Magnolia Crate help you deliver a little joy to someone's door!
What do you think of this month's cards?