Candy Club is a premium candy subscription box. They bring the old fashioned candy store to your front door. They promise their boxes to have an amazing variety of different candies for your snacking enjoyment.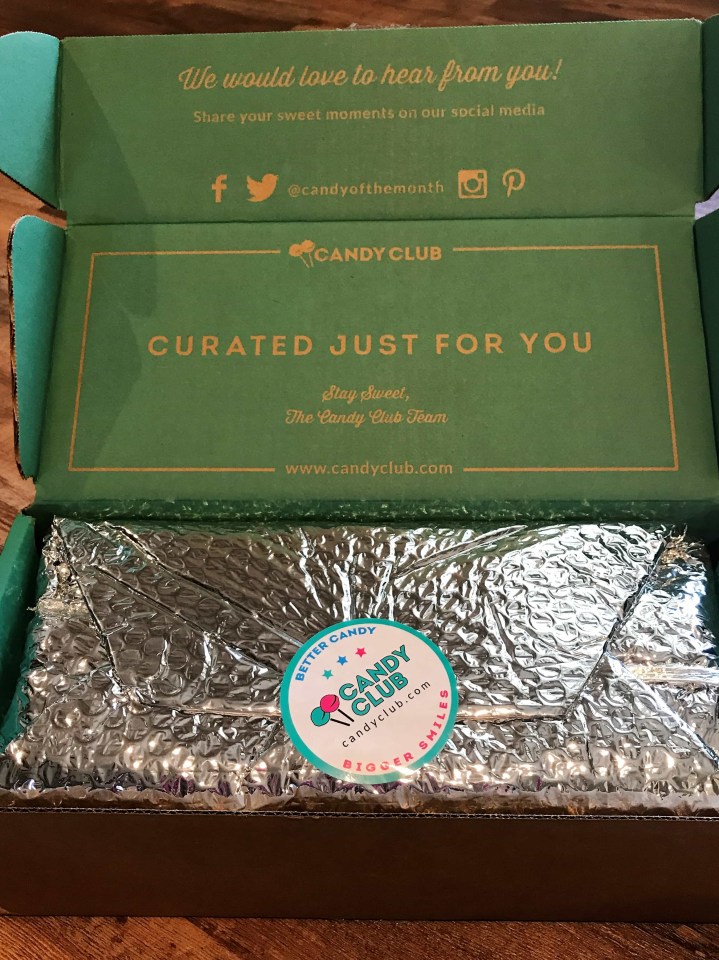 The candy came safely protected from temperature extremes in this insulated (and cute!) packaging.
DEAL: Save $20 on your first box! Just use this link to activate the offer.
Inside the insulated packing, our yummies were even more securely packaged in round plastic containers that sat inside a cardboard stand with holes cut out to hold them in place. It really made for a nice display when you opened the box.
The Candy Club Subscription Box is $27.99 if you pay month to month. The price drops to $22.99 a month if you prepay for 6 months and to $19.99 a month if you prepay for a year. And, if you need more candy, you can choose to add up to three more candies to your monthly order. Shipping is $6.99 for all boxes.
Each Candy Club Subscription Box contains up to 3 lbs of candy to include three signature containers and a splash of wrapped candies. If you are giving a gift, the candies are curated for you. If you are subscribing you have some choice in the candies that you get. You pick your own candies or you can choose a flavor profile for Candy Club to curate for you. The three flavor profiles are Club Sours, Club Sweets, and Club Mix. If you aren't sure what you like, no worries, they have a quiz that helps figure your candy profile out.
Soft and chewy in the middle with a slightly harder outer coating, these orange fruit sours have a great tart and sweet taste that bursts with a citrus orange flavor.
These aren't very sour (which is just fine with me). They have a vague sourness that is reminiscent of the faint sourness of a good naval orange, mostly sweet with a little slight citrus sourness. The texture reminds me of a jelly bean, but a little softer. They seem to draw water into your mouth as you are chewing them. And, the bright shiny candies make a great display candy! I love to mix a couple small dishes of pretty candies on a dessert buffet.
Albanese Yogurt Animal Crackers
Covered in a sweet and creamy yogurt coating, these cute and crispy animal crackers really stand out from the pack! Order 'em up for a roaring good time!
These arrived just slightly melty (it's a bit warm here even in the early winter), but pay no mind, their deliciousness was not bothered in the least. They are crunchy with a coating of yummy yogurt frosting that melts in your mouth as you enjoy the contrast of the crunch of the animal crackers.
Albanese 12 flavor Gummi Bears
These bright bears are bursting with fruity flavor, including cherry, pink grapefruit, watermelon, green apple, strawberry, orange, blue raspberry, lime, mango, pineapple, and lemon!
Delightful! Delicious! I am a fool for a good gummy bear, and these will do it! The flavors are subtle and yummy.  But, it's really the texture that makes a good gummy. They can't be too soft or sticky (gross!). A good gummy is firm, but not hard and never, ever sticky. (Unless you leave an open bag of them on the dash of the car on a hot day and they melt into a sticky puddle that runs down into the vents or speakers, or whatever those holes are just under the windshield. But, don't ask me how I know that.)
Sweet's Vanilla Salt Water Taffy
Sweet's vanilla taffy is a great traditional piece of candy.  Creamy and delicious with a classic vanilla taste, this salt water taffy is whipped, not pulled, allowing for a flavorful, less sticky, softer piece of taffy.
I like these. They are soft with out that "you are going to lose a filling" stickiness that taffy usually has. And, the flavor is smooth and soft too. It's a very soothing and satisfying candy.
The Candy Club Subscription Box is a great way to satisfy your craving for the sweeter side of life. I love that they introduce me to new candies that I have never tried before.
Have you tried Candy Club? What has been your favorite candy?