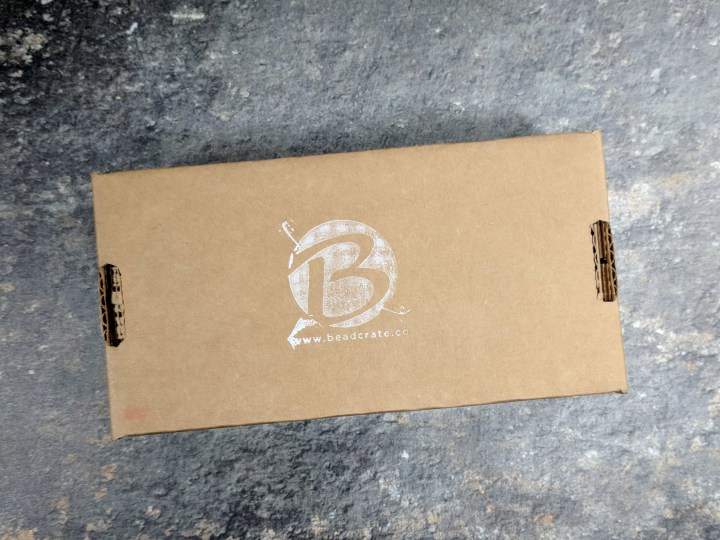 BeadCrate is a monthly subscription box for bead enthusiasts. Every month, you'll receive a curated collection of beads, findings, and other goodies to enhance your beading creations! There are two box sizes – Enthusiast ($15.99 + $5 Shipping) and Collector ($35 with free shipping) to choose from.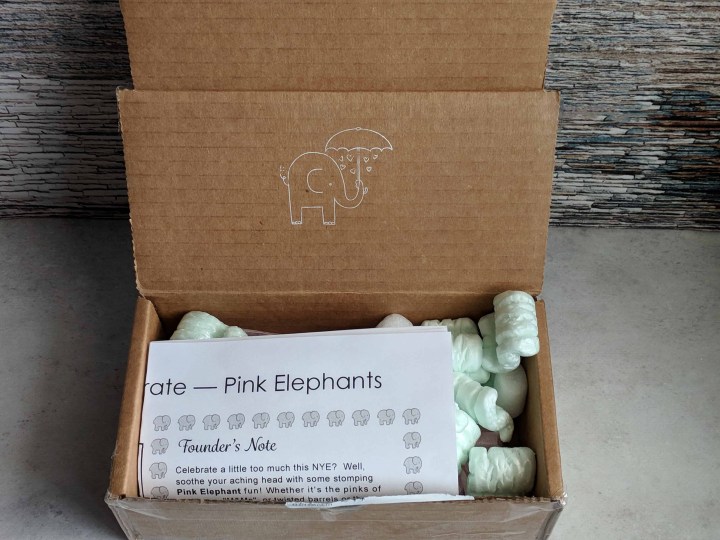 This is the Enthusiast Crate!
We also have a curator's note explaining the theme. This month's theme is Pink Elephant! You can share your creation on their social media (Instagram or Facebook, don't forget to tag them!) for a chance to get a little surprise in next month's box.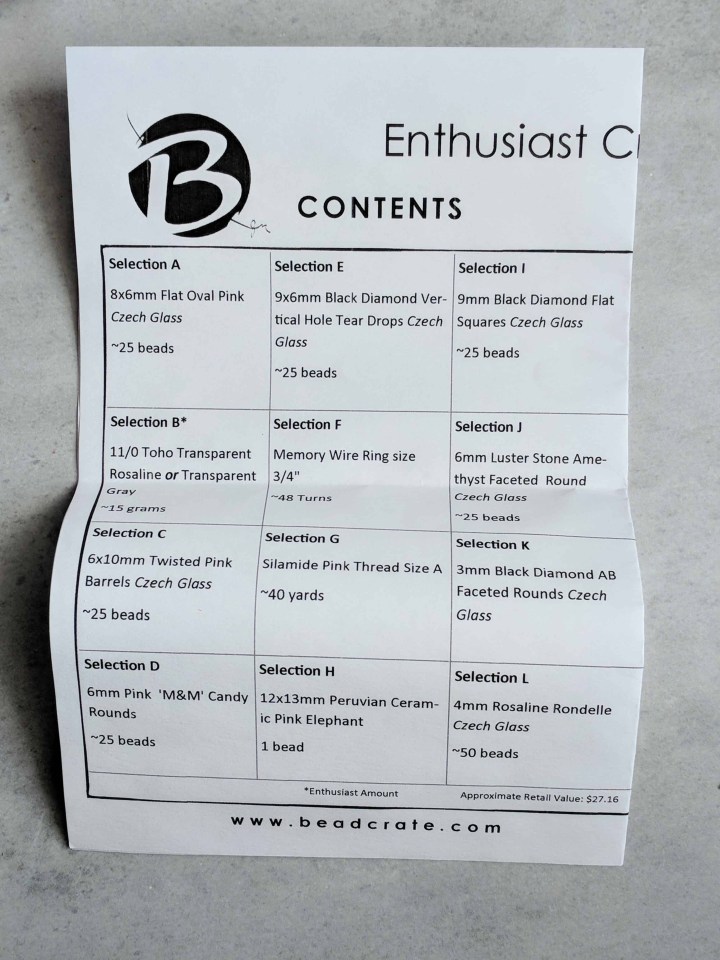 The crate comes with a chart that tells you exactly what you're getting.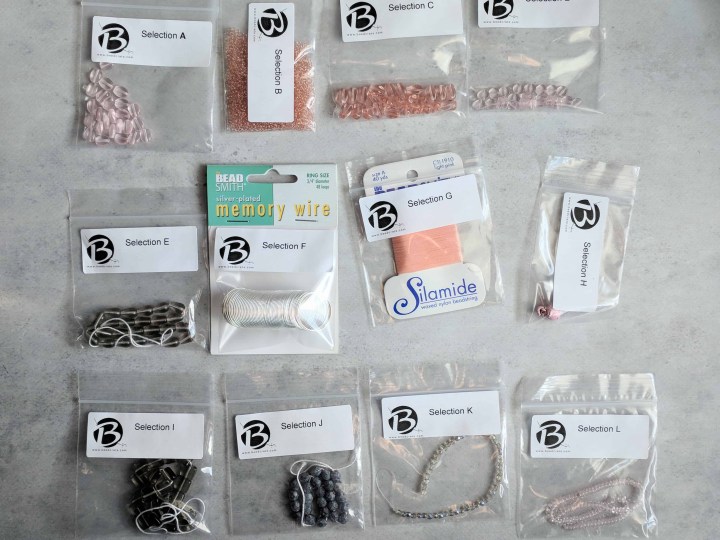 The beads always come neatly packaged inside individual well-labelled plastic bags inside a cute organza bag.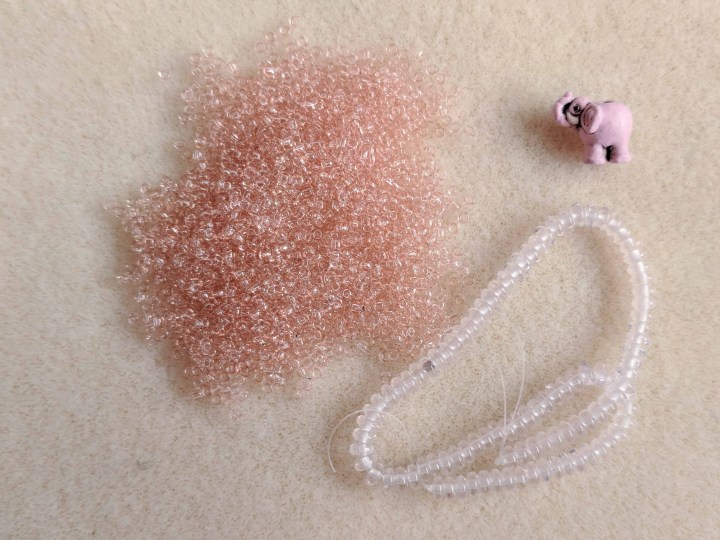 11/0 Toho Transparent Rosaline OR Transparent Gray. I received the Rosaline one! You always get one type of seed beads in this box. You can do a lot of things with them: embroidery, loom work, free weave, etc. I like to use them as spacer beads for light earring design.
12x13mm Peruvian Ceramic Pink Elephant. It's such a cute little critter! The hole goes from his back to between his leg. This would be lovely as a charm on a bracelet, or as a simple necklace pendant. I wish we would have received two to make earrings!
4mm Rosaline Rondelle. They look pink when they are together on the strand, but when they are apart, they have a very faint pink hint. They are tiny little donuts and I would use in rows to showcase their color. So thread 3 or 4 on a headpin for earrings, or 3-4 in a row on a thread with metal beads on both sides. They are also small enough to be used with the Memory Wire Ring size that we also received in this box.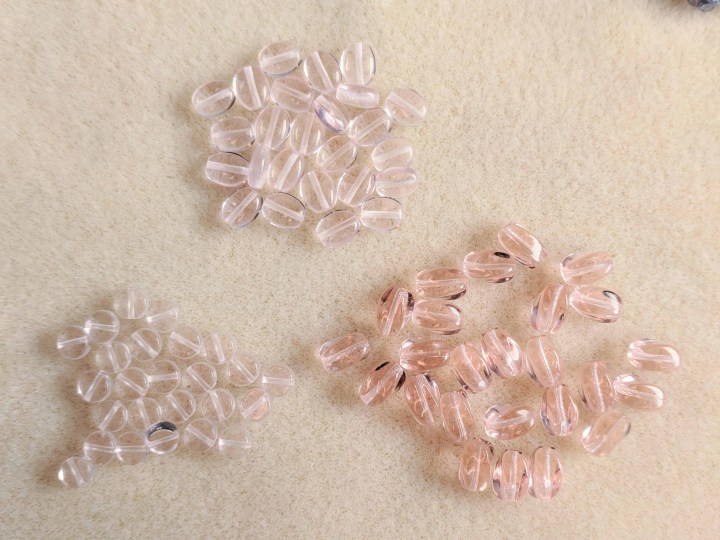 8x6mm Flat Oval Pink. We received a lot of pink this month! I like oval beads, I find them lovely as dangles. With faceted shiny beads
6x10mm Twisted Pink Barrels. Like the Oval Pink, I think that Twisted Barrels are lovely as dangles. At first, I wanted to make a tassel with headpins or just wire wrapped around the barrels.
6mm Pink 'M&M' Candy Rounds. They are the same color as the Flat Oval. To be honest, in this month's box, they are the one I was the less attracted to.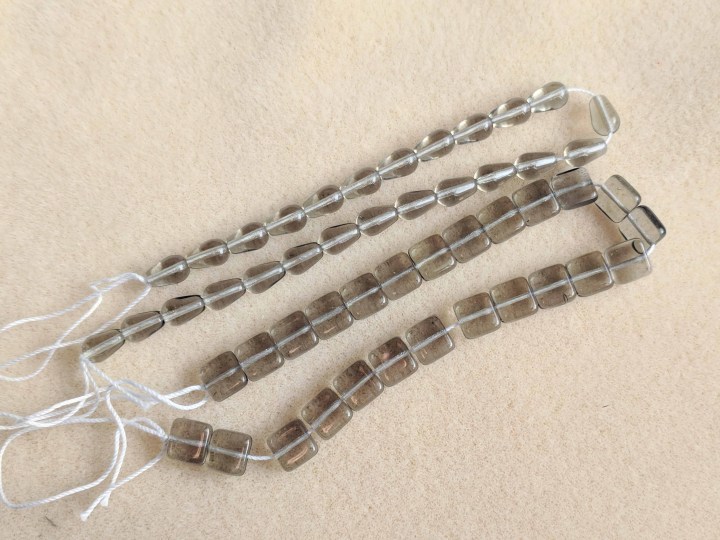 9x6mm Black Diamond Vertical Hole Tear Drops. Perfect for your dangle making craving (it's a thing, I'm sure I'm not the only one who likes making a bunch of dangles). The color looks a bit bland by itself, but they are a nice contrast to the pinks.
9mm Black Diamond Flat. They are the same color as the Tear Drops. I like the shape, I usually wire wrap them on a rigid necklace for a geometrical look.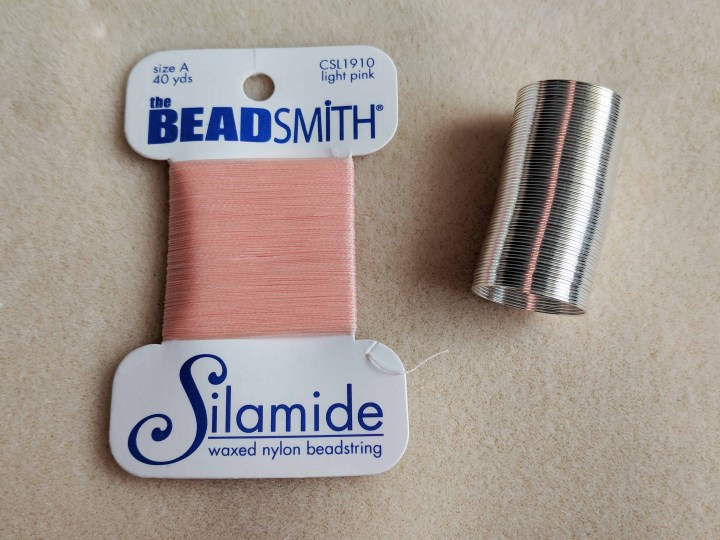 Memory Wire Ring Size. This is an interesting addition to the box, but you need to use a different set of tools from your usual jewelry one as the metal is pretty sturdy and could mess up your tools (which I did at some point in the past. That was an expensive mistake). The size is wide enough that you can thread bigger beads than seed beads and it'll still fit most of the people.
Silamide Pink Thread. For the weaver among us, it's always nice to get some thread with our seed beads! I was going to do something like what I did with my November box (earrings with thread and different kind of beads), but I changed my mind when I saw all the beads in this box.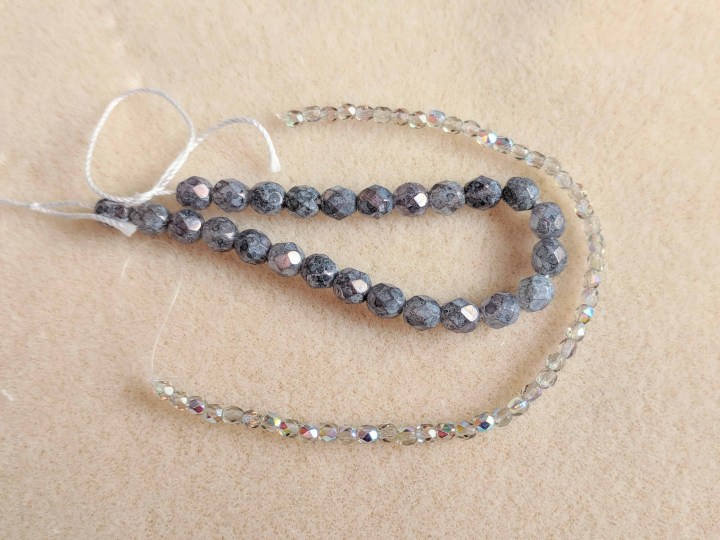 6mm Luster Stone Amethyst Faceted Round. I fell in love with them. I needed to use them somehow. They are speckled, purple and grey, and they are lovely.
3mm Black Diamond AB Faceted rounds. I'm always happy to received small faceted AB beads as they are small (duh!) but they add blings without being overwhelming. When I saw them beside the Luster Sonte Amethyst, I knew they would go together!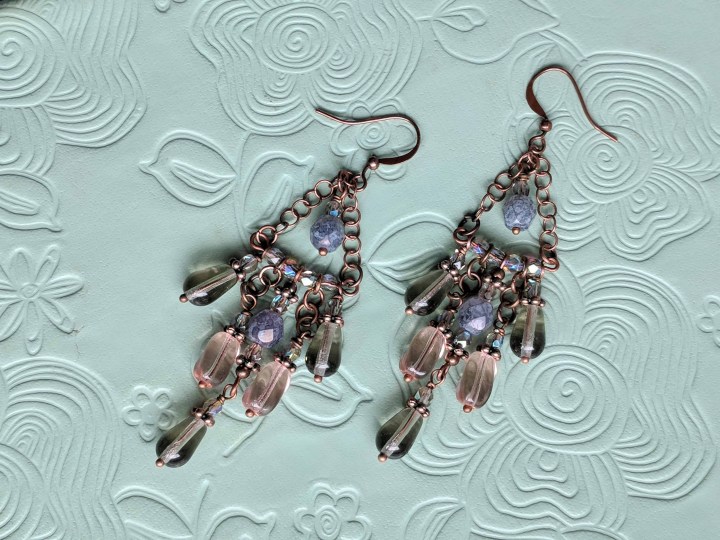 For this month's design, I made chandelier type earrings with copper findings. I love the look of copper with pink. But then, I realised I didn't use that much pink in this design!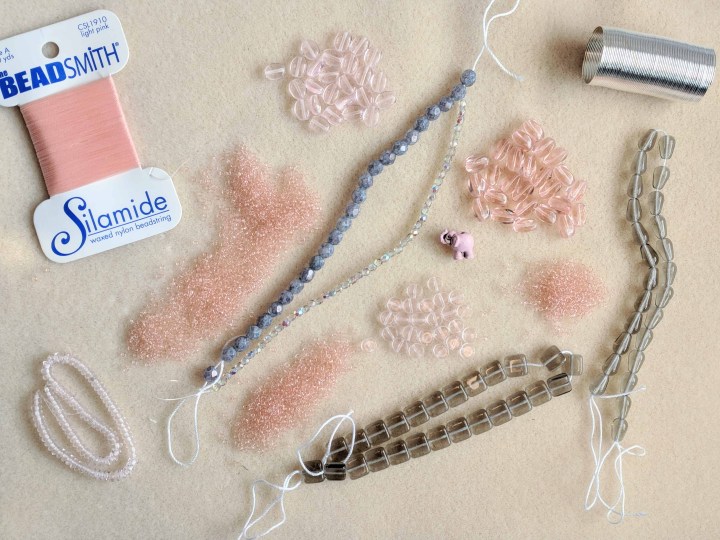 I really enjoyed my January's BeadCrate, even though there was a lot of pink and I'm not a fan of that color. The addition of the Black Diamond and the grey-purple beads were a nice complement to the pink and helped tone it down a bit and make it elegant and not cheesy! Overall, a nice mix of beads and the elephant is so so so very cute!
What do you think of this month's BeadCrate box?