Yogi Surprise is a yoga-inspired monthly subscription box designed to complement your way of living. Each monthly box contains 6-8 products picked by experienced yogis to complement your yoga practice and your life! It's like getting a care package every month!
DEAL: Get 25% off your first box! Use coupon code HELLO25.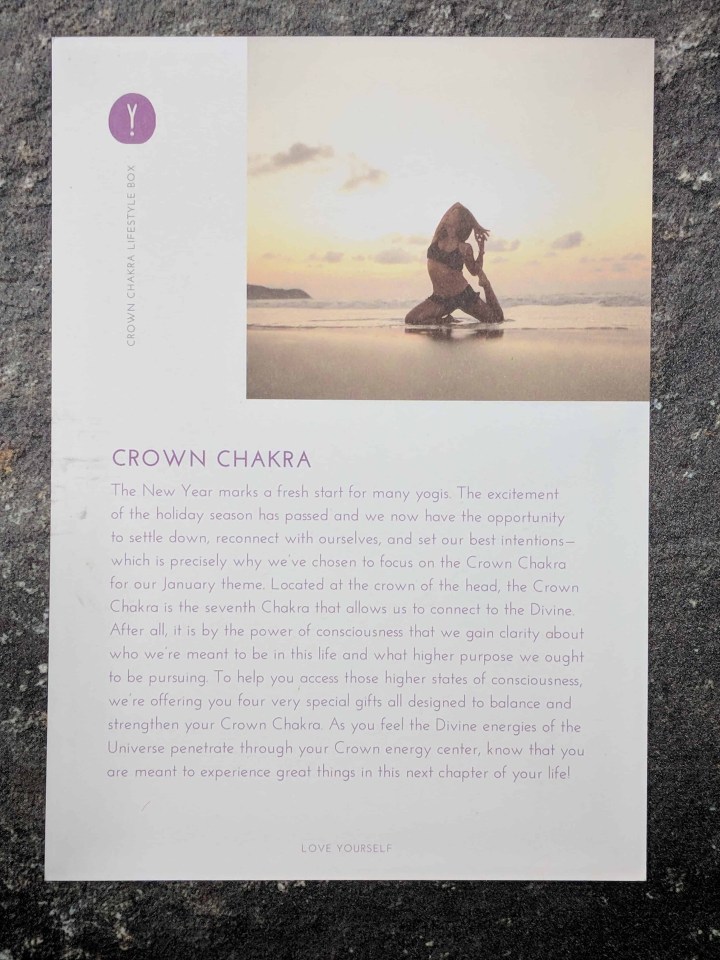 January's theme is Crown Chakra. this month, we are giving tools to have a nice fresh start and to connect to the Divine to help us gain clarity about who we are meant to be.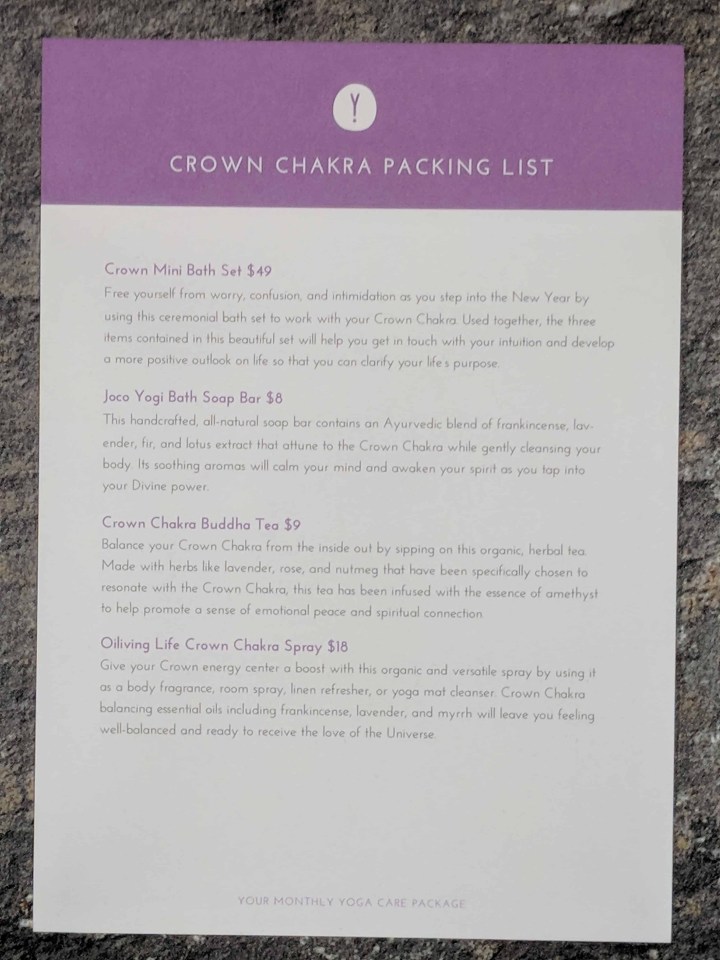 This month's packing list tells us that we getting four items. I was surprise as we usually get at least five items. But everything looks lovely.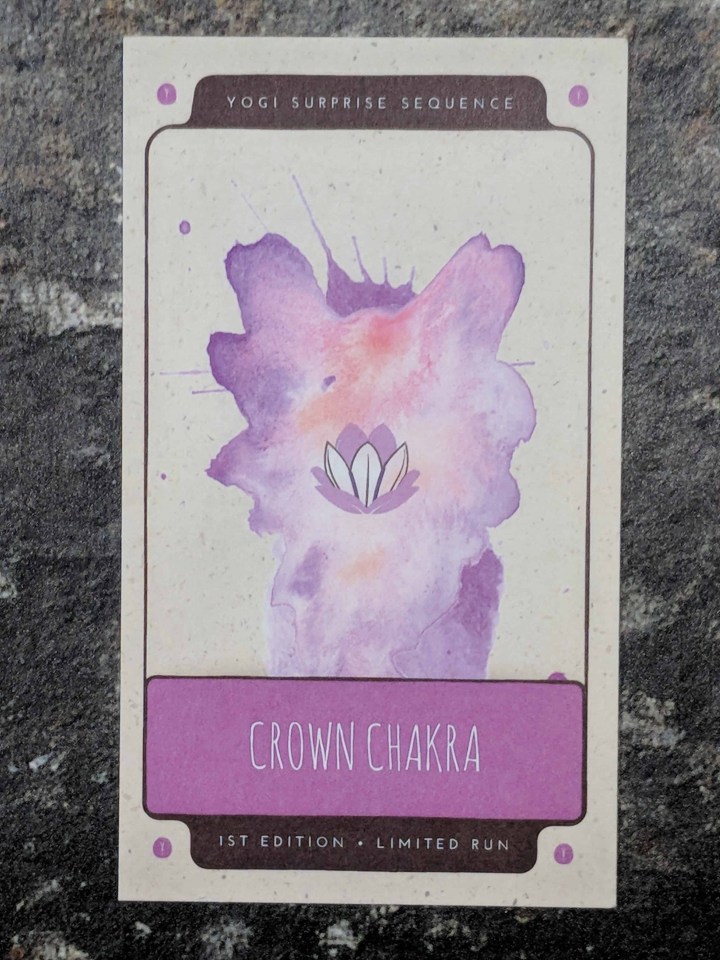 Yogi Surprise Yoga Sequence Series Card. Every month, you receive a little card with a sequence of poses to celebrate the month's theme.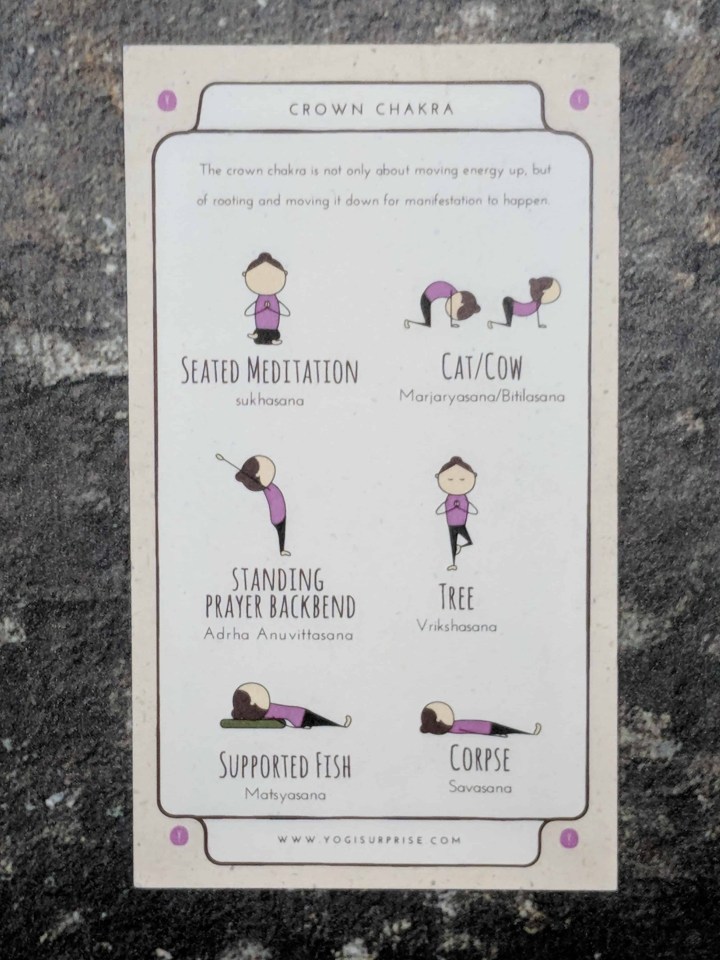 This month's asanas are all about lenghtening the spine and take time to meditate. Fun fact: you can download all the previous sequence cards on the yogi surprise website so you can have your own little inspiration book.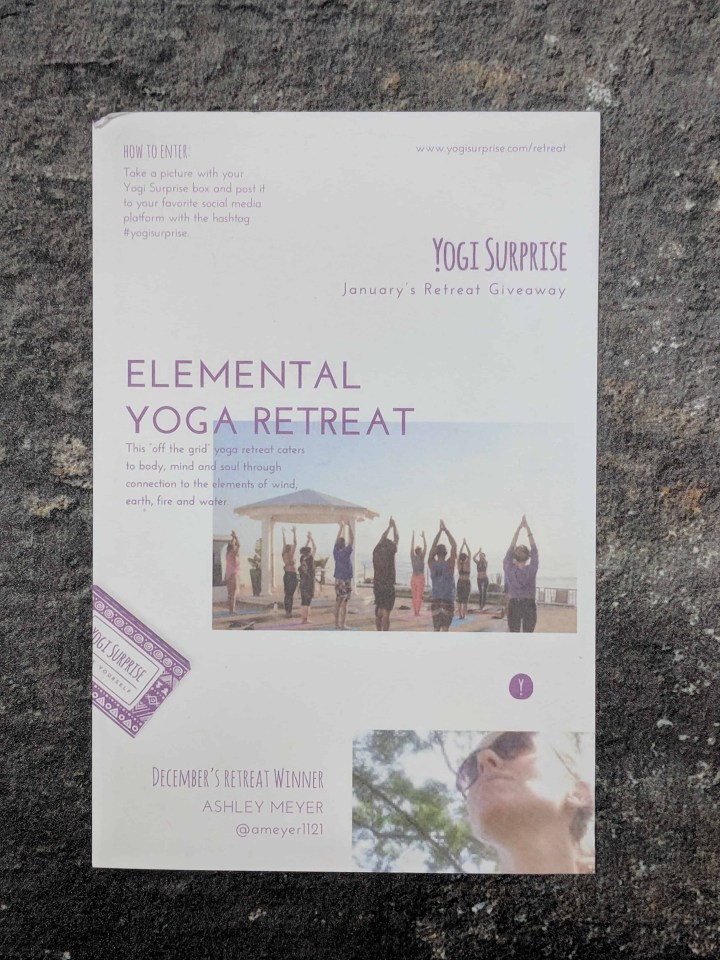 If you share your Yogi Surprise photo on social media, you are automatically entered to win a Yoga Retreat.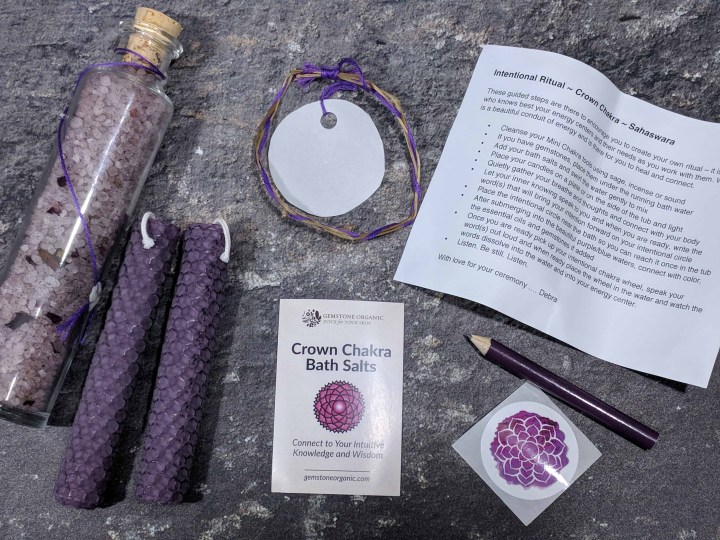 Crown Mini Bath Set ($49). This is a ceremonial Crown Chakra bath kit to help cleanse, heal, or open up your Crown Chakra, the center of consciousness, wisdom, and of the Sacred. The kit includes Dead Sea Salts Infused with Organic Rose & Organic Bilberry Powder & Organic Frankincense Essential Oil, two Purple Beeswax Candles, Sweetgrass Crown Chakra Wheel with Intentional Bath Circle, a Crown Chakra Mandala sticker, mini Colored Pencil and an Intentional Ritual Guide. The round paper inside the sweetgrass wheel is thin enough that you can draw a mandala on it by layering it on top of the sticker, if you want to keep the sticker for some other use. You can also enhance your experience by adding gemstones that resonates with the Crown Chakra, such as amethyst (a lovely crown chakra amethyst necklace and bracelet set is part of this month's Yogi Surprise Jewelry box).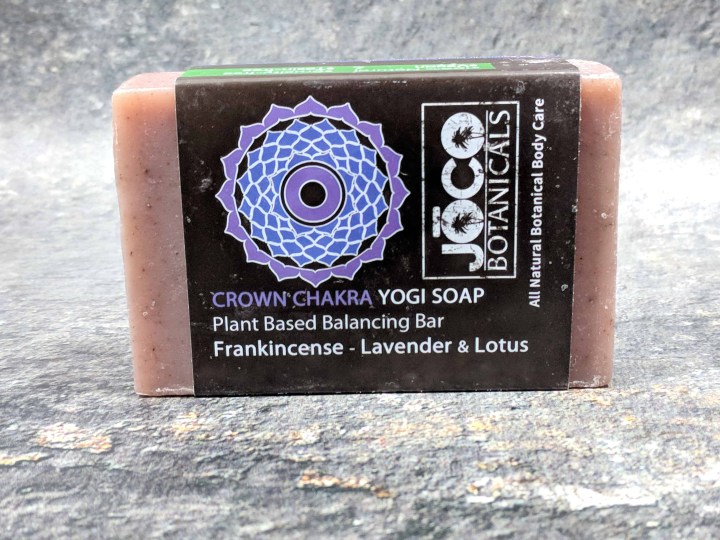 Joco Yogi Bath Soap Bar ($8). This soap is made with soothing Kukui and Buriti Nut Oil, which leaves the skin so soft. I've tried a Yogi Soap in a previous YogiSurprise Box (May 2017 – Sacral Chakra) and I loved it so much! This one has frankincense with hints of Lavender and Lotus scent, and also has kaolin white clay.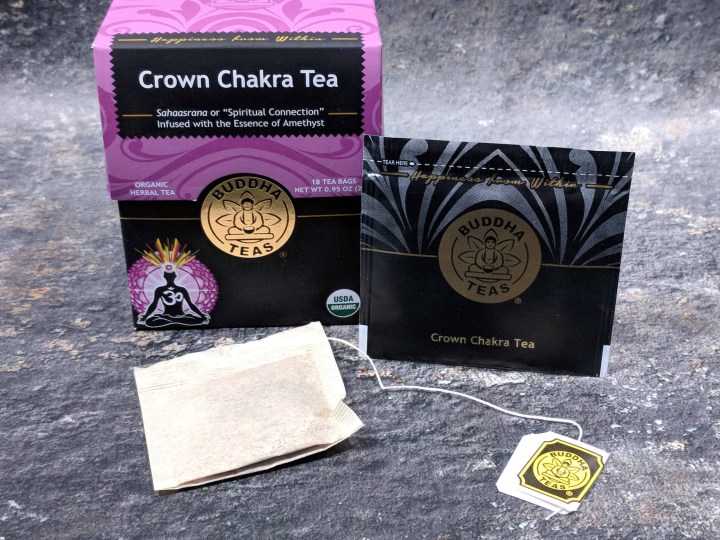 Crown Chakra Buddha Tea. This is my first time trying Buddha Teas, and I'm enjoying it very much! I'm not a fan of lavender (this box is full of lavender…), but the tea has a nice spicyness from the nutmeg, and it's smoothen up with the rose. It will go nicely with the Crown Chakra bath kit! The only thing I'm kinda weirded out by is the claim that this tea is infused with essence of amethyst. I don't even know.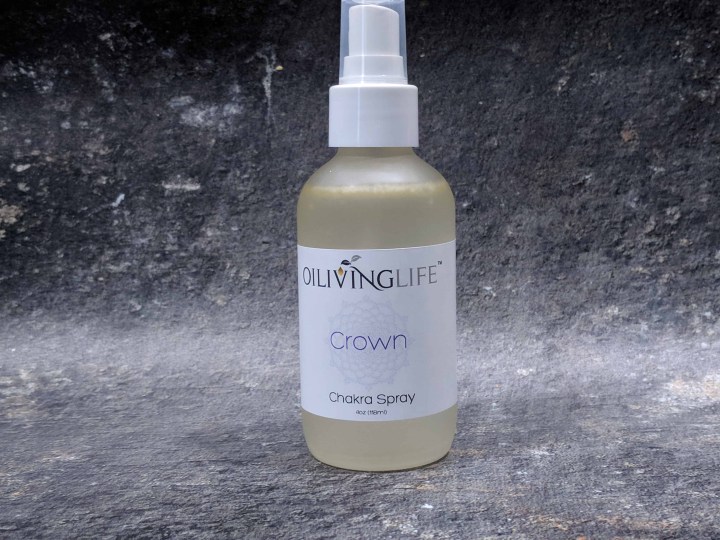 Oiliving Life Crown Chakra Spray. This smells very good. It's made with frankincense, lavender and myrrh.
You can use it as a body, room, linen or yoga mat spray.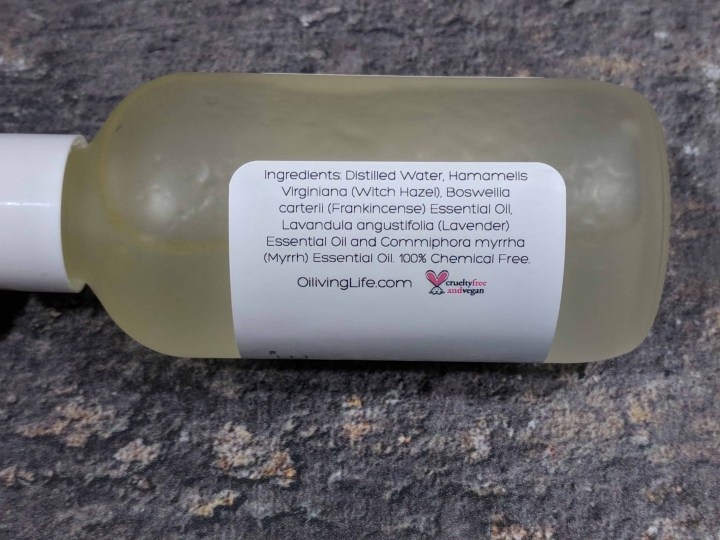 On top of the nice fragrances, there's also witch hazel and water.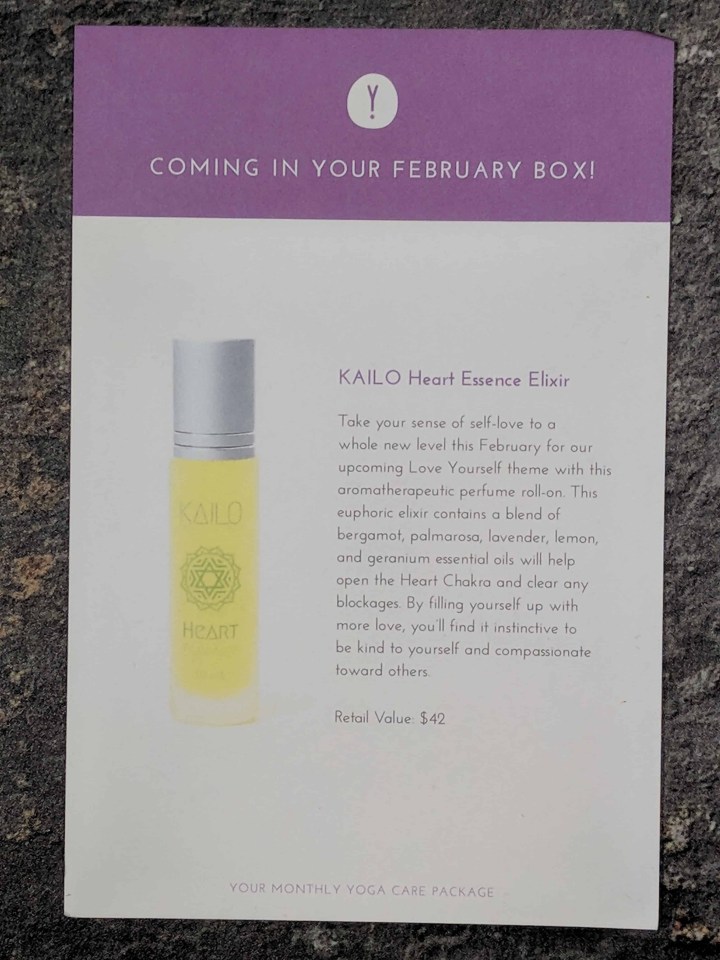 Included in the box, a spoiler for February's Yogi Surprise Lifestyle box: Kailo Heart Essence Elixir for the Love Yourself theme.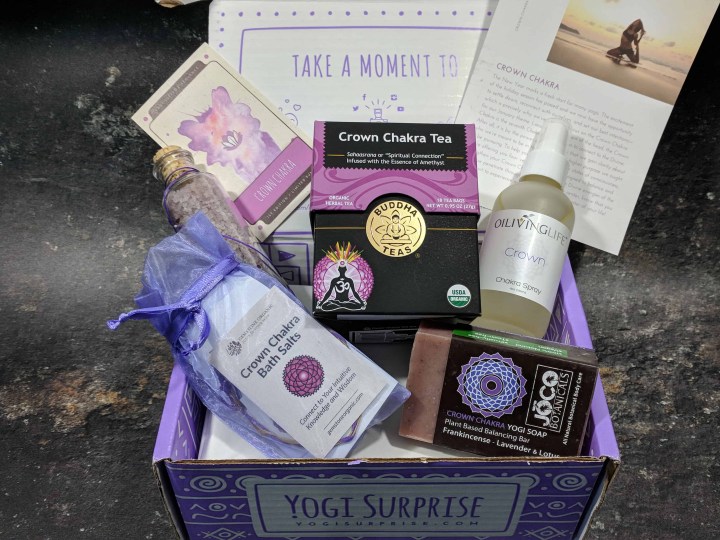 Even though there was a lot of lavender scented items in the January's Yogi Surprise Box, I really enjoyed it all. The lavender was well balanced with other fragrance such as frankincense, and everything was cohesive and perfect to focus our energy on our Crown Chakra. For some reason, I kept on expecting a fifth item, even though this box pacted a lot of value. Hopefully in the future, we will go through different chakra through themed boxes, it's so much fun!
Are you a Yogi Surprise subscriber? What did you think of the box?