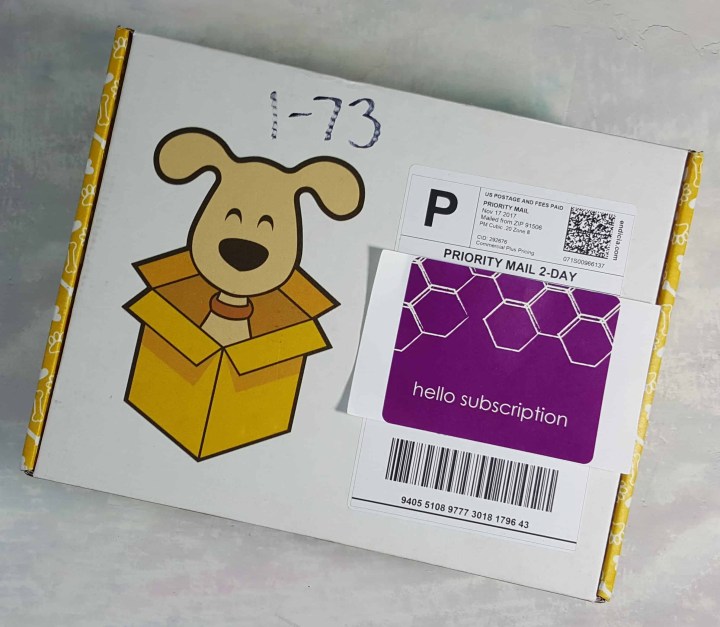 Wigglebutt Box is a subscription box of "yummy and fun surprises for you and your dog that are delivered right to your door every month." Each box contains a seasonal kerchief, a roll of poop bags, and a combination of 3-5 toys/treats/accessories. Boxes are tailored to your pet's size and toy treatment. Pet parents are not forgotten either; there's a gift included for you too! Plans start at $35/month, but you can increase your savings by choosing a longer subscription option (3-month, 6-month, and annual plans available). Plus, a portion of the proceeds from every box sold will go towards an animal charity.
I got the small dog/average play Wigglebutt box for my fur babies, Lily and Lexi.
Seems like April and Mia are ready to kick off the holiday season. What are you grateful for this year?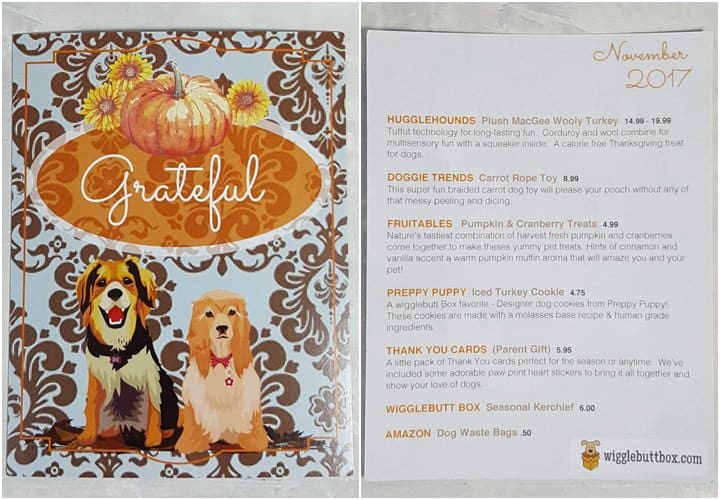 The information card has a list of box contents along with a brief description and prices. Unless noted otherwise, the prices below are the same as on the card.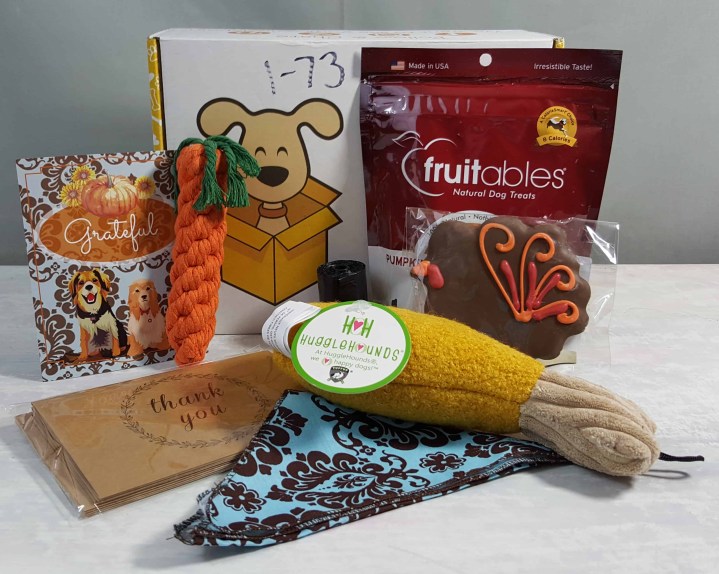 Thankful for our November Wigglebutt Box. I am so excited to put that scarf on one of my girls. Let's see who interrupts the unboxing. LOL!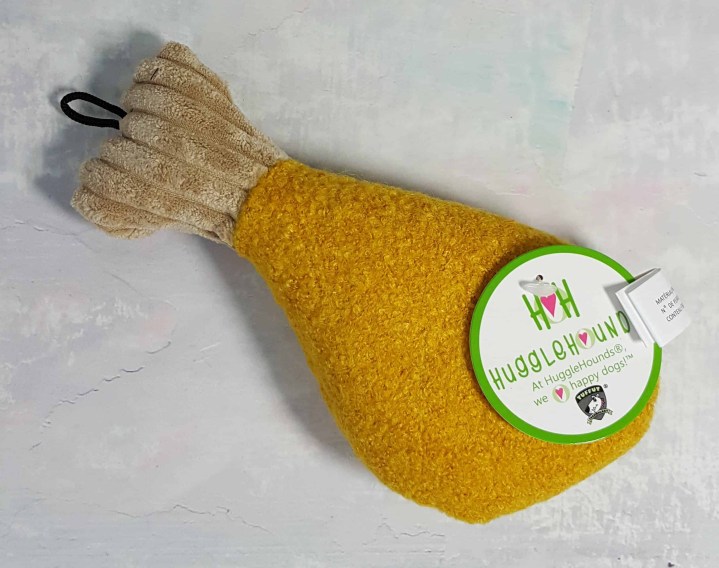 Huggle Hound | MacGee Wooly Turkey Leg ($14.99 – $19.99): I am assuming that there is a price range for this depending on whether you got a turkey leg or the whole turkey plush??? I think the larger toy (and price) goes to larger dogs. Please let me know if that is the case or not. Anyway, this toy is made with Tuffut Technology to make it more durable for aggressive players. It is about 7″ long and features one squeaker. It's a cute way to get your fur babies in on the Thanksgiving festivities.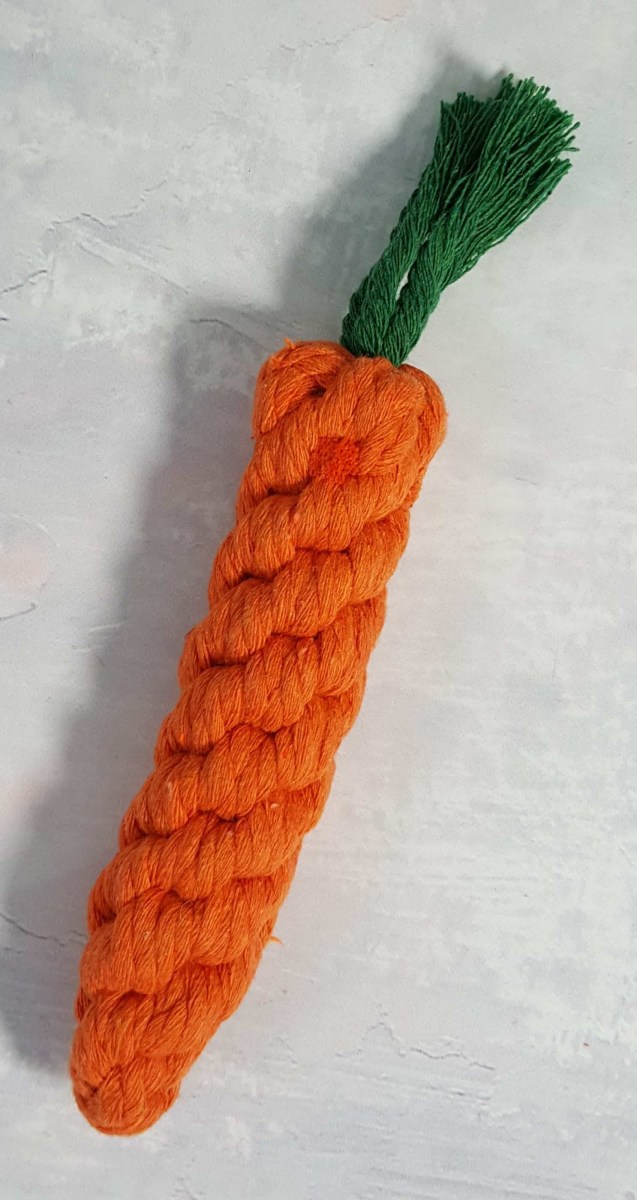 Doggie Trends | Carrot Rope Toy ($8.99): I couldn't find this exact brand anywhere I looked, but I've linked to a similar piece that is $5 less (and it's not even Black Friday). Easily machine washable with no worries of squeakers filled with water. The braided design is good for light to moderate chewers and helps keep teeth/gums healthy. I've learned that Lily and Lexi like carrots in all forms – food and toy!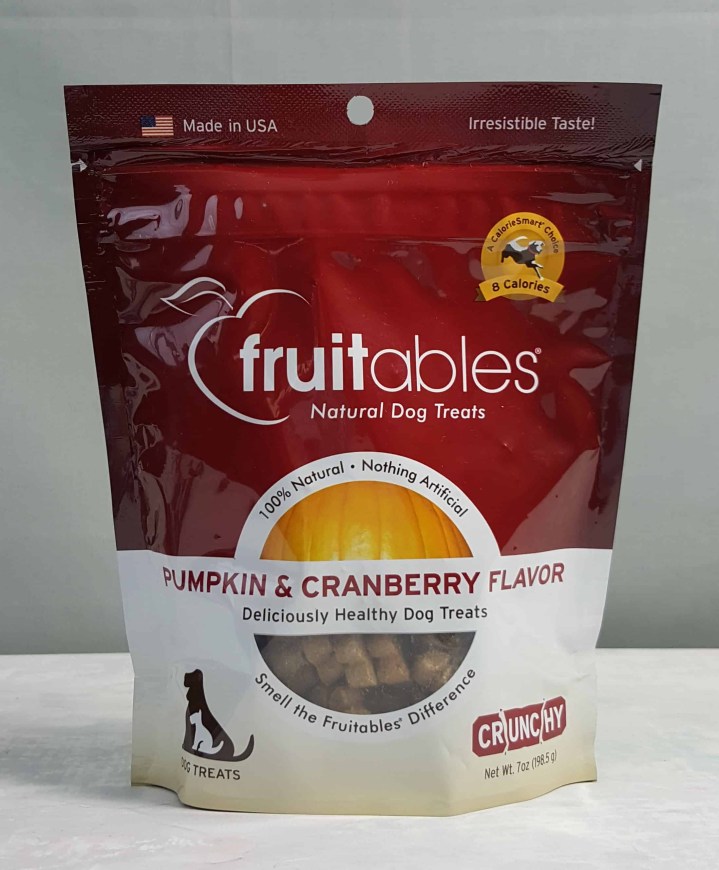 Fruitables | Pumpkin & Cranberry ($4.99): A few months back, we got the pumpkin and banana treats which we tried and gifted. The girls did OK with them – didn't get gobbled up immediately, but they did eventually get eaten. I'm not sure how they will do with the cranberry. Fruitables are hit-and-miss for us, depending on flavor. Pumpkin is the first ingredient in these all natural treats. They also contain oats, barley, potatoes, and cranberries. The cinnamon and vanilla smell amazing! If you're worried about your pup's weight, each of these treats under 9 calories.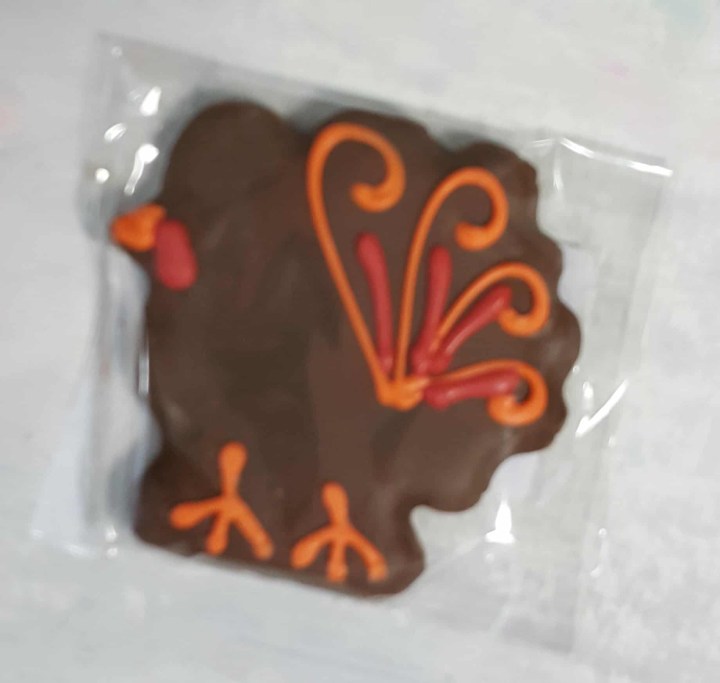 Preppy Puppy | Iced Turkey Cookie ($4.75):  Unfortunately, Preppy Puppy is a wholesaler so I wasn't able to verify the price per cookie. Lily made a complete liar out of me with this treat. Normally, she and Lexi don't like cookies or biscuits and turn their noses up at them. However, Lily actually ate a fair amount of this cookie. Granted, she started by eating all of the icing off and then eating the actual cookie. BTW, sorry for the blurry picture.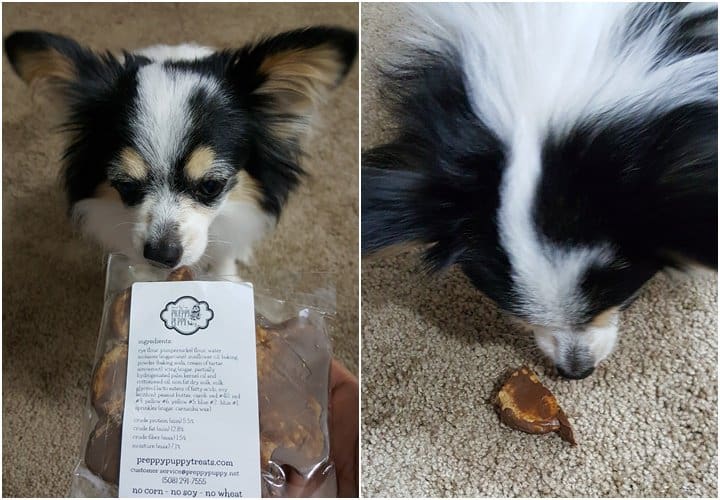 Here's Lily checking out the cookie while I'm opening the package. And, then a shot of her cookie piece with half the icing licked off.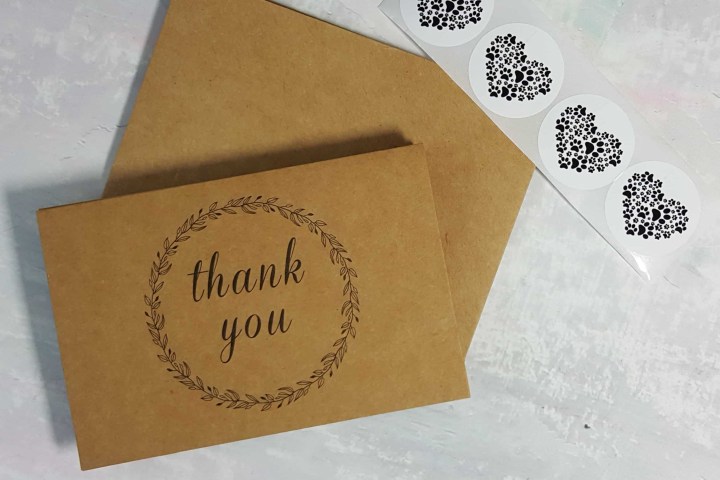 **Parent Gift ** Thank You Cards (A4 size) ($5.95):  As you're preparing to give thanks this season, use these cards and take a few minutes to send a "thank you" to someone who made an impact on you this year. The cards measure 4″x6″ and come with coordinating envelopes and paw heart seal. I did find similar cards in bulk online. Using those, these cards are twice as expensive. Ouch! The others don't feature the seal, so maybe that's why there's a difference in price?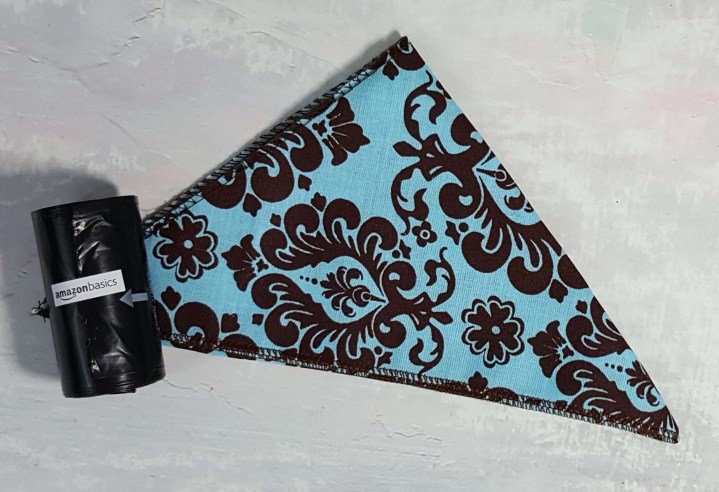 Seasonal Kerchief | Wigglebutt Box ($6.00):  I am a huge fan of the aqua/brown combo! That color scheme plus this ornate pineapple design make for a chic pet accessory.
Dog Waste Bags | Amazon ($0.50):  The ever-present and useful/needed roll of waste bags. I'm always grateful to have these when on a walk with the girls. They have no shame, and mommy has to make sure that our walking paths are just as clean as before we entered.  ???
Since Lily barged in on the unboxing, she gets to model the scarf. I don't think she's quite mastered her version of Blue Steel.
Using the prices on the information card, November's Wigglebutt Box had a value just over $48. However, if you factor in the price differences for the items I found online, this value drops to $41. I thought the items in this month's box were appropriate for the Thanksgiving season and was happy that we found a cookie the girls would eat. The 'thank you' cards will be used after Christmas gifts are opened. I'd still like to see a larger difference between the box value and subscription cost. Maybe that will be my gift with Demember's box. Fingers crossed!
What did you think of this month's Wigglebutt Box? Leave a comment below and let me know.