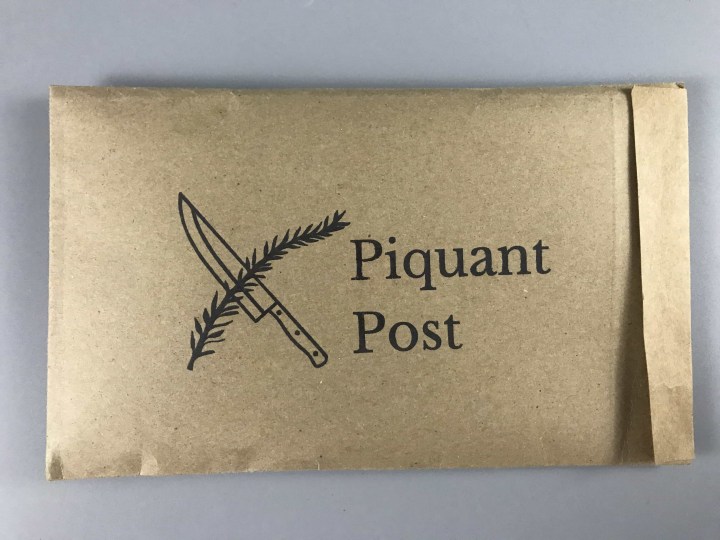 Piquant Post is a monthly subscription box that delivers freshly ground, small batch spice blends with delicious recipes from a new region.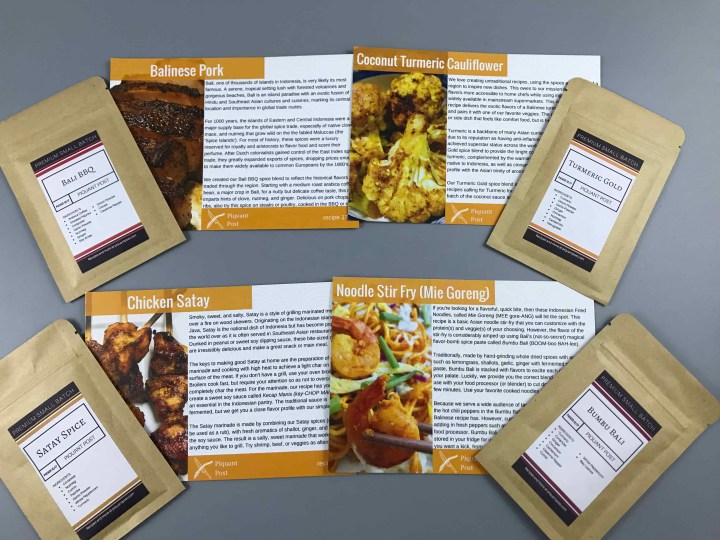 DEALS: Get 15% off your first order, including 6-month and 12-month prepay subscriptions! Use coupon code HELLO15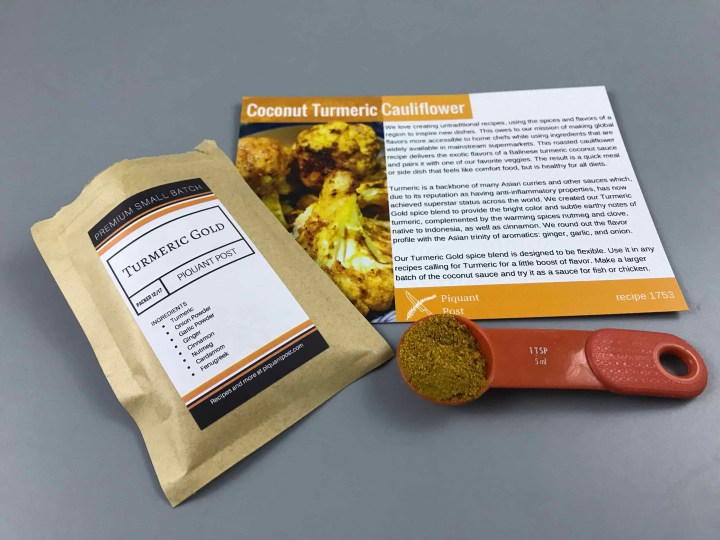 Coconut Tumeric Cauliflower featuring Tumeric Gold. Tumeric is not my favorite but I am trying to add it to my diet for the wonderful health benefits. Cauliflower on the other hand is my favorite go to vegetable, therefore, I will be trying this recipe. Roasted, full of flavor and a super simple recipe… sign me up!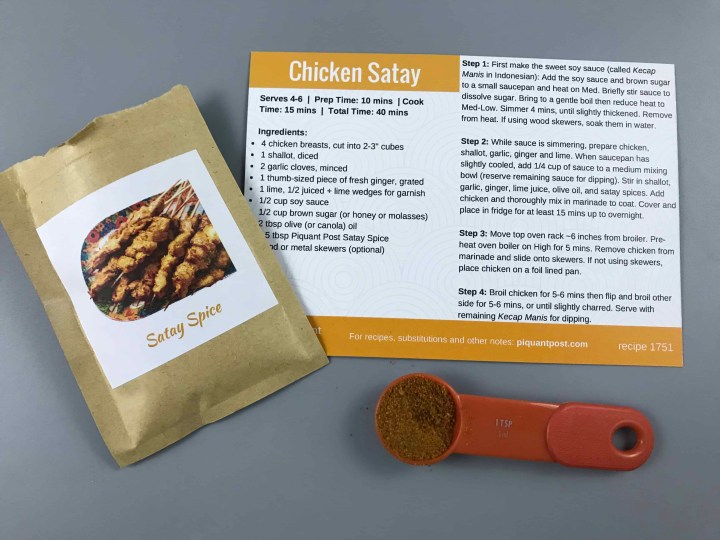 Satay Spice. This smells wonderful and it was the recipe that made me want to run to the kitchen and start cooking. Sadly I didn't have any skewers, but check out the results below…
My marinated chicken thighs ( that's what I had on hand). Throw the chicken in a bowl with ingredients and let sit while you enjoy a glass of wine after changing the laundry. I guess one could do this the night before but I am a lazy kind of gal.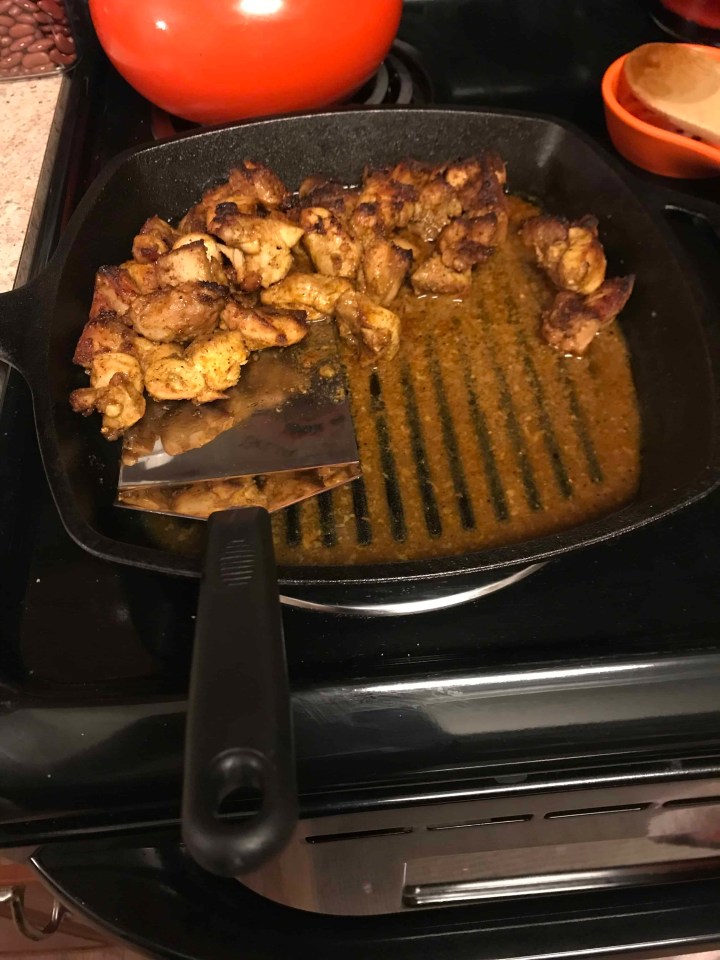 Used my trusty cast iron pan to broil my chicken satay… worked like a charm but I did have to broil it a little longer because I have major fears of under cooked meat.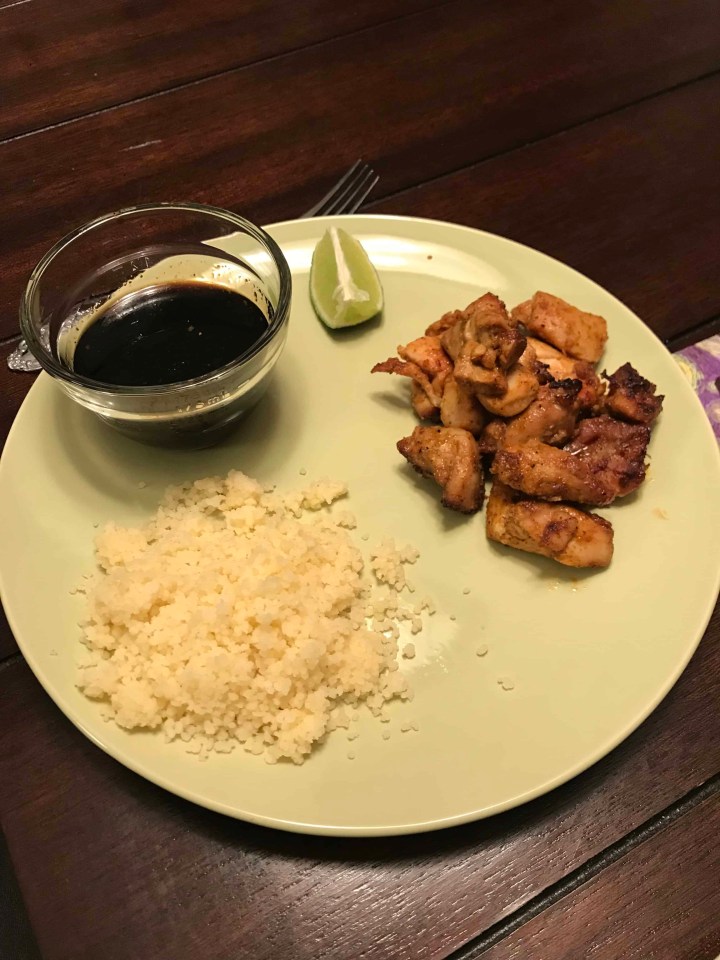 Finished product! Reserved marinade for dipping (I could drink this just for a good taste), couscous and a lime to make it beautiful. This is how my family eat theirs, I had mine with steamed zucchini and it was still delicious. I will be making this again because it was easy and a hit with my picky eaters. Thank you for adding another recipe to my repertoire.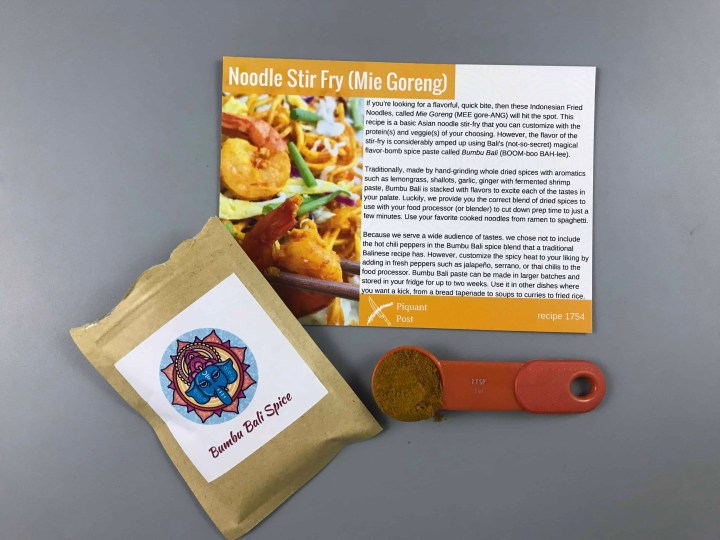 Noodle Stir Fry featuring Bumbu Bali Spice. You can smell the spice coming from the bag, in my book that's a great thing. My daughter and I will have to wait until a husband/daddy free night to try this, we are fans of shrimp and vegetables, him not so much. I love that these recipes make it so easy to change them to fit my needs and the needs of my family.
Balinese Pork using Bali BBQ. Pork the one meat I cannot stomach, for whatever reason it doesn't make my taste buds jump for joy. I'm also not a fan of the smokey scent and what I assume is a smokey flavor. My husband on the other hand is drooling over the kitchen table in anticipation of this landing on his plate.
Piquant Post brings amazing recipes and small batch spice packets to my door, it's amazing. The recipes are all about 4 steps to make and they are super easy to follow. Like I mentioned before it's great that the recipes are easy to adapt to my needs, you might even be able to make them vegetarian by adding tofu. I can't wait to see what I can make next month and I can't wait to make new treats for my family.
What do you think of this month's spices?