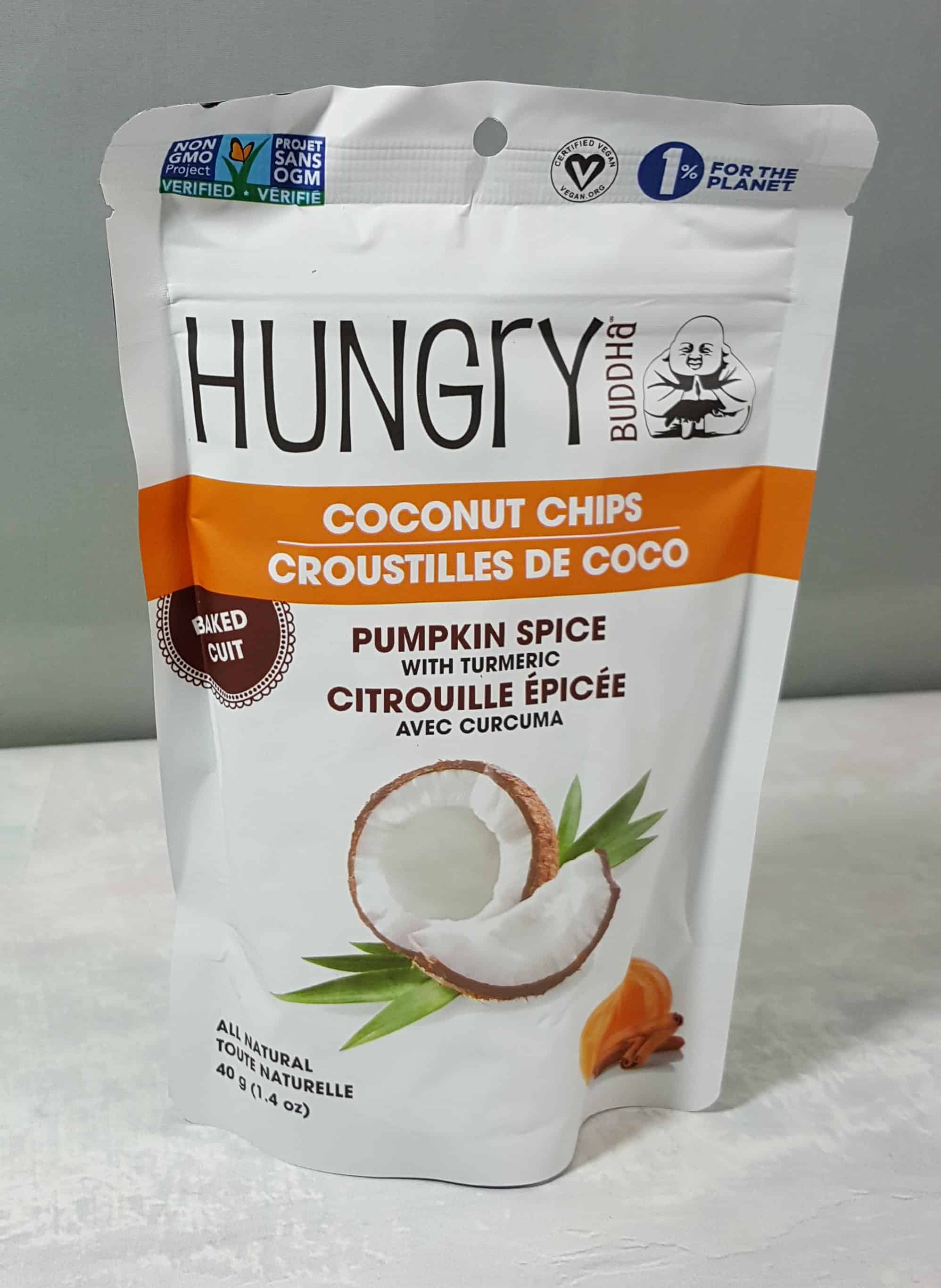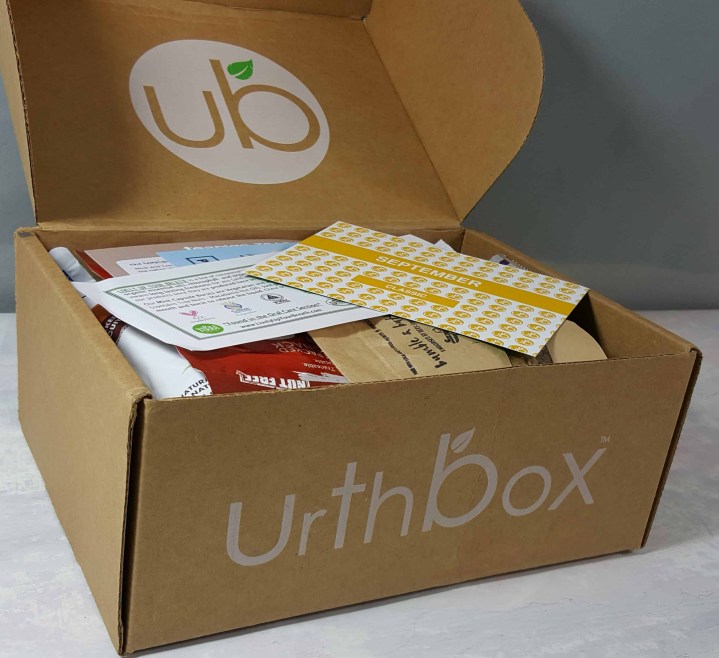 UrthBox is a healthy food subscription box. In this monthly box you get snacks, beverages, and other goodies with a focus on Non-GMO, Organic and All Natural items. Choose between classic, diet, vegan, and gluten-free, as well as between four sizes of box.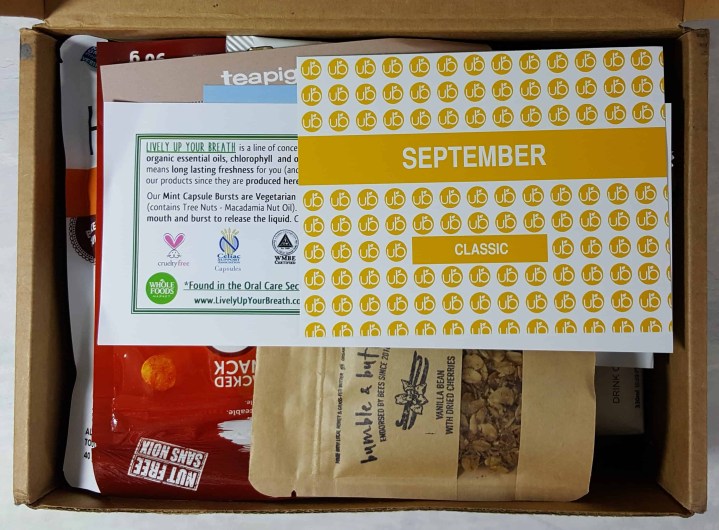 This is a review of the (12+ snacks) classic UrthBox.
DEAL: Get a FREE bonus box with your first box – just use this link!

Instead of a product information summary, the card insert provides details on how to earn a free bonus box. Use your social media accounts to earn big discounts.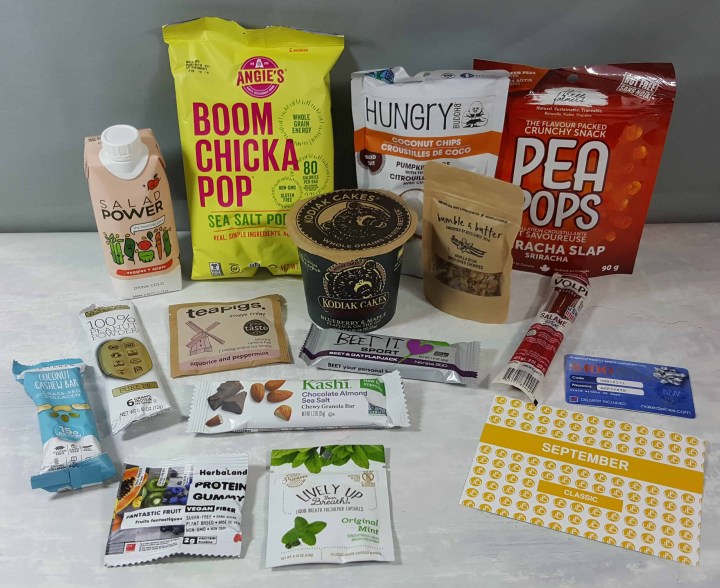 Here's my September UrthBox. I can't wait to get into the breakfast items I see.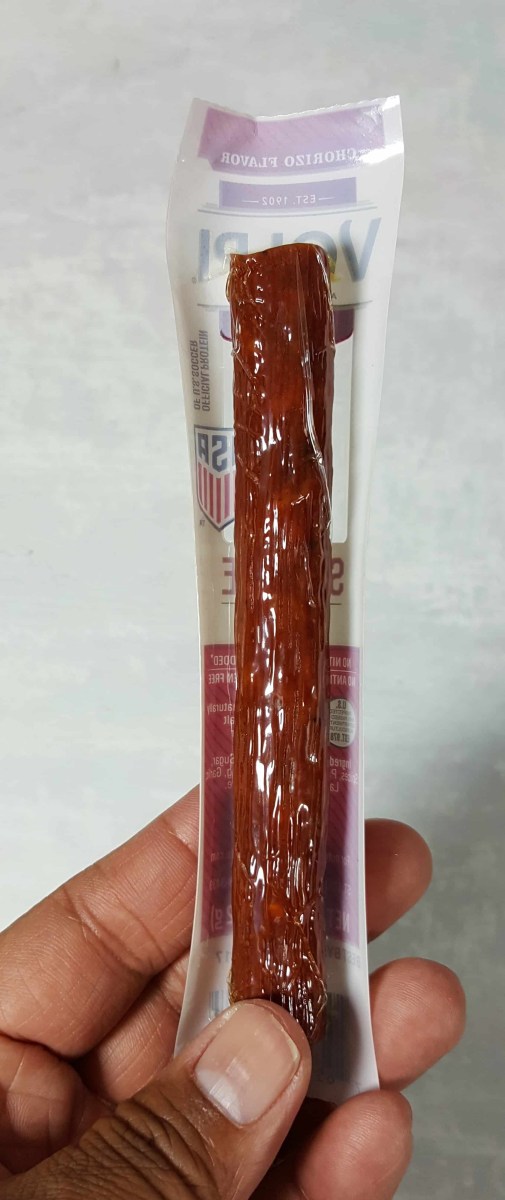 Volpi Snacks | Salame Stix – Chorizo ($1.73): I am a huge fan of meat sticks and cured sausages, so this was the item I immediately decided to gobble up. The chorizo flavor was very good, with a nice kick of spice on the finish. The salame had meaty texture – not too mush or too dry.
Kodiak Cakes | Flapjack on the Go – Blueberry & Maple ($1.67): Where have these little containers been? Seriously, I wasted a lot of time on instant oatmeal and I could have been eating my pancakes on the go! The mix has beads of maple syrup mixed in so no need for additional syrup (plus, between the beads and blueberries you don't need extra sweetness). Mine came out a little under cooked, but an additional 15 seconds in the microwave and it was perfect. For additional protein, swap out the water for milk when mixing your batter.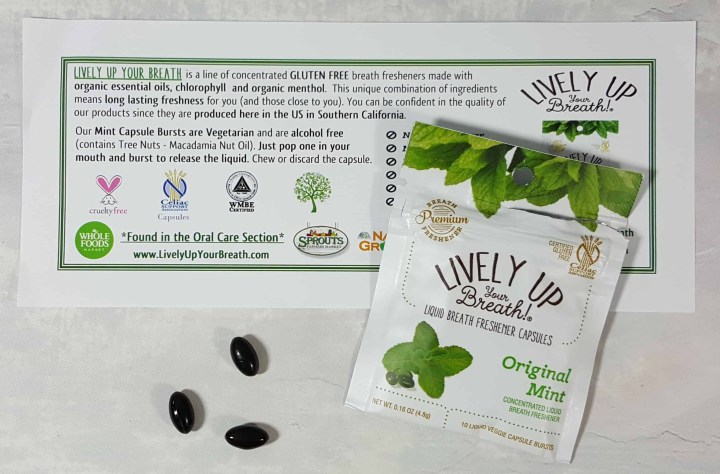 Lively Up Your Breath! – Original Mint ($2.99): I wasn't quite sure what to expect from these, and they really surprised me. The mint definitely packs a punch; one capsule is effective and 2 will open up your sinuses! Burst the capsule and then chew or swallow the capsule. These contain chlorophyll, spirulina, and macadamia nut oil for long lasting freshness. They are also vegetarian and gluten free.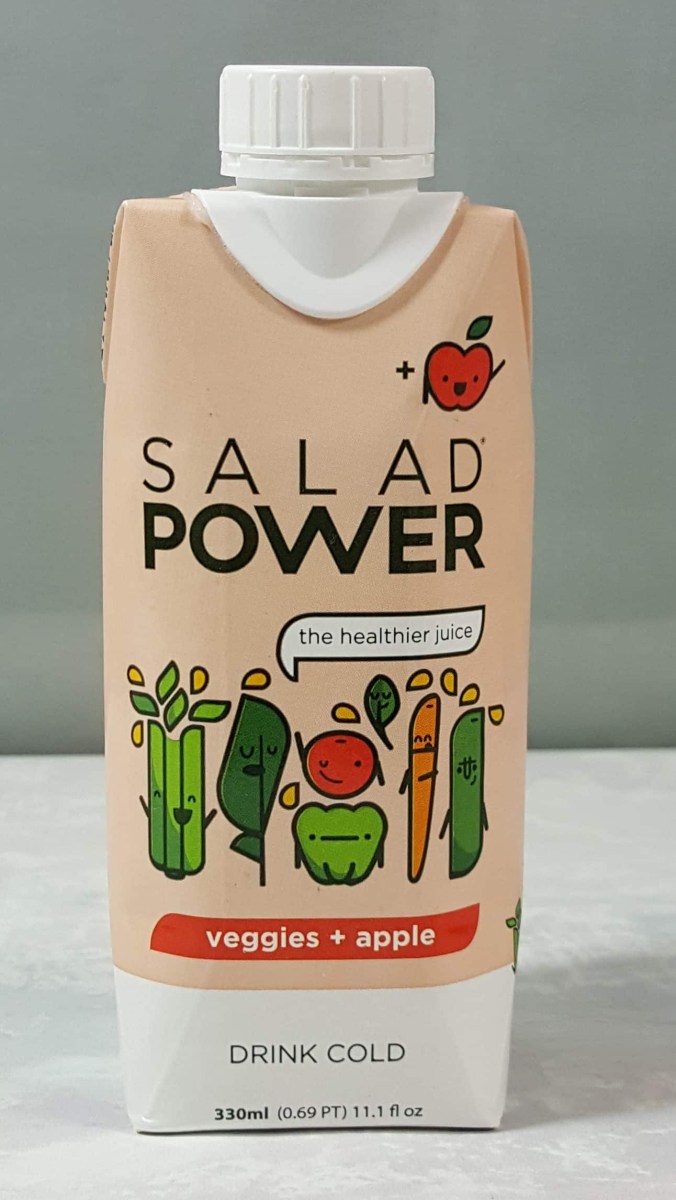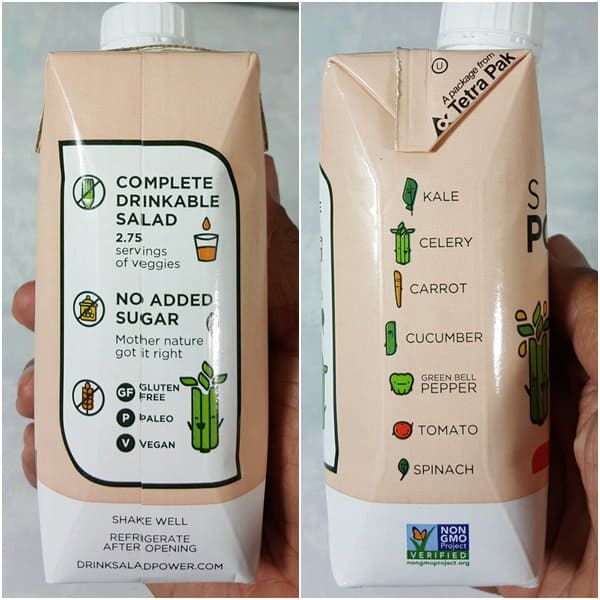 Salad Power | Veggies + Apple ($6.25): Nearly 3 serving of veggies in one convenient package. Salad Power is non-GMO, paleo, vegan, and gluten free. Initially, I was hesitant to try this product. I think it is the marketing, honestly. If it had said that it was a vegetable drink (a la V8), I'd have been fine. However, something about a salad smoothie turned me off. Anyway, this is what you'd expect with a hint of apple in the background. However, for the price I'll stick with my other options.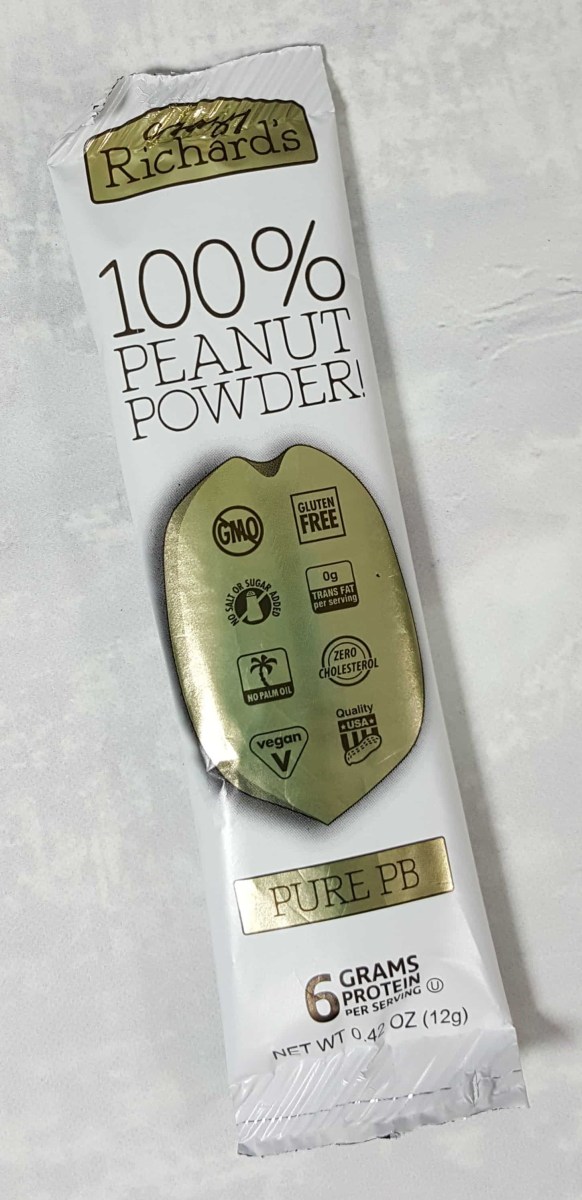 Crazy Ricard's | 100% Peanut Powder – Pure PB ($1.25): Not sure what to say about this other than it's peanut powder. Add to smoothies for extra protein, or use in your favorite baking or cooking recipes (peanut sauce, anyone?).
Beet It | Sport Bar – Beet & Oat Flapjack ($2.00): Made with high-nitrate beetroot concentrate and a 50% oat content, these bars are designed to provide a slow energy release while boosting endurance and managing blood pressure. I like beets, so this wasn't something that was too extreme for me to try. It was just sweet enough; however, it still had that typical gritty sports bar taste/texture.
Bumble & Butter Granola – Vanilla Bean with Dried Cherries ($3.20): Normally, I'd mix a loose granola like this into a cup of yogurt or add it as a topping to my ice cream. However, I ate this straight out of the bag! It's baked with ground vanilla beans and has a base of honey and butter. That combination drew me in immediately, but I liked the dried cherries that were like little bursts of tartness. Very yummy.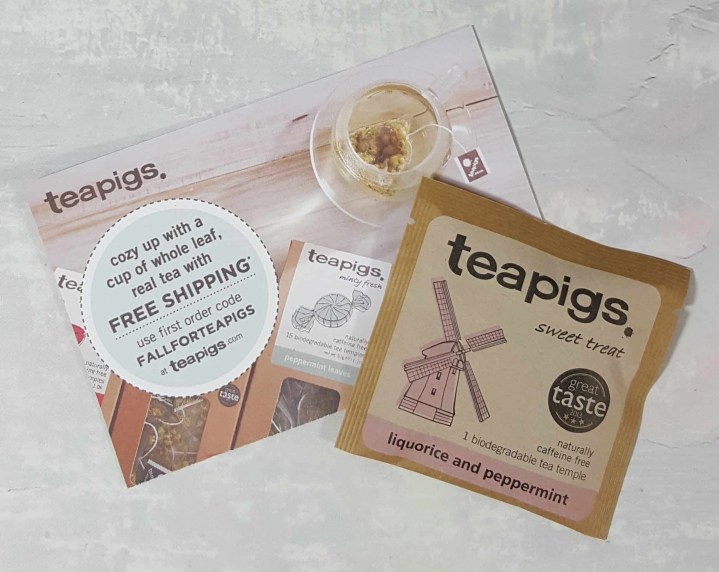 teapigs -Liquorice and Peppermint Tea Temple ($1.25): I've gotten teapigs tea a few times with this subscription (back when it was Bestowed Box) and I enjoy it every time. The tea temple allows for all of the flavor to steep into your cup of water so you get a solid cuppa. I'm not a fan of liquorice, but I do enjoy this tea after dinner.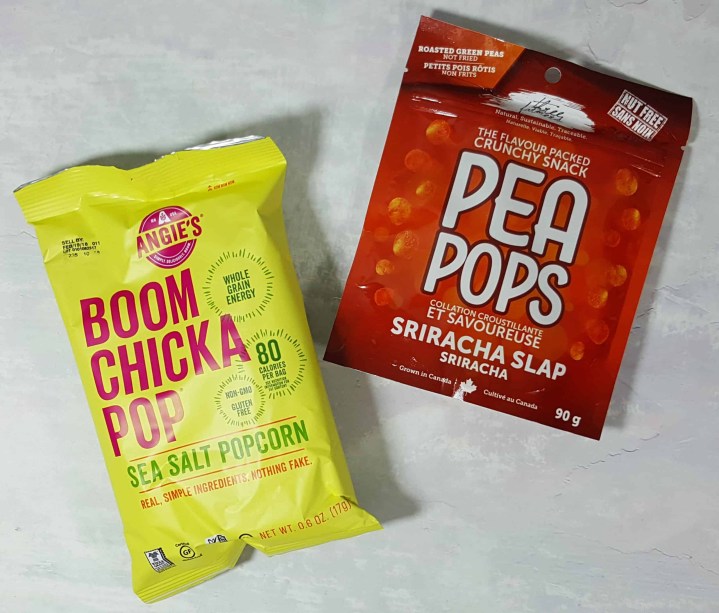 Angie's Boom Chicka Pop – Sea Salt Popcorn ($1.17): This is always a favorite for me (well, popcorn in general is to be honest). Anyway, I like the light texture of this popcorn and it has a decent amount of salt. It makes me happy because I know it's better than my regular stove top version of popcorn.
Pea Pops – Sriracha Slap ($4.00): I did not get to try these since they were taken by a family member. I was told that the flavor was nice and spicy, but not "slay you silly spicy" and that these had a nice crunch. Since they are made from roasted peas, Pea Pops also high in fiber and a good source of potassium, iron, and phosphorus.
Herbaland | Vegan Protein Gummies – Fantastic Fruit ($0.70): As I expected from a gummy that is high in protein, these were slightly gritty. However, they had great fruit taste and a good gummy texture. Honestly, I was surprised that I liked these considering the flavor profiles for the fruits – banana, papaya paradise, kiwi and friends, and wildberry. BTW, what fruits are considered friends of kiwi???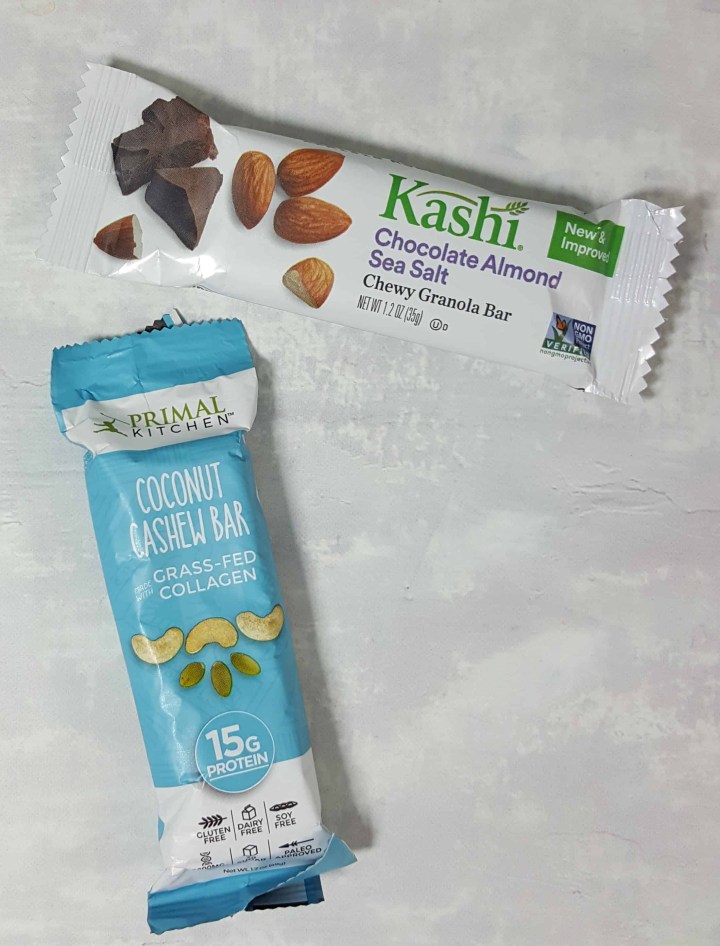 Kashi | Chewy Granola Bar – Chocolate Almond Sea Salt ($0.83): These Kashi bars are a staple in my house, so I was happy to see one in my box. I like how the sea salt off sets some of the sweetness of the chocolate, and almonds are just yummy! I usually have these as part of my lunch or as a late afternoon snack.
Primal Kitchen | Collagen Nut and Seed Bars – Coconut Cashew ($2.99): I've gotten this bar in this subscription before. I love cashews and pumpkin seeds but am not a big fan of coconut. However, the coconut doesn't come through very strongly in this, making it enjoyable for me. The bar has a chewy texture and is a cross between a granola bar and a protein/sports bar. It also contains 15g of protein and 7800mg of collagen!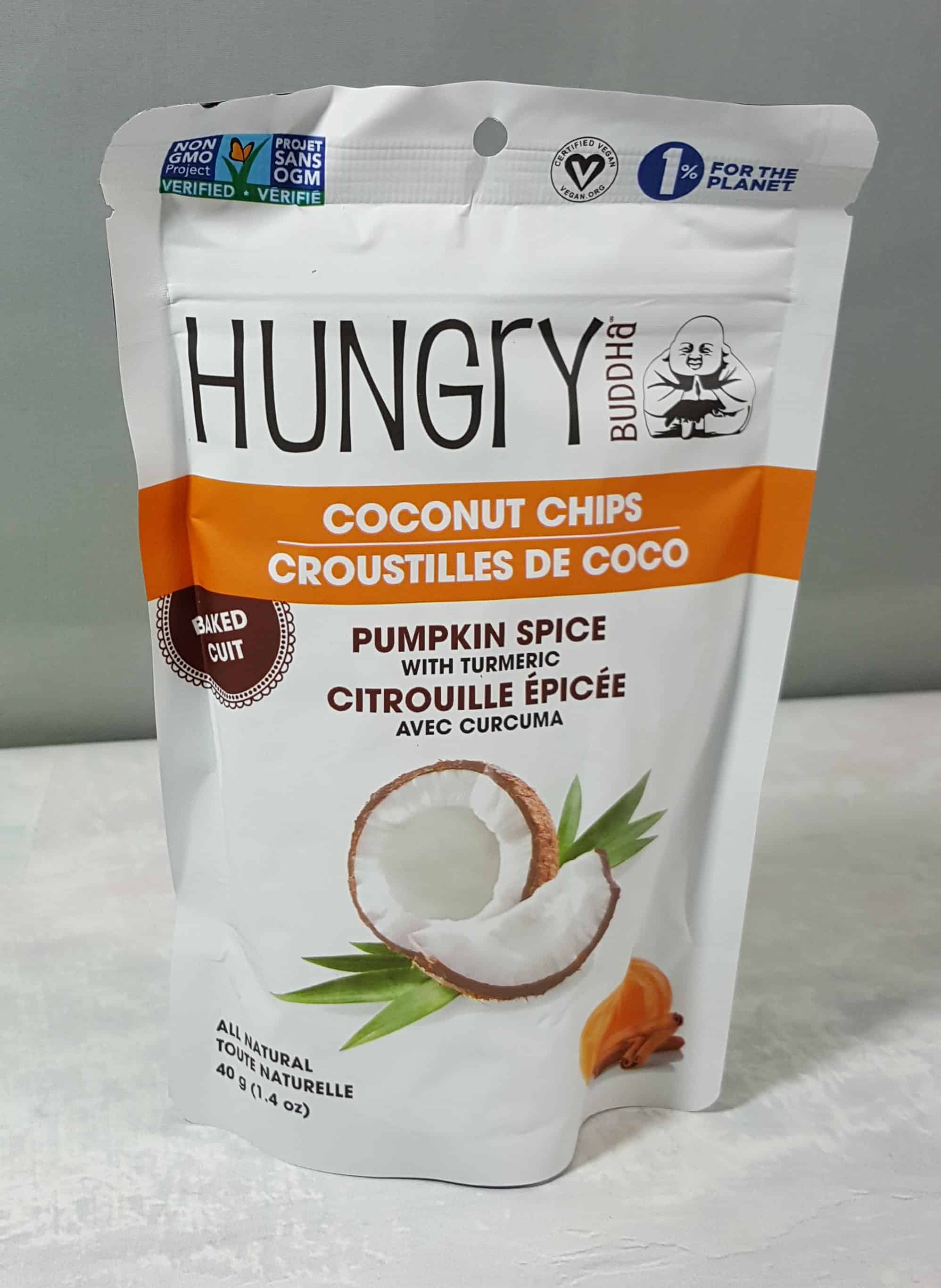 Hungry Buddha | Coconut Chips – Pumpkin Spice ($2.08): In case you missed my previous item reviews, I am not a fan of coconut so these will be passed to a friend. These chips are baked with pumpkin powder, turmeric, sugar, and cinnamon to add a little fall spice to your treat. Apart from the coconut, these sound amazing.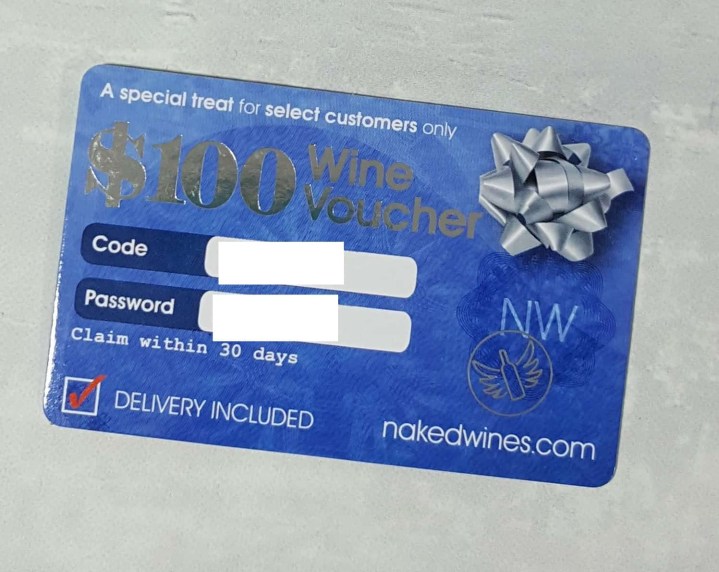 Nakedwines.com $100 Voucher: There was also a voucher for NakedWines.com that is good for $100 off a purchase of $160 or more.
September's UrthBox contained $32 of product, excluding the wine voucher. I feel the box had a good assortment of healthy snack options, but I would like to see the overall box value be a bit higher. Currently, it is only a few dollars more than the cost of the box. Sorry, I am always looking to get more bang for my buck. Regardless of my preferences, if you are looking for items that are healthier or safe for those with food-related conditions, I feel that UrthBox is a good way to get exposure to brands and products.  The subscription also shows that healthy foods don't have to be boring or bland.
What did you think of this month's box? Any favorite items? Let me know with a comment below, and happy snacking.