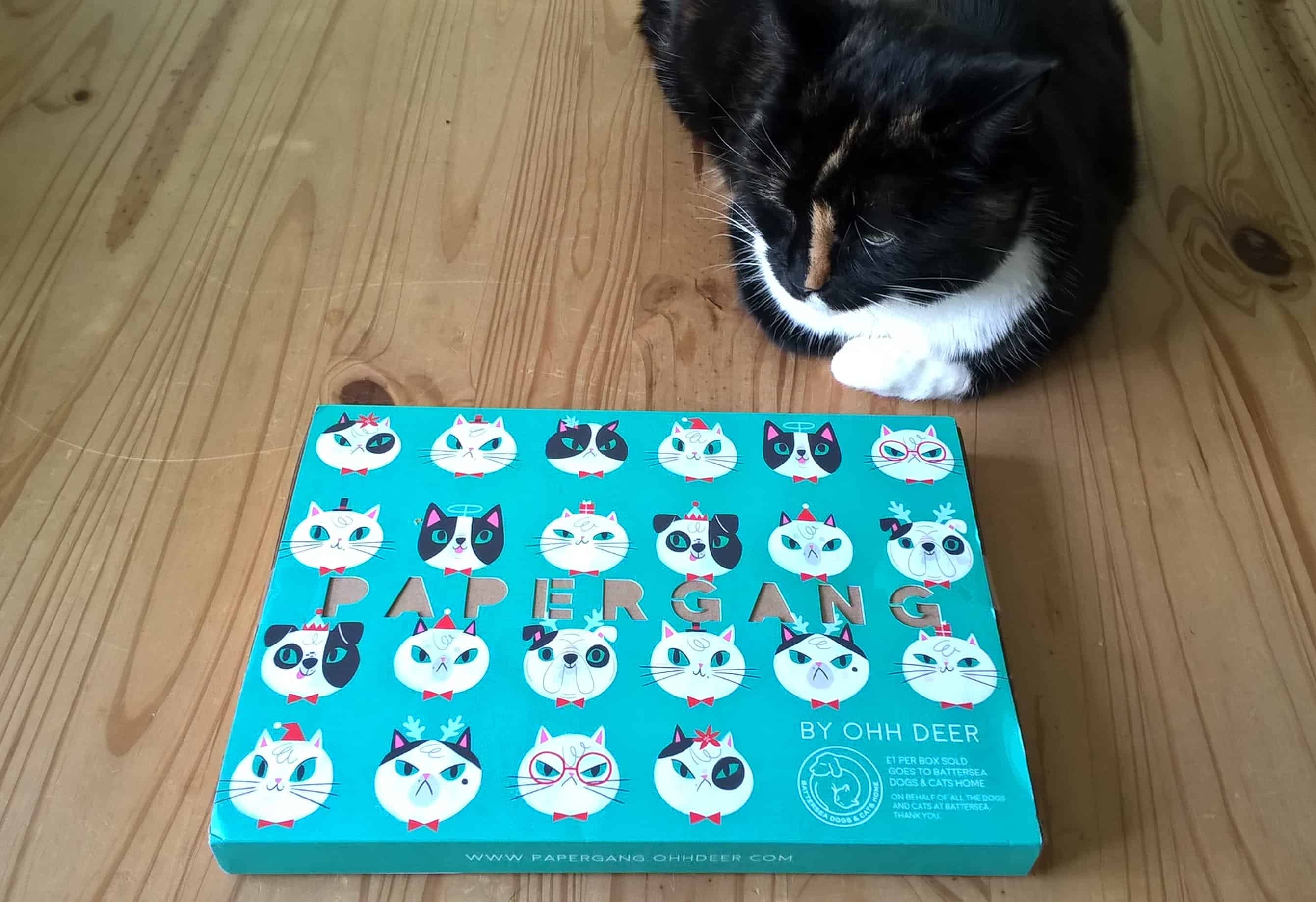 Papergang is a monthly subscription box of stationery and desk accessories designed in collaboration with illustrators from around the globe.
This month's box by Ohh Deer, a collective founded as a platform for illustrators and artists, features totally adorable Christmas cat and dog illustrations by Allison Black.  My cat Chai noticed the theme and decided to participate in the photo shoot.  Okay, to be honest she always tries to participate in the photos, but this time I actually let her.
DEAL: Save 20% on your first box! Use coupon code FIRST20.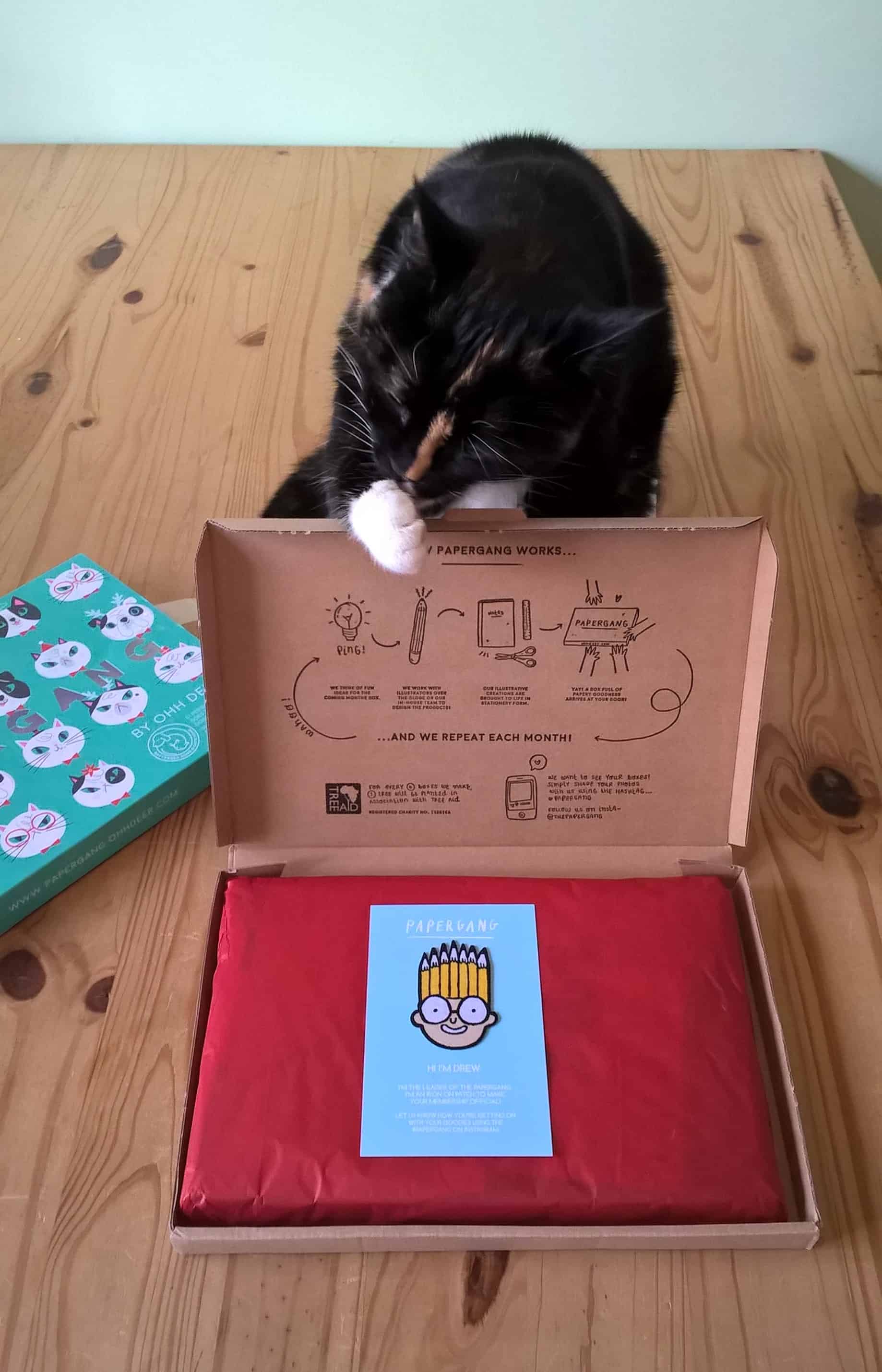 The box is slim enough to fit through the postbox and the contents are very neatly wrapped in red tissue paper.
To welcome me to the Papergang, my first box included an iron on patch of Drew, the Papergang mascot. Love this!
So, what else is in the box?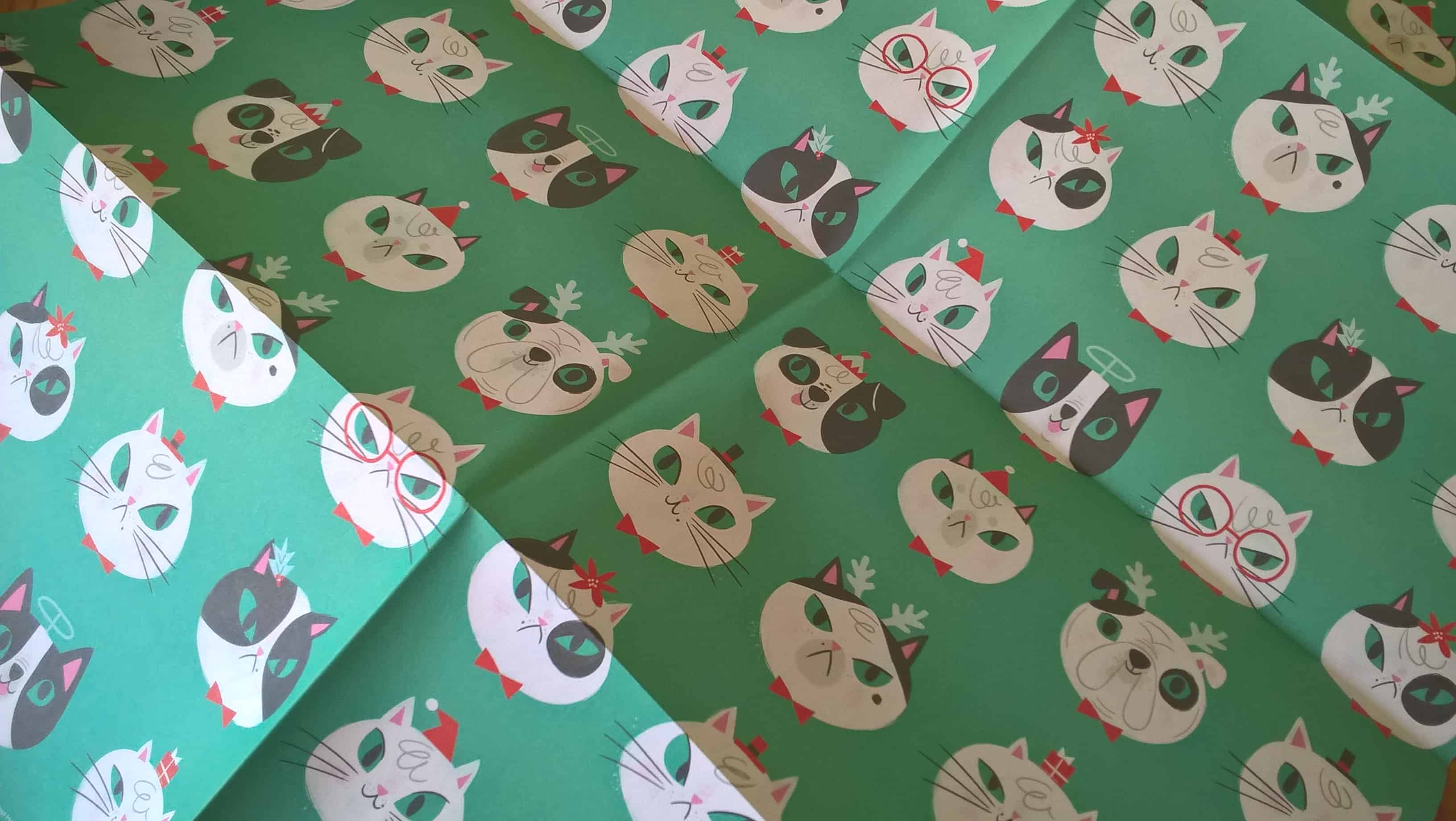 Two large sheets (27.5 "x 19.5") of lovely paper. I am all about this illustration! The colour is fantastic and, as the owner of an energetic white cat and a grumpy black and white cat, it's like this paper was designed just for me!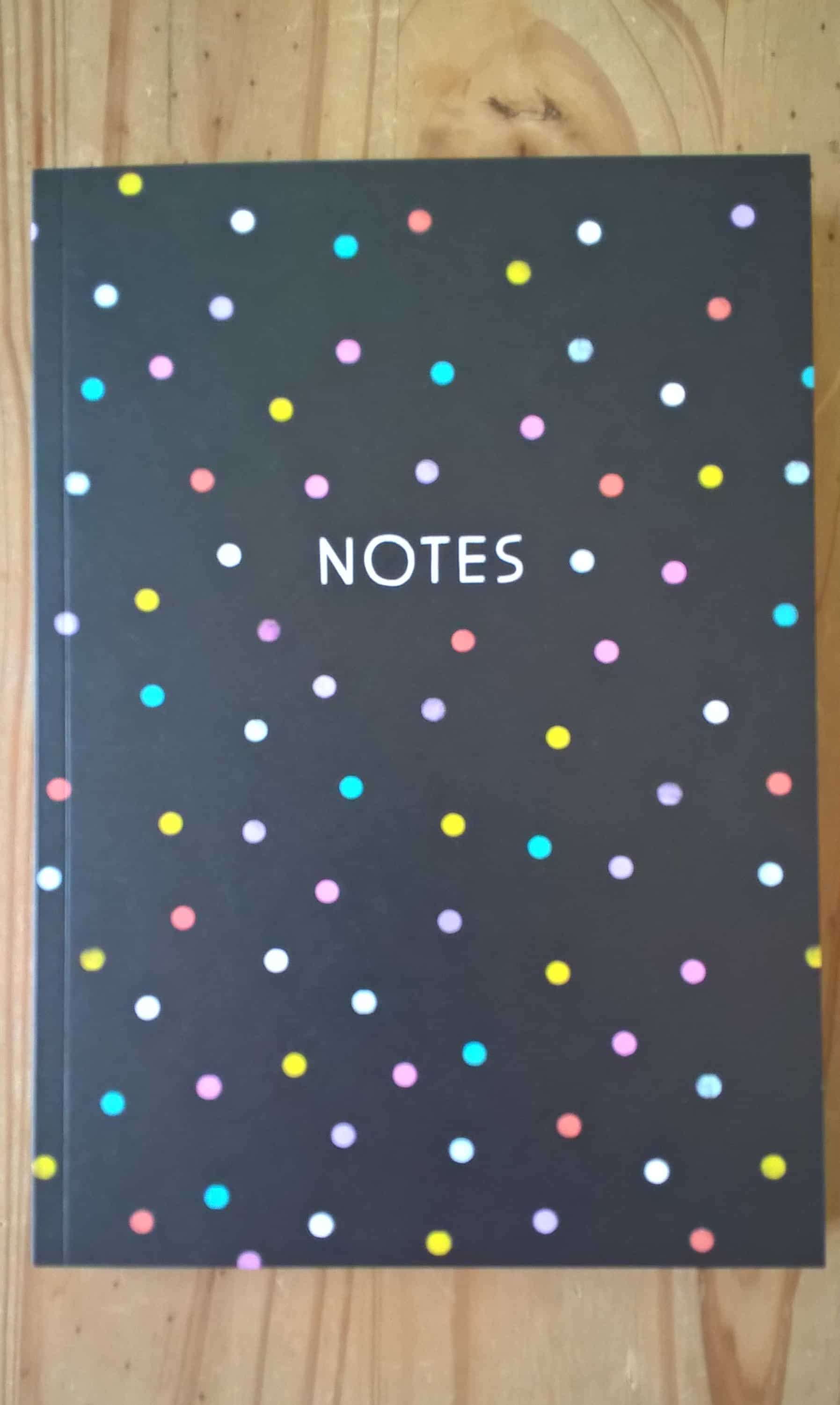 A really lovely polka dot notebook with lined pages. It's a nice quality notebook. You can never have enough notebooks, can you?
Six freakin' adorable Chrismas cards, two each of three different designs. Ilustrated animal Christmas cards seem to be everywhere these days – at least at the markets I visit – and these are amongst the cutest I've seen anywhere. Plus, a portion of the sales of the cards go towards supporting the work of Battersea Dogs & Cats Home.
It goes without saying I'm partial to the grumpy white cat tangled in fairy lights.
Three Christmas gift tags.
And finally, a little January Calendar to welcome in the New Year.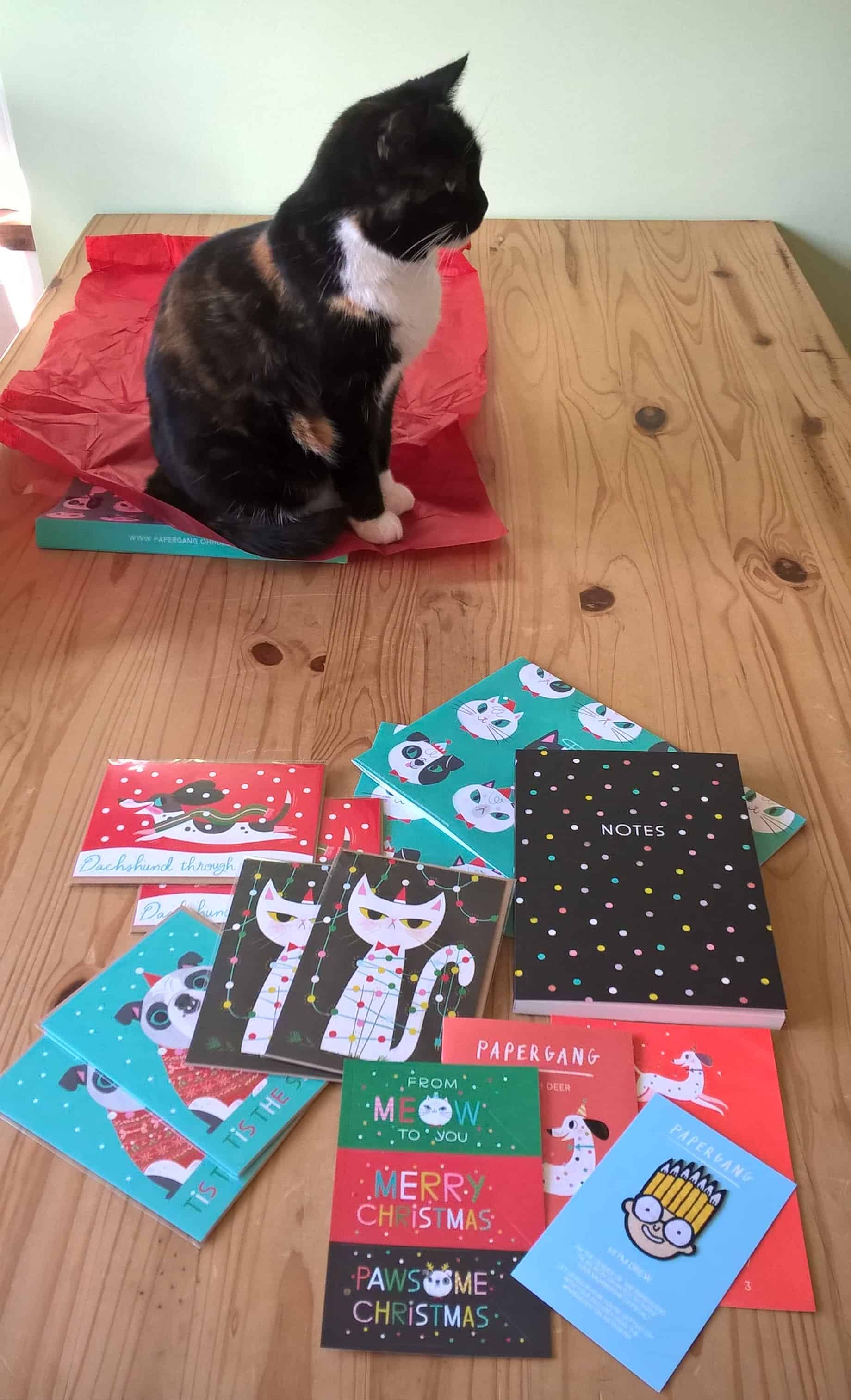 I really like this Papergang holiday box. This month's illustrations are right up my alley, and I can't wait to put the paper to good use.  It's also worth noting that for every 4 subscription boxes sold Papergang plants 1 tree in association with Tree Aid to help communities in the drylands of Africa. Fun stationary and supporting a good cause? Sounds like a win-win.
Chini was too tired to participate in the photos, but I couldn't leave her out entirely…
What do you think of this month's Papergang box?