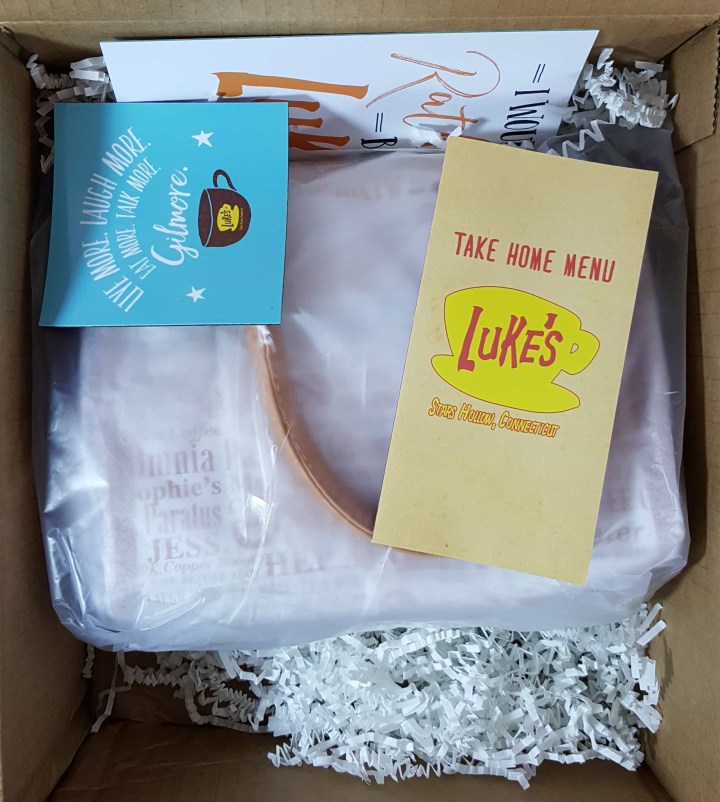 Stars Hollow Monthly features 3-5 products which are inspired by the Gilmore Girls and the fictional town of Stars Hollow. (Inspired by, meaning items that relate to, are inspired by, or are artistic renderings of the show and its inhabitants/characters.) For $34.90, you can expect anything from tee shirts (on occasion), home decor, fashion accessories, bath & body items, and much much more.
The goal for the Stars Hollow Monthly Box is to send subscribers items they will adore as fellow Gilmore enthusiasts, but also items anyone would enjoy – high-quality items that won't gather dust in a drawer somewhere.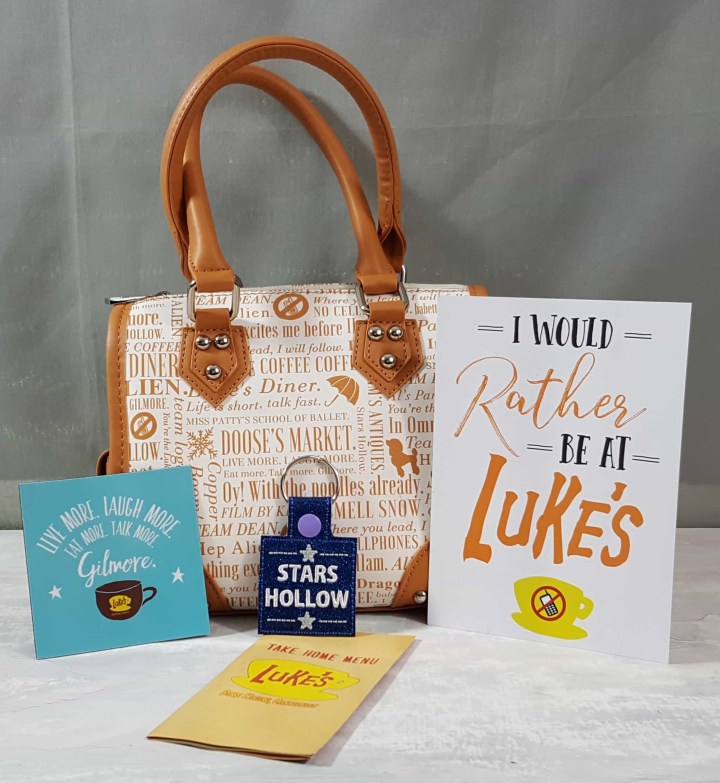 Loving the accessories in this edition of my Stars Hollow Monthly Box! That bag is totes adorable (yes, that was intentional)!
The outside of Luke's menu features ads from around Stars Hollow. We've changed ads for the fall season. The featured venues are Taylor's Olde Fashioned Soda Shoppe and Sophie's Music. Who doesn't remember the legendary Carole King as Sophie?!? The ads change every few months, and I love trying to figure out what will be highlighted next.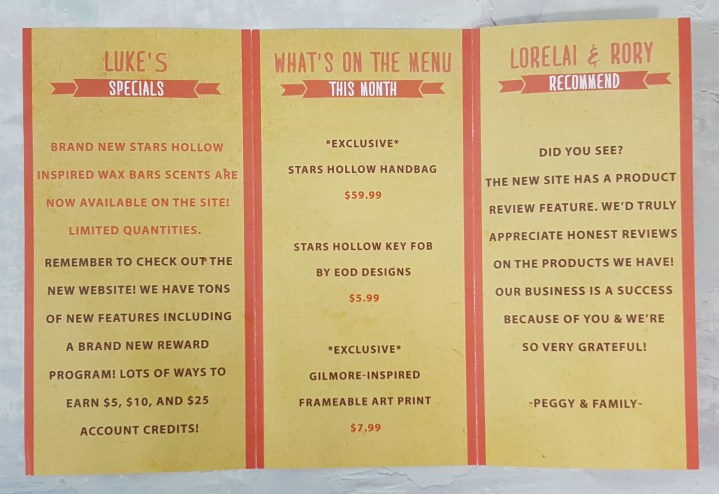 The inside of the menu contains a list of the box contents with pricing, as well as discount codes and offers for other Gilmore Girls related products. StarsHollowMonthly.Live is a new site to grab your favorite Gilmore Girls products. Be sure to check to check the sales and giveaways on the site too!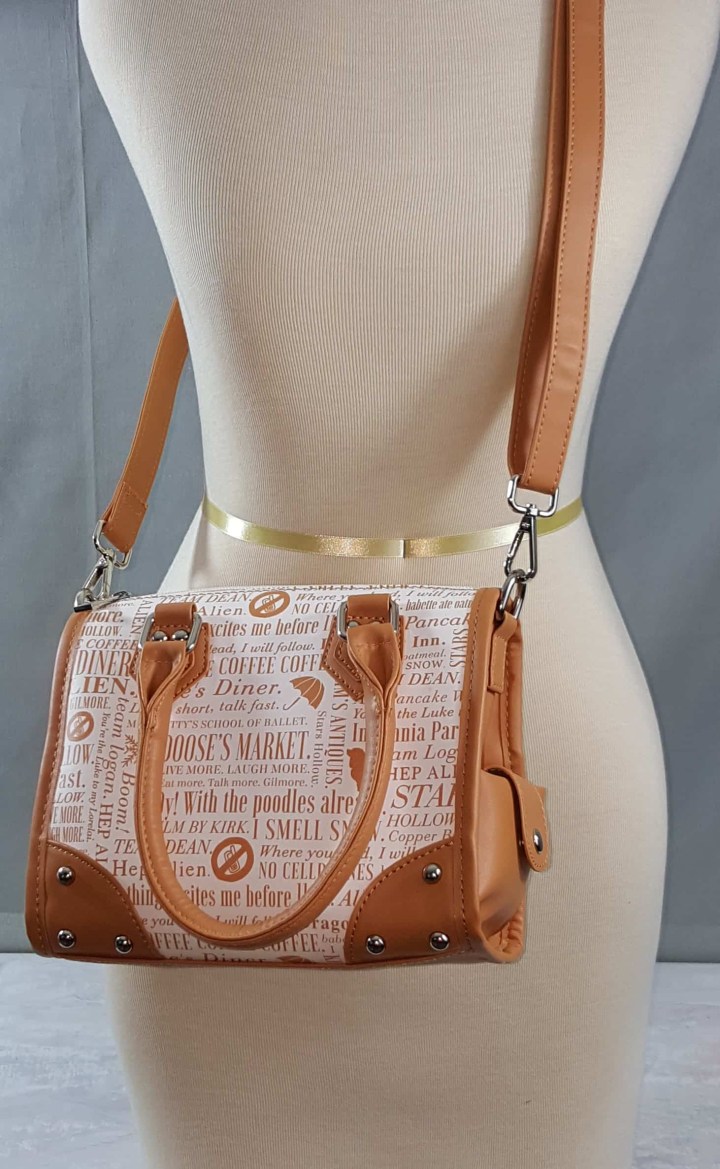 *EXCLUSIVE* Stars Hollow Handbag ($59.99): This is a mini duffel shaped bag featuring tan accent details and scripted body. The script is a mix of popular Gilmore Girls quotes and sights around Stars Hollow. It also comes with an adjustable shoulder strap. I love the smaller size as it helps me streamline my purse with just the essentials. Personally, I feel that the price is a little inflated though. To me, it is more along the lines of a $30 value.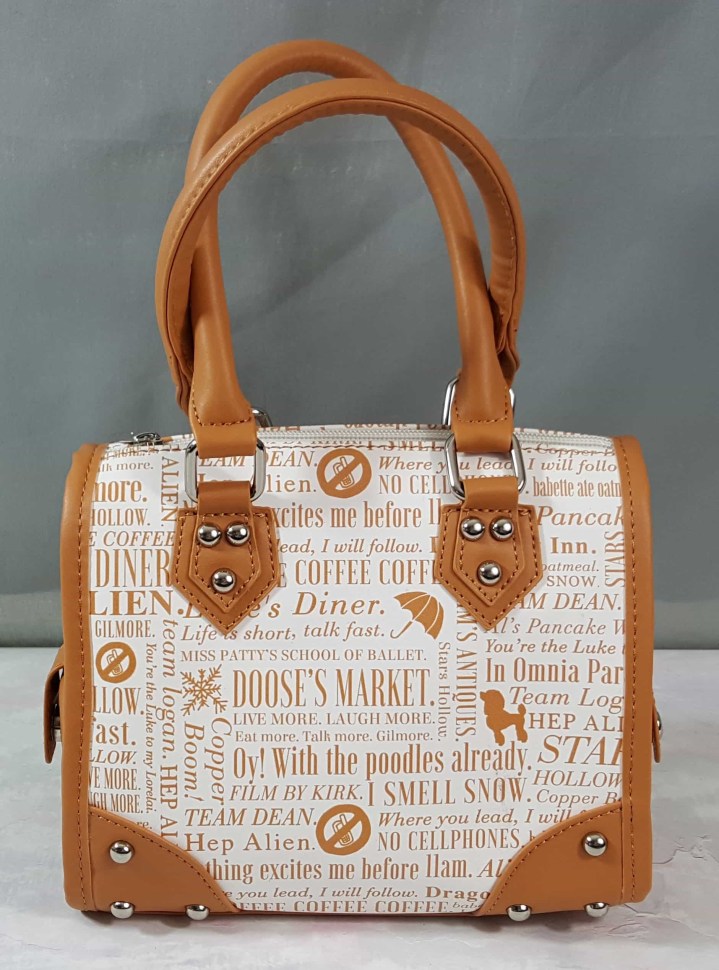 Front View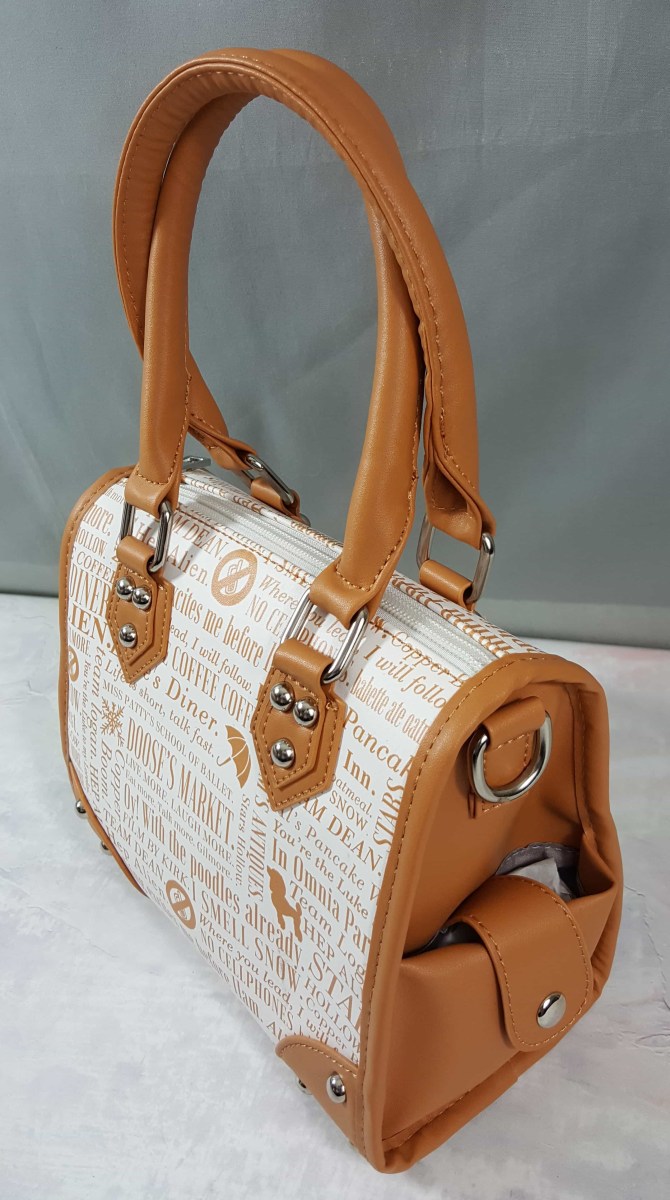 Side View (both sides of the bag have small/cell pockets)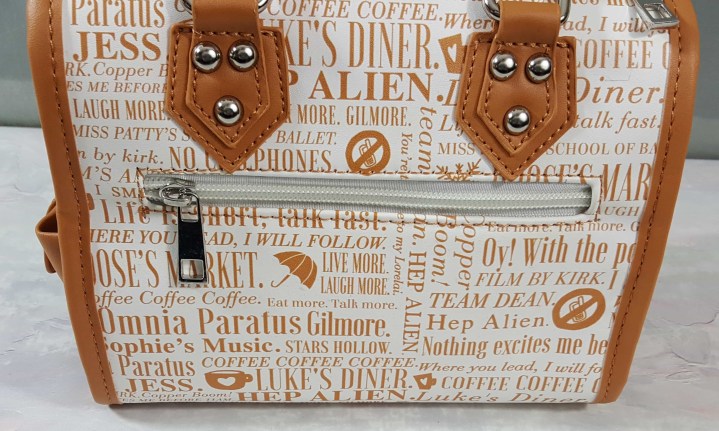 Back View (back of bag has zippered pocket)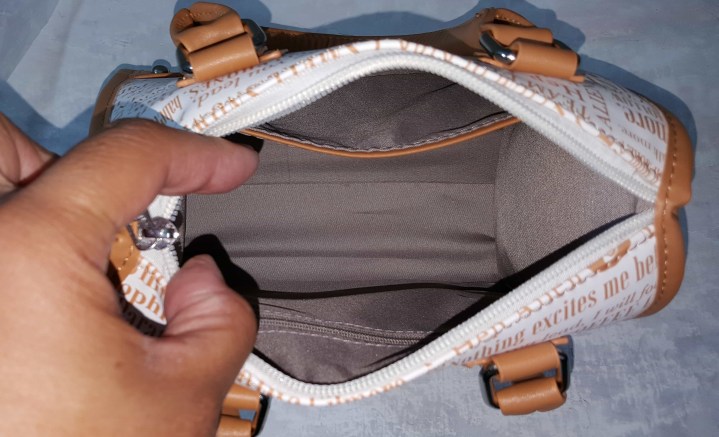 Inside View (bag has zippered pocket and pouch side pocket)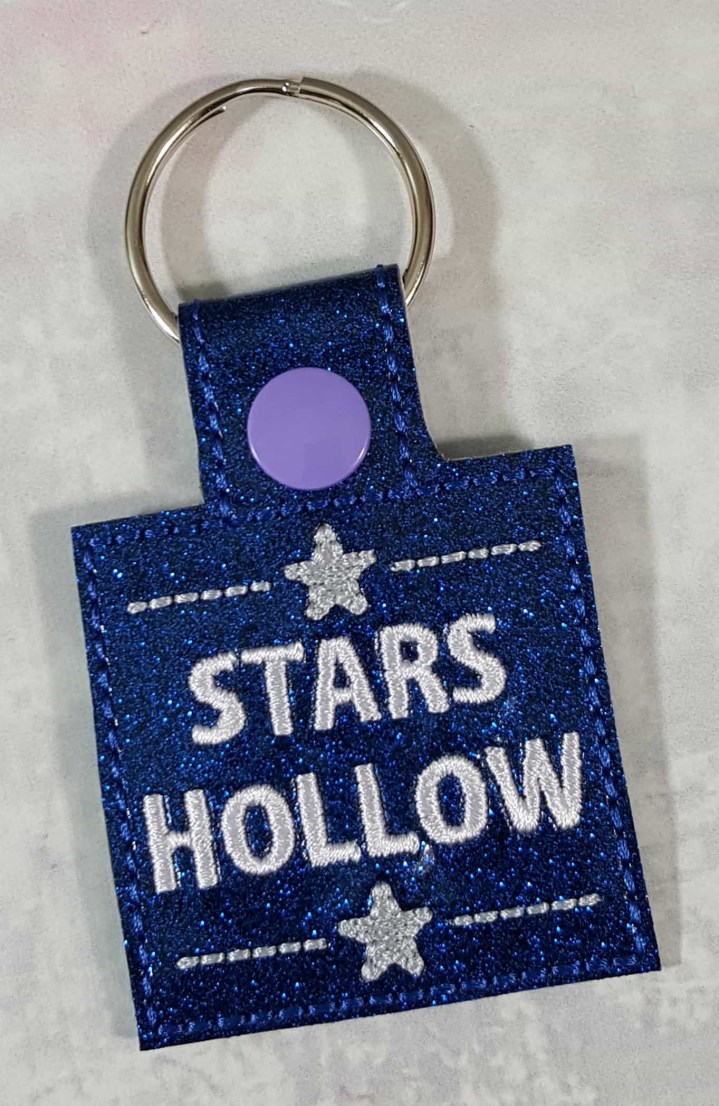 Stars Hollow Key Fob by EOD Design ($5.99):  This is a handmade blue glitter vinyl key fob with a keyring and snap closure on the tab. EOD Design has several Gilmore themed versions. Check out their Etsy shop to see the lineup.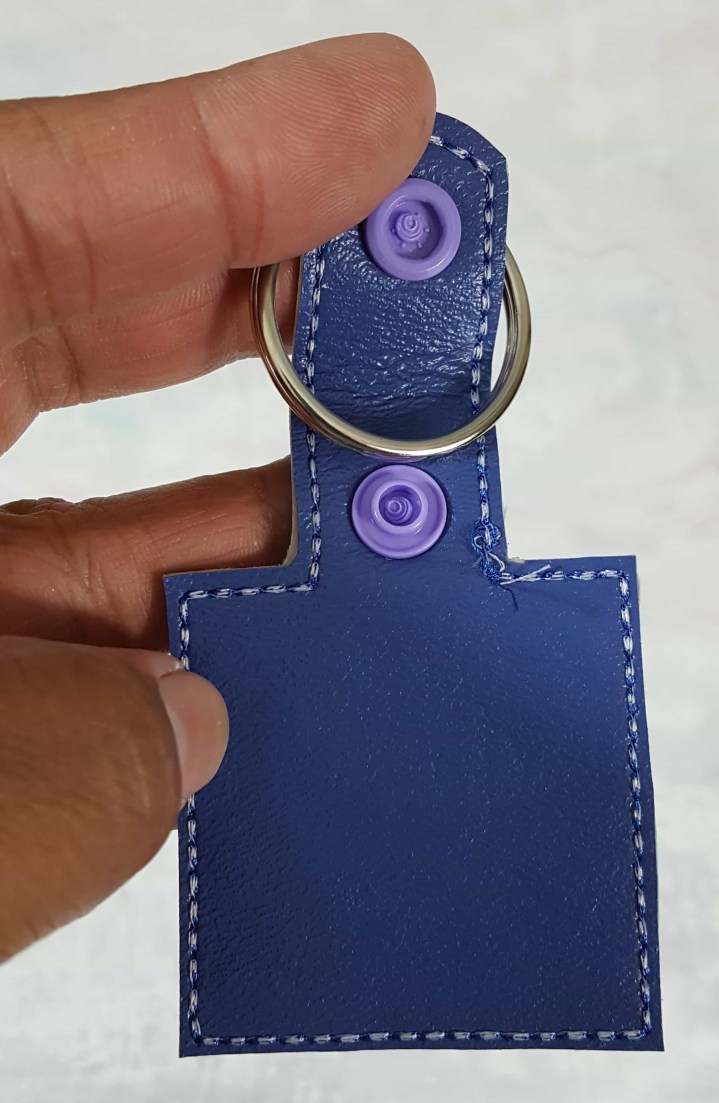 Back View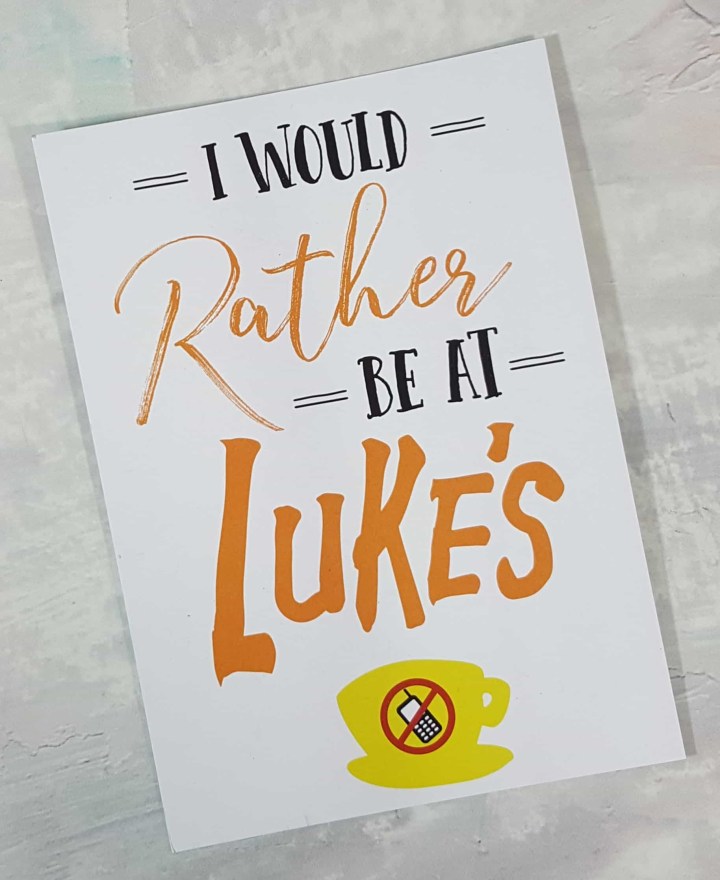 *EXCLUSIVE* Gilmore-Inspired Frameable Art Print ($7.99):  This 5″x7″ print definitely fits my mood most mornings at work. LOL! I like that it has the iconic coffee cup and no cell phones logo. This, along with postcards from a few boxes ago, would make a cute photo or collage wall.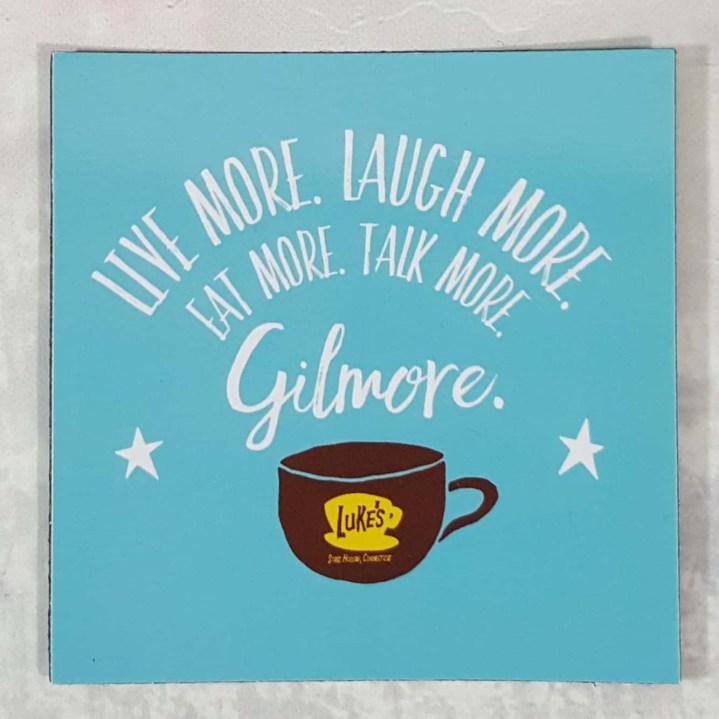 *BONUS* Gilmore Girls Magnet (free):  I think this magnet sums up Gilmore Girls pretty well. Although, the only reference to their coffee addiction is the Luke's Diner mug… Regardless, this is a cute magnet and will look great with my other Stars Hollow Monthly magnets.
September's Stars Hollow Monthly Box had a listed value of $74 (the handbag makes up the majority of this). The items in this month's curation were nice, but I still feel that the bag was listed high. The magnet and print will be cute accents to my office and fridge… and I have a friend that will absolutely love the key fob as a stocking stuffer. (Sorry, it is early to start thinking of Christmas.)
What was your favorite item this month? Leave a comment below and share your thoughts.