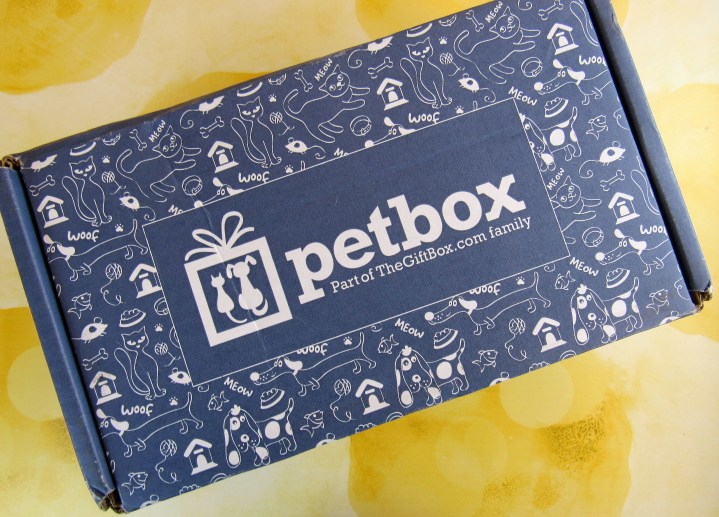 PetBox offers "bite-sized" monthly cat and dog boxes starting at $9.99 per month with a yearly subscription or $14.99 monthly. Both options include free shipping! Expect to receive premium toys, treats, and chews. Customize the dog box by selecting Petite Pup (up to 25 lbs), Mid-Size Pooch (25-50 lbs), and Hefty Hound (50+ lb). A portion of every PetBox purchase is donated to rescue shelters.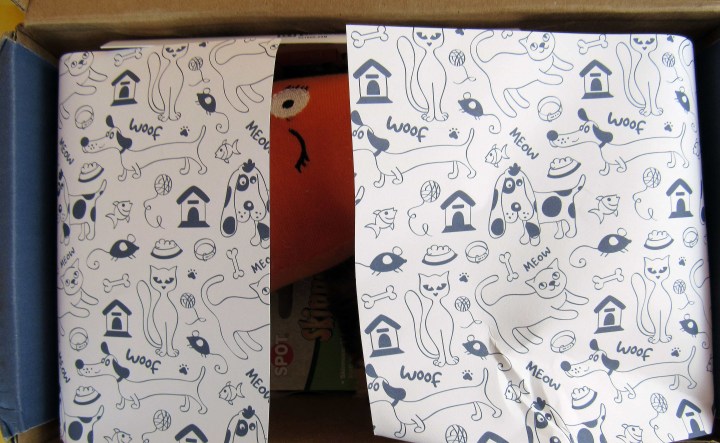 The doggies could not wait to see what was inside the box.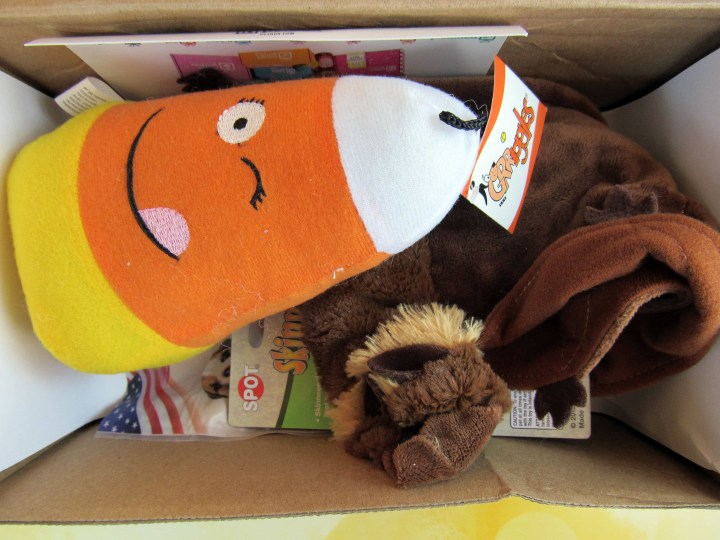 Yum, yum. I see a candy corn!
DEAL: Get 50% off your first month! Use coupon code HELLOSUB50.
PetBox offers an affordable box that lets you snack, play, and bond!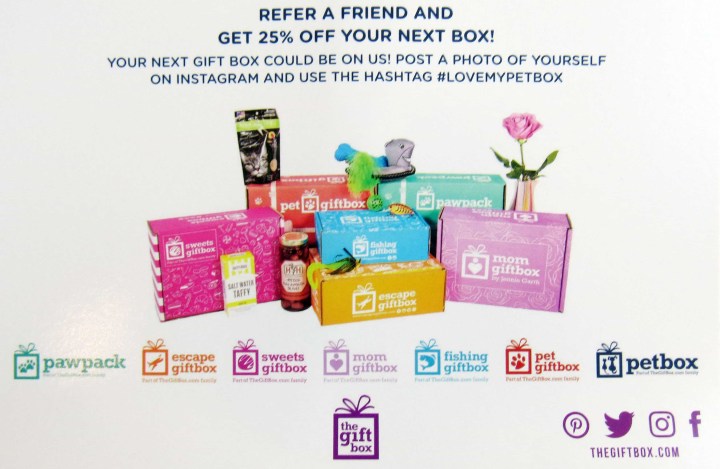 PetBox is part of The Gift Box family. The Gift Box Family also offers Pet Giftbox, a regular-size pet box, and Pawpack, a dog box for heavy chewers.
Here are the items in the October PetBox Dog. This box is for the Hefty Hound which is 50 lbs+. We were thrilled to see that it had a Halloween theme.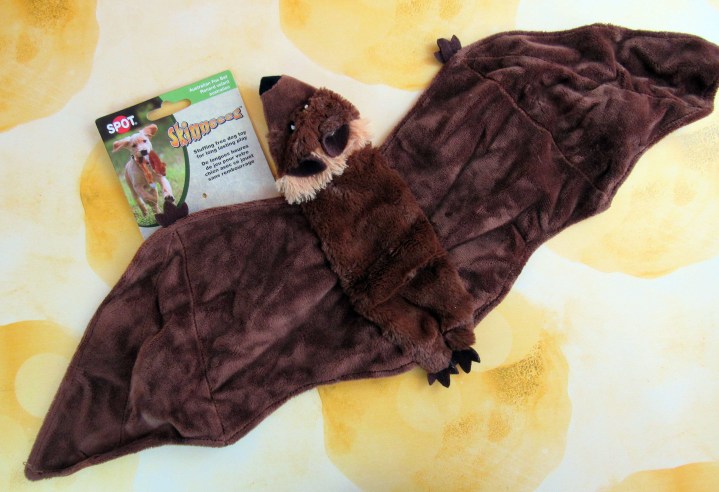 The Made in China Skinneeez Australian Fox Bat ($5.83, TheGiftBox) is a stuffing-free toy with a squeaker in each wing. Odie enjoyed running around the yard with the bat. Daisy thought the bat needed a bath and wanted it as her baby.
The bat is huge! It measures over two feet long.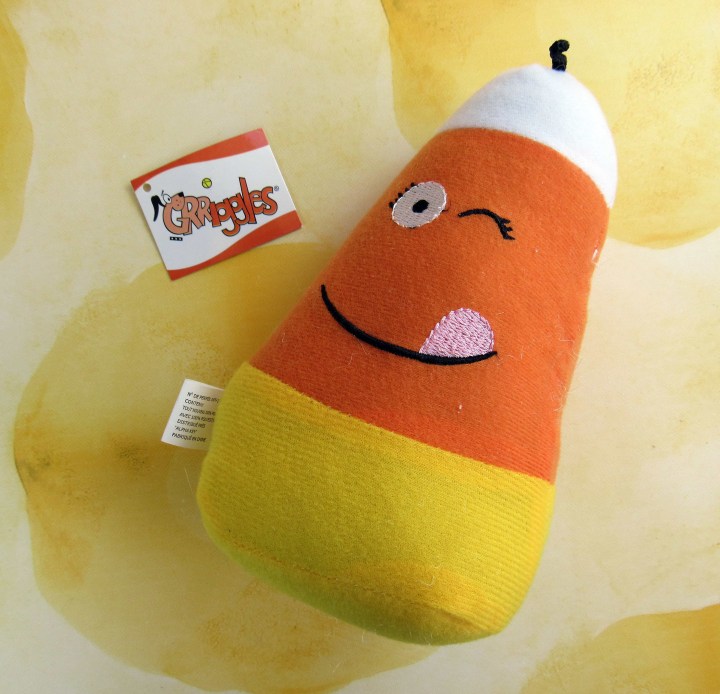 The Griggles Candy Corn ($5.00 Amazon)  is 7″ of delicious cuteness. Daisy and Odie loved playing fetch with the squeaky toy.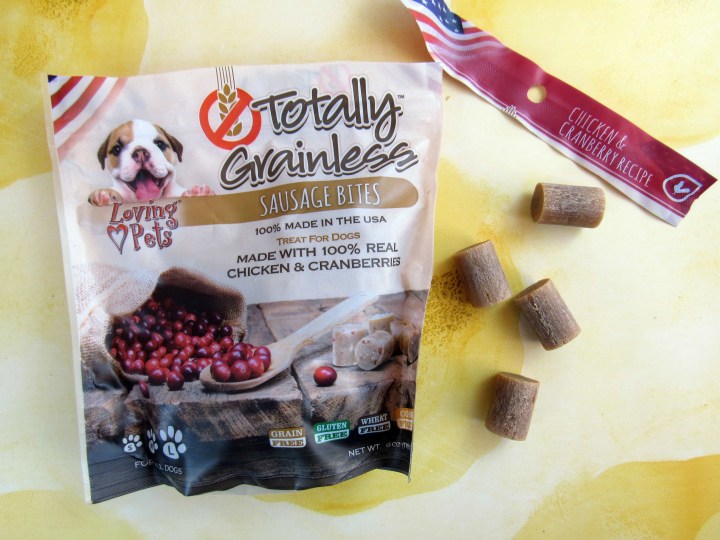 The Made in the USA Loving Pets Totally Grainless Chicken and Cranberries Sausage Bites (6 oz. MSRP $4.99, $3.88 Amazon) were favored by Odie and Bella. The treats have real chicken and cranberries in it. Daisy wasn't able to partake in the treats because she has a chicken allergy.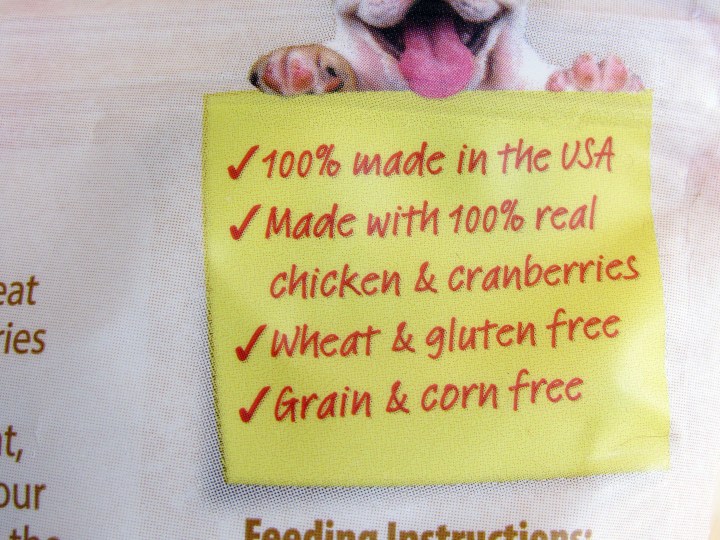 The doggies loved their treat for Howloween.
Time for doggy pictures!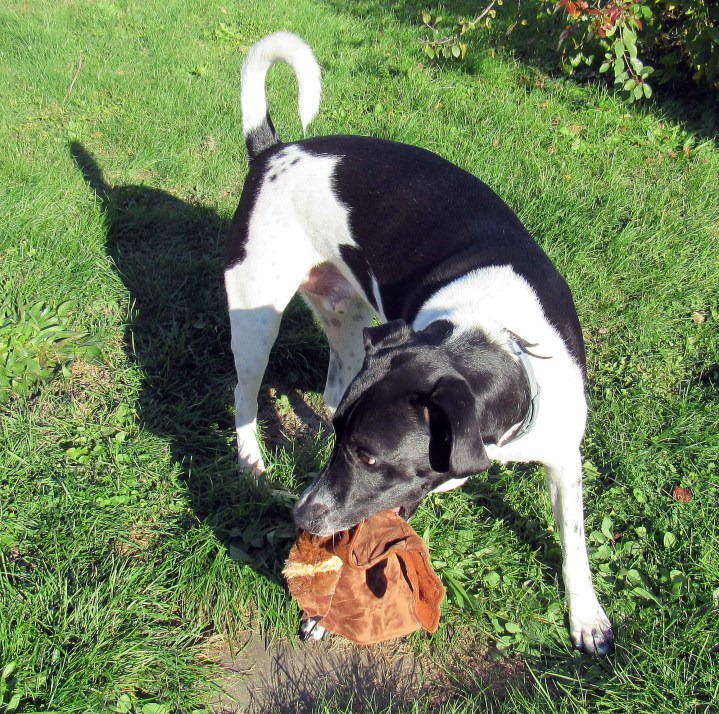 Odie is alert while running around the yard with his Australian Fox Bat.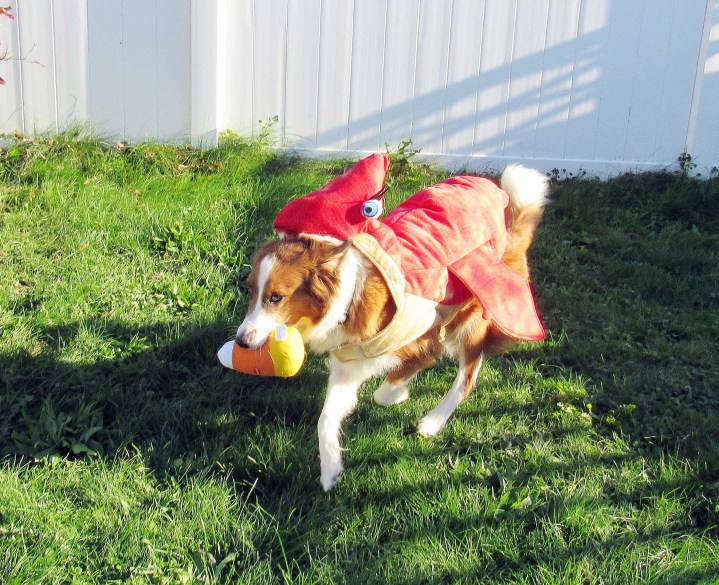 Daisy is racing around with a candy corn in her mouth. Maybe she thinks the Pterodactyl is going to steal her treat.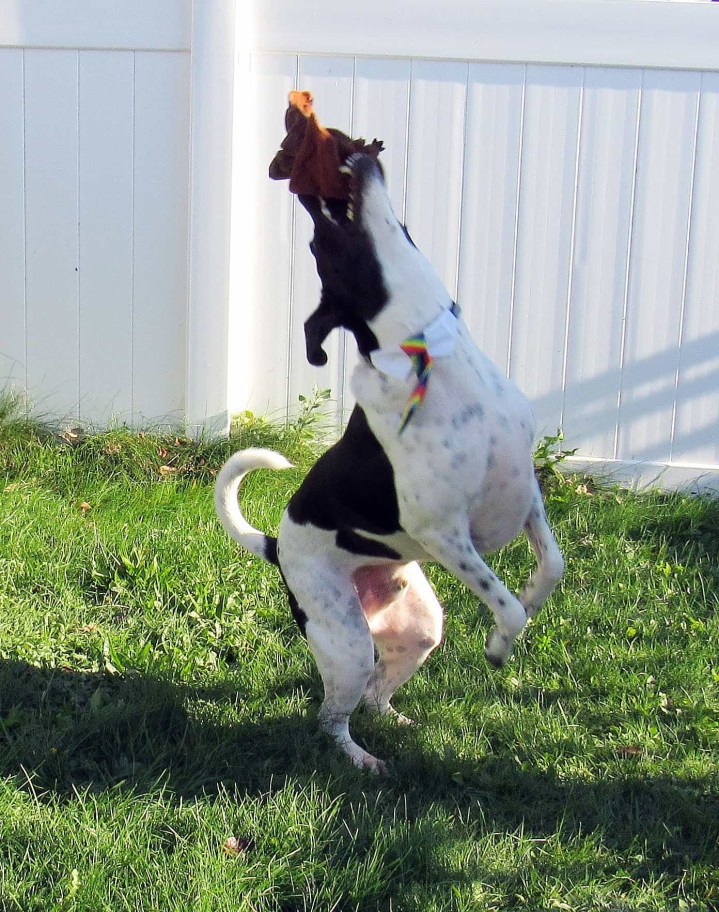 A perfect catch by Odie!
Daisy is giving me the "eyes." She wants to keep this toy as a baby.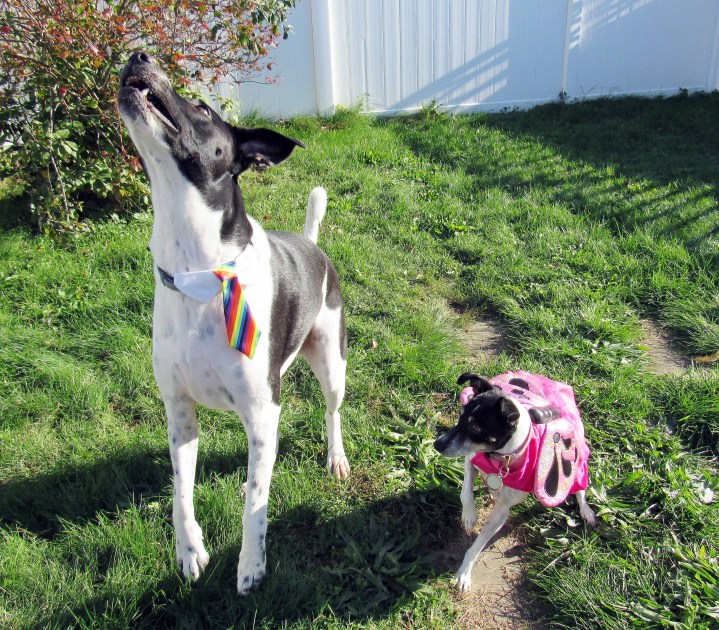 Odie and Bella are patiently waiting for their Loving Bites Sausage Bites.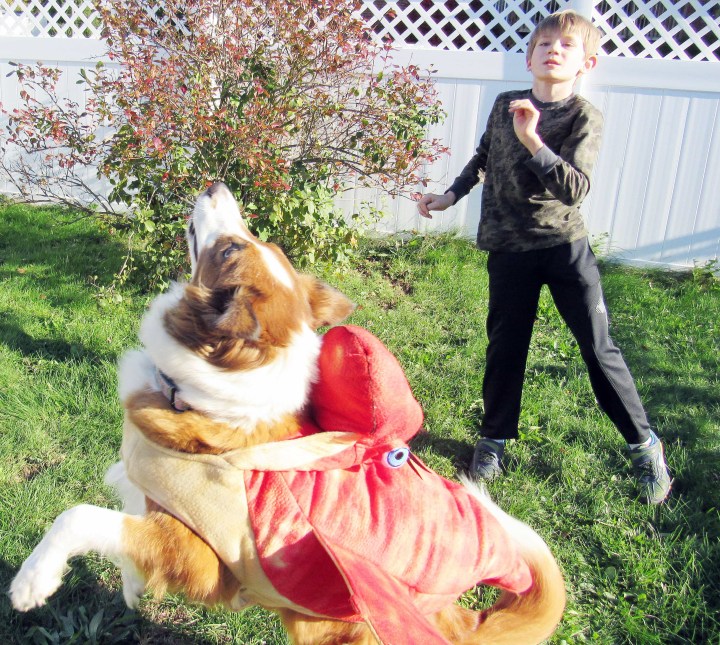 J (age 9) is enjoying a beautiful afternoon with his doggies.
Bella is busy fluttering around the yard.
The family snacked, played, and bonded with the October Dog PetBox. We had fun playing outside on an unexpected warm October day. The doggie loved their treats and toys. J loved that it had a Halloween theme. It's an excellent inexpensive box for doggies and their parents.
What do you think of this month's PetBox for dogs?