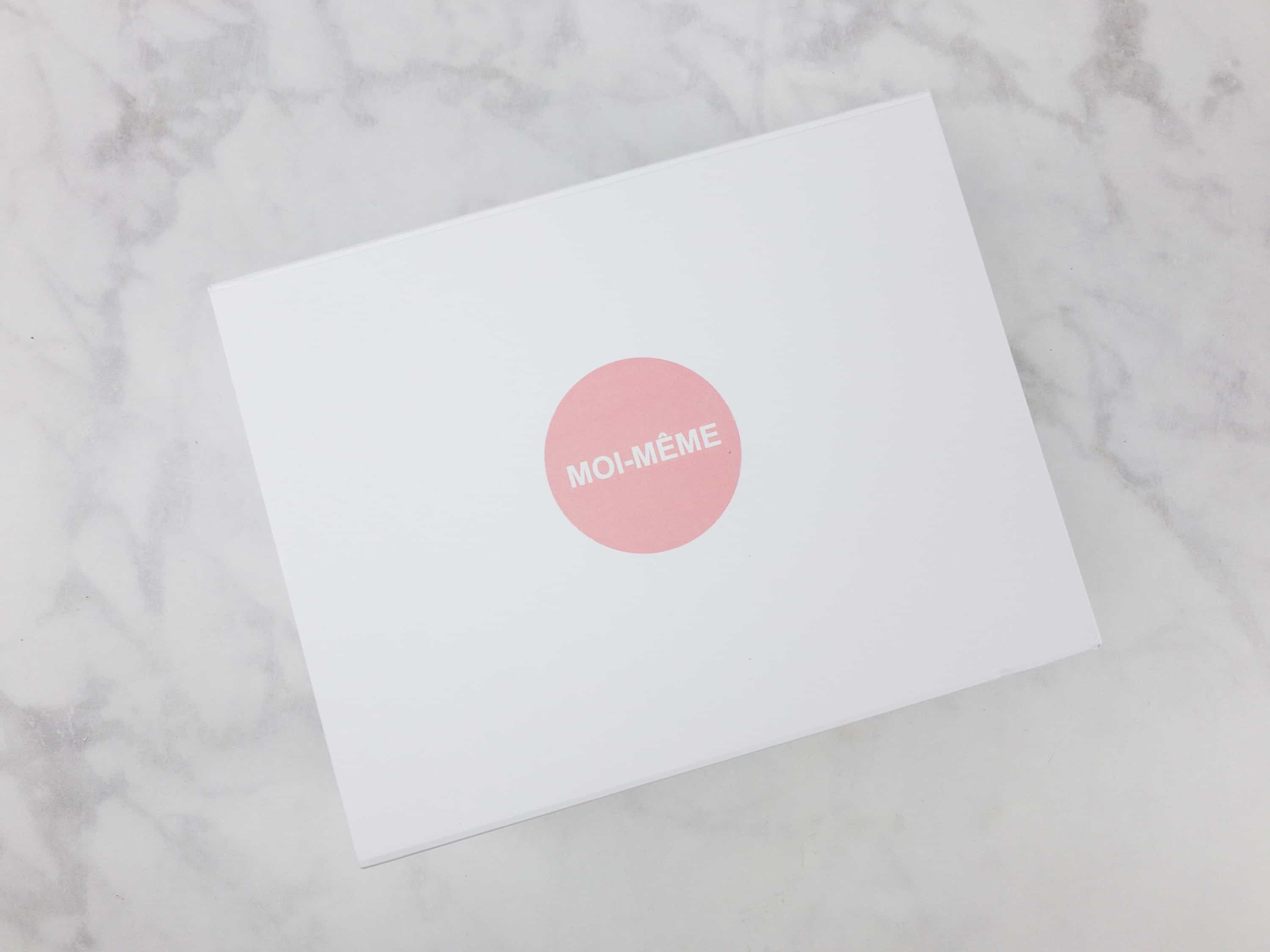 Moi-Même is a quarterly women's lifestyle box drawing together treasured finds from known independent brands. For £49.95 (about $65.80), you'll receive at least 5 full size gifts from the worlds of beauty, accessories, stationery, jewelry, housewares and more.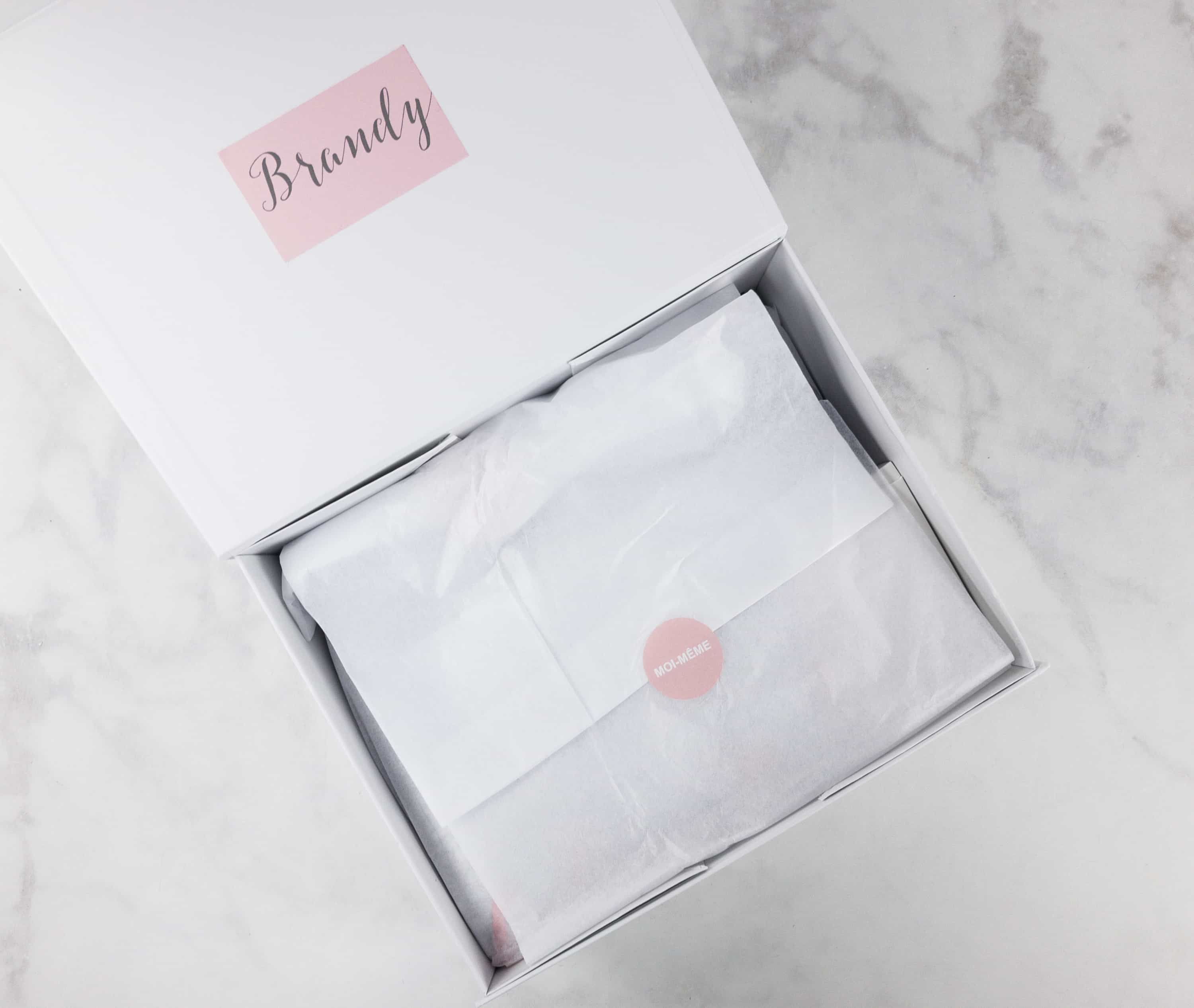 The items arrive in a lovely box and are wrapped in white tissue paper.
The theme this Autumn 2017 is "The Sleep Box."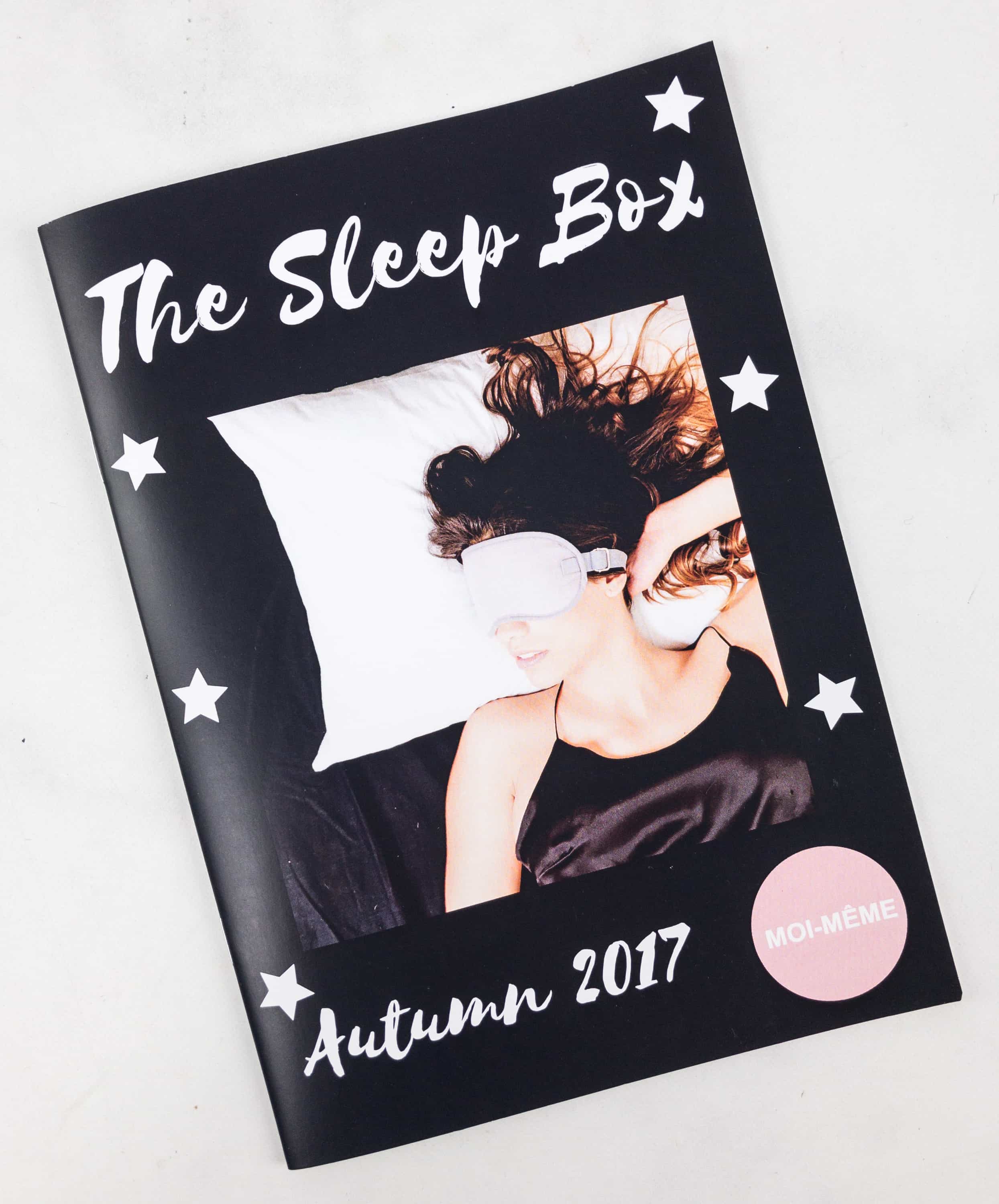 The box came with a mini-magazine featuring several articles.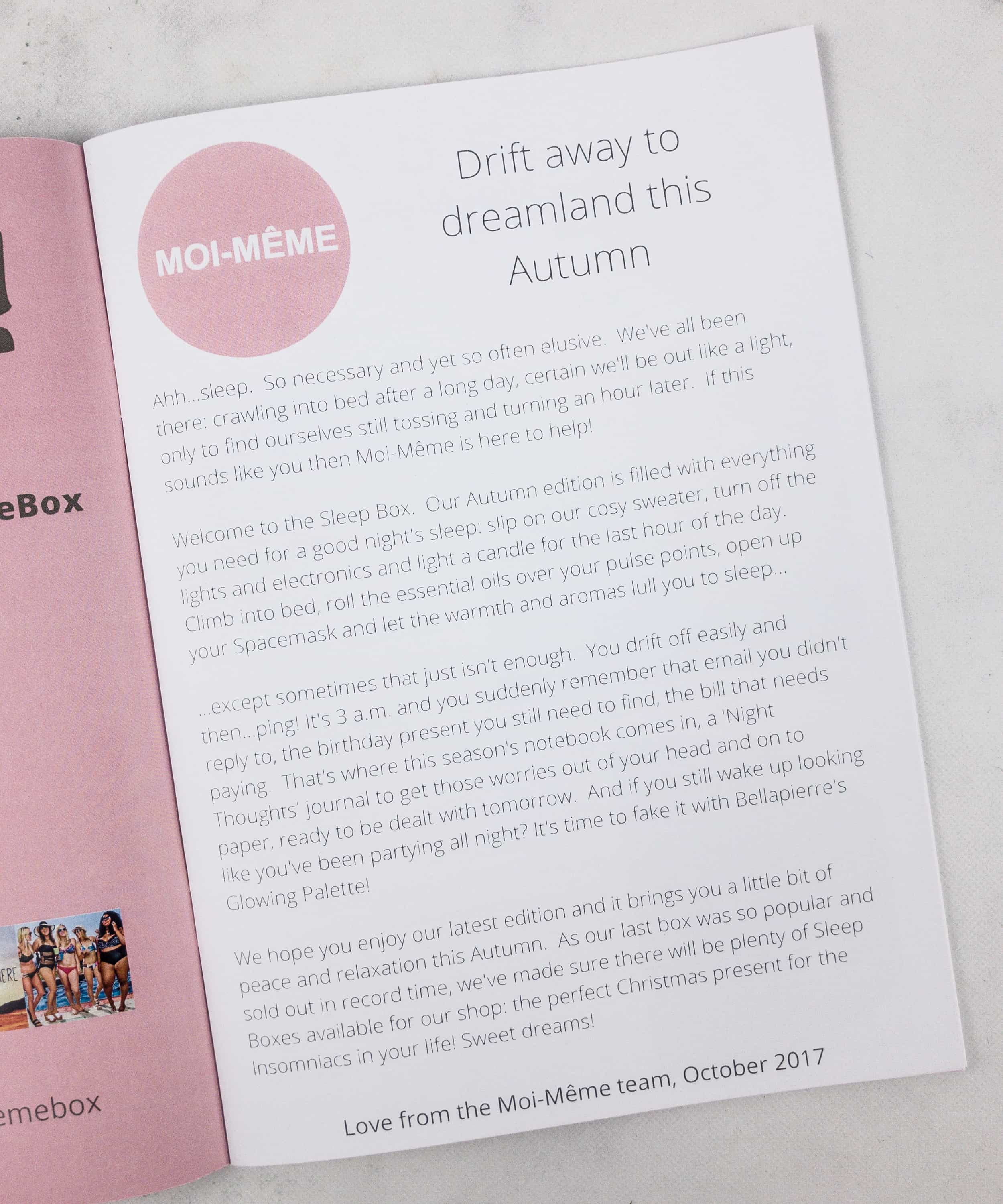 A short welcome message from the Moi-Même team.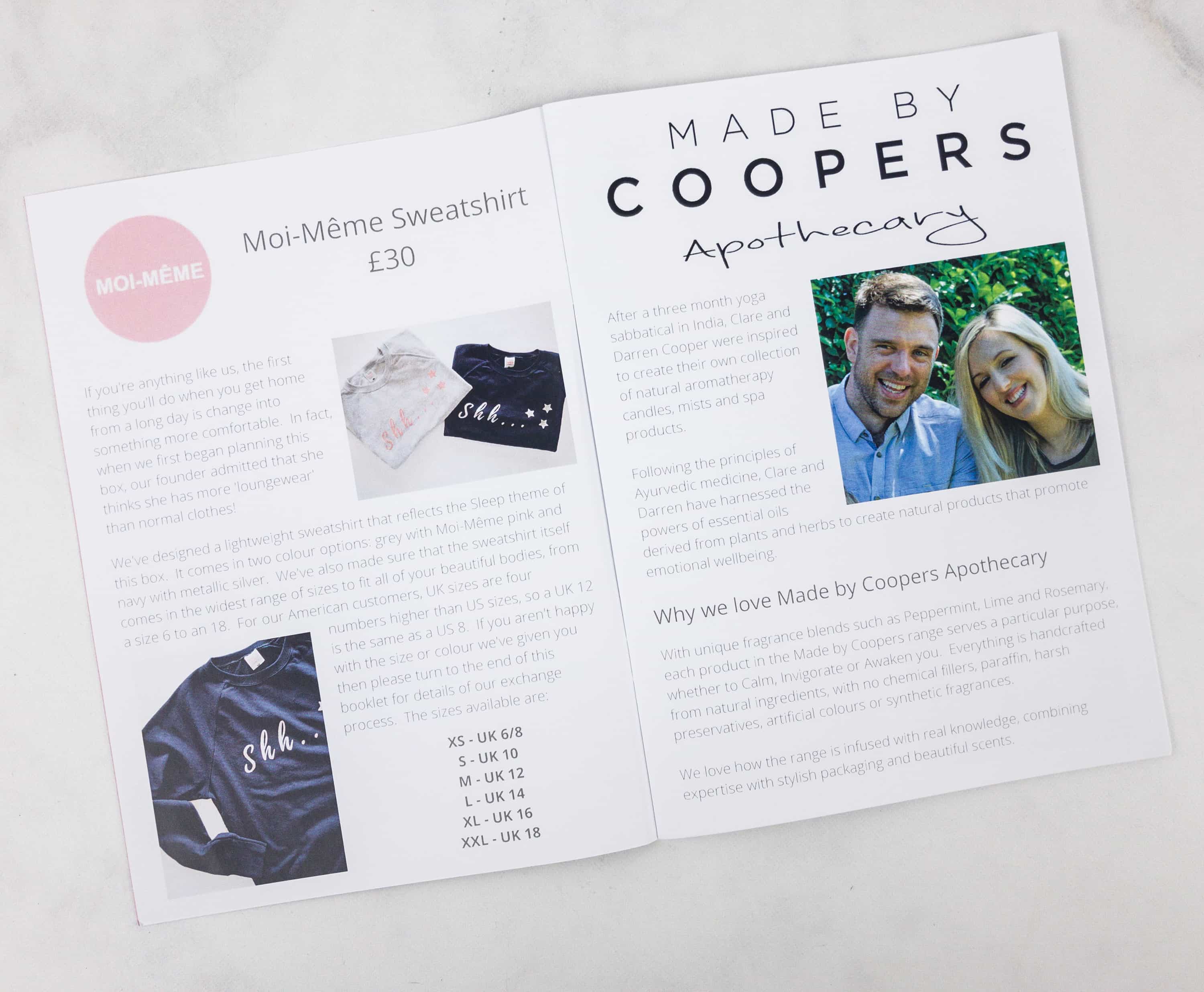 The mini-magazine also contains information about the products and their makers.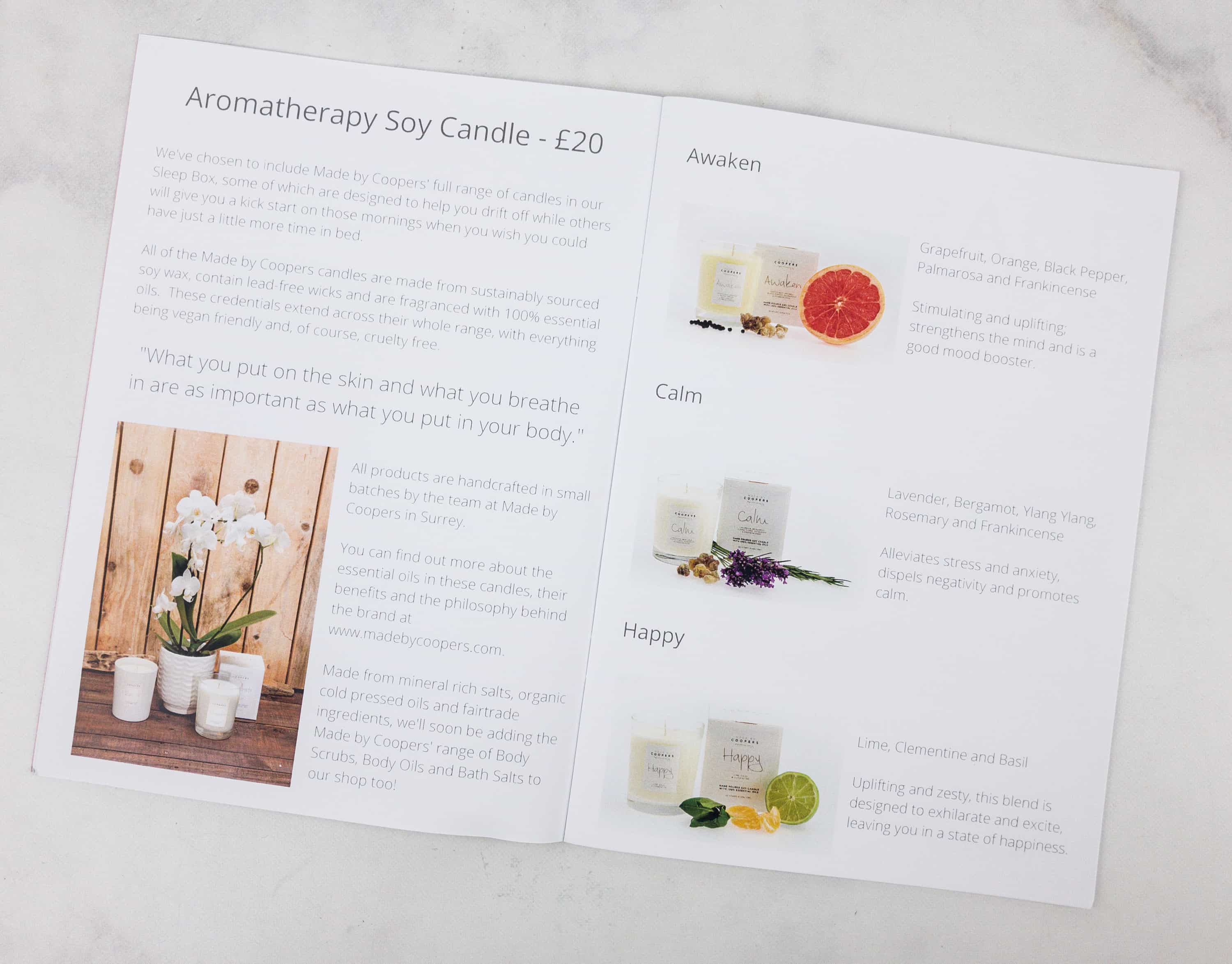 There are nice photos of each item, and it lists variants you may have received.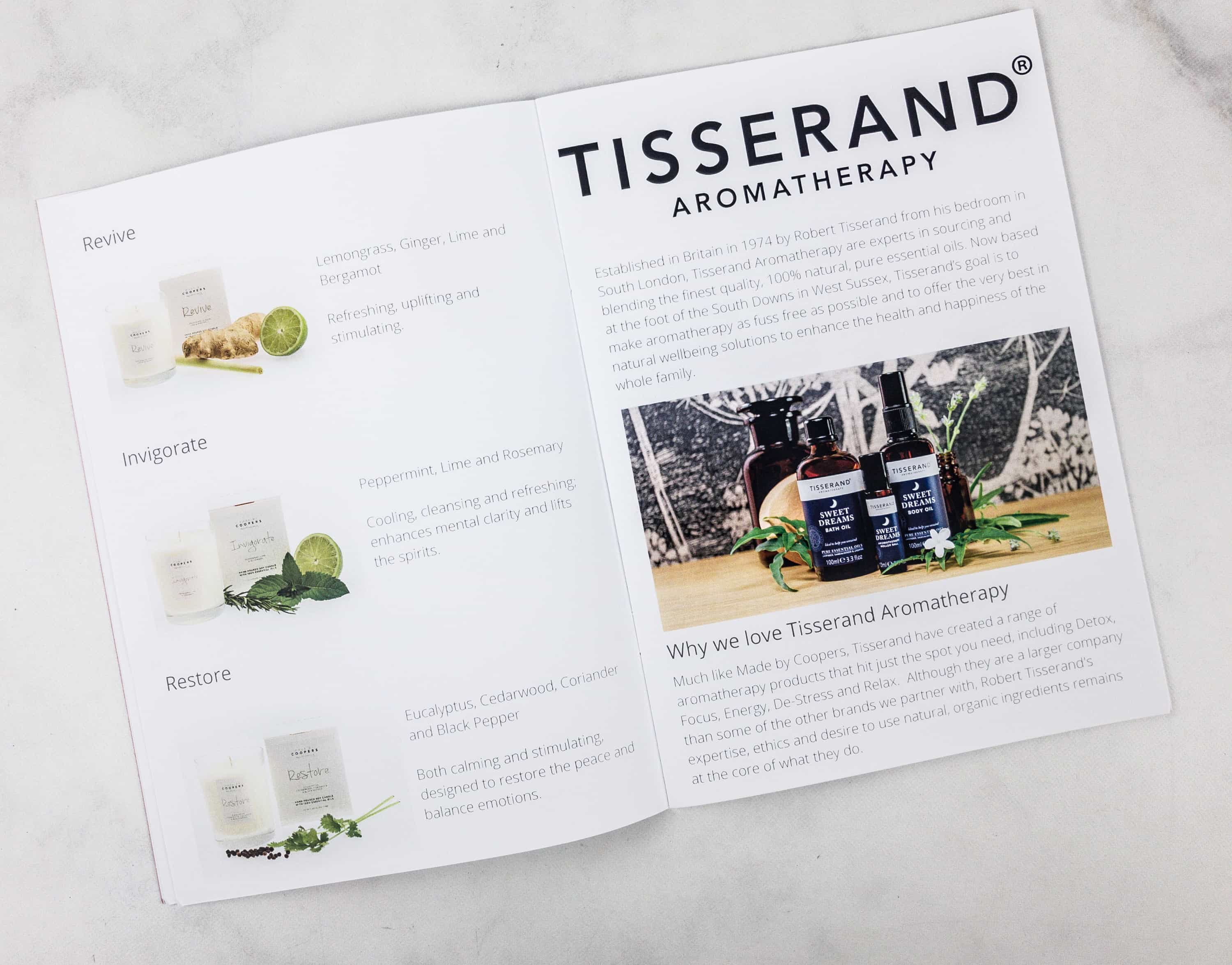 In addition to providing information about the products and producers, the booklet also shares a bit about why each made the curation!
There are also deals and other info on how to purchase individual items online in case you can't get enough of them.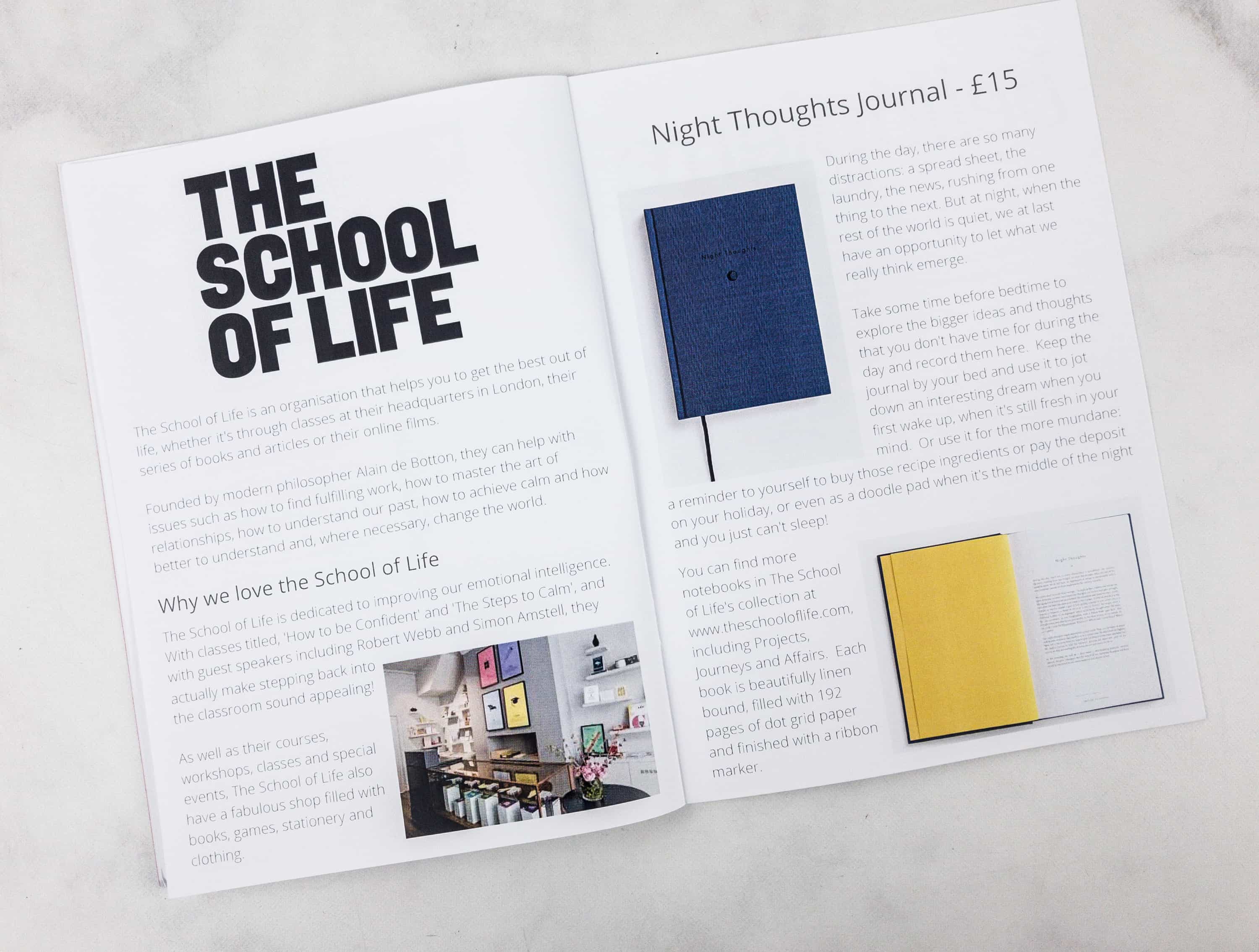 The layout is pretty simple. It's easy to read.
It's more fun than ordinary description cards if you love reading and knowing additional information about the products you receive.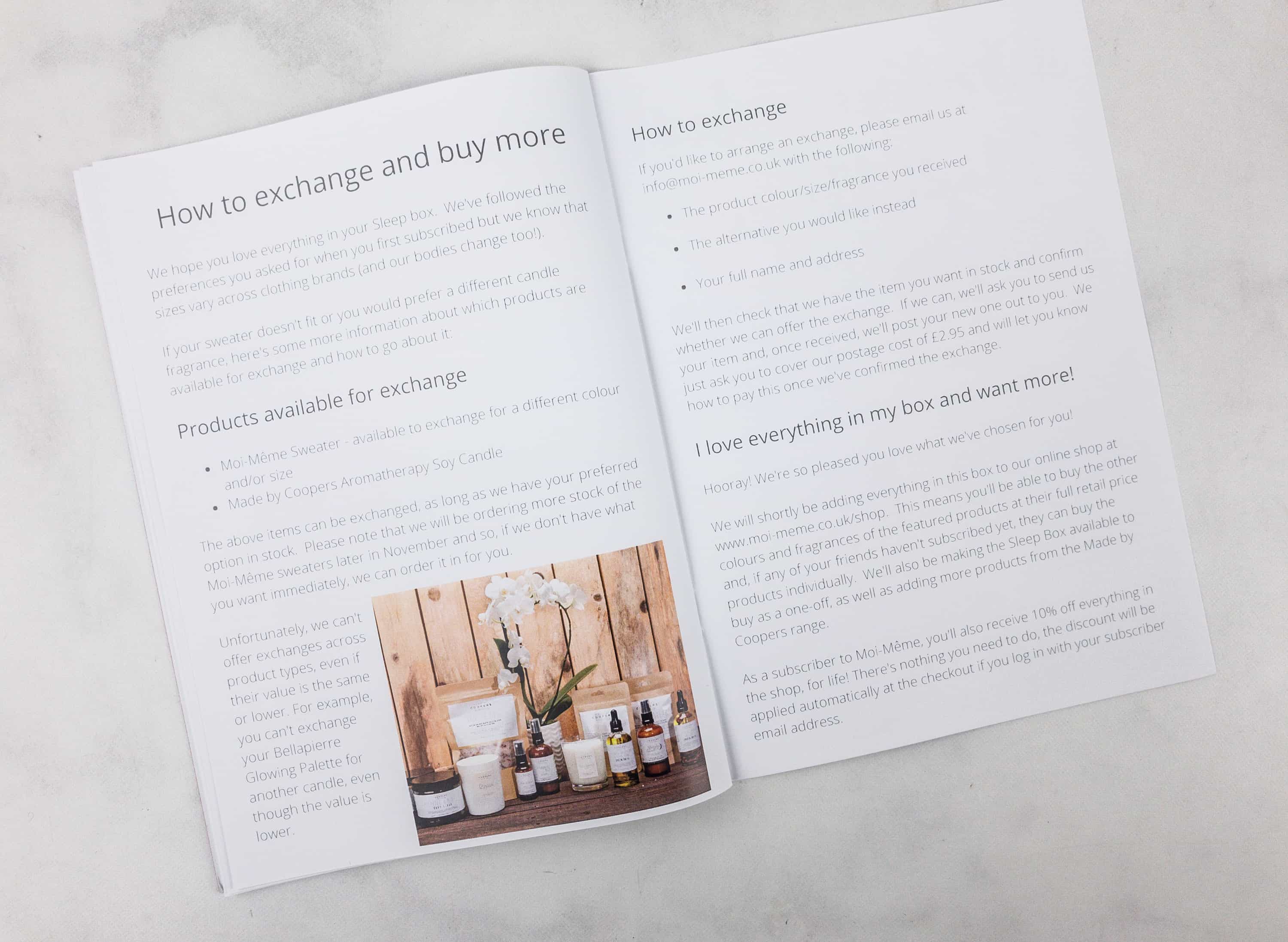 Meanehile, this page tells you how to return, exchange, or order more items!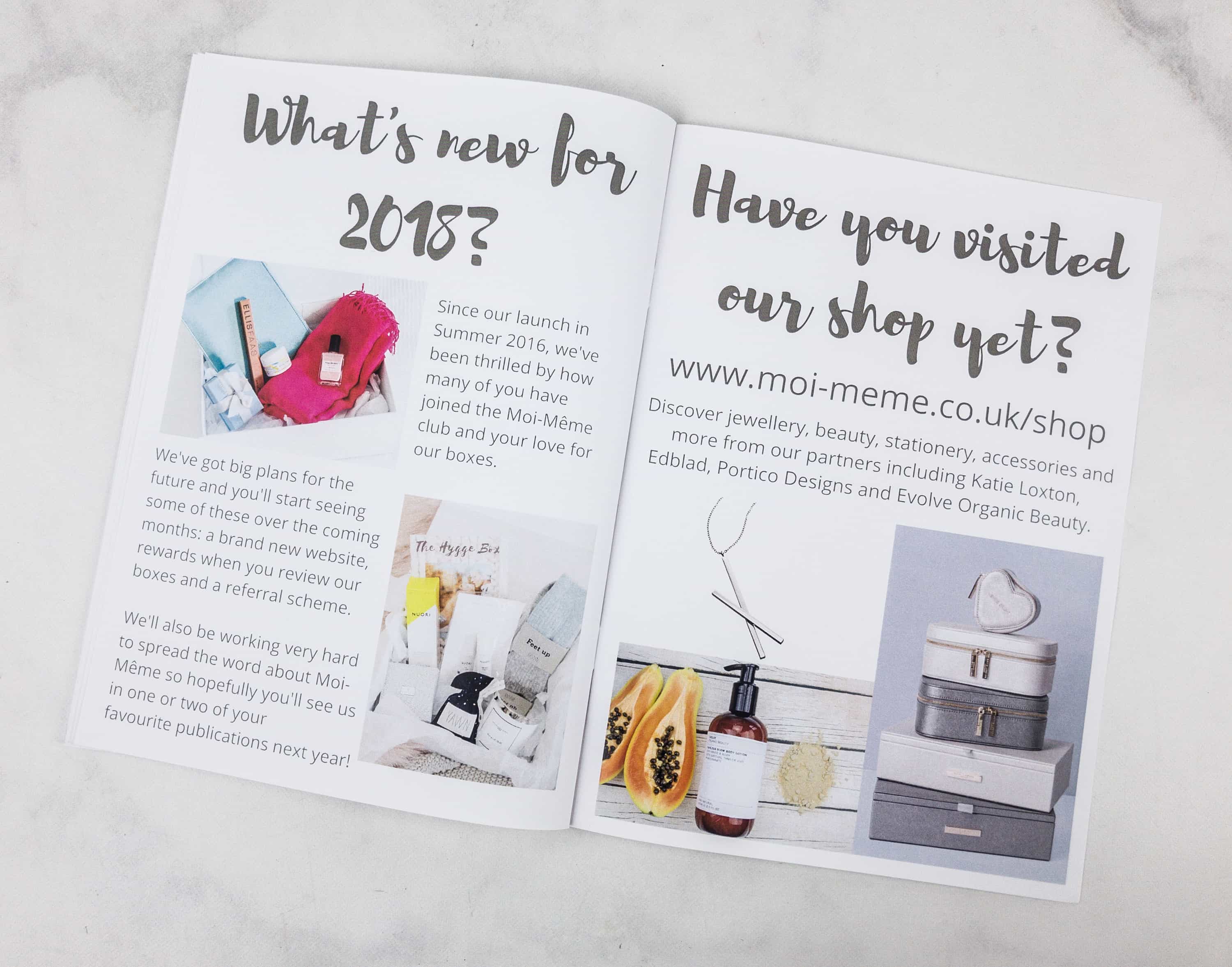 There's also a page for spoilers and a link to their shop page.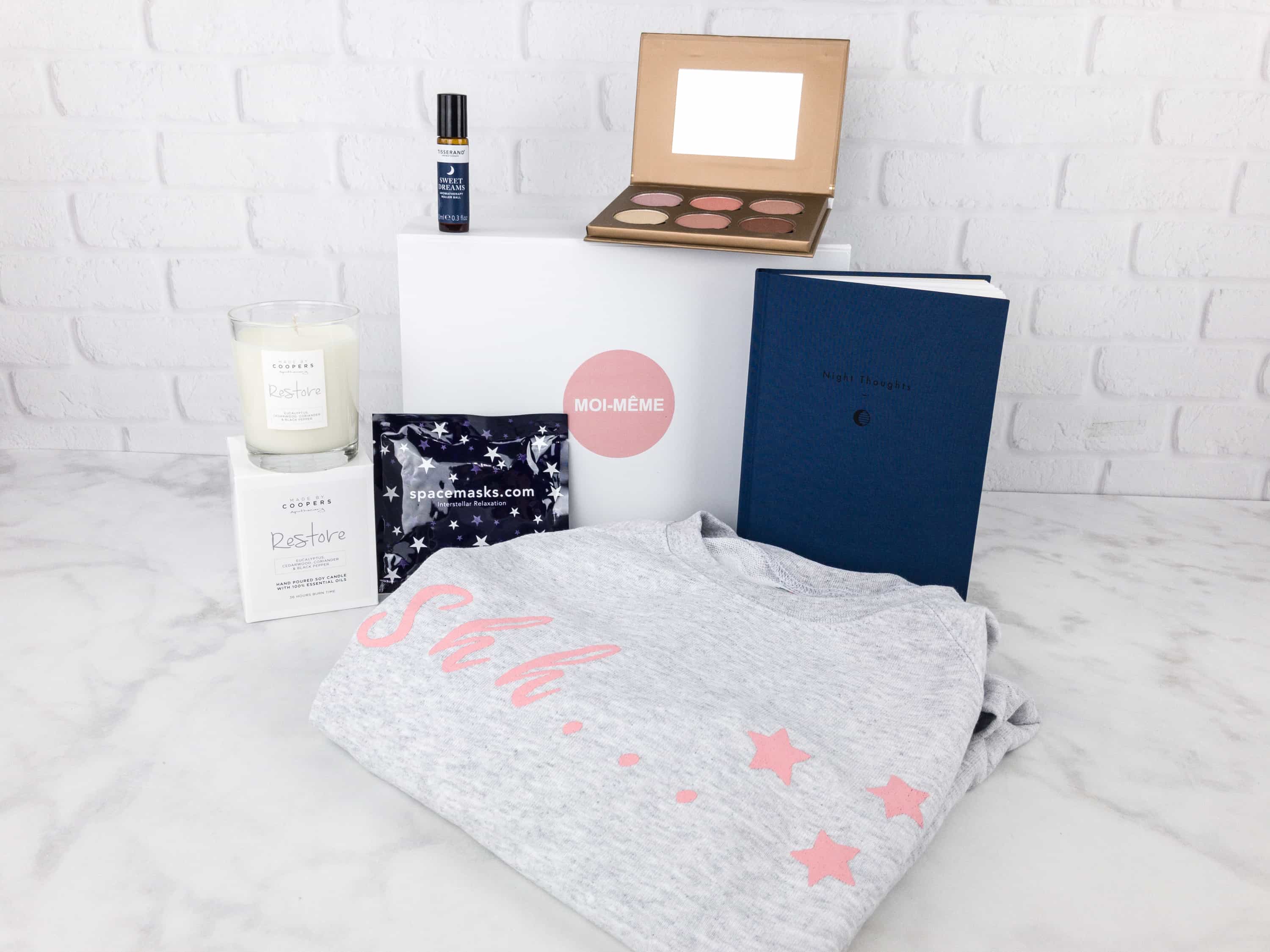 Everything in my Autumn 2017 box!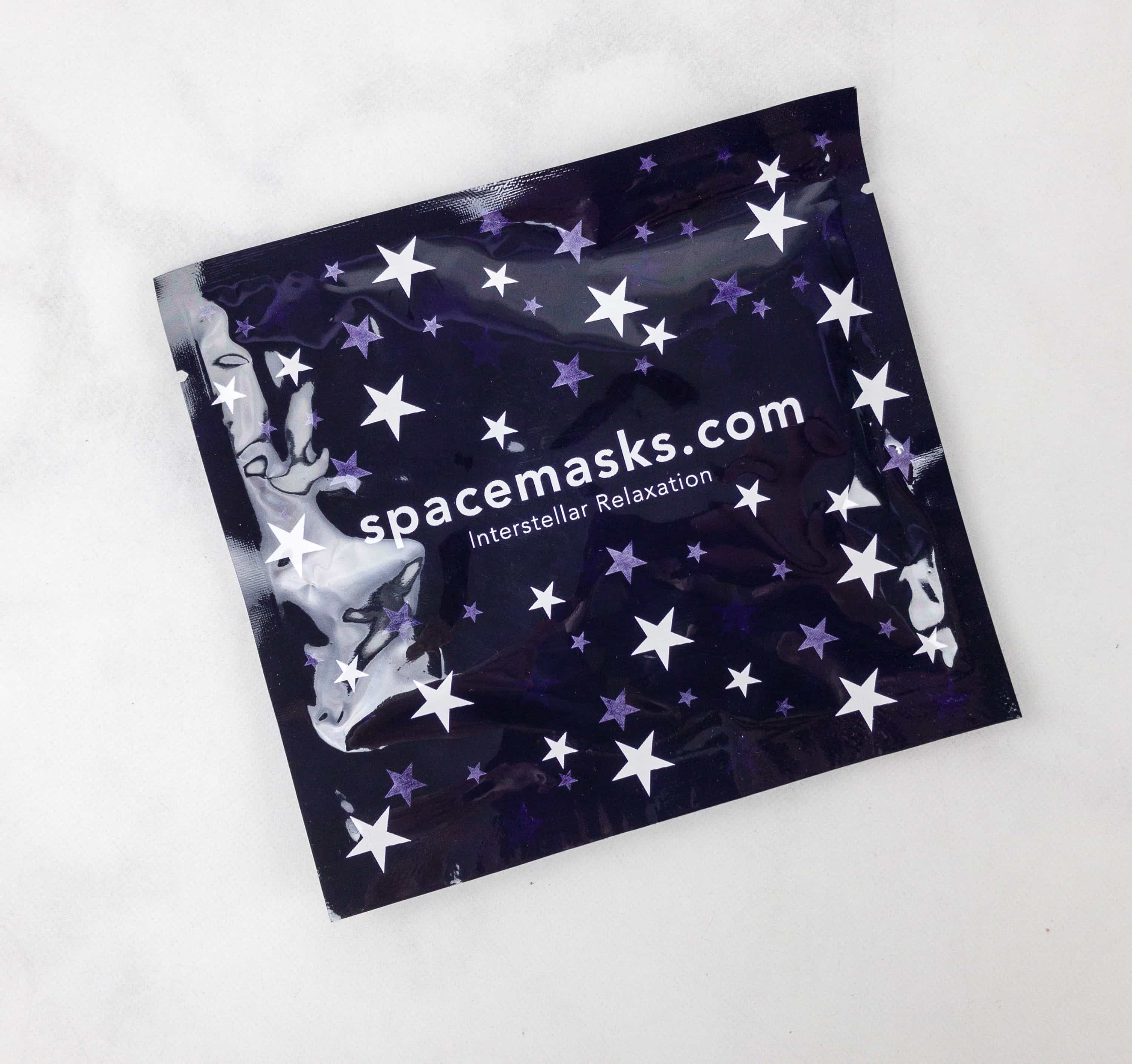 Spacemasks (£3, about $3.95) An eye mask that warms and alleviates strain on eyes by gently warming the eye area. It is made with essence of jasmine and powdered iron filings.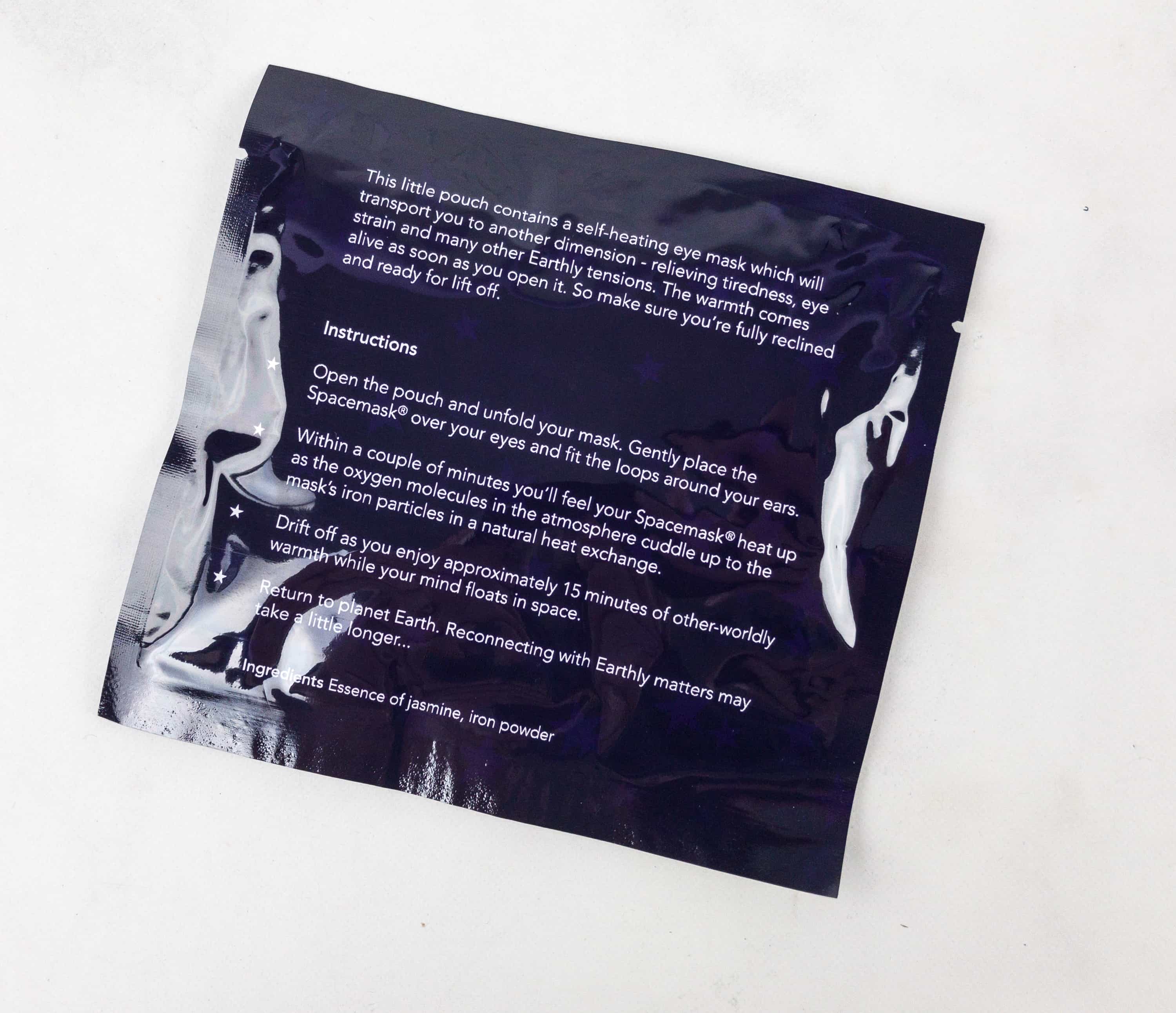 It removes tension from the eyes caused by long days at work and excessive screen staring. It also prepares you for a good night's sleep.
The School of Life Night Thoughts Journal (£15, about $20) This journal provides space where you can write down your thoughts, express your feelings, and put your ideas and aspirations to paper.
It's hard bound!
There is also a page where night thoughts and the purpose of this journal are thoroughly explained.
It is made of munken paper and printed with dot grids — perfect for the unstructured and unrestrained writing of a night journal. It measures 210 x 148 mm and has a total of 192 pages.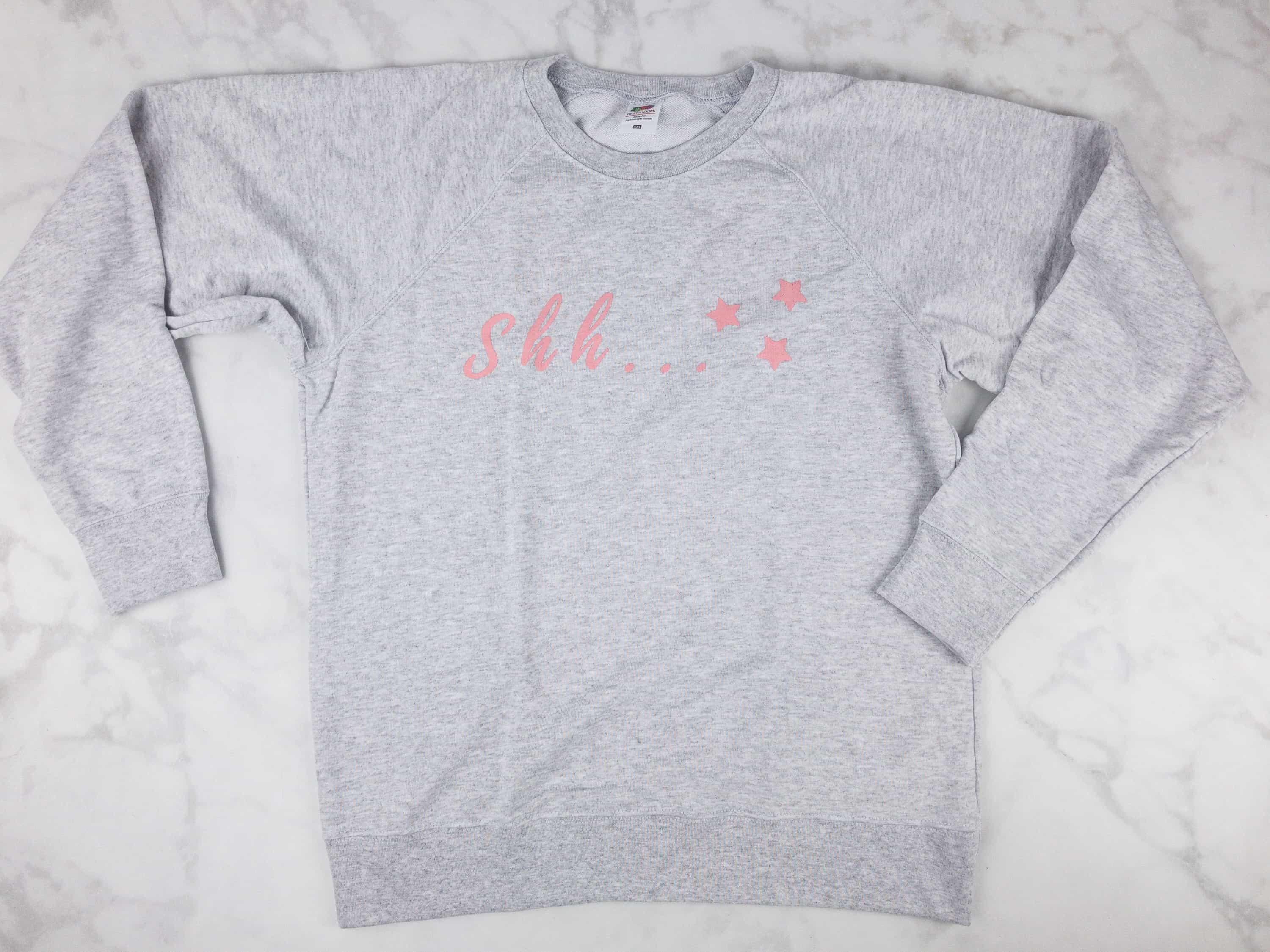 Moi-Même Sweatshirt (£30, about $40) A soft and comfy pullover with stretchable cuffs.
It'll keep me warm during cold autumn nights, and it quietly reminds the hubby to leave me to my beauty sleep.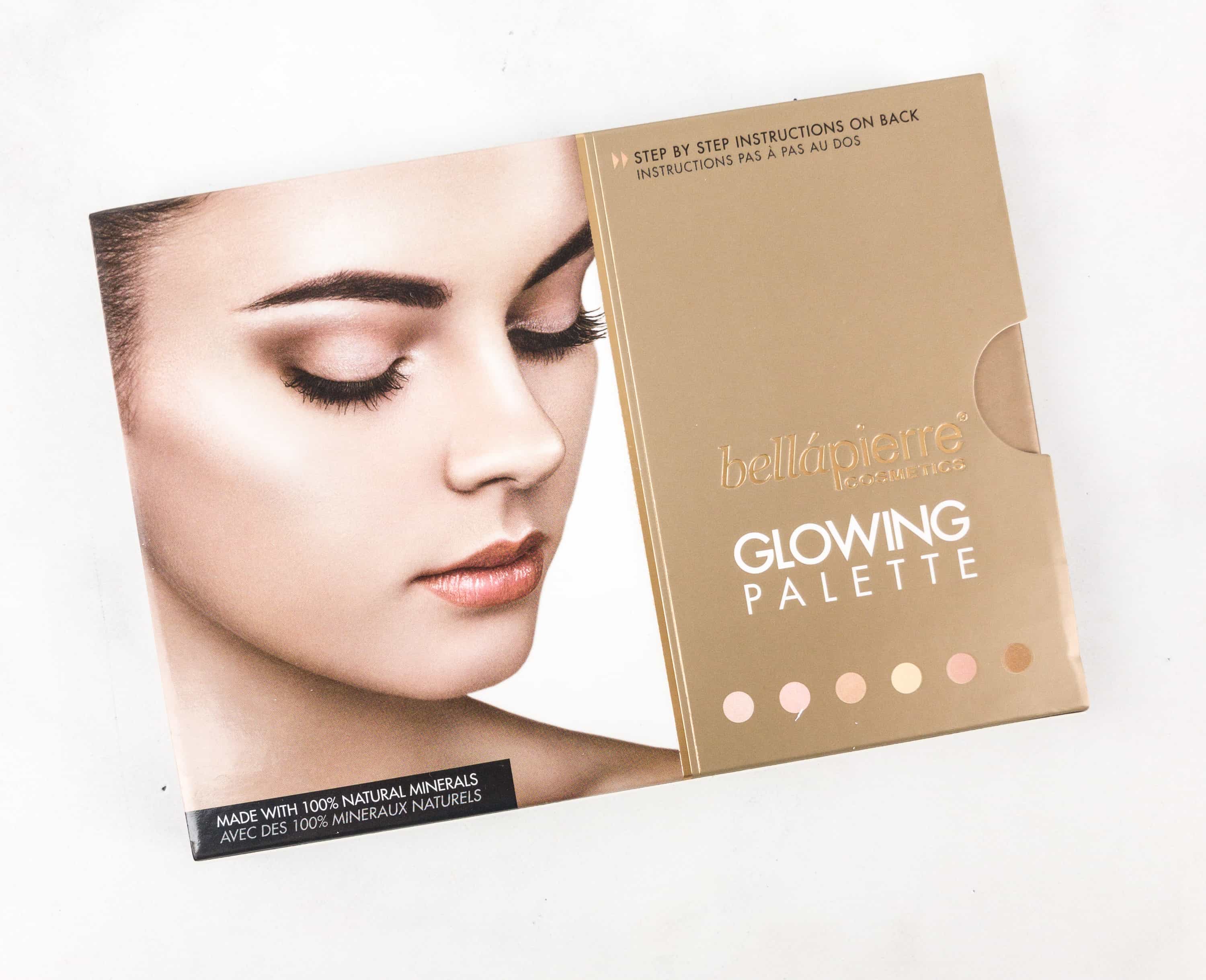 Bellapierre Cosmetics Glowing Palette (£40 on card, about $52) It's also on Amazon but only for $34.66. This palette contains six illuminator options that can accomodate a wide range of skin tones.
To apply/use this palette, gently sweep the product onto the areas you want to emphasize such as the highest point of the cheekbones, down the bridge of the nose, along the Cupid's bow, under the brow bone and the inner corners of the eyes.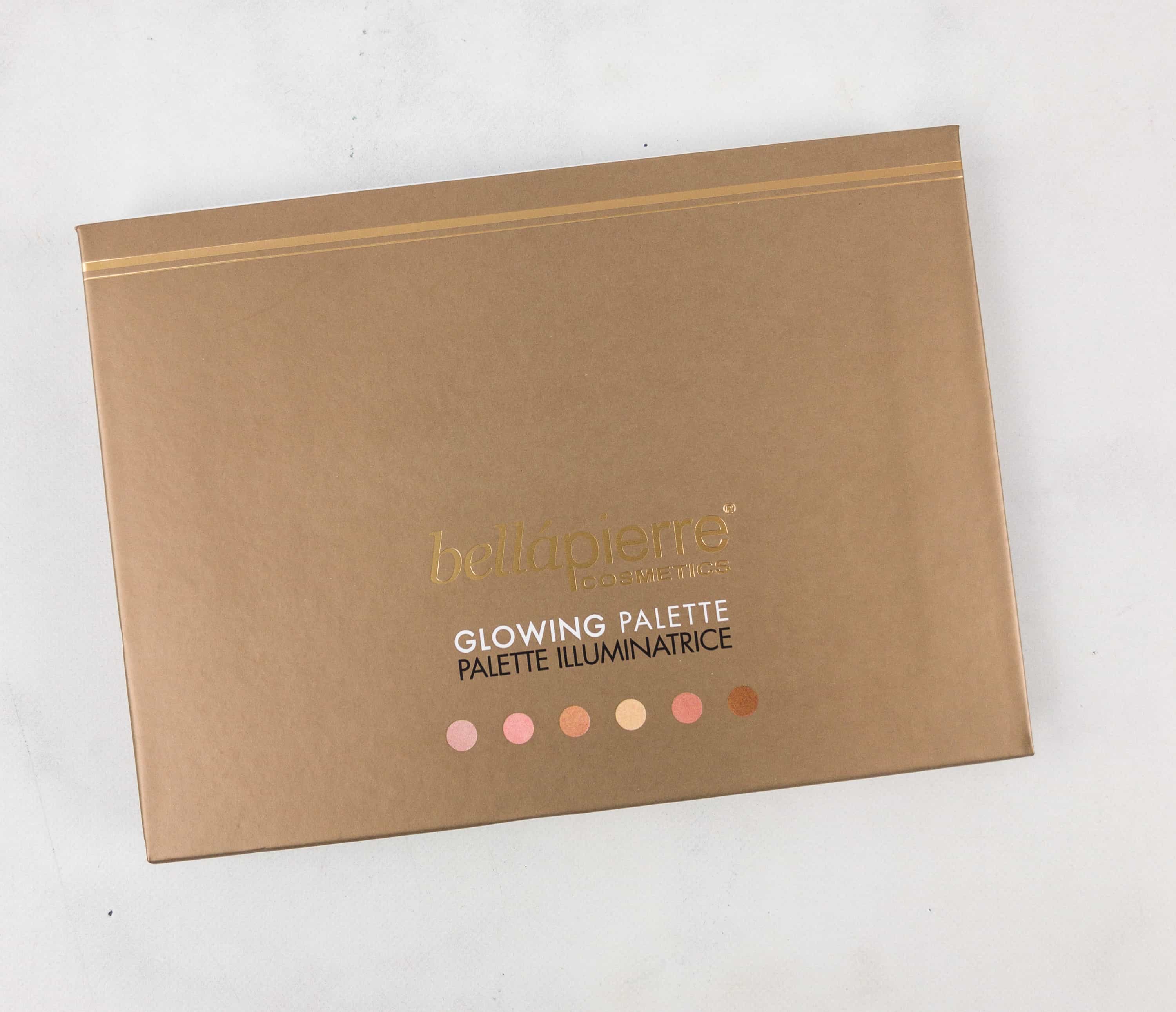 It is made with natural ingredients. Melts seamlessly into the skin and can be layered, whether you want to look natural or have a more dramatic look, giving you shimmer and a glowing complexion.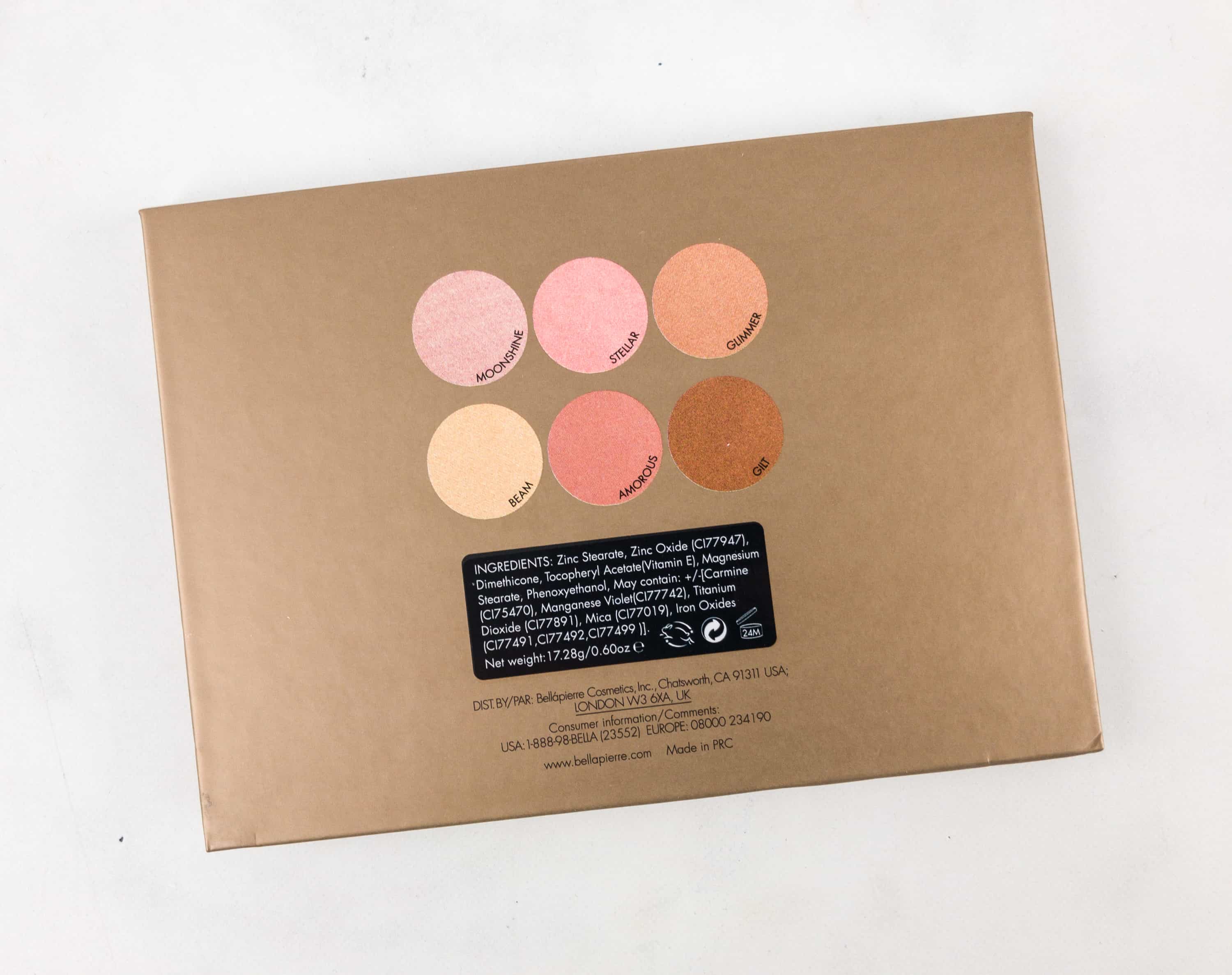 It comes in six colors: moonshine, stellar, glimmer, beam, amorous and gilt.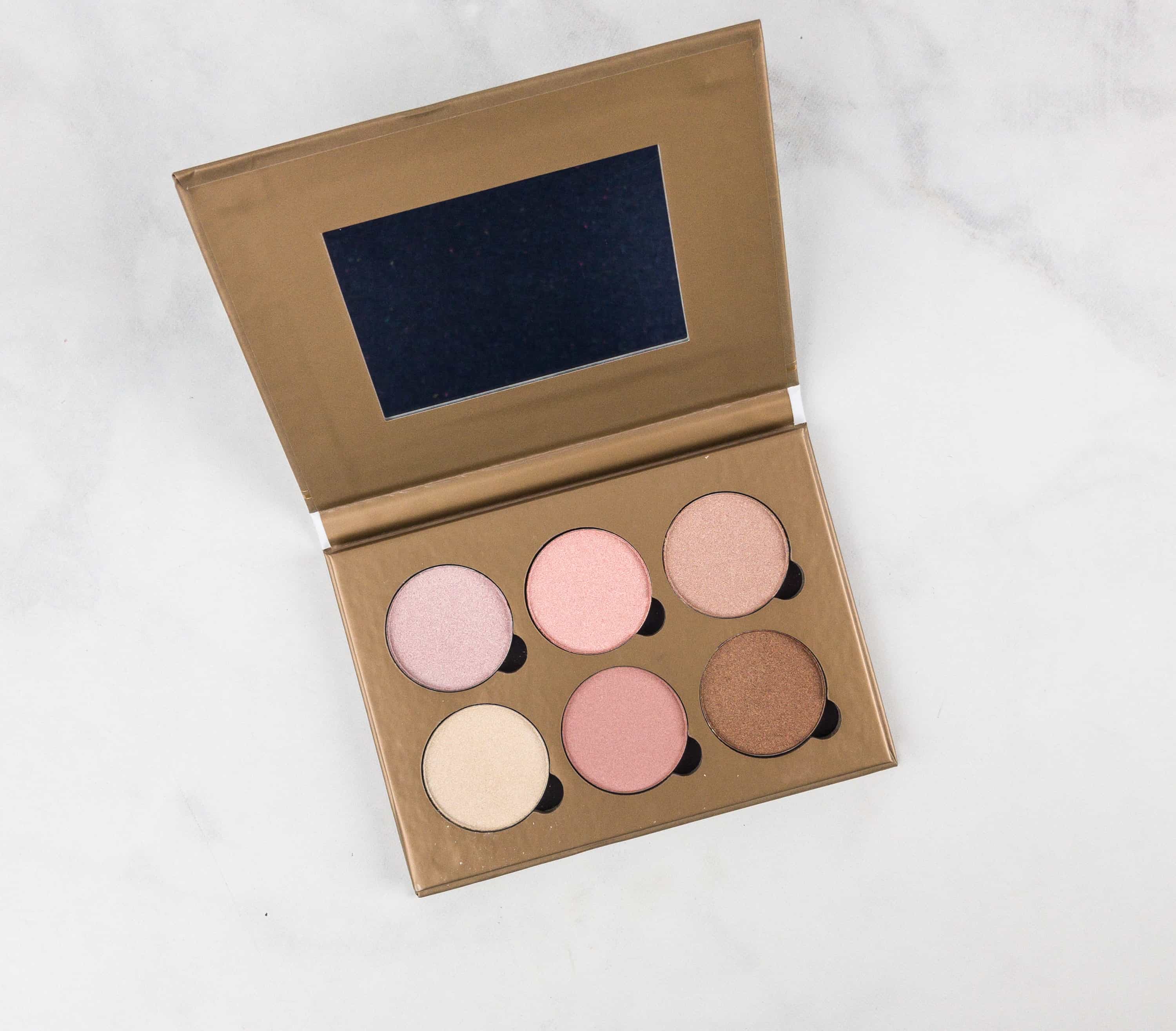 The case includes a built in mirror for ease of application.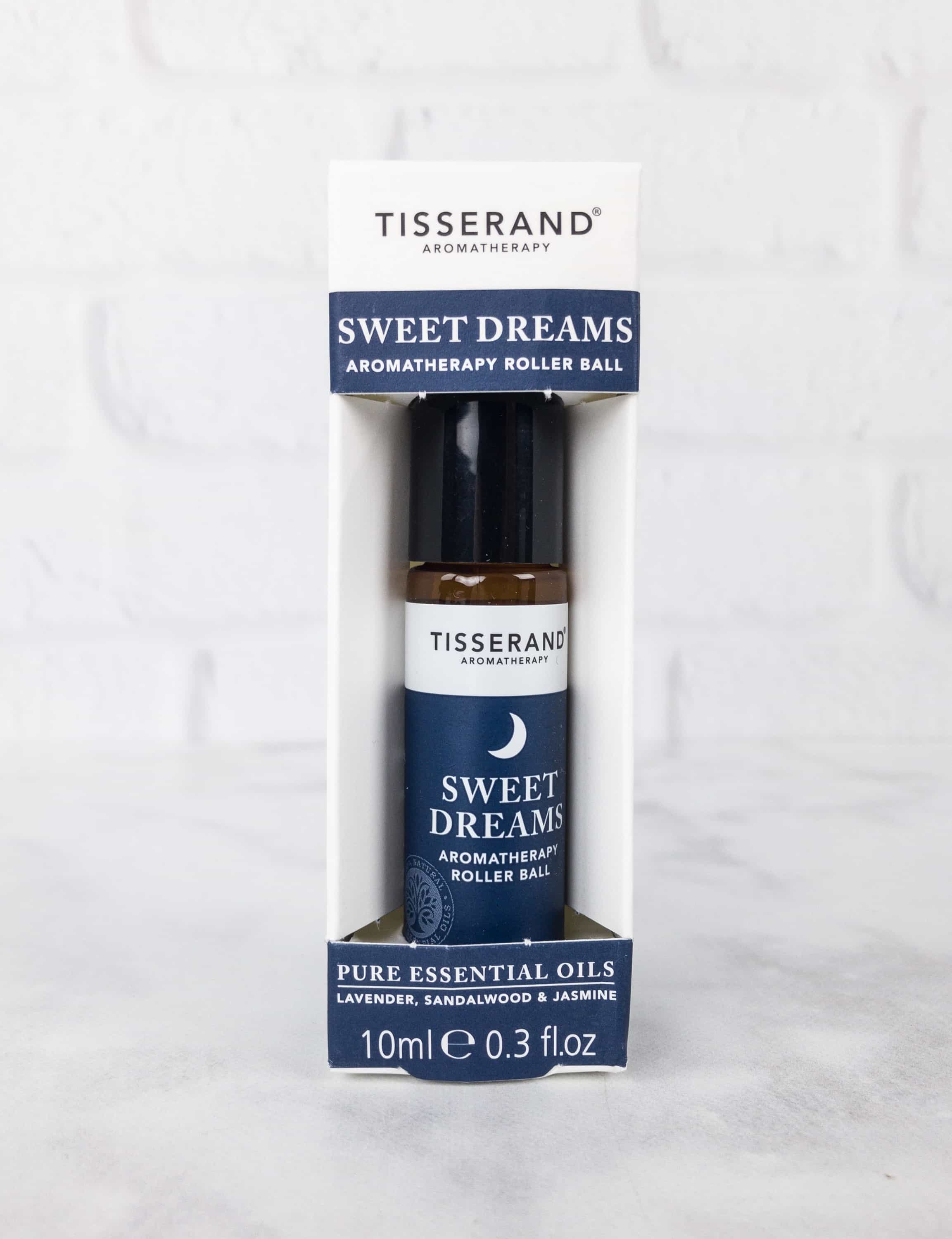 Tisserand Aromatherapy Sweet Dreams Rollerball (£4.46, about $6) This blend has lavender essential oil, jasmine oil, and sandalwood essential oil. The scent is light and refreshing. It's very soothing on the skin too.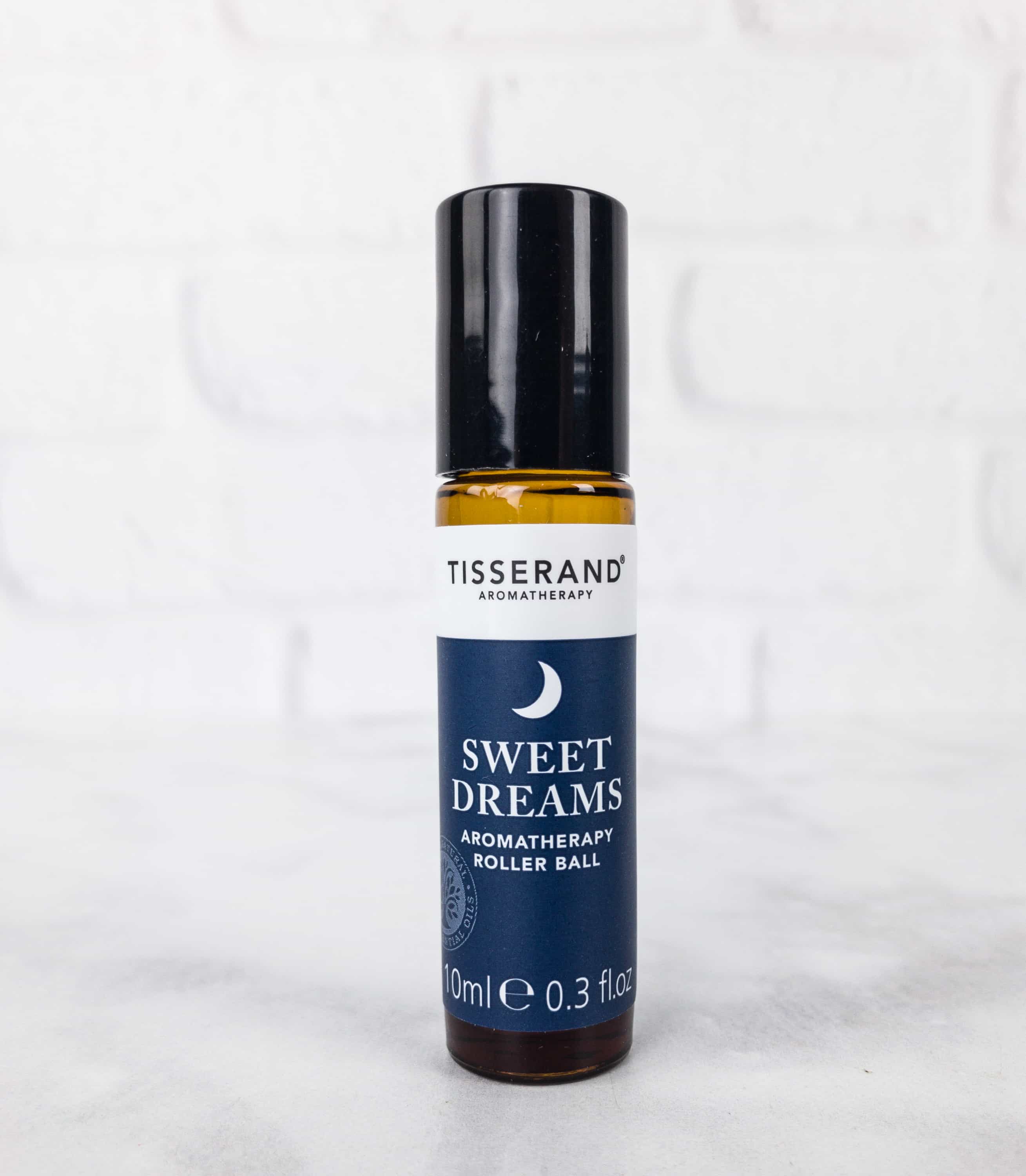 This product has 100% natural ingredients and free from parabens!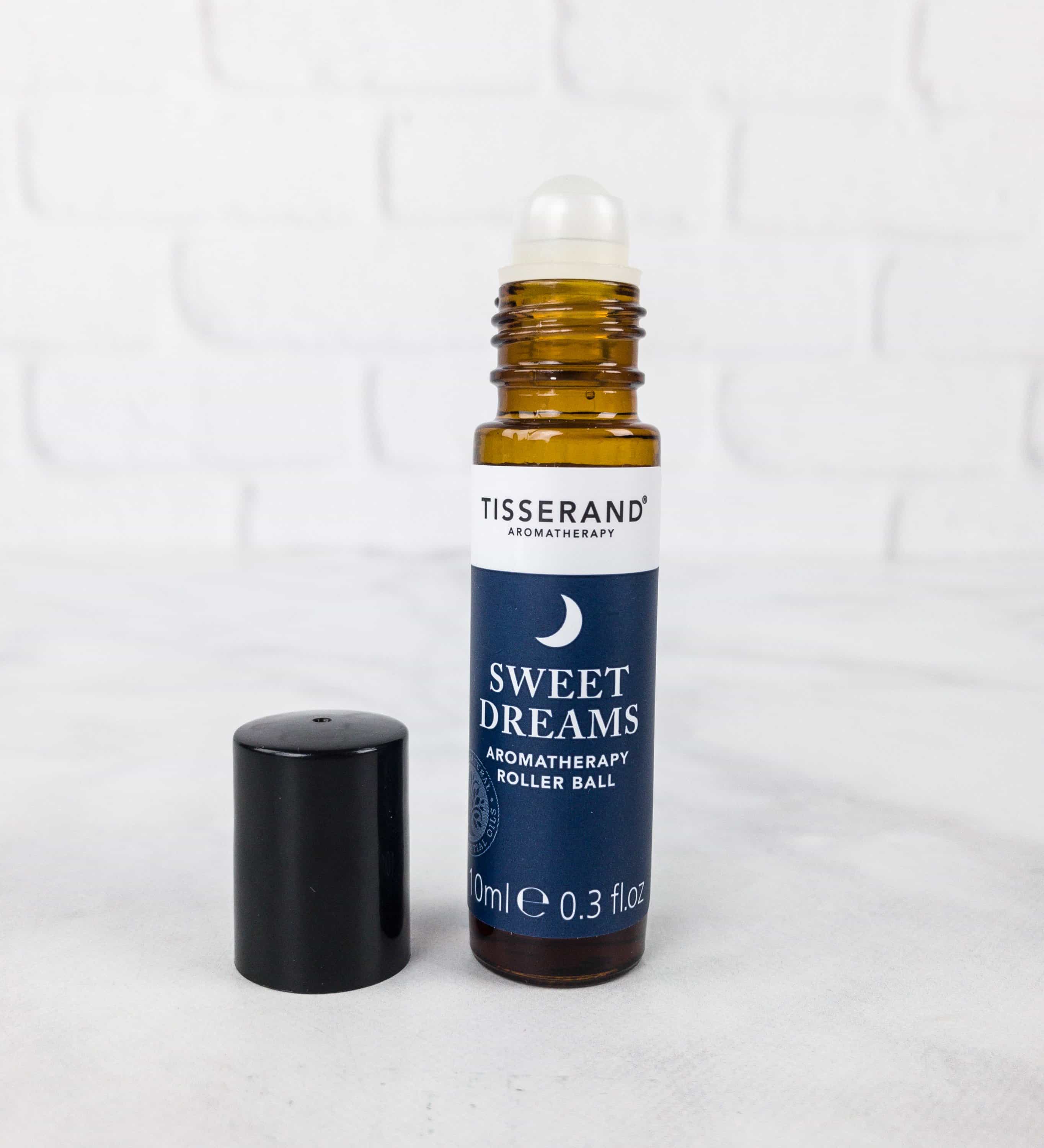 To use, just gently sweep over forehead, temples, back of neck or wrists and massage gently.
Made by Coopers Restore Aromatherapy Soy Candle (£20, about $26.50) This candle is made of eucalyptus that is stimulating and refreshing, cedarwood that is calming and balances emotions, coriander that boosts the mood, and black pepper that soothes tightened emotions and relieves stress.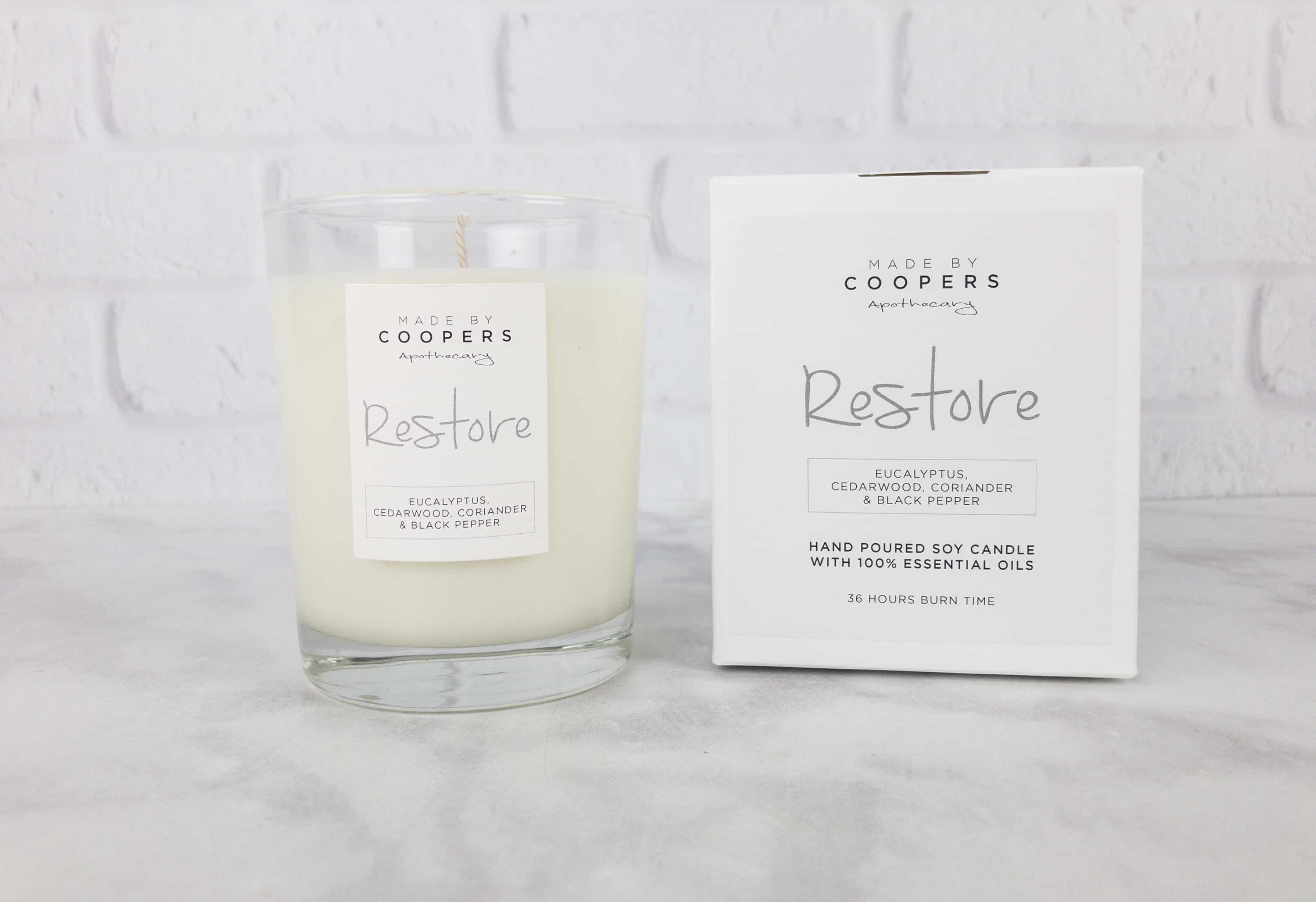 The candle comes in a glass container and contains 100% essential oils.
To get the most from this candle, trim the wick to a quarter of an inch before every use and burn for two to four hours for an even burn pool.
This is such a nice box from Moi-Même! I like all the items they included to help me have a good and restful sleep, as well as the make-up palette. Overall, the value is great. It's something worth getting if you want a monthly supply of lifestyle items from independent brands which are curated within a theme.
What's your favorite item in the Autumn 2017 Moi-Même box?