Freedom Japanese Market is a candy and snack subscription box that ships their goodies straight from Japan! It is curated by a family who hand-picked all the snacks. They also include a cute origami of the month. They offer three sizes of box and the price includes shipping worldwide! For a Canadian subscriber, that's a relief! This box is the Original Pack ($24.99/month). It's been over a year since I last reviewed this box and they have made some nice upgrades, including the printed box which is super cute!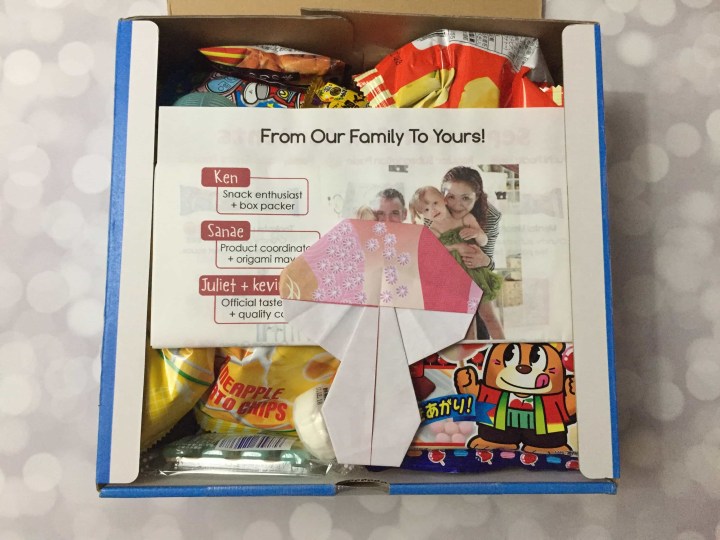 DEAL: Use the code SUMMER17 to get $3 off all Original and Family pack plans. PLUS, mention Hello Subscription at checkout and receive a free bonus snack!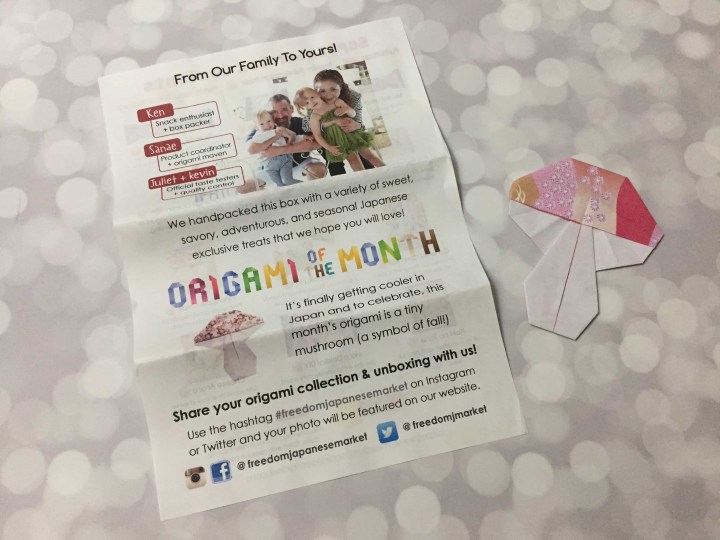 Every box includes an origami design by Sanae!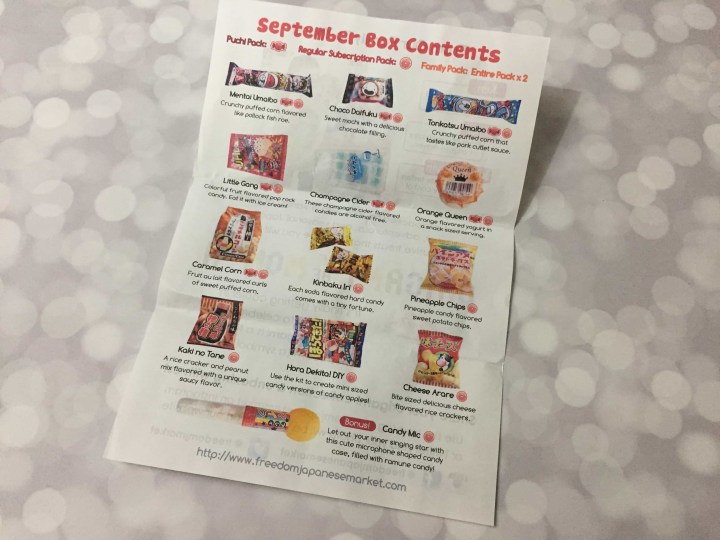 This is the contents of the September box! It got held up along the way and didn't show up until end of October, but I was excited to see it!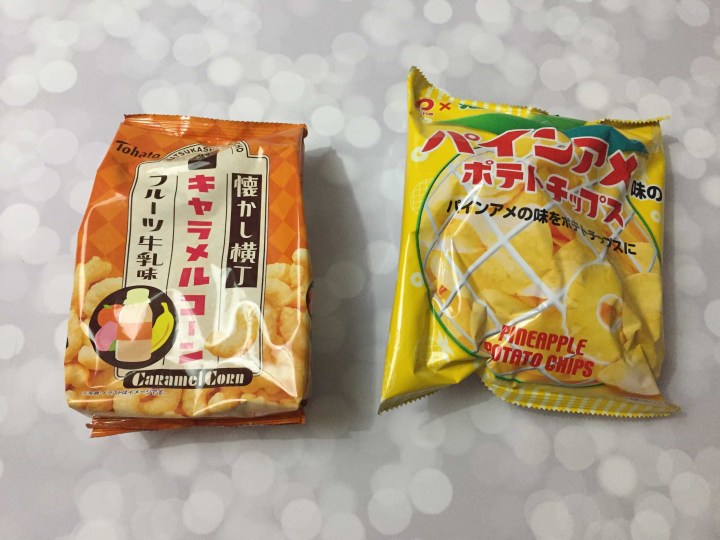 Tohato Caramel Corn — A nice big bag of puffed corn with a sweet caramel flavour. I have tried so many flavours of this snack and it's very sweet but really tasty!
Pineapple Potato Chips — Sweet potato chips with a pineapple flavour. I have really been getting into sweet potato chips so I was happy to see these. The pineapple is definitely not a flavour I would have thought for a potato chip!
Cheese Arare — Arare are rice crackers. I was so excited to try these but they were really disappointing! Sad face. The cheese flavouring was so light I couldn't even taste it, and the rice crackers were soft and felt like eating styrofoam chips. Bummer!
Hora Dekita! DIY Kit — Mix candy to create tiny little candy apples. How perfect for Halloween!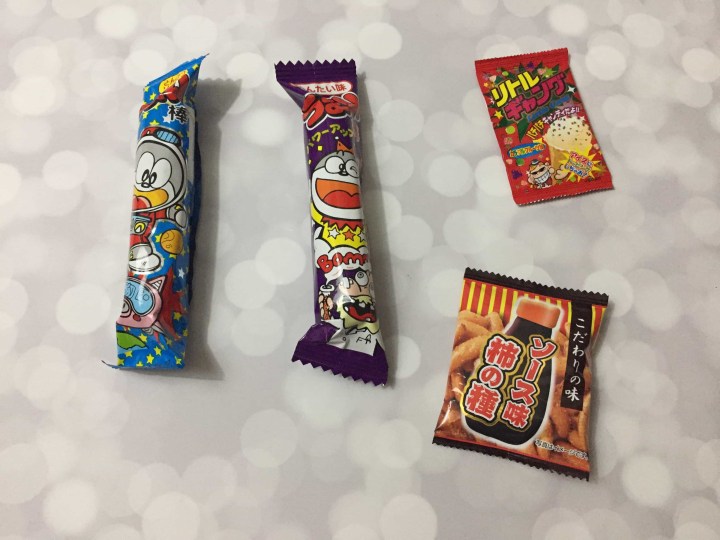 Umaibo — YAY, my favourite! This time we were sent mentai (pollock roe) and tonkatsu (fried pork cutlet). Yum! Umaibo are large puffed corn snacks with seasoning.
Little Gang — The little packet contains pop rocks candy. Just like the kind we have here in a fruit flavour.
Kaki no Tane — I've had variations of this treat before. It's small rice crackers and peanuts. This is a soy sauce flavour.
Candy Mic — A plastic microphone toy filled with ramune soda candy! So cute!
Champagne Cider Candy — I have tried different flavours of these and they are cool. They're small candies that remind me of Chiclets gum… remember the tiny ones we had back in the day? You use a toothpick to skewer each piece.
Choco Daifuku — LOL. I love the little smiling guy on the package. It's a mochi style candy full of chocolate. It's soft and squishy.
Kinbaku Iri — Hard candy with a soda flavour! The packaging includes a fortune which I can't read but it's a cool idea.
Orange Queen — A yogurt style candy. This was an interesting texture, I had to stick my finger in to get it out and it had the whipped texture of a thick thick buttercream frosting. It was a sweet orange flavour. I love it!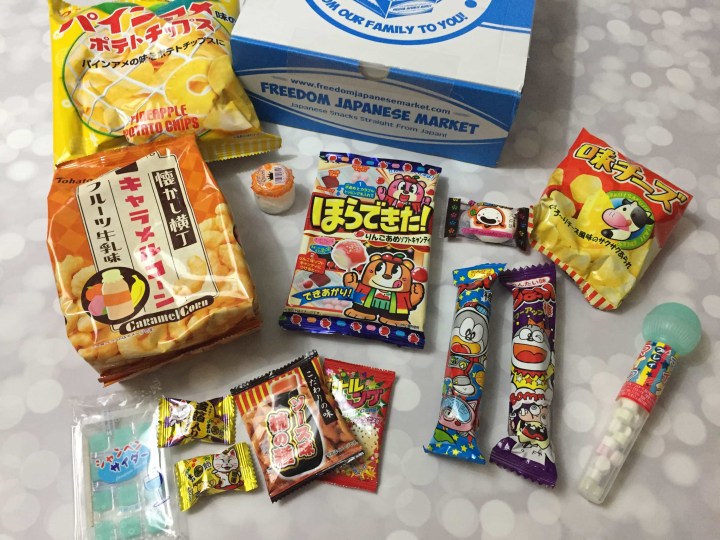 Another great box from Freedom Japanese Market! I love this box and they always put together an awesome selection of snacks. They also do a smaller puchi size box, as well as a family pack (which is 2x of each snack!) so there is flexibility as to how many snacks you get!
What's your favorite snack this month?
Visit Freedom Japanese Market to subscribe or find out more!