Erin Condren's Seasonal Surprise Box is a new quarterly planner accessories and stationery box featuring early access items, popular accessories, and exclusive surprises from Erin Condren. This box isn't available by subscription; you must purchase each box individually.
In addition to the main EC site, you can now shop a selection of non-personalized Erin Condren items on Amazon! Many, if not most, are discounted, and they all have free prime shipping!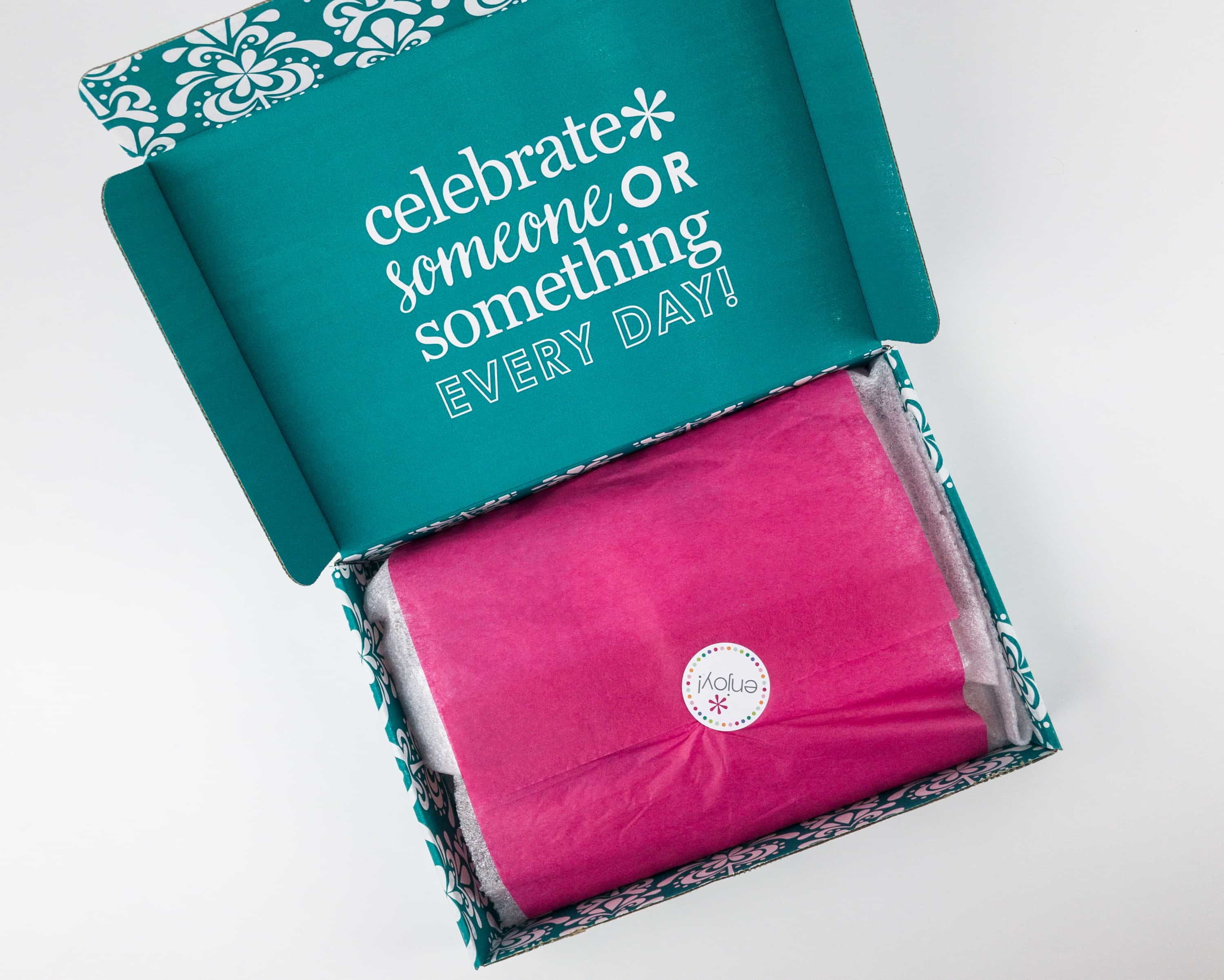 DEAL: FYI – if you use this referral link to register for the site, you'll get a $10 coupon code emailed to you. It may not work on the box purchase. You cannot use the code if you buy anything first, but you can use it on pretty much anything on the site.
The theme for this box is Season Of Celebrating.
The information card gives you a picture list of all the items included. It's so fun and colorful!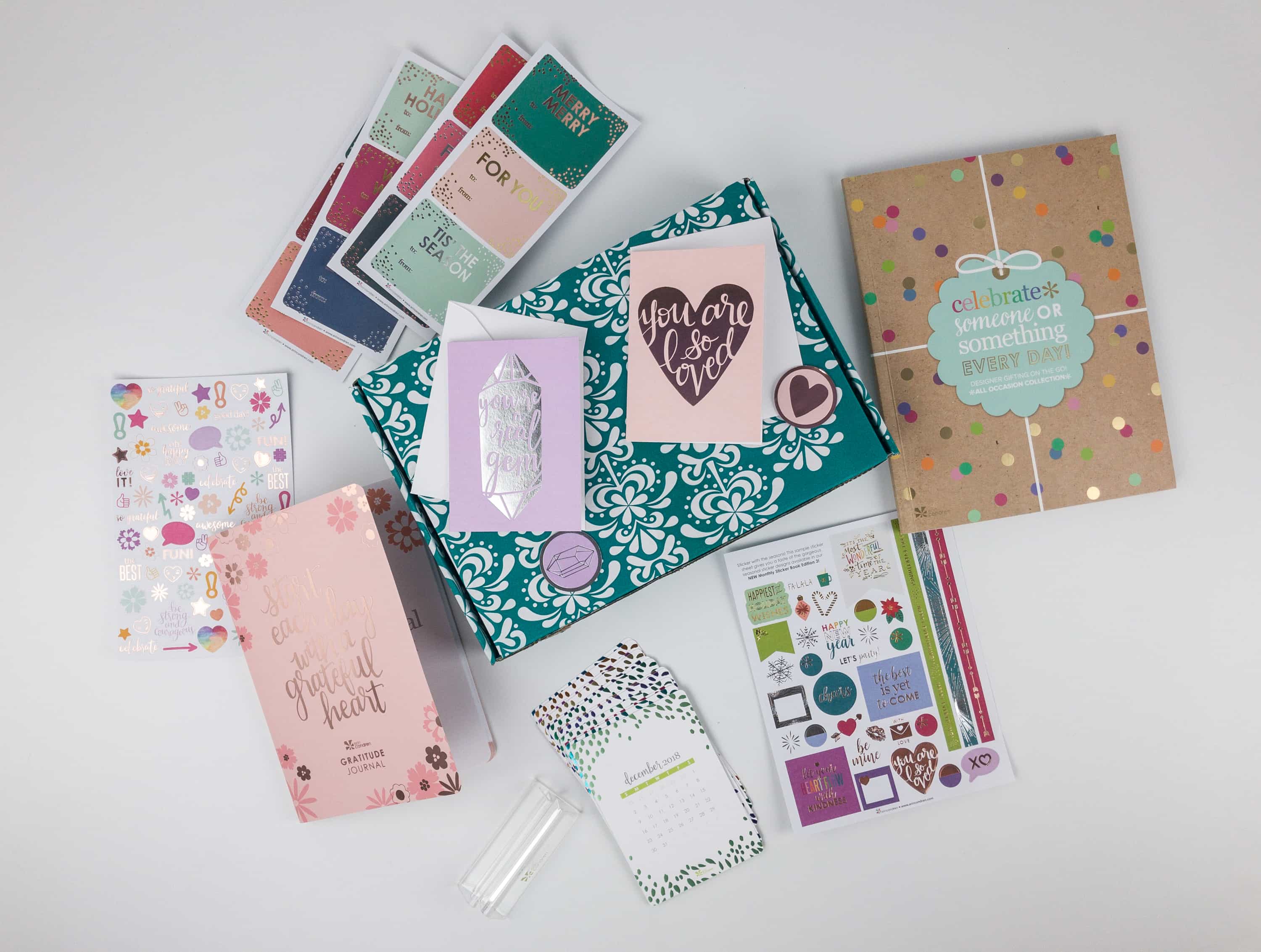 Everything in the Winter box!
All Occasion Gift Wrap Book. Gift wrapping duties won't be as hard with this all occasion gift wrap book!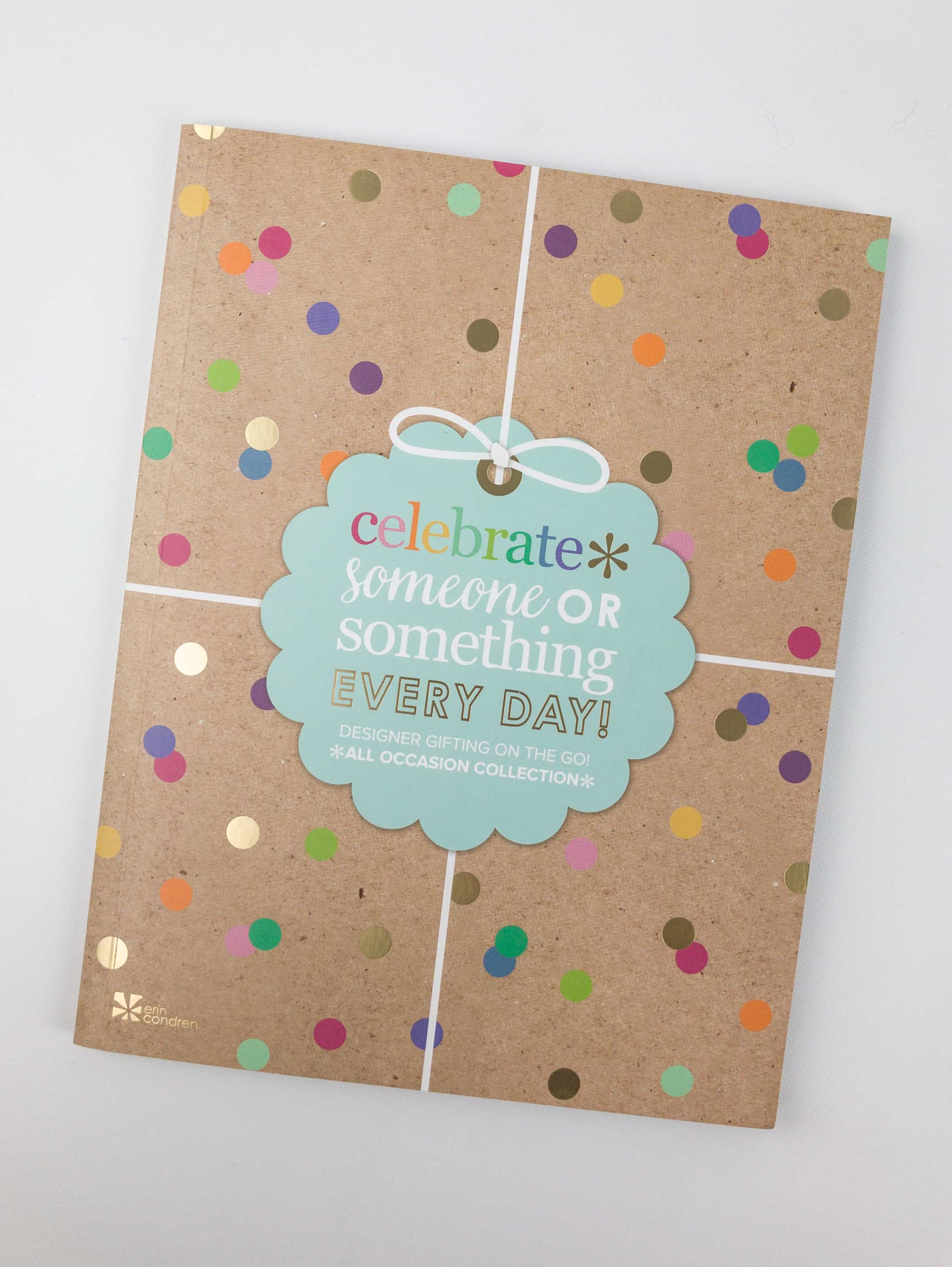 It's a hardbound book containing a lot of gift-wrapping essentials.
There are the 2 designer birthday cards, and they look great. The one that comes in black looks classy!
Beautifully designed thank you cards…
An assortment of colorful gift tags…
And lots of decorative stickers and labels.
More tags and stick-ons!
The gift wraps look wonderful.
Meanwhile, the kraft paper envelopes have their own pockets inside the book. This is really great to have in handy for any occasion!
Reversible Quote Table Top 2018 Calendar. These are cards featuring a monthly calendar in front and a motivational quote on the other side.
Each card is adorned with metallic foil. It would make a nice work desk companion!
It comes with an acrylic stand, so you can easily keep them in place.
I love the simple yet stylish designs!
These quotes would also be nice to ponder on as you start fresh every month.
Great thing they come in individual cards so there's need to rip them off.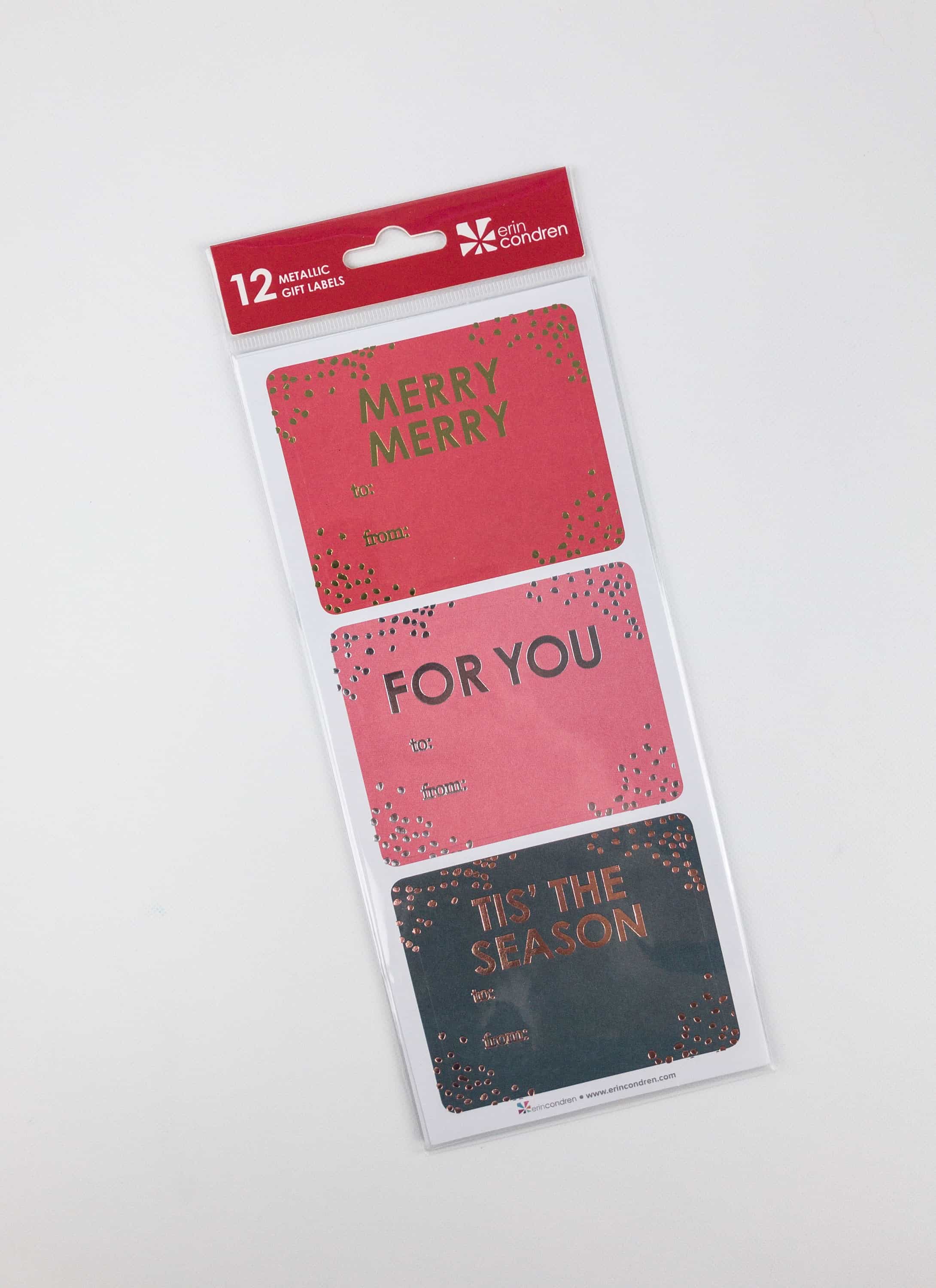 Holiday Metallic Gift Label Set. These labels came perfectly on time!
These are going to be useful in making gifts extra fun and sparkly.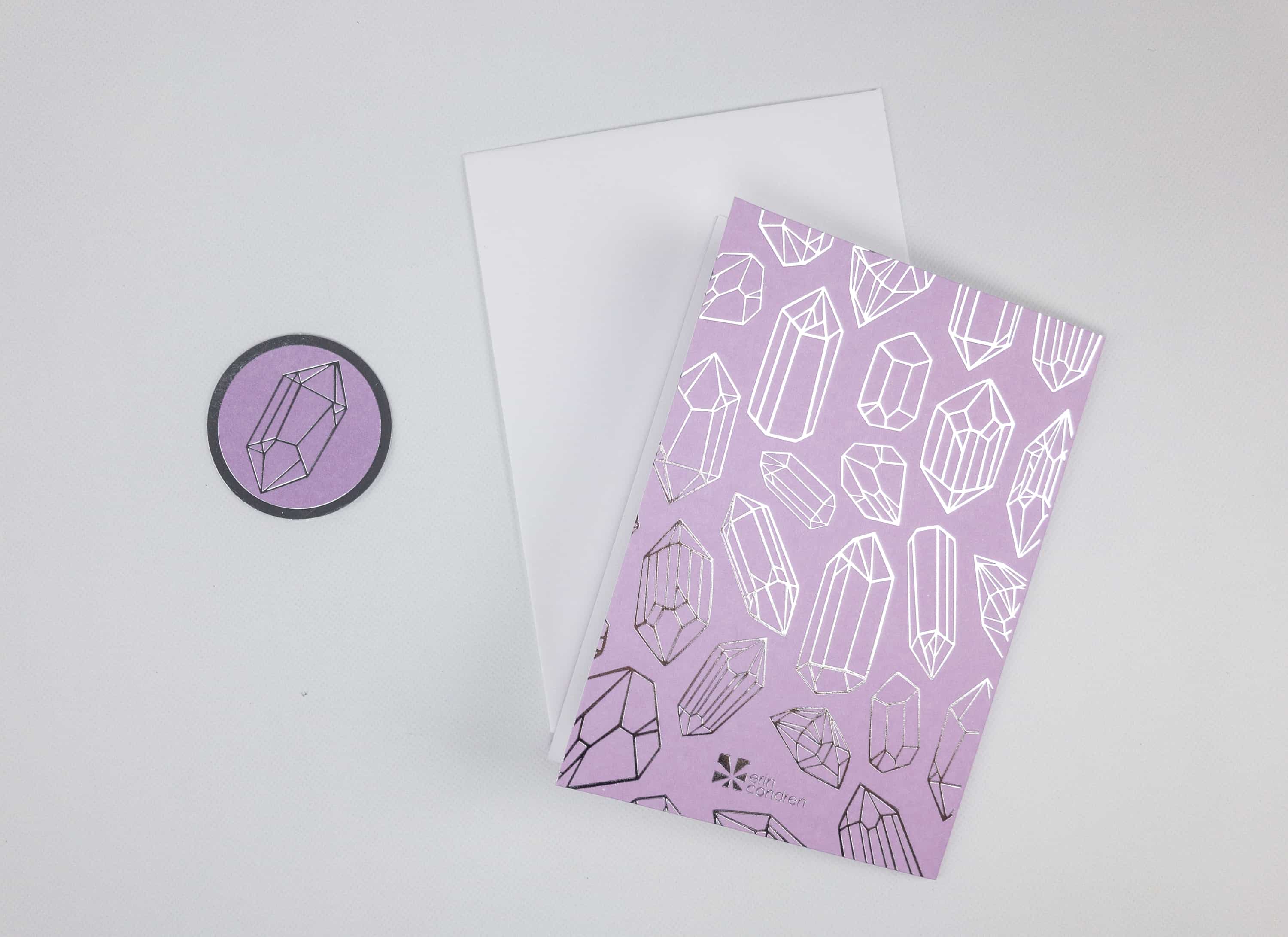 Valentine's Day Card Duo. This card came in too early, but it's totally fine to be prepared for Valentines way ahead of time, right?
I love that this Valentine's day card is purple, it's really pretty. Should I just keep it?
While this one is pretty in pink. And whoever receives this kind of card will truly feel loved!
It comes with an envelope and a similar sticker/seal. It's really cute!
Petite Planner Gratitude Journal. This lovely notebook is for recording your everyday personal reflections.
"Start each day with a grateful heart." I like that thought!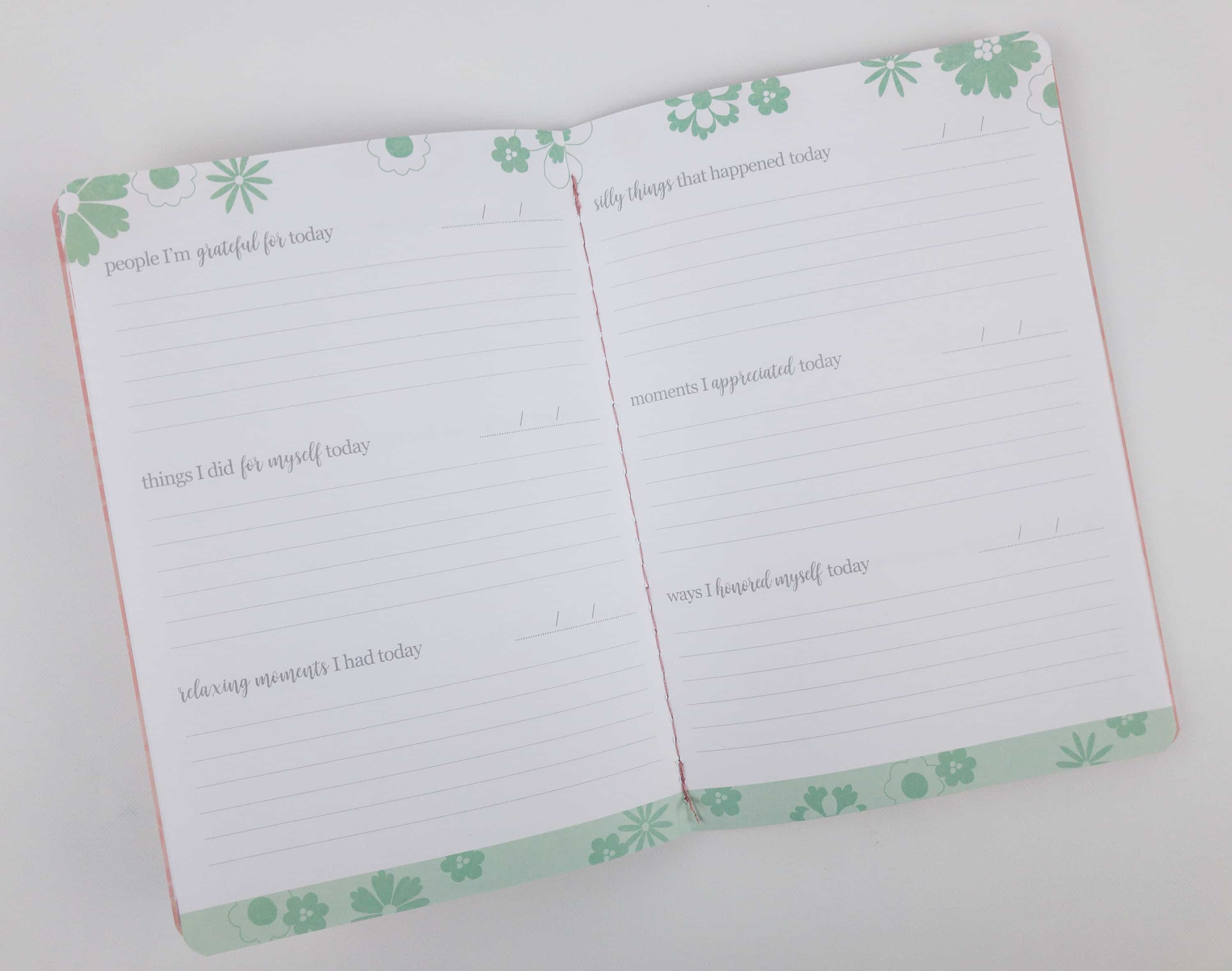 The inside pages have some statements and on the blank spaces, you can jot down your own thoughts about it.
It also comes with a 30-day reflection page where you can write your observations, favorite moments and learnings. Meanwhile, another page is dedicated for stuff you are looking forward to.
There are more inspirational quotes inside to keep you motivated.
It also comes with cool and colorful stickers that you can use to decorate the journal!
Holiday Sticker Sheet. Can't get enough of these holiday stickers! They would be great either on cards or gift tags!
This seasonal box from Erin Condren is packed with useful items! I won't be having a hard time with gift wrapping for the holidays because they have already provided most of what I need. There's an awesome calendar and a gorgeous planner that make me really excited, I can't wait to use them! I also love the gift wrapping book as it contains gift wrapping essentials that I can use in any occasion, not just for Christmas. Everything in the box are colorful, fun, and inspirational, and I couldn't ask for more!
This was another stellar edition of the Erin Condren seasonal surprise box. As usual we have an extra one to give away so be sure to hit the bell on this review to get notified about all things EC Surprise!
What did you think of the box?
Visit Erin Condren Seasonal Surprise Box to subscribe or find out more!