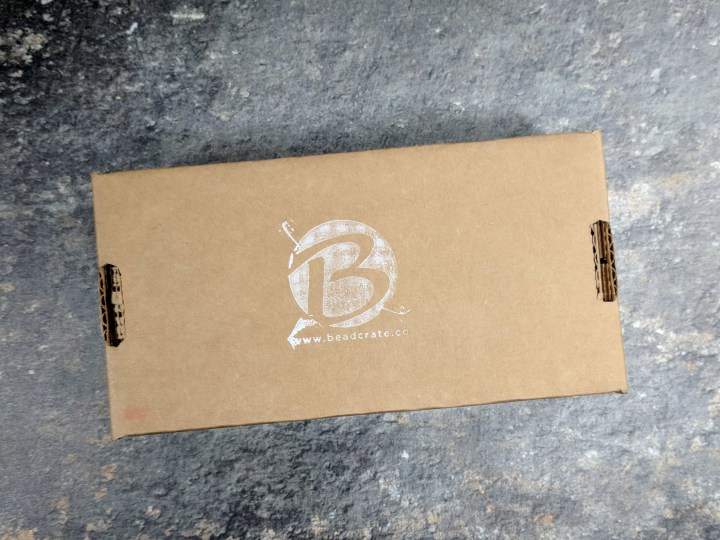 BeadCrate is a monthly subscription box for bead enthusiasts. Every month, you'll receive a curated collection of beads, findings, and other goodies to enhance your beading creations! There are three box sizes – Hobbyist ($7.99), Enthusiast ($15.99), and Collector ($35) [prices don't include shipping] to choose from. This is the Enthusiast Crate!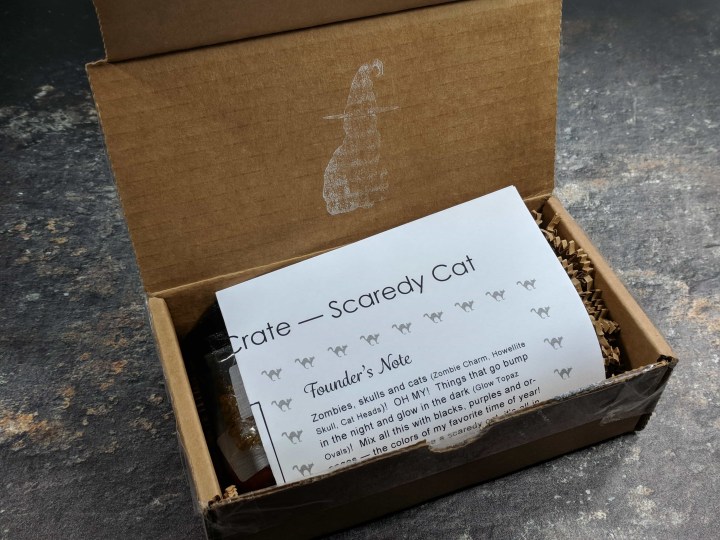 The beads always come neatly packaged inside individual well-labelled plastic bags inside a cute organza bag.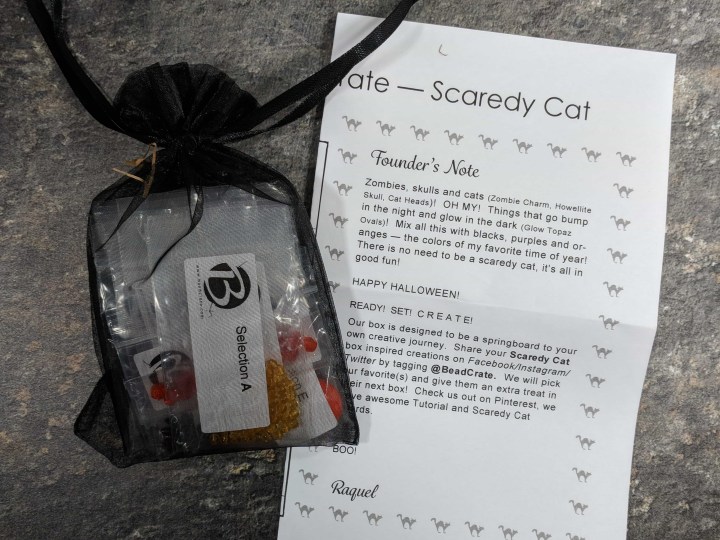 We also have a curator's note explaining the theme. This month's theme is Scaredy Cat, perfect for Halloween! You can share your creation on their social media (Instagram or Facebook, don't forget to tag them!) for a chance to get a little surprise in next month's box.
The crate comes with a chart that tells you exactly what you're getting.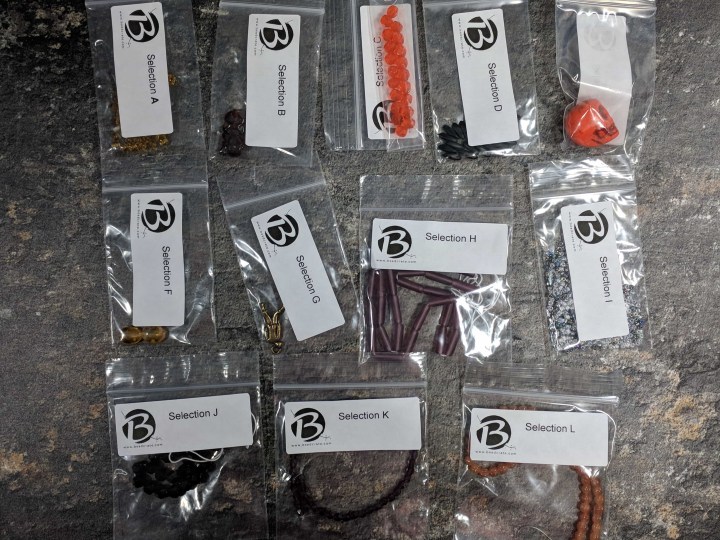 The colors are perfect for Halloween!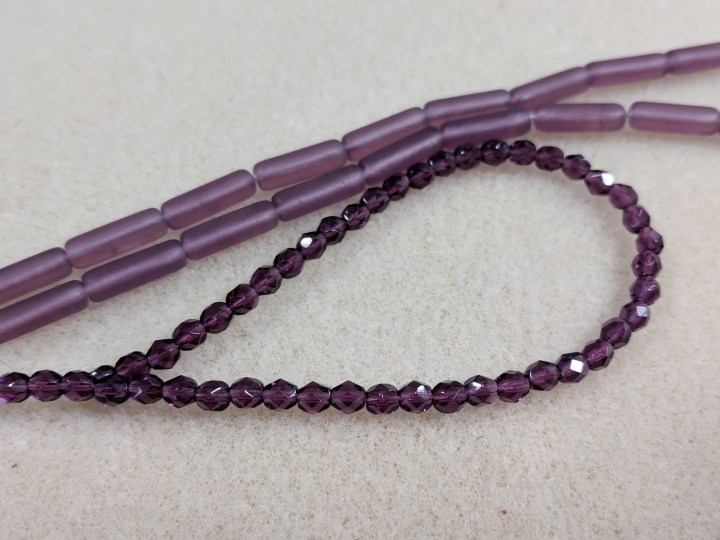 14x4mm Matte amethyst Long Tubes. In a previous box, we received an AB version of these tubes, and I still need to come up with a design, because I really like them! Maybe once I get enough of them, I'll make a ladder bracelet!
4mm Amethyst Firepolished. I love tiny firepolished beads, they add sparks without being too much!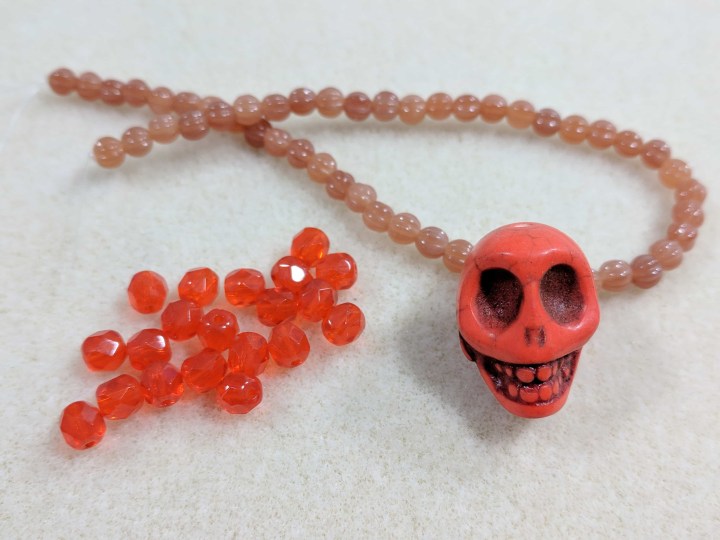 6mm Hyacinth Faceted Rounds. I love strong colors like this one. They are perfect for a fall or Halloween themed box.
22x17mm Howlite Skull (Assorted Colors). I'm so happy I ended up having an orange skull, it fits perfectly with the hyacinth faceted rounds and with the black beads. The hole goes top to bottom through the head, and it's quite a big head! That would make a fun pendant. It would also fit with anything Dias de los Muertos related!
5mm Milky Caramel Round Melon. They are so cute! I love the rigged look, and the colour really reminds me of milk caramel… Mmmmm, caramels. Maybe I should go get some Halloween candies after all!
13mm Tortoise Cat Faces. How adorable are these! I want to make a pair of earrings with the glow-in-the-dark beads that we also received in this box. But I also have some black and copper beads that would fit nicely with them. So many options!!!
3x10mm Matte Jet Daggers. I'm usually not a big fan of dagger type beads, I never know what to do with them. But being an Halloween themed box, I needed to use these spikes!
6mm Jet Renaissance Firepolished. The cut is different than simple round ones. They are round, but the top and bottom of each beads have smaller facets. I wanted to pair them with the daggers, but they ended up to big for what I wanted to do.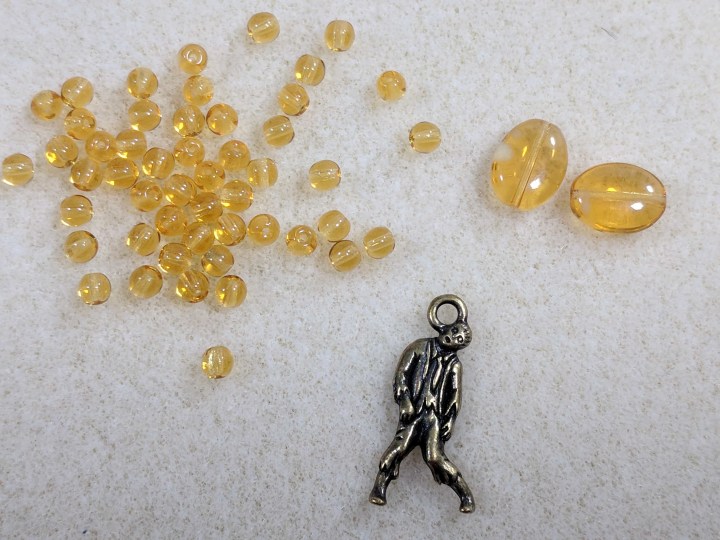 4mm Topaz Druks. They are so versatile to add colors to heavy design, to thread with smaller beads.
12x10mm glow in the Dark / Topaz Flattened Ovals. I wish we would have gotten more of them, so I could have make a tassel pendant with a bunch of them! As is, they'll be perfect with the Cat faces on earrings.
12x26mm Tierracast Zombie Charm. At first, I thought it was a hanged man with the loop and all, but I'm ok with a zombie! I know a lots of zombie fans, so I needed to use it in this month's design.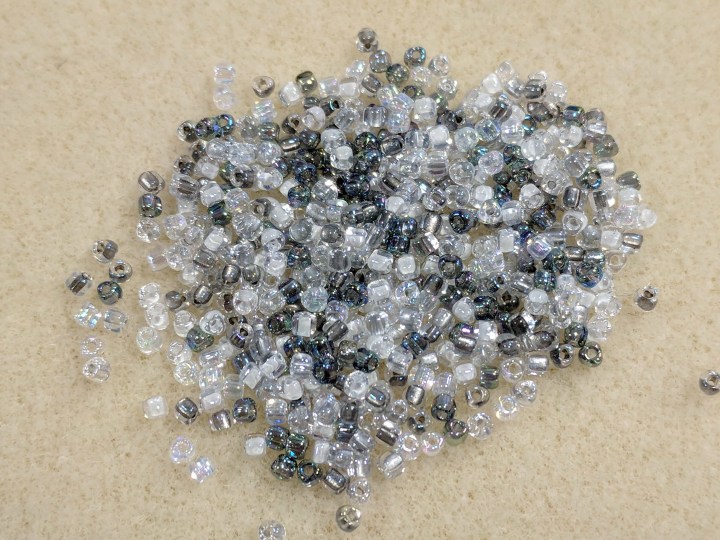 Miyuki 10/0 Triangle Apparition Mix. Silver an white seed beads, I was a bit confused by them. I thought they would be more fitting in a snow/winter/christmas themed box. But they could be used as the "spider web" component with spider charms! Or ghost. On second thought, they are perfect for the theme! But I'll keep them for later this winter.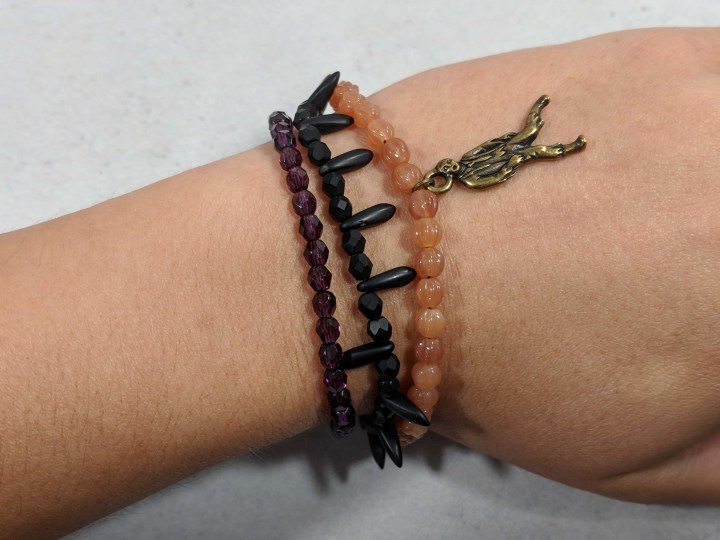 This month, I made a Halloween themed bracelet! I love the little black daggers! I paired them with 4mm jet firepolished from a previous box.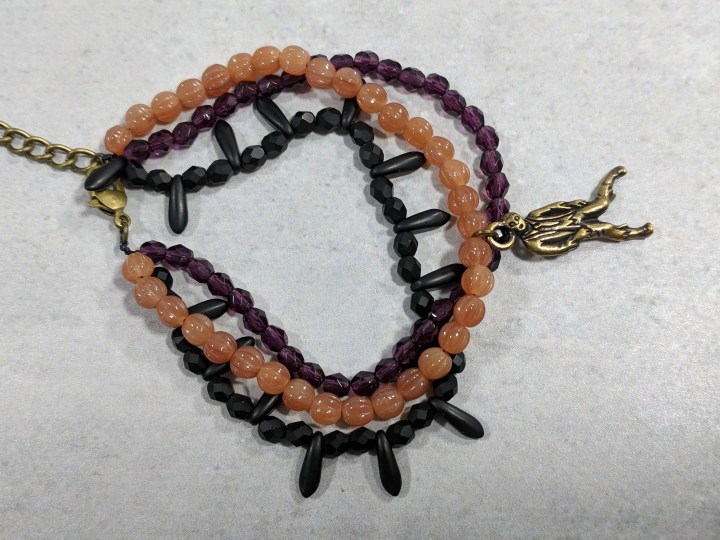 And the zombie was kind of adorable!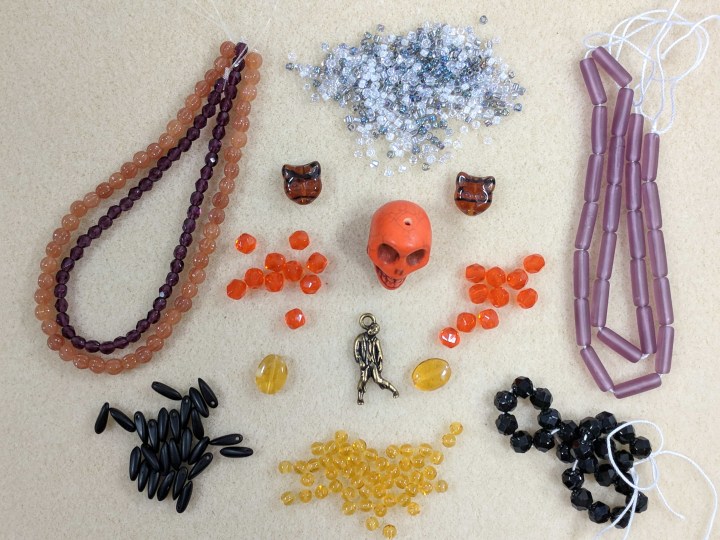 I loved the color in this month's Bead Crate. I'm happy I was able to use the dagger beads, as they are usually beads I don't know what to do with them. BeadCrate gives me beads that are more challenging for me, as I like working with metal and I fill it doesn't really work with smaller beads. But this box is pushing me to try different techniques and to incorporate small beads in my design.
What do you think of this month's BeadCrate box?