Hello Fresh is a meal kit subscription box with complete recipes and ingredients to make 3 meals every week, with each meal feeding either two or four people, depending on the plan you choose.
Though it is a subscription, you can pause your deliveries when needed – whether you are out of town, have other dinner plans, or just aren't in love with that week's selections. The standard subscription provides high-quality meats (free-range chicken, antibiotic meats, etc.) to use in the recipes.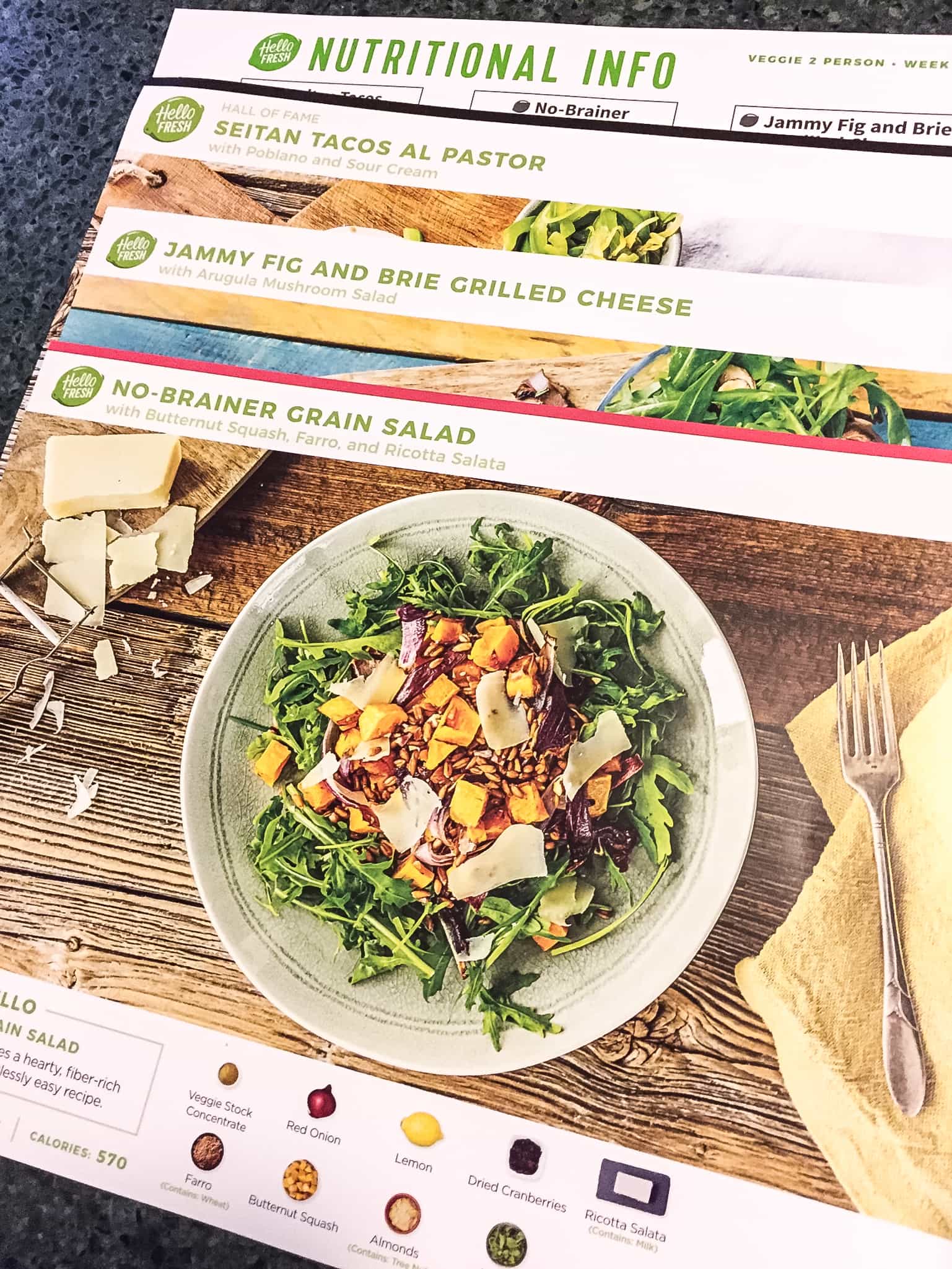 Hello Fresh has great instructions, and they are easy to follow even if you are an inexperienced cook. There are even some kitchen tips included in the information card.
Though we do eat meat, we cook vegetarian three times a week. Thankfully, Hello Fresh has a vegetarian subscription for both casual and dedicated vegetarians.
DEAL: Currently, you can save $40 off your first two boxes when you use this link to subscribe.
The bags used by Hello Fresh keep all the ingredients for the recipes in order, and they stack nicely in the fridge. Within each box, everything but the largest vegetables is separately packaged and is packed at the bottom. Condiments and canned goods are provided in high-end, commercial packaging. Hello Fresh usually provides spices in their own, pre-measured branded packaging.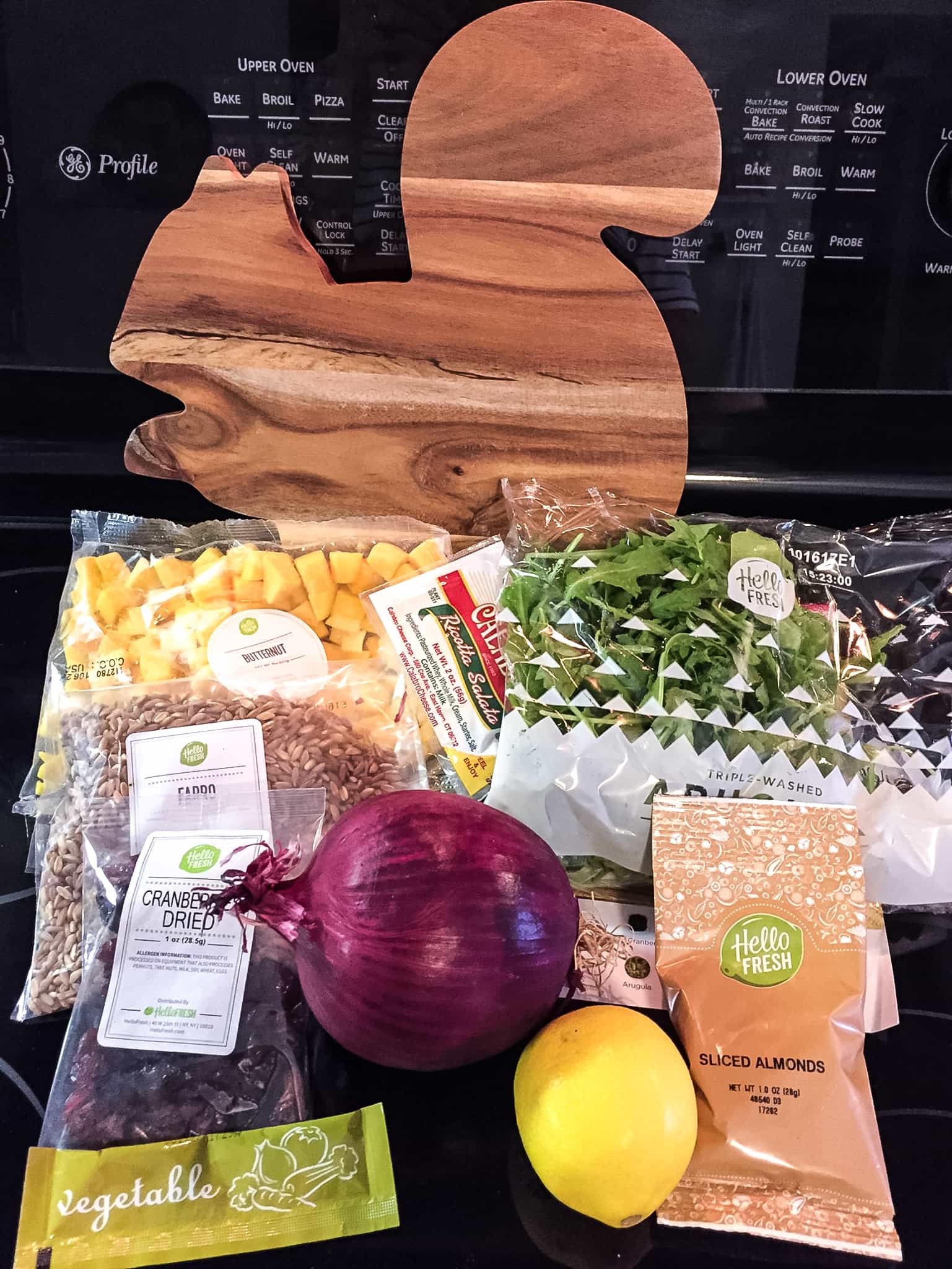 No-Brainer Grain Salad With Butternut Squash, Farro, And Ricotta Salata. 45 minutes, level 1, 570 calories per serving.
Oh, it's definitely the season to get out your fall/autumn decorations including plates. As you can see in the pictures, I have a wonderfully cute squirrel cutting board, recently given to me by my sister-in-law. Eating isn't just about taste, it's texture, sight, smell and the surroundings. Ambiance adds so much to a meal. Can you imagine a "meal fit for a king" served on paper plates with plastic silverware on a card table? Kind of ruins the feel of the meal. Take a hint from Hello Fresh's pictures, the dishes/serving platters are different along with different settings. So change up your meal's ambiance! This meal was served with the squirrel and it added for a great conversation!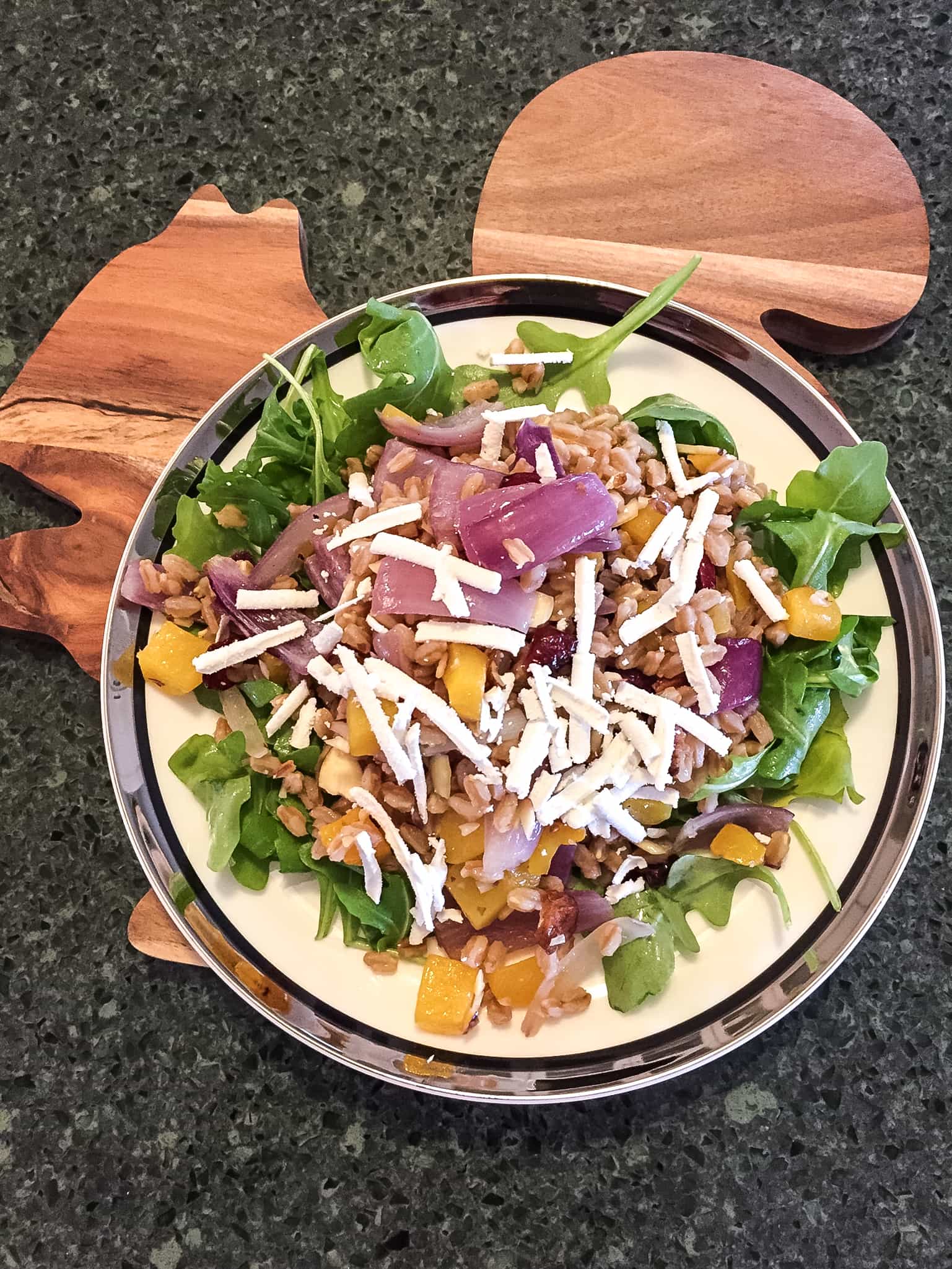 This was a new recipe for my husband and I and we just loved it. We loved the chewy ancient wheat of farro cooked in the stock concentrate, what a great base for the rest of the ingredients. Red onion and butternut squash made a great combination (who would have guessed?) that was mixed in with the farro. Then you topped off the flavors with lemon and ricotta salata. Place that on top of the arugula salad… voila! A great meal.
We were nuts about this dish, no squirreling around!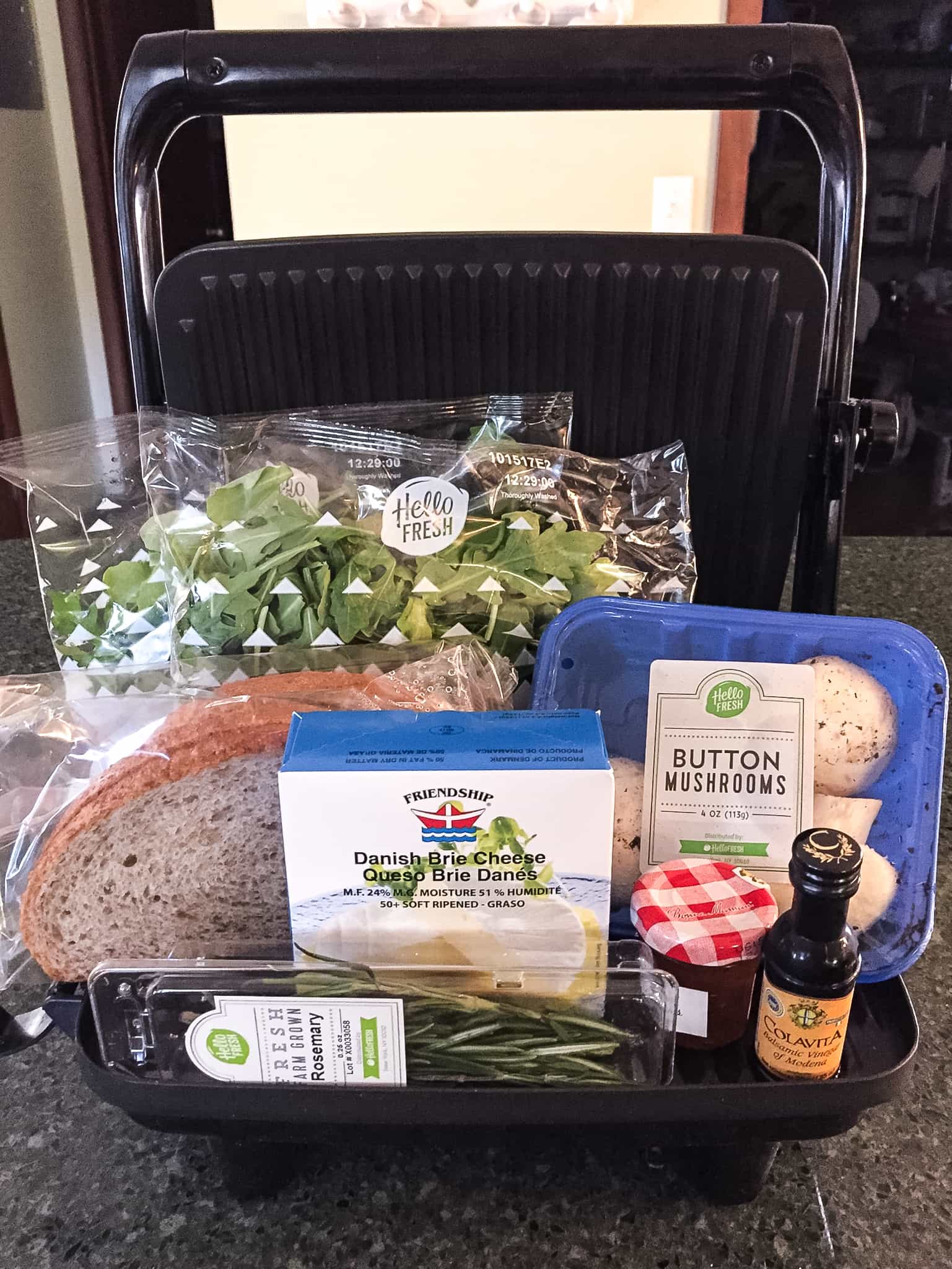 Jammy Fig And Brie Grilled Cheese With Arugula Mushroom Salad. 25 minutes, level 1, 517 calories per serving.
This was a repeat but very delicious meal. My husband and I adore cheese, almost any kind. So when I saw this recipe card, I knew exactly how I was going to change the recipe. If you look at the picture showing the ingredients I think you'll be able to figure it out… I used a panini press instead of the frying pan.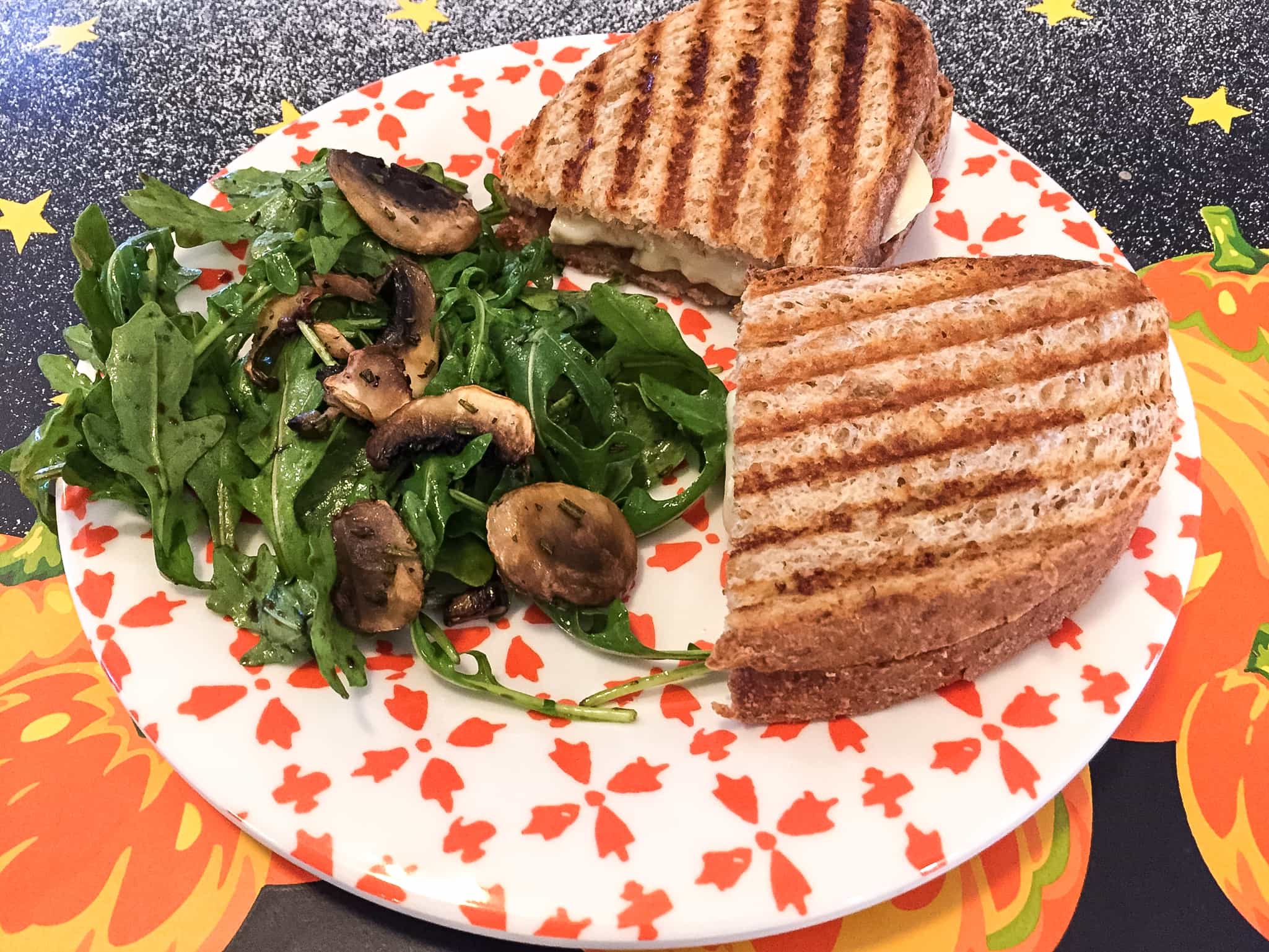 You can see from my pictures that the cheese was just so perfectly melted, not too much that it all ran out and not too little, just right. (Just like Goldy Locks!) Hello Fresh paired the sandwiches with the arugula salad made with mushrooms. The mushrooms had been roasted with rosemary, what an awesome taste that added to the salad. Normally, we split the meals so that it makes 4 servings. Nope, not this meal. All eaten in one setting.
Delicious and so easy to make in the press!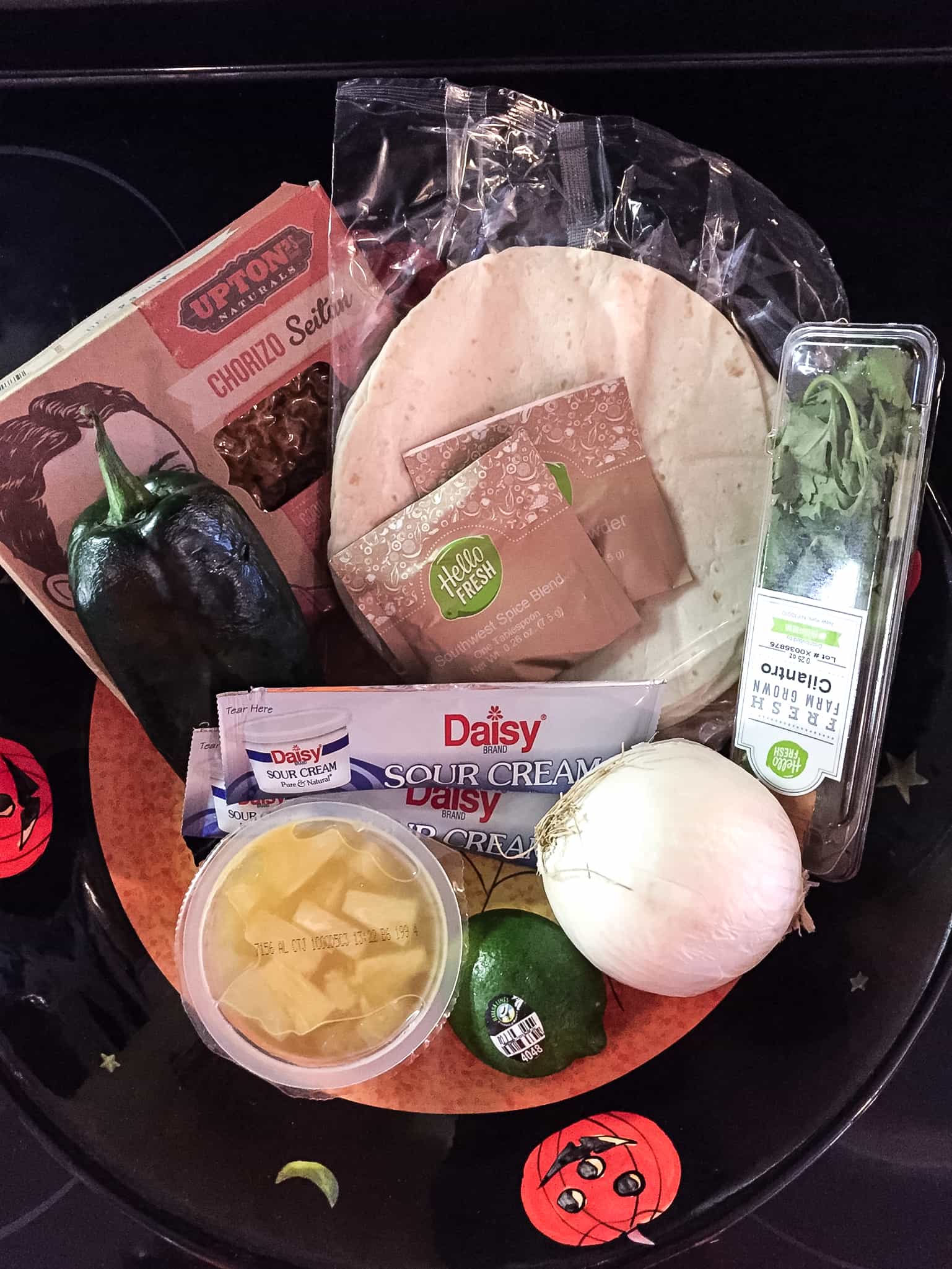 Seitan Tacos Al Pastor. 30 minutes, level 1, 630 calories per serving.
It's that time of year, I had to drag out my Halloween dishes and use one for some of the pictures in this review. When I was teaching children with autism during the summer time, I would go around buying small paper plates with various decorations on them to serve the students their snack. I would use the plates as conversation starters. If it worked for them, just think of the conversations you can have around your dinner table with fun dishware and great food from Hello Fresh!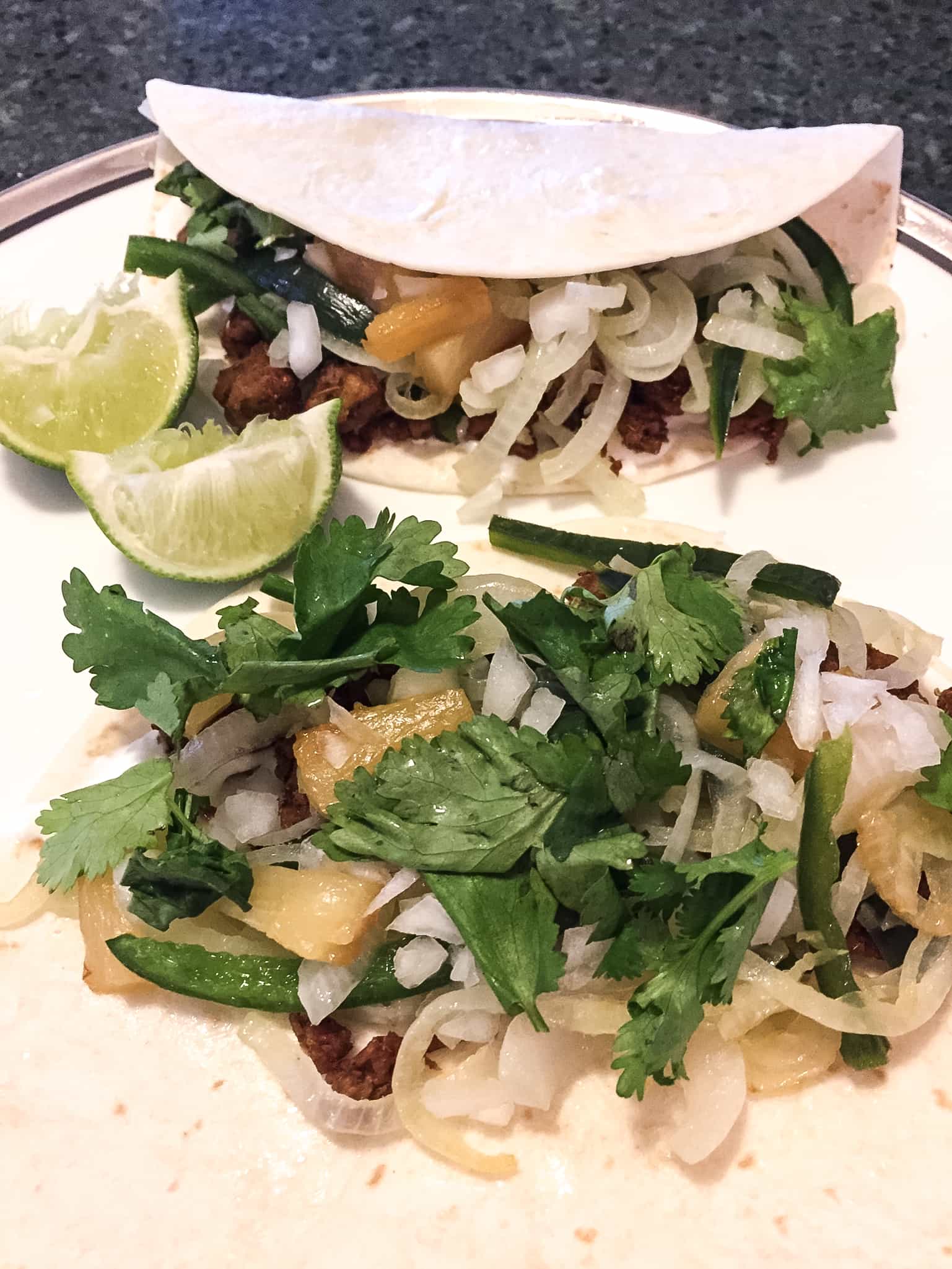 Seitan Tacos is a repeat dinner. We're good with repeat dinners because they're so good. We've even gone looking for seitan crumbles so we can cook other meals with them.
This recipe is a little different as it uses pineapple in the main dish which I really don't see too often. I use a lot of limes and/or lemons for taste but not other fruits. You do cook the pineapple and that enhances the flavor of the sweetness.
Great taco, the pepper isn't too hot, onions get caramelized, sweetness from the pineapple and topped with sour cream. You can't go wrong with sour cream on just about anything.
Happy eating!
What do you think of the Hello Fresh vegetarian plan?
 Visit Hello Fresh to subscribe or find out more!