Her Fit Club is a FitWear subscription box where fitness meets fashion meets beauty! Every month, subscribers receive a new fitness outfit and even more, depending on the package selected. There are four packages available, from the Fit Fashion for $49.99 a month for the basic fitness outfit, to the Premium Fashion for $149.99 a month, which includes the basic fitness outfit, beauty products, workout equipment and a new pair of shoes!
This review is for the Fit Move ($69.99 a month) which includes a fitness outfit, a beauty product and a workout equipment.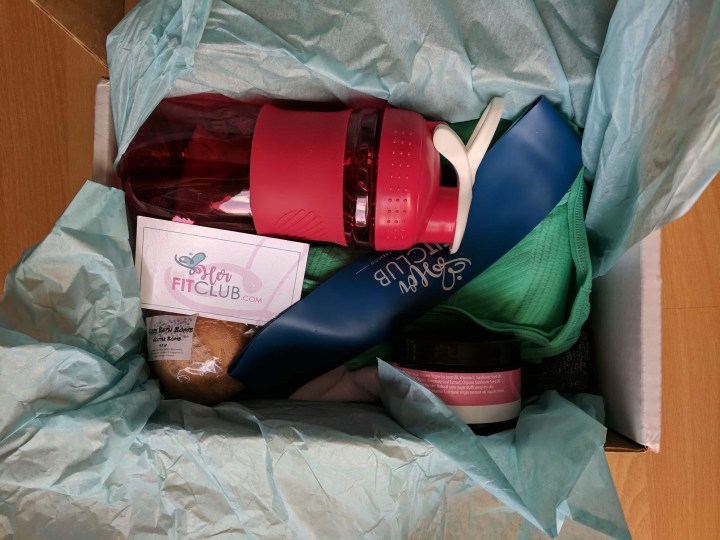 DEAL: Get 30% off your first subscription box! Use coupon code HERFIT30.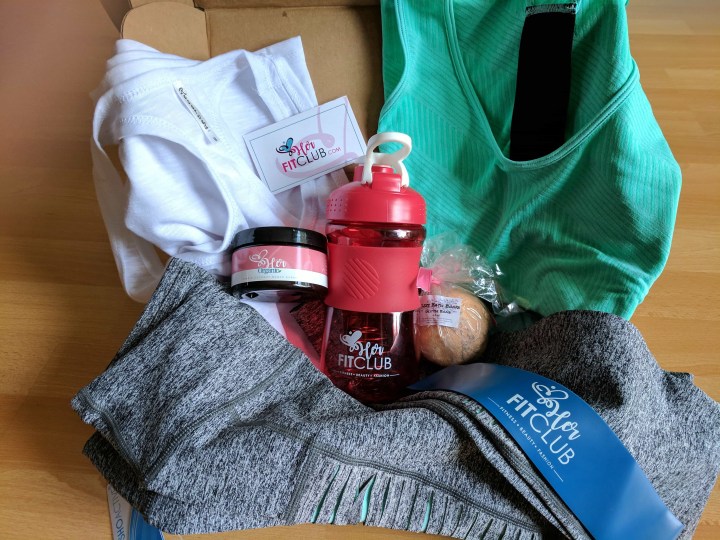 The box might seem small, but it's full of goodies! Let's workout and relax in style!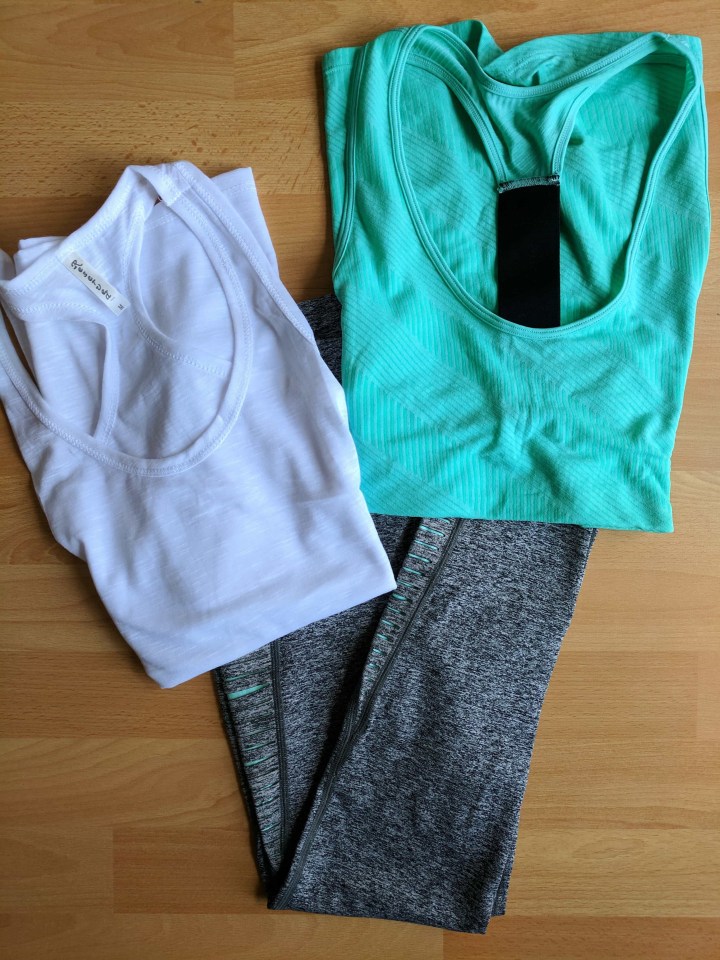 The outfit: I've received a pair of cute leggings from ShoActive, as well as two tops. When you first subscribe, you'll fill out a styling profile with all your sizes, your coverage preferences: coverage, colours, capris or leggings, and your bra (small to XL) and pants size (2 to 14).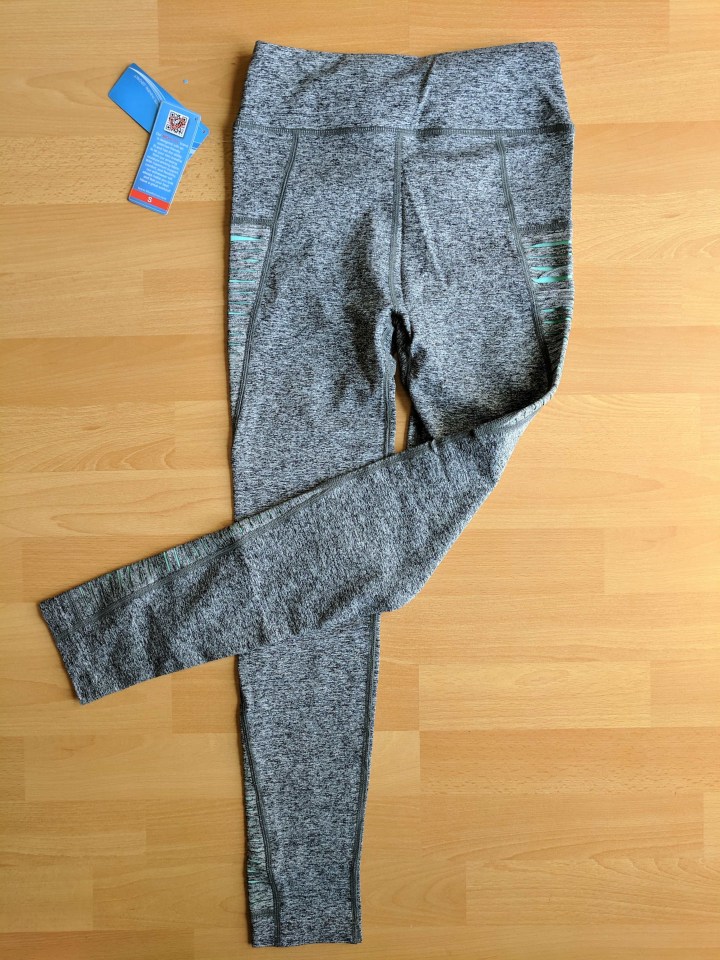 ShoActive Flowing Turquoise Workout Leggings. At first, I thought they were just simple grey pants, and I was ok with that. Then, I saw a bit of mint colour peaking through that sea of grey! They are made of a mix of polyester, nylon and spandex and are squat proof.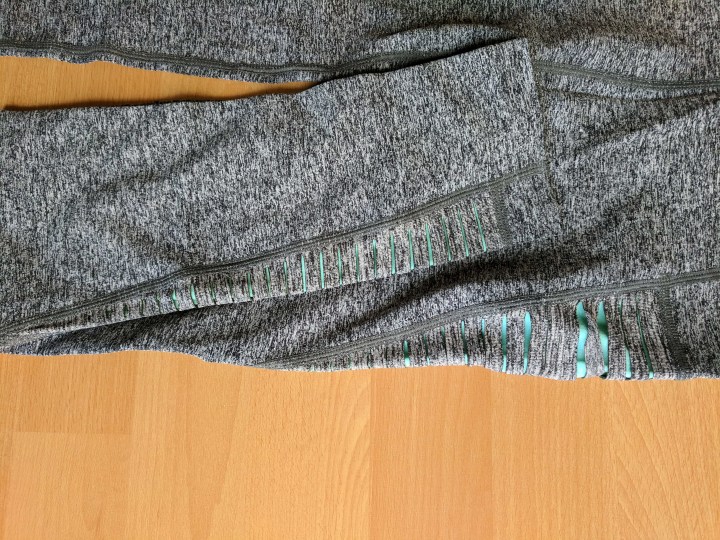 I love the details on the thigh and the calf. It's a pretty mint colour that really shows up when I wear them. Sadly, as much as I like them, they are too small for me (I was sent a size small while I wear medium).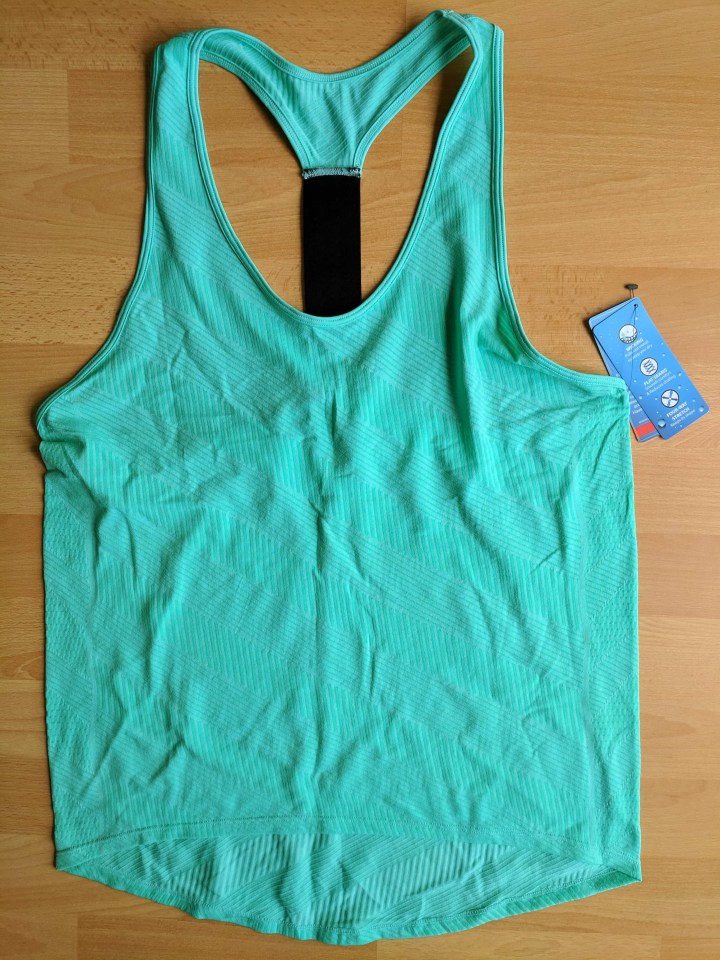 ShoActive Flowing Turquoise Workout Tank Top. I love love love the colour on this top. It's fresh, it's breezy, and it's very light.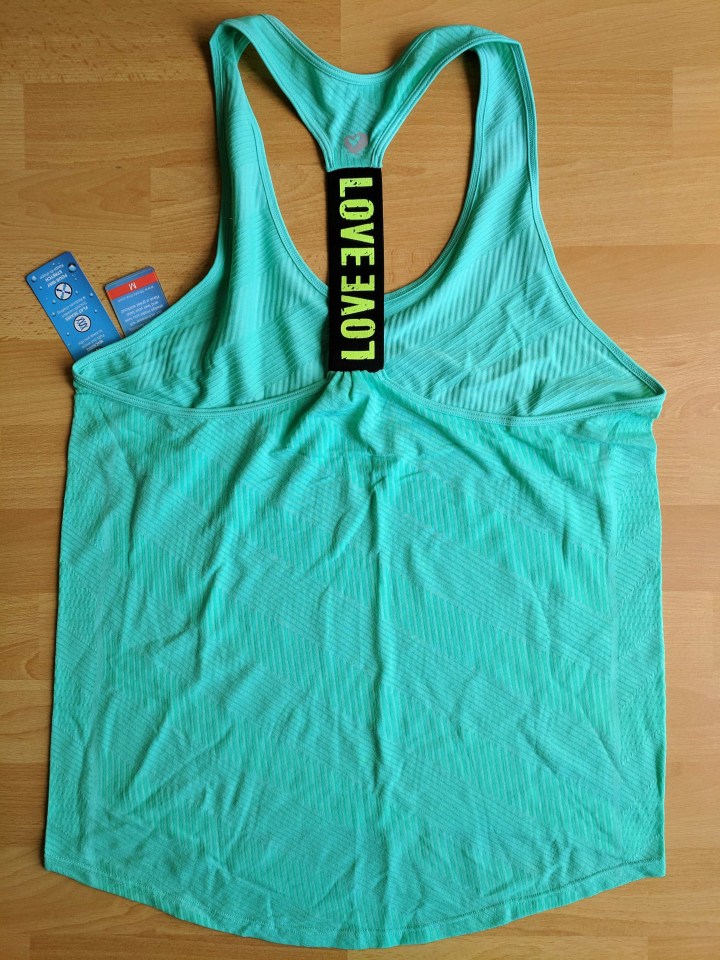 I'm not a big fan of writings on a shirt, but this one is fun and the back looks great.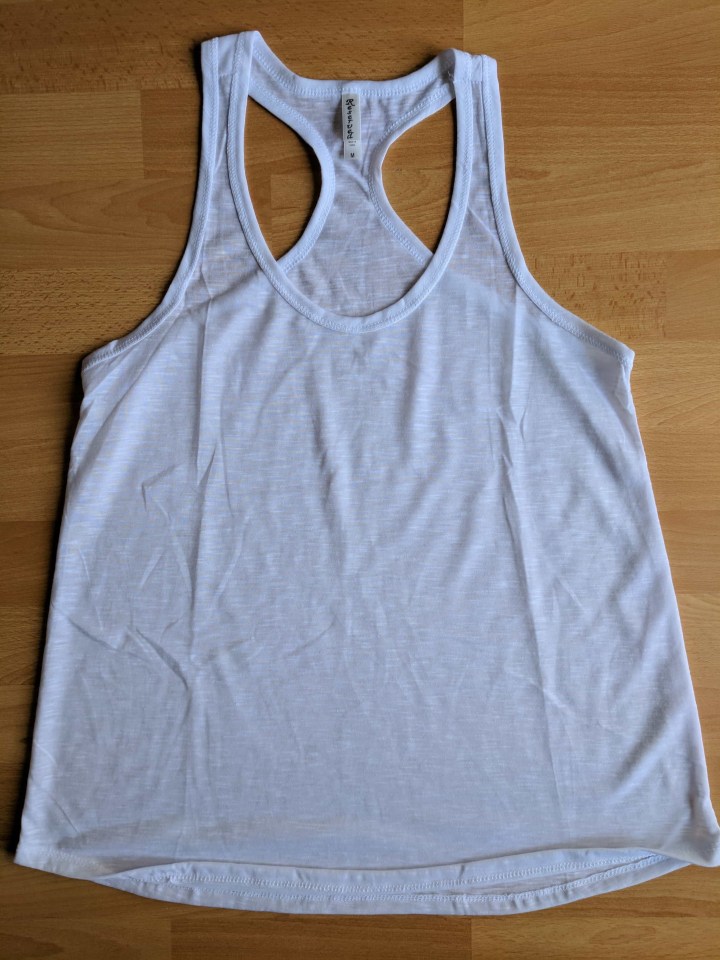 Reserved White Racerback Shirt. This is a simple, yet versatile top. It's 100% polyester and It is soooo soft!
Fizzy Bath Bomb. I love bath bombs and this one looks so fun with all that glitter! It smells fruity and sweet, almost like watermelon candy.
The second beauty item is this Virgin Coconut Sugar Scrub by Her Fit Club.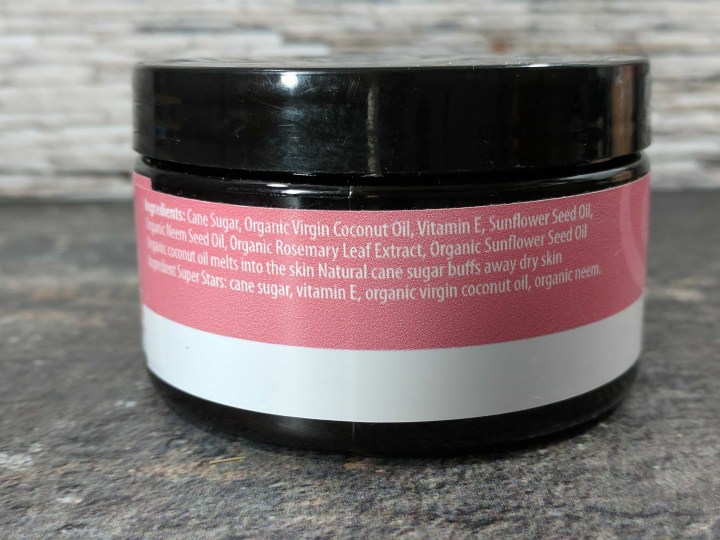 It's made with Organic Virgin Coconut Oil, Cane Sugar, and Vitamin E for a nice looking skin. Even if there's a Rosemary Leaf Extract in the list of ingredients, it smells like coconut oil. I'm not complaining, I like neutral smelling products once in a while!
The texture is exactly like coconut oil mixed with sugar! It's quite easy to scoop, even though it is more solid than I was expecting.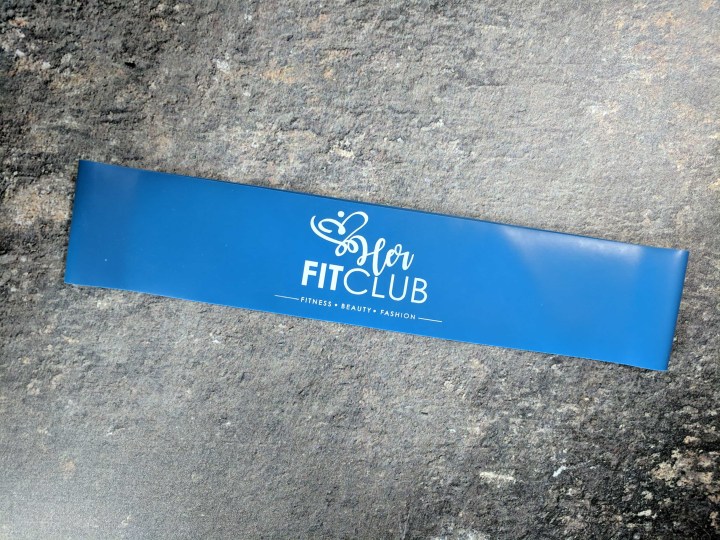 Her Fit Club Resistance Band. I think this is a medium strength, but I can't say for sure. I've never used resistance bands before, but I heard good things about them. I'm looking forward to use it, especially for those days I'm on a trip and I just want a quick easy workout.
Shaker bottle. This is a small shaker bottle (about 500ml), but it's the perfect size to mix my protein shakes. I love the little metal ball, it makes mixing powder so much easier! I tried it in a mason jar (yeah, I ran out of bottle so I mixed my shake in a glass jar!) and it's not heavy enough to break the glass, but it still does the job of mixing the shake.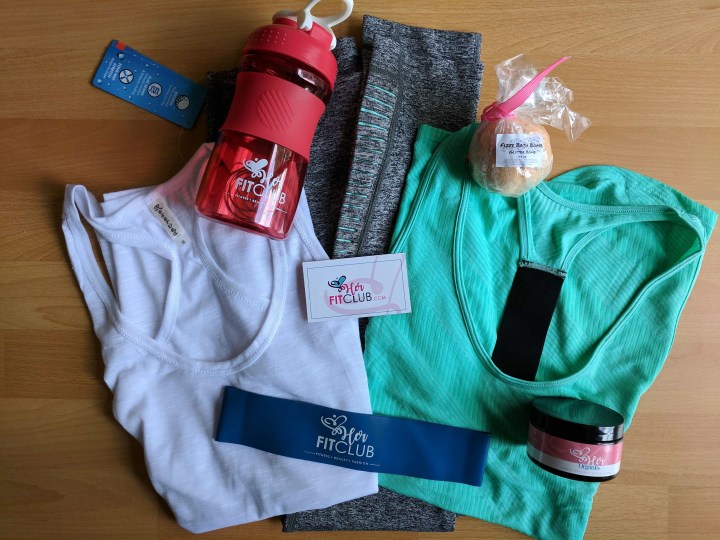 I really enjoyed my Her Fit Club box, even though the outfit wasn't catered to my profile. I like the options to add beauty and workout equipment to a box. The beauty products add a little well deserved self care after a hard workout, and it's fun to add workout equipment to your arsenal. This is a good value for the price tag! The pants and the green shirt are available in their online store, and it seems like their store will feature past boxes items in the future.
Have you tried Her Fit Club box? What do you think of this fitness-fashion-beauty box?