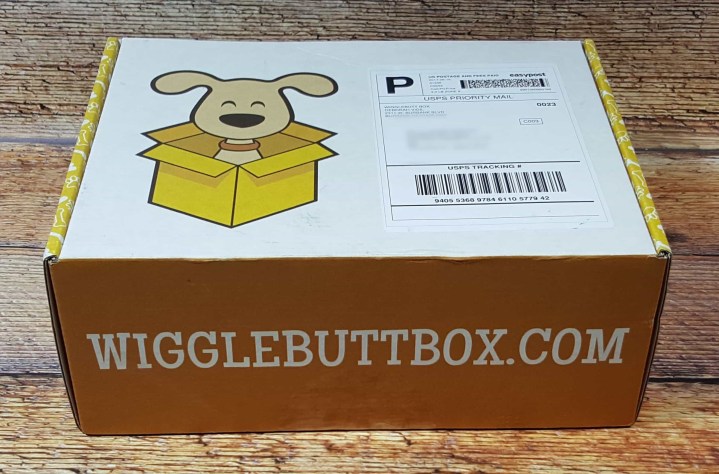 Wigglebutt Box is a subscription box of "yummy and fun surprises for you and your dog that are delivered right to your door every month." Each box contains a seasonal kerchief, a roll of poop bags, and a combination of 3-5 toys/treats/accessories. Boxes are tailored to your pet's size and toy treatment. Pet parents are not forgotten either; there's a gift included for you too! Plans start at $35/month, but you can increase your savings by choosing a longer subscription option (3-month, 6-month, and annual plans available). Plus, a portion of the proceeds from every box sold will go towards an animal charity.
I got the small dog/average play Wigglebutt box for my fur babies, Lily and Lexi.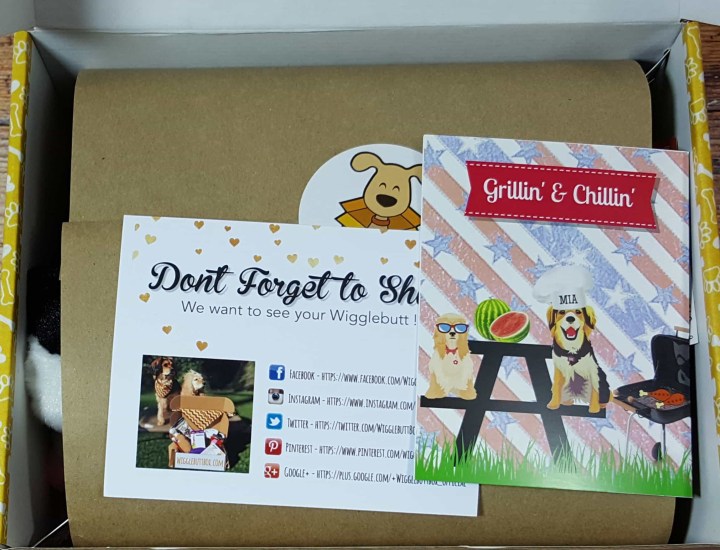 Getting ready for summer fun in the June box! We're Grillin' & Chillin' this month.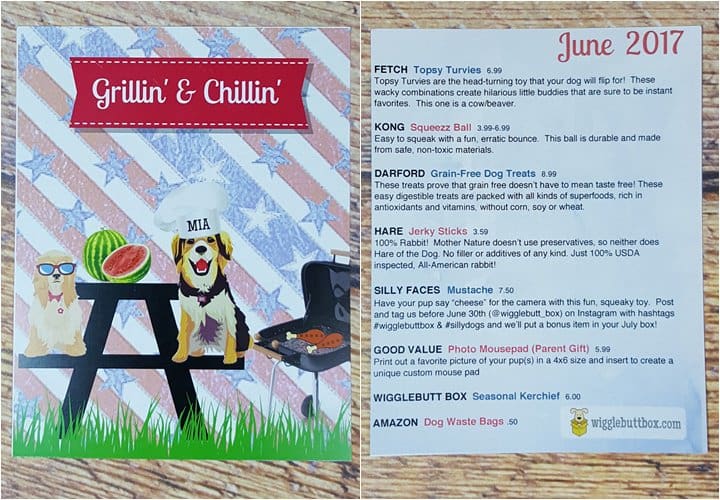 The information card has a list of box contents along with a brief description. Wigglebutt Box is now including pricing for box items. Unless noted otherwise, these are also the prices used below. 
The June Wigglebutt Box. OMG! I'm dying over the mustache toy. ?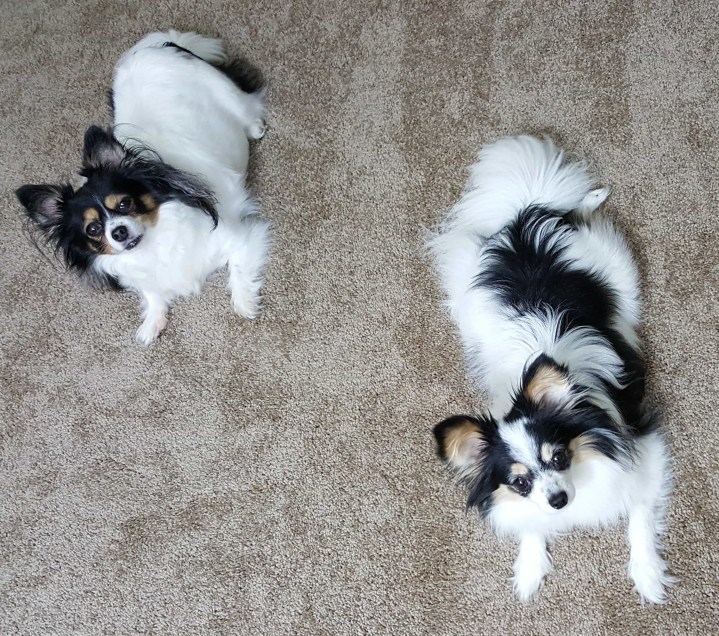 Lexi and Lily know that I am starting to open the box. I love the looks of anticipation on their faces.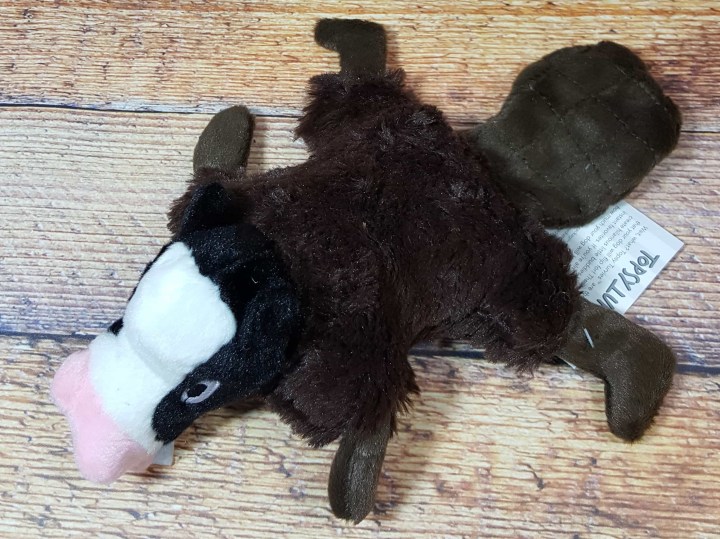 Fetch | Topsy Turvies – Cow/Beaver ($6.99):  Are you doing a double take? I did one too when I opened the box and saw this. This unique plush has the head of a cow and the body (and teeth) of a beaver. While the interesting animal experiment keeps you entertained, the squeaker provides fun for your fur baby. The Topsy Turvies line also features a tiger/penguin and hippo/snail. Check them out here. (Note – This is being sent to Brandy to add to her extensive beaver collection.)
Here's a close up of the face and teeth.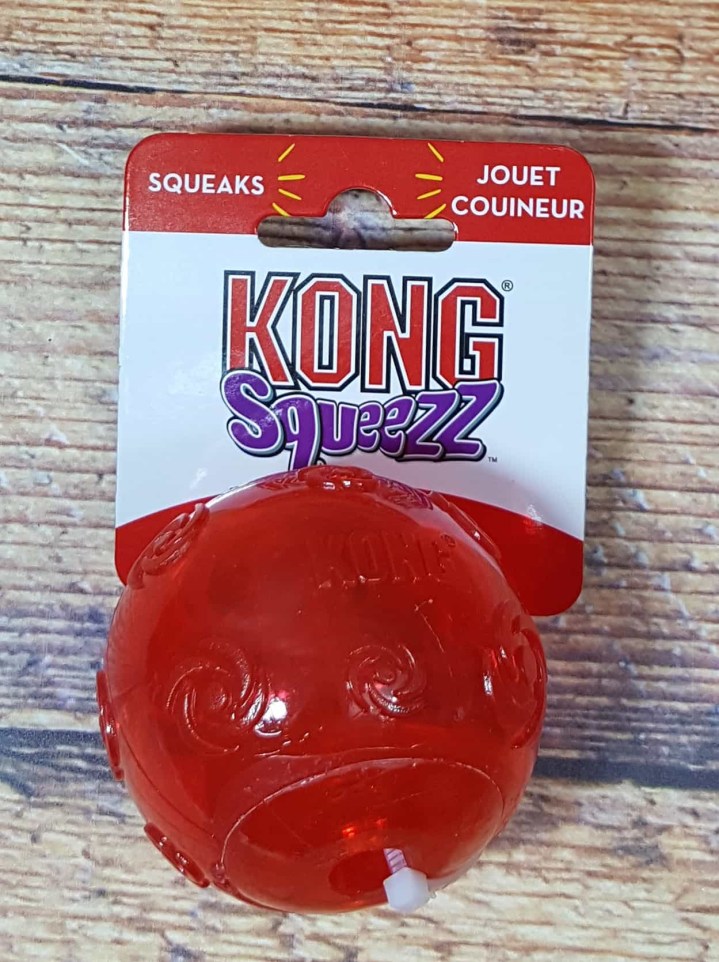 Kong | Squeezz Ball ($3.99-6.99):  The price range listed covers the multiple sizes that the balls come in. Our ball was medium sized. Subscribers were randomly given one of the bright color options. These balls have a high bounce and are easy to squeak. This one was gifted to a friend with a newly adopted fur baby who loved it!
Darford | Grain Free Treats – Salmon Recipe ($8.99):  These oven-baked, all natural treats are made from North American ingredients and are corn/soy free. So feel good about giving them to your pup. Unfortunately, these lost on two fronts in my house – 1) they are a biscuit/cookie and 2) they are fishy. I'll be sharing these with a friend.

Hare of the Dog | Jerky Stick ($3.59): These sticks are made from 100% USDA inspected rabbit, without fillers or additives. Rabbit is higher in protein and lower in fats, cholesterol, and calories than most meats found in dog treats. It is also easier to digest, making it safe for pups with sensitive stomachs. My girls loved this. It was big enough to be shared, and each girl down her pieces quickly.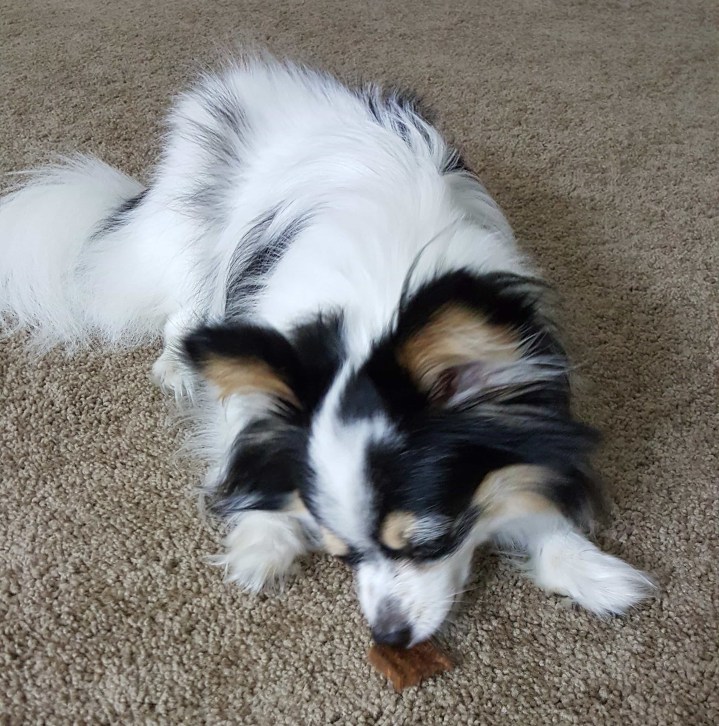 Here's Lily going for her piece of jerky.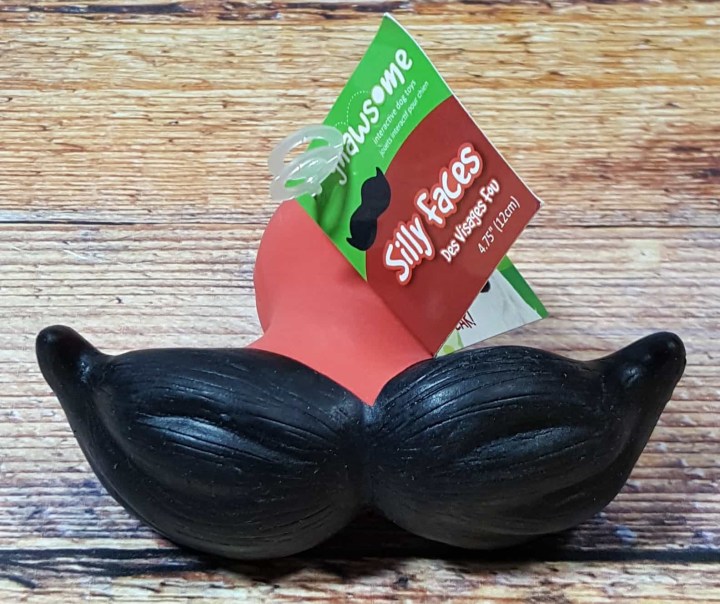 Gnawsome | Silly Faces – Mustache ($7.50): This is a plush stuffed latex toy that also has a squeaker. Every time your fur baby picks it up, it should give them quite the silly face to keep you laughing as you play. Lexi and Lily liked the toy, but they never picked it up the way it was intended. So, their mustaches were always on the side of their heads. Still funny, though.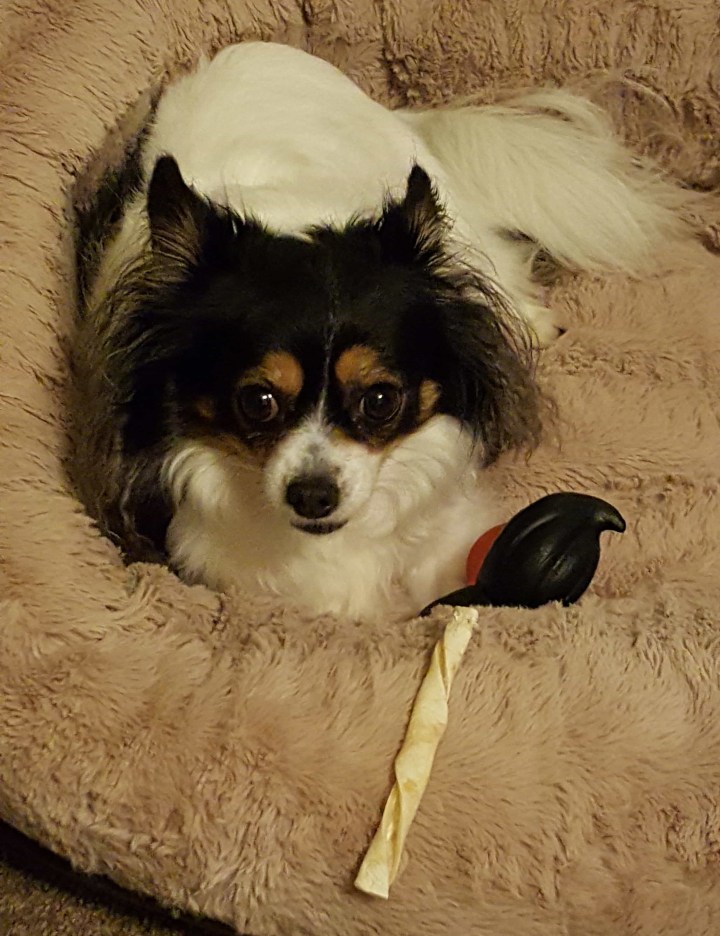 Lexi stole the toy but was torn between playing with it and chewing her rawhide. BTW, the chew won out.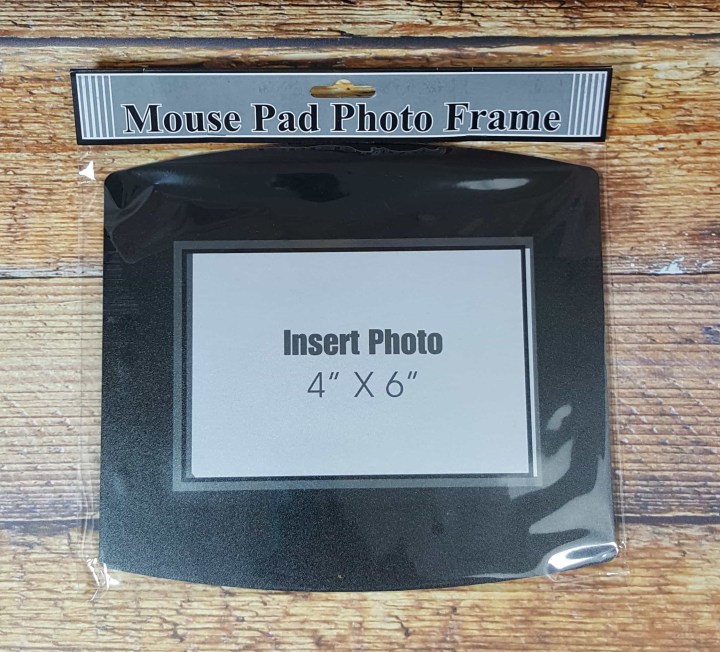 **Parent Gift **  Good Old Value | Mouse Pad Photo Frame – 4″x6″ ($5.99): This mouse pad holds a 4×6 photo. I actually printed a picture of the girls from an old review and stuck it in the frame. It makes using my mouse much easier than just moving it across my desk.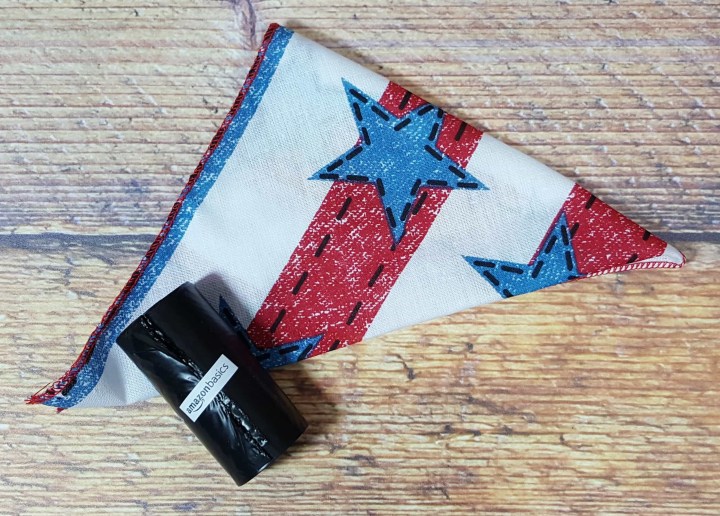 Seasonal Kerchief | Wigglebutt Box ($6.00): Just in time for July 4th. This scarf showcases Americana with red and white stripes dotted in blue stars.
Dog Waste Bags | Amazon ($0.50): A must-have staple for walks. Thanks to Wigglebutt Box, we never have to worry about being without a roll in our leash dispensers. 
So bored with the attention. LOL!
Our June Wigglebutt Box  had a listed value around $45 (I used the median cost for the Kong ball). Although we are sharing half of our box with others, this month's curation had a good mix of products that both girls could enjoy. Plus, I love my pawrent gift and the added bonus of a giggle when the girls play with their mustache. Let's see what arrives next!
What did you think of June's Wigglebutt Box? Leave a comment below and let me know.