NewBeauty TestTube is a beauty subscription box filled with 10+ deluxe and full-sized luxury beauty products plus a subscription to NewBeauty Magazine, delivered quarterly. This subscription is $29.95 plus shipping and is delivered every other month. NBTT recently made some changes and now says that they offer "beauty solutions" that will help solve our biggest makeup, skin, hair, and body concerns.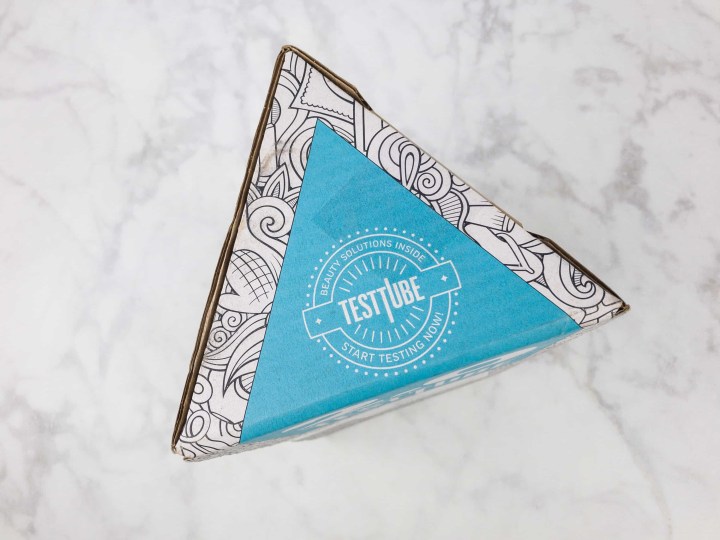 DEAL: Save $9 on your first box! No coupon needed, the discount will automatically be applied at checkout.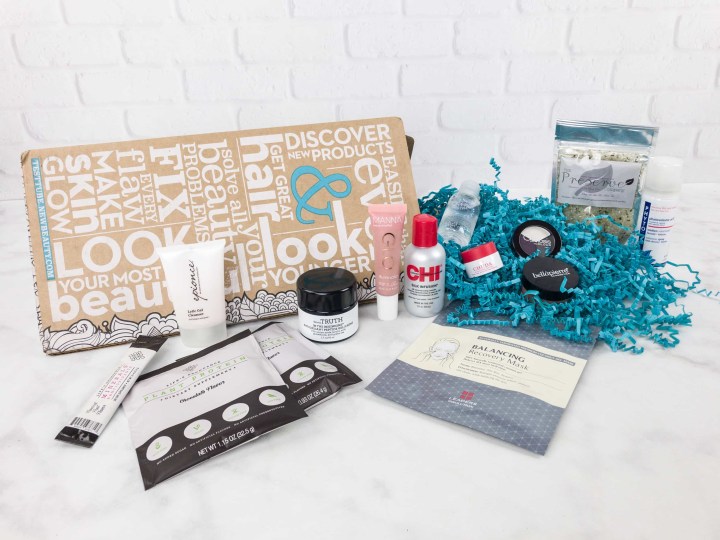 Everything in my box! NBTT promises 10 or more full-sized and deluxe sample-sized products and at least $150 value.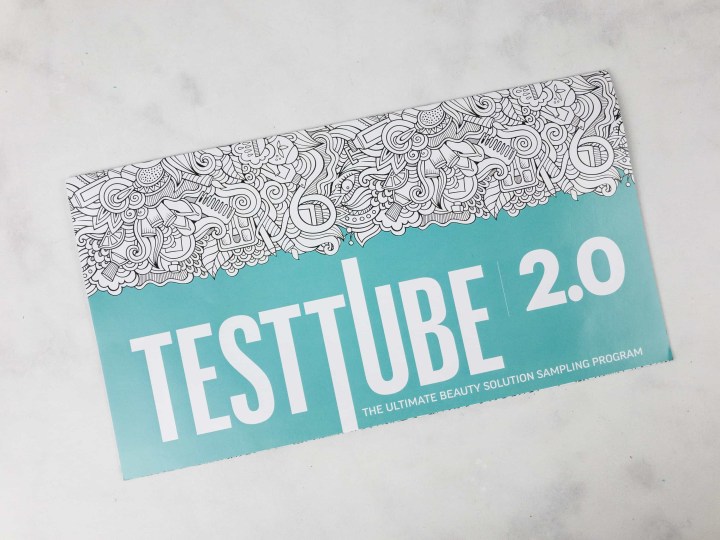 The product information booklet is very detailed and lists the problem, solution, retail price, and insight from the editors.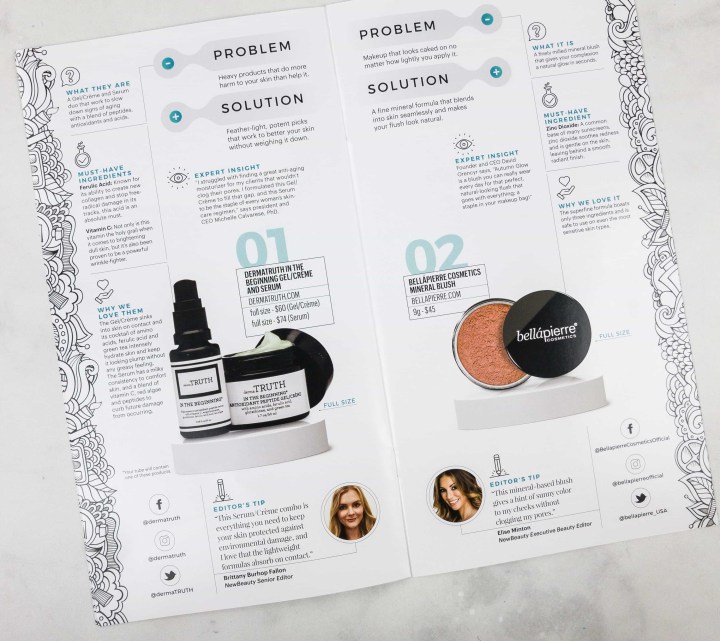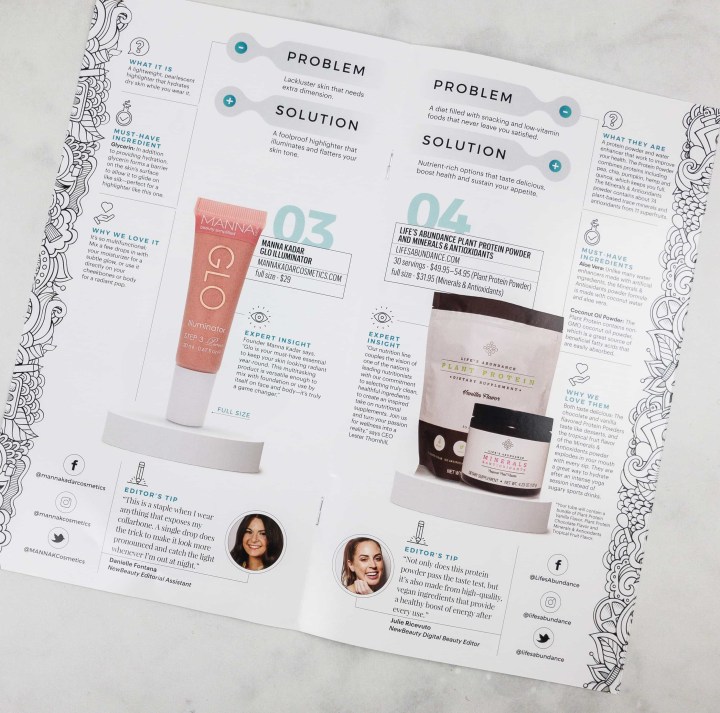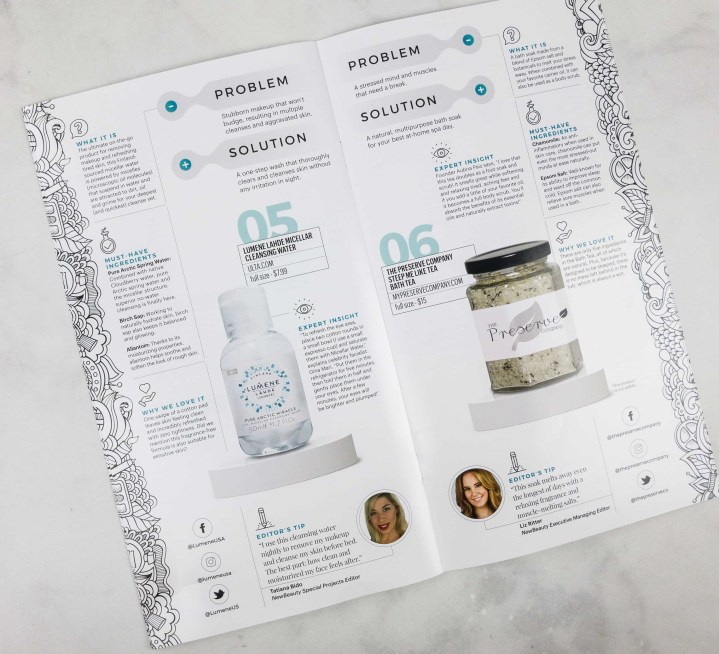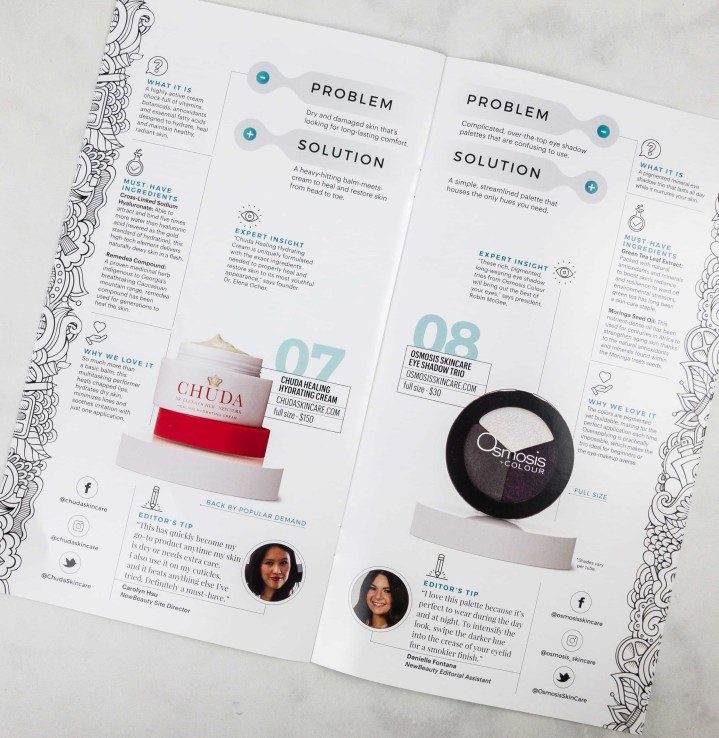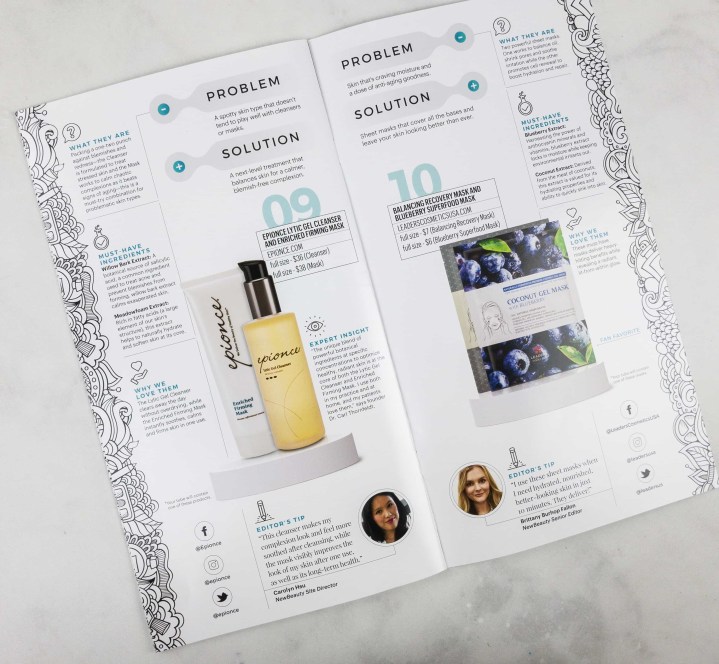 Each item has a full-out description, including tips, the problem it solves, and the solution this particular product provides. Not all products in the tube are always in the booklet, and there may be variations with the additional products.
This box has items that aren't in the booklet (total variations/bonus items) plus items that you will see in the booklet but not receive because they are a variant item. In addition – the booklet shows the full sizes while you may not receive the full size. We've broken things down into 3 sections below – in the booklet (everyone gets), everyone gets a variant item, and bonus items that aren't in the booklet.
In the booklet – the following items were in the booklet and we think everyone should receive them.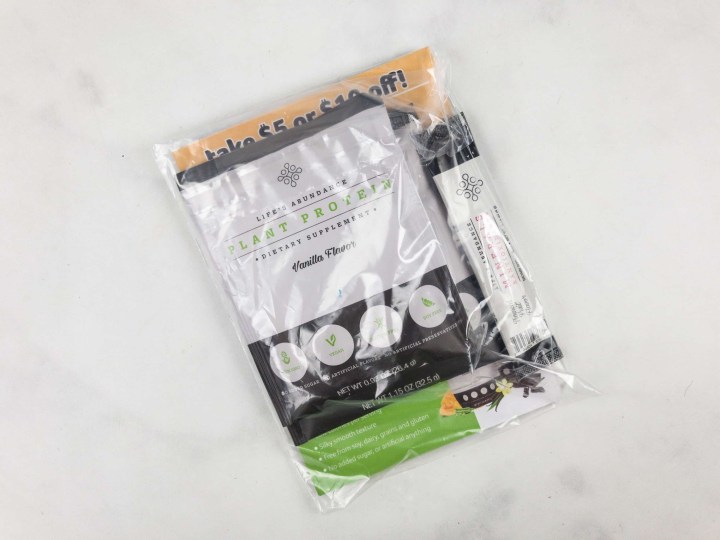 Unlike many other beauty boxes, you're more like to find nutritional supplements – or at least a sample – in NBTT.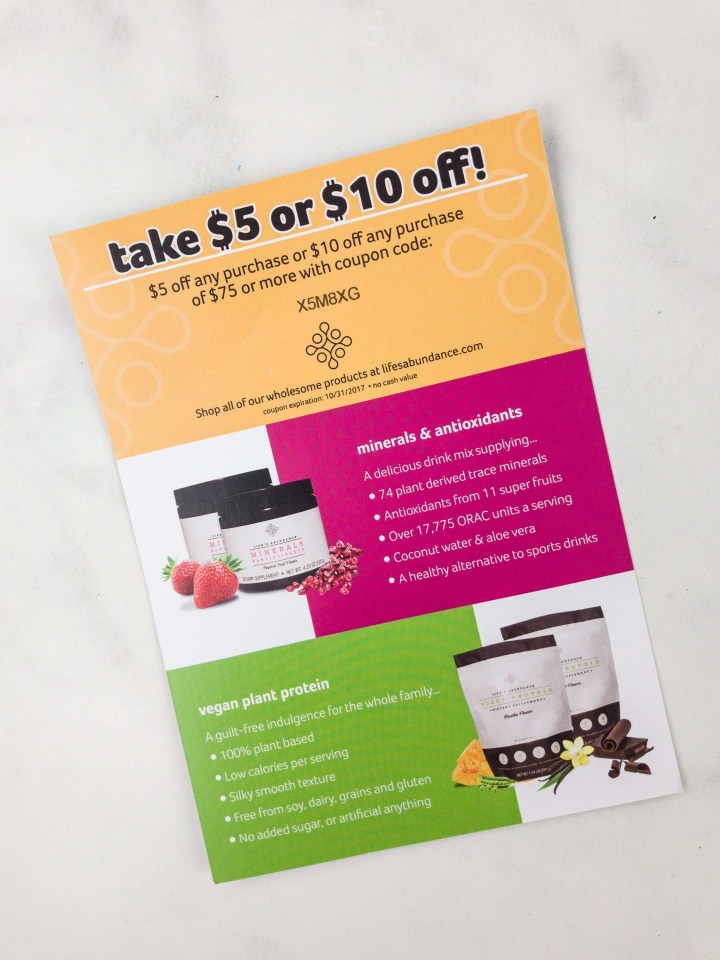 Also included is a coupon code which can be used at Life's Abundance website…
…and more information about the products.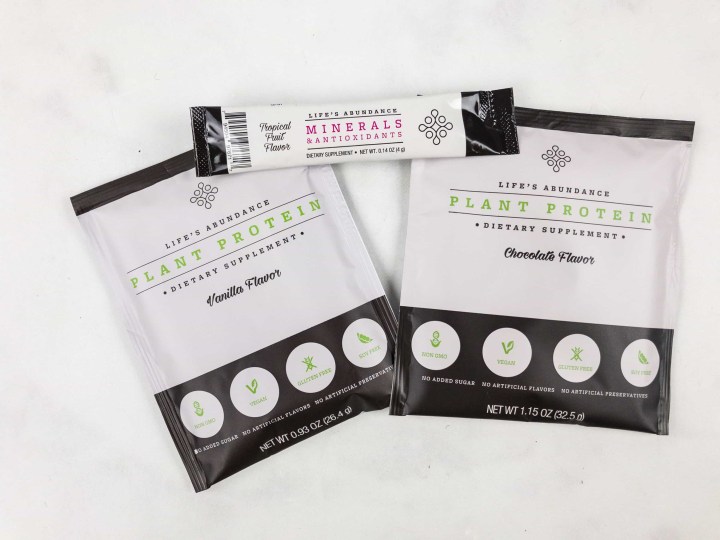 Life's Abundance Plant Protein Powder in Vanilla ($1.66) Plant-based supplement in Vanilla flavor.
Life's Abundance Plant Protein Powder in Chocolate ($1.84) You can never go wrong with chocolate!
Life's Abundance Minerals & Antioxidants ($1.06) This supplement can be mixed with any drink for an instant health boost.
All of these are non-GMO, vegan, gluten-free, soy-free, dairy-free, and grain-free.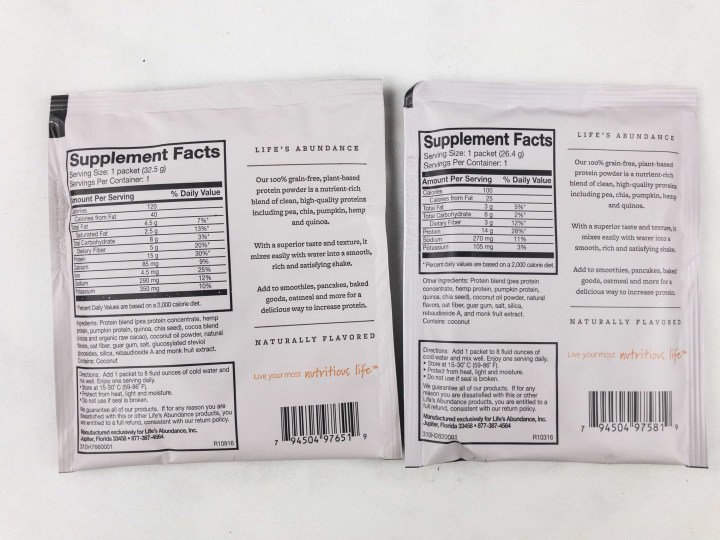 Directions for use are indicated on the packaging. Aside from smoothies, you can also add the protein powder to pancakes, baked goods, and oatmeal.
Nutrition facts and other necessary information are also listed. It's helpful especially when you're particular with your food and supplement intake.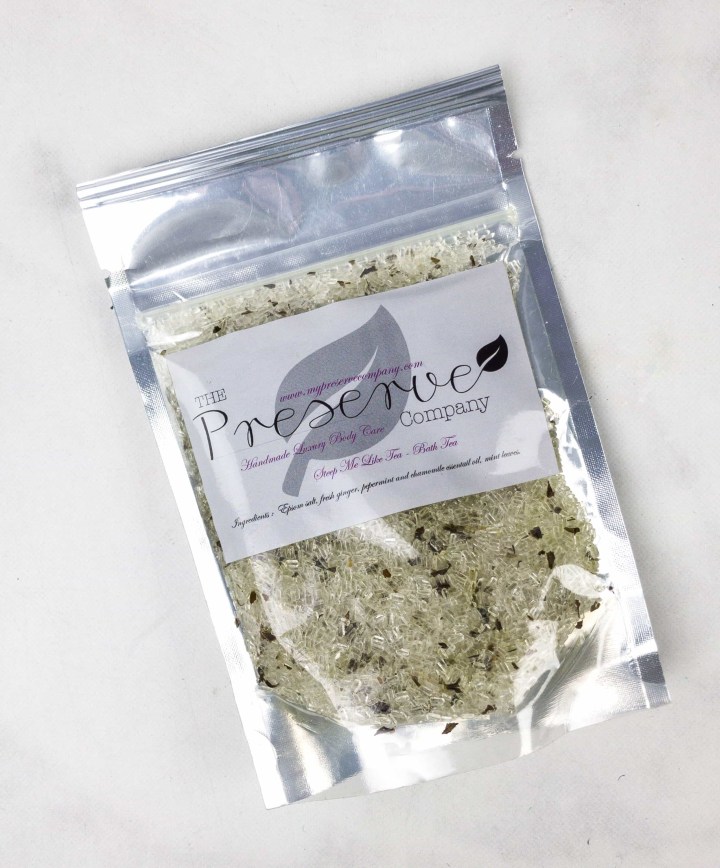 The Preserve Company Steep Me Like Tea Bath Tea ($7?) These bath salts make for a relaxing bath time. They smell really great and makes bath water feel so soothing on the skin with a scent combo that's super relaxing. Ingredients include epsom salt, fresh ginger, peppermint and chamomile essential oil, and mint leaves. Yes, there were real mint leaves and ginger in here!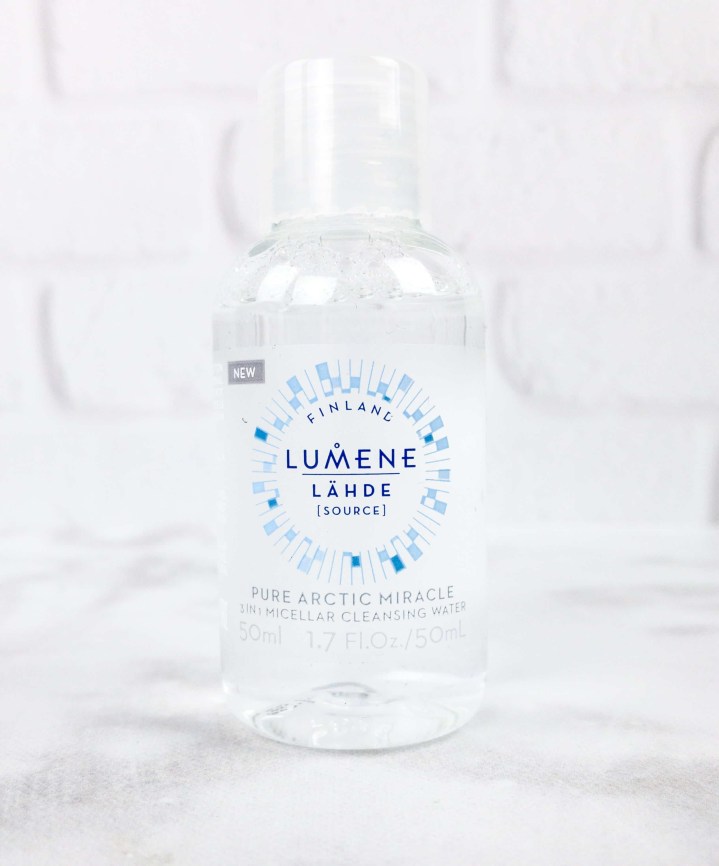 Lumene Lahde Micellar Cleansing Water ($1.60) Another cleanser! But this one doesn't require rinsing, you just have to put a little amount on a cotton pad and wipe it on your face. Ingredients include Native Cloudberry Water and Arctic Spring Water.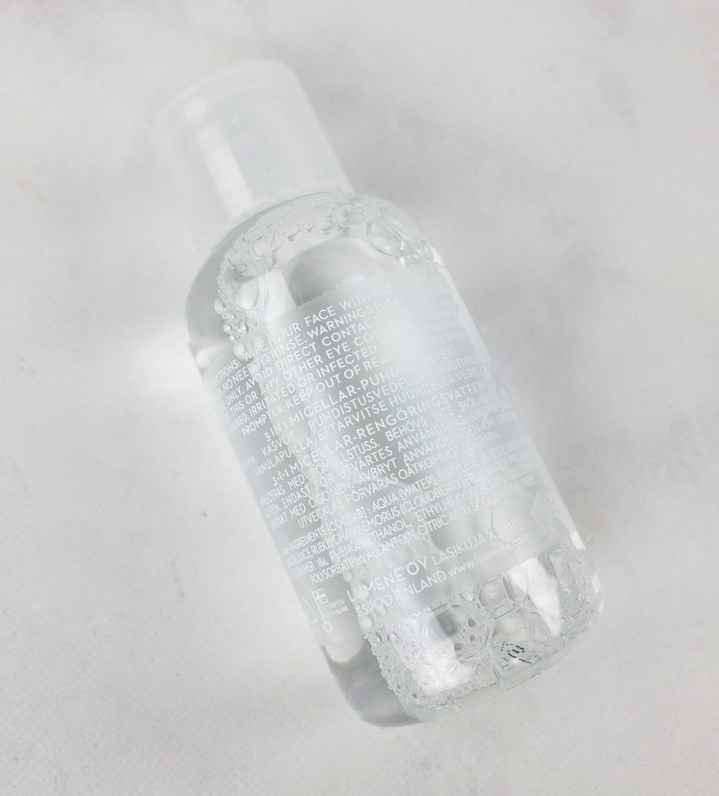 I like that it doesn't have a strong fragrance and how it instantly refreshes the skin. This micellar water would be great for double cleansing. However, I wouldn't recommend it as a replacement for a real cleanser. I do like to follow with a good foamy cleanser!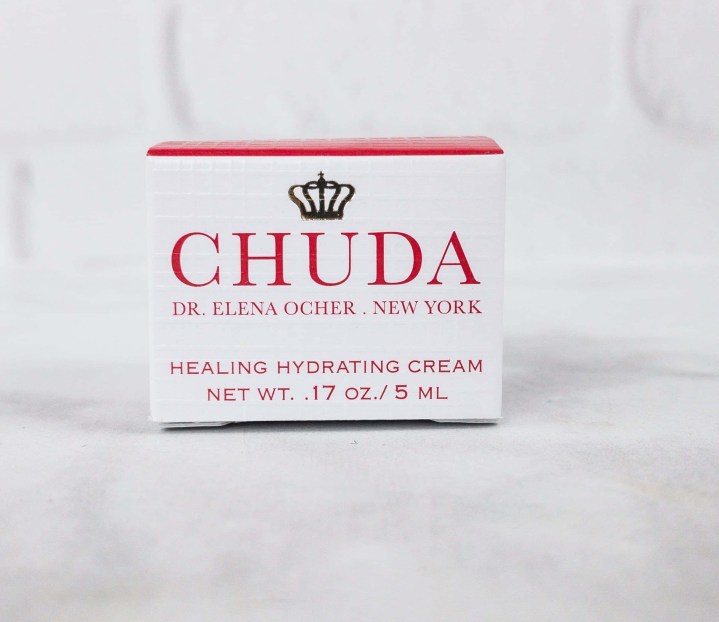 Chuda Healing Hydrating Cream ($15) This skin food was made to relieve dry skin and irritated skin, as well as burns and sunburn. Summer is over but it's great to keep something like this in handy all year round.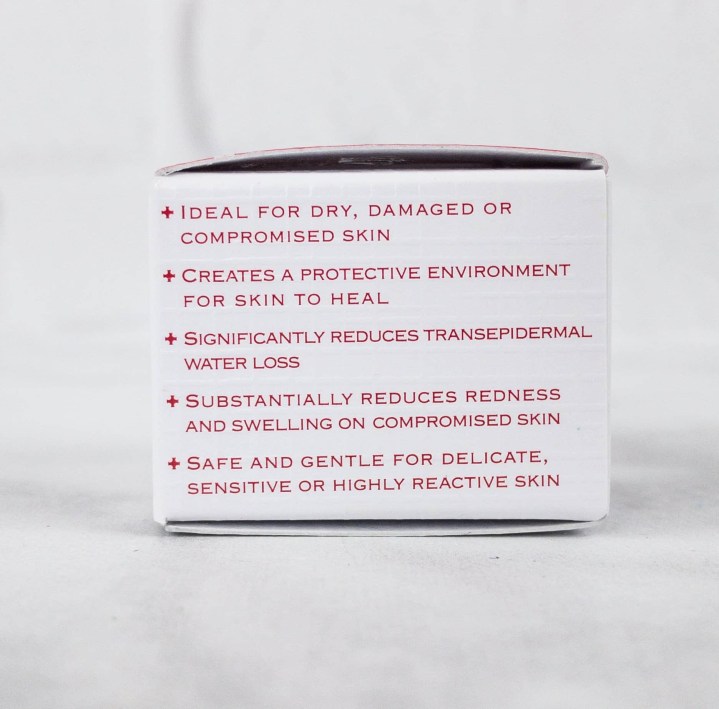 The cream is thick but non-greasy. It can be applied directly to skin after cleansing or as a finishing step in your skincare routine. Also ideal for spot treatment.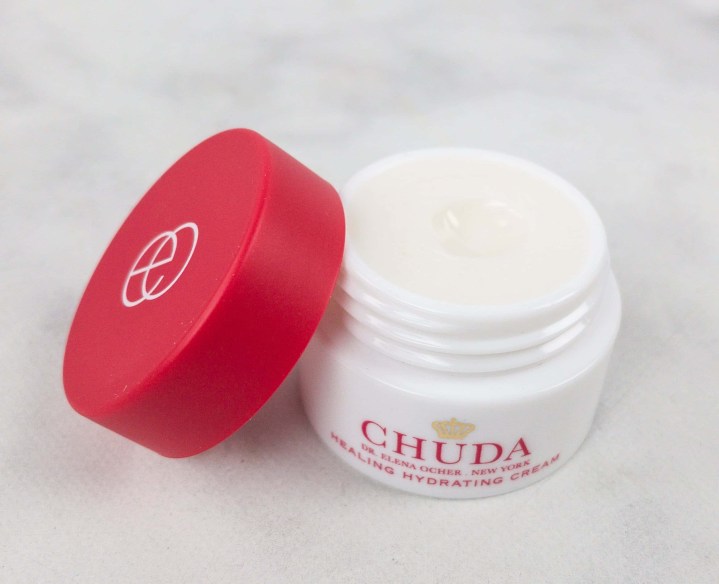 It feels cool and refreshing! And since a little amount of this cream goes a long way, this small container will probably last for a long time in our household.
Osmosis Skincare Eyeshadow Trio in Aubergine ($30) Highly-pigmented eyeshadow shades!
We got Aubergine! It has three easy-to-blend colors, and can be easily mixed and matched to create different looks.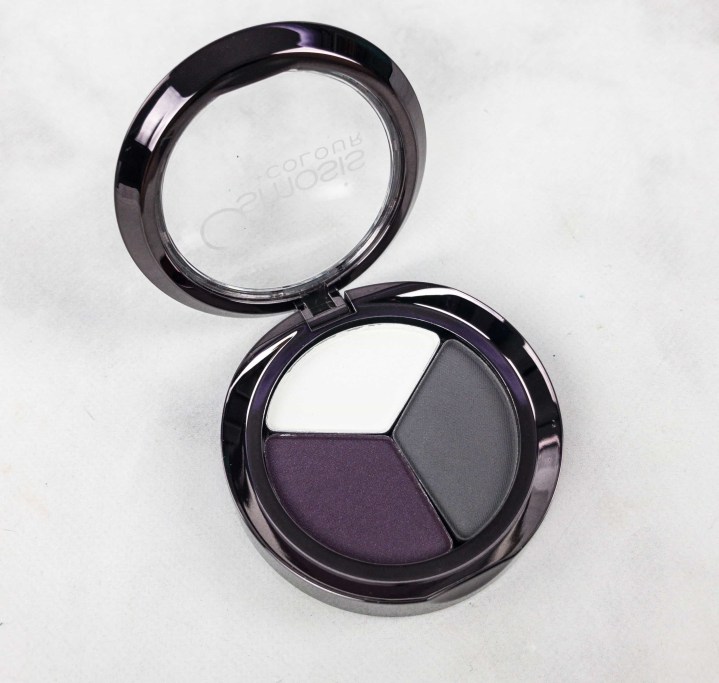 A tip from Osmosis: Apply the darker shade at the outer corner of the eyes to add definition. This eyeshadow trio is super compact, making it easy to bring wherever you go in case you might need some touch ups.
dermaTRUTH in The Beginning Antioxidant Peptide Gel/Creme ($60) Lots of skincare products in this month's box and we're not complaining!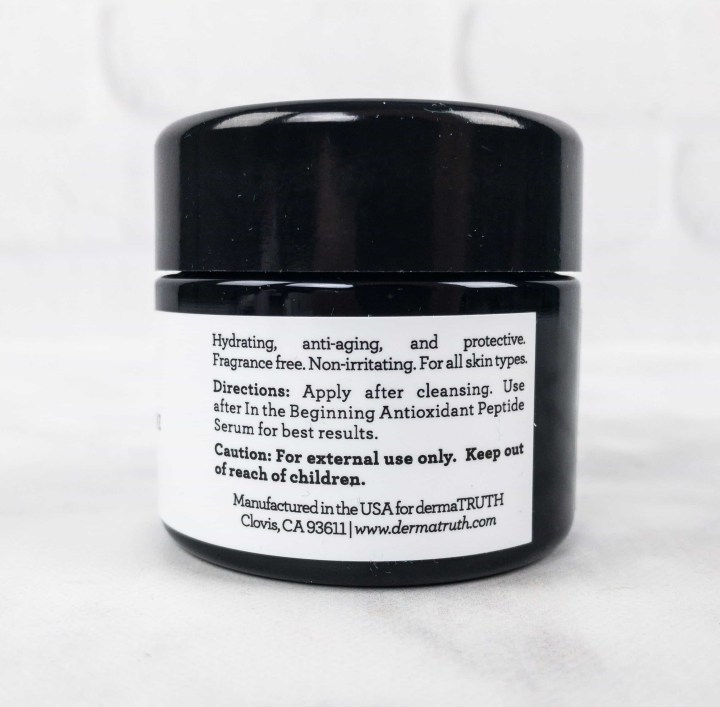 This is a light moisturizer which also promises to lessen the appearance of existing skin problems such as wrinkles, dullness, and sun damage.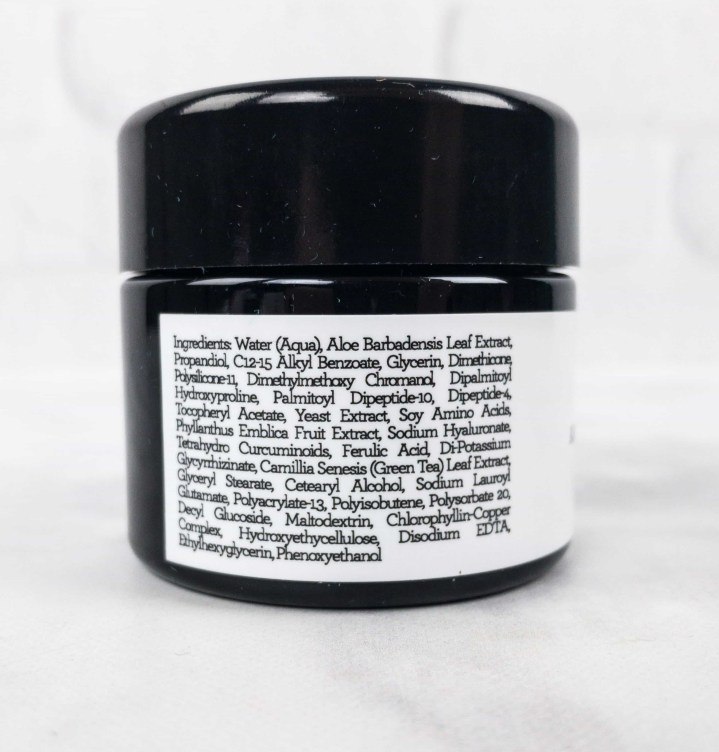 Ingredients include aloe leaf extract and green tea leaf extract. It is also packed with peptides and antioxidants which are known to help slow down aging.
The cream has a silky texture that glides easily on the skin. It is fragrance-free and gentle enough even for acne-prone skin. I loved this product and it was worth way more than the cost of my box. Win!
BellaPierre Cosmetics Mineral Blush in Autumn Glow ($30) For adding a natural flush on the cheeks!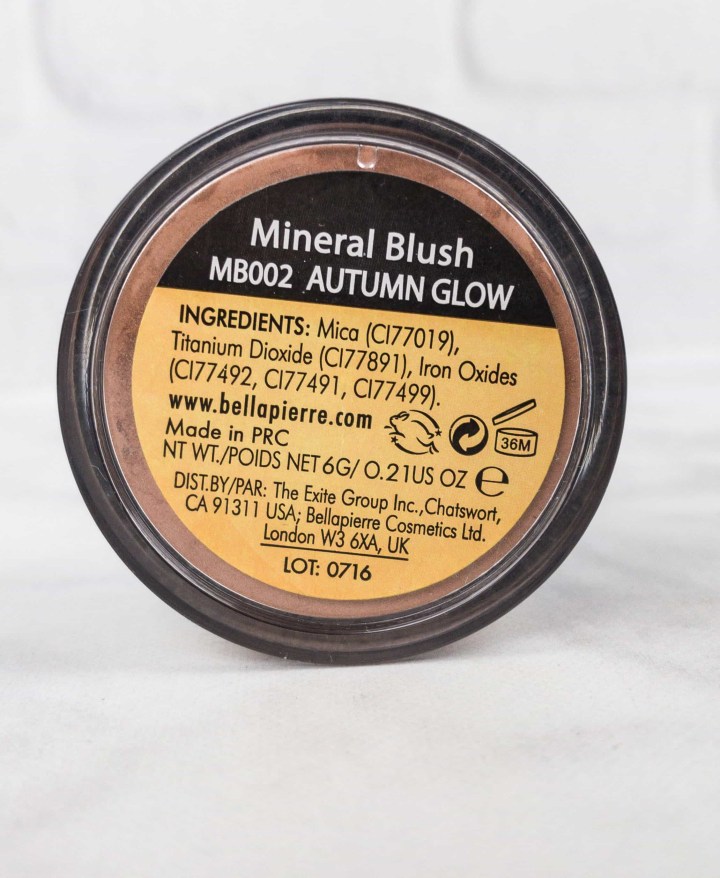 Autumn Glow is a lovely coral shade perfect for fall and the product itself has simple ingredients. This brand is considered more luxe in the UK (where its based) than in the US.
It's talc free, paraben-free, and suitable for all skin types.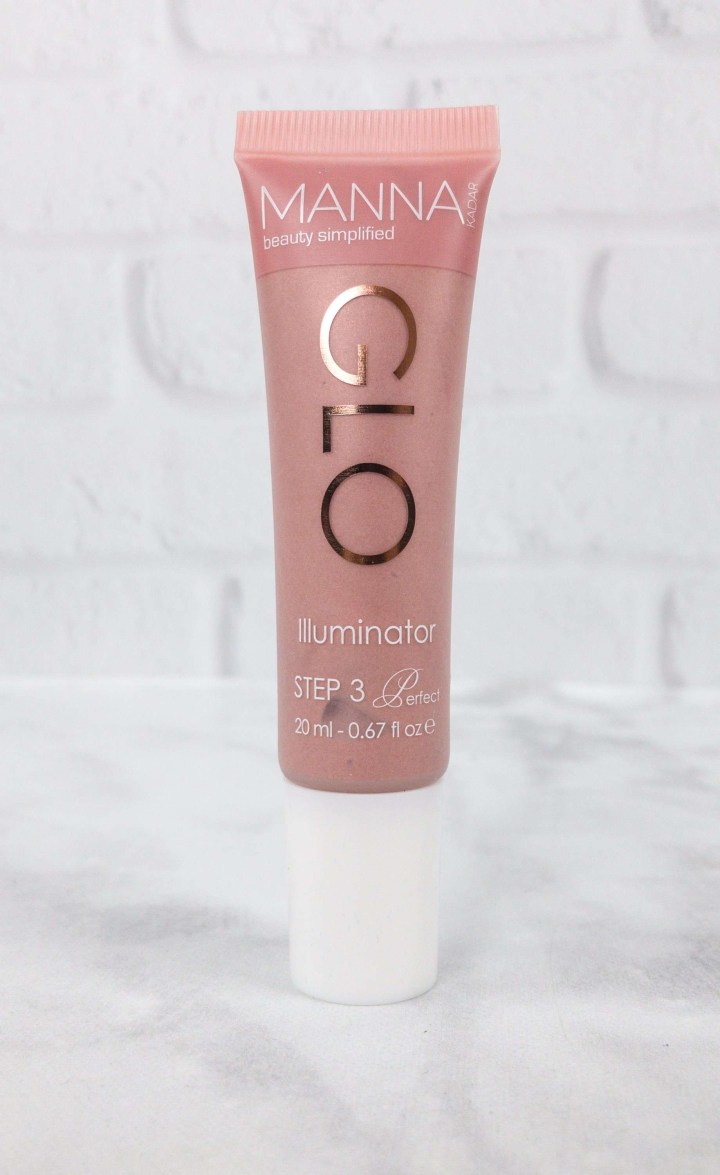 Manna Kadar Glo Illuminator ($29) This liquid highlighter gives the skin an instant radiance and a really subtle shimmer.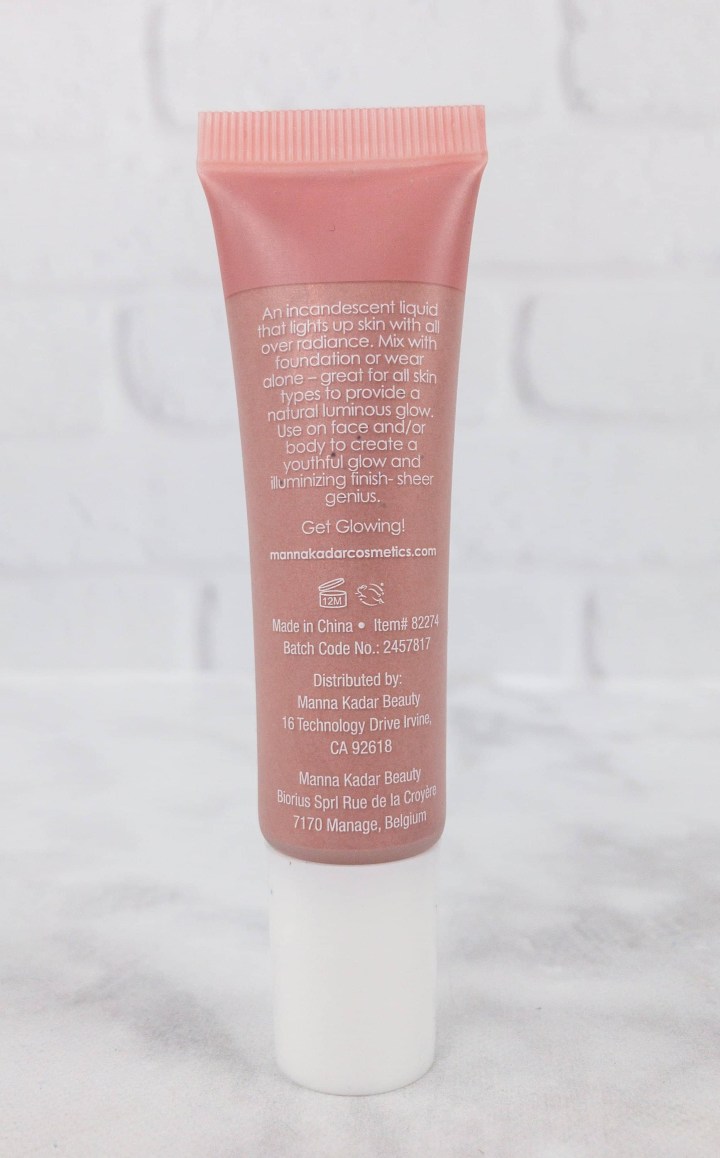 It can either be mixed with foundation or worn alone. This is just perfect because it comes in a universal shade! I love that this product isn't overly pigmented, but I have to say nearly every time I see Manna Kadar – the only place I've ever seen this brand is in a subscription box.
Variant Items – In the booklet, everyone receives one or the other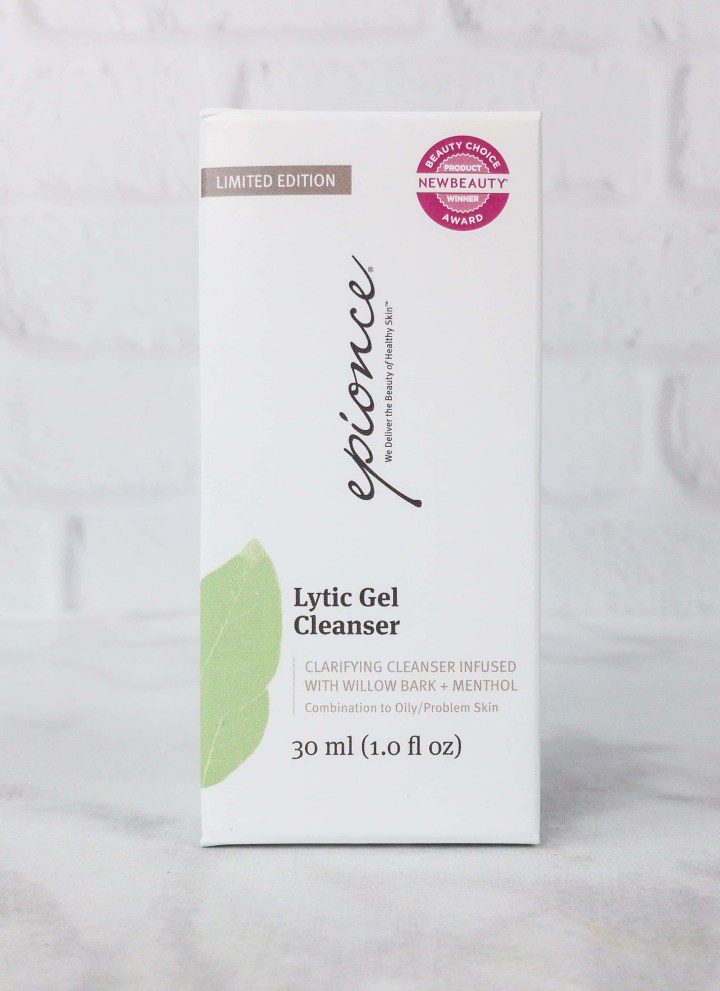 Epionce Lytic Gel Cleanser ($6.35) A luxurious cleanser formulated for oily and problem skin types with willow bark and menthol to calm inflammation. Plus, the menthol makes it feel tingly and refreshing.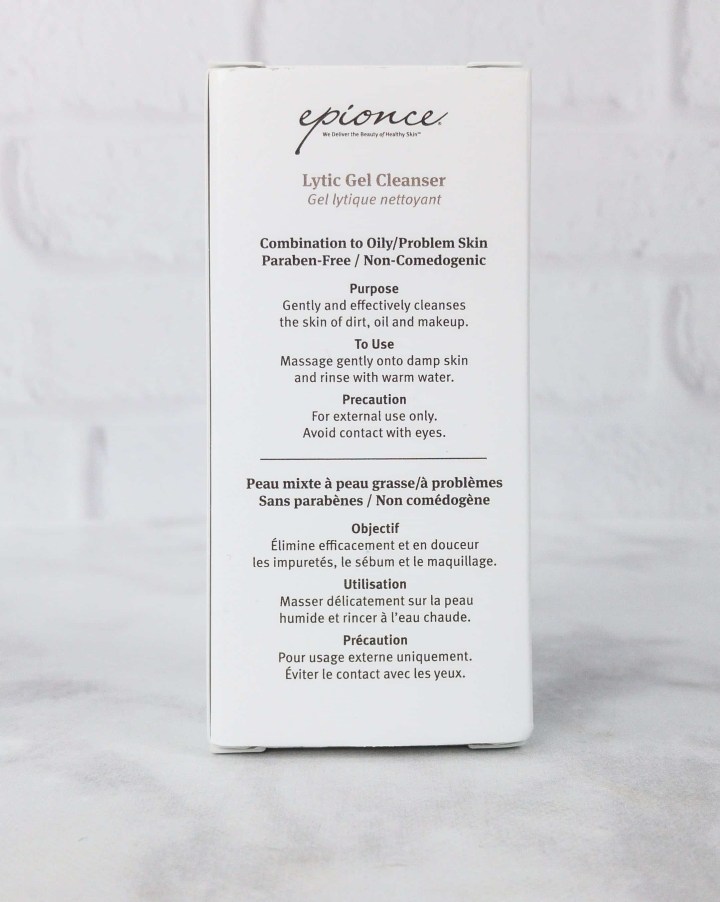 It's paraben-free and non-comedogenic. Like any other cleanser, you just have to massage it on damp skin and then rinse with warm water.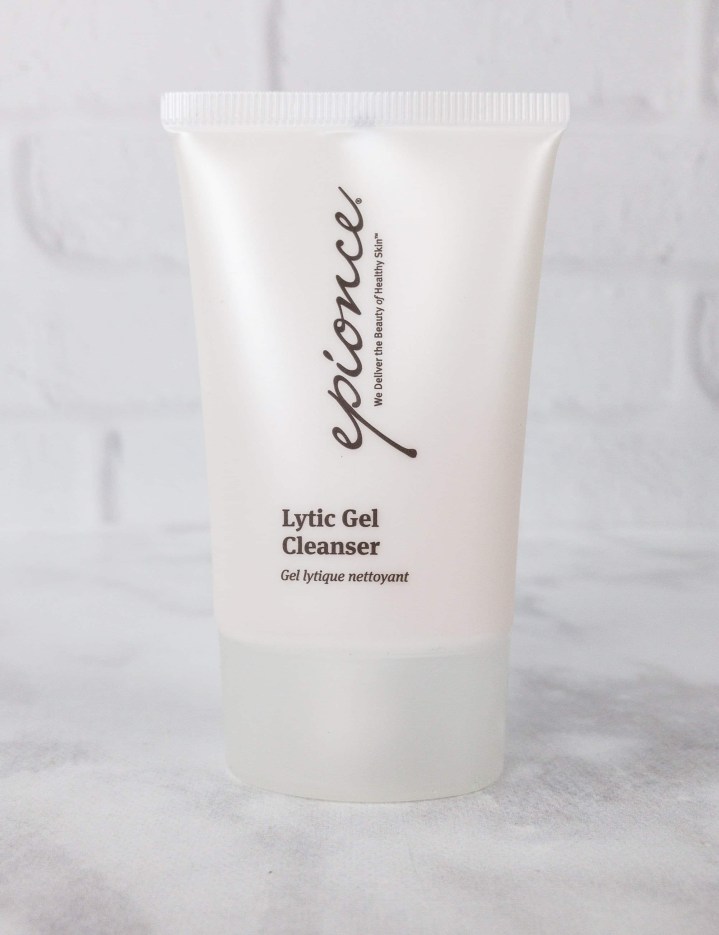 This cleanser does its job well! It cleans the skin without making it dry. It's perfect to use even when you've had makeup on all day or when you've gotten dirty by being outdoors for too long. Ingredients include orange fruit extract, lavender flower extract, and date fruit extract.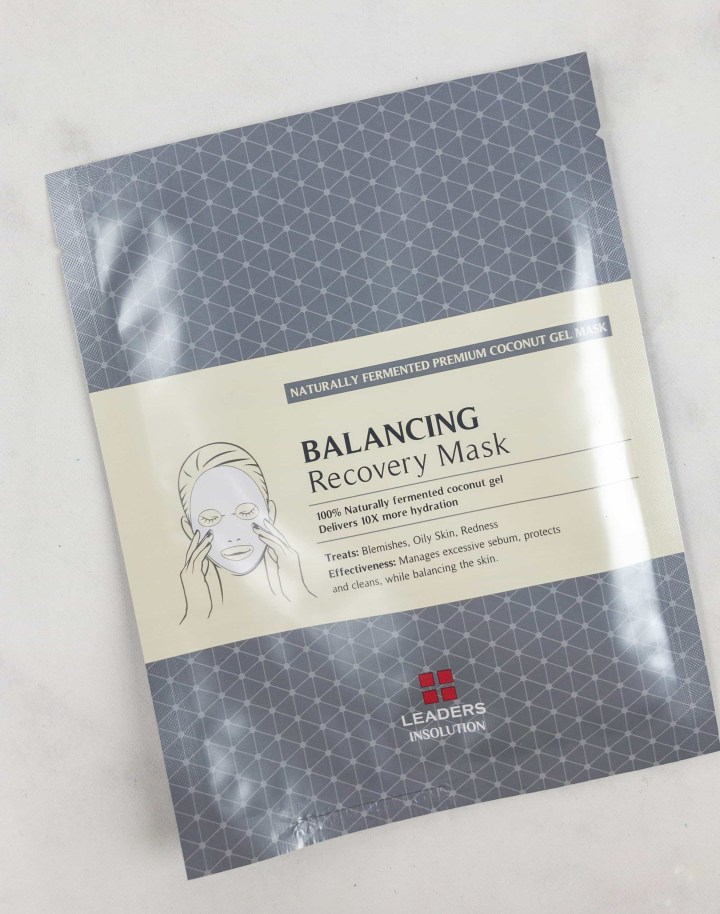 Balancing Recovery Mask ($7) This bio-cellulose coconut gel mask is dermatologist-tested and can be used even by those who have sensitive skin.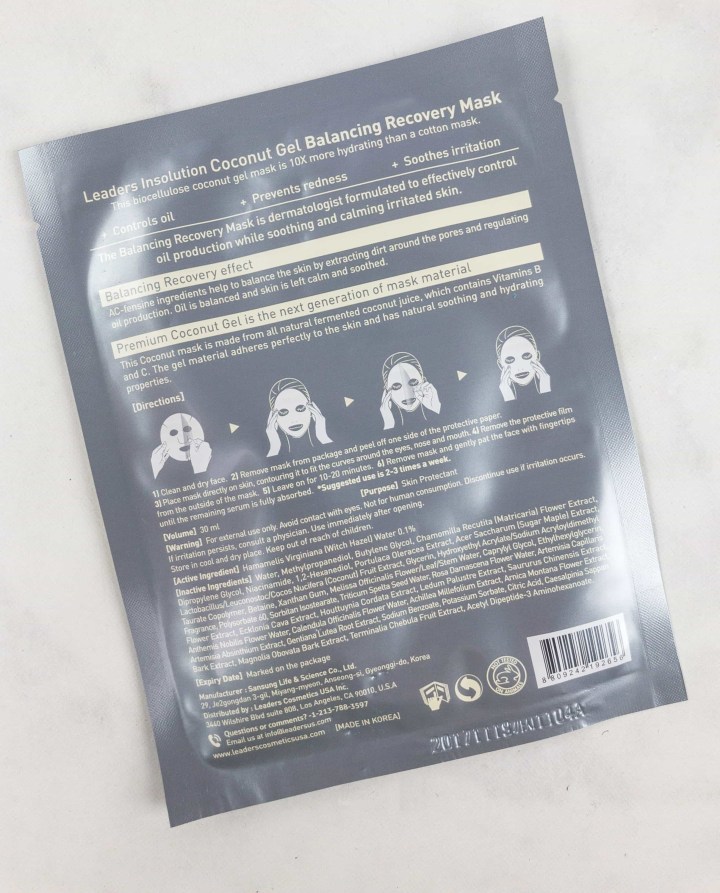 The mask is pretty lightweight. It smells good and is non-greasy too. It would be great to stock up on these if you have oily skin since this was especially formulated to clean pores and reduce excess oil. It left my skin feeling fresh and smooth.
FYI – the booklet doesn't say that you get one mask or the other, but it shows two masks and we received only this one. The other mask shown is Leaders Blueberry Superfood Mask
Not in the booklet – the following items were not in the booklet and we think they are likely variants.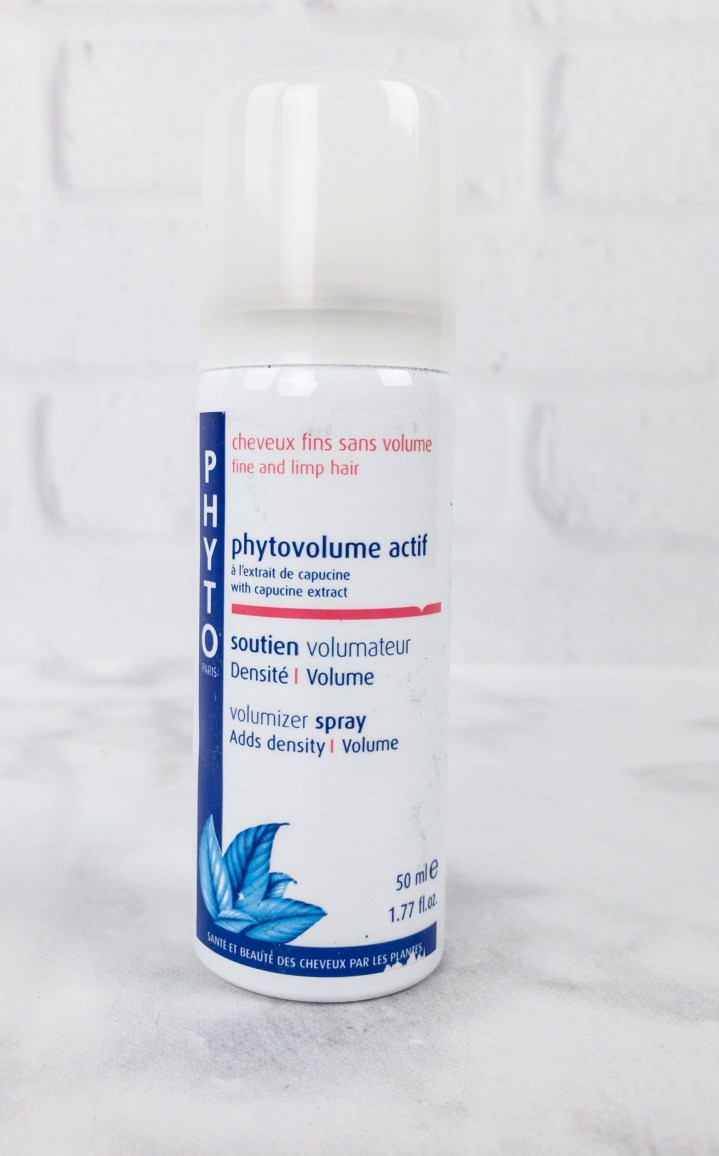 Phyto Paris Phytovolume Actif Volumizer Spray ($12.58) If you have super straight or thin hair, you will need this in your hair styling routine. I was super pumped to find it in the box!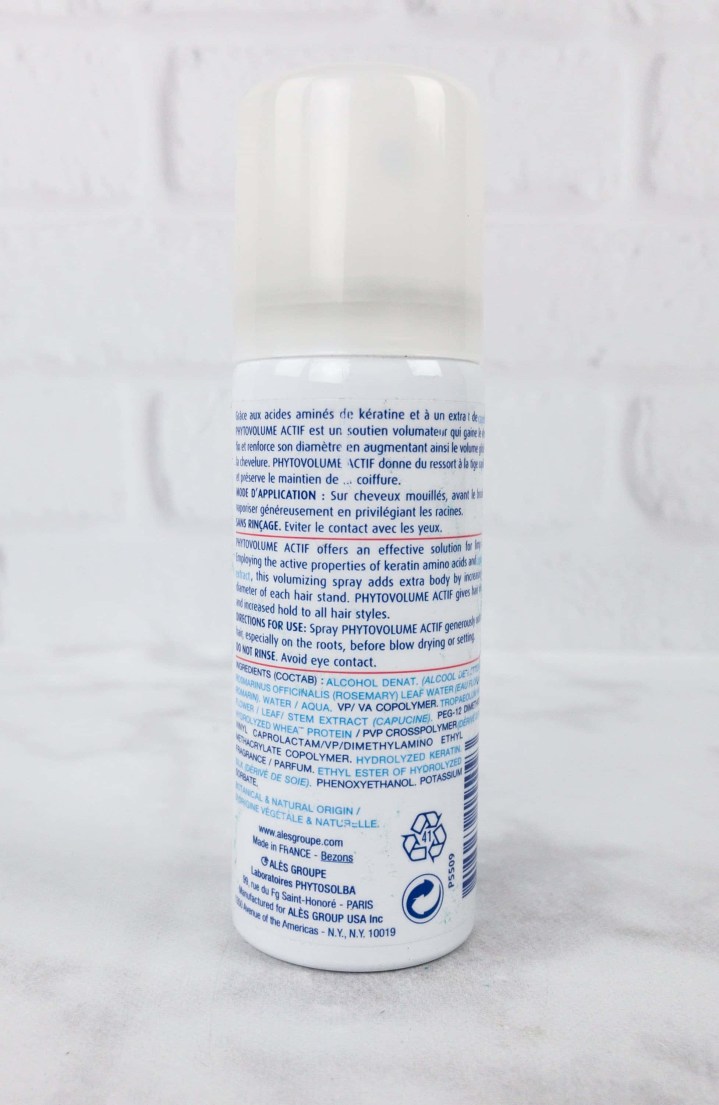 This spray easily adds life to limp hair. Ideal for daily use, and the size is travel-friendly too. Contains active ingredients like beetroot alcohol, nasturtium extract, and wheat protein complex (which add to the hair shaft for more body). My hair definitely looked fuller and I will use the whole can.
Chi Silk Infusion Silk Reconstructing Complex ($9.17) This serum is for taming frizziness and flyaways.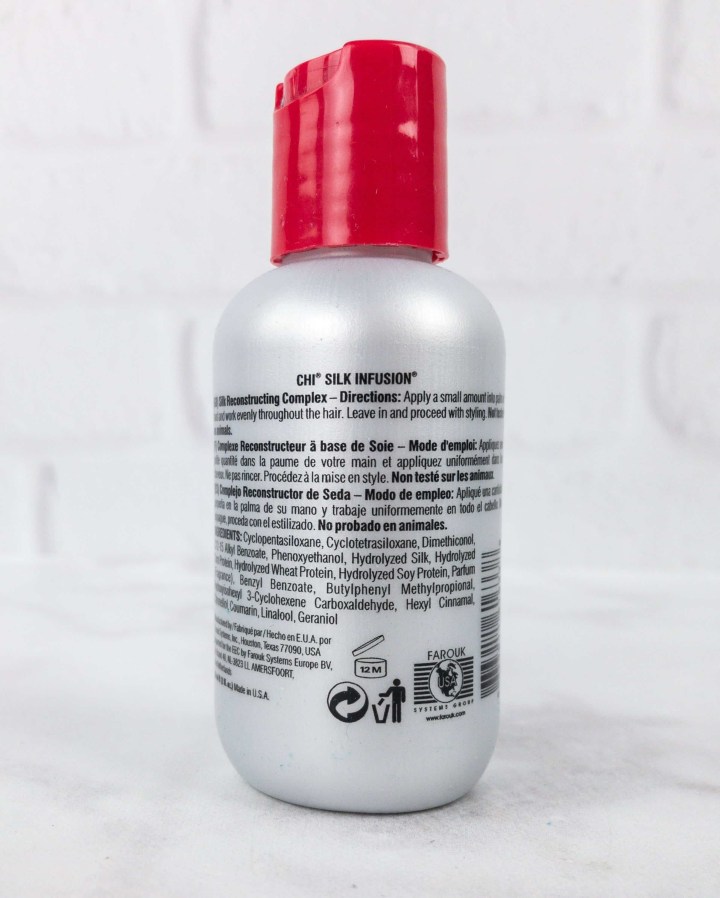 It works great in keeping unruly hair at bay, just make sure to apply only a small amount. Otherwise, it will weigh your hair down. Ingredients include pure natural silk, wheat and soy proteins. Also suitable for all hair types! I don't have too many problems with frizz so I was super interested to see that you can also use it on your skin. That's unique. For me, it worked best to skip conditioner and use just a tiny bit post shower.
Although the box seemed eclectic, I think they stuck pretty well to the two themes that were in the first two pages of the booklet – streamlining skincare and day to night makeup. You can easily match the products up with those ideas, and I think that's really useful for someone wondering what to do with everything. The total value was around $213 for this variation, which is excellent and even hedges all your bets if you're not totally in love with some of the products. This is a really great haul for the price and a nice bimonthly restock!