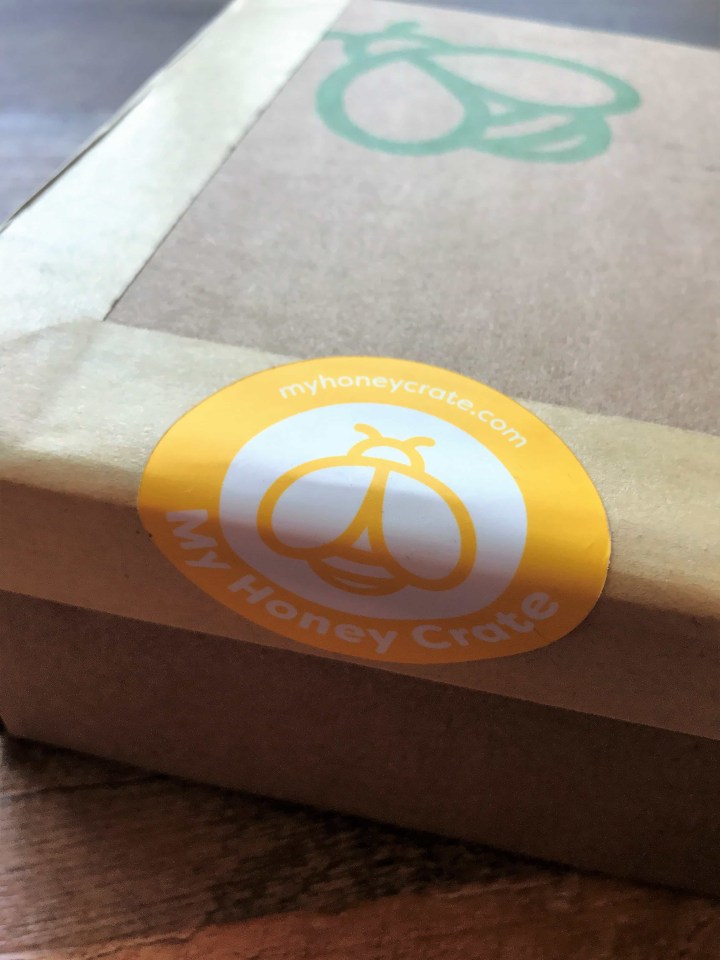 My Honey Crate Subscription Box features small batch raw honey from apiaries and beekeepers around the world.  Along with honey the box includes beeswax goods, handmade candies, soaps & beauty products, and bee themed home goods.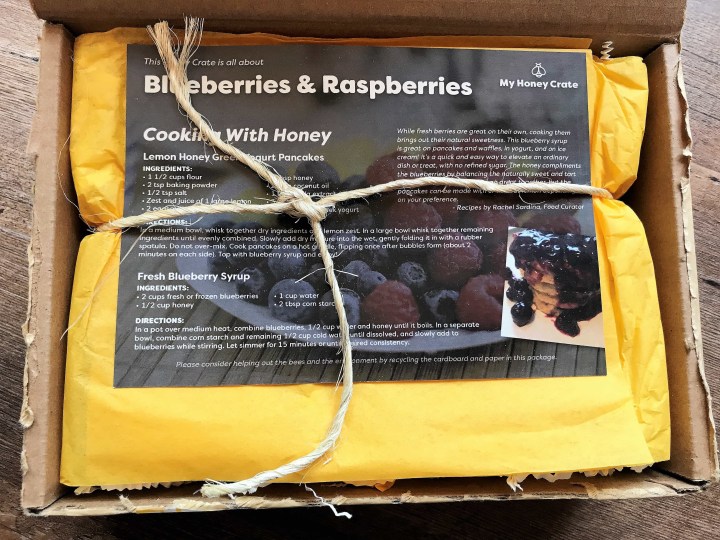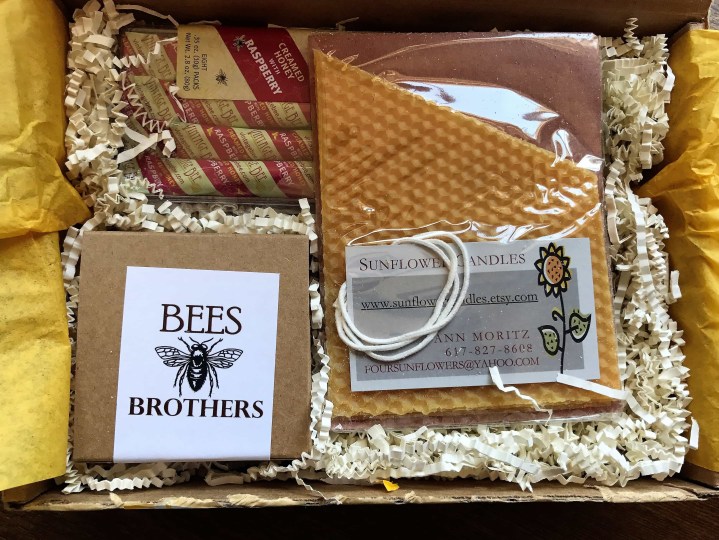 Each box is $29.95 plus shipping with a discount if you prepay for three or six months.
The box was packed full of these sweet goodies.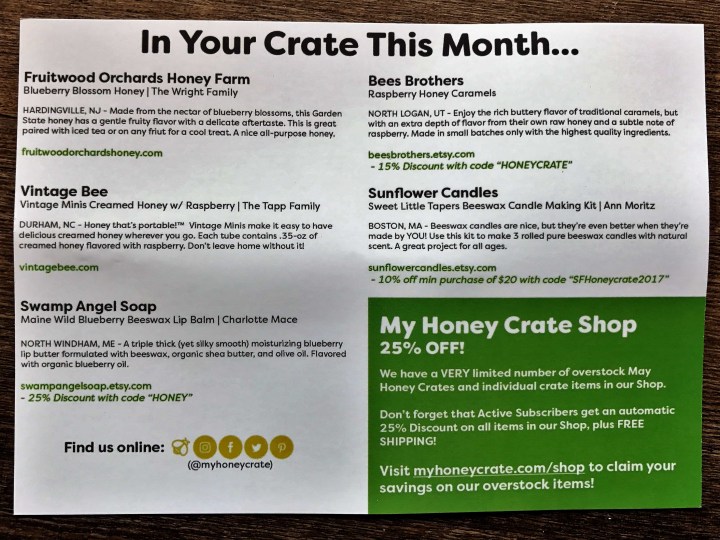 This product information card told us a little about each product. There is also overstock items and past crates for sale on their site.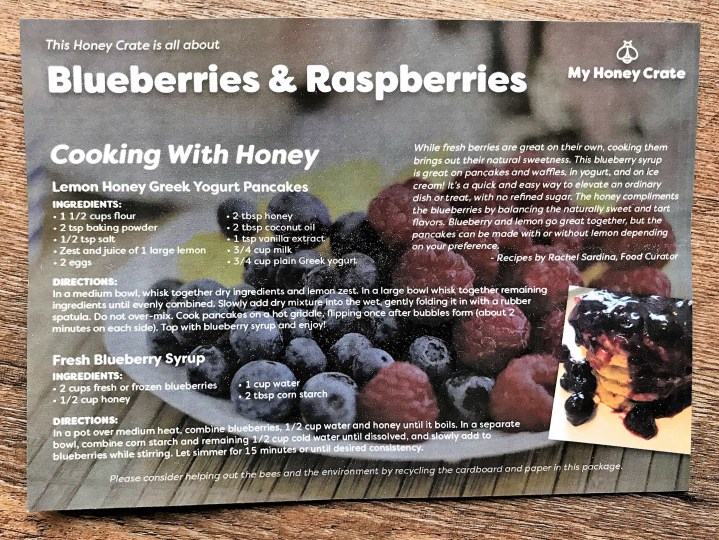 The back of the product information card had recipes that incorporated honey. The Lemon Honey Greek Yogurt Pancakes and Fresh Blueberry Syrup look yummy!
Fruitwood Orchards Honey Farm (Blueberry Blossom Honey from the Wright Family) – $3.75 "Hardingville, NJ – Made from the nectar of blueberry blossoms, this Garden State honey has a gentle fruity flavor with a delicate aftertaste. This is great paired with iced tea or on any fruit for a cool treat. A nice all-purpose honey."
This pure, raw, unfiltered honey. All the good stuff in the honey is damaged by heat, so the less heat involved in the process the better. It had a mild fruity flavor that was excellent on cinnamon raisin toast. And, by the way, this is an awesome price for raw honey. All their prices are really low!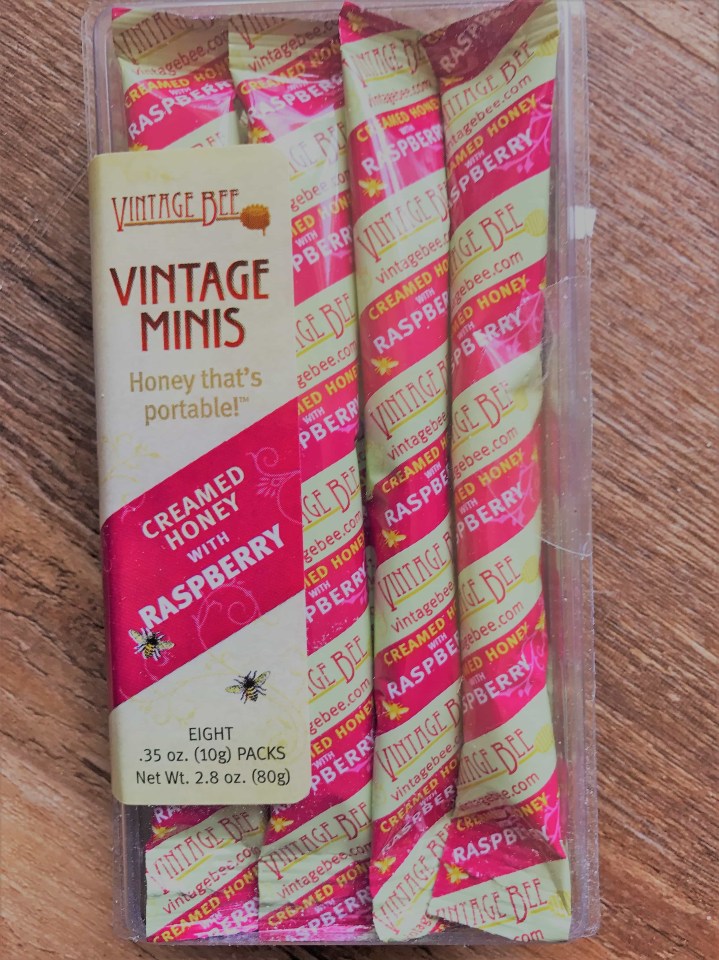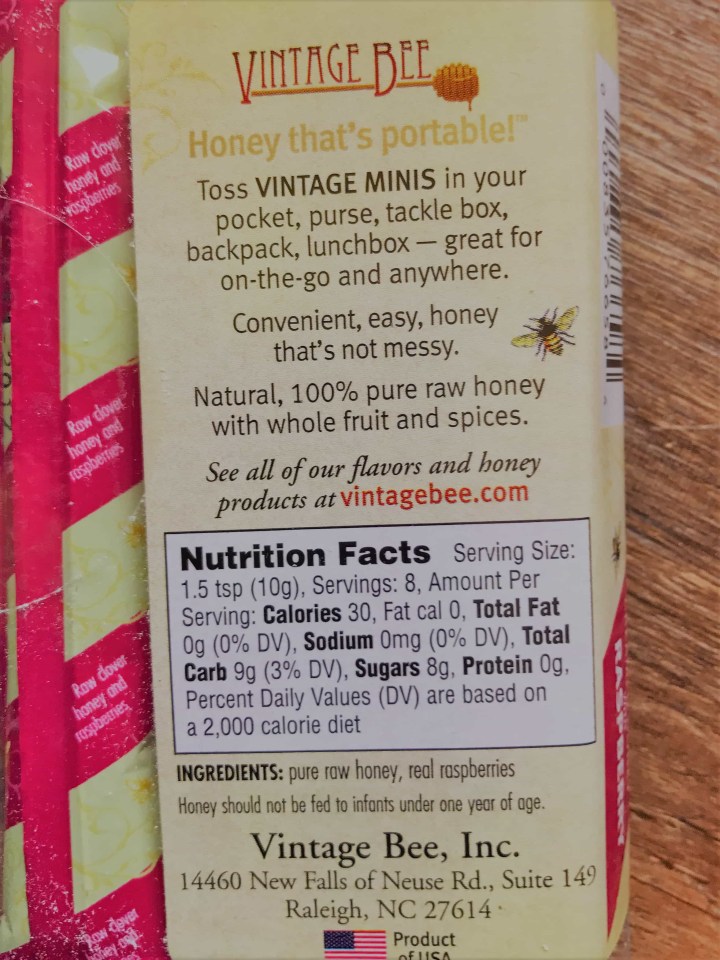 Vintage Bee Minis Creamed Honey w/ Raspberry (The Tapp Family) $4.99 – "Durham, NC – Honey that's portable! Vintage Minis make it easy to have delicious creamed honey wherever you go. Each tube contains .35oz of creamed honey flavored with raspberry. Don't leave home without it!"
I think that these would be great to throw in your purse for a natural hot tea or coffee sweetener! Or for a cough drop replacement since honey is a natural cough suppressant.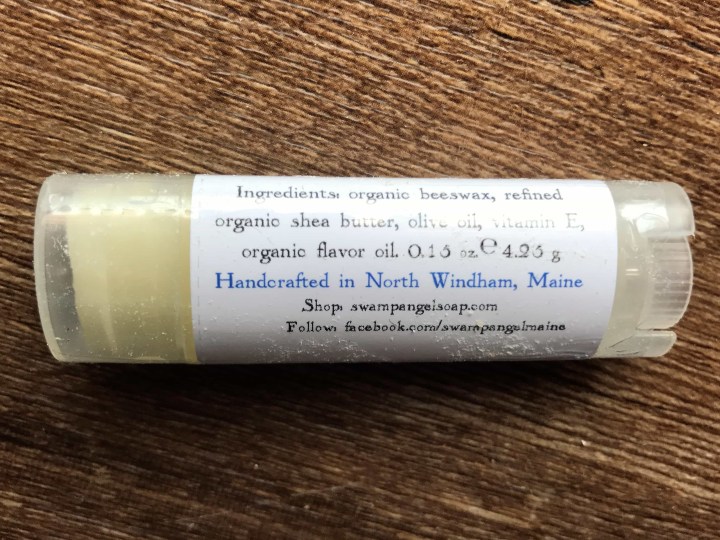 Maine Wild Blueberry Beeswax Lip Balm from Swamp Angel Soap by Charlotte Mace  $5 – "North Windham, ME – A triple thick (yet silky smooth) moisturizing blueberry lip butter formulated with beeswax, organic shea butter, and olive oil. Flavored with organic blueberry oil."
This is a great little lip balm that really does smell like blueberries. It is thick, but smooth just like they say. I really like it.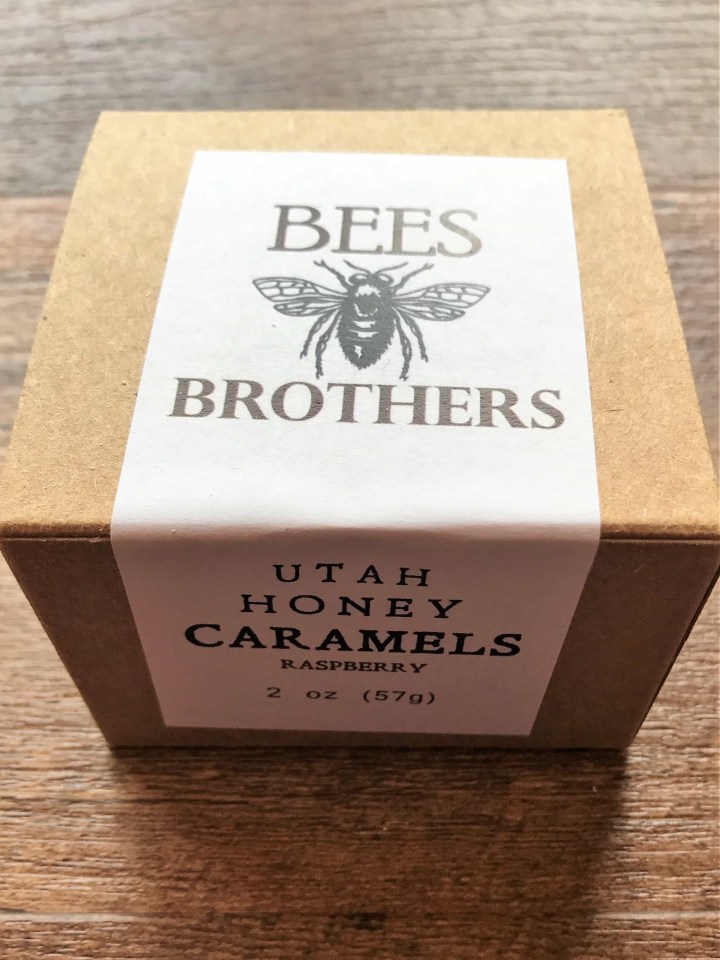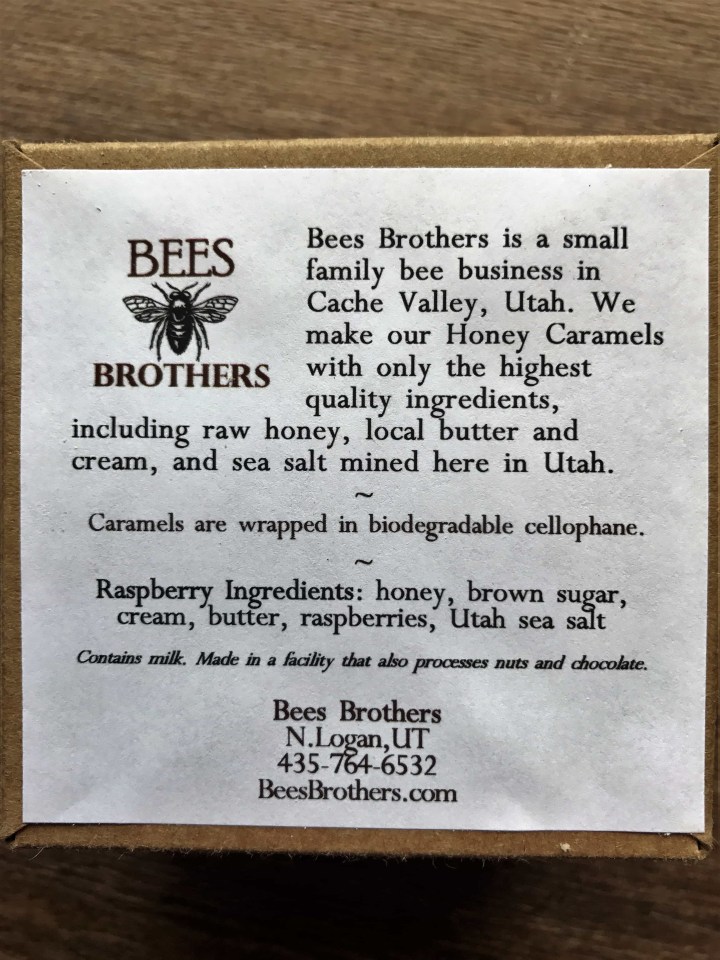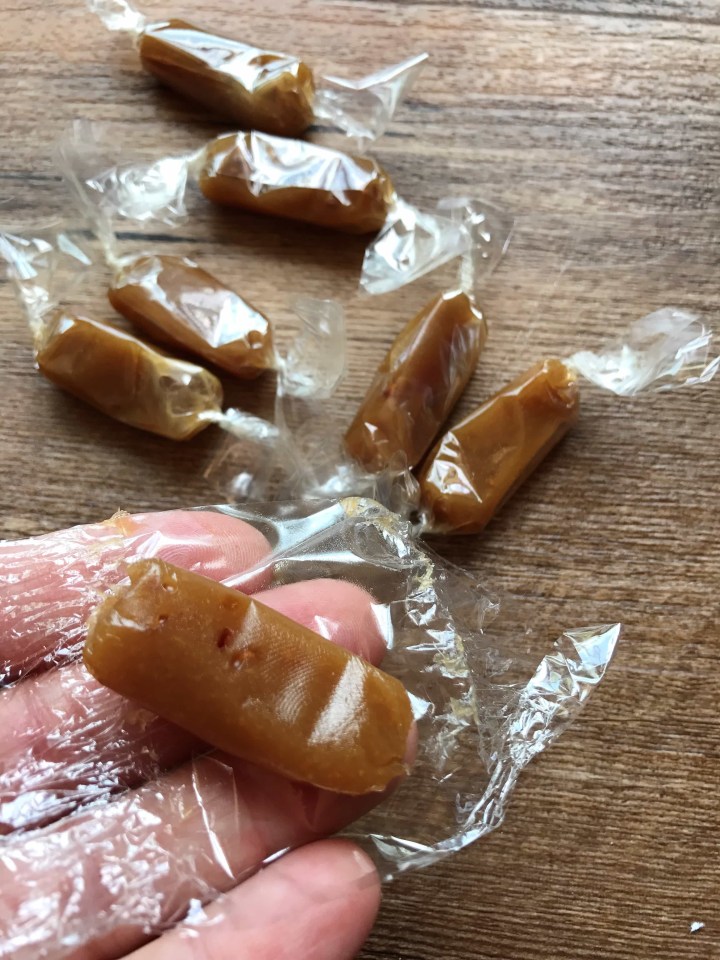 Bees Brothers Raspberry Honey Caramels $4 – "North Logan, UT – Enjoy the rich buttery flavor of traditional caramels, but with an extra depth of flavor from their own raw honey and a subtle note of raspberry. Made in small batches only with the highest quality ingredients."
Do you see those raspberry seeds in there? I love it when a product is obviously real, no fake crap in here! The ingredients are: honey, local cream, local butter, Utah sea salt, brown sugar, local raspberries, natural flavoring.  Even the salt is locally sourced. And, they are very good. I like that they are wrapped in cellophane instead of wax paper. Wax paper covered caramels always seem to get sticky and gooey before I can eat them all.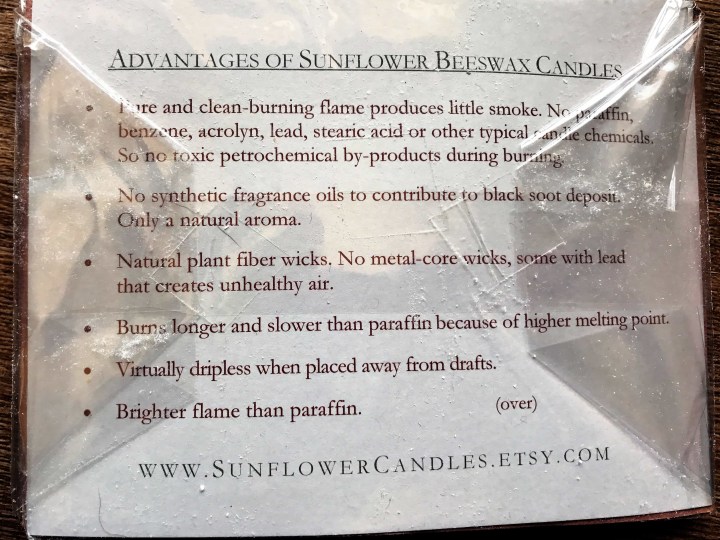 Sunflower Candles Sweet Little Tapers Beeswax Candle Making Kit by Ann Moritz  $7 – "Boston, MA – Beeswax candles are nice, but they're even better when they're made by YOU! Use this kit to make 3 rolled pure beeswax candles with natural scent. A great project for all ages."
The beeswax comes in pre-hexagon printed sheets that you wrap into little taper candles. Did you know that beekeepers buy sheets of wax very similar to this to give their bees a wax base to work from, so that the comb is built nice and even on each frame. The bees naturally take to it and pull and expand the wax out from the hexagon bases to build their comb.
I enjoyed the products included in the Honey Crate box. It was well curated with a nice variety of honey related items. The price of the box exceeded the price of the items a little, but all the items are sourced from small businesses without much wiggle room for wholesale prices or shipping discounts. My favorite item was the honey itself. It had a great flavor and I think I found a new place to order raw honey from.