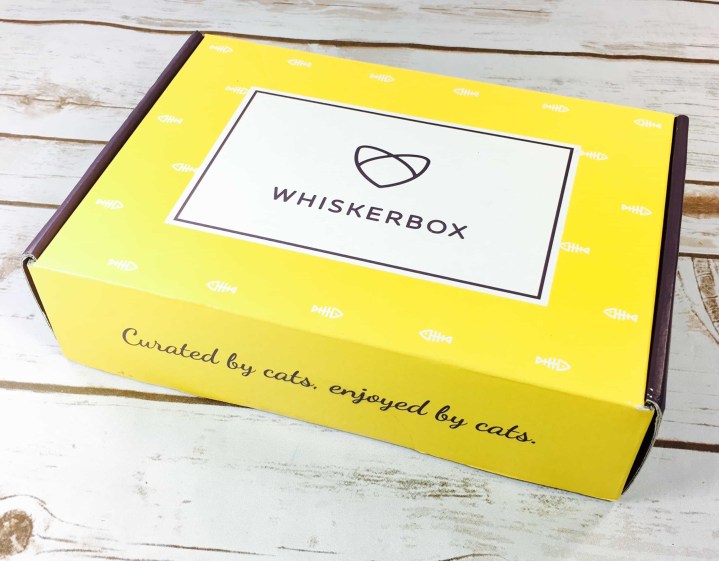 WhiskerBox is a themed monthly cat subscription box that features artisanal luxury items for your kitty. Four to six premium items are included which can be "stylish apparel, stimulating toys, scrumptious treats, and one-of-a-kind treasures from around the world." Discerning felines with dietary needs can opt for non-edible items. A short profile is filled out at checkout including cat's name, gender, weight, and if treats are to be included. WhiskerBox supports shelters, rescues, and sanctuaries with each box purchased.  The luxury kitty box ships free to the United States and Canada.
WhiskerBox items are tested by feline lifestyle experts. Smokey, the head feline lifestyle expert, was a stray rescued by his humans at eight weeks old. My kitties think that is a cool job.
DEAL: Get 10% off for life – just use coupon code HELLO10!
WhiskerBox sends toys, cat couture, treats, and specialty products each month.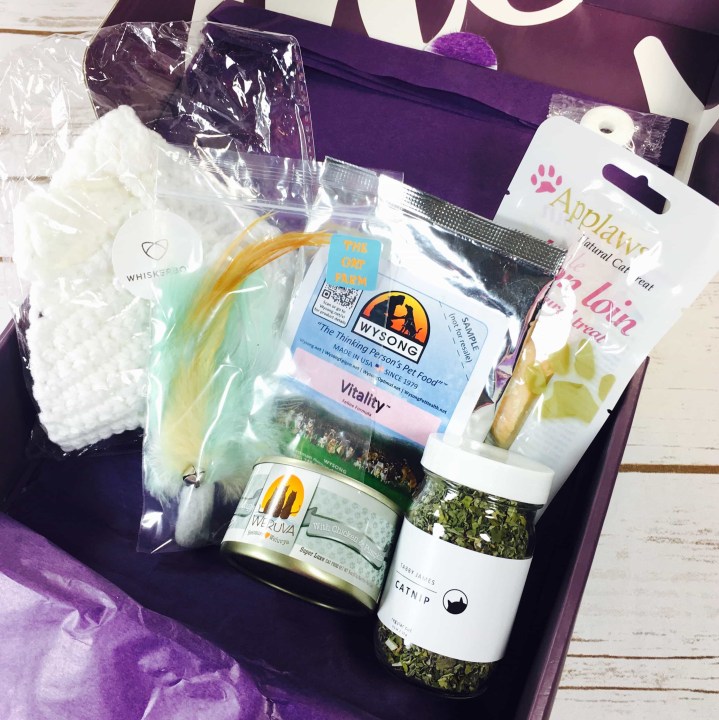 This box ships from Canada and everything arrived in perfect condition.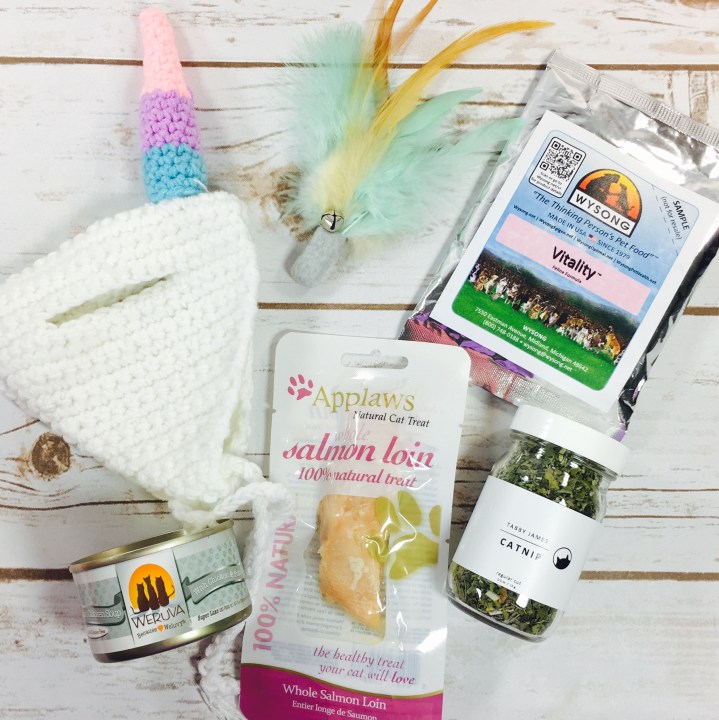 Everything in the box! Not pictured was my human treat – a Wint-O-Green Lifesaver!
Aww, Pusheen was on the card and she looked like a unicorn! The July theme was Meowgical Dreams. My cats names were listed on the card – Zoey is a 6-year-old tabby and Sunny is an 1 year old orange tabby and they are both female cats that we adopted from our local animal shelter.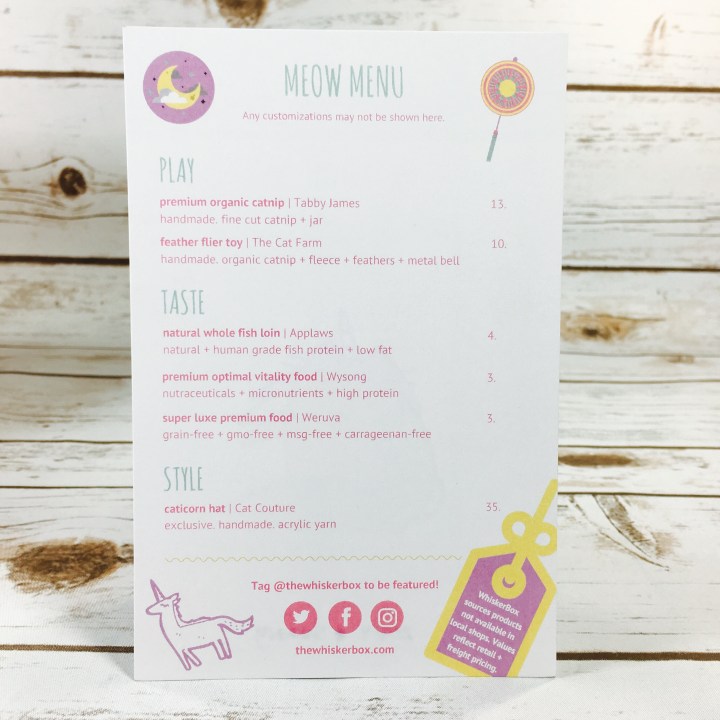 The Meow Menu is a cute information card set up as a menu. The prices reflect retail plus shipping because WhiskerBox includes products not available in local shops.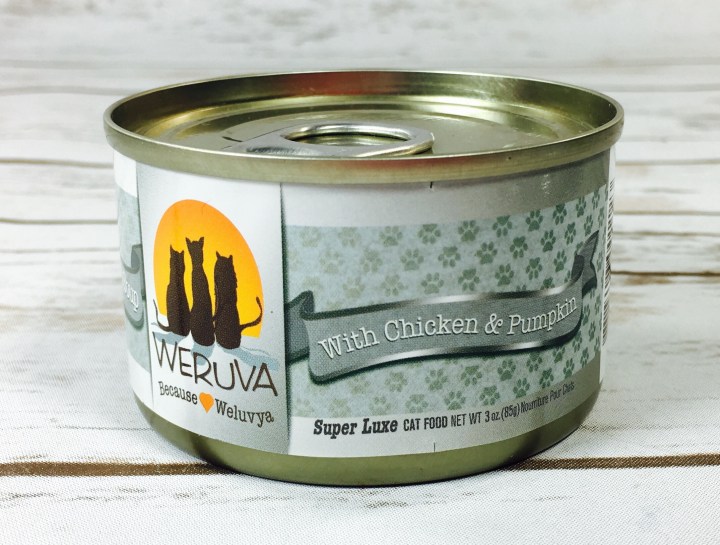 Weruva Super Luxe Cat Food Grandma's Chicken Soup with Chicken & Pumpkin There were three food items this month and my cats enjoyed them all! First up is canned cat food that looks and sometimes smells better than some canned soups I've tried. In fact, this one in particular is called "Grandma's Chicken Soup" and that's pretty much what it looked like!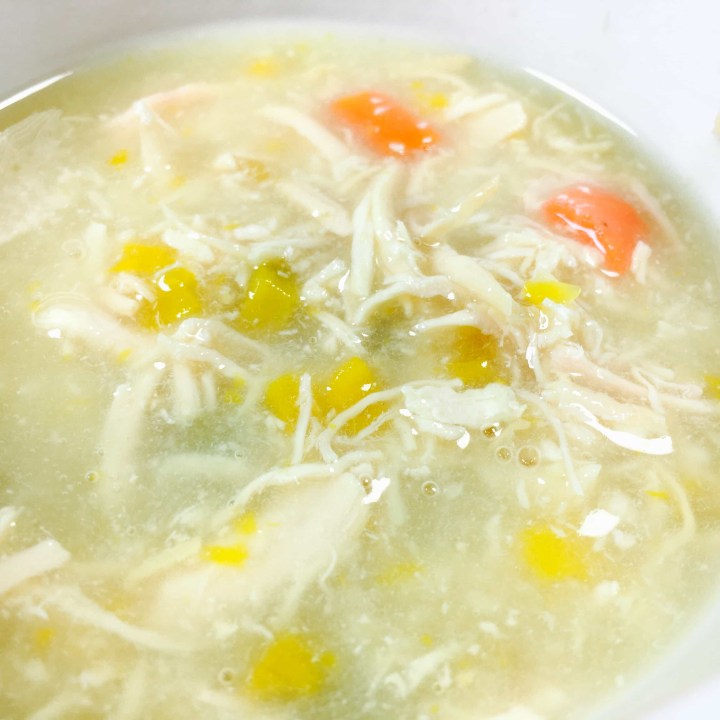 See, doesn't it look fit for humans? Sunny thought it was delicious!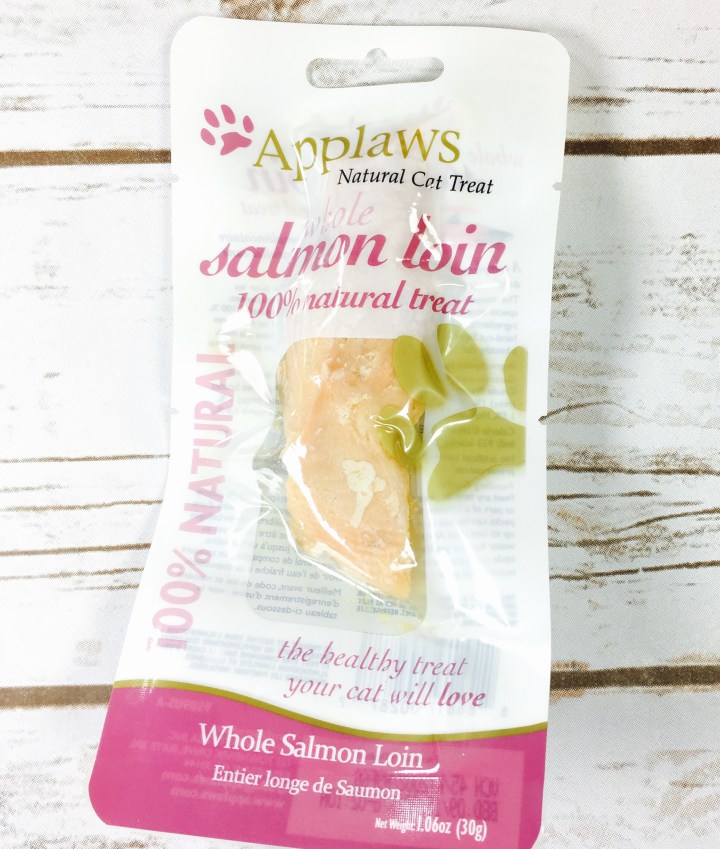 Applaws Natural Cat Treat Whole Salmon Loin Again, this looks all too much like human food and only contains salmon. I looks exactly like what I cooked for dinner last week and Sunny ate it with gusto.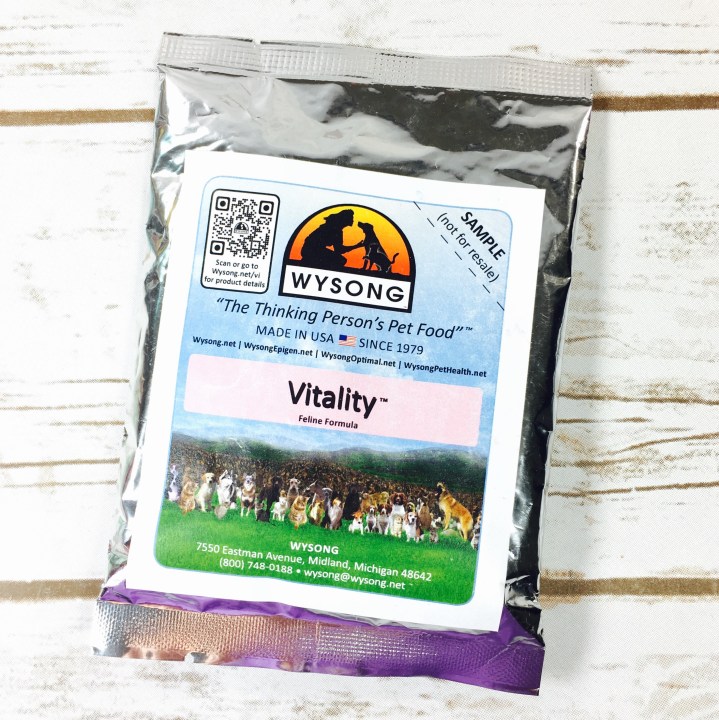 Wysong Vitality Cat Food Both of my cats enjoy this brand of cat food. I prefer to use it as a treat and place it in toys so they really have to work for it, and they do!
Tabby James Catnip Regular Cut My cats have a thing for catnip and this one seems pretty nice! It's organic and grown in the Pacific Northwest. You can use it as refills for toys but I sprinkle just a bit on the ground and Sunny goes crazy rolling around and eating it.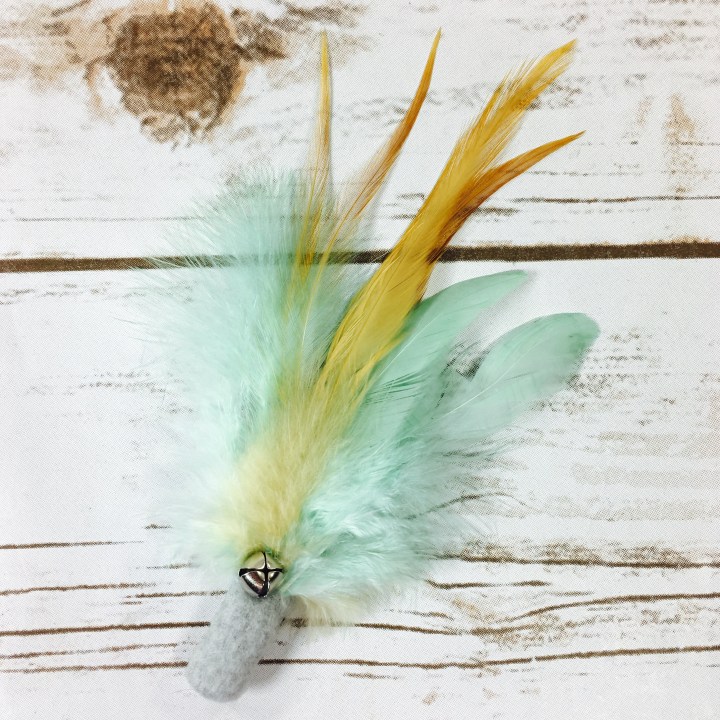 The Cat Farm Feather Flier Cat Toy is just so pretty and Sunny loved it! It's made with fleece and feathers and features a bell plus it has catnip inside. Sunny would carry it around and just had a great time playing with it.
Zoey never tried to touch it, but Sunny loves it!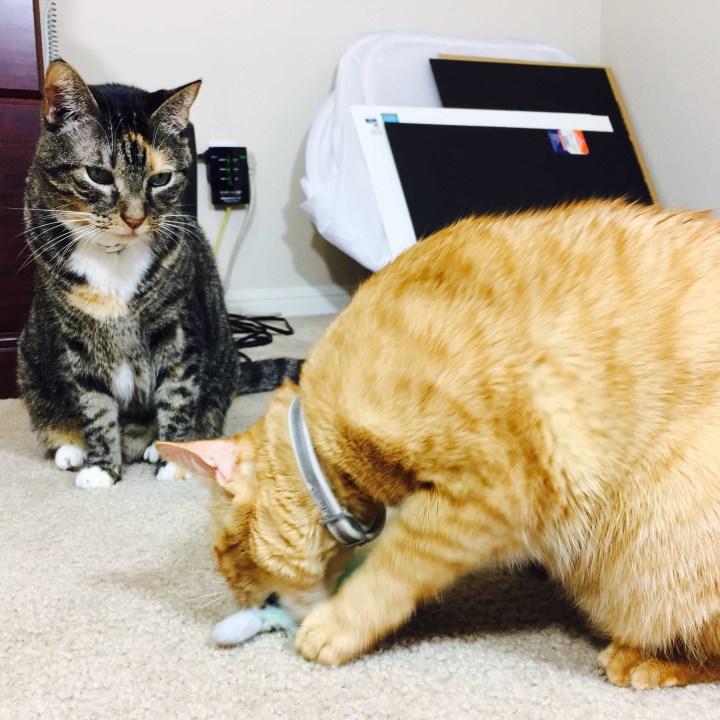 I think Zoey gets her exercise by watching Sunny play with various things.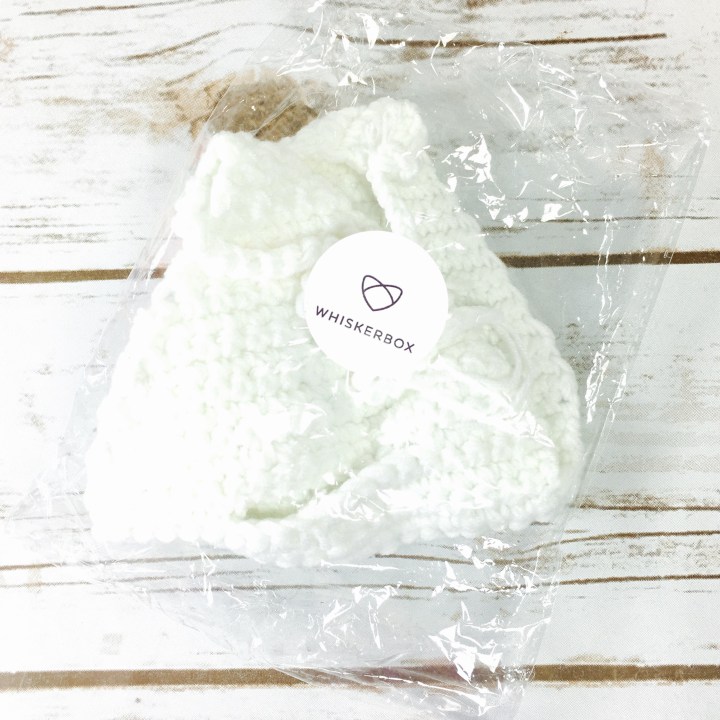 Cat Couture Caticorn Hat is from Whiskerbox's in-house brand but you can find similar items on Etsy.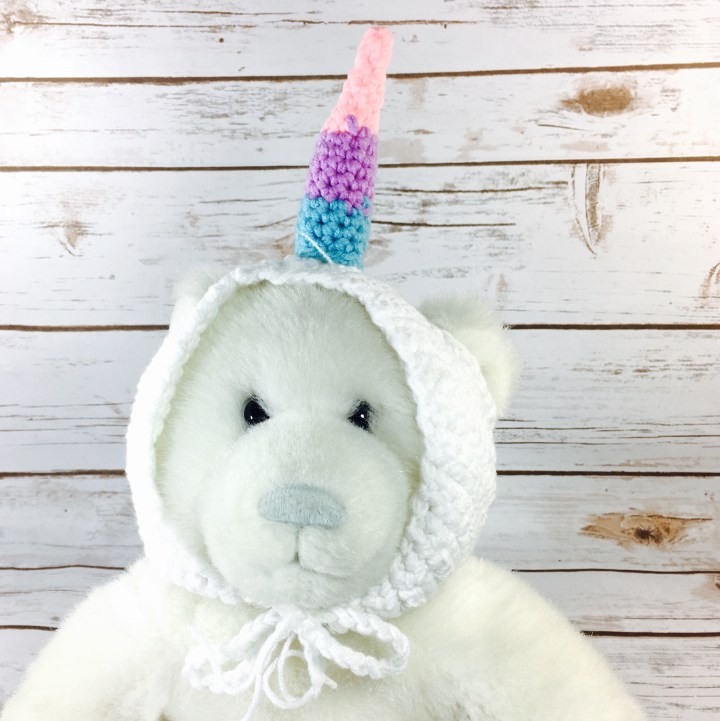 Here it is modeled by a bear. It's knitted and has ties for under the chin. The horn is in pastel shades of blue, pink, and purple. Plus, there are ear holes! Note how it fits the Build-A-Bear very well.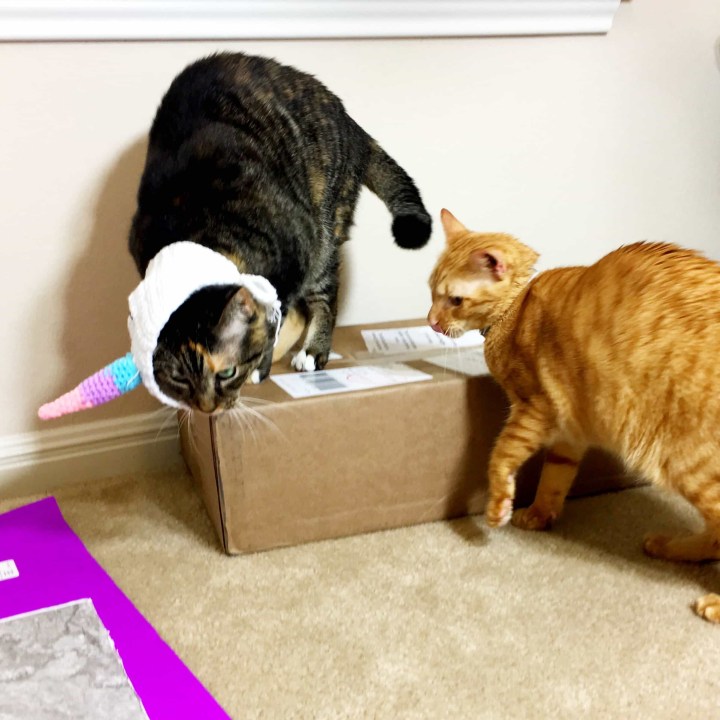 Zoey was not pleased. Plus, it flopped over.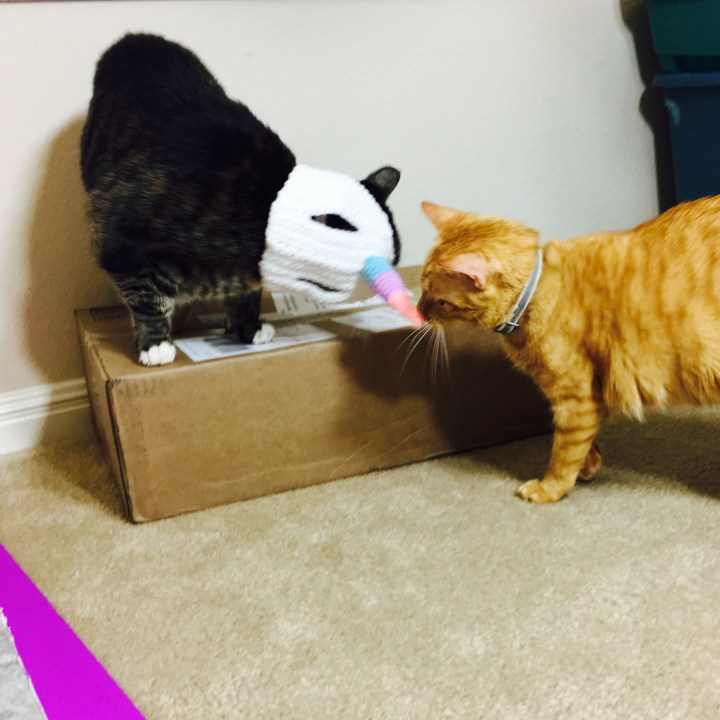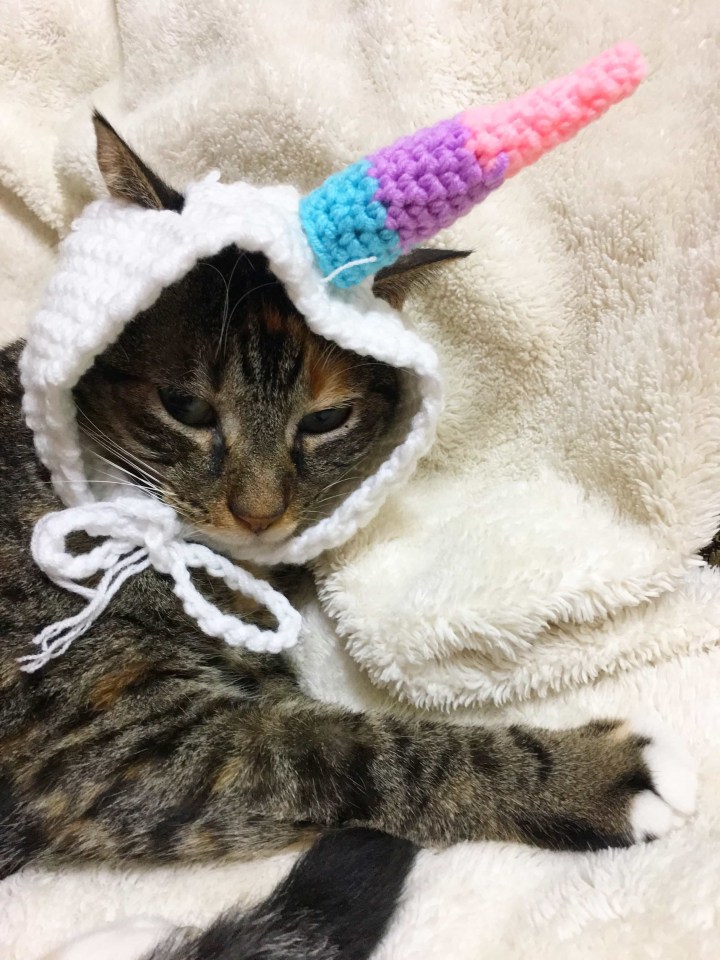 Zoey is the bigger of my two cats and this hat was too big for her.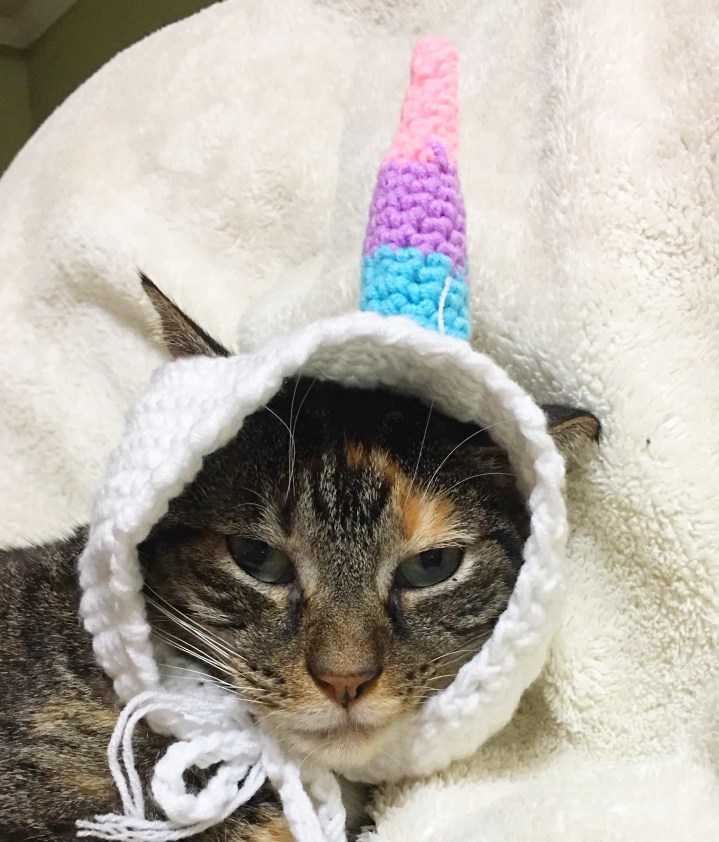 But she looks really happy wearing it, right!?! Just kidding, she may look pretty mad but she is really docile and sat quietly while I took her picture. She doesn't seem to mind too much.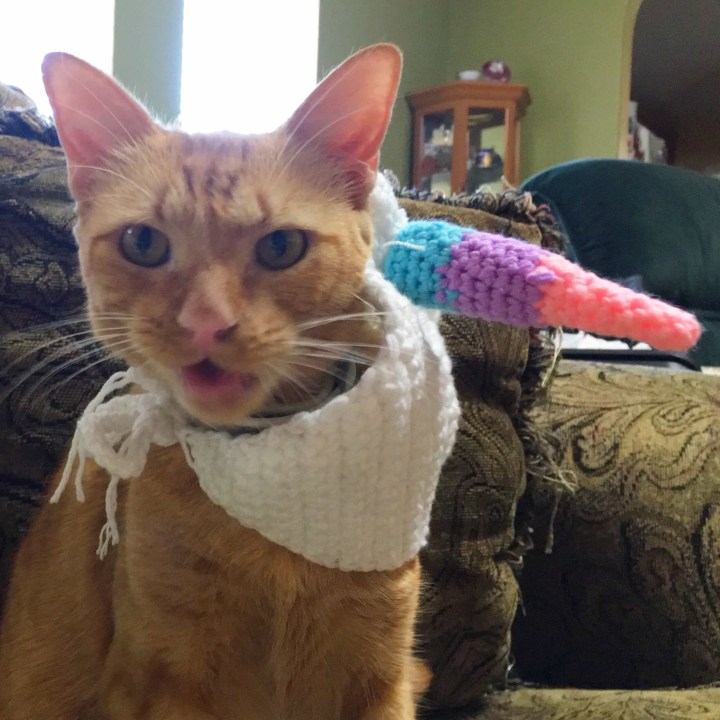 I think Sunny's head is half the size of Zoey's and the hat did not fit at all and just in case you were wondering, yes, this cat is crazy.
Sunny really liked the toy in this box and both cats absolutely loved the food and treats. I like that I can try a new food treat or toy without having to buy in bulk, in case my cats dislike the proffered product. I think WhiskerBox is a great choice for people who like to dress up their cats (and whose cats like being dressed up), provide them with unique toys, and treat them to delectable foods that you might not find in stores.
What do you think of the July WhiskerBox? Let me know in the comments!