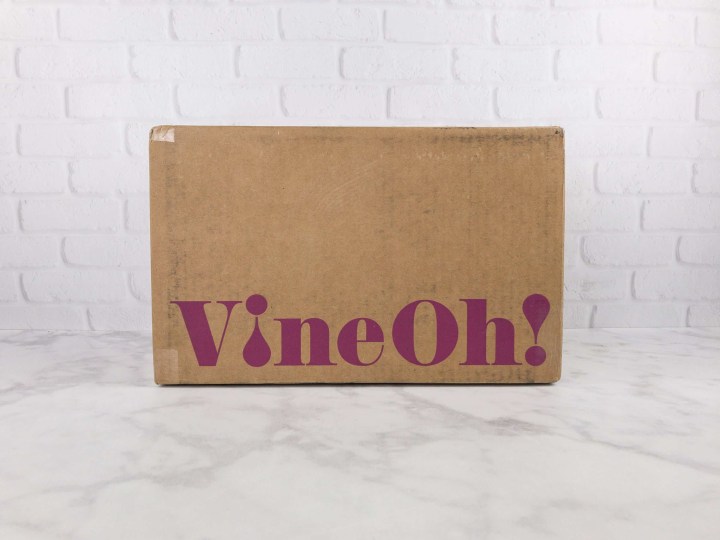 Vine Oh! is a new quarterly subscription box and one of the first wine subscription boxes to include lifestyle items for women. Each seasonal box will include 2 bottles of wine (either whites, reds or both), plus full-size items that are fun, rejuvenating and delicious. Every box will have a retail value of $120 or more!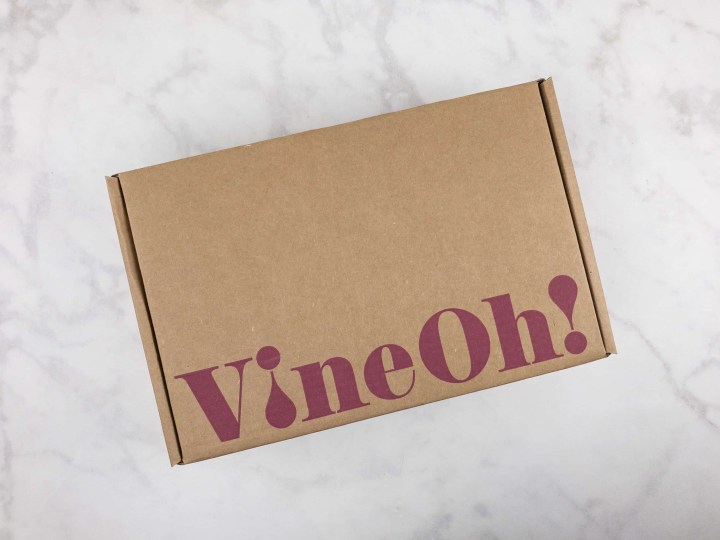 The large outer box comes with a smaller box inside, while the inner box holds the lifestyle goodies.
Everything is packaged super neatly!
DEAL: Use HELLOWINE to save $10 Off + An Extra Bottle of Wine on any Oh! Now! Box order.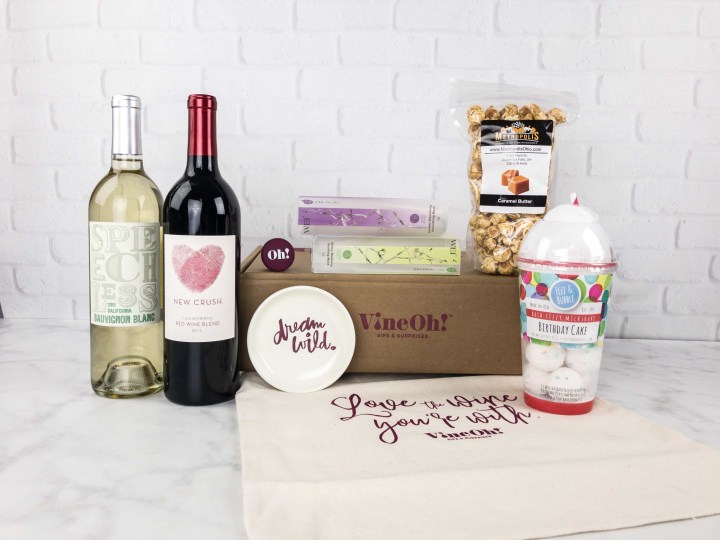 Everything in my Fall 2017 box! The theme this season is Oh! For Me! Box.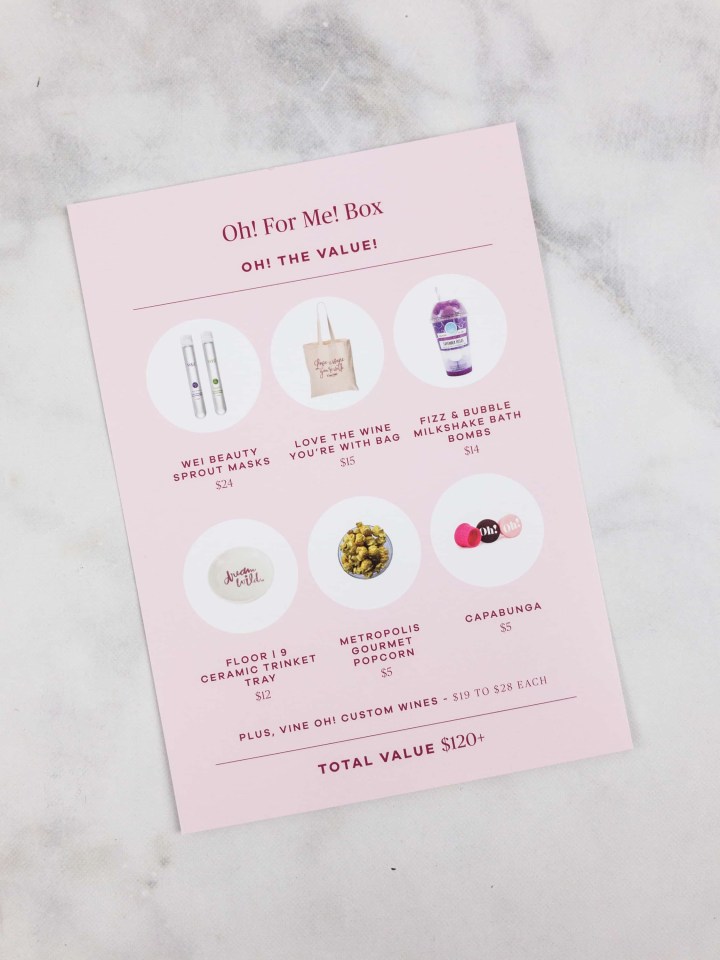 The information card gives you a list of all the items, plus their retail values!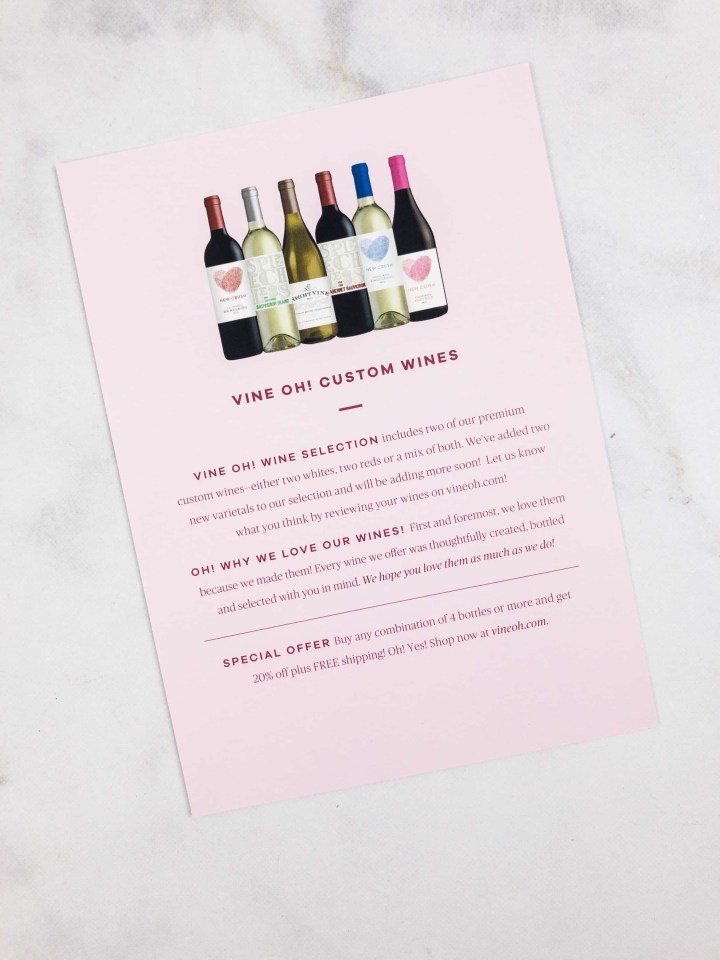 The wines in the box are custom made for VineOh! and you can buy more in their shop.
There are individual cards for each item.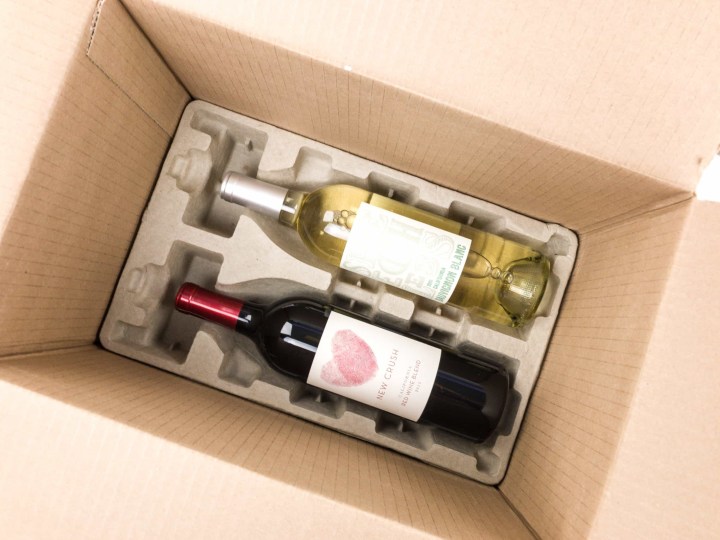 Now onto the wines!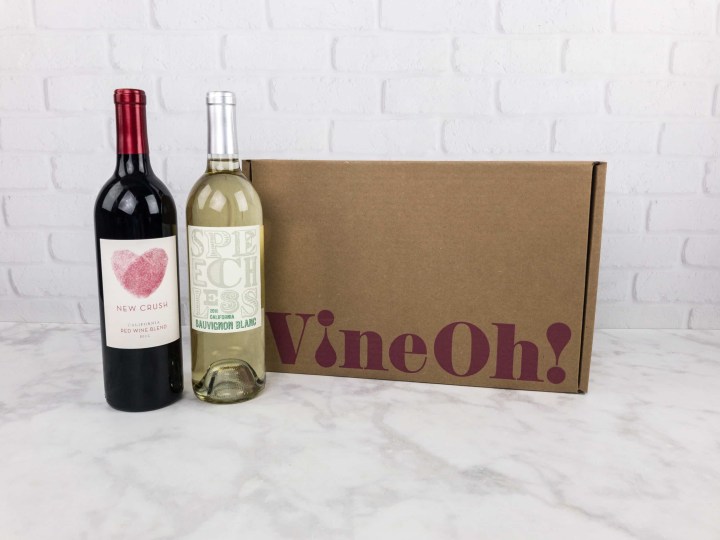 We received 2015 New Crush Red Wine Blend and 2016 Speechless Sauvignon Blanc.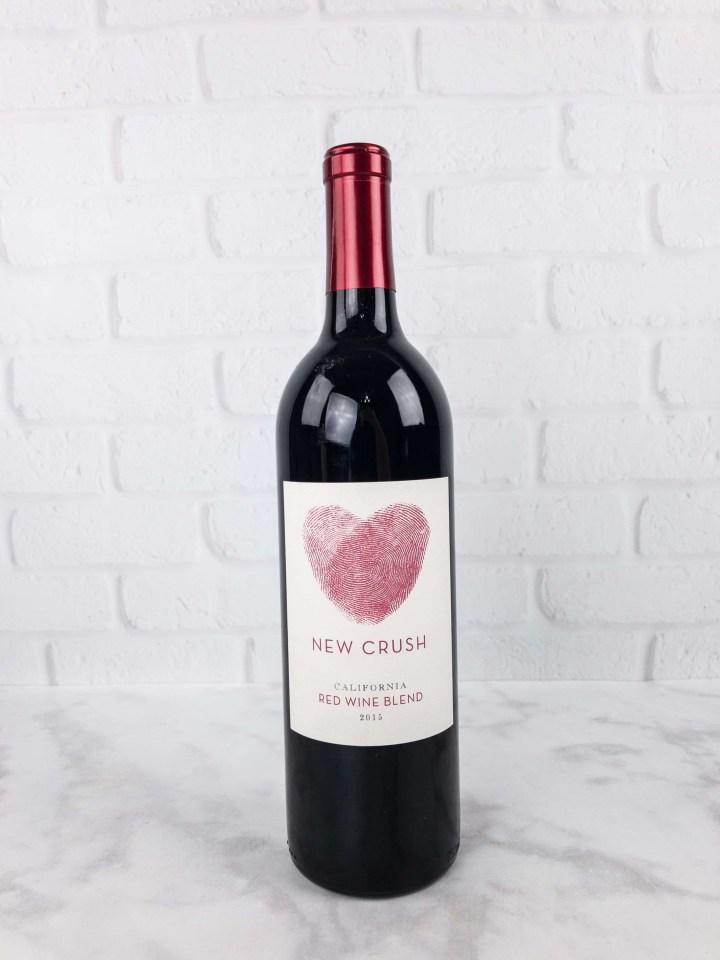 2015 New Crush Red Wine Blend ($19.99) is a medium body wine.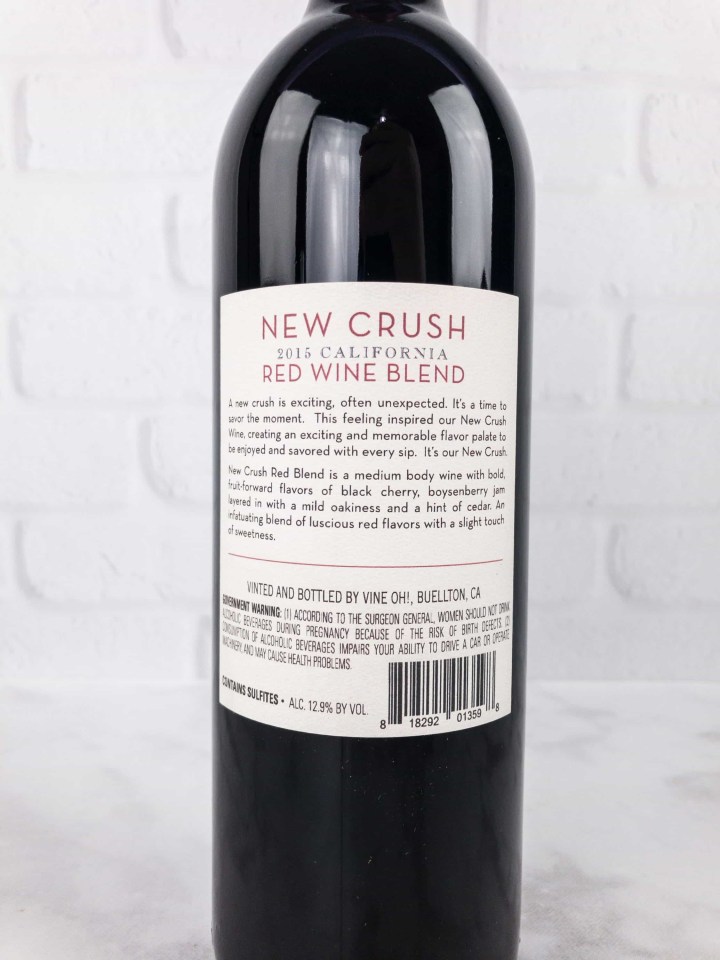 It has a fruity taste, composed of black cherry, boysenberry, and a hint of cedar.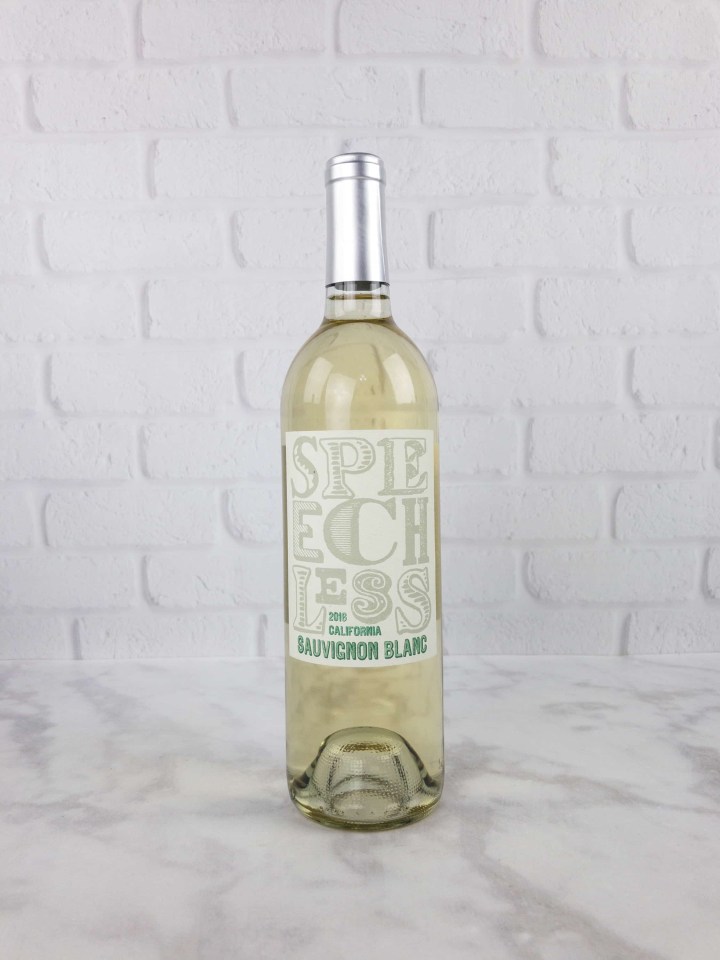 2016 Speechless Sauvignon Blanc ($22) is a crisp and flavorful wine.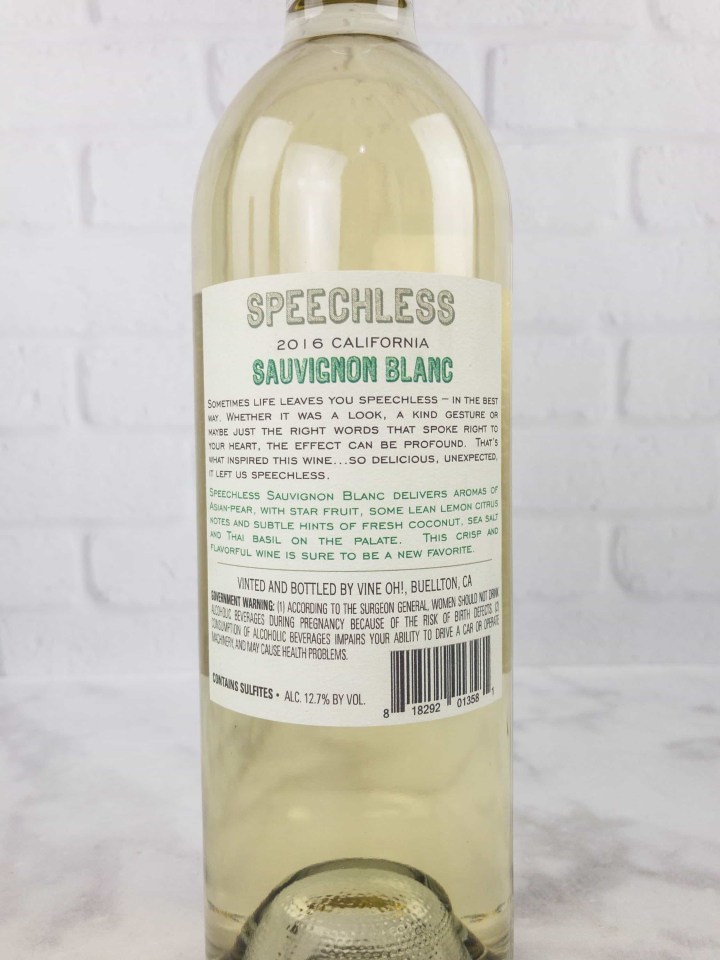 It could surely leave anyone speechless because of its unique taste — a combination of Asian pear, star fruit, lemon citrus, and hints of fresh coconut, sea salt, and Thai basil.
Love The Wine You're With Custom Bag ($15)  It's much sturdier than the standard promo tote you might see in other boxes and will definitely hold wine!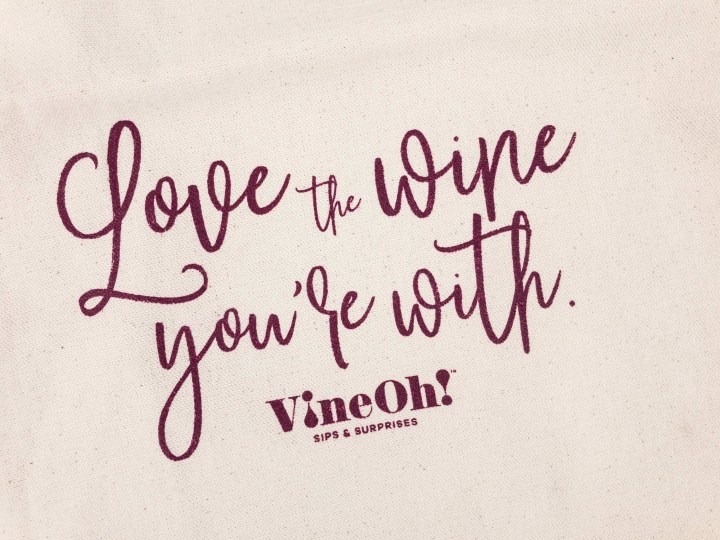 A fun and versatile tote you can bring everywhere to let everyone know you love wine.
Floor | 9 Ceramic Trinket Tray ($12)
Love the positive message on this ceramic tray!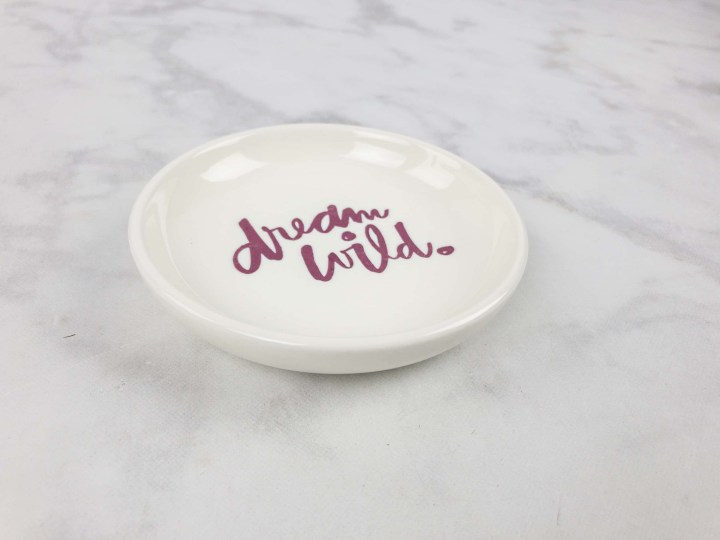 It can be used to store small accessories, loose change, keys, and whatnots. Love how all the Vine Oh accessories have a pretty wine color for fall!
Capabunga Reusable Silicone Cap ($5) A fun and functional item that every wine lover needs!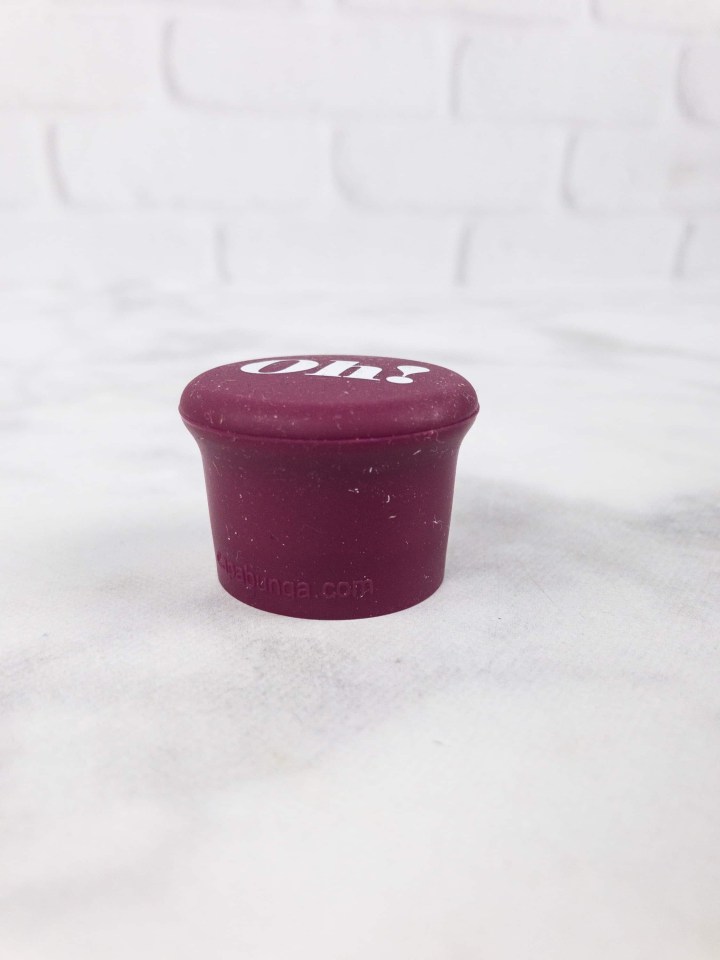 This silicone cap makes it easy to reseal wine after removing the cork. No leaks! And the best thing about it? It's totally reusable!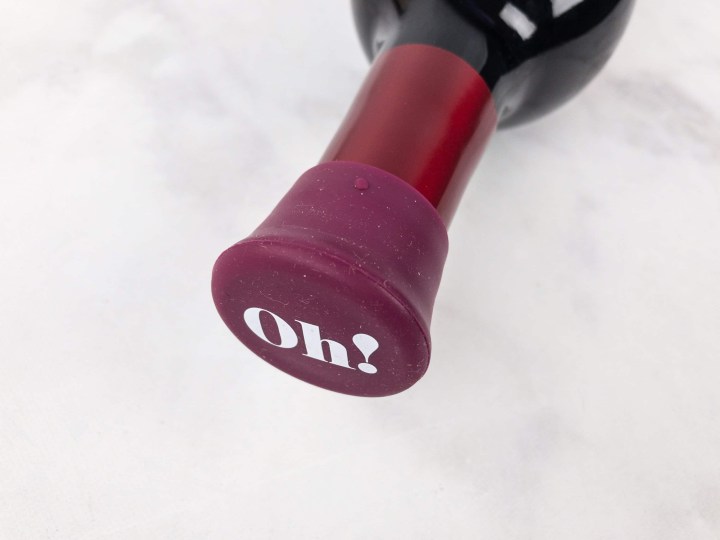 One comes in every box, and while that might get old for some items – not so for this amazing and unique gadget.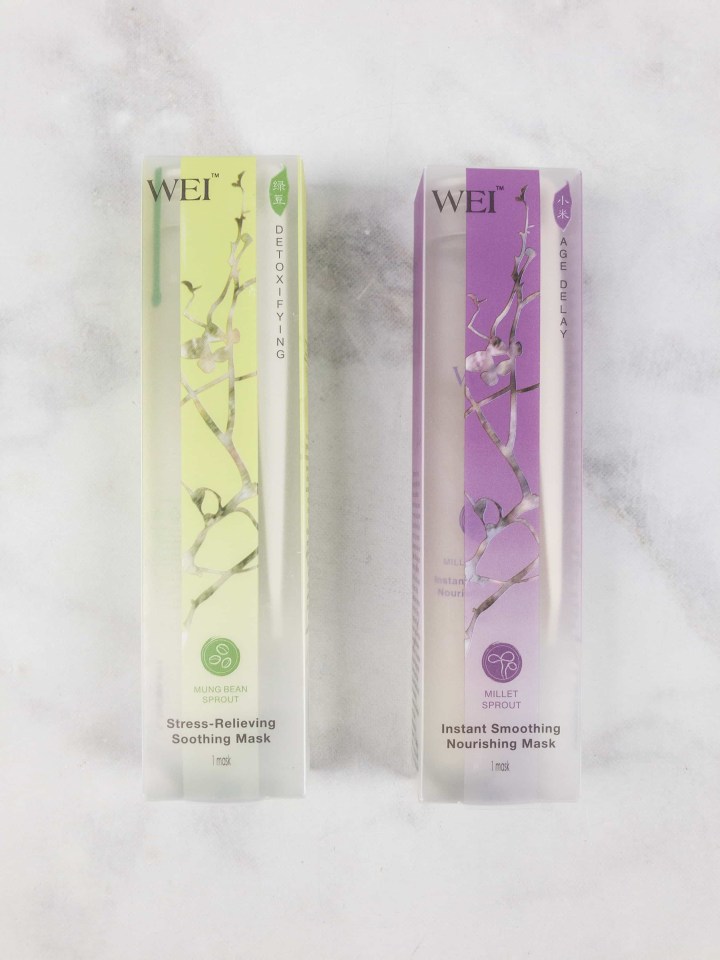 Wei Beauty Mung Bean Sprout Stress-Relieving Soothing Mask ($12)
Wei Beauty Millet Sprout Instant Smoothing Nourishing Mask ($12)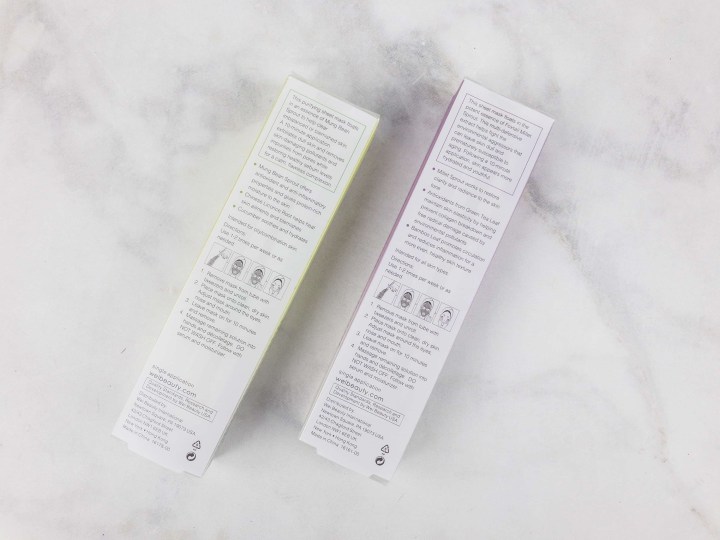 These will make a relaxing weekend night — a beauty treatment while sipping some delicious wine.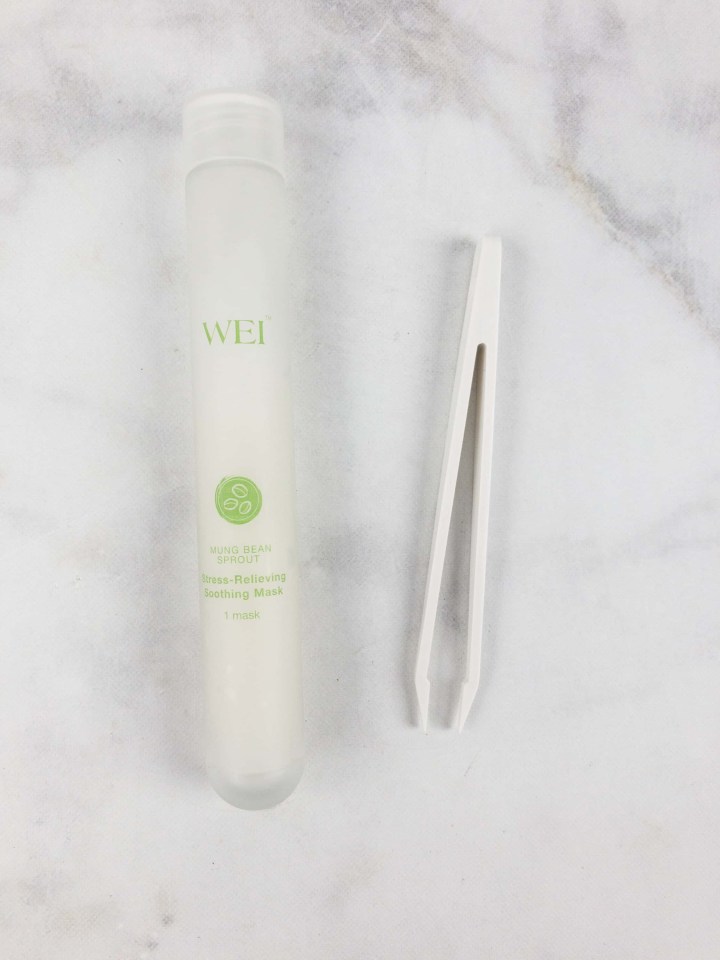 WEI Beauty is a luxury skincare brand based on the principles of traditional Chinese medicine. The formula contains herbal blends that promotes balanced skin. I haven't ever seen a mask in a tube with tweezers before. However, it made it a tad less messy, and the remaining serum could be saved (I won't save it if I've touched it!).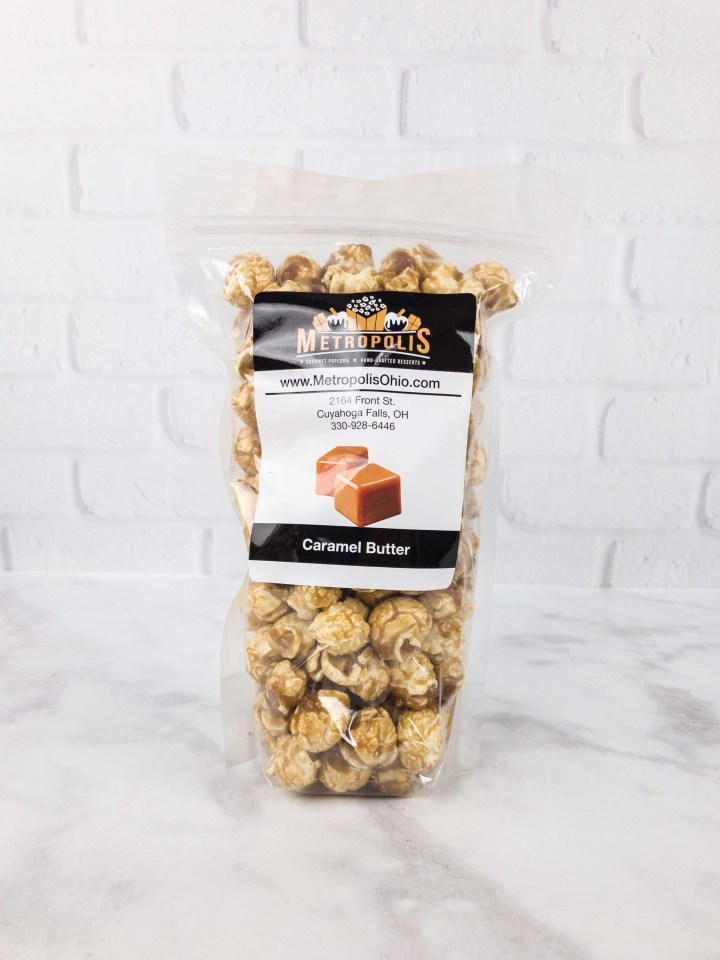 Metropolis Gourmet Popcorn Caramel Butter ($5)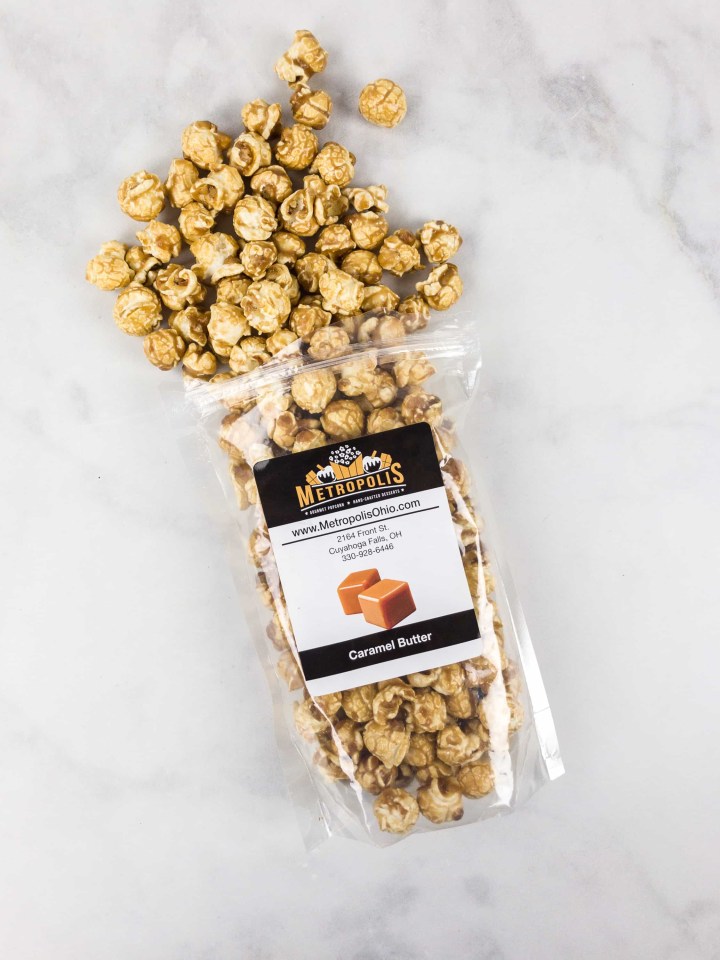 Wine + popcorn = perfection.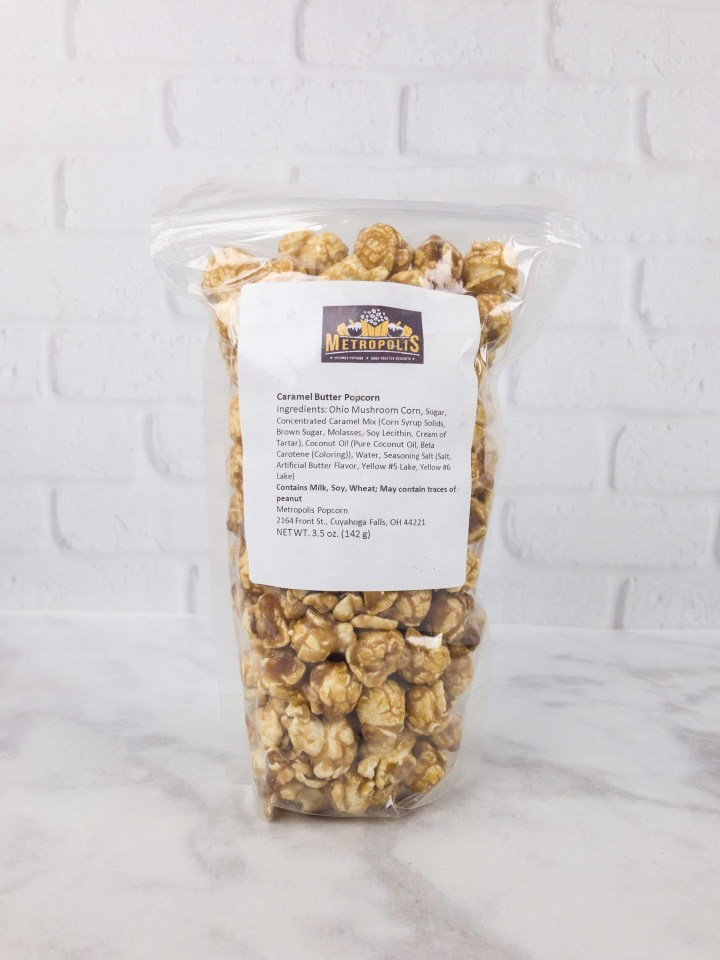 The caramel butter flavor is so yummy. It's gluten-free and nut-free too!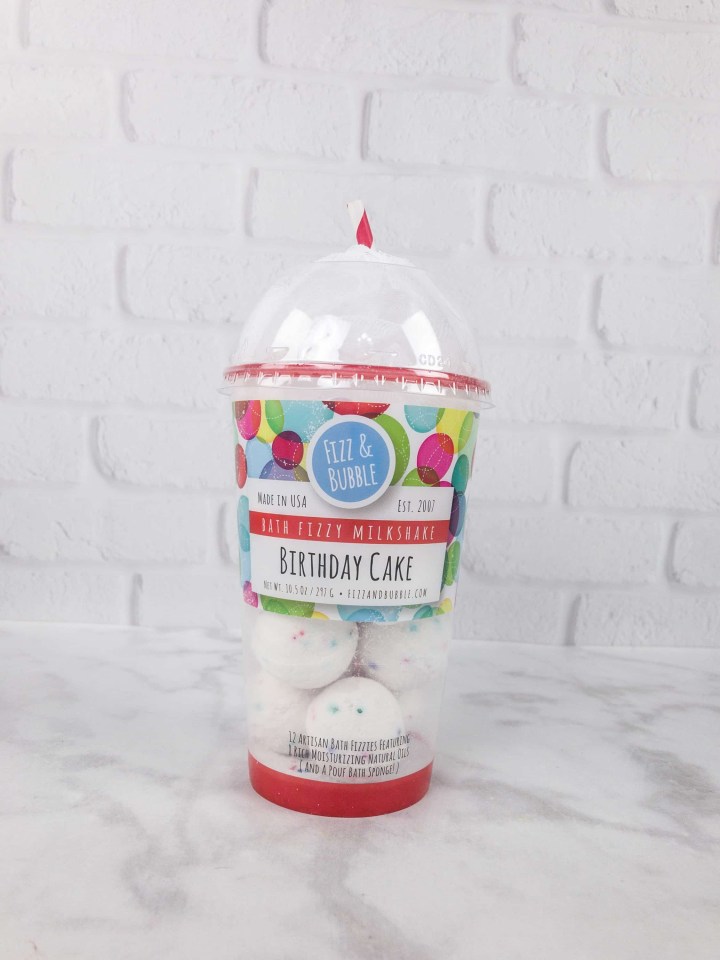 Fizz & Bubble Birthday Cake Bath Fizzy Milkshake ($14)
A dozen bathbombs! Ingredients include aloe vera, coconut, grapeseed, sweet almond, olive, avocado, sunflower, and jojoba. These smell so delicious, just like a real birthday cake. Too bad we can't eat it. But we can take a bath while sipping on some vino!
Vine Oh! is such a fun concept. It delivers a mix of wine and fun goodies you can use for a much needed me-time. They are doing an excellent job in including lifestyle items from up-and-coming brands. It's a quarterly box, so we have to wait for a few months for the next shipment, but I'm already looking forward!
What did you think of Vine Oh? This box is shipping soon!