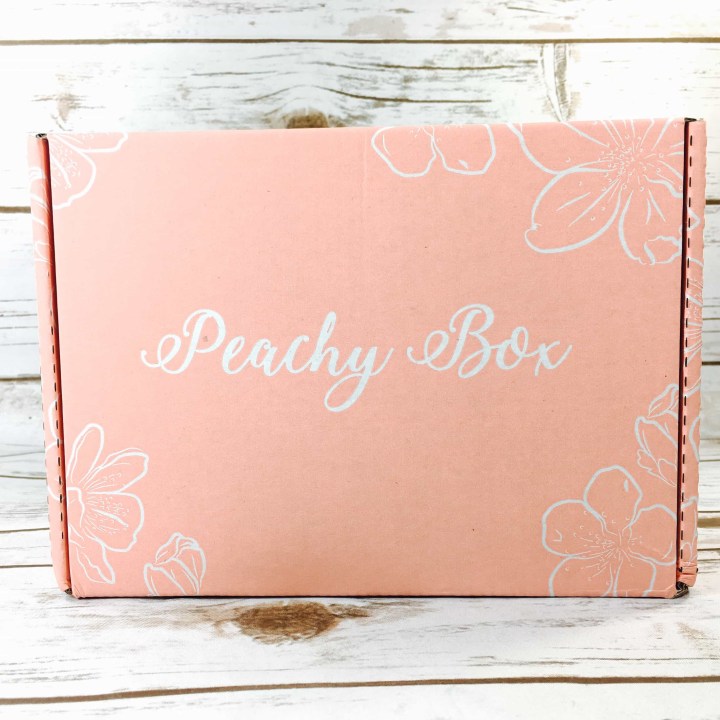 Peachy Box is a monthly themed subscription box full of cute, trendy items that you might find at Forever 21, Sephora, Paper Source, or Urban Outfitters. Peachy Box is $34.99 a month and features 4-9 beauty and lifestyle items. Shipping is free to the U.S. Last month there was an option for a smaller, less expensive box but it looks like they have moved away from that option.
DEAL: Get 25% off your first box! Use coupon code HELLO. Cannot be combined with any other offers.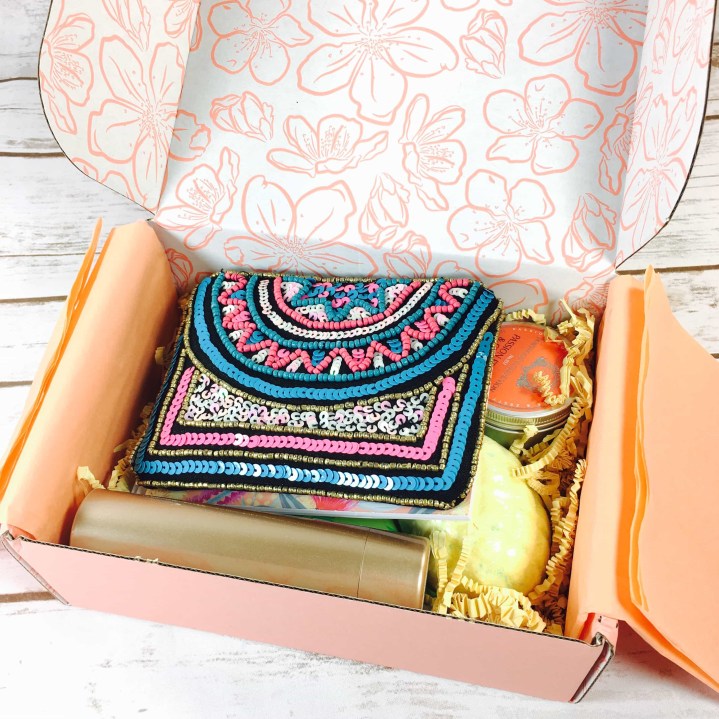 My items were nestled in yellow paper squiggles and peach tissue paper. The presentation was just peachy! There was a strong fruity fragrance from one of the items.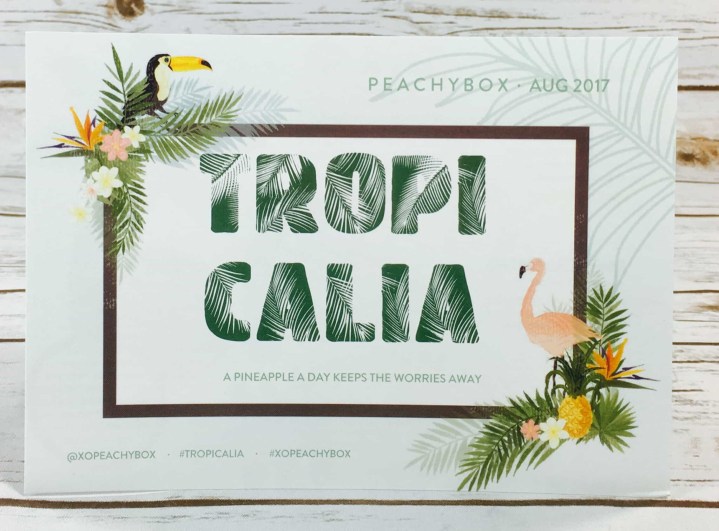 August's Peachy Box theme is Tropicalia, which was perfect for the end of summer.
The product information card listed each item along with a bit of info and suggested retail price.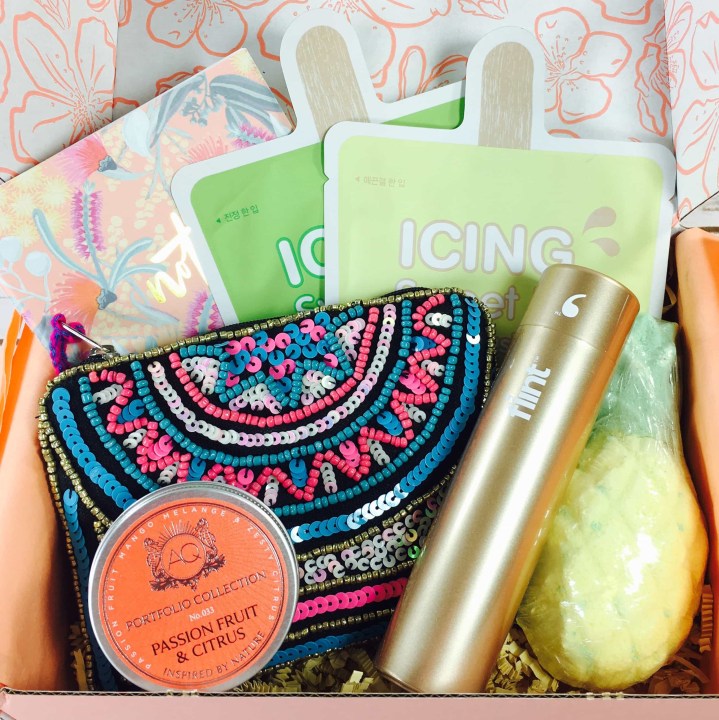 Everything in my box! The colors are so pretty and I couldn't wait to learn more about these items.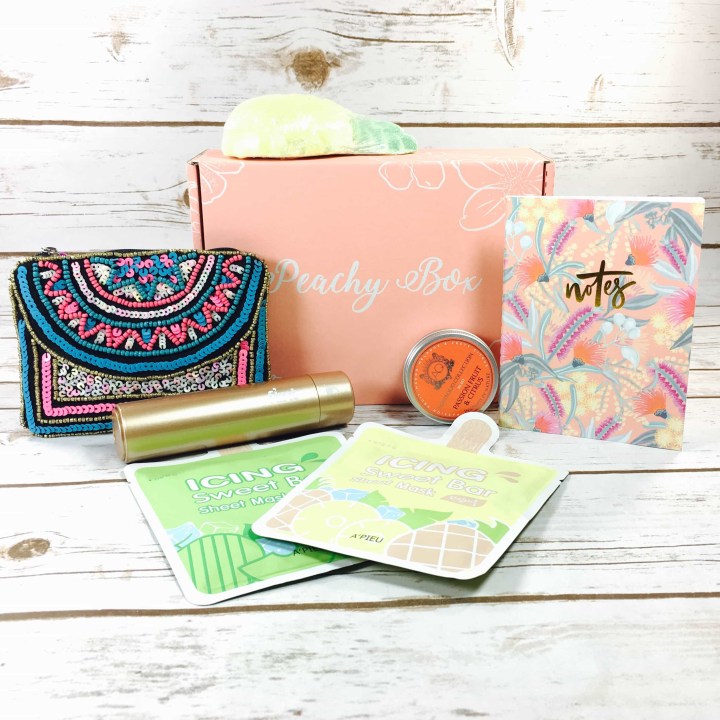 So cute!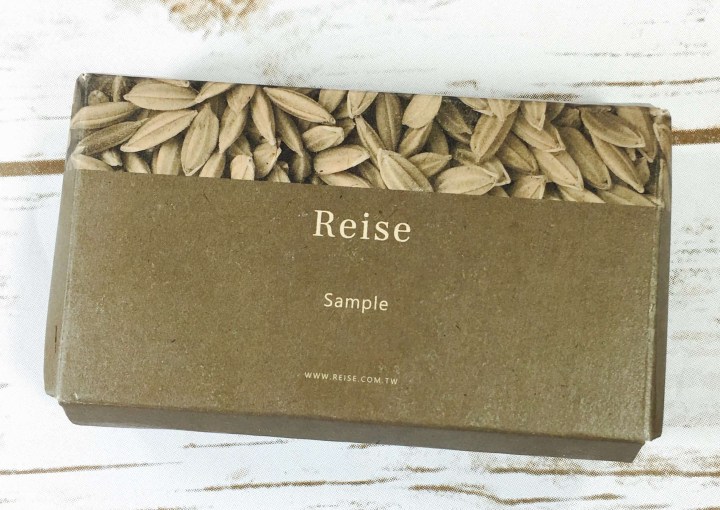 Tucked inside the plastic mailer bag was a box of samples from Reise, a skincare line from Taiwan. This was a bonus and not listed on the product info card.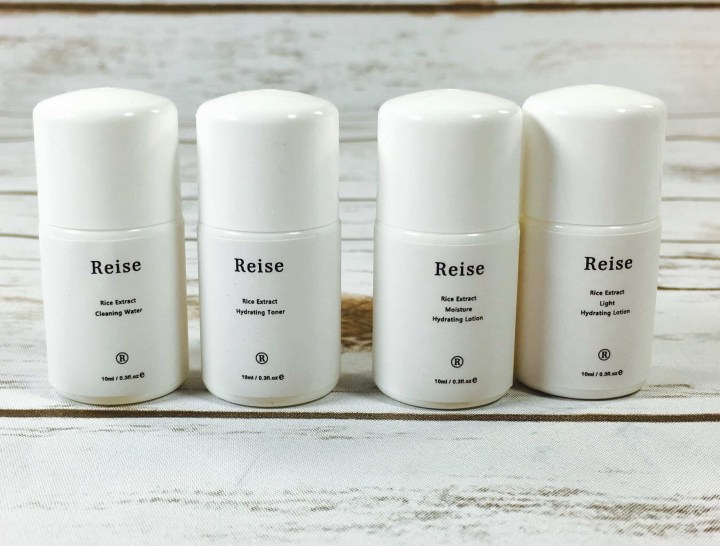 There were 4 sample sized products but no directions for use or ingredients list. I did manage to find instructions on the Reise website but not the ingredients. Also, I'm not sure which skin type this is for, however, I rubbed one of the moisturizers on the back of my hand and it absorbed quickly with no greasy feeling and no noticeable scent so I look forward to giving these a try!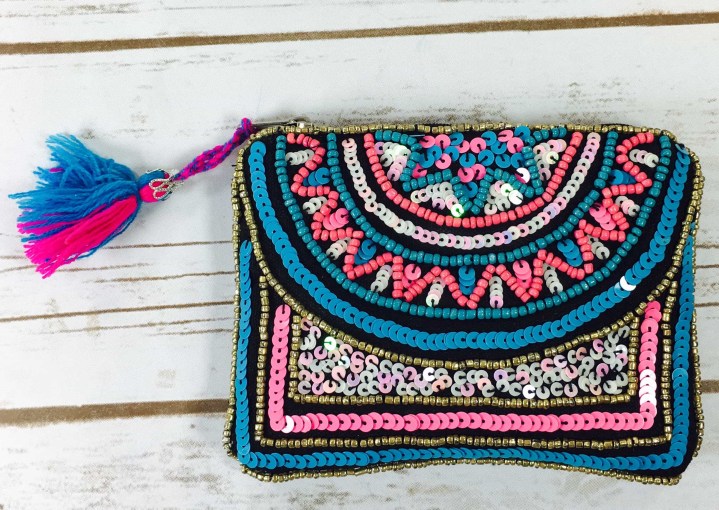 America & Beyond Hand-Beaded Pouch ($19.99) America & Beyond is a wholesaler who offers beaded items made in India. I love the colors of my bag but there were four different bags sent so your bag may vary. I linked to the only one left on Amazon!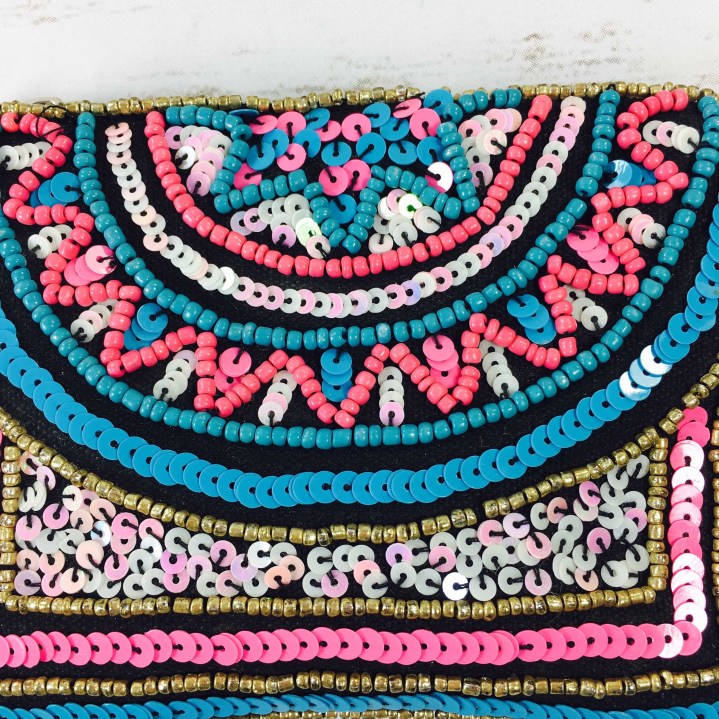 There were both beads and sequins on this colorful bag and the detail is very pretty. The back of the bag is black and since it will fit a lipstick, keys, and one or two other small items it would make a nice accessory to a little black dress.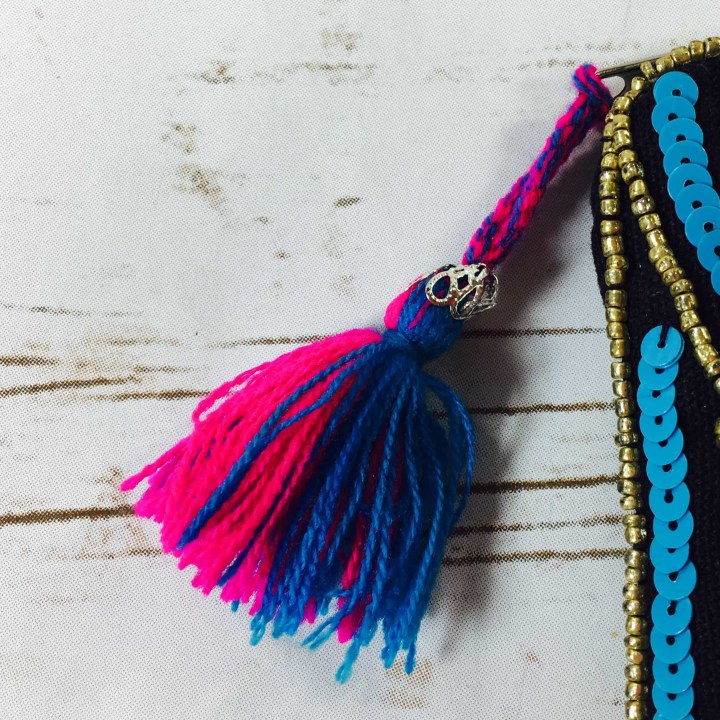 There was a colorful yarn zipper pull.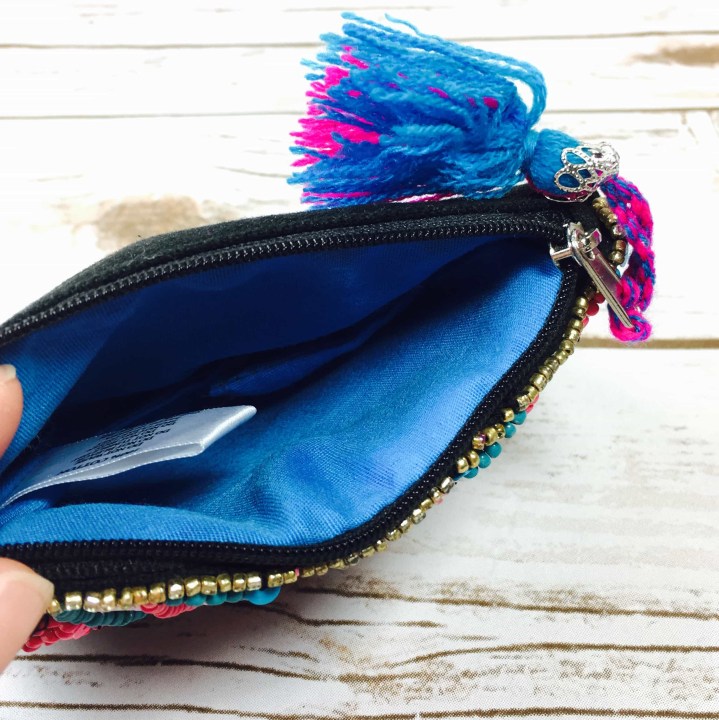 The inside is lined with blue fabric and I am just overall pleased with this little bag, it is adorable!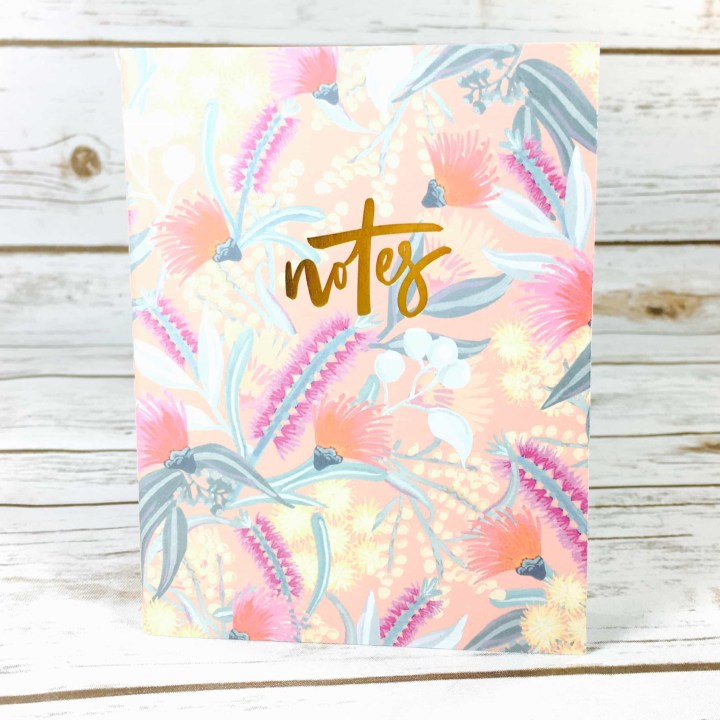 Fox & Fallow Bottlebrush Pocket Notebook ($6.50 AUD, around $5.13 USD) I love bottlebrush bushes, they remind me of walking home when I was a kid where I would see them in yards! This notebook is 4.5″ x 5.5″ and has "notes" embossed in gold on the cover.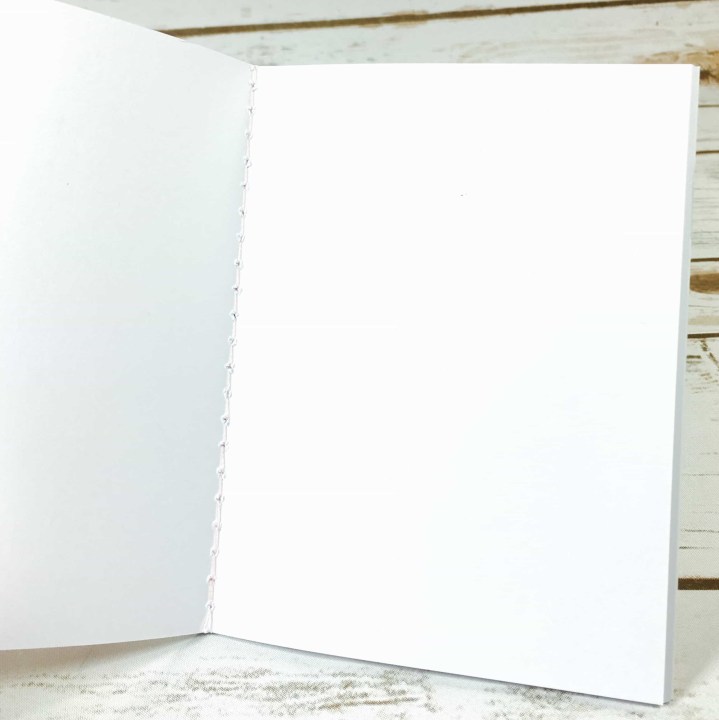 There are 60 unlined pages inside and this is perfect for placing in a purse or backpack or just keeping near the nightstand for those last-minute ideas that pop up when you're getting ready for bed. Write those suckers down and deal with them in the morning!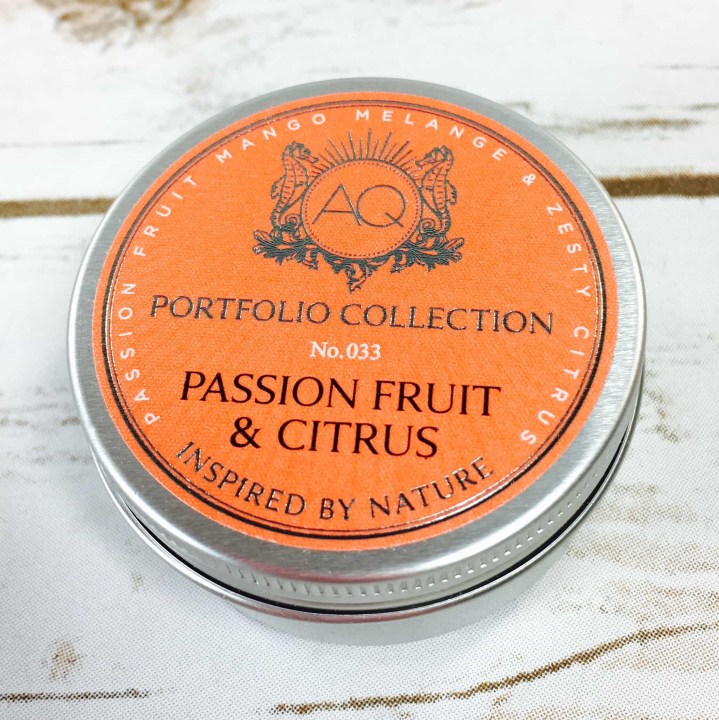 Aquiesse Travel Tin Candle in Passion Fruit & Citrus ($6) Wow, this is one of the best candles I have ever smelled! I love the tropical fruity scent, which also includes mango.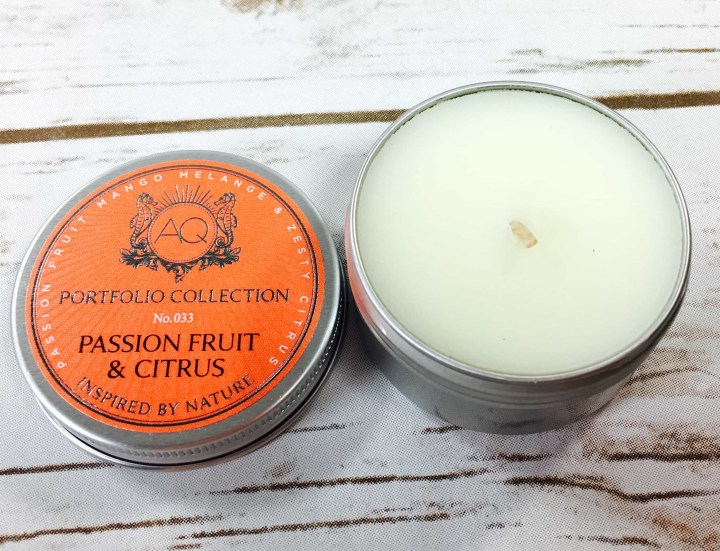 The cold throw was awesome but this one also smelled good while I burned it. I hope to encounter this brand again in the future!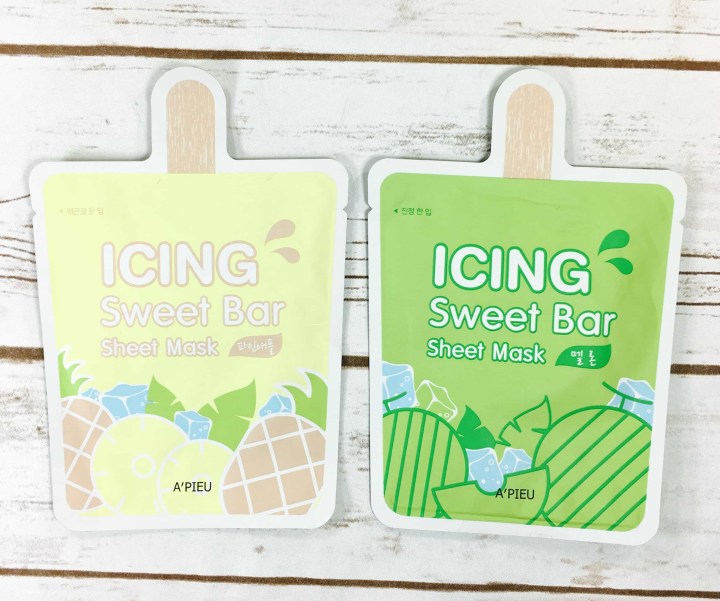 A'Pieu Icing Sweet Bar Mask in Pineapple and Melon ($1.69 each) are Korean sheet masks and the instructions are even in Korean but the illustrations on the back are pretty easy to follow.
After cleansing and toning skin, apply face mask and let it sit on there for 10-20 minutes. Don't rinse, just pat any remaining essence into your skin. The yellow mask is pineapple and is supposed to be smoothing while the green mask is melon and soothing. The product info card said watermelon but watermelon comes in a pink package so it was either a typo or last-minute switch.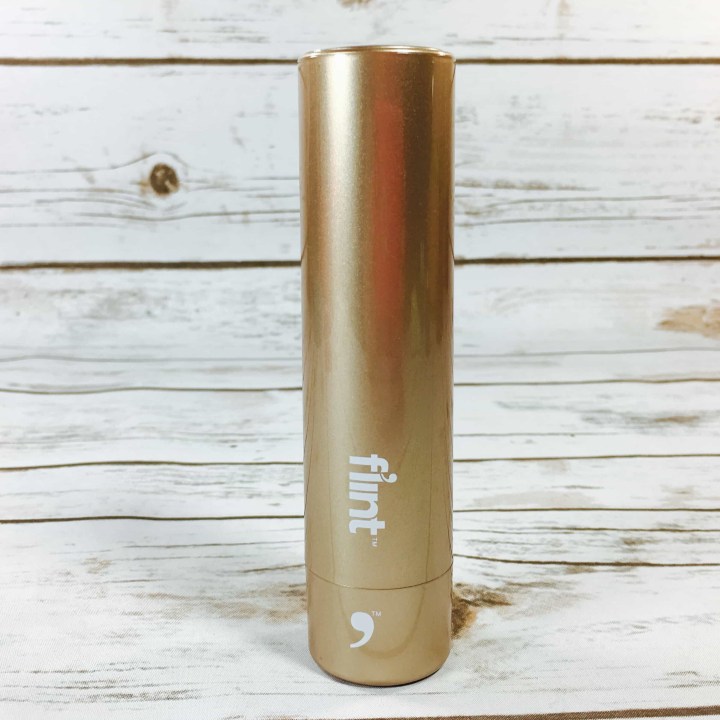 f'lint Lint Roller in Copper ($9.99) I didn't know I needed this until I had it in my hands. With two cats in the house we tend to have cat hair all over our clothes so this is very handy to have nearby for those hairy situations.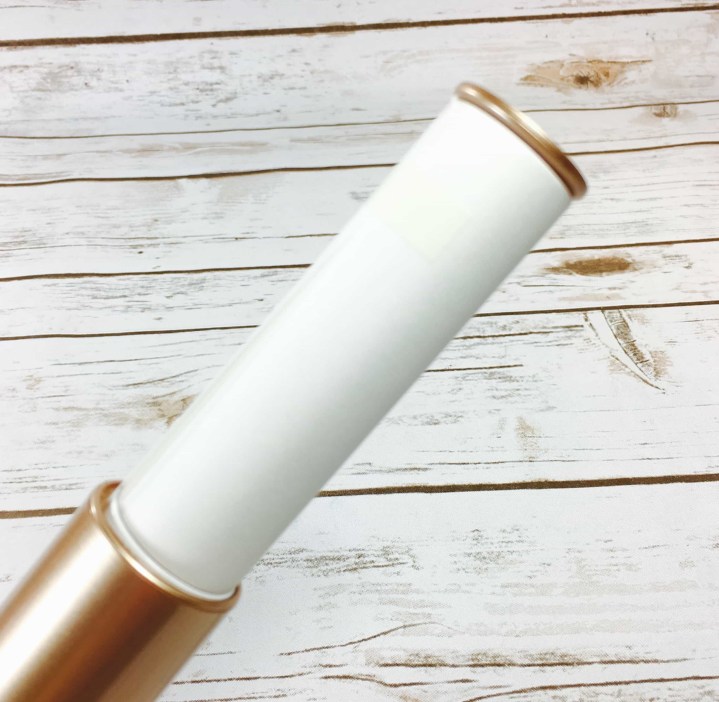 Just twist up like a giant lipstick and roll the sticky paper over your clothes to remove stray fluff and then push it back down again. It comes with 30 sheets and you can order refills online. Nifty!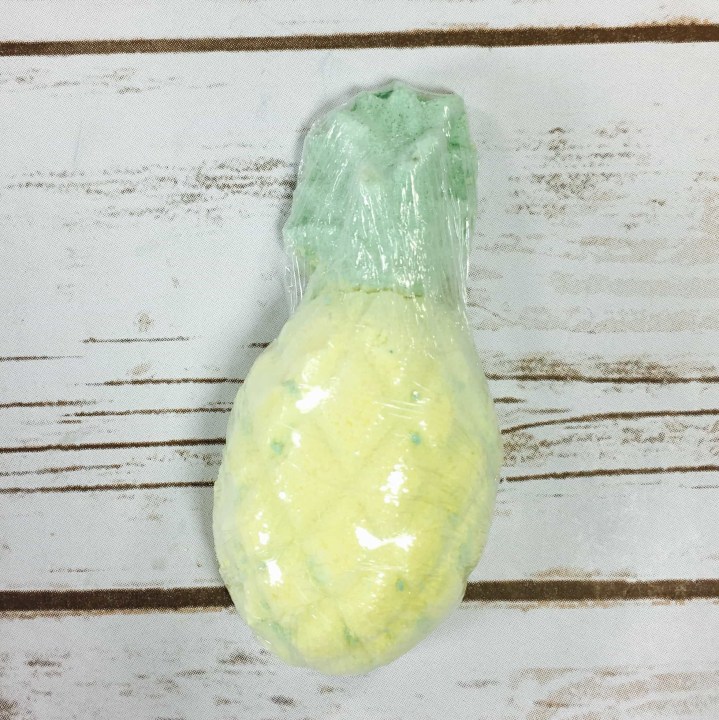 Lillian Violet Co Fineapple Bath Bomb ($6) A-ha, this was the source of the strong scent emanating from the box this month!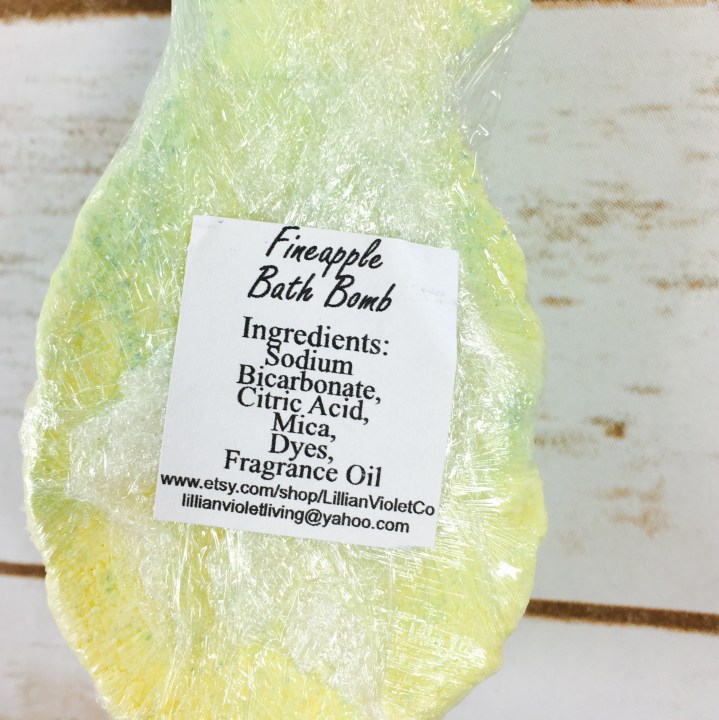 It comes from an Etsy shop that features items like Benedict Cumberbath and Unicorn Blood bubble baths.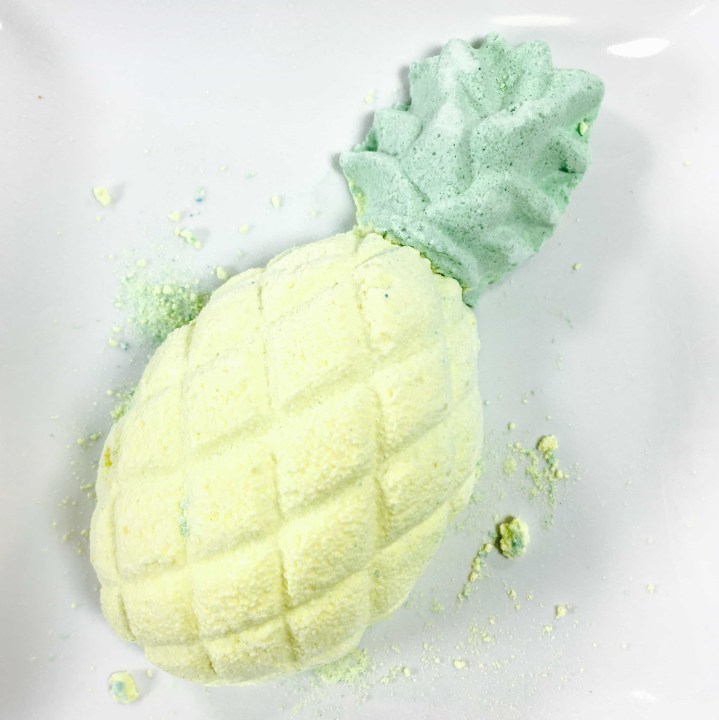 It was a little broken up from its travels but it goes into a bath so I'm not upset. I actually placed this in a bowl to enjoy its scent as an air freshener (I have avoided bubble baths since I was a child after an unfortunate incident and learned fragrance shouldn't go near certain body parts, ouch!). When the scent fades I will enjoy it as a foot soak.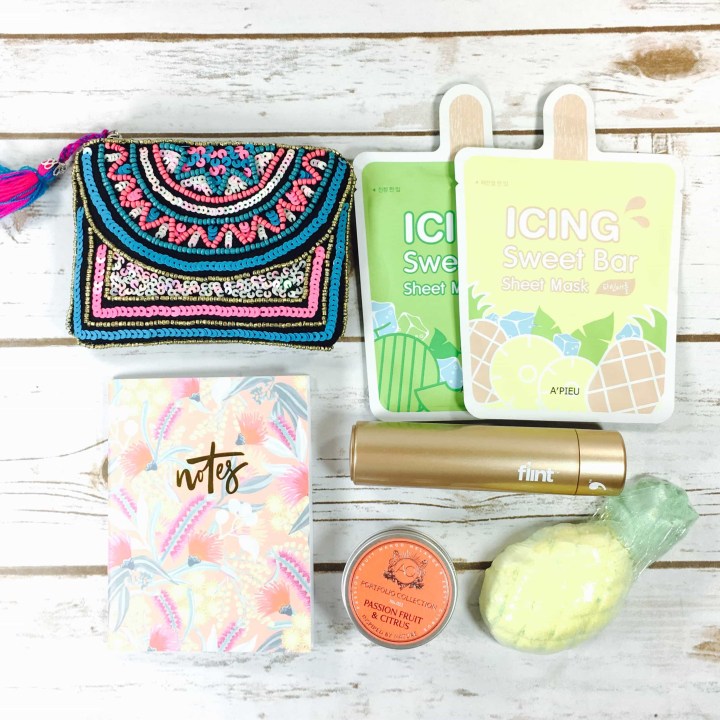 Well, this box was even cuter than the last one! I thought the items were adorable and they fit the theme well. I was also happy with the quality of the items as they didn't fill like cheap products meant as filler. My August Tropicalia box had a value of around $50.49, which is more than the cost of the box and doesn't include the bonus beauty products from Reise. All of this month's products were cute, useful, and perfect for pampering.
What do you think of Peachy Box? Let me know in the comments!