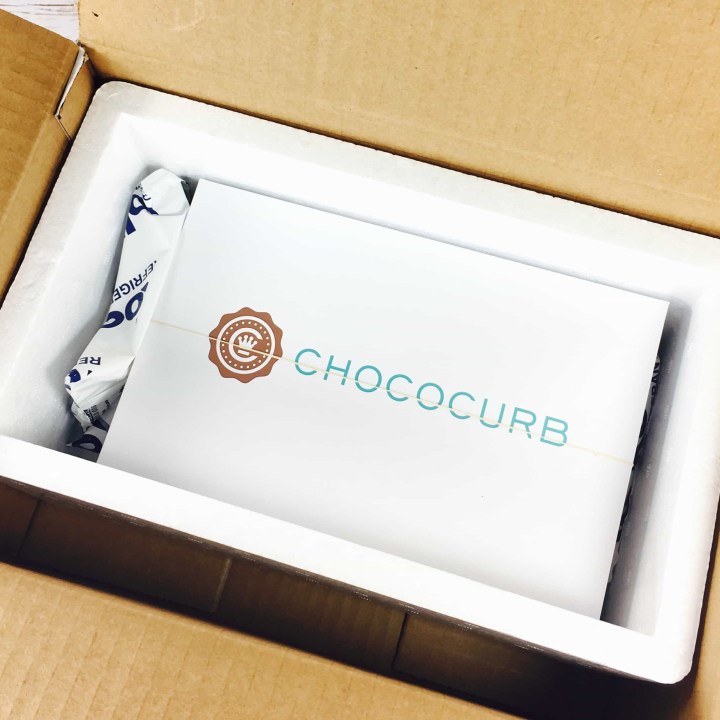 Chococurb is a monthly subscription containing extraordinary, premium, gourmet chocolates – this isn't your convenience store candy! These items can come from small, local chocolatiers or more established national brands. Every box will have something new, exciting, and absolutely delicious. You can choose from the Classic Box ($35), which contains 5-7 items, or choose the Mini ($20), which has 3 items for smaller appetites. Shipping is free during the cooler months but expect to pay for FedEx shipping in the warmer months. I am reviewing the Classic Box today!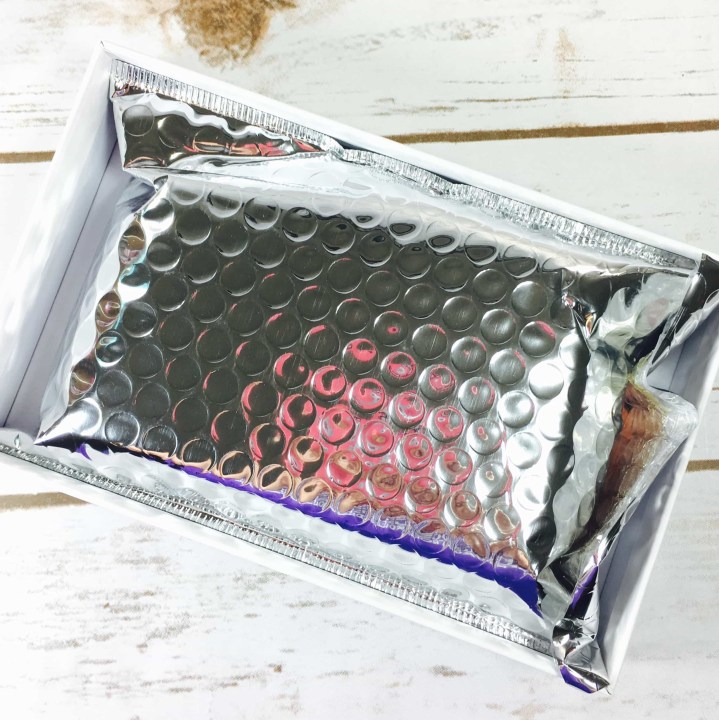 Chococurb wants to help you discover chocolate that you will love so they have a short questionnaire that you fill out to let them know your preferences.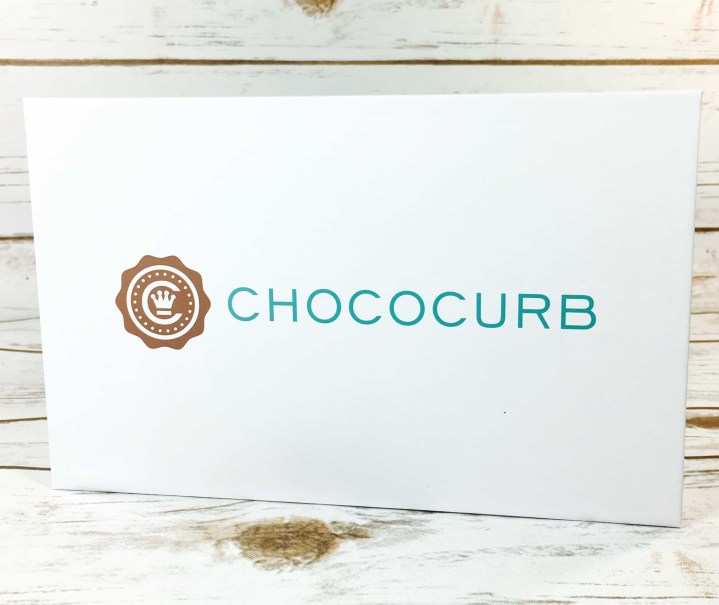 The chocolate was wrapped in insulated bubble wrap and placed inside of a box that was then placed inside of a styrofoam cooler with some ice packs (no longer cold) underneath and around the box. My box is usually delivered by FedEx but since I was out of town when it was due to be delivered I had it sent to a facility so I could pick it up when I got back to town. I didn't want it sitting on the porch in the 100 degree temps!
I received 6 different items this month and they all sound so yummy! I always enjoy the variety – white, dark, or milk chocolate; nuts, pretzels, everything!
Chocolat Moderne Lemon Up Avant-Garde Bar "This lemon white chocolate bar is the perfect combination of sweet and tart."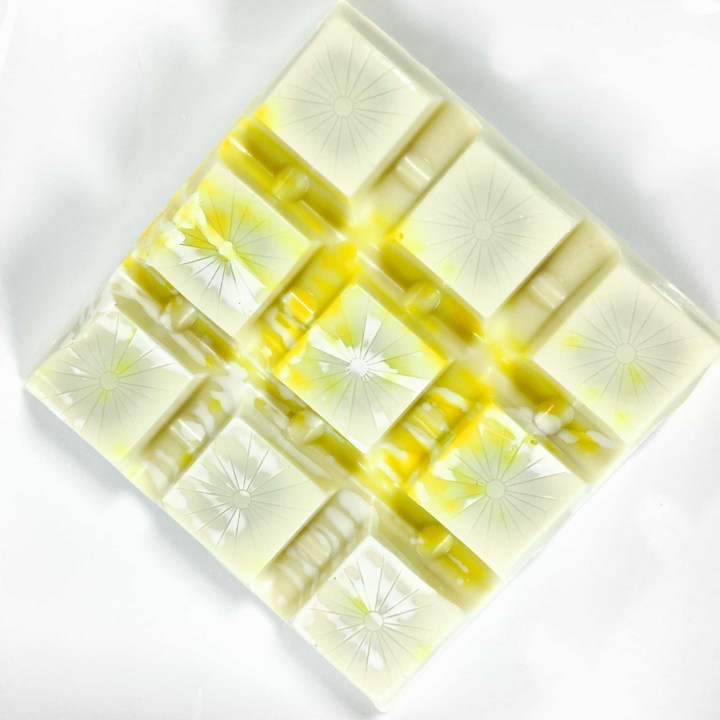 Chocolat Moderne makes little works of art with a bit of a Jackson Pollock vibe.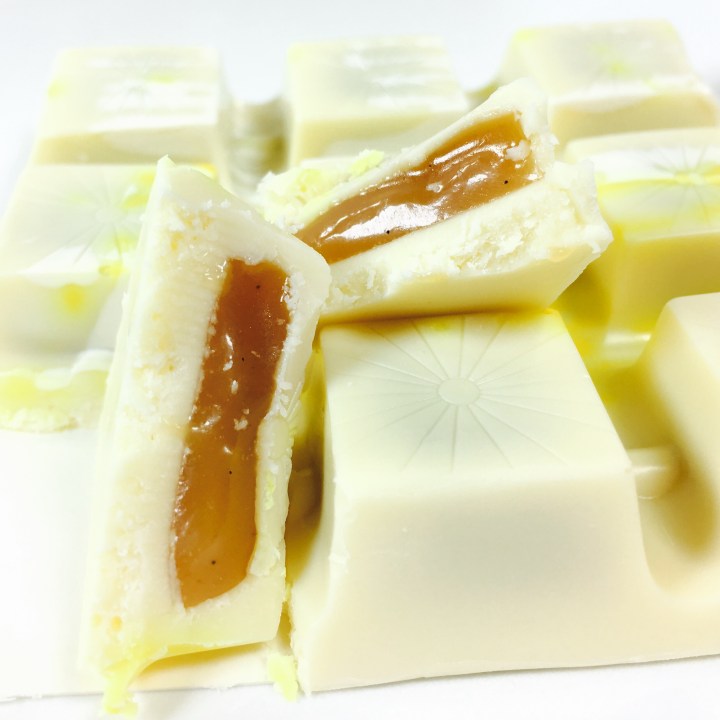 Creamy, smooth white chocolate covers even smoother lemon caramel, which is similar to lemon curd and has just a touch of tang. I love lemon and this was perfect.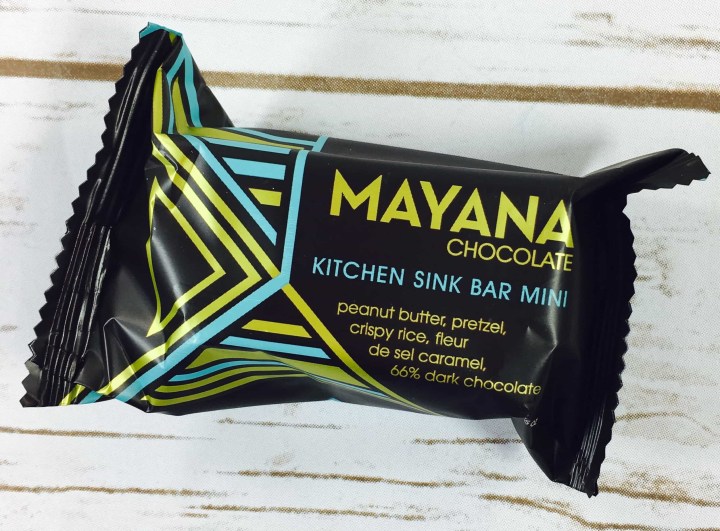 Mayana Kitchen Sink Mini Bar "This confection has everything but the kitchen sink: layers of peanut butter, pretzel, crisp rice, and fleur de sel caramel sit within a signature 66% dark chocolate."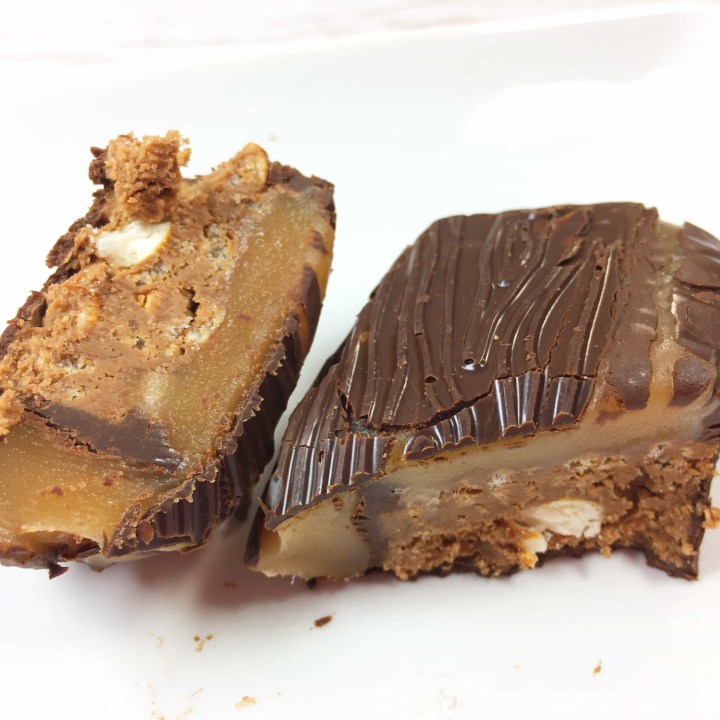 This is the first of two bars featured this month that include peanut butter and chocolate and I couldn't be happier. I also love the caramel and the crispy cereal pieces gave it some crunch. Yummmm!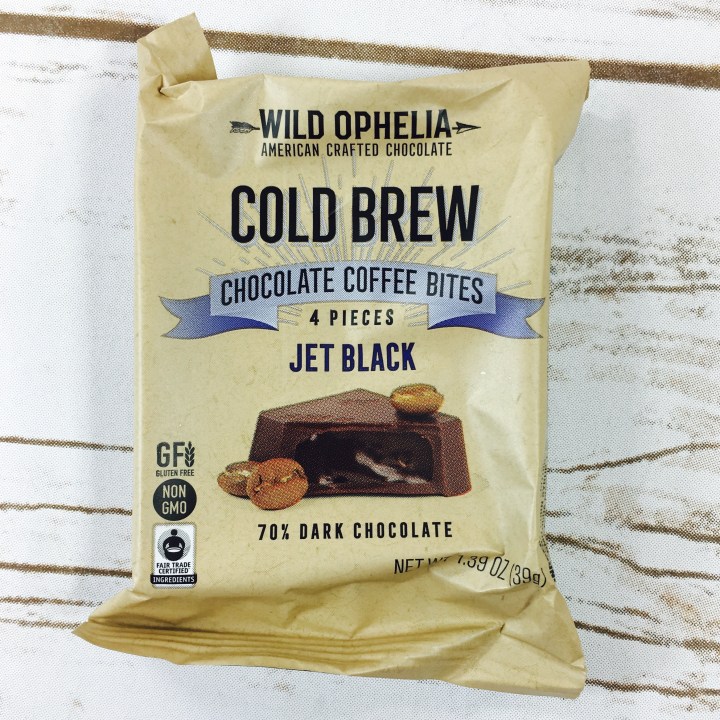 Wild Ophelia Jet Black Cold Brew Coffee Bites "A bite-sized version of favorite pick-me-up, combined with dark chocolate."
Wild Ophelia is "the spirited younger sister of Vosges Haut-Chocolat" and it is smooth and creamy and wonderful. Coffee isn't a favorite of mine but it's pretty good when it's silky coffee flavored fudge encased in delicious dark chocolate.
Raaka Strawberry Basil "Juicy, herbaceous and romantic, this chocolate is what dreams are made of."
Raaka makes delicious virgin chocolate bars – the cacao is unroasted. This bar has a juicy sweetness to it, and I couldn't taste any basil, which is probably a good thing. Share this bar with someone who appreciates dark chocolate.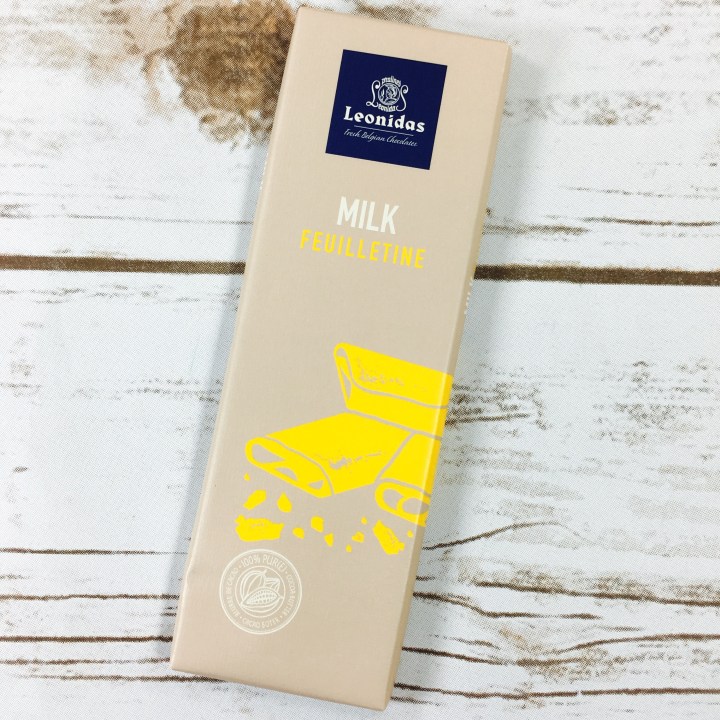 Leonidas Feuilletine "Belgian milk chocolate crunchy wafer fragments."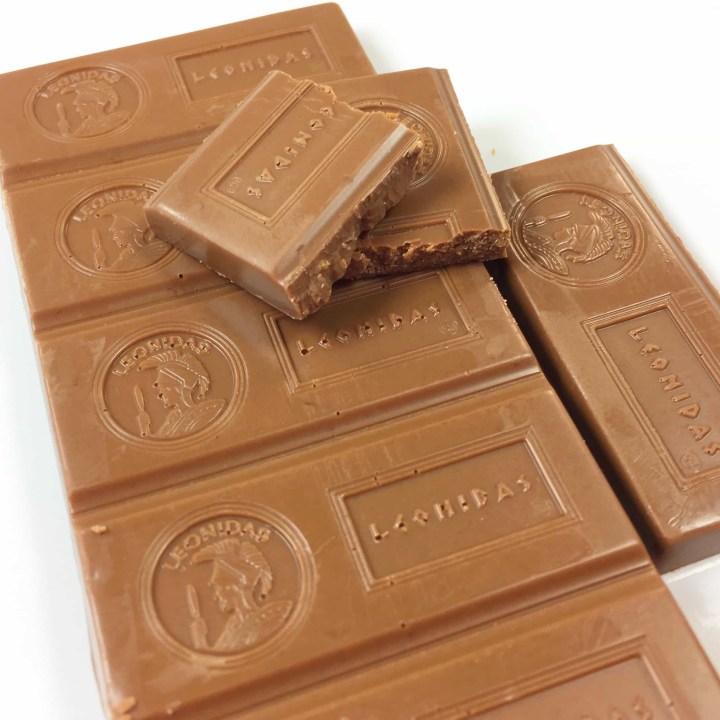 I wasn't sure what "feuilletine" was so I looked it up and it's a type of cookie, similar to pieces of a sugary ice cream cone. The milk chocolate is silky and the shards of cookie give it some interesting texture, and altogether it is heavenly. It tastes like honey.
Vivra PB & Pretzel Milk Chocolate "Kick things up a notch with a creamy, sweet, and salty take on America's favorite snacks."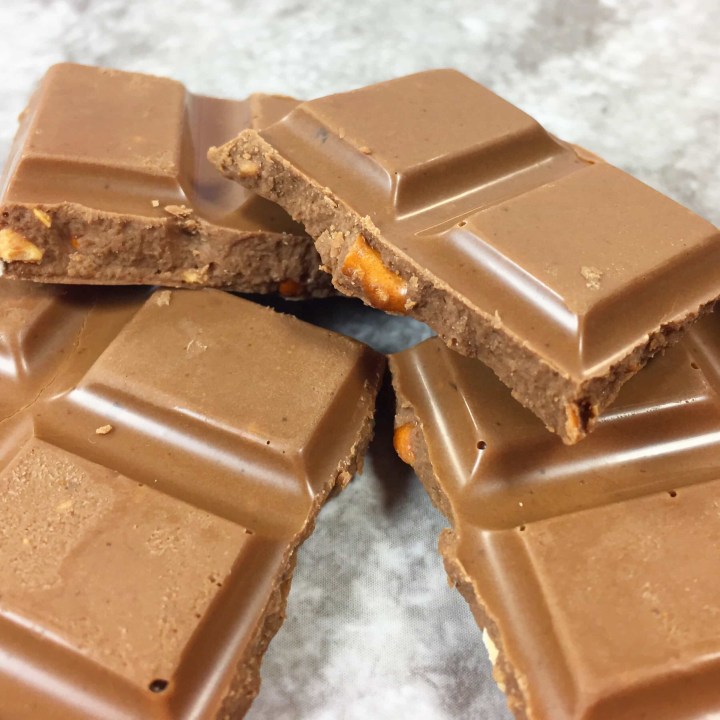 Peanut butter and chocolate are two of my favorite food groups and here they are blended with roasted peanuts and crunchy pretzels. The milk chocolate is so smooth and creamy. Delicious!
Chococurb is so good and full of uncommonly wonderful chocolates. I truly love getting this box since these bars are extraordinary and maybe not something I would pick out for myself – like a special present each month from me to me! I love chocolate and these bars are so satisfying that just a bit is needed to fulfill your cravings/sweet tooth/PMS needs. Check out the Chococurb website for some more excellent choices for all of your chocolate needs!
I have found my favorite monthly subscription box! Do you feel the same way too? Let me know in the comments!