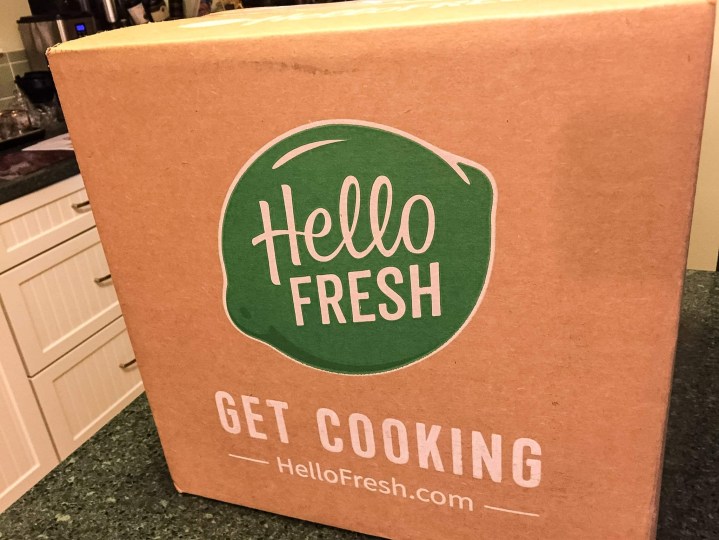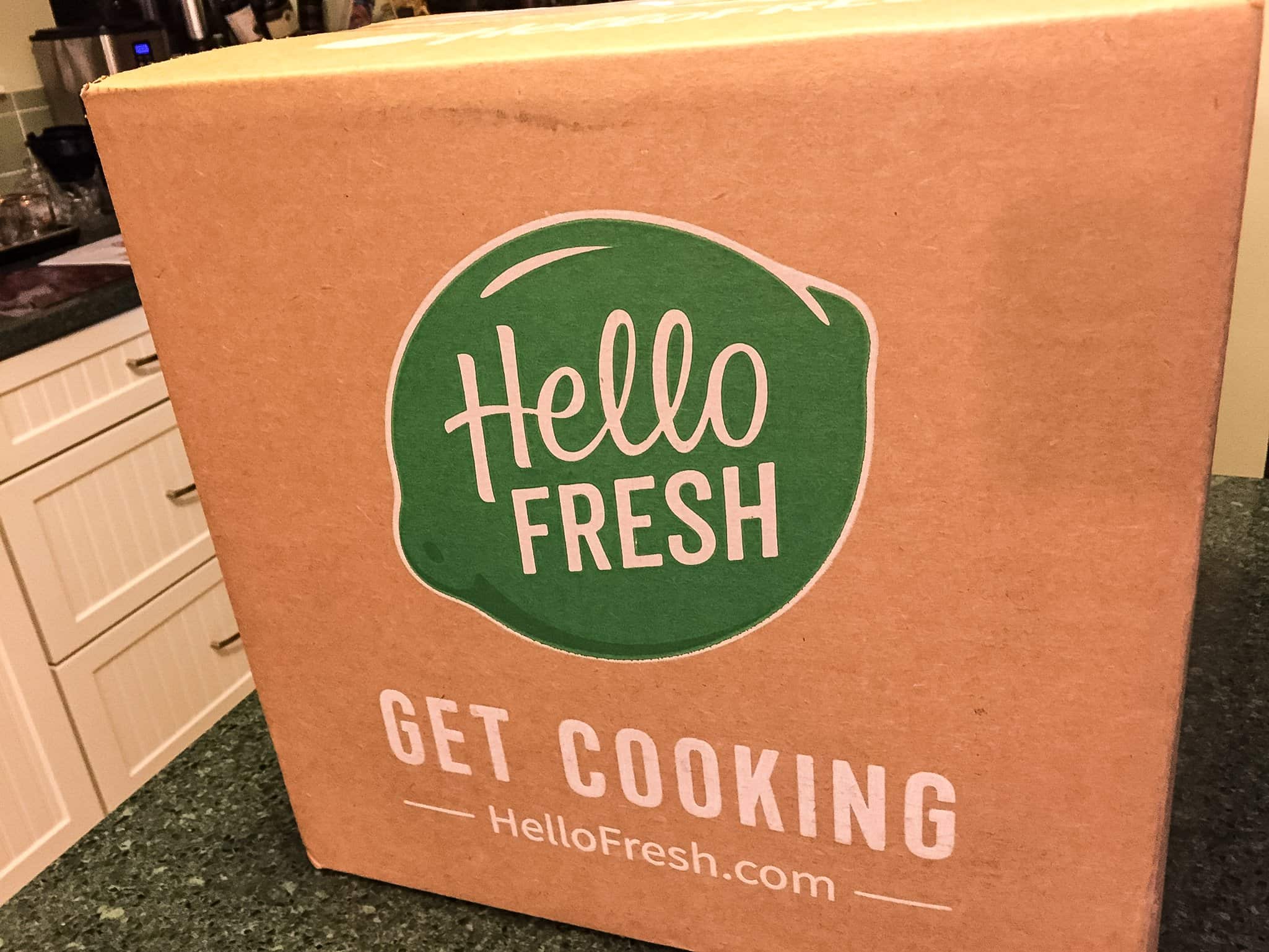 Hello Fresh is a weekly meal kit subscription box with complete recipes and high-quality ingredients to make your own fresh, healthy, gourmet meals at home. 
They offer three different subscription options — Classic (choose 3, 4, or 5 meals for 2 people or 3 meals for 4 people from 6 weekly options), Vegetarian (receive 3 HF-selected meals for 2 or 4 people), and Family (receive 3 HF-selected meals for 2 kids and 2 adults). You can always pause the subscription to skip a week if you need to – this is super handy for vacations!
This review covers the Vegetarian subscription!
DEAL: Currently, you can save $40 off your first box with coupon code 7UT7K8.
The nutrition information for each recipe is now a separate sheet (before it was a big sticker on the outside of the shipping box). The sheet contains a list of all ingredients and their country of origin.
Each Hello Fresh recipe has its own lovely card with a picture of the plated dish, prep time and total time to table, calorie count, and a visual inventory of the included ingredients.
The instructions are easy to follow, regardless of your skill level. Usually you start by washing and prepping all the ingredients before cooking. Within the detailed, step-by-step instructions, ingredients are set in bold type for ease of recognition. Info panes in the sidebar list anything you'll need from home (pans, cooking oil, etc), as well as the quantity of each provided ingredient needed for 2 and 4 person versions of the recipe.
The ingredients for each meal are packed in separate bags within a padded, insulated cooler bag. Several ice packs keep everything cold, with the individual paper bags protecting the ingredients from touching the ice directly.
The brown bags used by Hello Fresh keep all the ingredients for the recipes in order. Everything but the largest vegetables is separately packaged within the bags. Condiments and canned goods are provided in high-end, commercial packaging. Hello Fresh usually provides pre-measured spices in their own branded packaging. Big props to Hello Fresh for cutting down the box size and using green bags. Thanks for being environmentally conscious. Don't forget to recycle the big boxes along with the freezer bag inside. I've found a place in my town that will use both to deliver meals to others. Recycling is the way to go!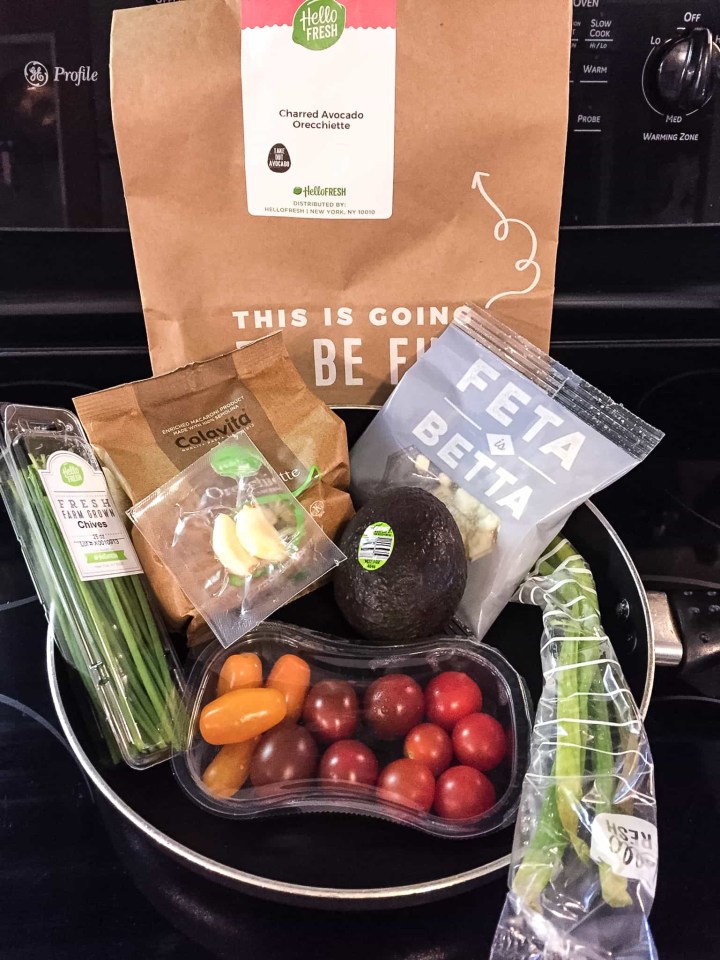 Charred Avocado Orecchiette With Scallions, Heirloom Tomatoes, And Feta. 25 minutes, level 1, 640 calories per serving.
My husband lived in the San Antonio area for several years becoming quite used to the avocados in that area. I've really started eating them in the last several years but never ever even thought about cooking them! So this was a really great treat for us. I invited my folks over for dinner. My mom mentioned several times she just thinks they are so plain (ok mom, I get the hint!). I had an extra avocado in my refrigerator that needed to be eaten so I used the one Hello Fresh sent and the extra. We all had 1/2 an avocado and 1/4 of the the rest of the dish. Next time, I'll eat my mom's avocado… darn, I just hate when that happens! (wink, wink)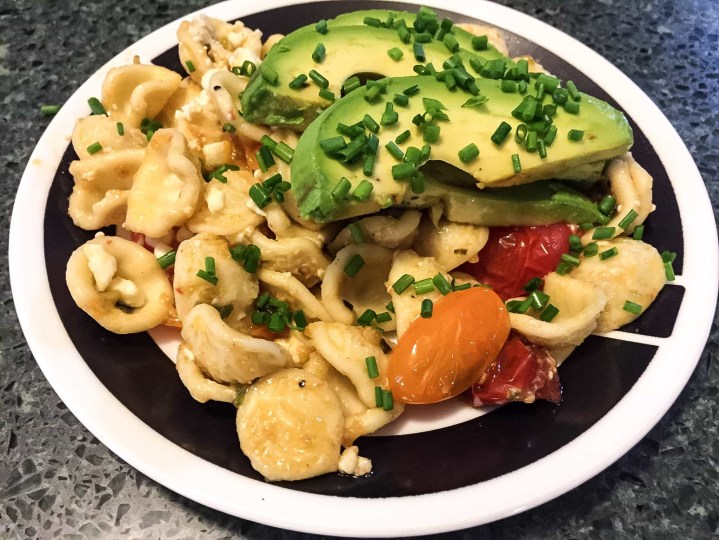 This dish with the charred avocados and other few ingredients just had so much flavor packed in. I was totally amazed. My only suggestion is to cook the orecchiette pasta until it's done to your likeness. For us the al dente was too chewy, personal preference counts!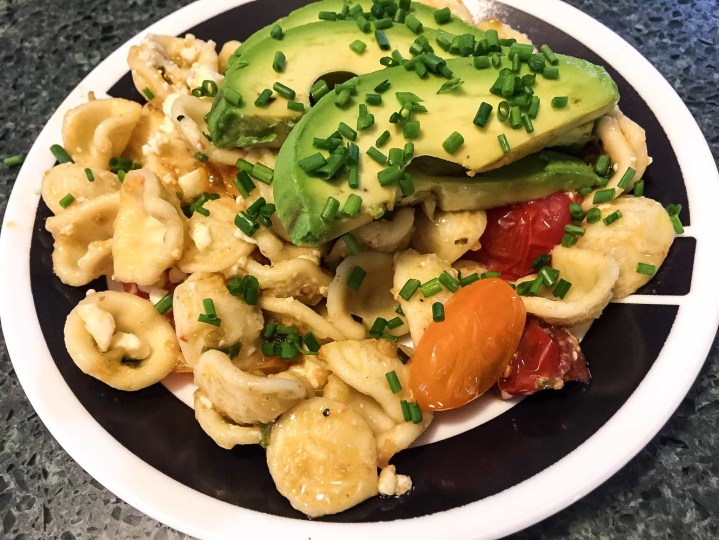 Simple recipe, easy to cook, great taste, smell and color. I'll be cooking this one again.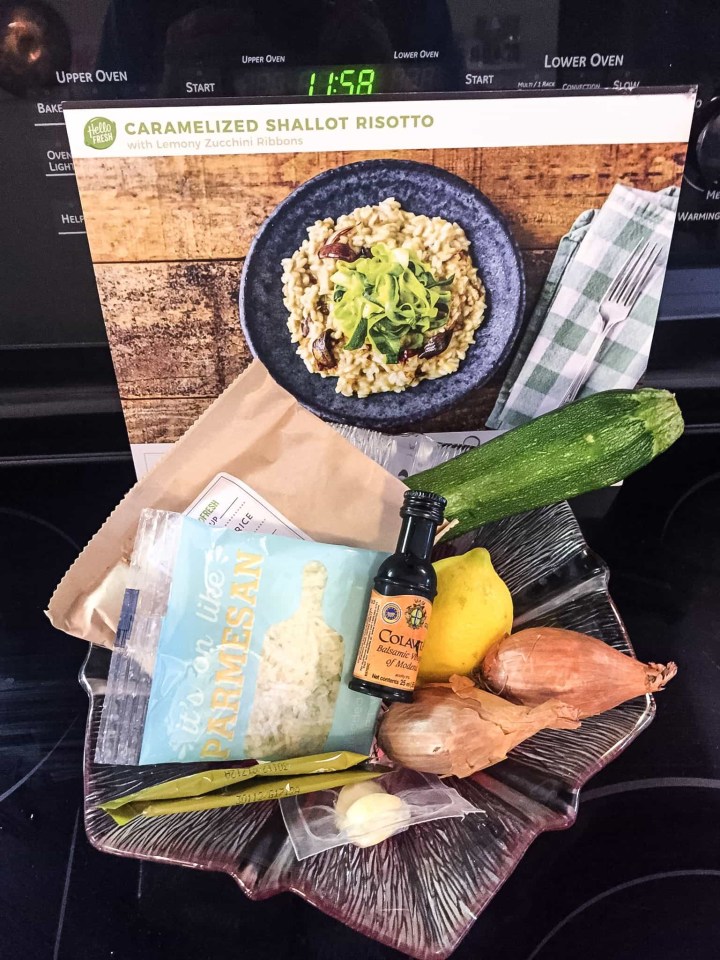 Caramelized Shallot Risotto With Lemony Zucchini Ribbons. 50 minutes, level 1, 490 calories per serving.
I've have certainly grown to really appreciate risottos thanks to Hello Fresh. Use just a few ingredients and you have a meal fit for a queen (me)! While this dinner wasn't full of color it was certainly pleasing to the palate and it fills up the stomach.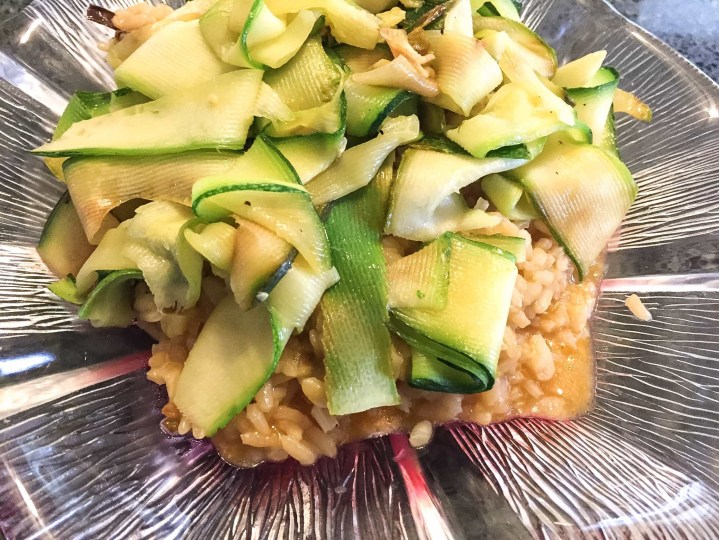 If I weren't taking pictures I'd cut the ribbons of zucchini into 1 inch pieces to make it easier to eat. That's the ONLY change I'd make. Oh, wait a minute, I might add more shallots, those were soooo very good roasted with the balsamic vinegar. I'm a taster and of course I had to taste a few before they were stirred into the risotto. If you're like me and are a taster, add a few more! Now that's the only changes I'd make.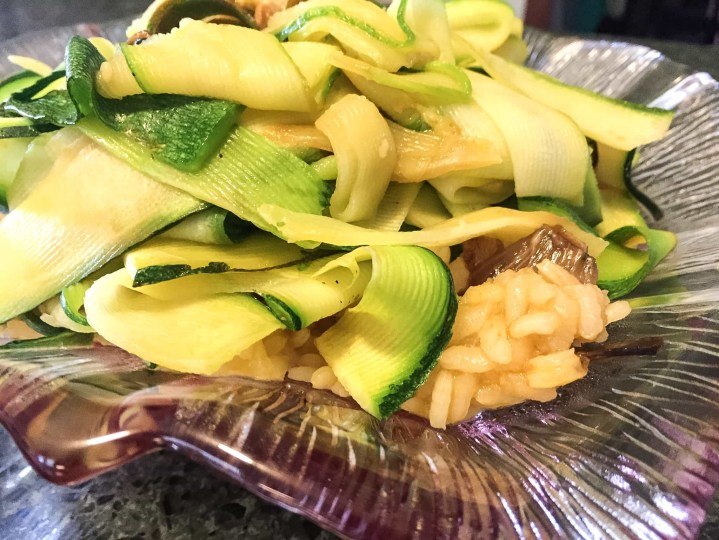 To me, this would make a great winter dish, remember I live in Florida so our winters are very mild. This is kind of like soup, a comfort food. Yummy!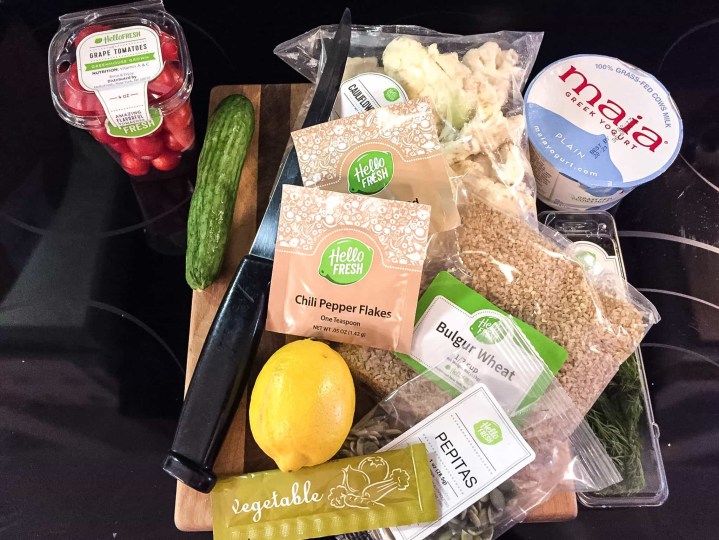 Oven-Roasted Mediterranean Cauliflower With Bulgur, Tzatziki, And Chili Cumin Oil. 30 minutes, level 1, 450 calories per serving.
Hello Fresh gives me great ideas for when I'm sharing a meal with others. This is the case for this meal. On Saturdays I provide food for 6, sometimes 7. My friend provides the wine and I provide the food. Talk about eating and drinking sumptuously!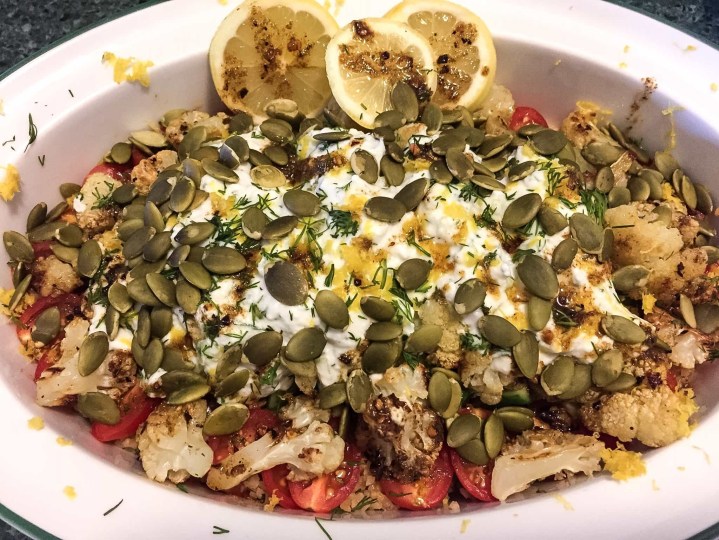 I began with this recipe and used the Mediterranean theme and fortunately for us we have 2 Mediterranean restaurants in town. Called up one and ordered the meal for 4. Another lady provided the dill cheese and crackers. All I had to provide was the the Oven-roasted Mediterranean Cauliflower and dessert and then go pick up the food order. Wow! We all ate plenty, made a dinner/dessert plate for the elderly lady for lunch the following day and there was still more of left overs. If you're not good at entertaining, here you go. Can't get much better than this.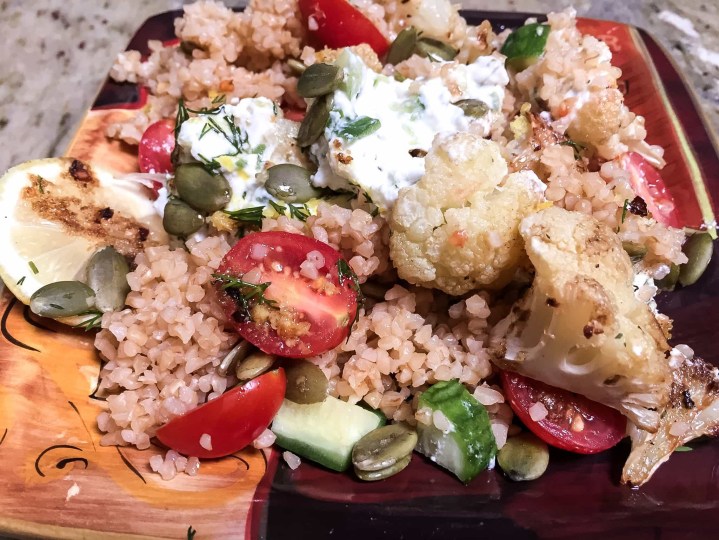 When I unloaded the bag of ingredients it didn't seam like they sent enough but once I piled it into the serving bowl, it filled right up. Since I was serving more than 4 people I did use all the Greek yogurt to make the Tzatziki sauce. And I'm so glad I did, everyone liked the sauce. They also asked what was in the dish that added that touch of heat, spiced oil with chili flakes. This was a first for me, frying spices. Just when I think Hello Fresh can't teach me any more tricks to cooking, they come up with another.
Thanks Hello Fresh for another dinner party!
Visit Hello Fresh to subscribe or find out more!