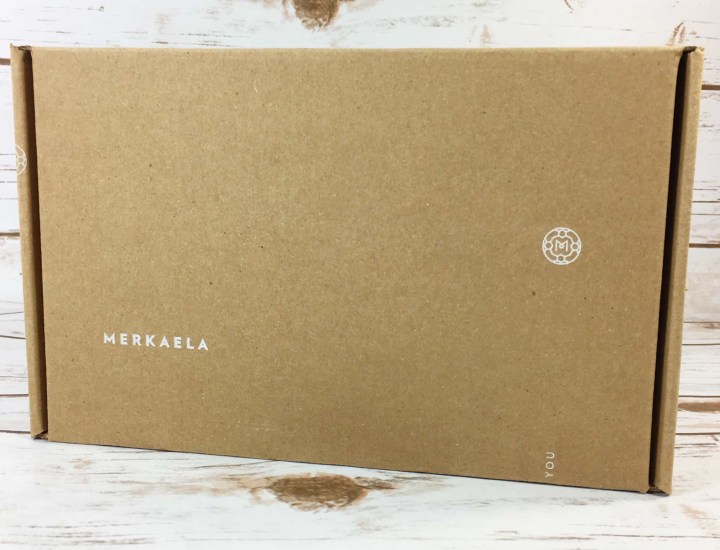 Merkaela is a quarterly box that sends natural bath and beauty products curated to a theme as well as the season. Merkaela's items are made in-house although they may occasionally send an item from high-quality collaborators. All of the items are cruelty free and there is a vegan option that you can choose at sign up. The ingredients are clean and in some cases organic. You can feel good about putting these items on your skin!
Merkaela empowers people by giving them tools to help their self-care needs. Our Subscription Box includes products handcrafted by us and formulated to balance the mind, body and spirit.

Each quarterly curated collection is built on a theme and includes wellness products, thought-provoking content and music — everything you need to be on your way to a holistic approach to a clear mind, body and spirit.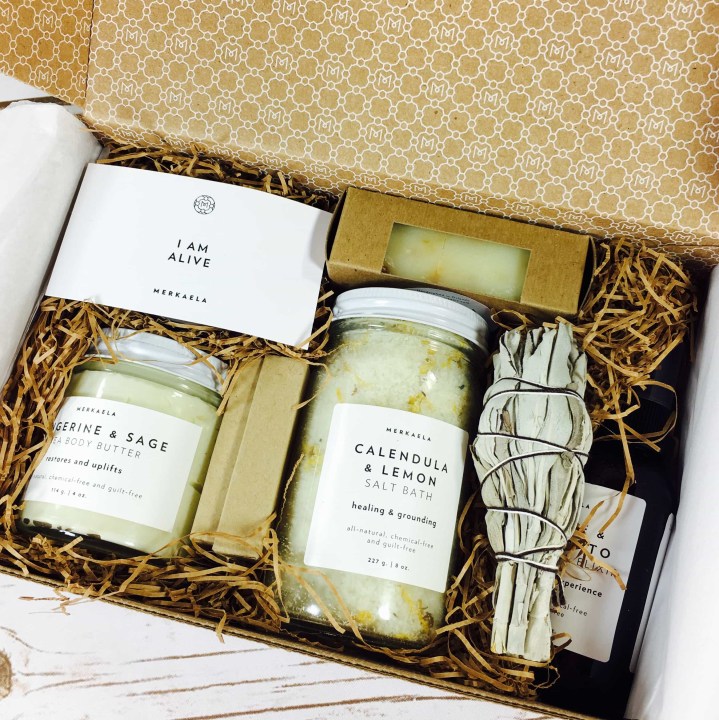 This box has a simple yet beautiful presentation and the items coordinated wonderfully. The containers had classy white labels and inspirational instructions for their use. This is a luxe box, designed to pamper and delight all of the senses. I look forward to receiving this quarterly subscription and couldn't wait to try out these items!
DEAL: Use code ALIVE20 to save 20% on a prepaid annual subscription or code ALIVE15 to save 15% on a quarterly box.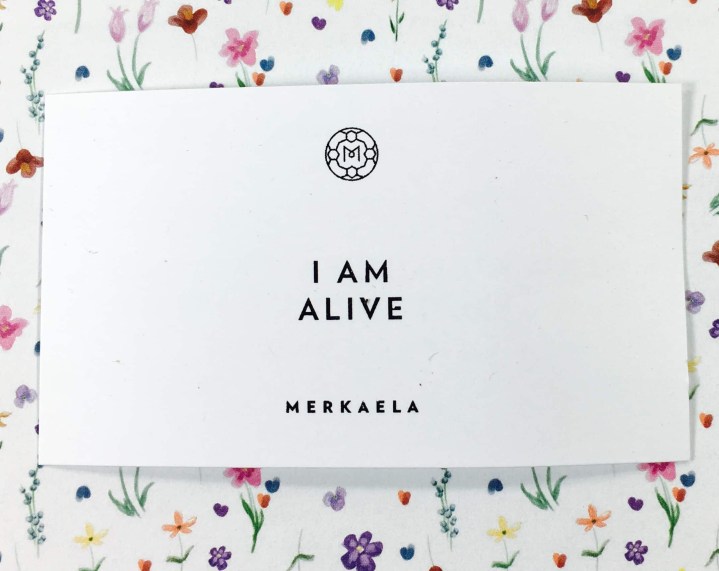 There was an affirmation card that helps you set your mind to a spiritual thought and make it come true.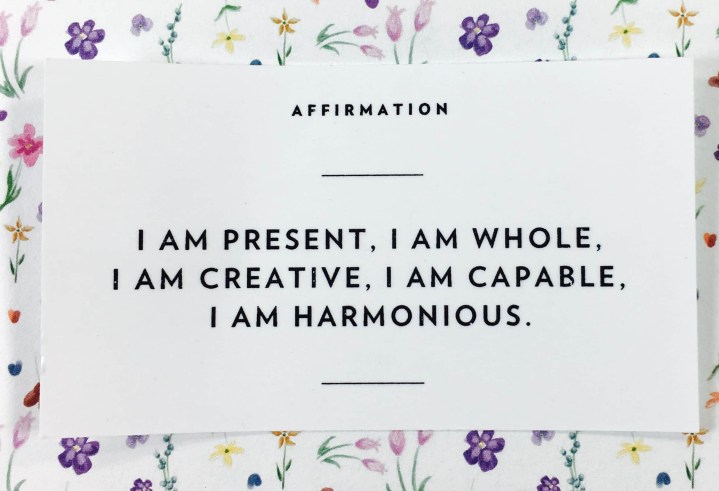 Sometimes I get caught up in the busyness that is life so it is nice to hit the reset button and just remember to be present.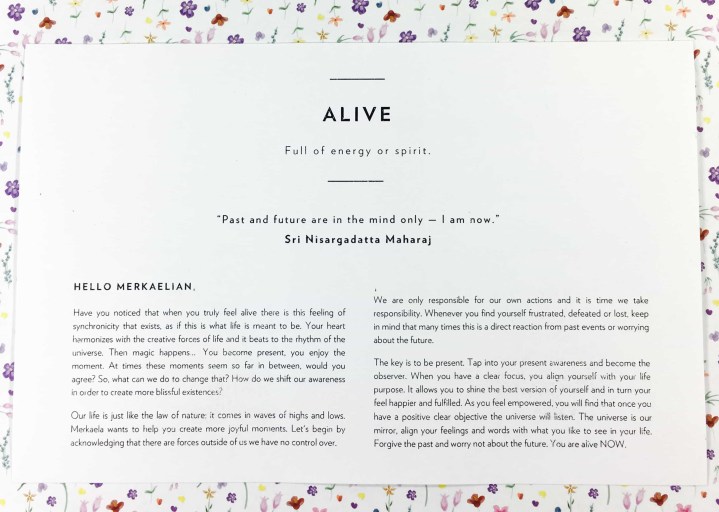 Next was the front of the product info card with the intention of this particular box. This quarter's box focuses on being "Alive" and creating joyful moments for your life, rather than just reacting to whatever is thrown your way. If you feel like life is something that happens to you rather than something you have control over, then maybe it's time to hit refresh!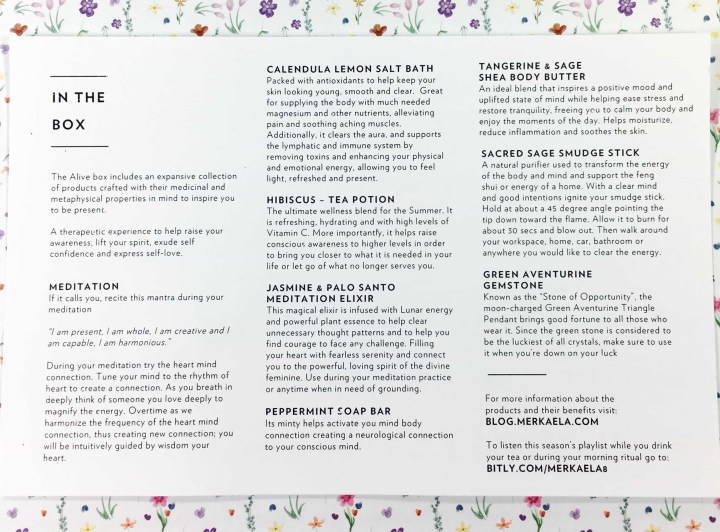 This is a very descriptive info card, with each product's intended use. They even provided a Spotify playlist, which I listened to while writing this post.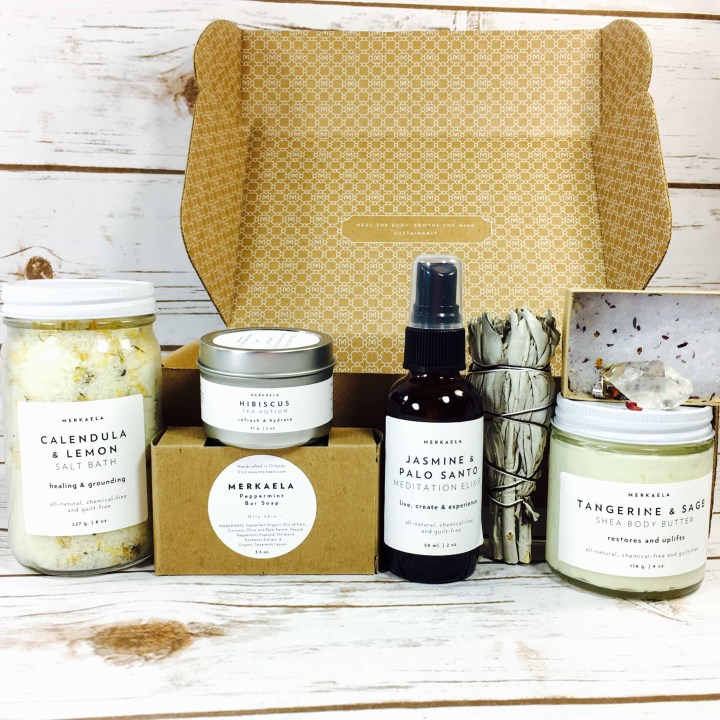 The packaging is simple yet elegant and looks classy and natural at the same time. These items are not in the Merkaela shop, so check here if you are interested in purchasing these luxurious items when or if they become available.
Tangerine & Sage Shea Body Butter "Give your body love. It listens." Shea butter, hemp oil, and olive oil are combined with tangerine, sage, and lavender essential oils, along with a few other pronounceable ingredients.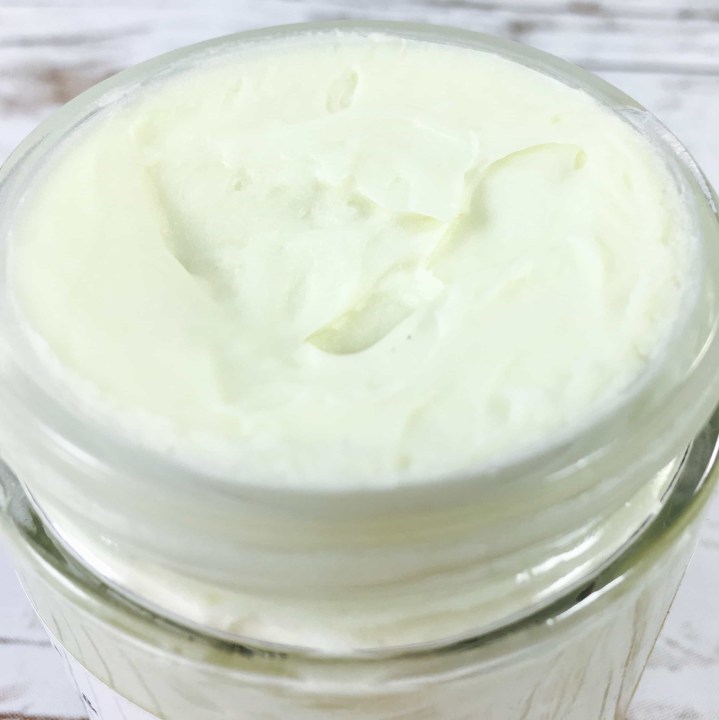 I scooped some out of the jar and warmed it up between my hands and it was like buttah! I used it after a shower and although I was kind of "moist" at first, like a basted chicken, it quickly absorbed and I didn't feel greasy at all. I am happy to report that there were no weird grainy pieces of shea butter (as I sometimes find in natural shea butter products) and the scent was subtle and I loved it!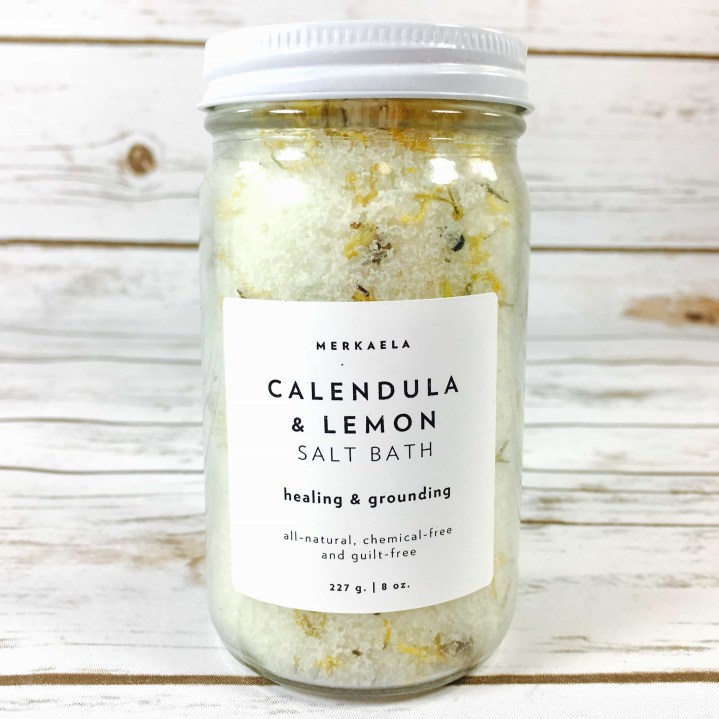 Calendula & Lemon Salt Bath "Manifest health, security, & trust!" The first ingredient is "carnelian flowers" but I think that is a misprint since it has the word "calendula" in the name. European sea salt, Epsom salt, Dendritic salt, and essential oils of lemon and cypress are the other ingredients.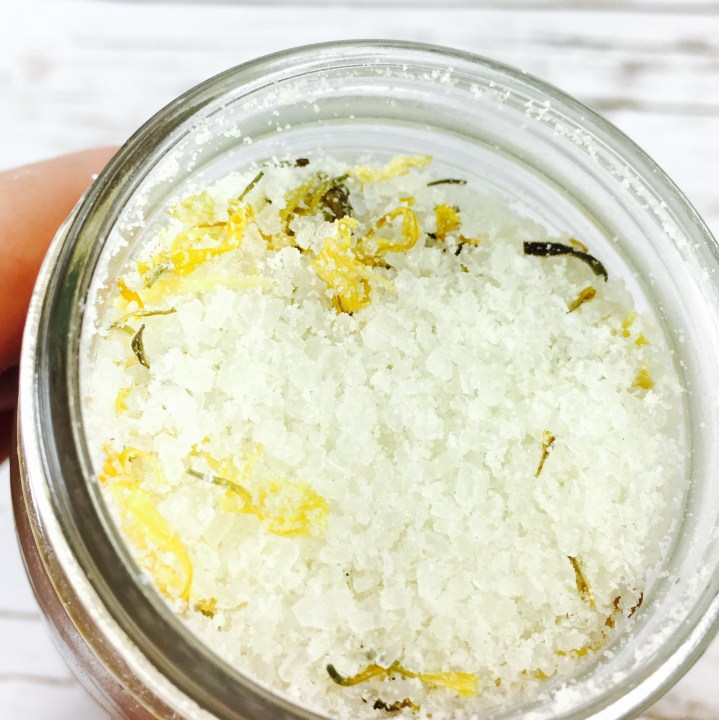 Mmmm, this smells wonderful, I love the uplifting scent of lemon! It's too hot for a bath here in Texas but I mixed some of this with some sweet almond oil and used it as a body scrub! It worked really well but I am sure that the benefits of the sea salts and magnesium would be better absorbed in a bath.
Hibiscus Tea Potion "Practice compassion and forgiveness!" I love tea and enjoy drinking a relaxing cup of herbal tea in the evenings.
This one is a blend of organic Egyptian hibiscus, Pacific Coast mint, rose hip, and vitamin C. The color was a beautiful ruby shade plus it had some tartness and just a hint of mint. Very fruity and delicious.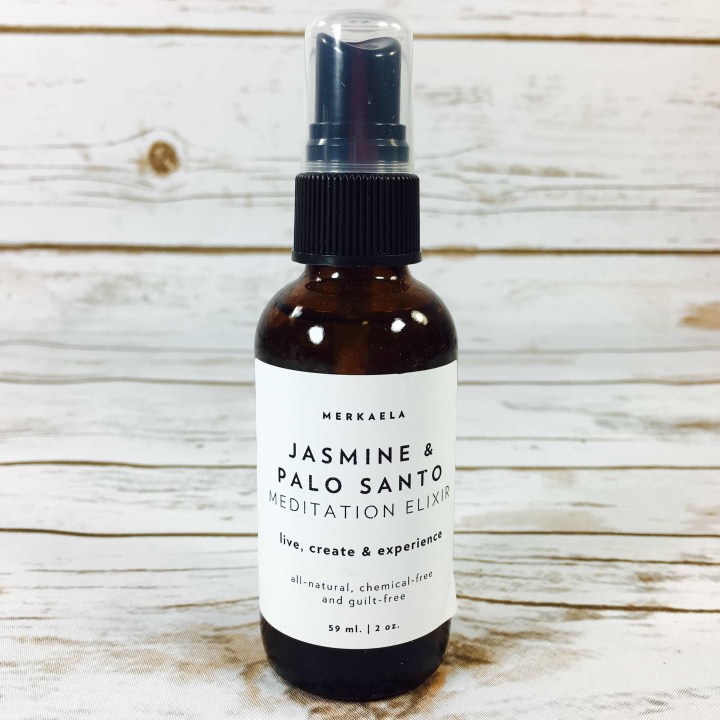 Jasmine & Palo Santo Meditation Elixer "Unleash your feminine divinity!" Spray this on the top of your head or around your meditation space to help clear negative thoughts and find the strength to face challenges. Infused with Lunar energy in a base of distilled water, alcohol, Himalayan salt, plus jasmine, Palo Santo, and melissa (lemon balm) essential oils.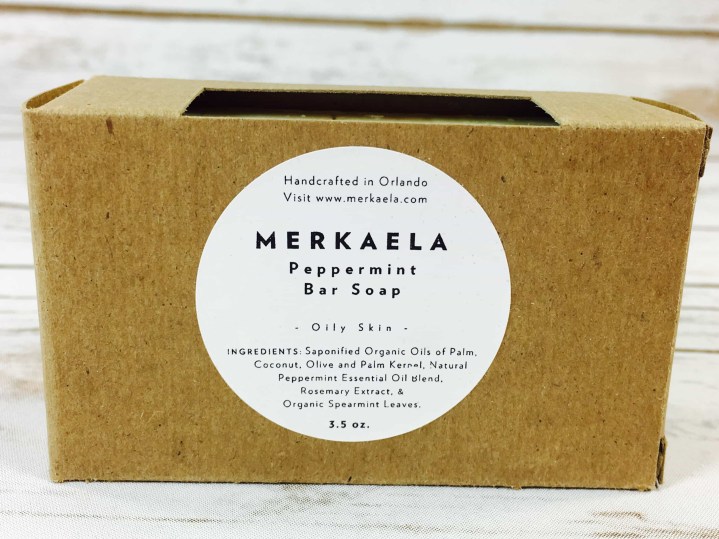 Peppermint Bar Soap Peppermint is one of my all time favorite scents and I love anything minty fresh!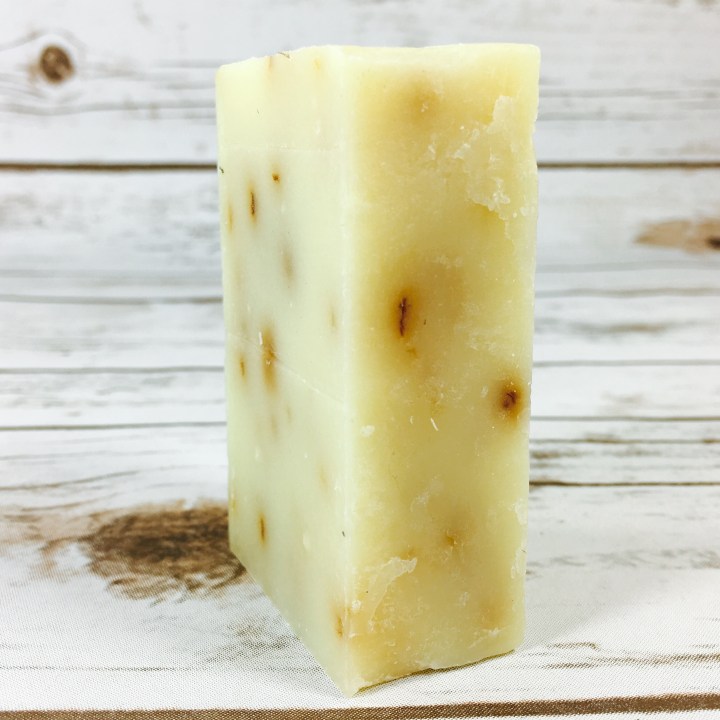 This soap is made with saponified coconut, olive, and palm oils plus peppermint oil, rosemary extract, and spearmint leaves and has a natural, clean mint scent and won't leave you smelling like a candy cane.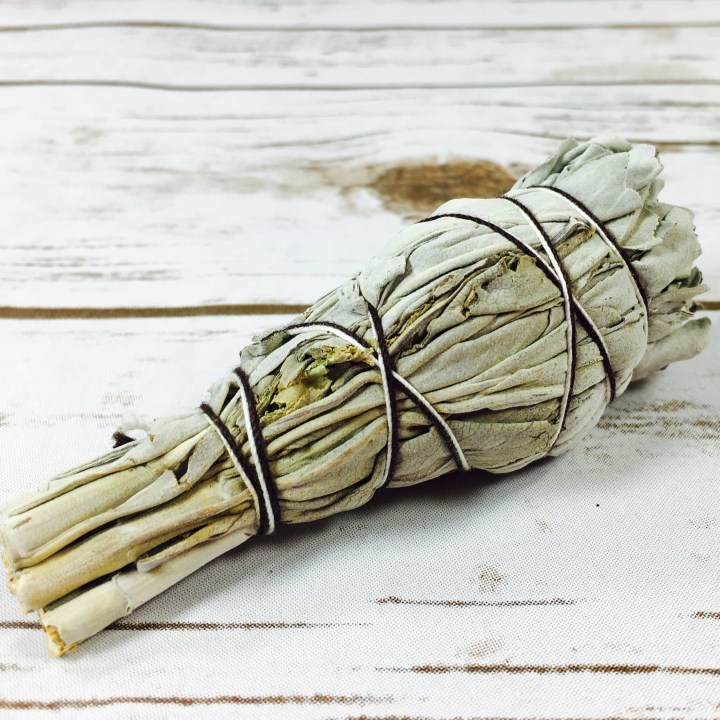 Sacred Sage Smudge Stick (find similar one here) is a bundle of sage leaves that can be used to purify the air and in house blessing and other rituals.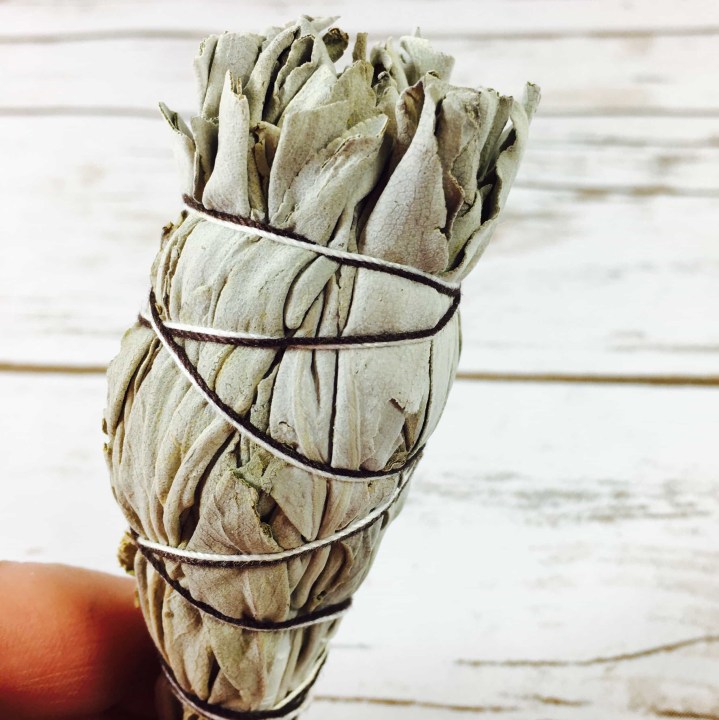 Clear your mind of negative energies and think positive thoughts before lighting your bundle. It says to let it burn for 30-60 seconds but mine burned out instantly and there was plenty of holy smoke afterward. I walked around quickly because I was afraid it might set off the fire alarm. I made sure the energy in my home office was clean since I tend to spend a lot of time there.
Pink Lemurian Crystal is a type of quartz from Brazil that has special "bar code" striations that can help you connect to a network of energy from the Earth, stars, and beyond. (The card mistakenly lists "green aventurine gemstone", which was last quarter's stone.)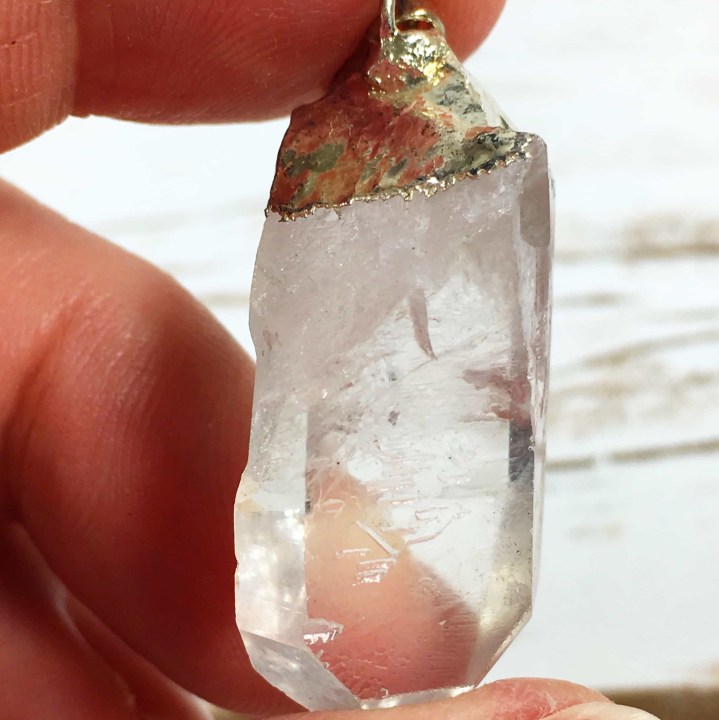 According to Merkaela you can meditate while holding the crystal in your right hand. Glide your thumbnail up the striations to connect to your spirit guide or angel. You can also place on a chain to wear as a necklace.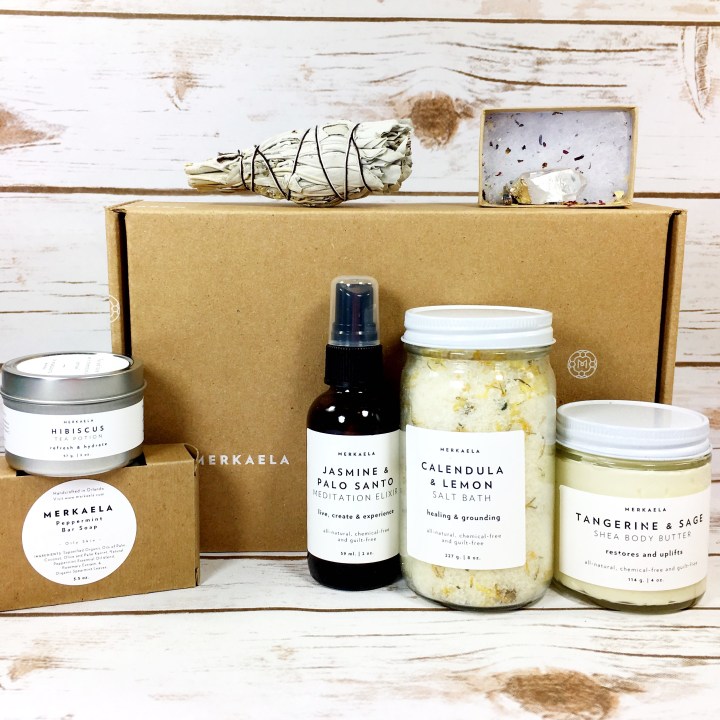 I am always excited to see this box in the mail! It is a super special treat and I appreciate how it connects all of my senses and helps keep me grounded, at least for a bit!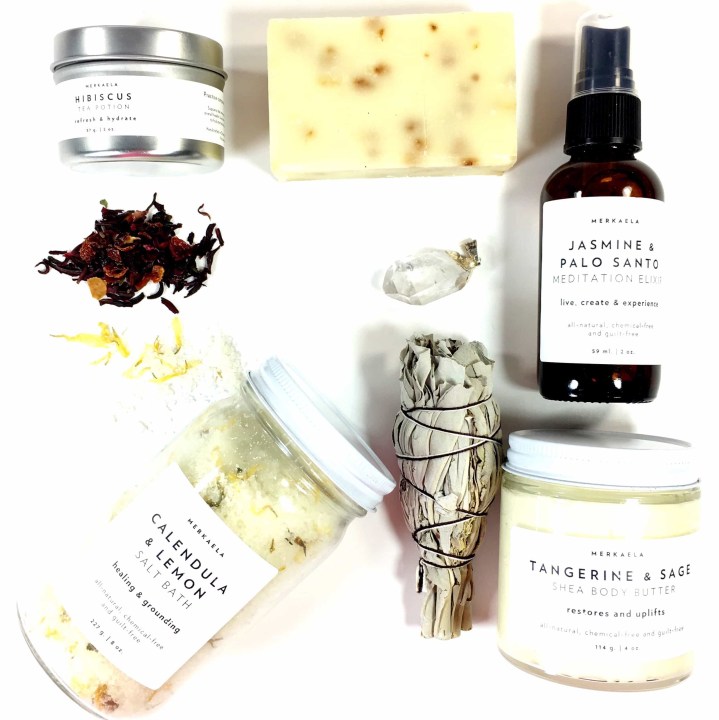 The beauty products are natural and luxurious plus the tea and bath soak are reminders to take the time to relax and recharge. Merkaela members receive 15% off the price of shop orders so keep checking the site if you would like some of this month's products! Need a fabulous gift for someone special? Send them this box!
What do you think of the Merkaela Summer Alive Box? Let me know if it helps you connect your mind, body, and soul in the comments!