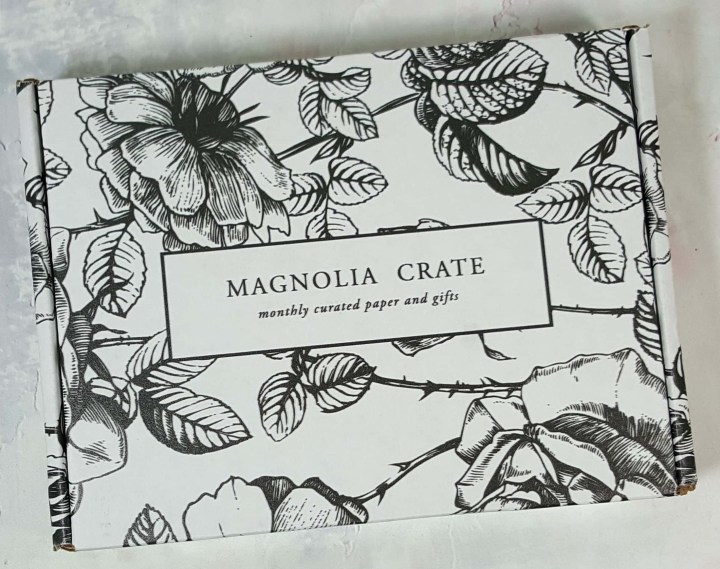 Magnolia Crate is all about the feeling you get when you send and receive mail. There's something about a hand addressed letter, a beautifully colored envelope, or a unique card that you've never seen before. Not only are you provided with gorgeous stationery and cards to send to others, but you also get to be giddy with excitement each month when your new box arrives! Each signature box comes with of 4-6 paper goods, including greeting cards. Additional items may include stickers, gift tags, magnets, and more.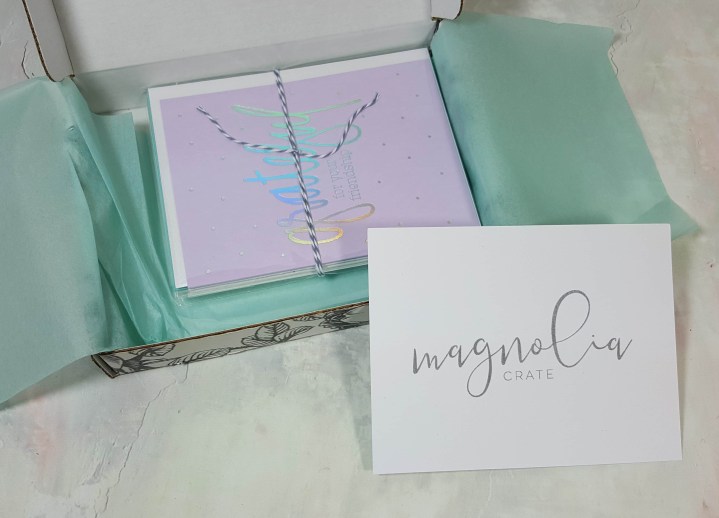 DEAL: Get 1 month free off a 3, 6, or 12 month subscription with coupon code HELLOSUBS OR Get free shipping on the first subscription and not pay for shipping again until your subscription renews (if you get a monthly sub you'll get one month free shipping, but free shipping on all 6 boxes in your first 6 month subscription, etc.). Use coupon code HELLOSUBSFREESHIP.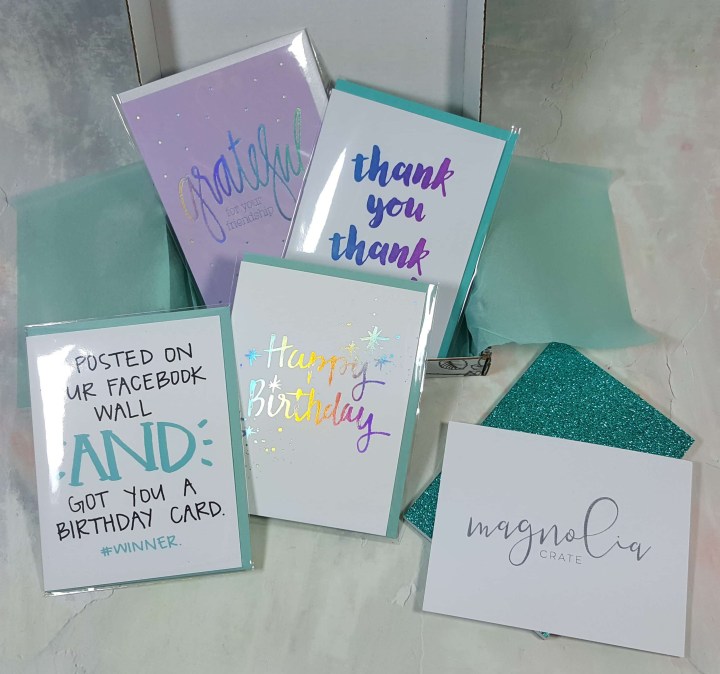 For May, Magnolia Crate decided to go with an aqua, orchid, and holographic foil theme. I love the color scheme but keep expecting a mermaid to show up.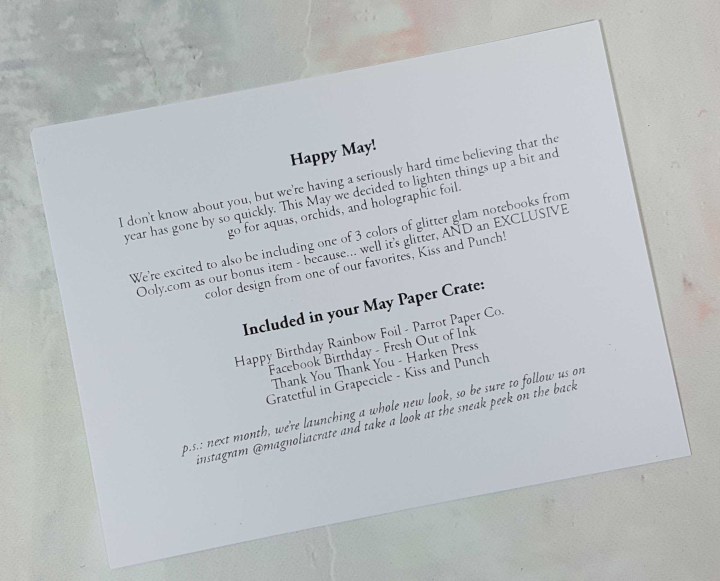 The information card not only lists the cards in the box, but it also provides insight on the inspiration behind the items.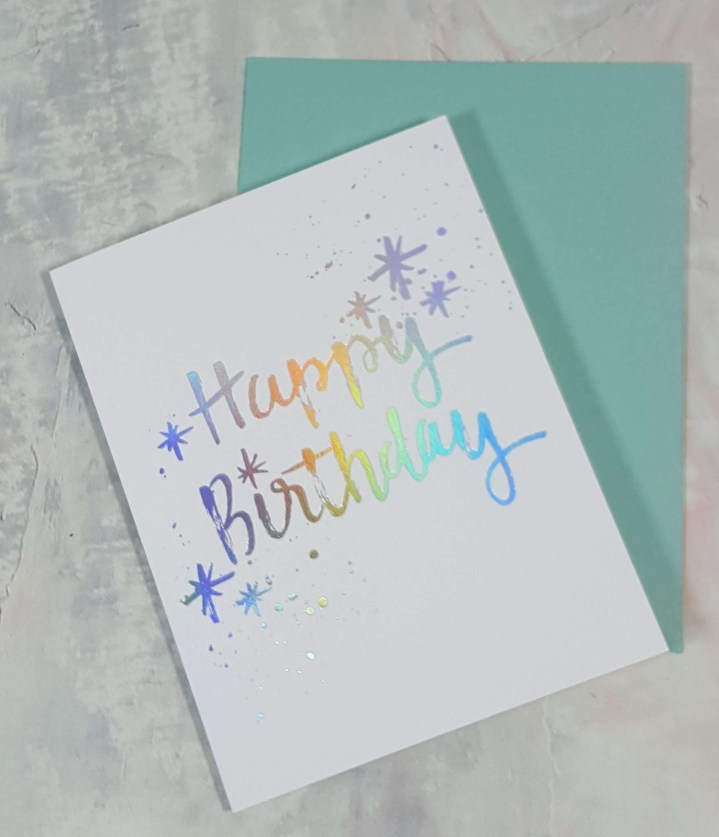 Parrot Paper Co. | Happy Birthday Rainbow Foil ($5.00): This A2 sized card (4.25″ x 5.5″) features holographic foil print on the cover and a light blue/teal envelope. I thought this was a fun design, especially since the letters change colors depending on how the light hits the card. The blank inside allows you to be creative with your birthday message.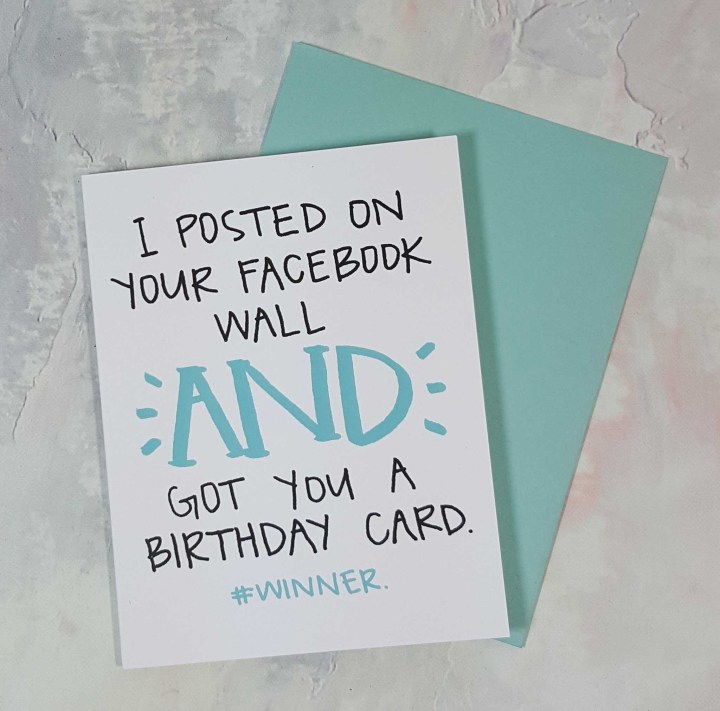 Fresh Out of Ink | Facebook Birthday ($4.50): This hand-sketched design is printed on 100% recycled paper, and is an A2 card. I literally laughed out loud when I saw this card. Hands up, how many times have you relied on a Facebook notification to remember someone's birthday? I bet you saw that notice and clicked over to send a birthday timeline post. This card comes with a coordinating light blue envelope and shows 1) that you are a #winner and 2) more than just FB friends. ???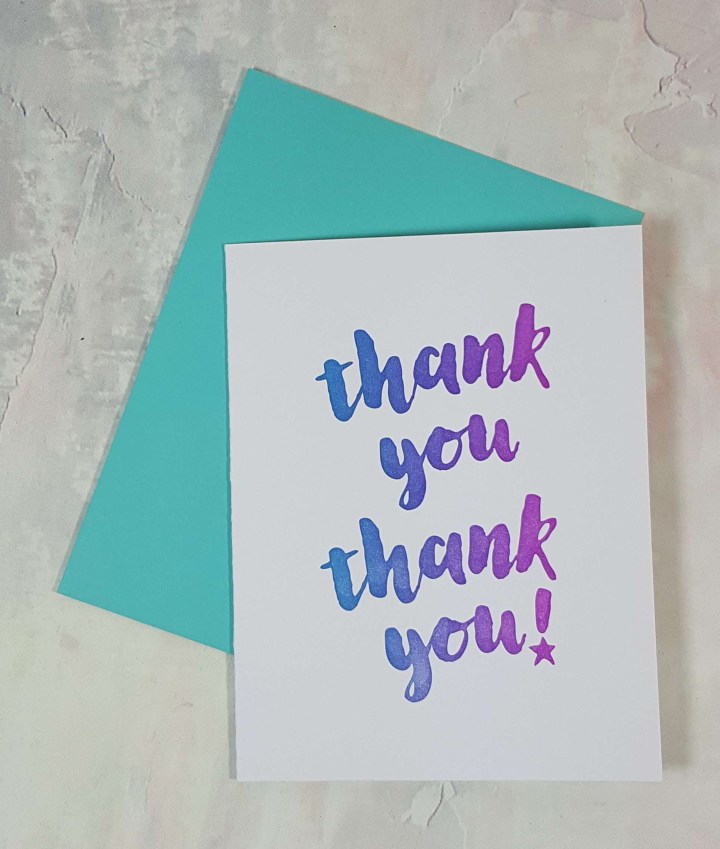 Harken Press | Thank You Thank You ($5.00): This A2 card comes with a matching teal envelope. It features neon purple and neon blue inks that merge together for a unique ombre effect. The blank inside allows you to create a heartfelt thank you message for your recipient.
Kiss and Punch | Grateful in Grapecicle ($5.00): This lavender color design is a Magnolia Crate exclusive (normally sold in pink lemonade). This A2 card comes with a coordinating ice silver envelope and features holographic foil lettering on the front. My picture didn't come out well… The card says "Grateful for your friendship." Tell your bestie how much they mean to you inside this pretty card. I'm saving this for Friendship Day (Aug. 6th).
*BONUS* Ooly.com | Glamtastic Glitter Notebook – Teal ($3.32): Some subscribers may have received this in either dark blue or light blue variations. This is a fully lined, travel sized notebook (4″ x 5.75″) with a glam glitter cover. I usually keep a small notepad in my bag to jot down notes because I have a tendency to forget if something's not on paper.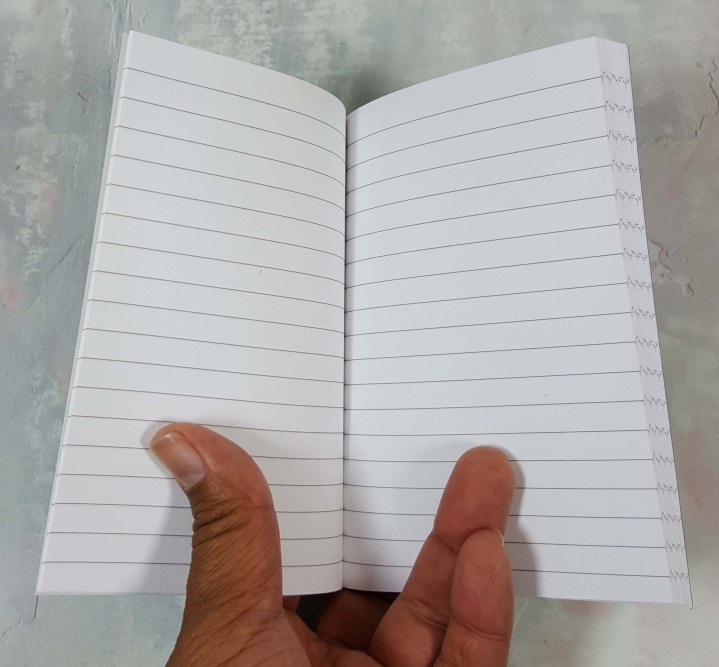 Here's a look inside the notepad.
In this digital age, I still get excited about getting a card or letter in the mail. This subscription allows you to spread that same joy to your friends and family with attractive cards. Save yourself a trip to the store and let Magnolia Crate deliver a little joy to your door!
In June, Magnolia Crate will be launching a new look. Be sure to check out @magnoliacrate on instagram for a sneak peek.