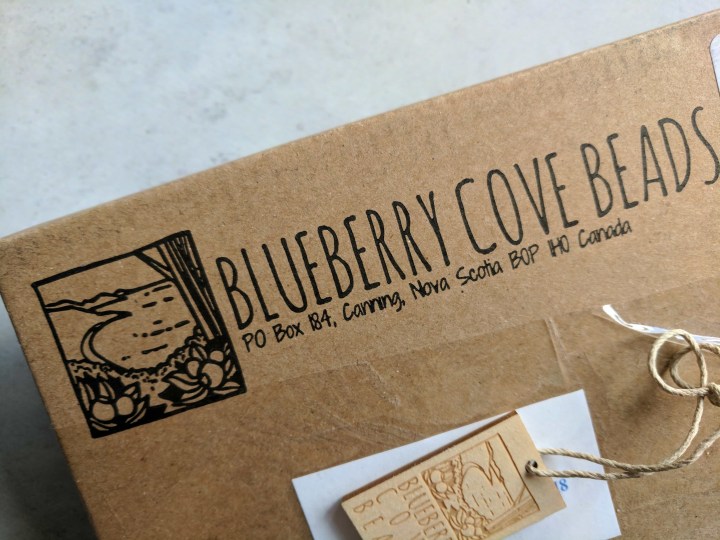 Blueberry Cove Beads is a monthly bead subscription box. Each month, you'll receive between 9 and 13 different items. It can be a mix of loose beads, bead strings, findings, and pendants. You can share your creation on their social media for the chance to win a free box. Boxes are $22 per month plus $5 shipping in the US & Canada and their website features projects you can create with your beads.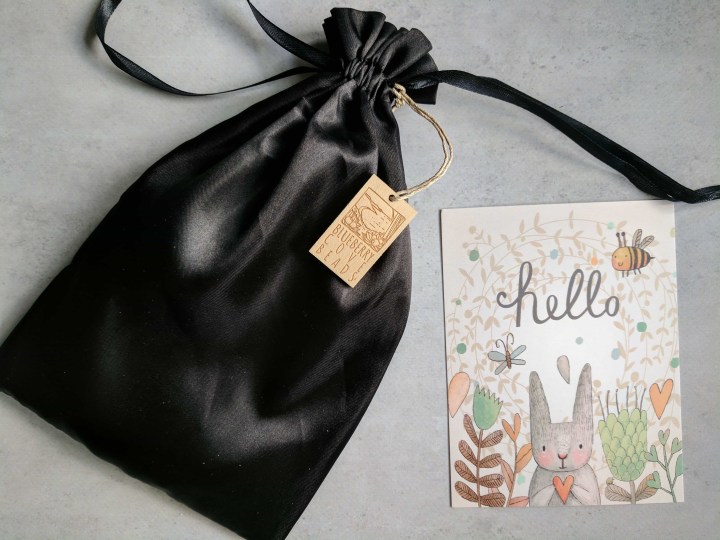 Inside the box, there's always a nice black satin pouch with a postcard showing the theme of the month. Inside the bag, everything is packed in self-sealing plastic bags, except the bead strands and some unique pieces.
There's a different theme every month and it's always fun to try to guess it with the postcard we get. This month is about whimsical beads!
There is no info about the content of the box. Instead, we get a card explaining the challenge (optional) for the month. We can share our creation on their social media to enter a draw for a free box. Also, it's really neat to see what everyone else creates with the same set of beads! This month's challenge is to make a pair of earrings using one or more of the millefiori beads!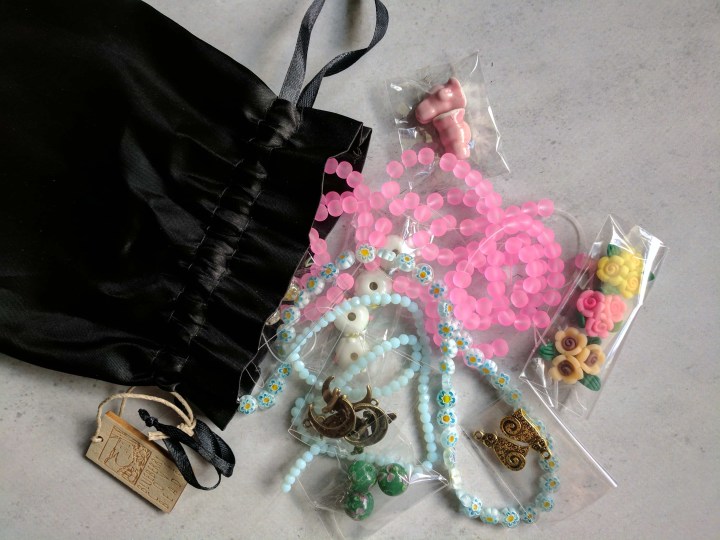 Cute pastel coloured beads!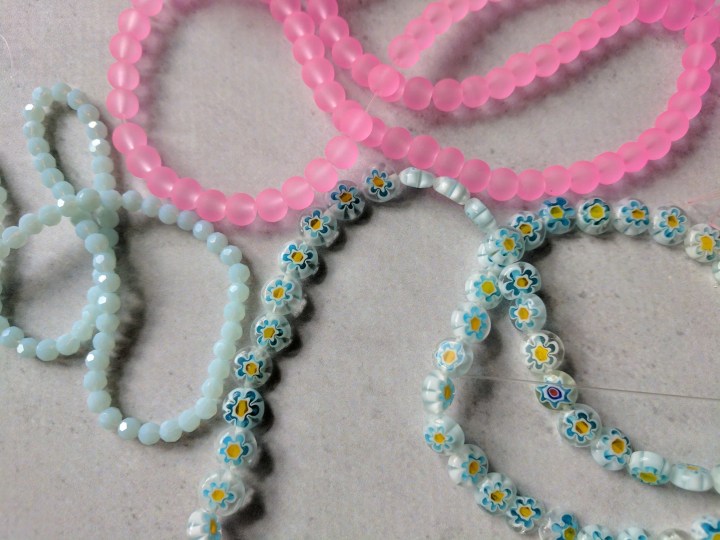 Pink frosted beads. I'm not the biggest fan of pink, but these are not to pale and not too "neon" like. They look lovely with the light blue faceted rounds.
Millefiori flat beads. I think these are the beads for this month's challenge. Not to are identical, some even have a hint of pink! Every time I see that kind of beads, I always think of kid's jewelry. So that'll be a challenge to make them grown-up to me!
Light blue faceted rounds. You can never go wrong with some faceted beads. They add a bit of sparks in an otherwise matte design,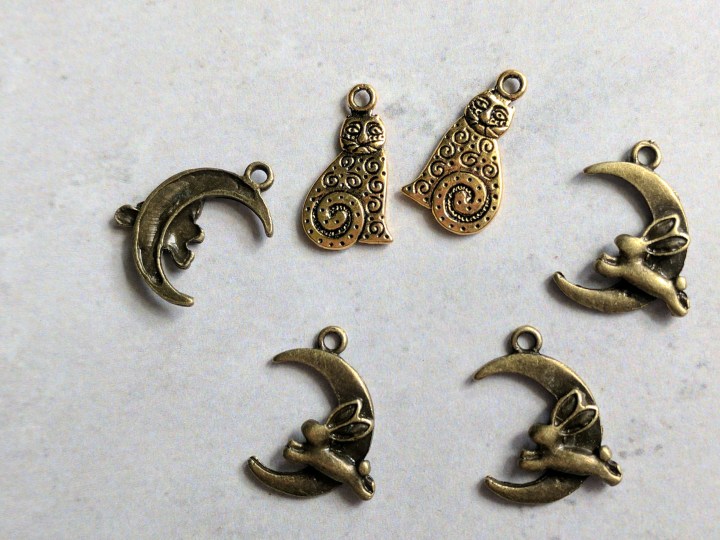 Antique Gold Cat Charms. These are sooo cute! They would do well on earrings.
Antique Gold Rabbit and Moon Charms. Earrings and necklace, or even on a bracelet!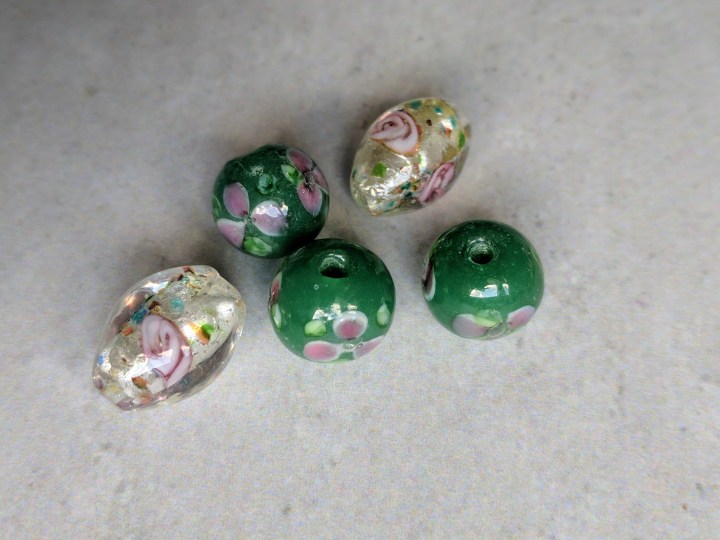 Green Flower painted beads. I like how cute they are with the pink frosted beads.
Flower Foil Beads. A while ago, I did a pair of earrings with this kind of beads, and I love them so much, I did a second pair for this month's challenge!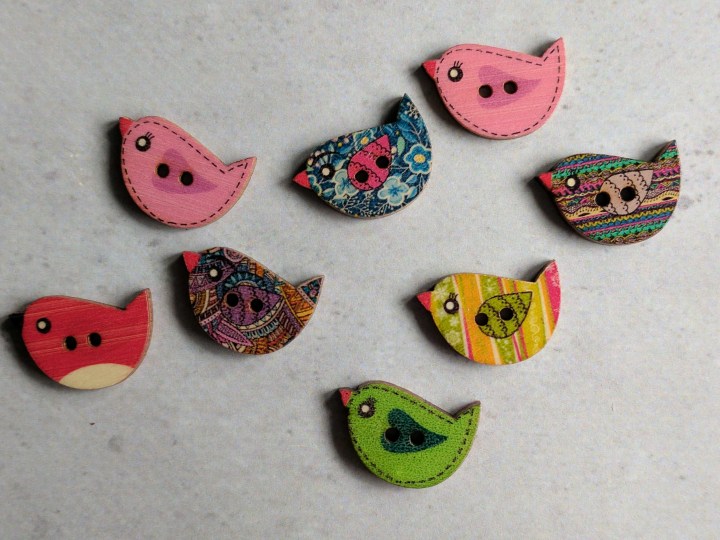 Wooden Painted Birds Button. BIRDS! I need to get some cord that will fit in the holes, and then I'll make a wrap bracelet! They are soooo cute!
Polymer flower beads. The holes goes through the bottom of the bouquet, perfect to be showcased on a bracelet or necklace!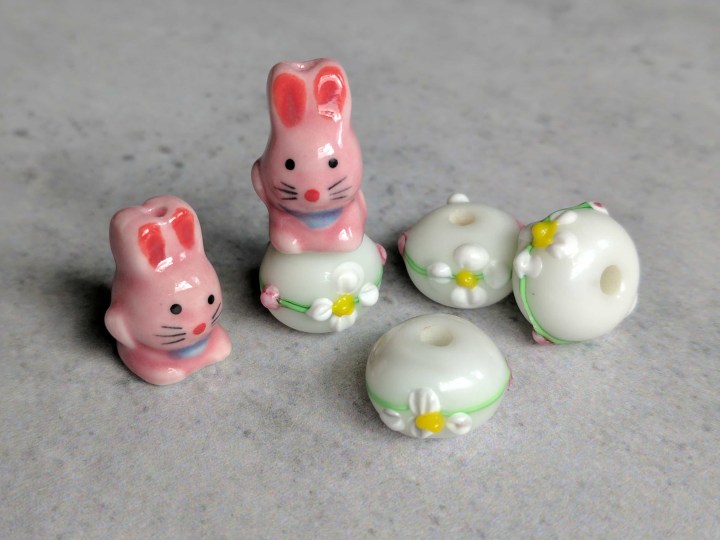 Ceramic Rabbit Beads. How cute are these little rabbit? I love them! I wanted to hang them inside a round frame, but the one I had were a bit too small for them. With the light blue faceted rounds and the frosted pink beads, they could also make a cute bookmark!
Ceramic Flower donut beads. I'd like to use them with the rabbits, but I don't know how to mix them yet.
For this month's challenge, I made a pair of "whimsical" earrings. Well, as whimsical as I could! My goal was to make the millefiori beads feel grown-up to me, and I love the result!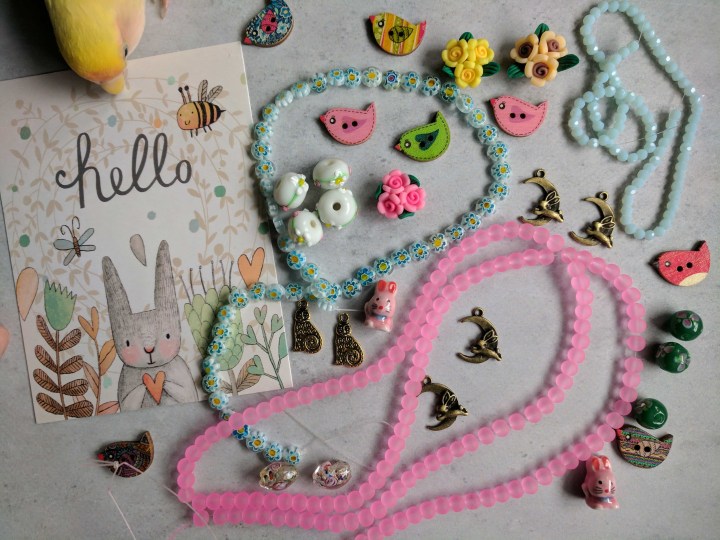 I really enjoyed this month's whimsical Blueberry Cove Beads box! It was a box filled with beads I would not have picked myself, and the challenge forced me to use the bead I would have put aside without a second thought if I had been left to my own device! I like that we get a challenge every month, it help us focus our creativity when surrounded by so many cute beads!
What did you think of this month's Blueberry Cove Beads?