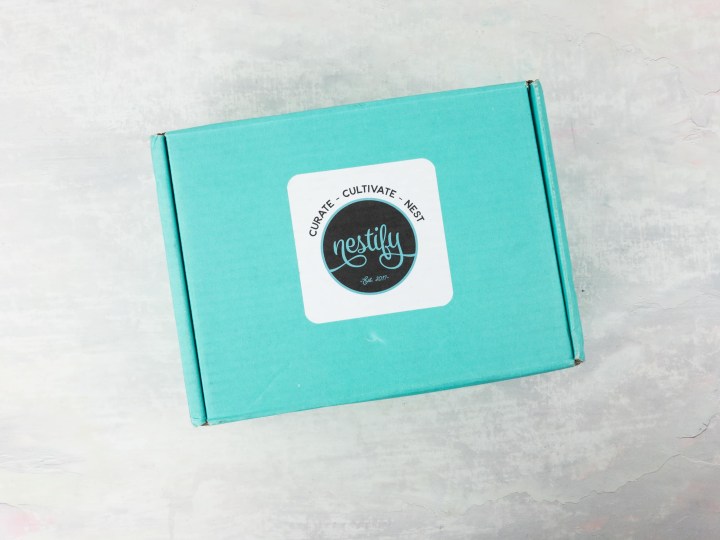 Nestify Box is a monthly themed home decor subscription box. Every month, you'll get high quality crafted items that promise to improve your home and your life. Everything is made by skilled artisans from around the world, all for the cost of $39.00 per per month.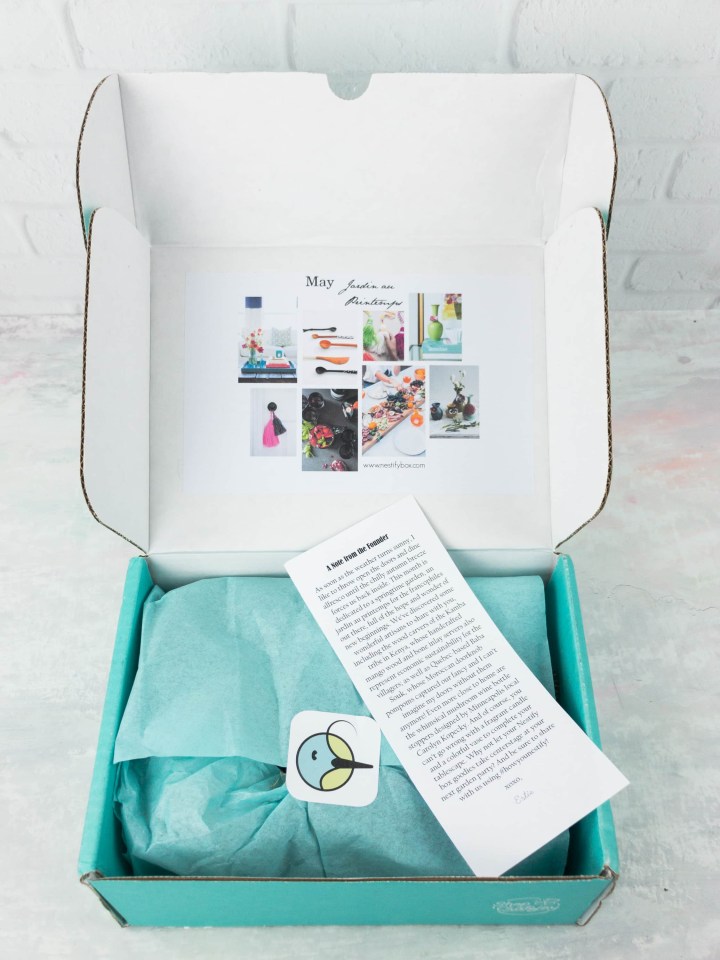 DEAL: Receive your first Nestify box at half price, when you sign up for a 6-month subscription with SAVE50 OR use code LAUREN10 for 10% off any 3 month or more subscription.
You can also get 25% off your first box! Use coupon code HELLO25.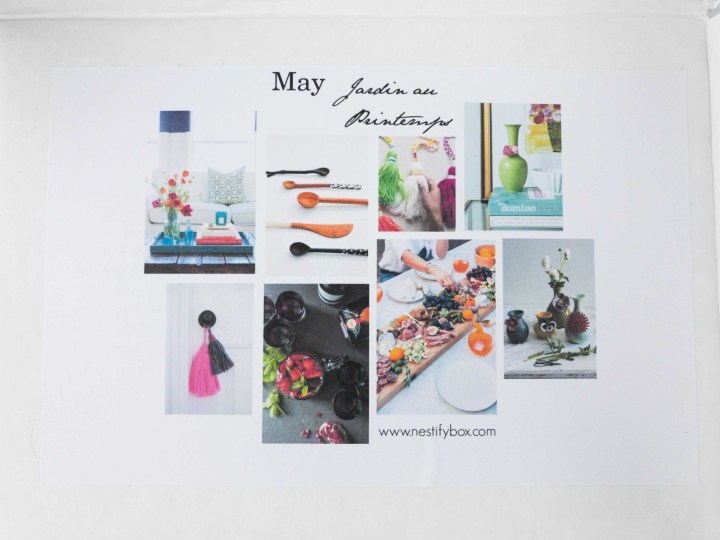 A mood board is included on the box lid to help give you inspiration on styling the items!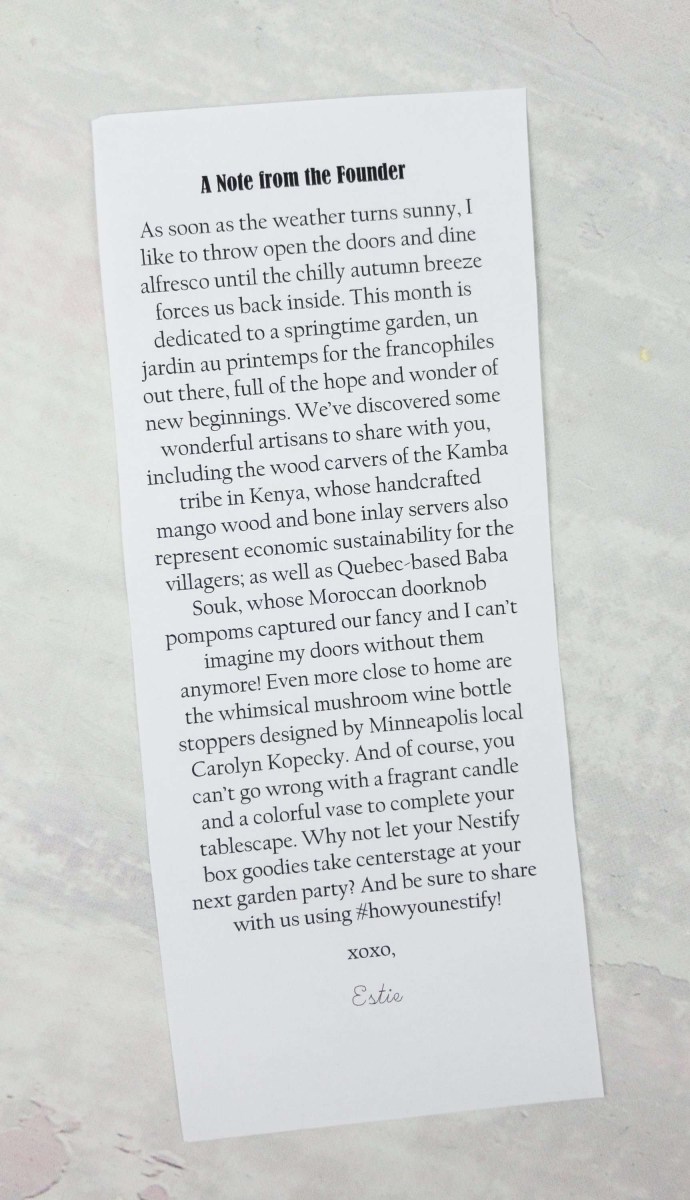 A short note from Estie, the founder of Nestify Box. This month's theme is a springtime garden theme and the note contained much more information about the items in the box and the makers!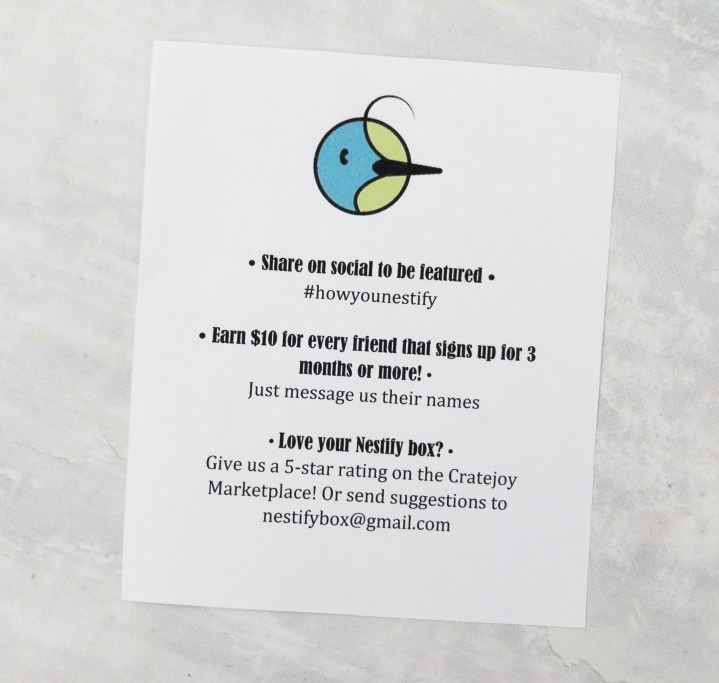 The back of the card tells you how to earn $10 for every referral and asks for Cratejoy reviews or emailed suggestions.
Everything is wrapped inside a light blue tissue paper…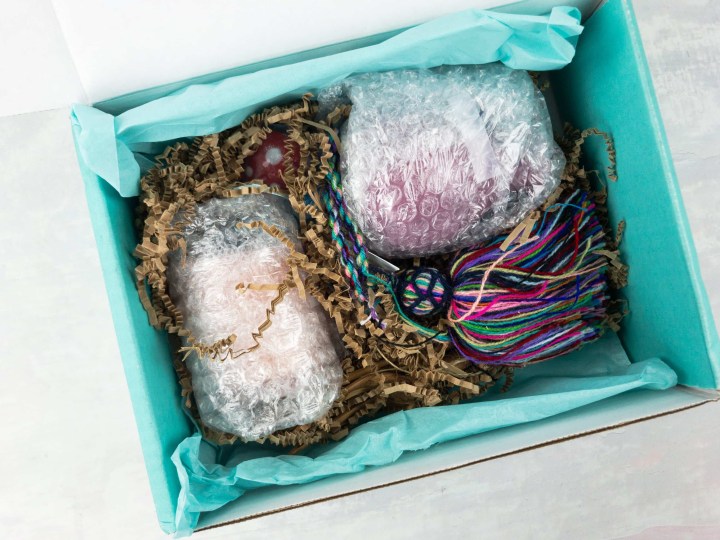 … and protected with brown paper squiggles.
Everything in my May 2017 Nestify Box.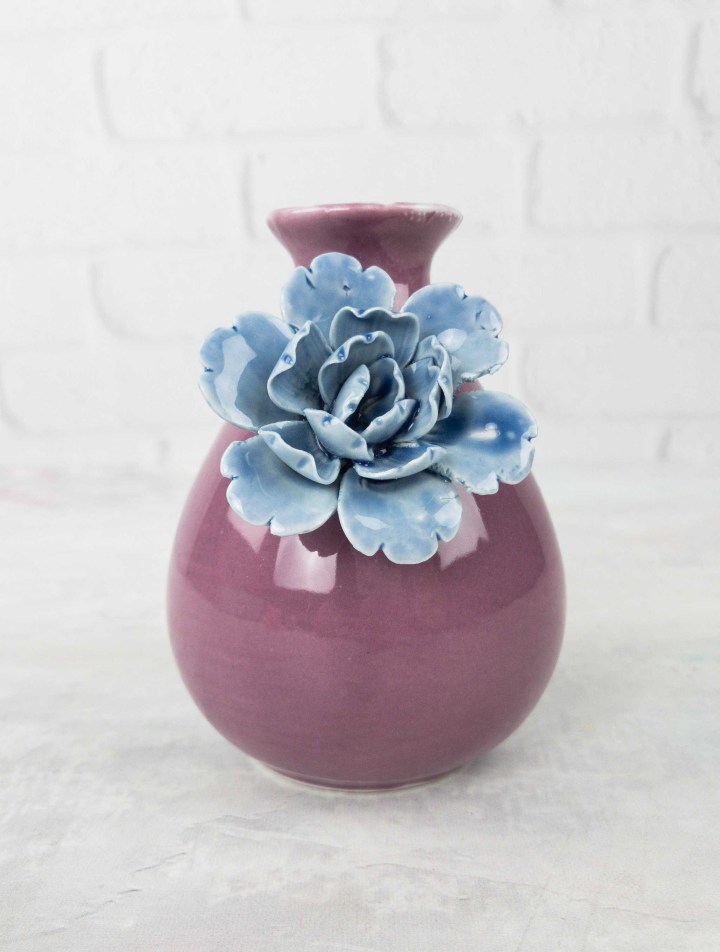 Flower Vase: This vase is about 5 inches tall and has a lovely blue floral accent.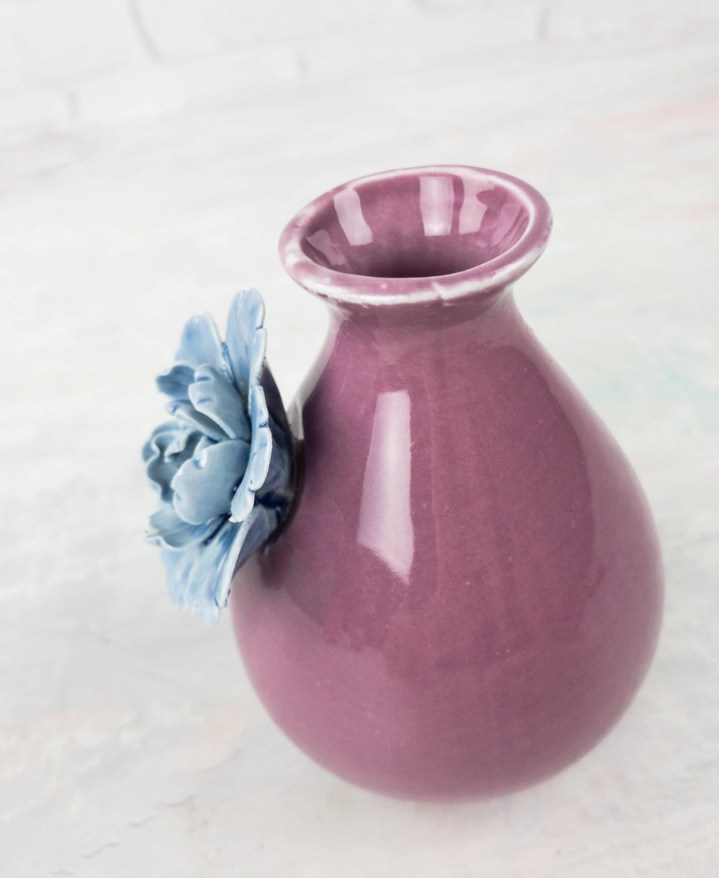 It's a cute, unusual touch and reminds me a lot of a vase I received in a Little Lace Box once. I think because the vase itself is so bold that it would be really lovely with a few long pieces of greenery placed in it. Or some cotton stalks, as I think the inspiration card shows. I think that's the right idea with this one – let the vase be the star!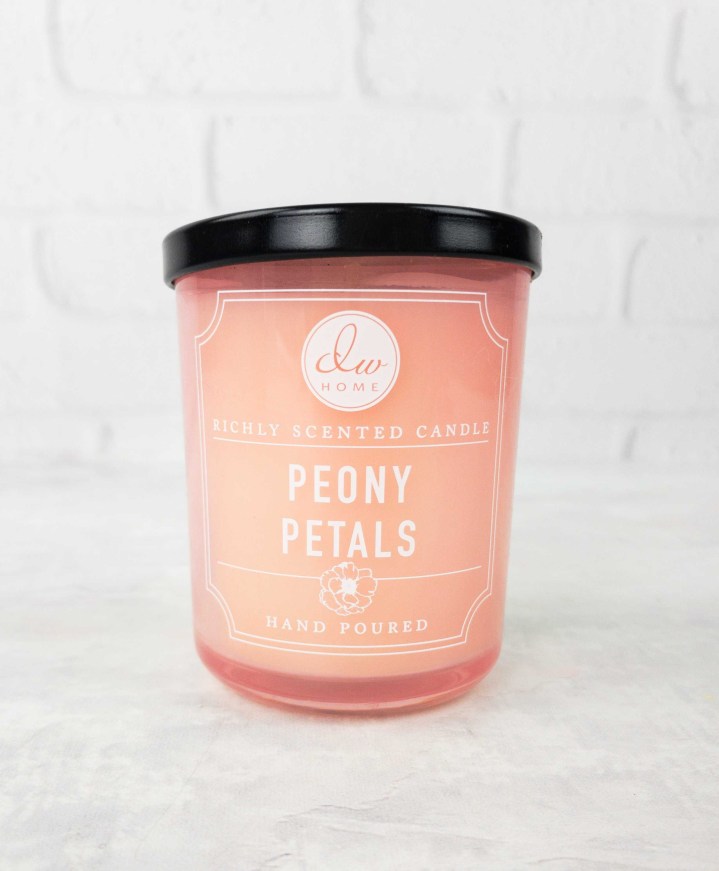 DW Home Peony Petals Hand Poured Candle ($13.99) This hand-poured candle has such a great scent, and peony not only matches the theme perfectly, it seems like it's the fragrance of the year!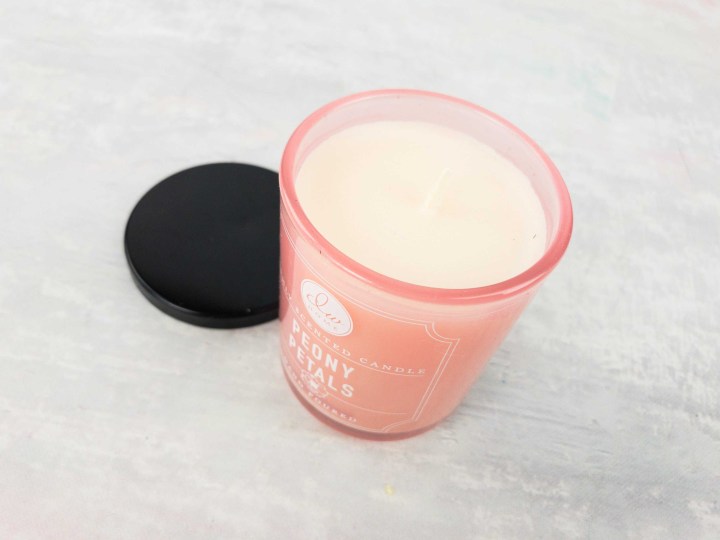 This adds a pretty visual touch and a great scent to your space.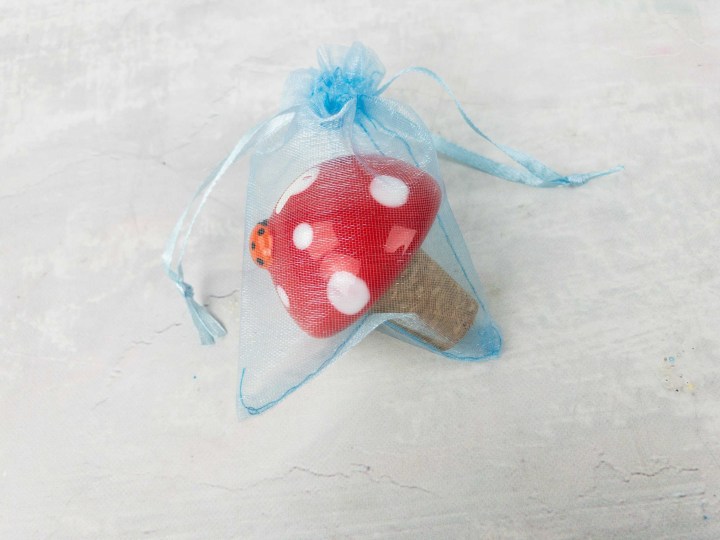 Carolyn Kopecky Design Mushroom Wine Bottle Stopper: I absolutely love whimsical items like these, I was totally excited when I saw this little guy!
Mine actually came damaged (there was a chip on the top) and Nestify replaced it right away. It seemed to be a fluke, because everything was wrapped up neatly and protected with bubble wrap.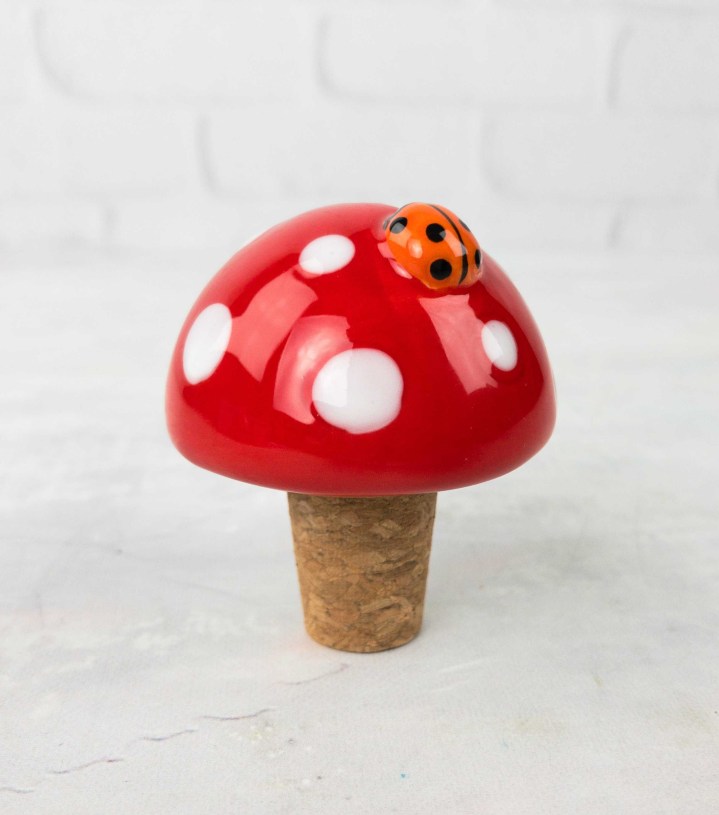 Hello lady bug! I love it.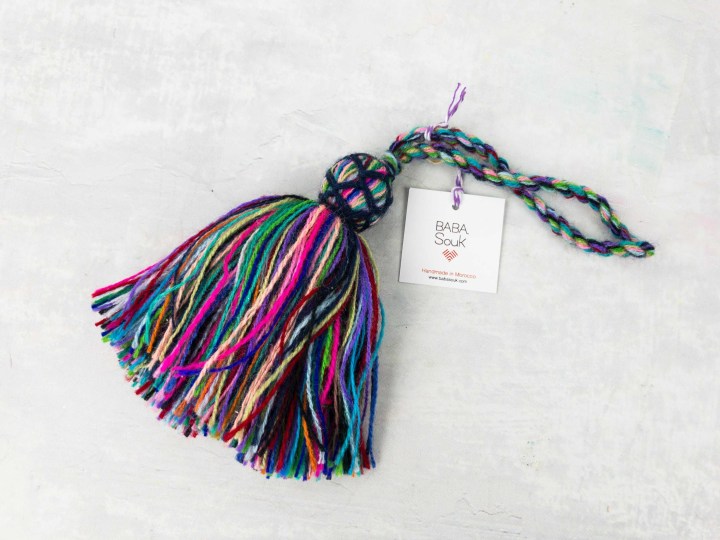 Baba Souk Doorknob Pompoms ($8 CAD, about $5.80) This handmade in Mexico accessory provides a beautiful vibrant pop of color!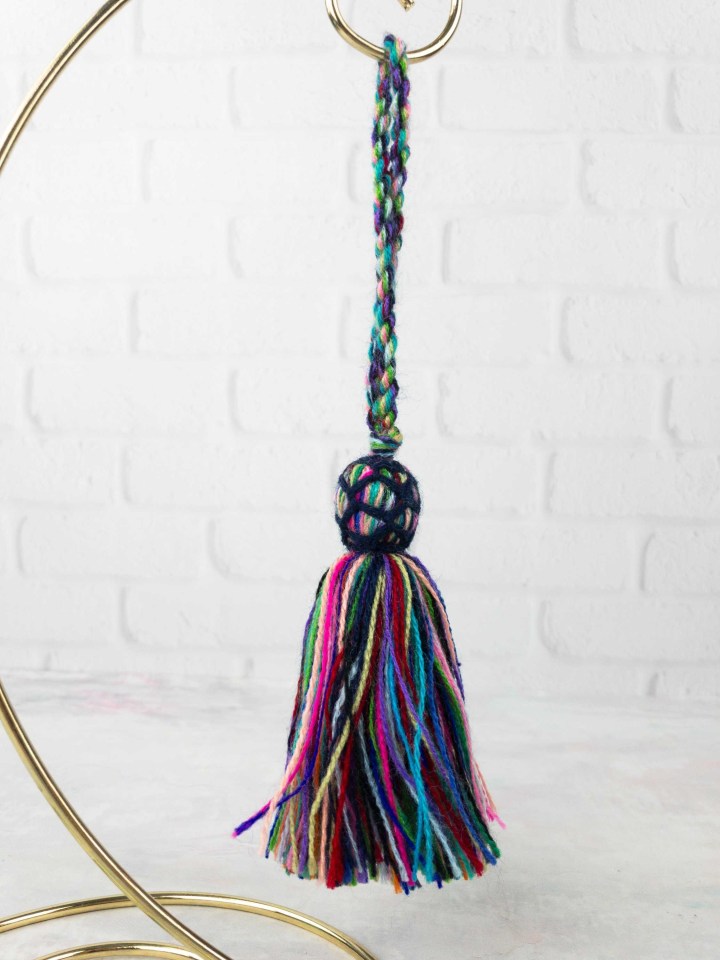 We love this easy to incorporate accessory, which slips right on a doorknob or hook.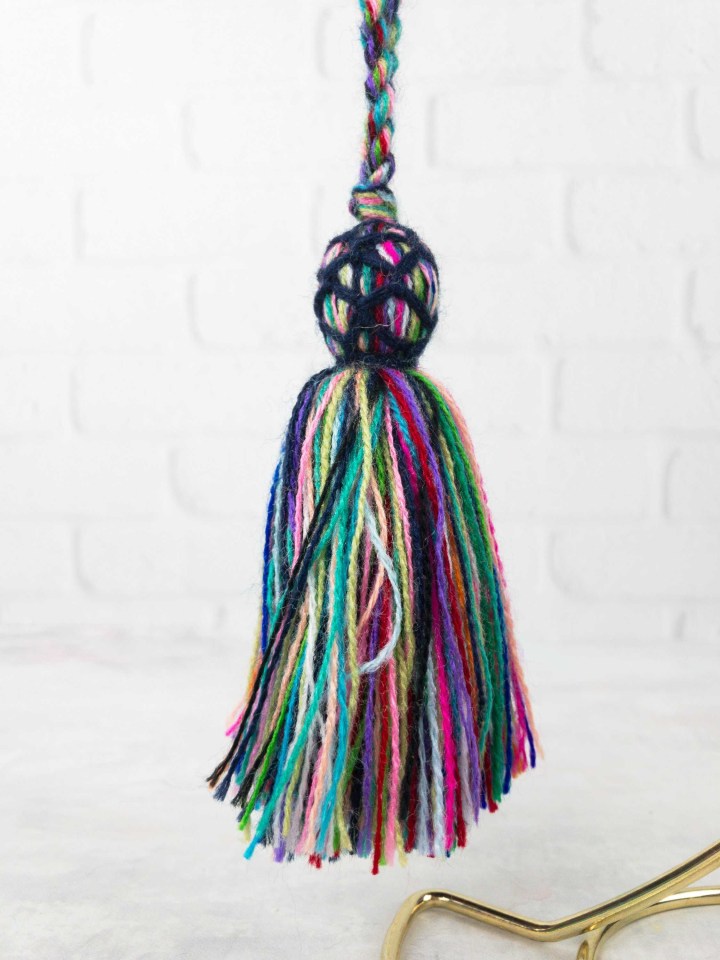 I love all the colors, it seems like there's one of each! It also seemed to me to be a continuation of the macrame plant hanger vibe from last month.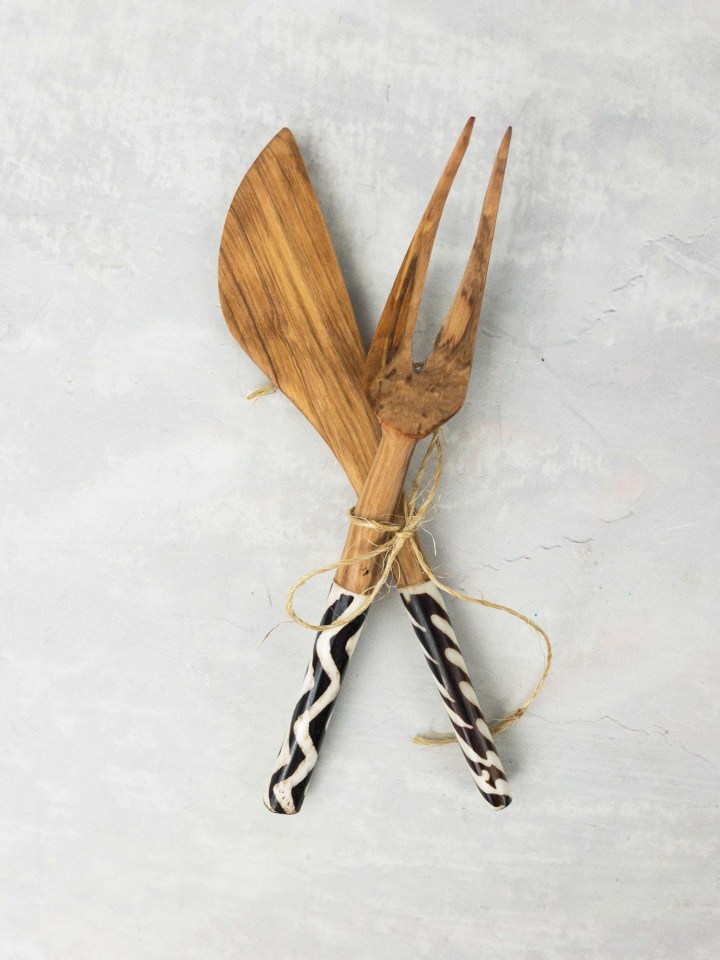 Handcrafted Mango Wood & Bone Inlay Servers: The card describes these as made by the wood carvers of the Kamba tribe in Kenya. They have smooth, high quality bone inlays and are a neat accent to your dining table, perfect for maybe an appetizer tray with that nice pointy fork and wide knife.
What a great evolution for this box! I was really seeing some sproutings of a more artisan-based box last month and I thought this month really carried that forward. The items were pretty eclectic but I liked all of them. This is a cute little box to add some designer-curated touches to your home each month.