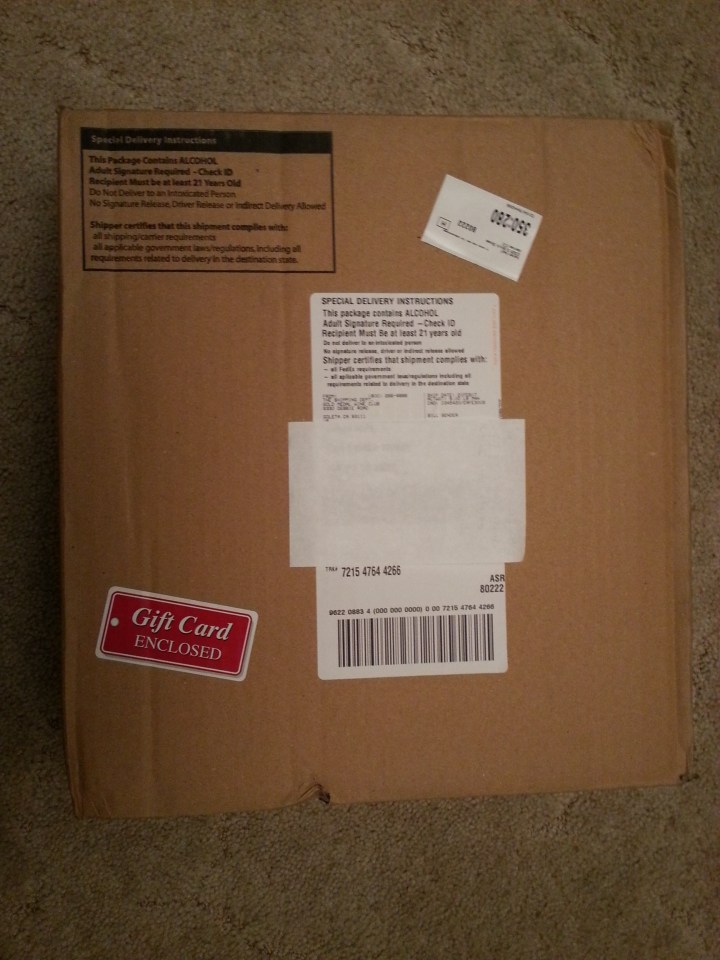 Gold Medal Wine Club delivers 2-3 bottles of wine to your door either monthly or quarterly depending on your preference. Prices range from $35 to $74 per month or $75 to $179 per quarter.
This is a review of Gold Medals' International Series, 3 bottles for $75 + $14.50 shipping. The International Series ships quarterly.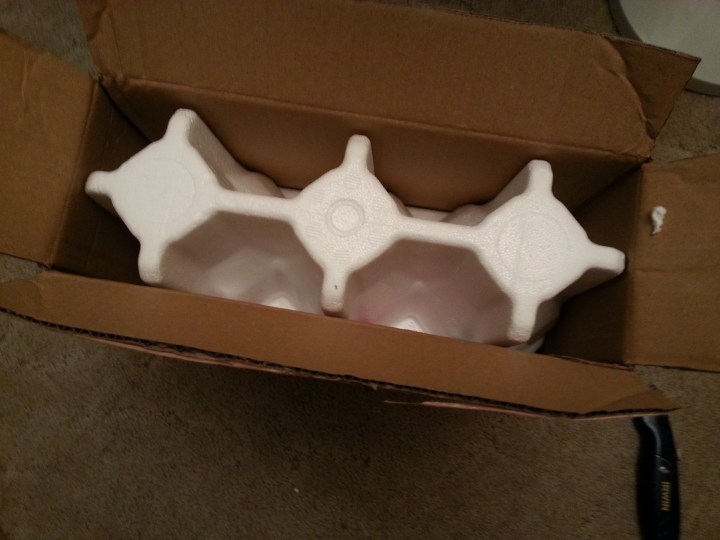 DEAL: Save 5% on a 4 shipment subscription – just use this link to subscribe, no coupon code necessary.
Now through 5/13 get a free bonus bottle when you gift mom 3 or more months of the Gold club!
These 3 bottles of Portuguese wines are a selection from Gold Medal Wine Club's International Series. Each bottle was tucked inside a appealing sheer gold bag which will make nice gift wrapping later on! And again they included lots of literature which is great since I don't know anything at all about Portuguese wines. I discovered that there are around 25 wine regions in Portugal and that their wine industry has really taken off in the past 10 years. I also found out that the Alentejo region, which Gold Medal Wine Club is spotlighting this month with these 3 wines, is also an important cork producer!
I decided to taste the 2015 Herdade Paco Do Conde Reserva White first since my sister is visiting and she's likes white wine. This wine is made of 100% Antao Vaz grape which originated in the Alentejo region in southern Portugal. We agreed that it has a nice citrus aroma and a fairly full bodied taste, which I found smoothed out after breathing a bit. I liked it more than she did which is fine with me!  I think this made for a nice appetizer wine and also went well with my salmon main course.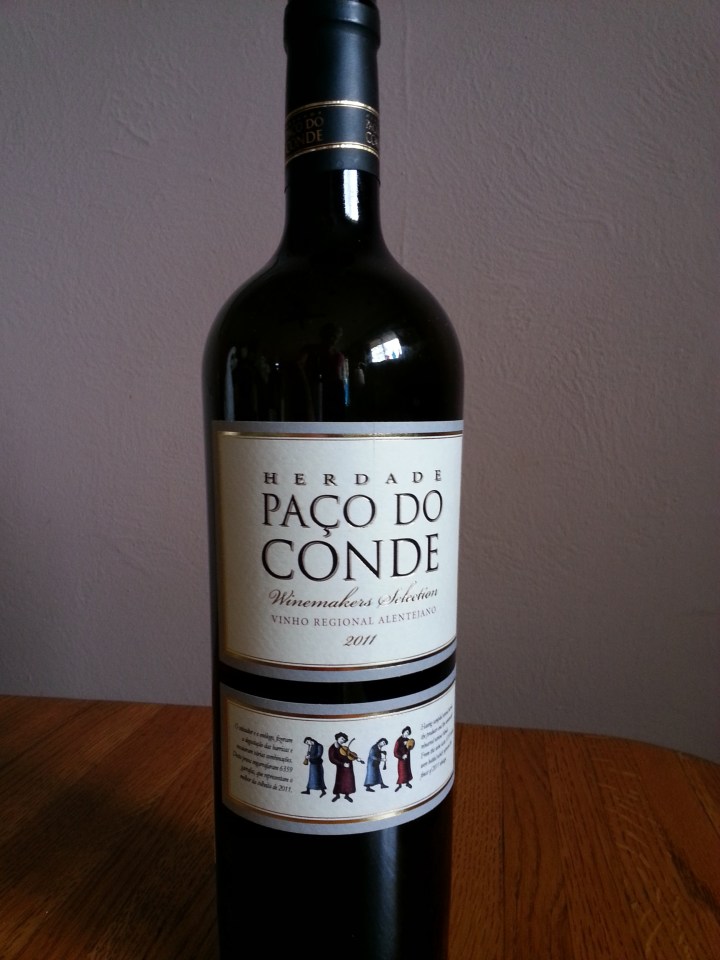 I'm preparing a marinaded tri-tip steak for dinner tonight, so I think this 2011 Herdade Paco Do Conde Reserva Red will pair nicely with it. (I realized, because of the label, that the vintage Gold Medal Wine Club sent to me was a 2011 and not the 2013 described in their literature. So I went to the web to find out more about this vintage.) This 2011 wine is 60% Alicante Bouschet, 20%Touriga and 20% Syrah. I read that this red has a long shelf life, you can drink it until 2021, so I thought it best to allow this bottle to breathe for 30 minutes. The wine is a rich deep garnet with a beautiful aroma of spice, and warm berries. This is a full bodied wine with lots of jammy, spicy flavor and softer tannins. We really enjoyed this wine and it went well with the meal.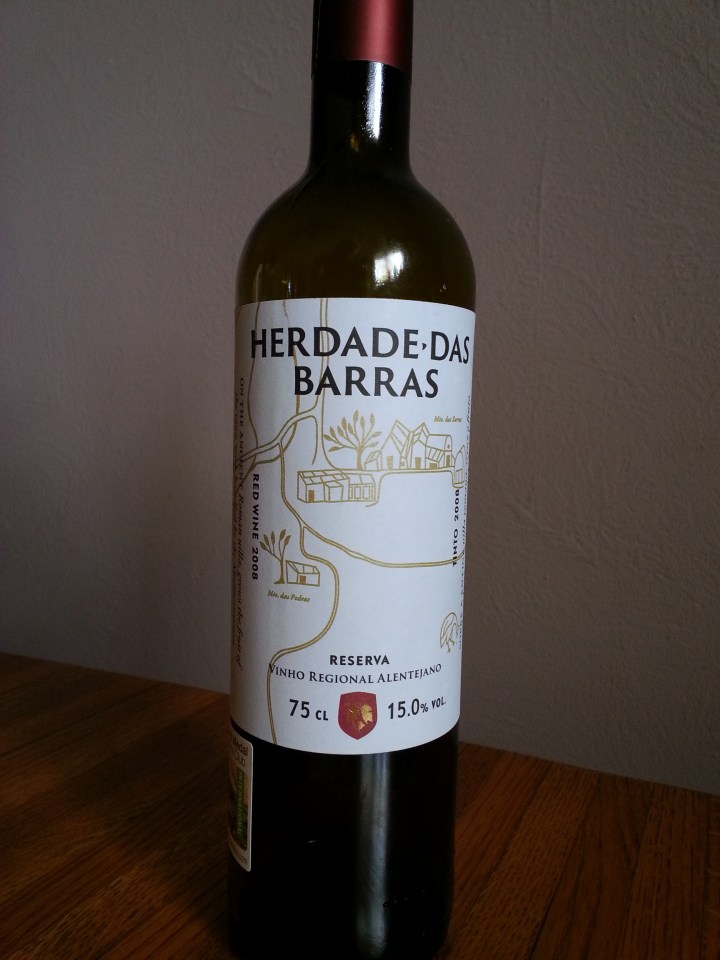 My final bottle is a Herdade-Das Barras Reserva Red also from the Alentejo region. It's a blend of 40% Alicante Bouschet, 40% Syrah and 20% Cabernet Sauvignon. I served this wine with a nice lamb shank dinner which I discovered, was a wonderful pairing. The wine has a nice aroma of jam and spice and the taste was smooth and complex.  Very enjoyable.
In summary, I really liked Gold Medal Wine Club's selection of wines from Portugal and enjoyed reading about the Alentejo region and the featured vineyards. Portugal was already on my 'bucket list', but now I'm looking forward to more than just Port! I would recommend their International Series to friends and try it again myself.