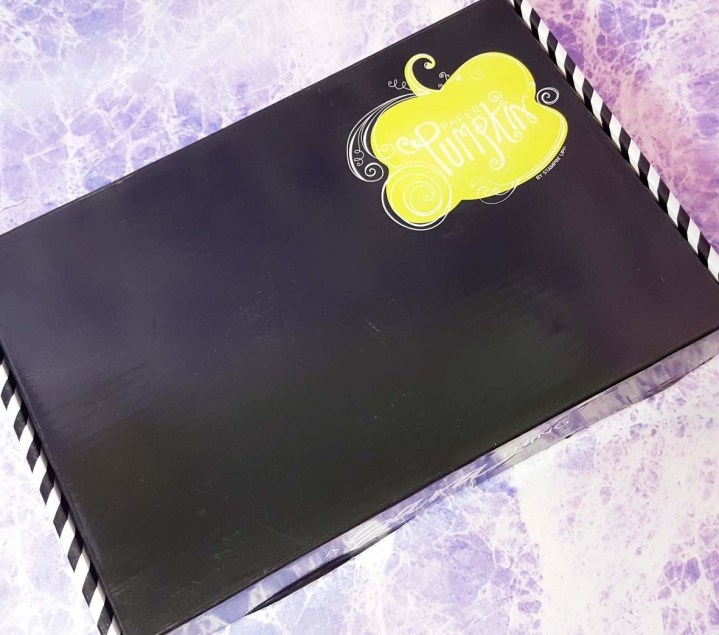 Paper Pumpkin is a craft box from Stampin' Up that sends a fun box each month with all the supplies to make a quick craft whether it be cards, boxes, bags, home decor or anything else in the paper crafting world. This month, they had a special box and design to celebrate their 4th birthday! I'm loving the black box.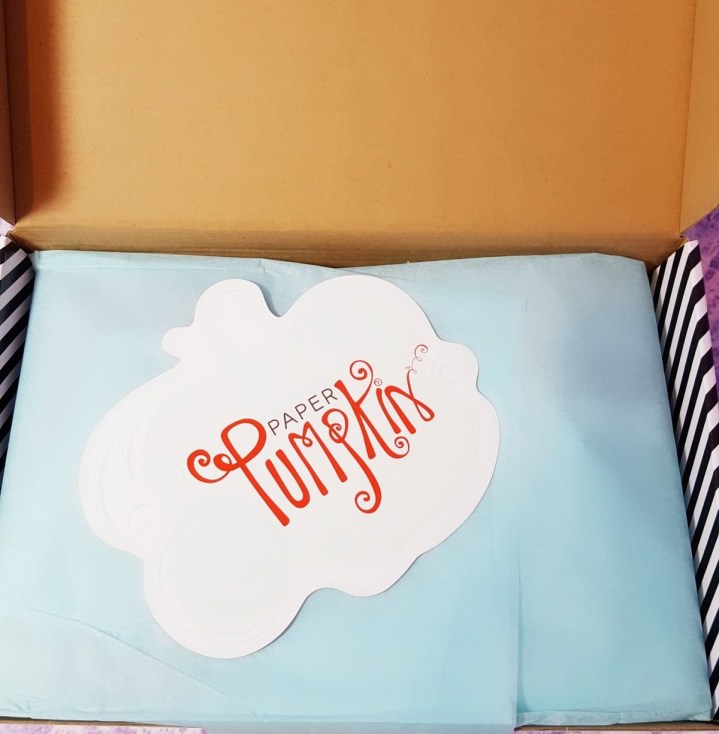 Looking the the box is always great. You can't see the products but you know they are tucked away nice and neat under the tissue and note card.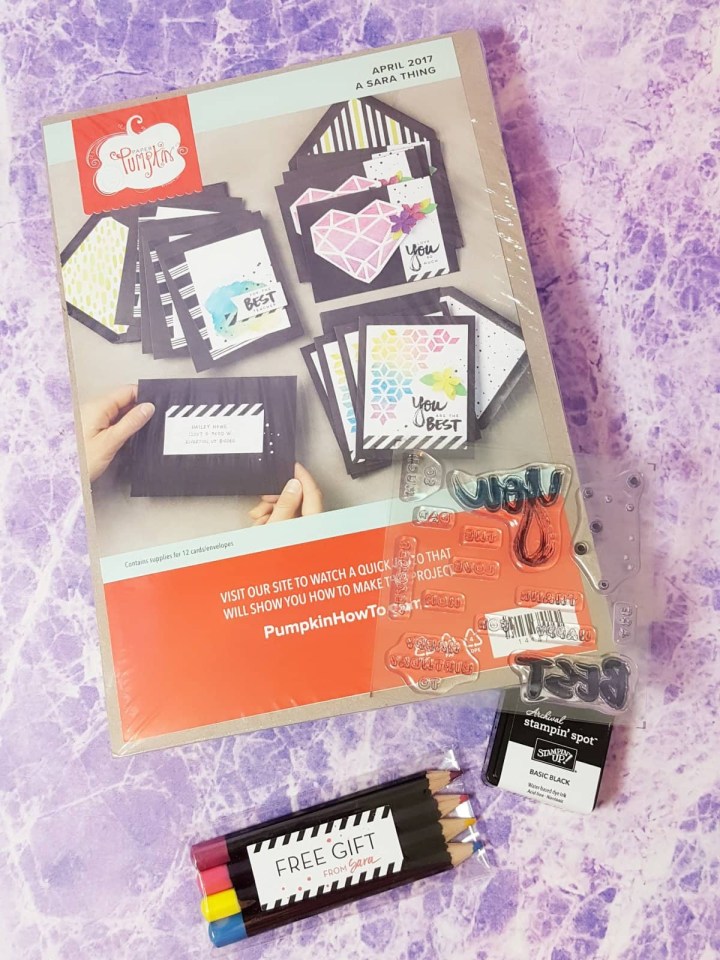 Everything in the April box. The paper products are all sealed up with a piece of cardboard so that they stay nice and flat in transport. With this month being their birthday celebration we also got a FREE gift right from Sara (Stampin' Ups CEO). If you didn't know colored pencils are really a big thing in paper crafting right now so these are really fun.
This month they sent enough product to make 12 cards!
The inside of the pamphlet has step by step instructions on how to make the cards.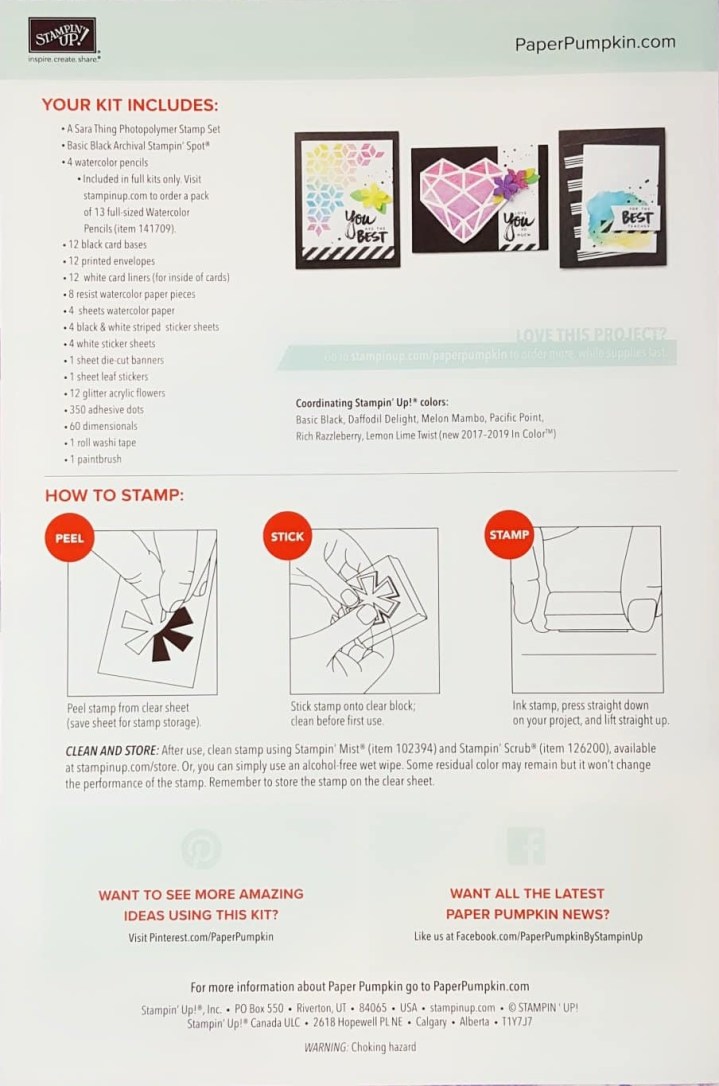 The back has a list of the included contents and a how to stamp. Don't worry if you don't own a clear stamping block since Paper Pumpkin will send you one if your first box.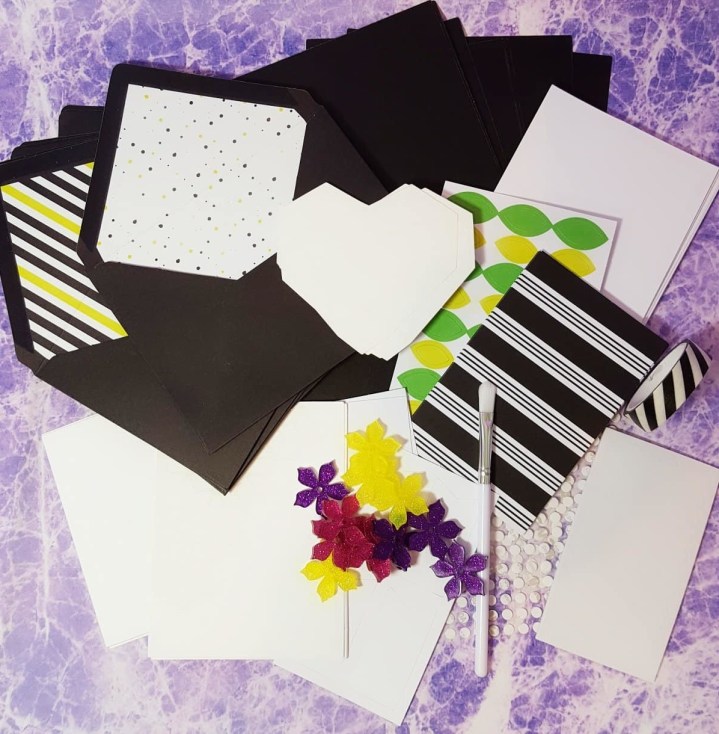 Inside the sealed pack all of the paper products and supplies are wrapped up nice and neat. There really is a lot in there.
First up are the two fronts that are called emboss resist. You can't see it in the picture here but you will below. There is a pattern embossed in clear on these cards so that we can color them and then add water and the color won't stick to the embossed patter and you will get a great design to show through.
I started with the hearts and decided to just use two colors. First you just color over the paper and you can see the pattern start to show through.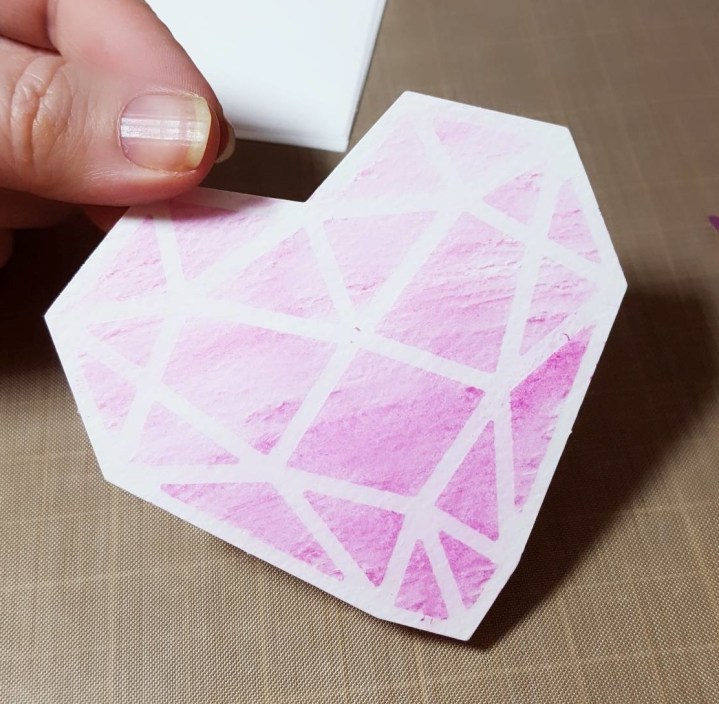 I then took the paintbrush and a bit of water and colored over the pattern. You can really see it pop out once you do this. With the water you can blend and pull the color how you like. To have more color on your page just press harder with your colored pencils to start with more color to work with.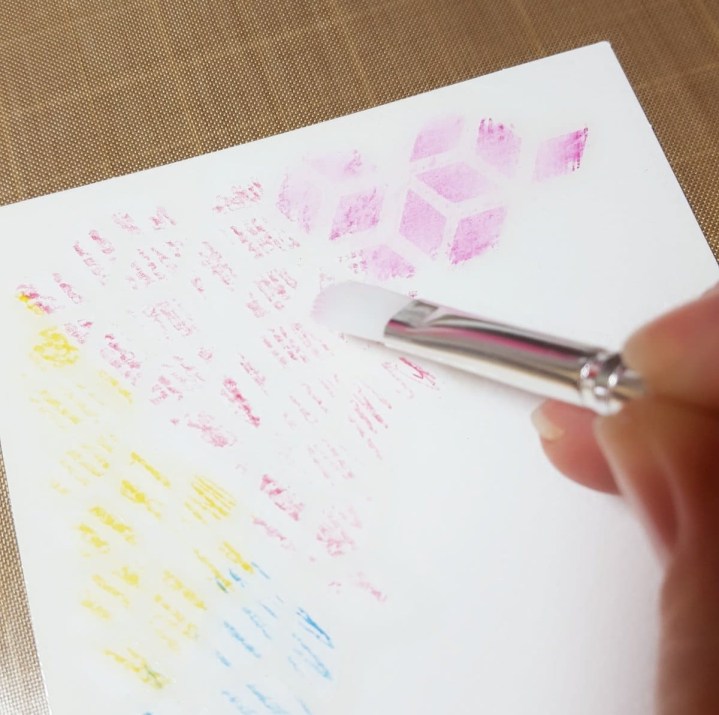 For the other card I used all four colors and then watercolored with my paint brush.
Here is one of the finished fronts. Since I'm coloring and then adding water all of them turn out different which is always so fun.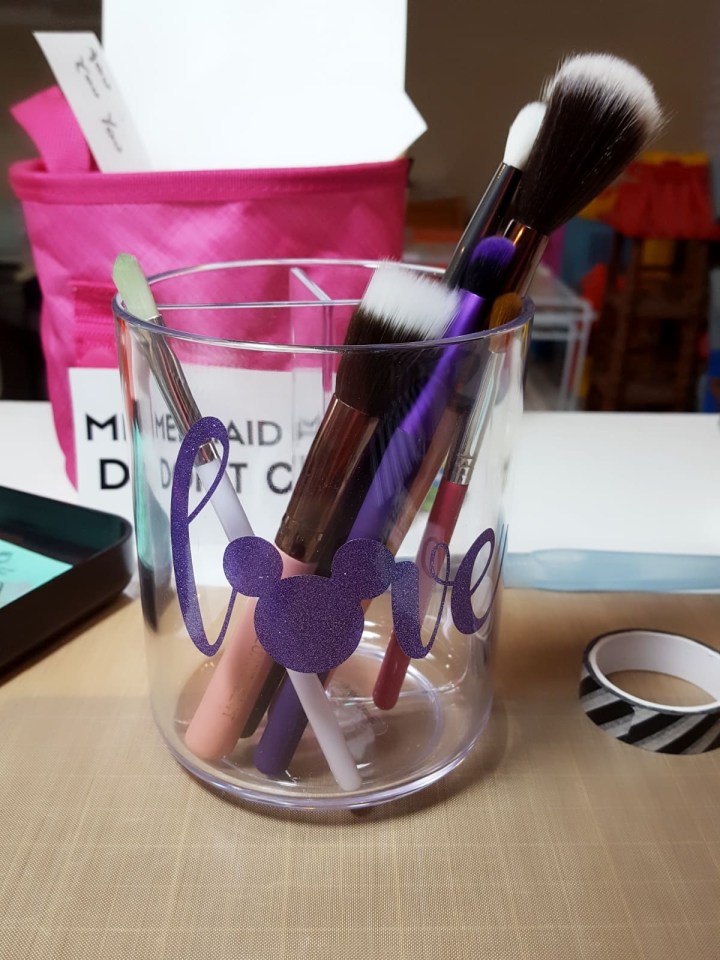 Before I go on, I wanted to pass on a tip that my friend gave me. I was doing another project and said I didn't have enough brushes and she said I could use makeup brushes! I had never thought of that but I dug into my box stash and grabbed some to play around with. They will all give different looks and can be used for different things but if you have a stash from boxes or just around the house then pull those out and start creating!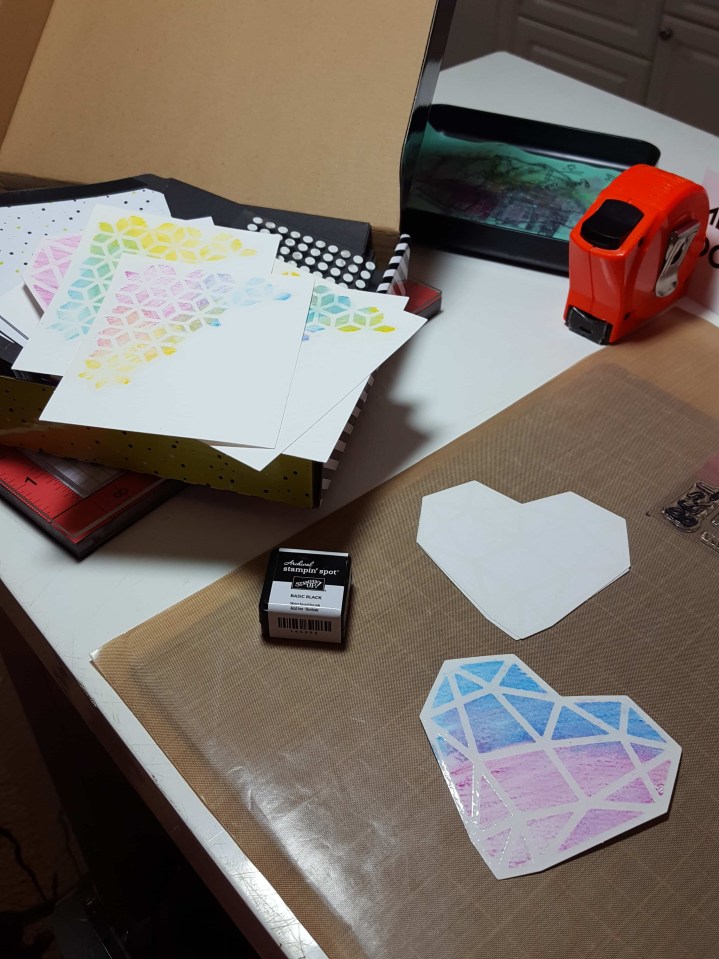 Since I was using so very little water you can see how I worked. I colored and then just set aside but if you used more water you could lay them out to dry and/or dry them with your heat gun.
Next I had fun in stamping some sayings on each card. I played around with the words and patterns to make cards that I think I will use more often.
When assembling I added the blingy flower.  I had seen a spoiler and thought this would be a fabric but its a nice and thick plastic and so shiny! I love it even more than I thought I would but a little goes a long way. There sample showed two flowers which was a bit much for me so I just did one and I'll use the extra flowers on another project.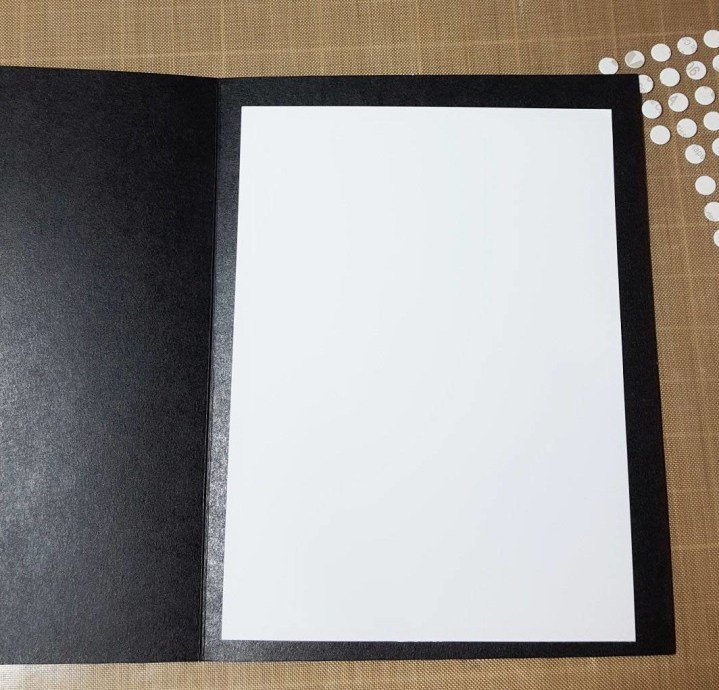 Have you been wondering how you were going to write in a black card? While I do have white pens not everyone does and Paper Pumpkin thought of that and included white inserts for us to put inside the cards. This allows you to use whatever color pen you want.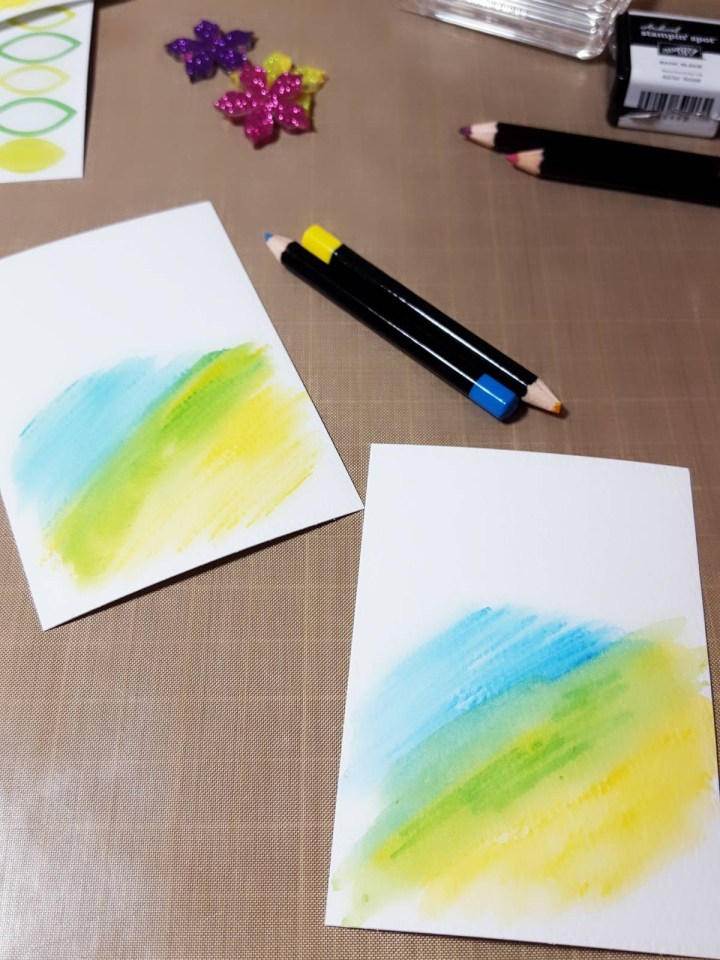 Next up was just to water color. They suggested using just two colors and then when you blend in the middle you get the third color. I thought that was great and liked the samples so I used the same blue and yellow on my cards.
I haven't mentioned it yet but they included so much washi tape for these cards. I love washi and can never get too much so I love this look. I also still have a lot left to use on other projects which I love.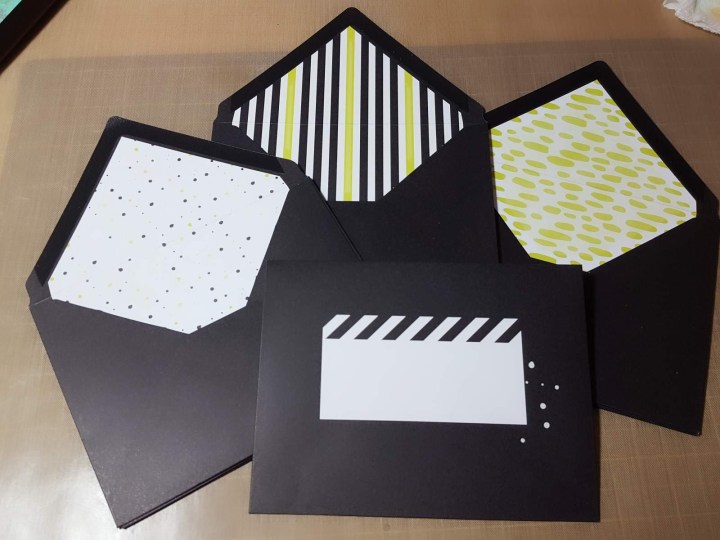 Envelopes were also sent and again they already have a white area so they can be addressed and mailed out.  They even have built in envelope liners with a new Stampin' up color that won't be available until June 1st.  The green color is Lemon Lime Twist and is a neon green/yellow and is so fantastic. My boys are always wearing neon so I can't wait to get my hands on more items with this color. For now I will have to be happy with this sneak peek in my Paper Pumpkin box.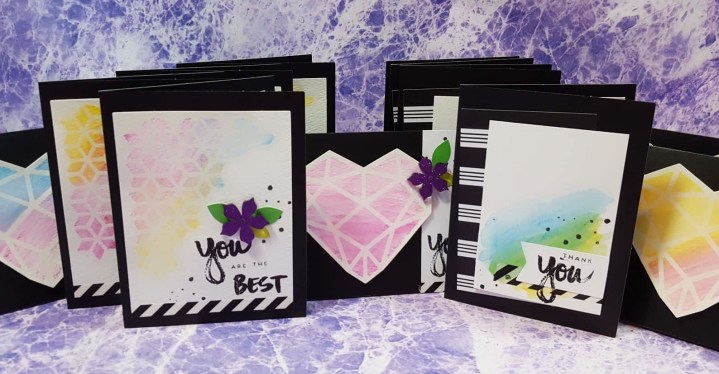 All of my cards lined up and ready to go. I love having a stash to pull from for so many different occasions.
Paper Pumpkin sent a great box this month. I loved the colors and the pencils and watercoloring. The techniques this month are very popular right now so the cards will go great with lots of other things I'm creating and working on. Getting supplies to play with each month is so fun and then having a project to take on the go is great. I do most of my cards when I get together with friends and I can just grab my Paper Pumpkin box and go. I love that and can't wait to see what project they send for next month.
What did you think of this month's Paper Pumpkin kit?