Fandom of the Month is a subscription that sends 3-4 geeky fandom themed jewelry pieces each month. It's $13 per month + shipping, which makes it an excellent geeky value.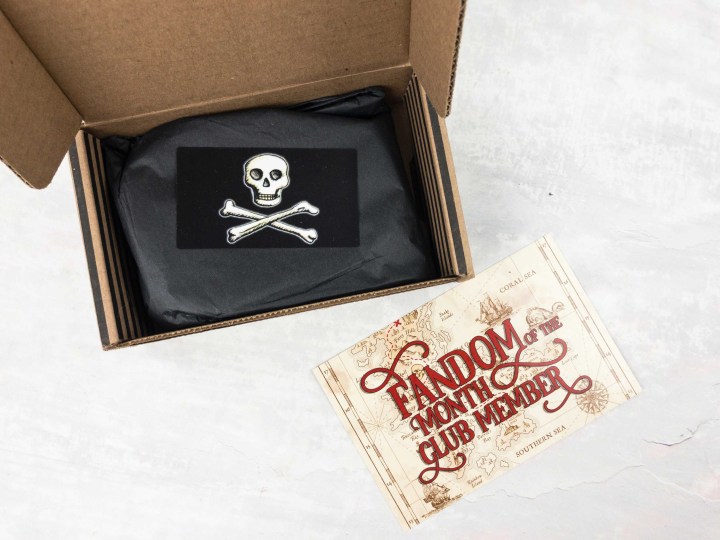 Fandom of the Month always has awesome info card designs. This month it's Pirate-themed!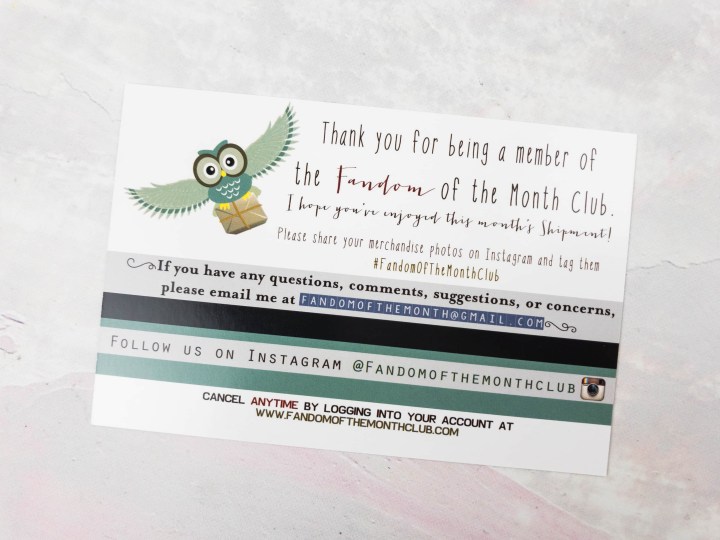 DEAL: Use coupon code NEWMEMBER to save $3 on your first box!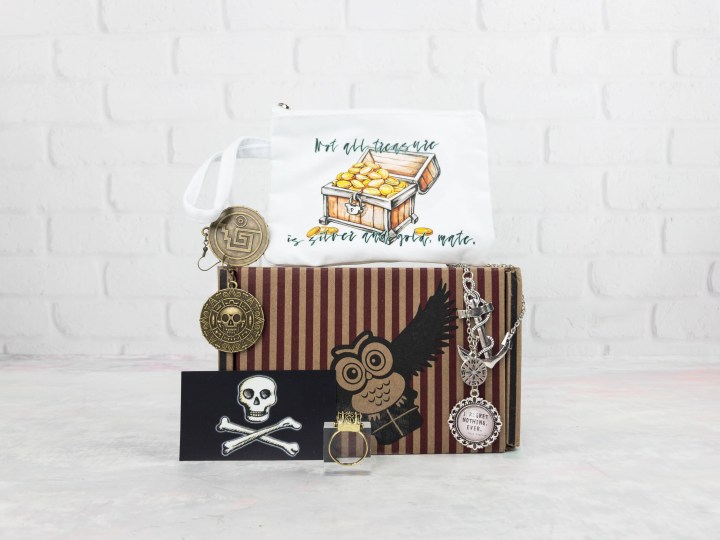 Everything in the box this month!
Custom-Printed Pouch: "Not all treasure is silver and gold, mate." Captain Jack's retort to Will, who insisted he wasn't obsessed with treasure! This is a cute printed pouch and I love these for keeping fandoms separate – it makes the pieces super easy to locate.
Yarg, a magnet! This magnet isn't strong enough for holding up items on your fridge, but it's perfect for adding some pirate flair to a boring fridge door.
"I Regret Nothing. Ever" Jack Sparrow Quote Necklace
This nautical necklace is fantastic! This silvery piece features a large anchor, a faux compass, and a resin disc with Jack Sparrow's quote: I regret nothing. Ever. What else would a pirate say?
The anchor is just over 2″ long from top to bottom, for reference.
Gold Coin Earrings: Love those skulls! These are 1.5″ wide and are going to make a geeky chic summertime statement!
I think these earrings are absolutely fantastic. They look like something a pirate would fashion for herself out of found coins.  I'm not entirely sure of the design on the back – it looks a bit like a labyrinth. Clue me in?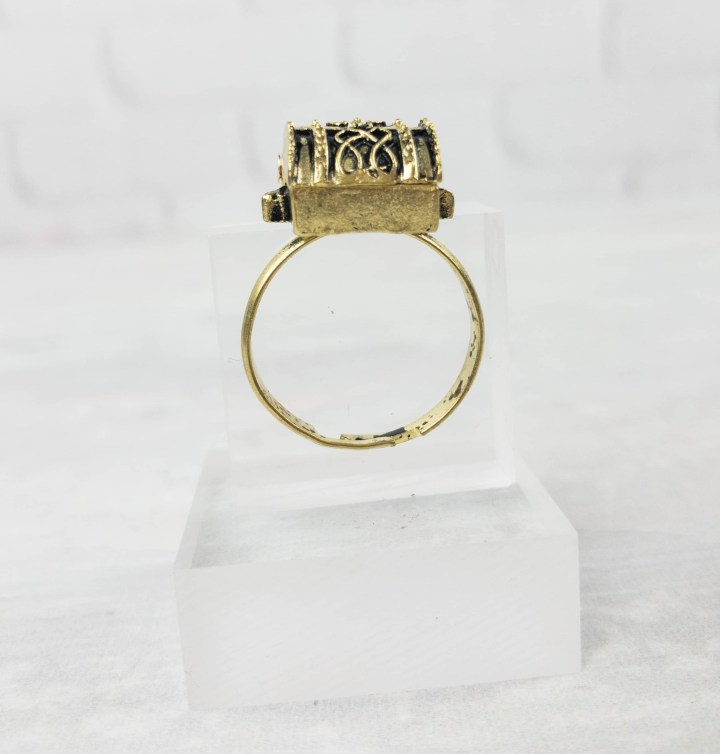 Treasure Chest Ring: This treasure chest is a bit of an odd piece!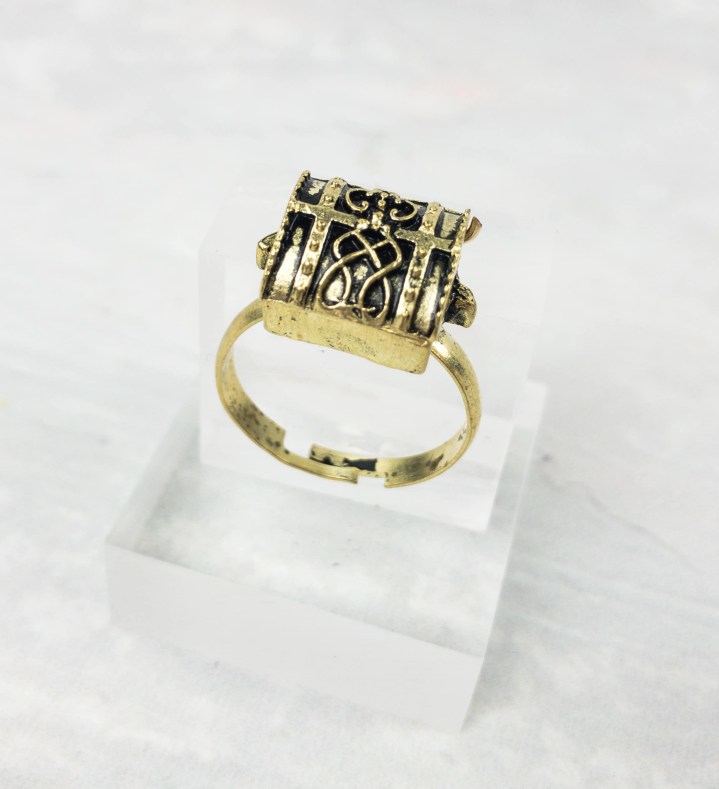 It's set on an adjustable base…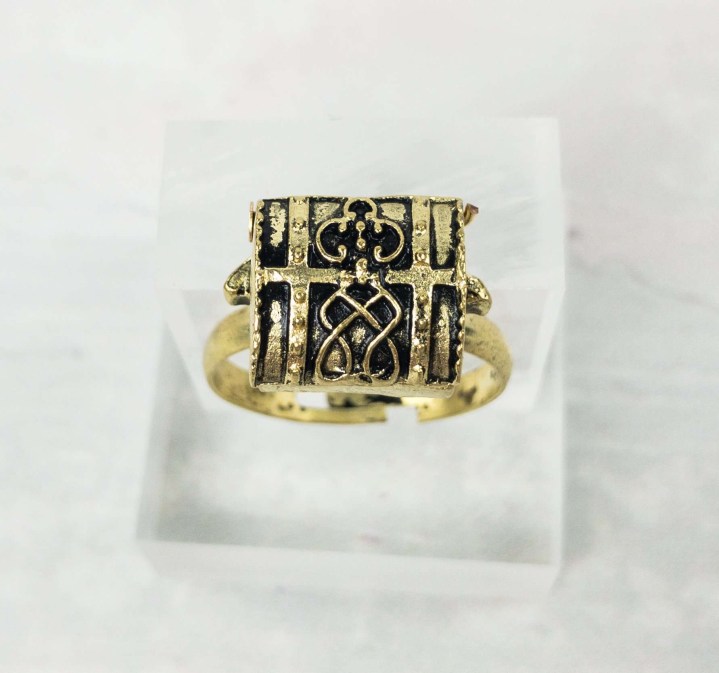 With a great little intricate design..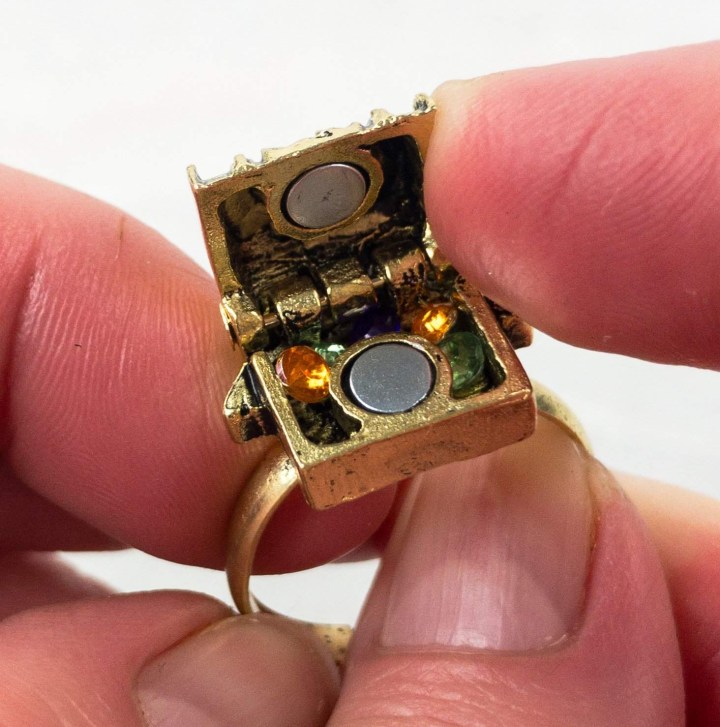 And opens to reveal treasure inside! The stones are loose and I wish they were set in, so I think I'll take some tweezers and glue and have a quick little DIY at it.
I think this subscription is fantastic for the price, and the theme this month was excellent! I'm especially pleased with the earrings and necklace, they're both something I'll wear frequently and since they're different colored metals, I'll have a chance to pirate up all my outfits! I also liked that the printing on the pouch seemed much improved over last month!
Have you tried Fandom of the Month? What did you think of this month's box?