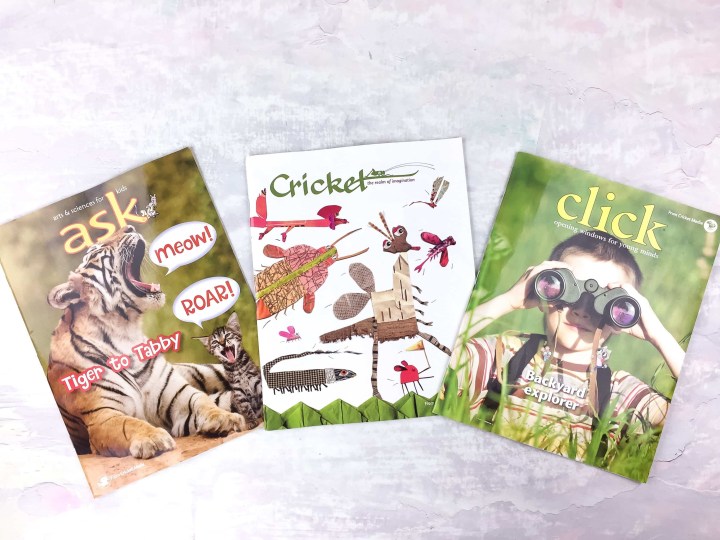 CRICKET Magazine delivers magazines to kids who love contemporary stories and classic literature from the best writers all around the globe. Nine times a year, you'll get a magazine filled with illustrations, puzzles, and entertaining feature stories for $33.95 per year. You'll also get to meet CRICKET's signature cast who'll offer humorous side comments, teach vocabulary, and introduce advance concepts – plus it's 100% ad free!
CRICKET is ideal for kids age 9 to 14, but they have other titles perfect for ages all the way down to newborn to more advanced magazines for kids 15+. We thought it would be great to show a few of the different subscriptions they have available too. We're currently also getting:
CLICK Magazine for kids ages 3-6: introduces your children to science, art, nature, and environmental issues
ASK Magazine for kids ages 6-9: fun facts, informative scientific articles, and hands-on activities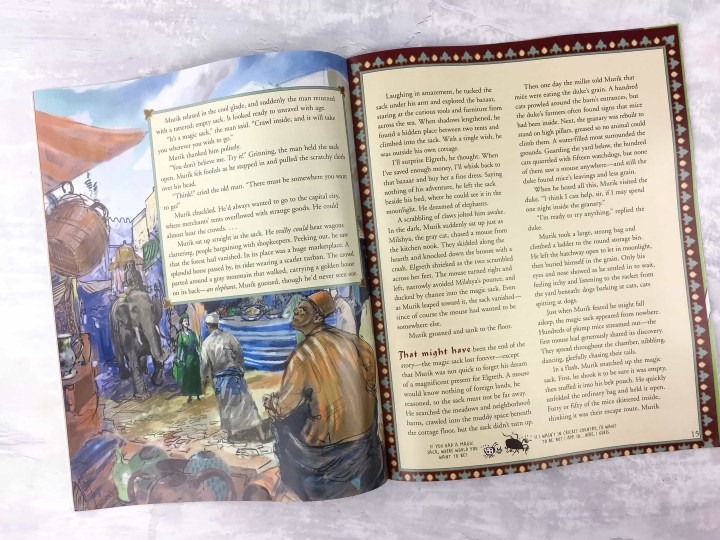 Stories are paired with colorful illustrations, a surefire way to entice a young mind's imagination. We get Cricket Magazine for our daughter – it's one of the very few resources that we have found that has an appropriate lexile reading level for older school age readers without controversial themes (like gore, overt romance, etc.). It's perfect for readers really stretching their vocabularies. 
This issue included a story about a Jewish boy in early 16th century Portugal. You can pick up more pieces of interesting information from the Author's Notes, which are placed at the end of every story. That story included a brief non-violent basic explanation of the Inquisition. It used but didn't explain the word torture.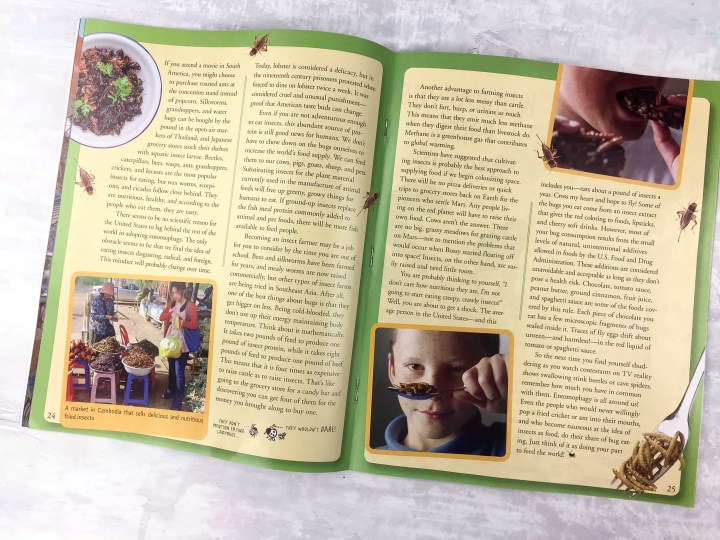 This nonfiction piece covered bugs as a food source! It was accompanied by a page of Bugalicious Party Recipes (which didn't encourage my child to eat bugs).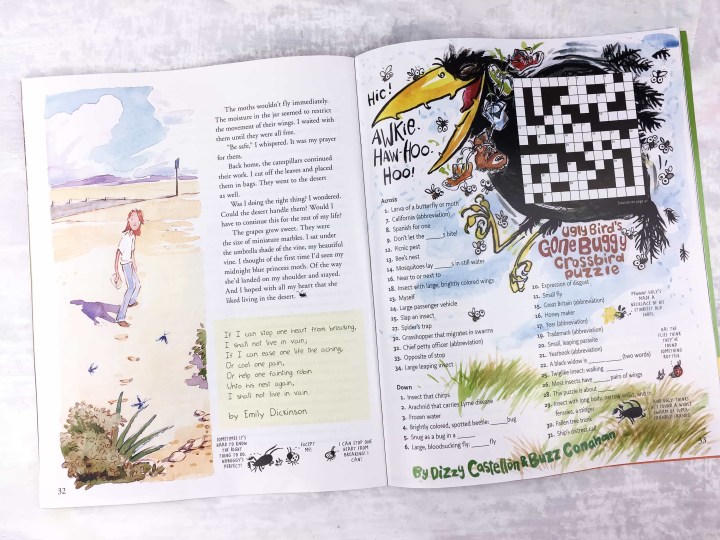 The magazine also has interactive pages like this crossword puzzle. Enrich children's vocabulary – the fun way! For arts and crafts, the magazine provides creative prompts that you can try with the kids. Basically, Cricket reminds kids (and kids at heart) that learning doesn't have to be boring.

Note that the magazine does include serial stories – ones that bridge one issue to the next. I myself was THRILLED to see the second part of Percy Plumb, Cowboy. I read the first part over dinner to the kids last issue and I couldn't wait to read the ending!
Cricket Media has 2 magazines for the 3-6 year old group: Ladybug & Click. Be sure to check out more about Ladybug here! While Ladybug is focused on poems and stories, Click is focused on a fun intro to science!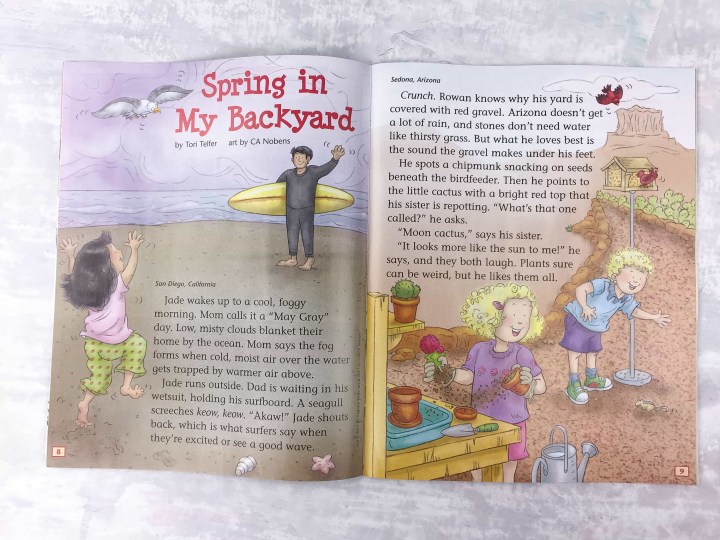 This is a perfect read-together magazine – it comes with a comic style intro, moves into a story, and has nonfiction, poems, and info to follow. This particular issue included a pretend journal to model observation making.
My 6-year-old reads this magazine cover to cover with a parent every time it comes in.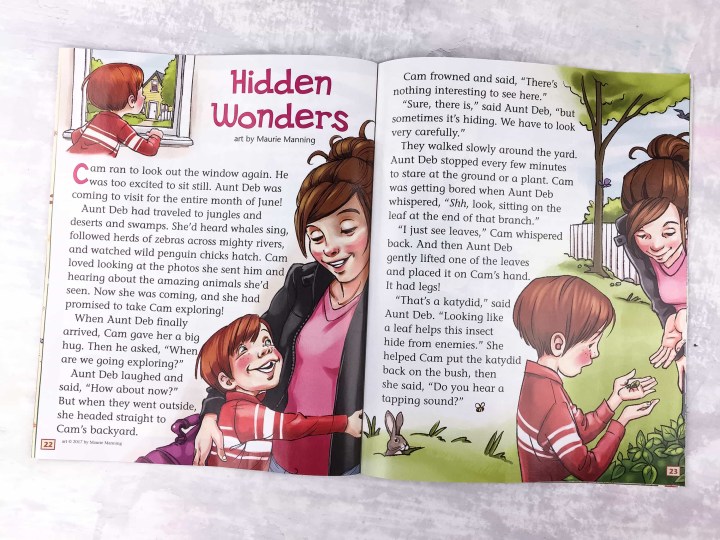 This issue was about backyard exploring. The back cover had a cut out DIY info notebook that was also a hit.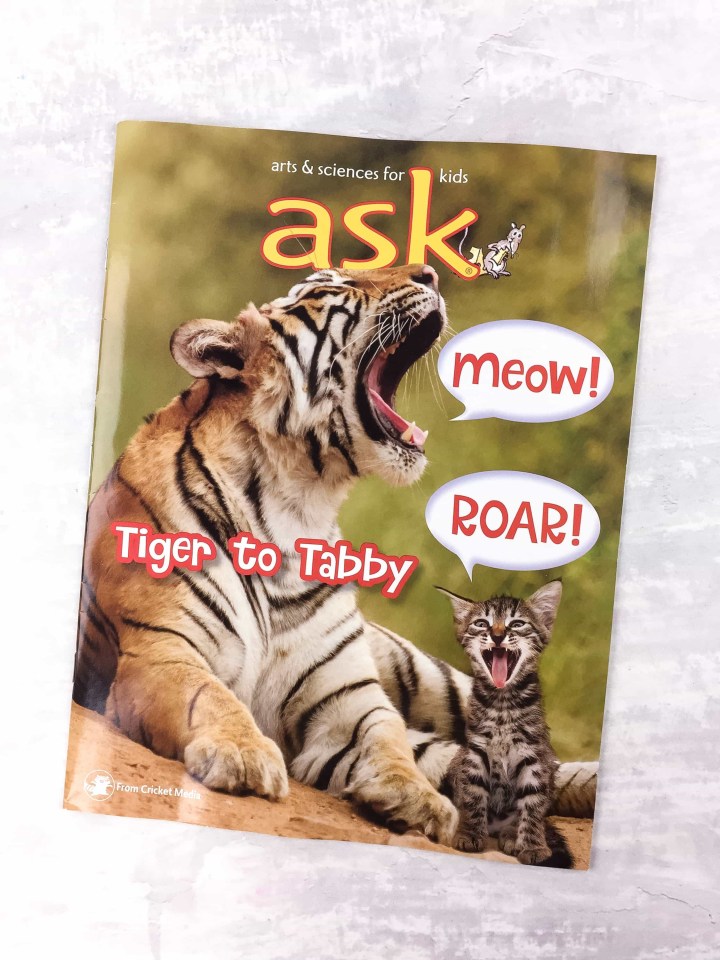 Cricket Media has 2 magazines for the 6-9 year old group: ASK and SPIDER. We selected Cricket over Spider for our 8 year old, because her reading level is quite advanced. However, we chose to stick with Ask over Muse, which is their science-oriented magazine for 9-14 year olds for two reasons: 1 – we have a 6 year old and she often reads aloud to him and 2 – Muse seemed more like a textbook. She'll totally be into it when she's older but for now we preferred the fun, more casual Ask for her age.
The magazine opens with a fun-facts spread and moves into a comic about a baby mountain lion, then straight into an informational piece about wild and domestic cats.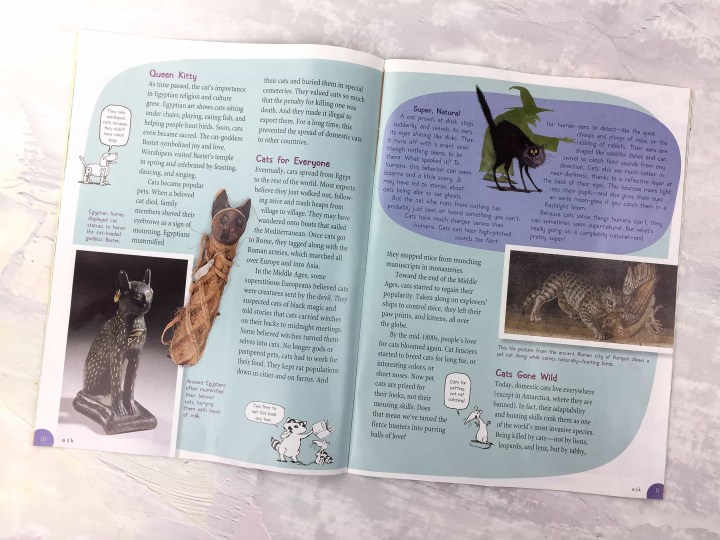 All the material is well organized, with intriguing text features and sidebars.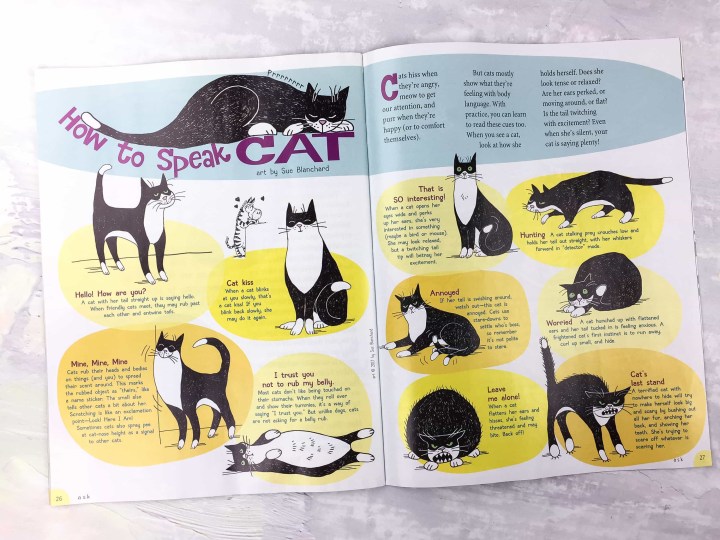 This got a big laugh! Also included were stories on animal conservation, cat anatomy, as well as future suggested reading (I always love a good library guide!).
We love Cricket! They do offer the regular magazine, digital only, and digital+print packages. We prefer the print version for kids and keep them at the dining room table for those breakfast and dinner reading moments that might otherwise be wasted on reading a cereal box. My daughter takes her magazines to school to read on the bus and during free-reading time in class. As our son improves his reading skills we are really loving Click because he can read it himself!
Have you subscribed to one of the CRICKET magazines for your kids? What did you think?