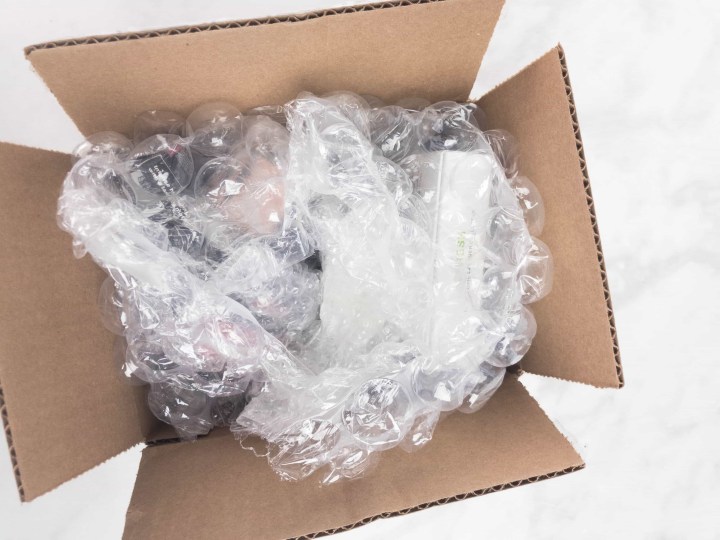 butter LONDON Mystery Box brings you imaginative London-inspired luxury beauty products. Butter London occasionally curates mystery bags filled with beauty items, gifts, and more at deep discounts!
This box is sold out. If you're interested in hearing about the next mystery box they offer, be sure to subscribe to our email notifications!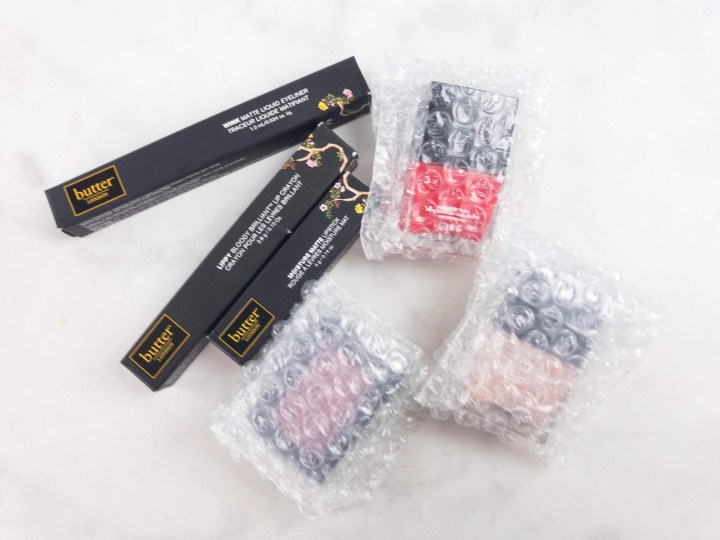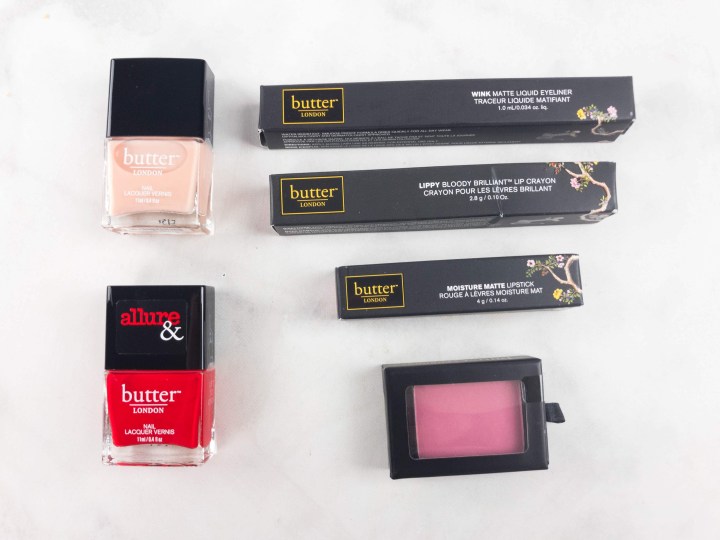 Everything in my March 2017 butter London Mystery Box!
My mystery box was actually missing from the box! I ordered an extra item in addition to the box in order to receive the March GWP. One of my items was actually different from the spoilers I found – I am unsure if they intended to have variations or just substituted an item for later boxes.
Hibiscus Blush Clutch Single ($10) Originally $15. This pretty cool pink has a great velvety texture (the pigments are micronized) and applies lightly. A great blush perfect for so many skin tones!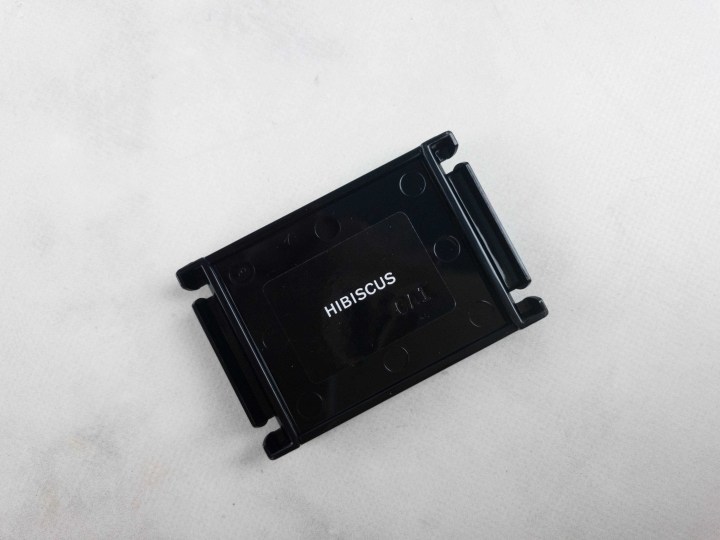 It's part of a swappable system although great on its own!
Statement Piece Nail Lacquer ($10) Originally $15 I received 2 polishes, both were part of an Allure collaboration. This one is a pure, clear red.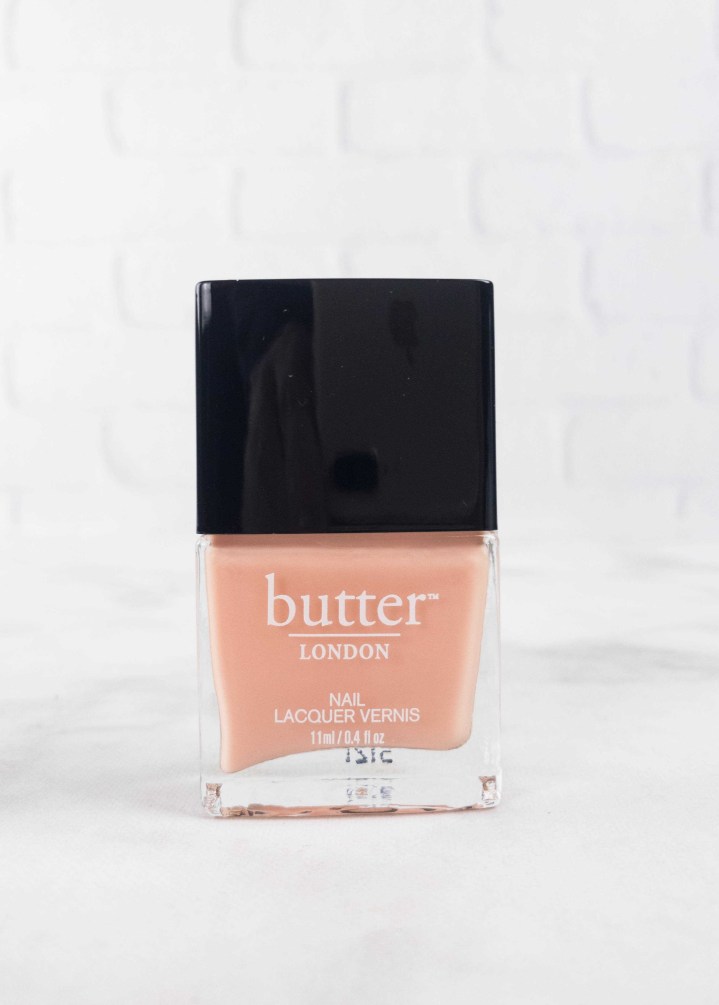 Nude Stilettos Nail Lacquer ($10) Originally $15. Although it wasn't labeled this shade was also created in collaboration with Allure. It's a fantastic peachy nude.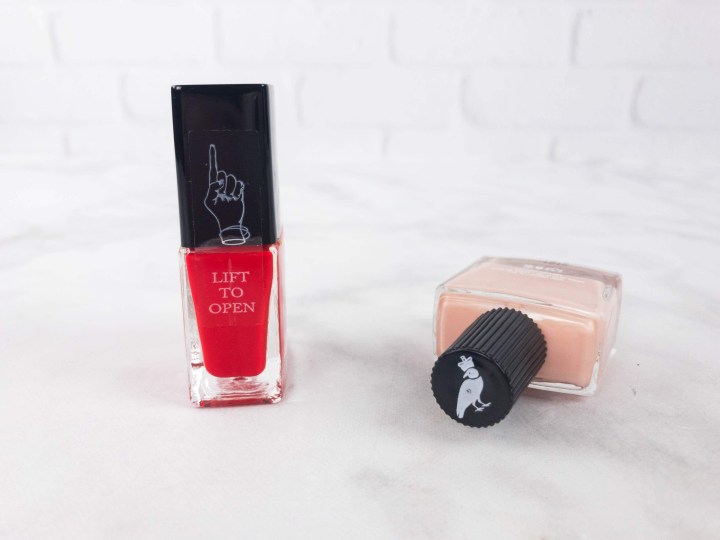 Butter LONDON polishes have removable caps so you can use the small cap underneath.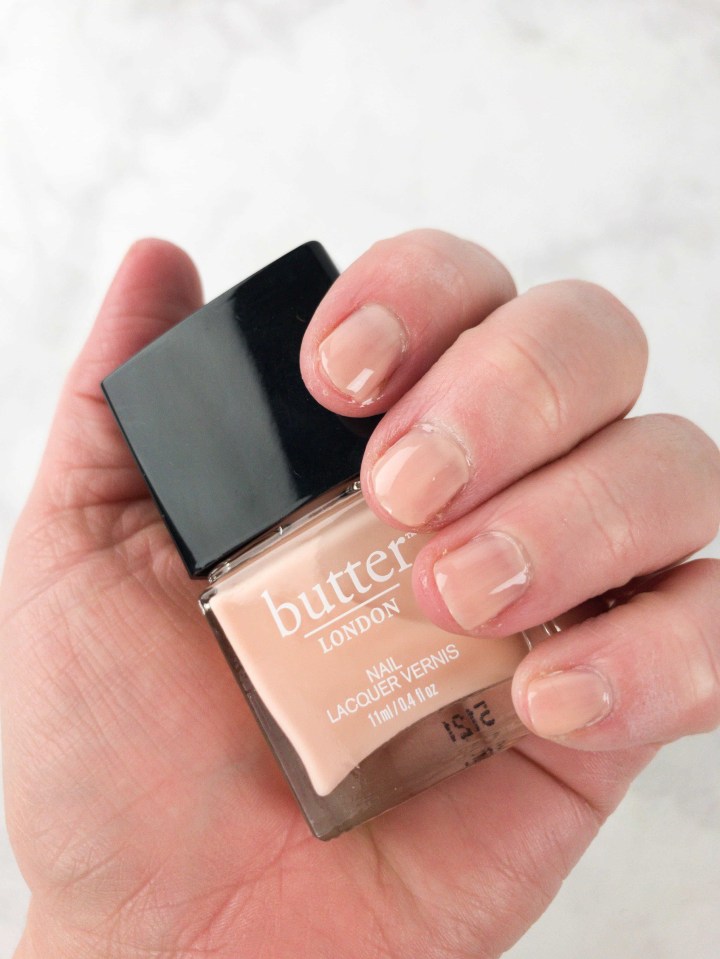 I decided to paint my nails with Nude Stilettos. It went on rather sheer and I really needed an all week mani, so I ended up going for 4 coats, which gave me the coverage I wanted (and apparently I forgot to take a picture of the result!). This photo is of 2 coats.
Moisture Matte Lipstick in Toff ($22) A rich, smooth moisturizing lipstick! The finish on this one is velvet matte and they describe the color as "musty mauve" (!). Some received Lippy Butter Liquid Lipstick in Toff ($18).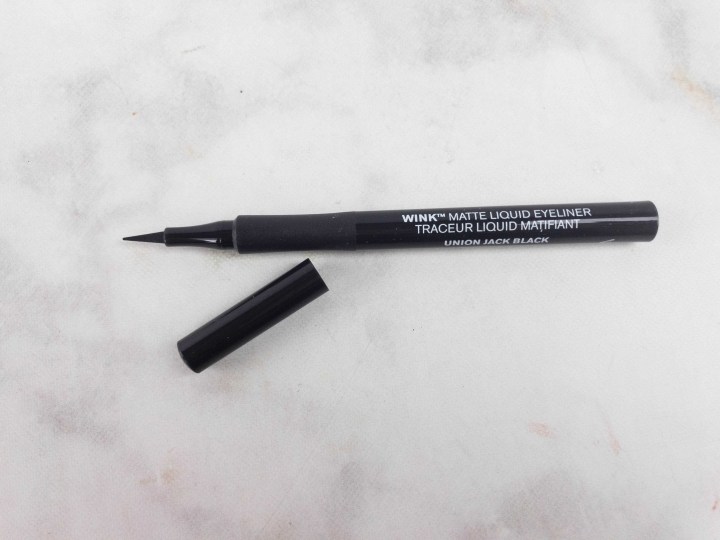 Wink Matte Liquid Eyeliner in Union Jack Black ($14) More matte! A great superblack liquid liner with the ability for super precise lines!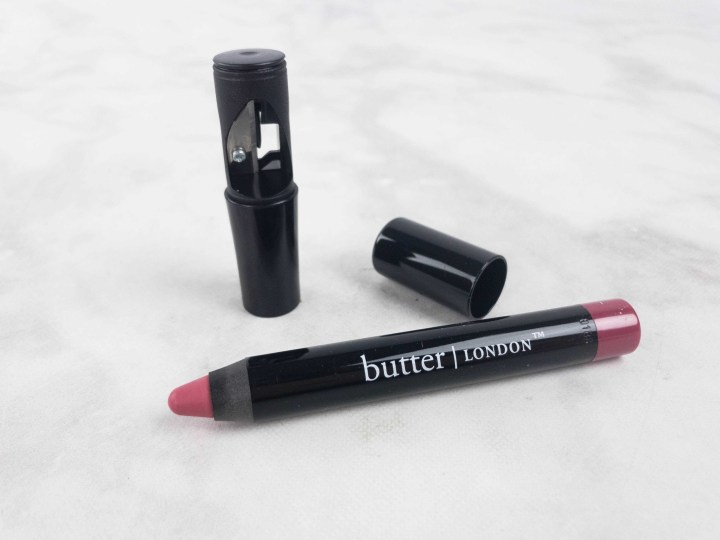 Lippy Bloody Brilliant Lip Crayon – Teddy Boy ($14) Originally $20. In dusty rose, it's easy to apply, excellent coverage, and a fun shiny finish!
It's so bloody brilliant because they include the sharpener!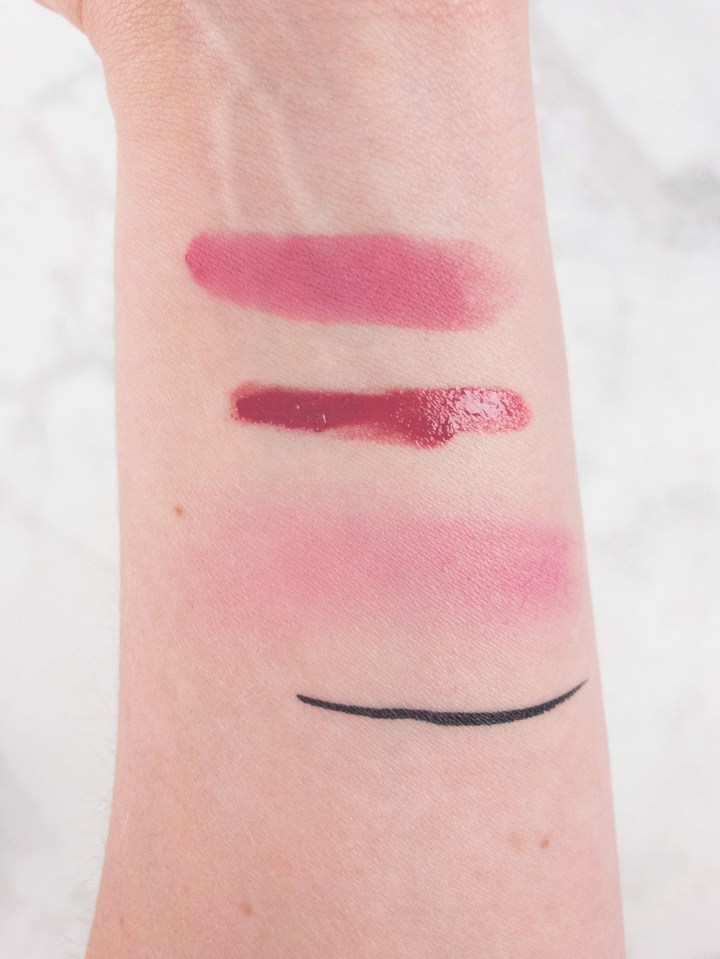 The matte lipstick, lip crayon, blush, and eyeliner!
And that was the box! Using the sale prices (most of these were clearance items), the value rang up to $80, not bad for a $35 box, and everything was brand new – probably just the past season. If you like Butter LONDON, the mystery box was an excellent value, especially if you are willing to add on a little more to get the free gift with purchase, if it's available.
Here's the rest of my order:
4-Piece Trend Lacquer Set ($19) I purchased this item to qualify for the GWP – it's going in my daughter's Easter Basket!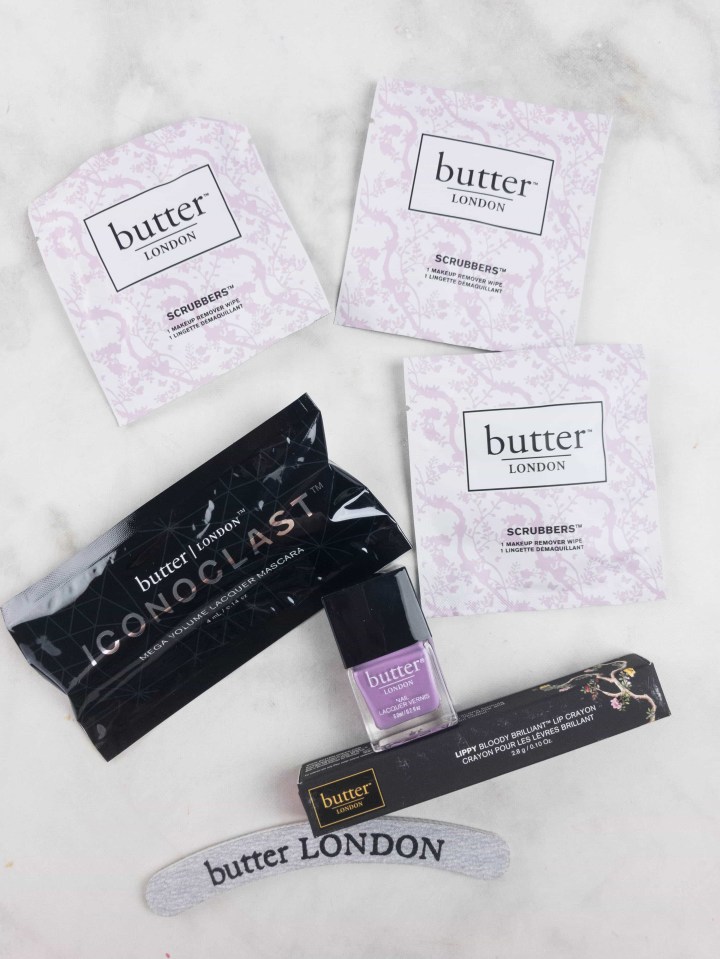 The March GWP! Along with a $50 order, I received the March GWP free
According to our standard value calculations, the free gift with purchase had a value of $38.22!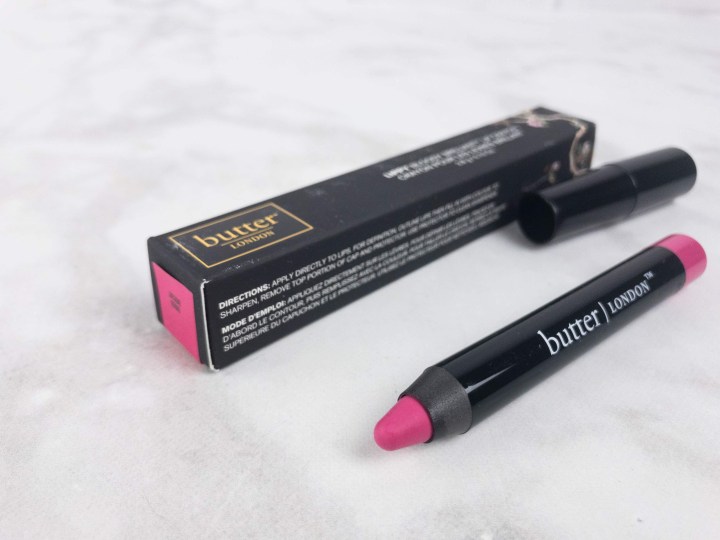 Super disco!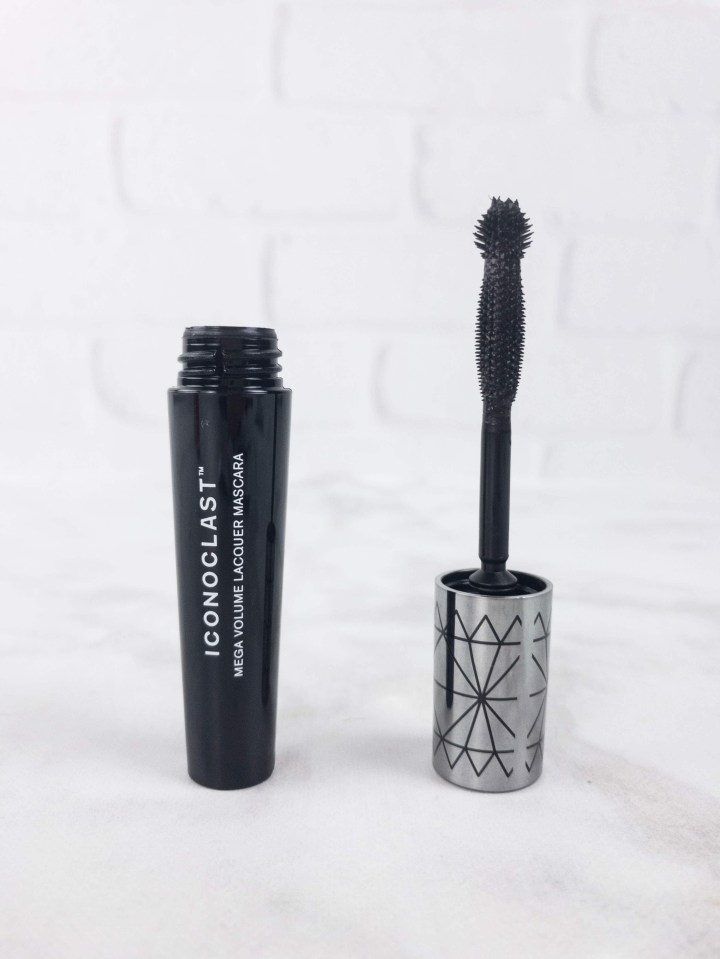 What a great little sample of mascara!