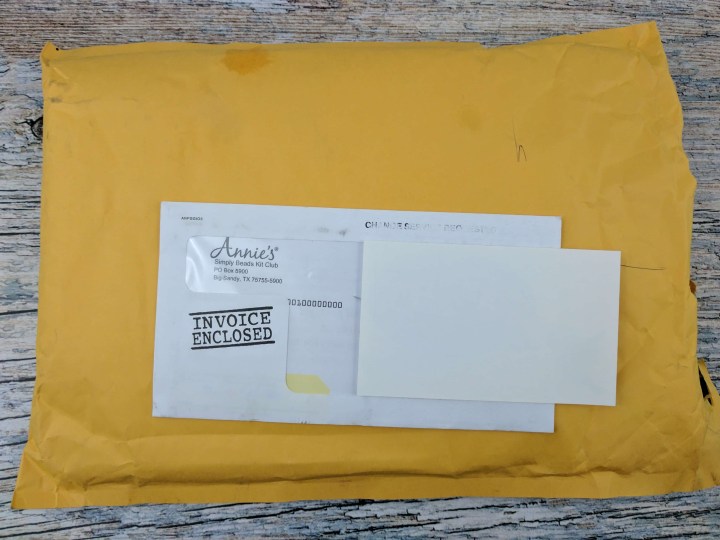 Annie's Simply Beads Kit-of-the-Month Club is a monthly jewelry subscription box where YOU make your own creation! For $19.99 per month, you'll receive a beading kit with step-by-step instruction and all the beads and findings you need to complete a piece of jewelry you'll love to wear!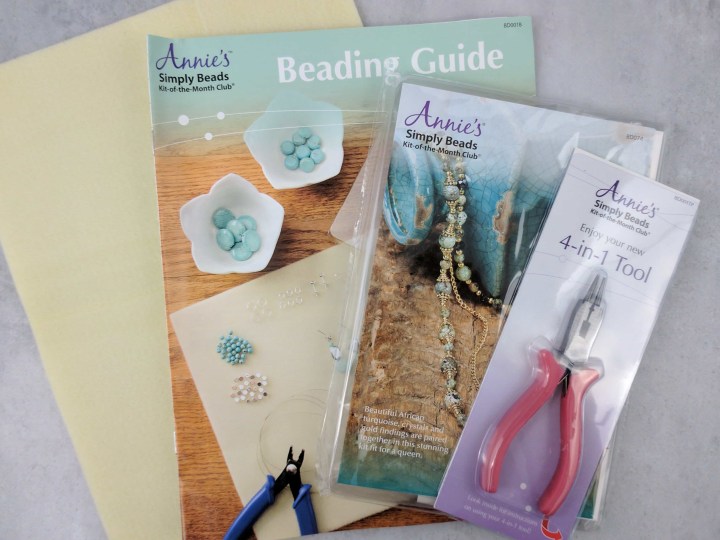 DEAL: Your first month is 50% off. You'll also receive a welcoming gift: a beading mat, a 4-in-1 tool and a beading guide to help you along.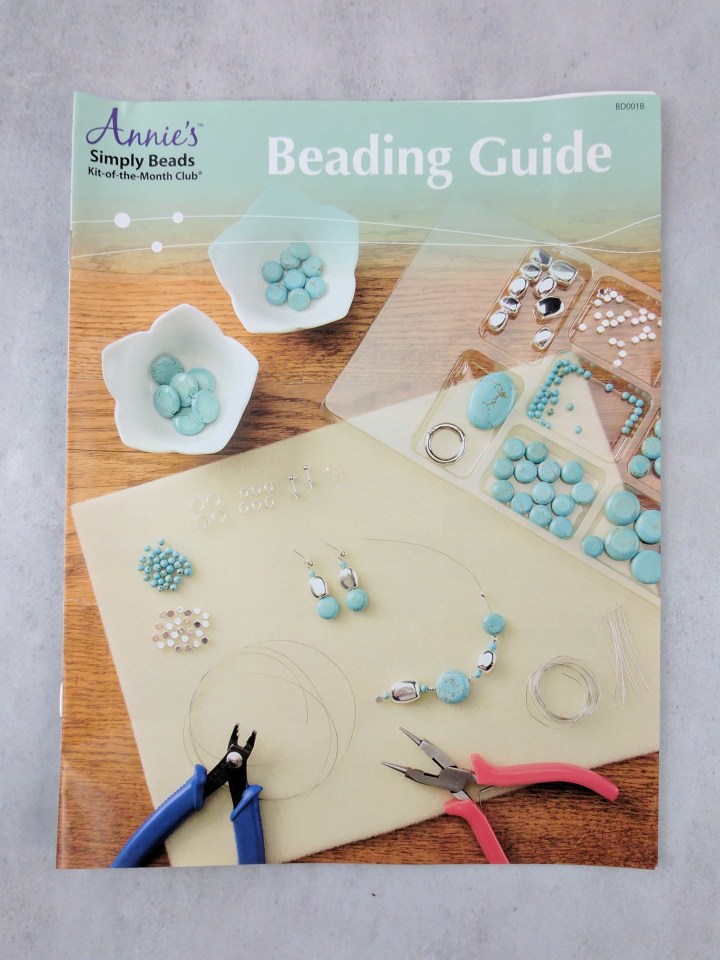 Everything came in an envelope. The first bonus item is this Beading Guide.
Inside the guide, you have short description and information on different tools used in jewelry making.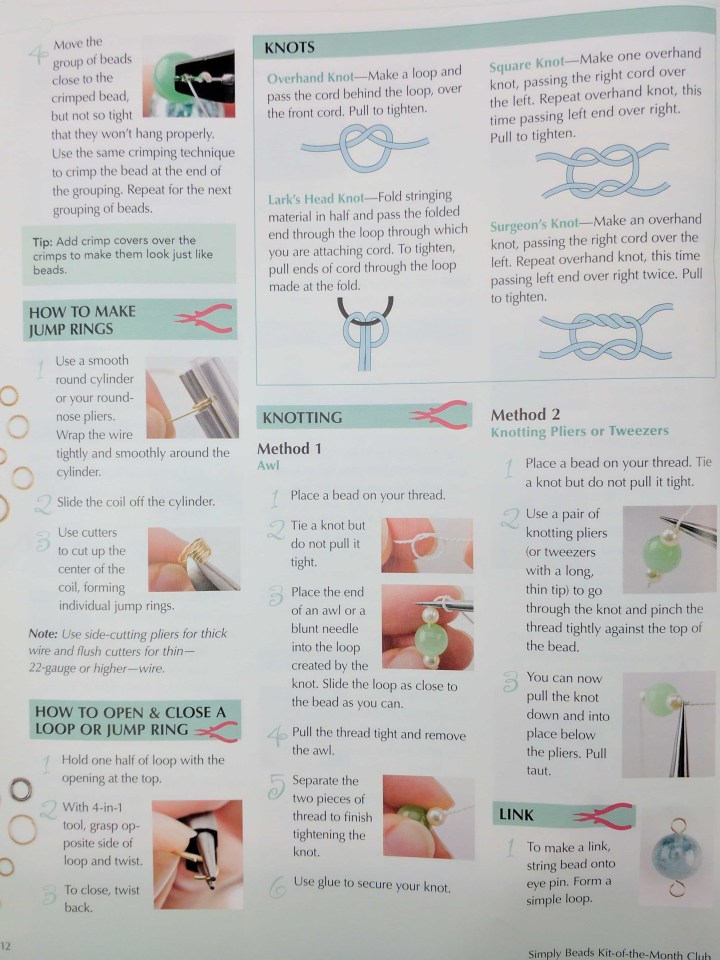 You also get introduced to techniques for making links, loops, knots and the like. Very useful!
The second bonus is the beading mat. I have quite a lot of beading mat already, but I never seem to have enough. They are so convenient to stop beads from rolling off your table (even when your table is not quite leveled, like my table for photography). They are also great to put down your tools instead of scratching the surface of your desk (I've been there). This mat can also be cleaned easily. Just throw them in your laundry and let it air dry. Good as new! The one I received in this kit seems to be slightly thicker than mine.
The third bonus is this 4-in-1 tool. Usually, pliers are quite expensive and I can spend easily 20-25$ on a single pair, so it's nice to have a pair of pliers that can do more than one thing right away! You're not in the situation of going to the craft store, looking for hours at the different type of pliers, wondering why they are all so different, and which one should you get first. I'm sure that after a couple of projects, you would better know which pliers you would need to better do the job.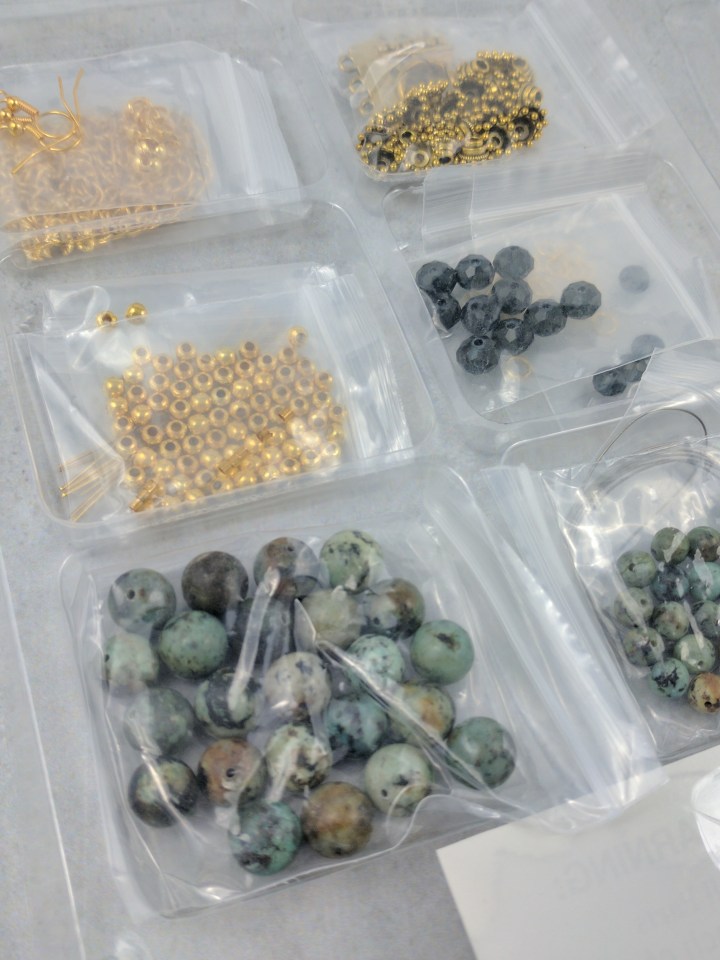 The kit itself comes in a plastic tray with deep dishes to keep all your beads and findings separate. It comes with its own plastic cover so you can move it around, even if you are not done with your project yet.
Set up is ready.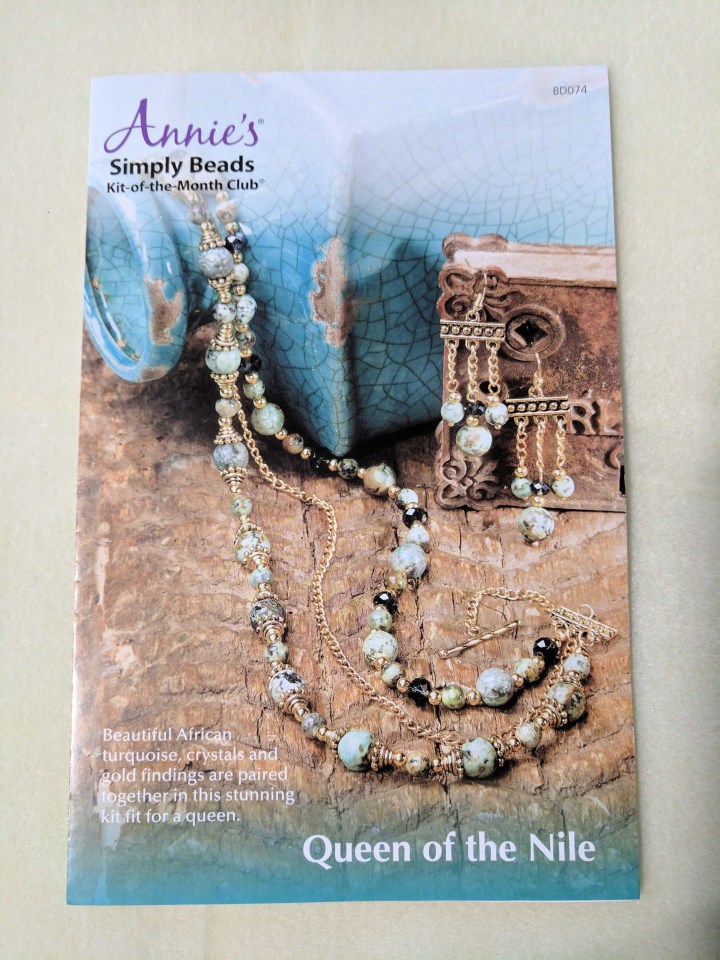 Our project is this lovely multi-row Queen of the Nile necklace with matching earrings using African Turquoise.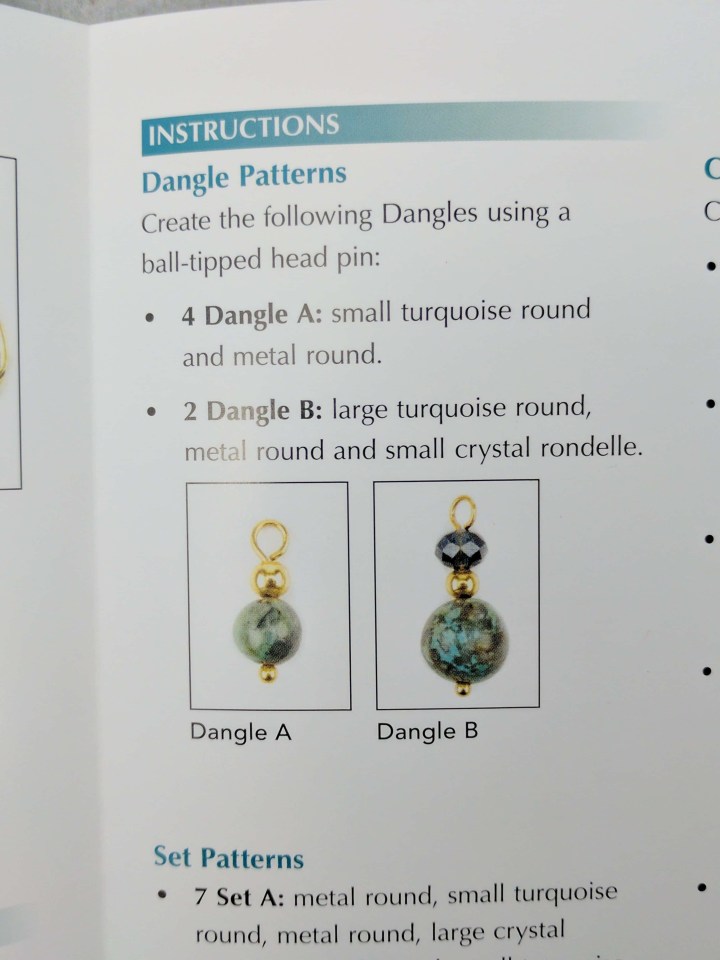 The instructions are clear and comes with pictures. Making the dangles was actually the hardest part of this design, but the way to make them were well explained in the beading guide.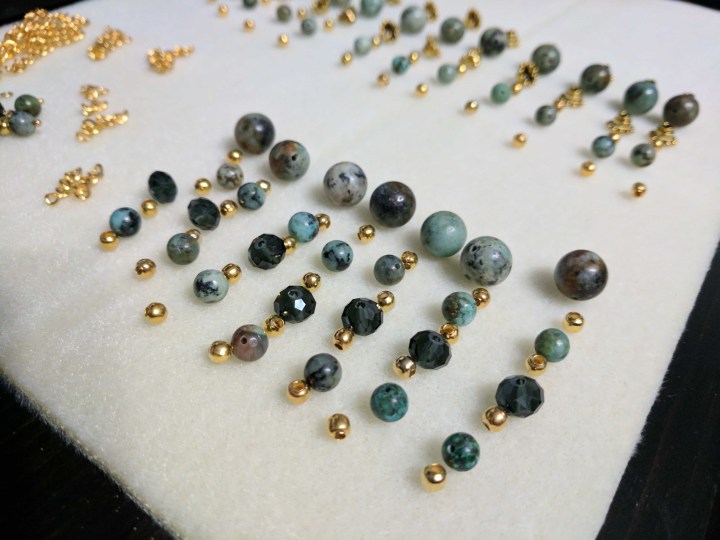 Everything is prepared, I just need to thread everything!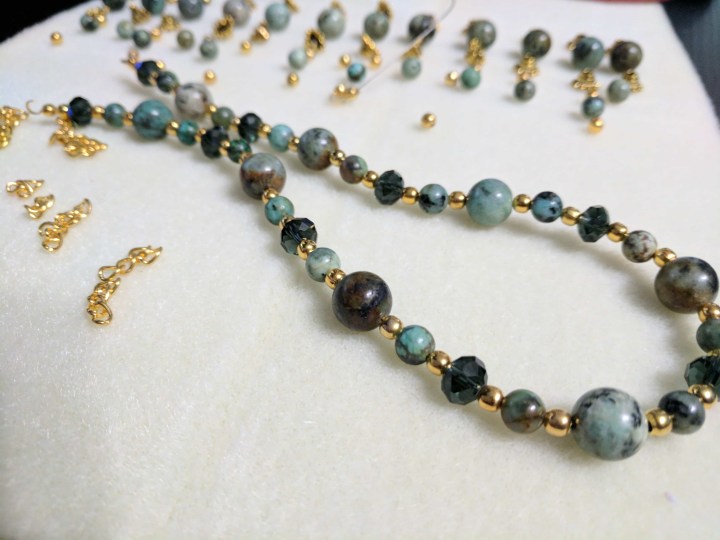 One strand done, one to go! Only two techniques were needed for this strand : crimping and threading. The crimping part was actually easier than I thought and clever with the use of the calottes!
All that was left to do was to open a lot of jump rings to attach everything together. I will admit, I used a second pair of pliers to do this.
All done!
This is a long and heavier necklace than I'm used to making, but I like it! The mix of the green beads and the gold with just the right amount of sparks from the rondelles is quite fun! I'm not sure about the earrings, I'm a bit meh about the bar.
I love that we received a project featuring gemstones! The quality of the beads was good, I only had one broken bead (the spare one).
This was a very fun project from Annie's Simply Beads Kit-of-the-Month. It's perfect for beginners, or for someone more advanced but who doesn't have a lot of time to creates. Few techniques are needed to achieve such a great looking design, and only one can be seen as challenging, but is well explained. The bonus that comes with the first kit is quite nice as well. The beading mat is a must, the beading guide helps you understand some of the techniques needed for the project, and the 4-in-1 tool is great to start, even though after a couple of kits, better pliers would be needed to avoid wrist fatigue and some choice words when the jump ring escapes somewhere!
Have you tried this Kit-of-the-Month? What did you think of this project?
Visit Annie's Simply Beads Kit-of-the-Month Club to subscribe or find out more!