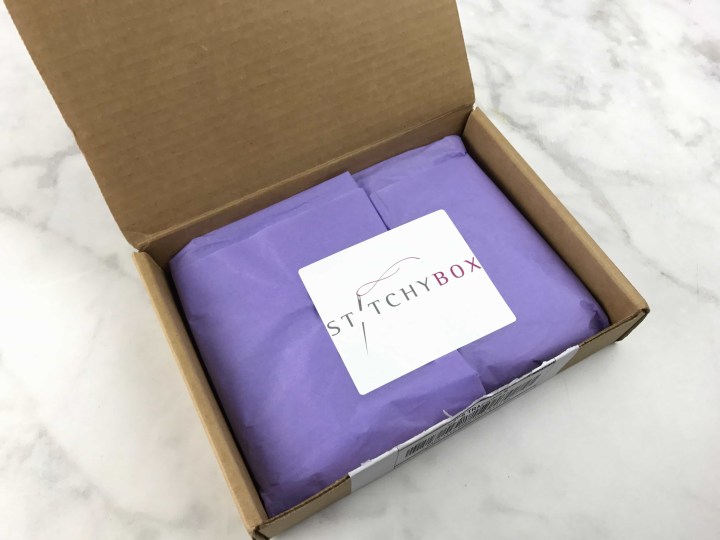 StitchyBox is a bi-monthly subscription box for counted thread embroiderers and cross-stitchers! I was surprised to see this subscription in a box – it's been shipping in an envelope for over a year, which I haven't minded at all.
There are two options – the Big Picture Box and the Detail-Oriented Box. With both styles you'll receive a variety of threads, from staples like DMC to specialty threads you may not have met yet, and embellishments, stitching accessories and other goodies! They also have a "Just the Threads" subscription. They recently changed their value estimate from $40 to $35.
With the Big Picture Box choose
2 Fat 16ths (one 14-16 count Aida, one 28-32 count linen OR evenweave – your choice) OR
1 Fat 8th (Aida, linen or evenweave).
With the Detail-Oriented Box pick
2 Fat 16ths (one 32-36 count linen, one 40 count linen) OR
Select 1 Fat 8th (either 32-36 count linen or 40 count linen)
Stitchy Box also now offers add-on subscriptions (also available stand-alone):  Stitch It Up (XS charts), Bling It Up (bead & crystal), as well as limited edition chart designs and series!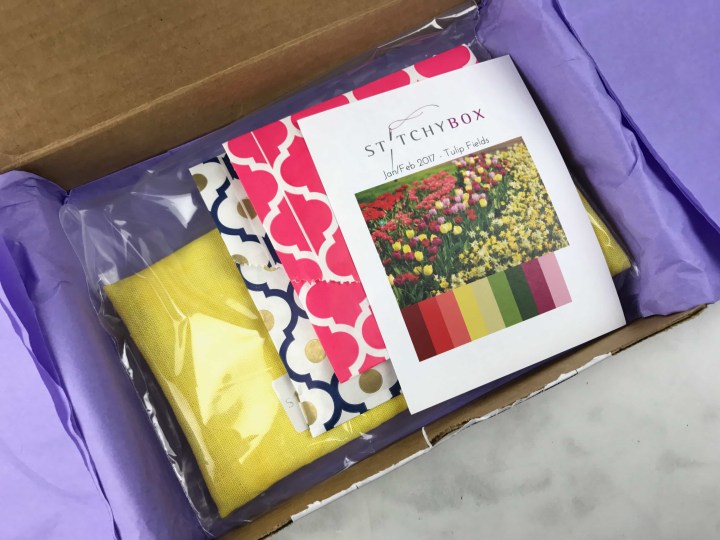 NOTE: When you visit this subscription all the options are sold out. You must get on the wait list, but there will generally be a spot for you in the next round of shipments!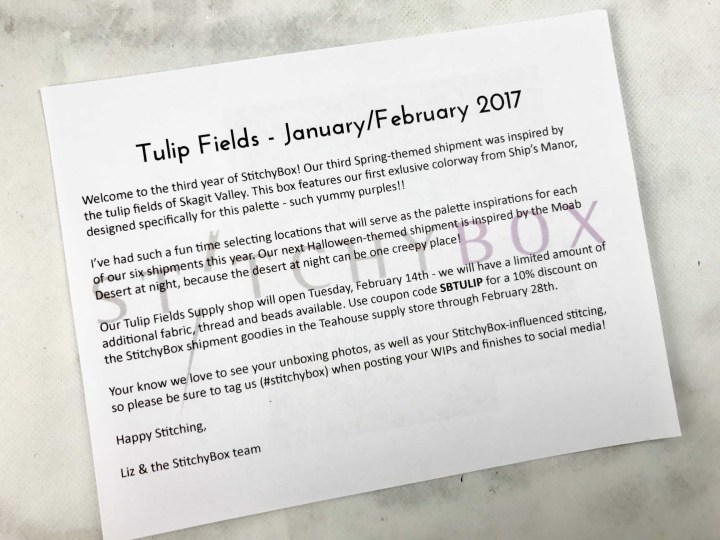 The information card gives a bit of details about each item, plus info about the supply shop (you can buy more of what you love, but usually only for a limited time – supplies are sometimes hand-dyed just for this box).
This month the inspiration was Tulip Fields. The palettes for 2017 are found in nature.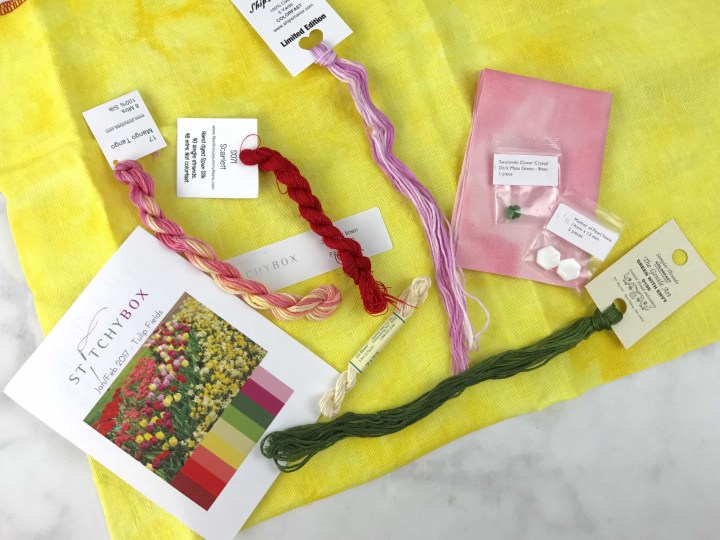 All the goodies this month – certainly the vibrant end of the natural spectrum!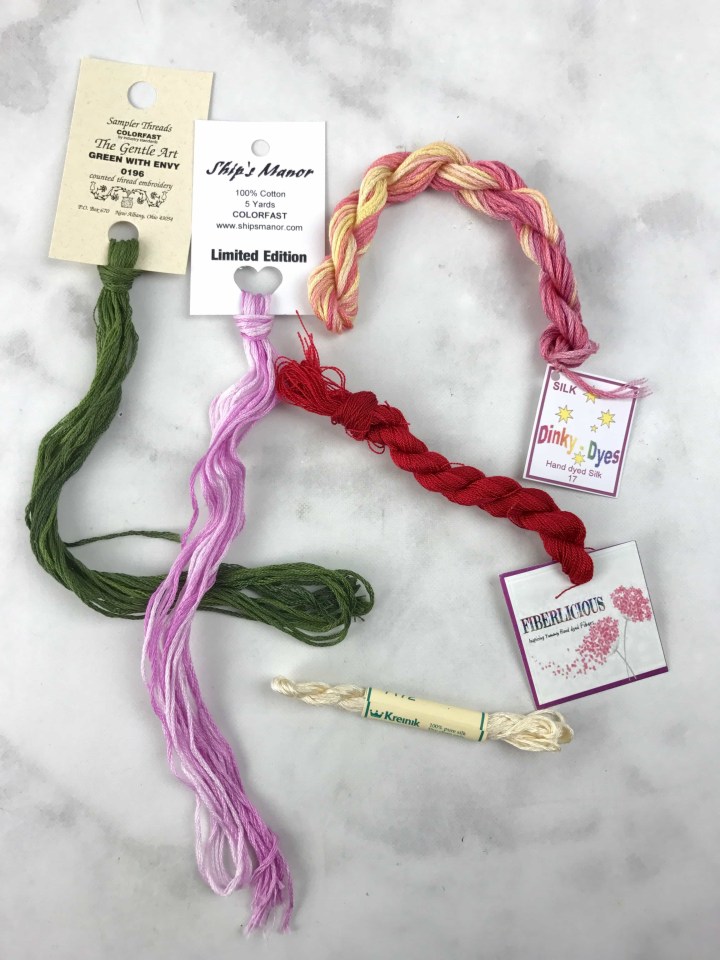 The Gentle Art Green With Envy Cotton Floss ($2.40) I love TGA's overdyed sampler threads – they're colorfast and easy to stitch with. This green seems easy to match with something I'm stitching! This is a brand new color for this summer, here first!
Fiberlicious Scarlett Spun Silk ($4) Love this fun vibrant red – and it's pretty perfect for Christmas stitches!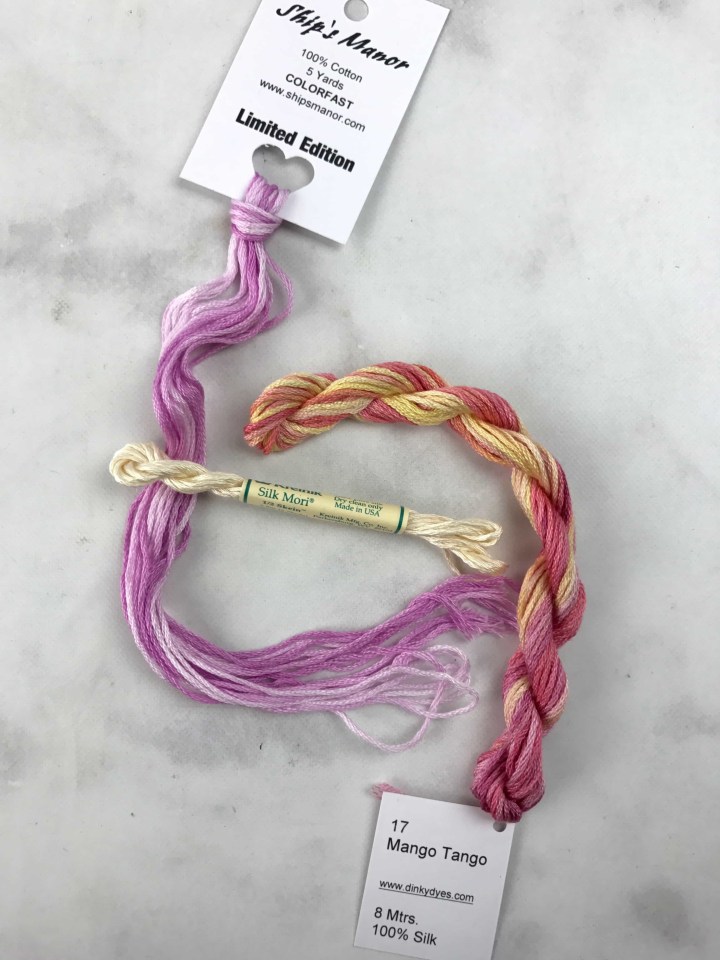 Ship's Manor Tulips Field Cotton Thread ($2) An exclusive colorway! FYI, Ship's Manor threads are now colorfast! These gorgeous pinky purples are right at home for my stitching, and also match the tulip theme beautifully.
Kreinik Silk Mori # 7172 ($1.80) And a half skein of silk mori. I don't agree with the color name – lightest honey – at all. It's more like straw.
Dinky Dyes Mango Tango Silk Floss ($4.50) I am currently working with a Dinky Dyed silk on a project and I just love it – it has a great hand, and this one is delicious sherbet. I want to stitch something light and fluffy with it.
A nice sized rectangle of hand-dyed fabric intended for finishing was included. The pinks are super pretty.

Dark Moss Green Swarovski Clover Crystal ($1) This is absolutely perfect to finish off a St. Paddy's fob or other project.  Can't wait to use it!
Mother of Pearl Hexis ($0.50) These are luminous and lovely and you could even fit them around the shamrock if you wanted to but they would go with probably half the projects I am working on!
Buttercup Fiberlicious 32-Count Linen ($12.25) Hello buttercup! I think this might be the first fabric I have from Fiberlicious. And it's pretty delicious! I really want to find a fun bunny pattern for this, it's yelling Easter at me.
I noticed they had a bunny pattern in the shop – and then I noticed the not as bright and lovely evenweave. I really preferred that color way because it's more versatile but I can't ever choose how I want my subscription set up so I just leave it on linen. I came up with $28.45 for the value – which doesn't include the finishing fabric (wish I had more information on it!). I don't think the value was quite there this month, but as someone who does purchase from her LNS I can tell you there's rarely a discount and there's always shipping, and this is a fun way to add to the stash without a huge hit to the wallet!