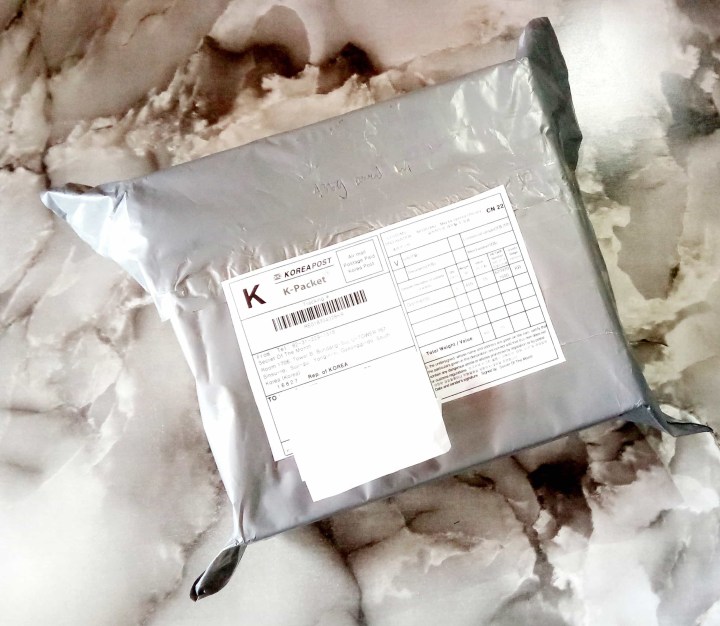 Secret of the Month Box (SOM box) is a monthly period subscription box – "the Korean way." SOM boxes pampers women during their "secret day of the month" with Korean sanitary pads that are known for their distinctive features. You also get a heat patch, a sanitary pouch bag, and hand-picked "secret" gifts from Korea – all for only $15 per month + shipping (ranges from $3.50-$6).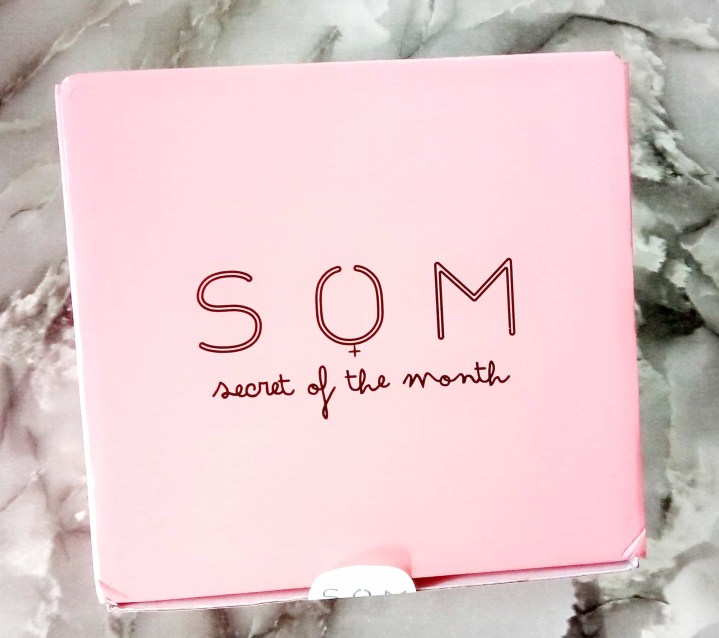 You have three options for your subscription: Guierang (Oriental Herb Scented), Lillian (Fluffy Baby Powder Scented), and OrganicBon (100% Organic US Cotton). Everything is priced at $15 per month.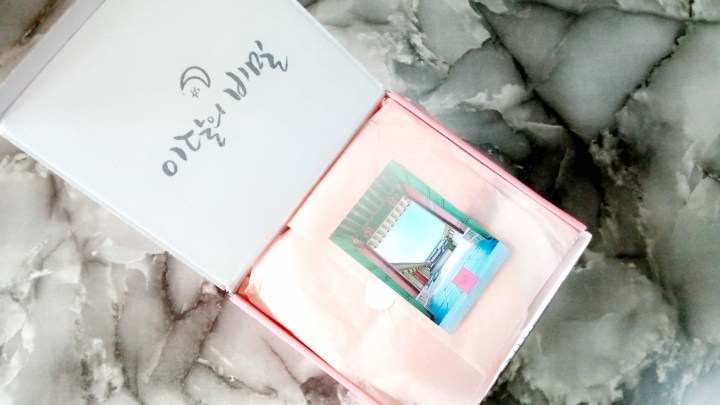 The welcome card was created like a postcard. The print features the beautiful and colorful (despite being winter in Korea) Gyeongbokgung Palace.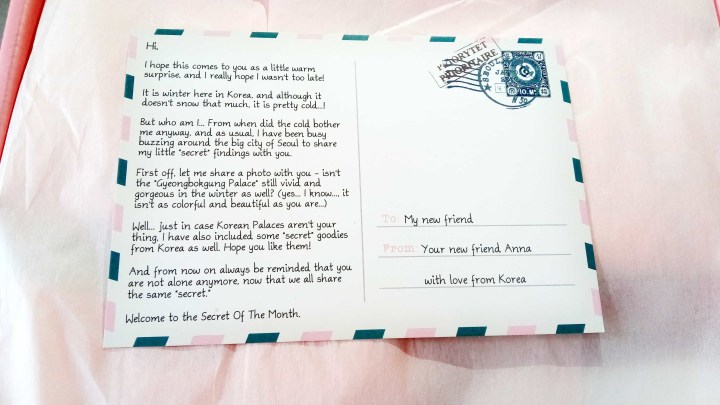 The back contains a short note from Anna, one of the owners of SOM box. You can read the SOM box origin – about how Anna run out of her fluffy Korean pads and more – here.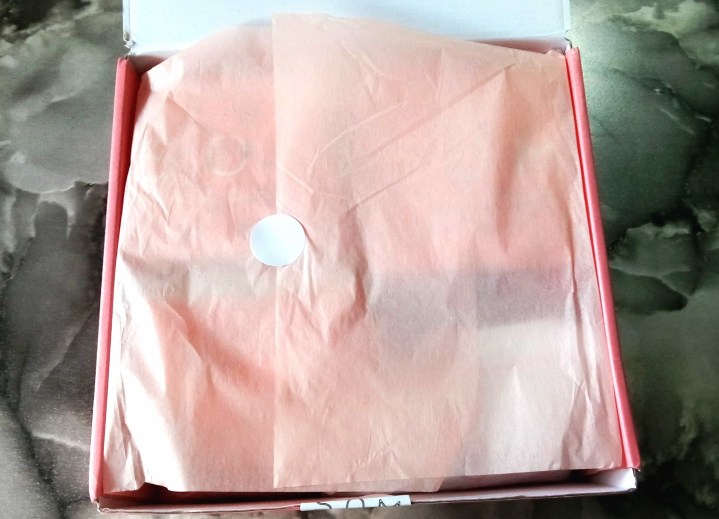 My pads are neatly wrapped in a coral tissue paper.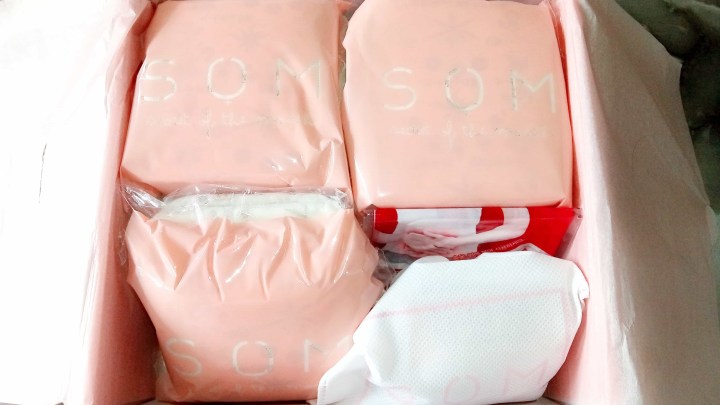 I like that I get all of these for only $15 per month – the box is filled to the brim!
Everything in my March 2017 Secret of the Month Box!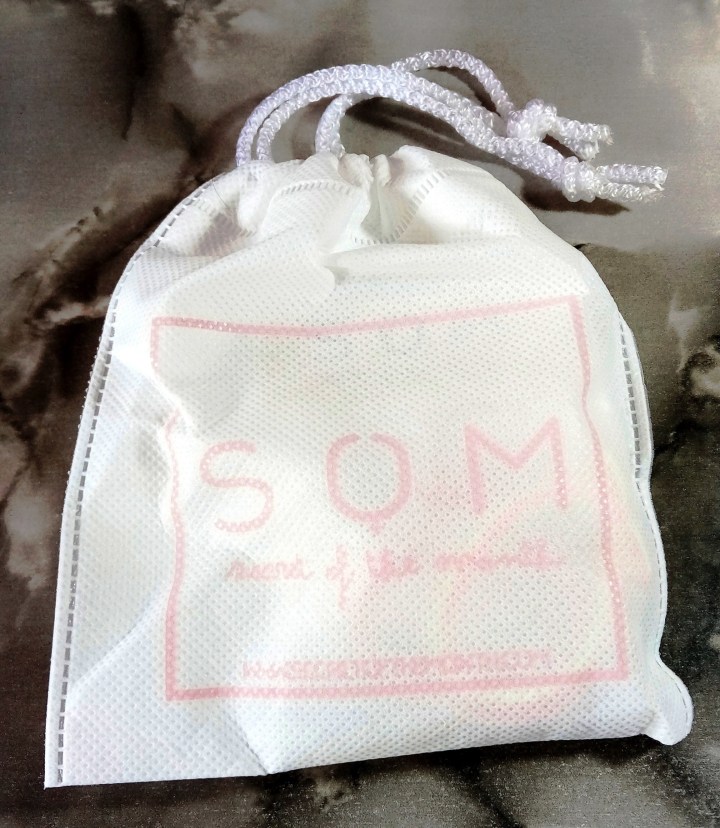 My "secret" gifts are packed inside this complimentary SOM box pouch bag. The main purpose of this bag is to carry your napkins around, discreetly.
I received a pair of cute socks and earrings this month!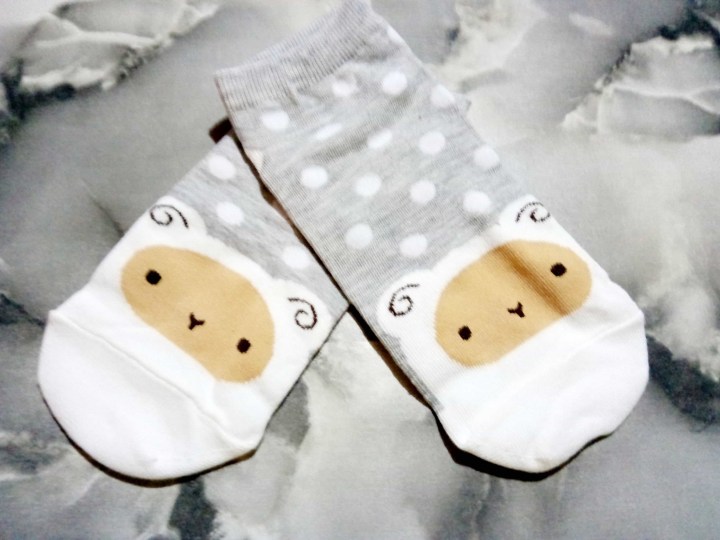 These "Sheep" socks are so soft and cute. Korean napkins are known for their fluffy feel, and this pair reminds me of that.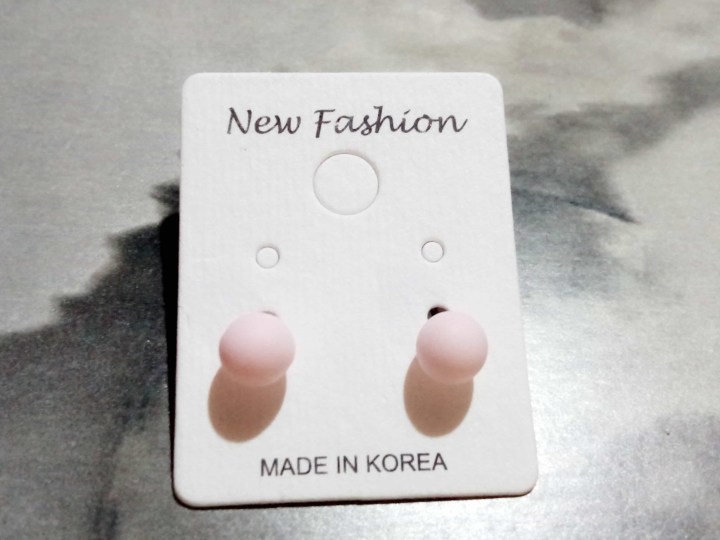 Coral is the official color of SOM box, and it's no surprise that it's also the color of the stud earrings I received.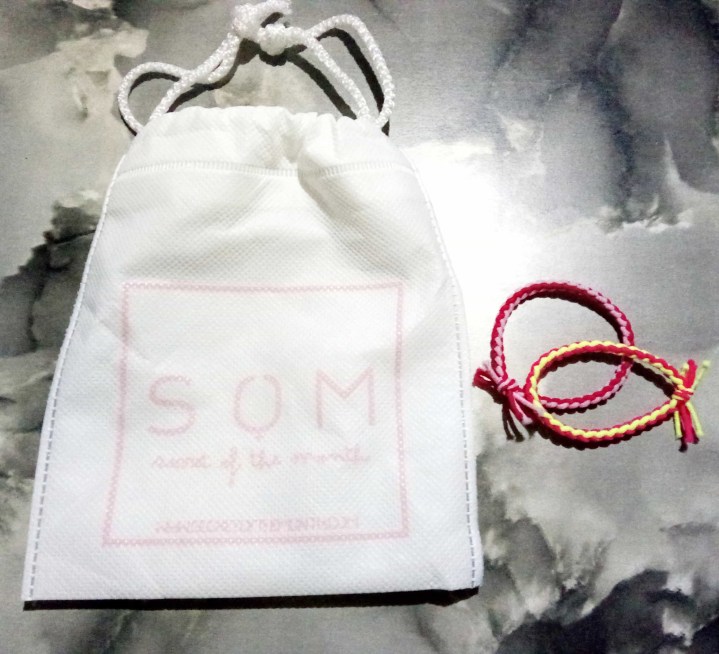 I didn't notice that there are more items at the bottom of the pouch due to my excitement unboxing my first SOM box. Anyway, I'm glad my 8-year old O.C. daughter noticed these cute friendship bracelets.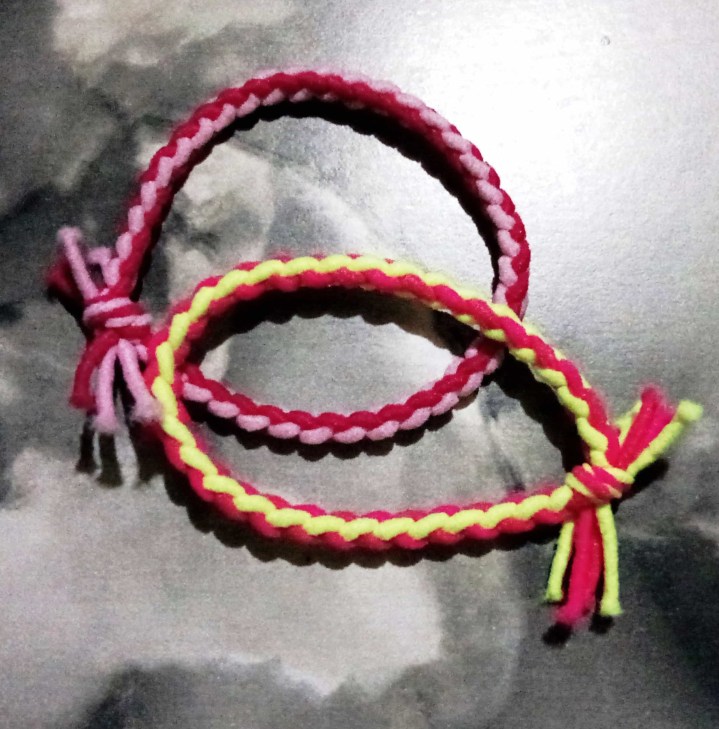 Of course, my daughter said dibs. She immediately wore one of the bracelets, while the other became a hair tie.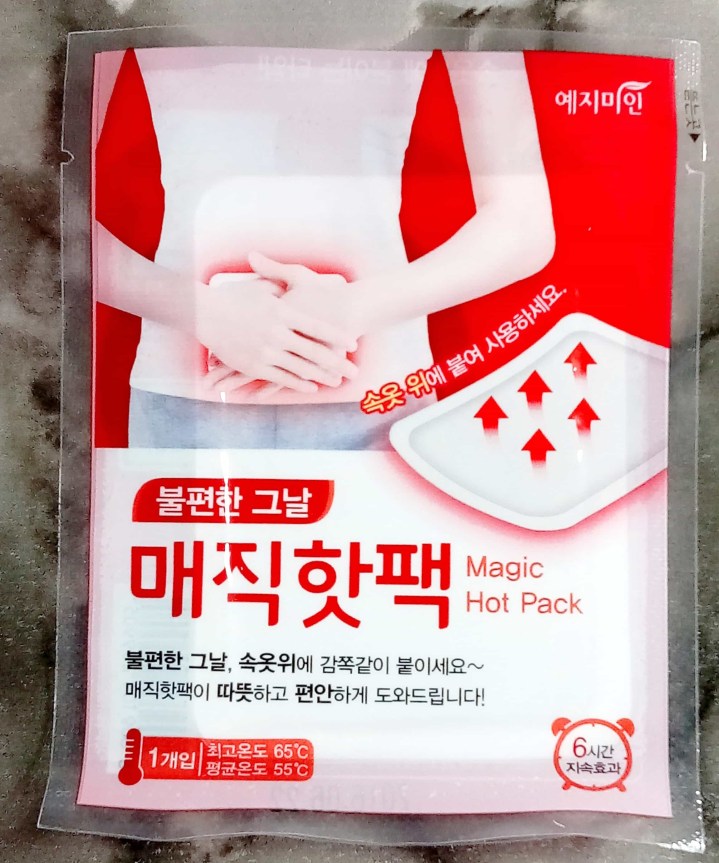 Every box comes with a Magic Heat Patch, a small pad that you stick on the outside of your underwear. It keeps you warm during that "time of the month," and helps ease menstrual cramps.
The patch is Made in Korea and carries a KC-Mark, a certification that proves a product complied to Korea's product safety requirements.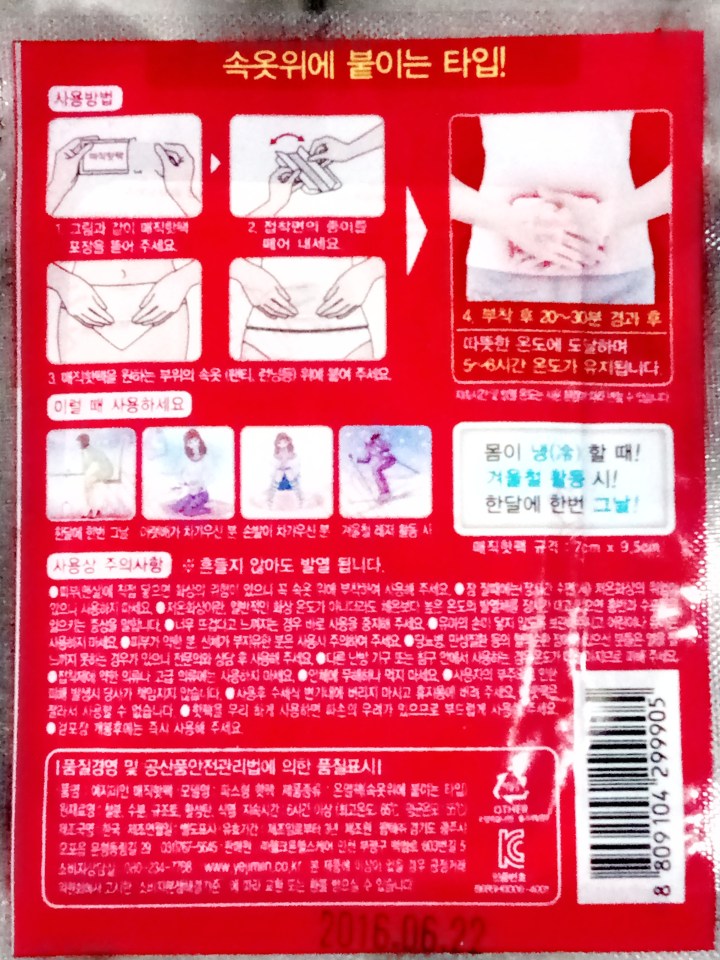 I have cramps every time I have my period, and most of the time, I take meds to help ease the pain. I'm glad that this heat patch is in the box, instead of the usual painkillers. I can't wait to try this and see the effect!
Now, let's talk about the pads. I've checked online and saw that the packs I received was the Type C/Guierang napkins. Type C is for "moderate" flow, while Guierang pads are the Oriental Herb scented napkins. The box came with 18 regular pads, 3 super-long pads, 2 overnight pads, and 5 liners.
The napkins were packed according to size in an airtight coral plastic packets. They are also labeled using letter stickers to help you identify which is pack is which. Regular pads are marked as M (medium), super-long pads are L (large), overnight pads are XL (extra large), and liners are XS (extra small).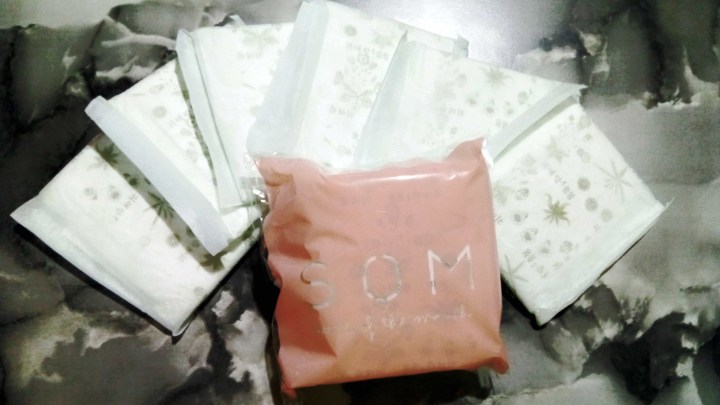 I received 3 packs of regular pads, with 6 napkins on each pack. When I opened the box, I thought there was tea, but the scent was actually coming from the pads. It's because Guierang is made from 100% Korean oriental herbs – the Korean Mugwort, Korean Angelica Root, and Korean Cyperus.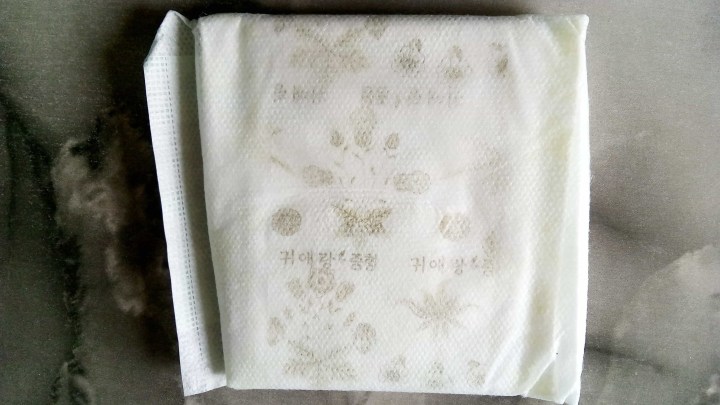 Although the scent is strong, these napkins smell good. These herbs hides any unpleasant odor, so you'll always smell fresh during your period. According to the website, the herbs also have some medicinal effects, especially for women.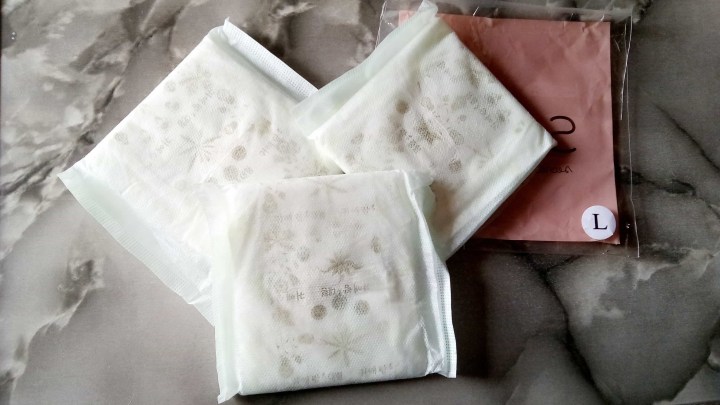 This is the pack of the super-long napkins. Both regular (250mm) and super-long pads (290mm) have leak protective guards on both ends and are super fluffy with its soft cotton-feel pad cover.
This pack came with the overnight pads and panty liners. The overnight pad (330mm) is 40mm longer than the super-long napkin, and also comes with heart-shaped embossings. You'll can also see that the panty liners have flower details, unlike all the napkins that have hearts.
Compared with the regular and super-long napkins, overnight pads are added with extra features, like the safe hip protector and 3D side guard lines. These features help prevent leaks, even if you toss and turn during sleep. Overnight pads also adjusts to your body type, so you'll always get a perfect fit.
On the other hand, the panty liners are super comfortable to wear and always stay in line with your undies. Since it's only 155mm long, you'll barely even notice it's there.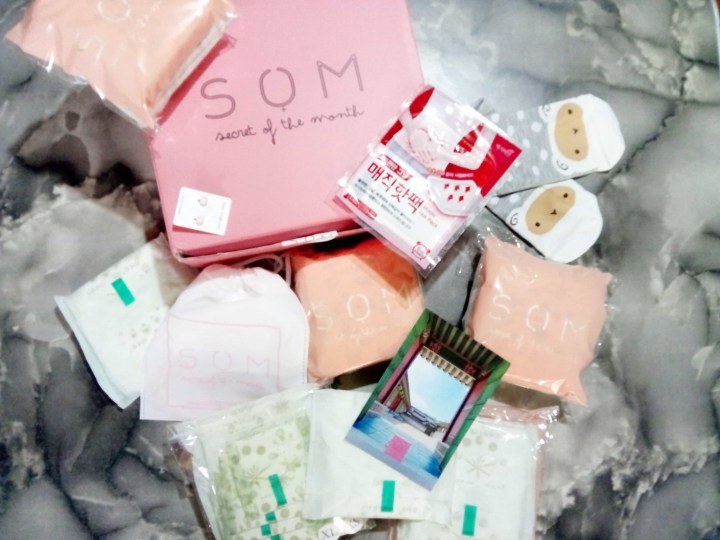 Guierang napkins are the first herbal napkins I've ever tried, and I am happy that I did. Guierang is safe because they are made from 100% oriental herbs, so there's no worrying about any toxic chemicals in my pads. I'll probably never go back to "ordinary pads" after this.
Although, I wish SOM box would soon come up a fully customizable plan. Honestly, I don't use regular pads that much since I've always preferred using longer pads for its coverage, regardless of the flow. So if it were up to me, I would have chosen a super-long + overnight + panty liners combo, and skip the regular pads. I don't mind paying extra as well, as long as I have my longer pads.
What do you think of this month's Secret of the Month Box? Let us know in the comments.
Visit Secret of the Month Box to subscribe or find out more!