Merkaela is a quarterly box that sends natural bath and beauty products curated to a theme as well as the season. Merkaela's items are made in-house although they may occasionally send an item from high-quality collaborators.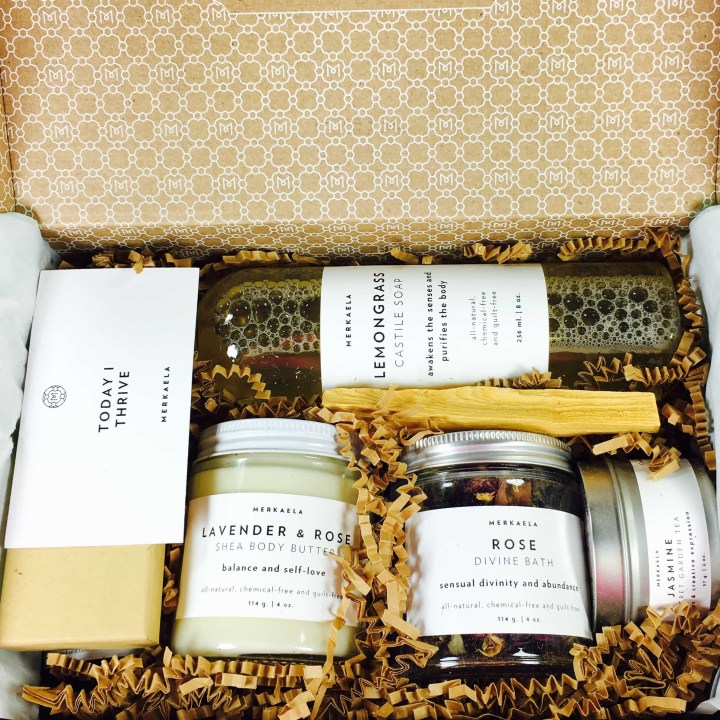 This box had a beautiful presentation and the items coordinated wonderfully. The containers had simple yet classy white labels and inspirational instructions for their use. This is a luxe box, designed to pamper and delight all of the senses. I couldn't wait to try out these items!
DEAL: Get 20% off! Use coupon code ORACLE20.
There was an affirmation card that helps you set your mind to a spiritual thought and make it come true.
Next was the front of the product info card with the intention of this particular box. This month's box will help you Bloom, just as nature does all around us at this time of year.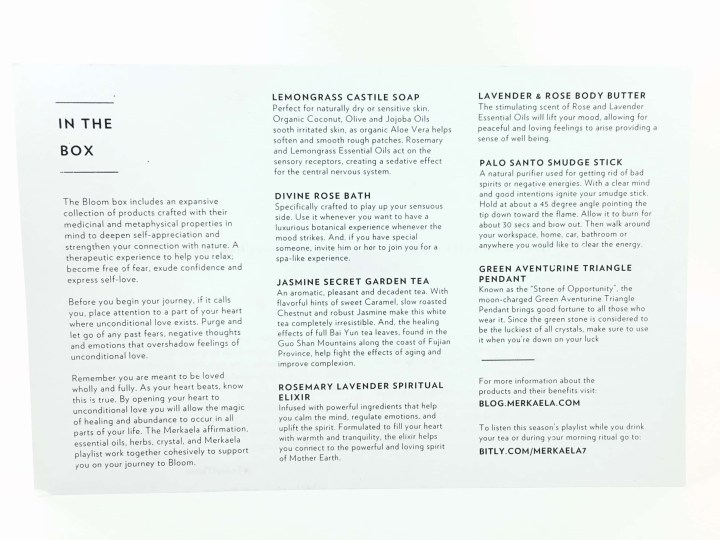 This is a very descriptive info card, with each product's intended use. They even provided a Spotify playlist, which I listened to while writing this post.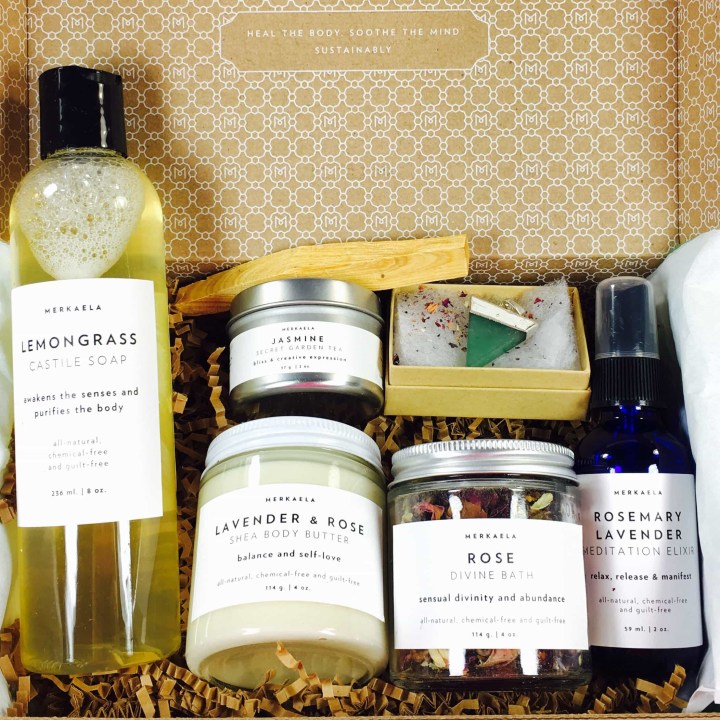 The packaging is simple yet elegant and looks classy and natural at the same time. These items are not in the Merkaela shop yet, so check here if you are interested in purchasing these luxurious items when or if they become available.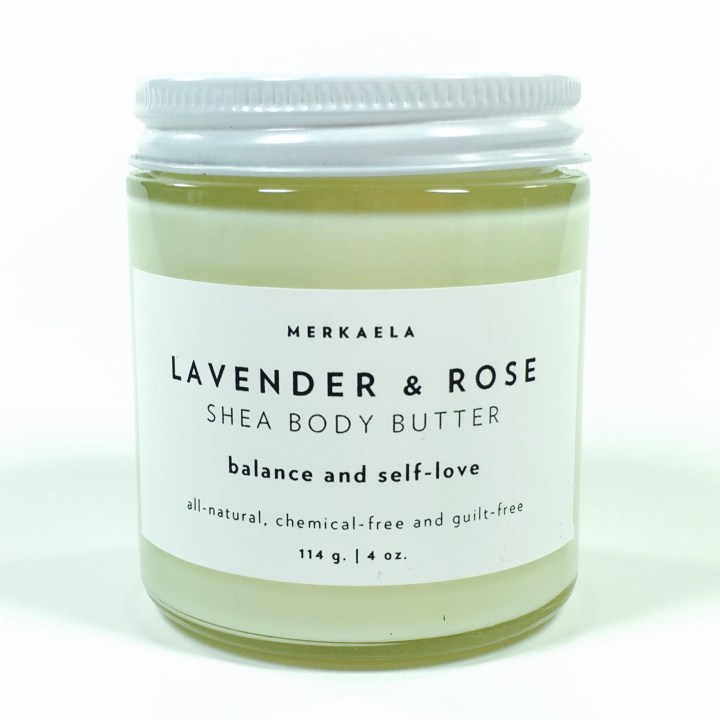 Lavender & Rose Shea Body Butter "Give your body love. It listens." This rich moisturizer features organic shea butter, jojoba oil, vitamins, and lavender & rose essential oils. It rubbed in completely and had a light scent that was mostly lavender, which I prefer over rose any day. Use all over or concentrate on rough spots such as elbows and knees.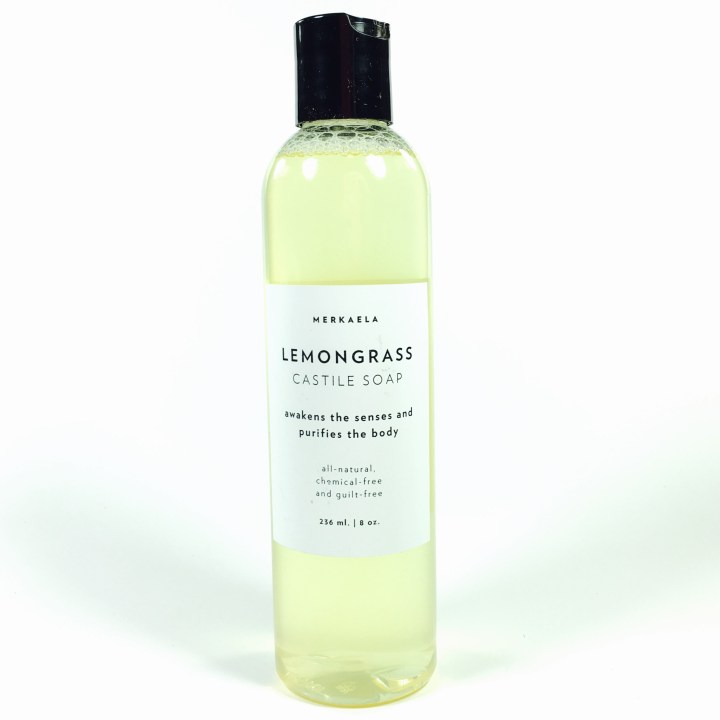 Lemongrass Castile Soap "Embrace your body." This is my first time using Castile soap, which includes coconut, olive, & jojoba oils. The lemongrass essential oil gives it an uplifting scent, naturally, and is a great way to start the day. It says to use a dime-sized amount of soap to lather the body but this was very watery and when I tried to put it on a mesh shower scrubbie, it simply passed into my hand and down the drain. I will use it as a hand soap instead since I have no idea how to make it thicker.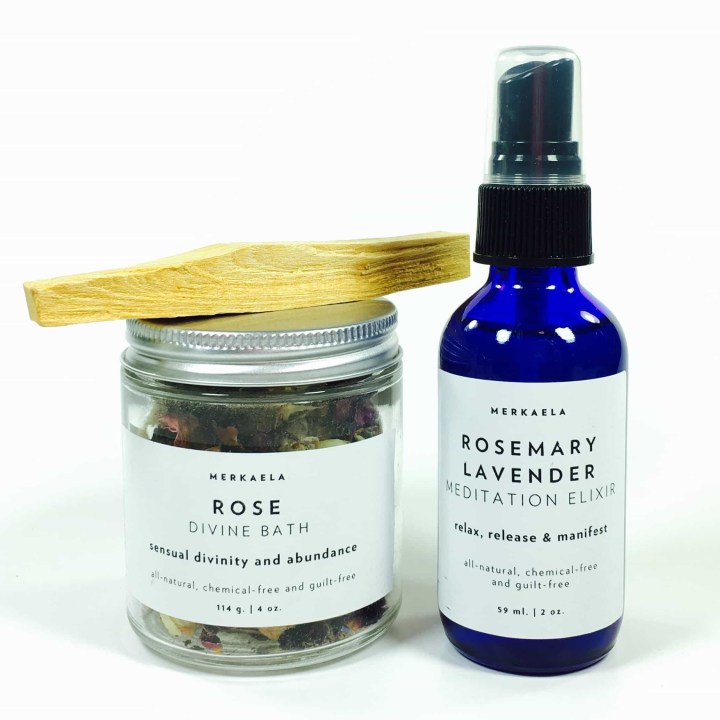 Palo Santo Smudge Stick (Similar one here) This was my first experience using palo santo, the "holy wood" from South America. It had a spicy sweet scent before burning, like star anise, and was almost scary to watch the black smoke rise from the quickly burning flame. I blew it out and tried to take it to a different room to cleanse any negative energy but the smoke faded very quickly. I think I need to practice this a few more times, and maybe carry a lighter around the house with me.
Rose Divine Bath "Manifest love, abundance, & sexuality." Rose, jasmine, and lavender petals are charged with "moon energy" and may help you feel ready to tackle any obstacles that come your way. I would suggest placing in a muslin, cheesecloth, or extra large tea bag if you are worried about clogging your plumbing, and I also think this would make a lovely facial steam.
Rosemary Lavender Meditation Elixer "Follow your intuition!" This blend that includes witch hazel, Himalayan salt, lavender spike & rosemary oils can be sprayed on your head, neck, or wrist. It can also be put to use as an anti-bacterial spray.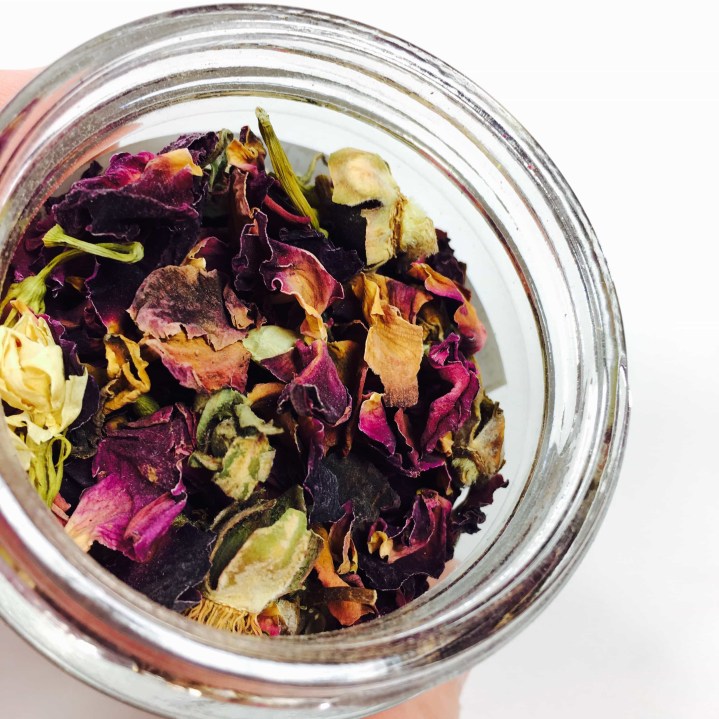 Here's a closeup view of the gorgeous bath petals.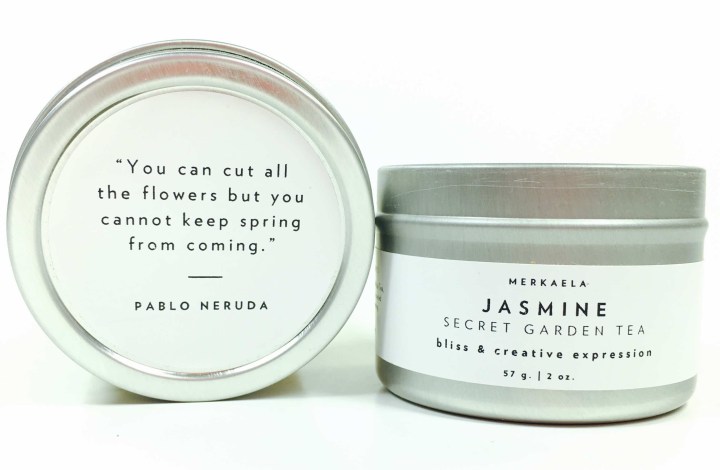 Jasmine Secret Garden Tea (Similar one here) "Connect to your sensual side!" I adore tea and it's something I love to find in subscription boxes since I tend to buy only one type at the store. I opened this one and enjoyed the nutty sweet scent from within.
This tea features organic bai yun white tea, jasmine flowers, and roasted chestnut flavoring. The container says that this is caffeine free, but I know that white tea DOES contain caffeine, so I prefer to drink this in the morning.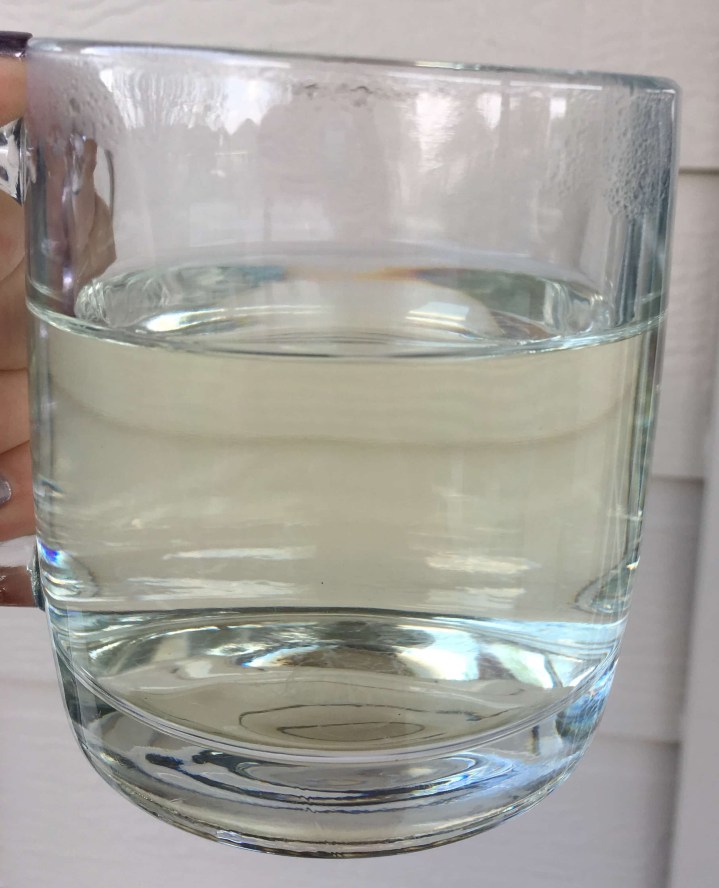 I love the delicate pale color of this tea. I didn't detect any bitterness and picked up an unfamiliar nutty flavor.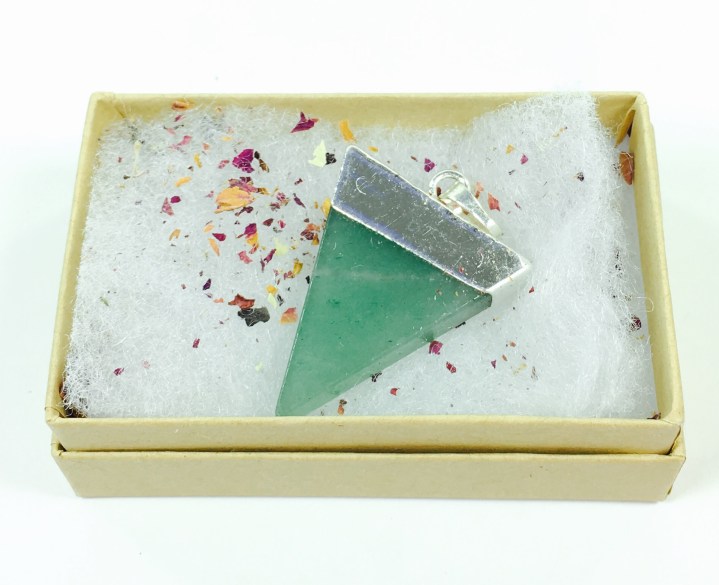 Green Aventurine Triangle Pendant (Similar one here) This is called the "stone of opportunity" and is considered a lucky crystal. It can boost energy and help you obtain a favorable outcome; wear it to an important meeting, or maybe while scratching a lottery ticket!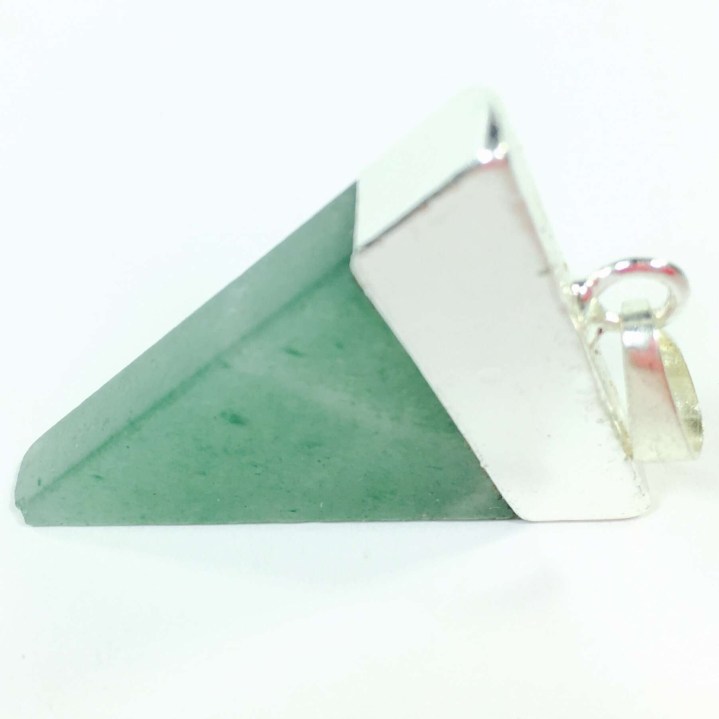 Place on a necklace or just stick it in your pocket!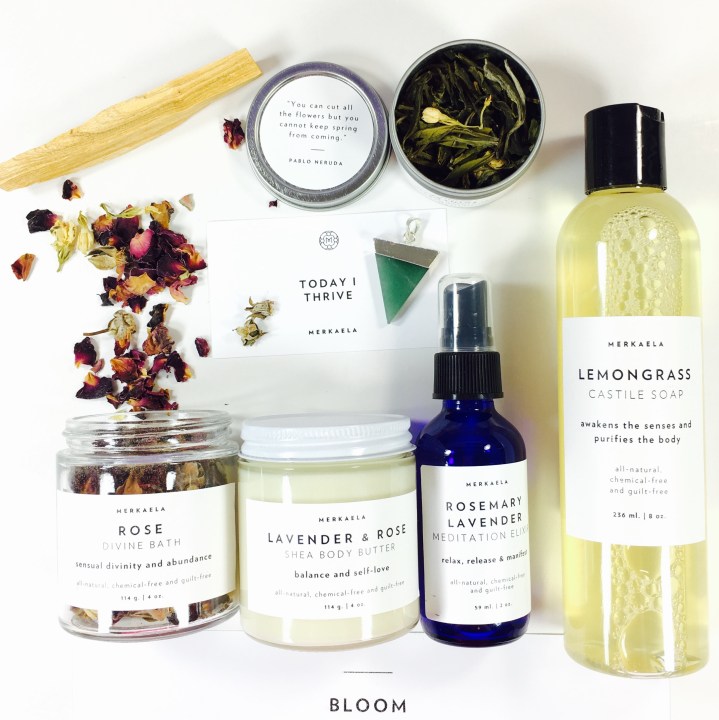 I knew I was in for a treat when I found this box in the mail! The beauty products are natural and luxurious plus the tea and bath soak are reminders to take the time to relax and recharge. The palo santo, spiritual elixer, and aventurine help keep me grounded while also engaging my spiritual side. Merkaela members receive 15% off the price of shop orders so keep checking the site if you would like some of this month's products!
What do you think of the Merkaela Spring Bloom Box? Let me know if it helps you connect your mind, body, and soul in the comments!
Visit Merkaela to subscribe or find out more!